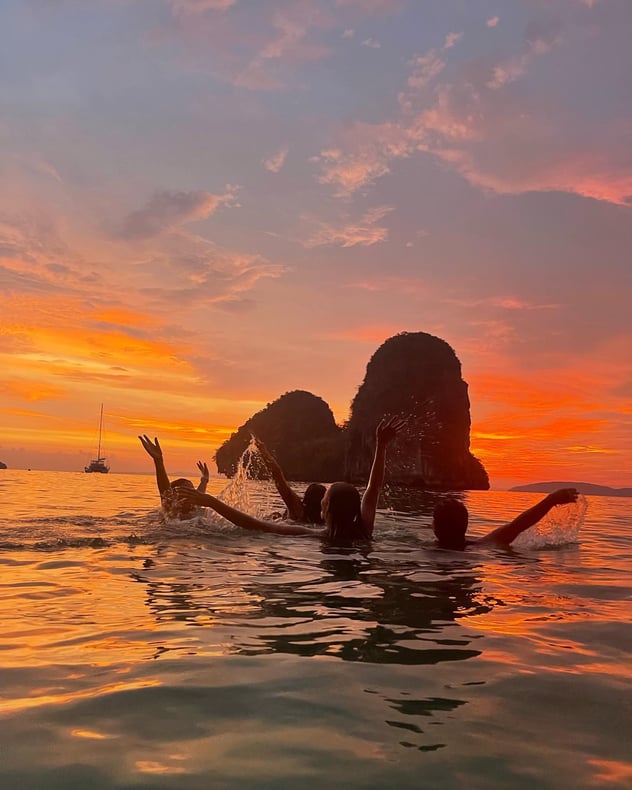 All of our favorite destinations in Thailand for ILP volunteers are here!
All the places to see in Thailand are a huge reason to come volunteer here for a whole semester: there's just no way you could island hop down south, trek through the mountains in the north, discover remote homestays and flower fields, and also fit in some elephant adventures in just a short visit!
---
What's this about living in Thailand for a semester?
Get all the details about what volunteering in Thailand is like right here.
---

To help you plan out the perfect ILP semester of vacations in Thailand, we've mapped it all out for you — that way, you can spend less time wondering where to go first and more time getting out and exploring. This vacation guide is perfect if you want to see as much of the country as possible (trust me there's a ton to see and do). With so many rad spots to choose from (and some that are worth skipping) — and all of the tour companies that want to push you to the touristy spots — how do you even know where to start?
If you want to do Thailand right, you need tips about the best, must-see places that come straight from real travelers who've seen it all. All my favorite destinations are below:
Northern Thailand
(Typically, 3-4 day trips — but you could squeeze them into a weekend)
You'll want to head here if you're looking for jungle adventures, elephants, shopping markets, and temples.

If you travel to Thailand without making a trip up north, you're missing out big time (it's worth coming back to Thailand to visit if you can't fit it into a short little trip!). Northern Thailand is a little out of the way considering most tourists head to the opposite side of the country (down south) to experience the stunning beaches found in the islands, but trust me — it's worth the trip.
Hang Out With Elephants In Chiang Mai
If you just pick one city to explore in northern Thailand, visit Chiang Mai! This little city is nestled between the green mountains way up in the north. It's a major tourist destination that's well connected by train, bus, and plane which is good news for you. Some of our favorite things to do here are taking a cooking class, ziplining through the thick jungles, raving about the golden temples, making your dreams come true at the lantern festival, and of course, hanging out with elephants. Can you see why this is such a popular place to visit?
One of the biggest reasons people come to Chiang Mai is because it's THE spot for seeing and hanging out with elephants. This part of the country is their natural habitat and where it's most famous. Unfortunately, some organizations famously mistreat the animals and so it's worth your time to do a lot of research and find others who work hard to create sanctuaries instead. Here's our guide to finding ethical organizations and suggestions of ones our ILP volunteers have had good experiences with.
Get your full Chiang Mai guide here — places to stay, more things to do, and insider tips to plan your ultimate trip.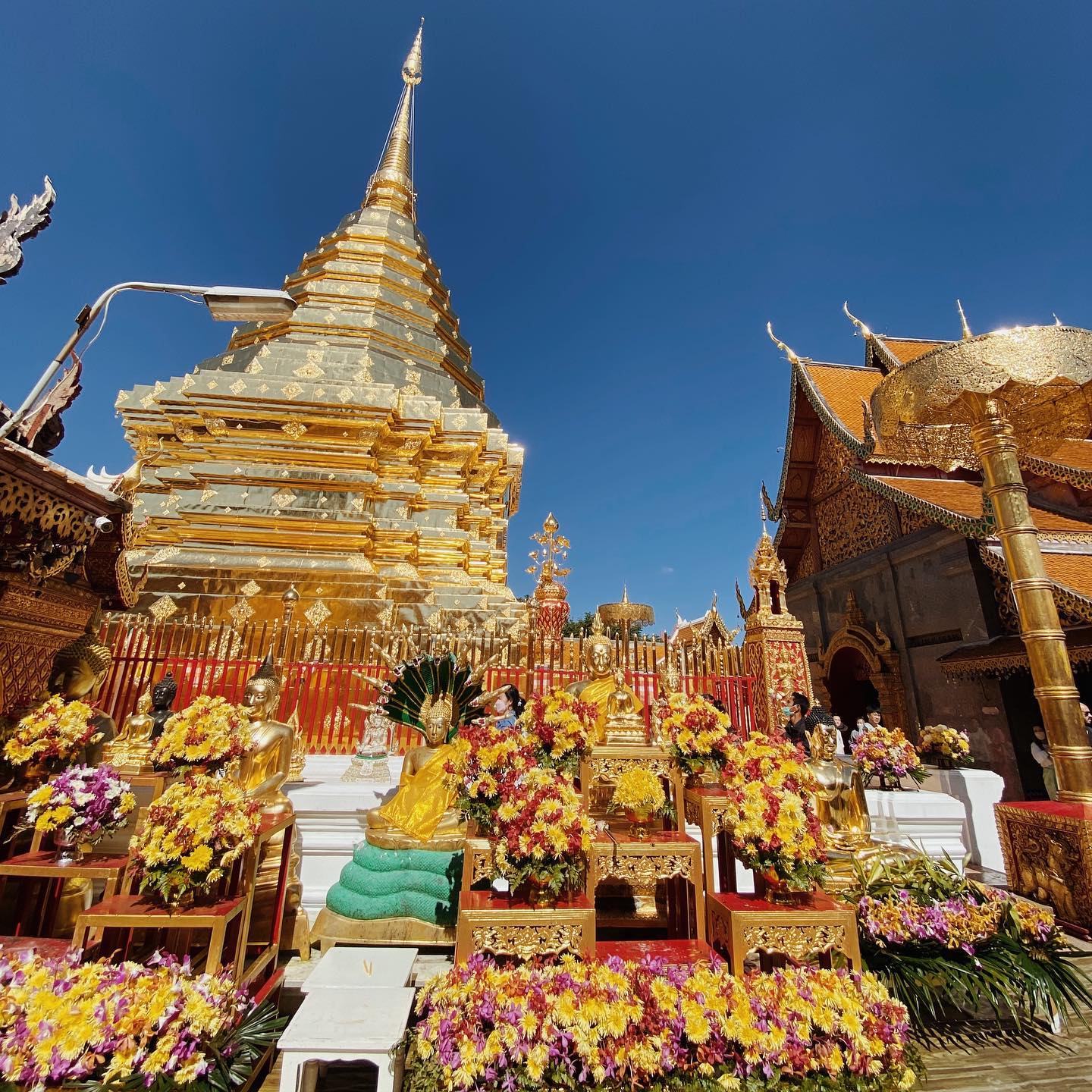 Go Temple-Hopping In Chiang Rai
Chiang Rai is your spot for some unique Thai adventures, like touring the intricate White Temple (which depicts the journey to nirvana: it's hard to take in all the detail found in the sculptures and paintings in this temple! ), seeing the Blue Temple, or the beautiful Wat Huay Pla Kang — After you're finished exploring the temple complex, don't miss taking the elevator to the top to admire the view of the valley outside of a little window, found in the center of the enormous Buddha's forehead on the property. Oh, and the huge, whitewashed dragons that line the steps leading to the Buddha are pretty breathtaking too!
Chiang Rai is also home to a sprawling tea plantation you can explore. The busy night bazaar is another high point of the city, as is a day trip to the Golden Triangle (where Thailand borders Myanmar and Laos). See pictures of all of these places, get info on traveling here and snag a few other recommendations on our Chiang Rai guide.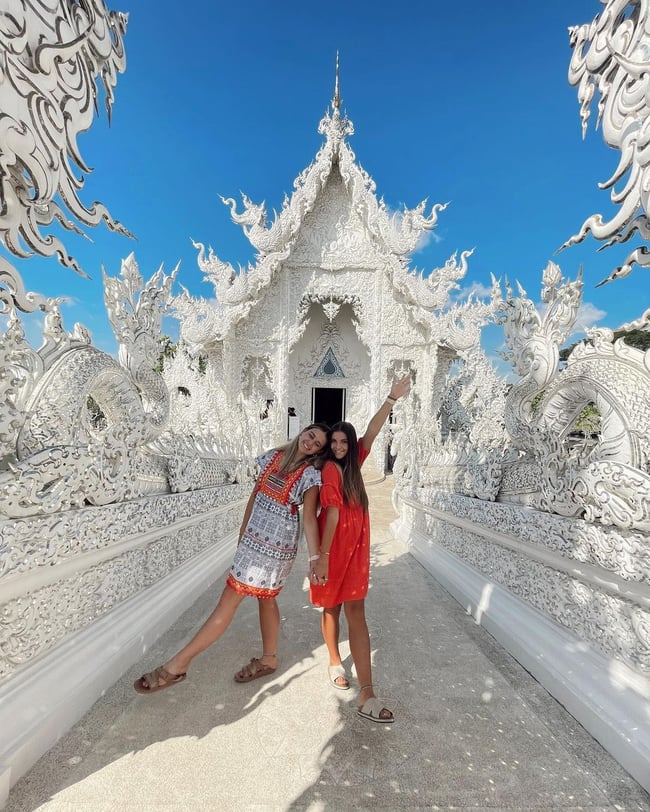 Fall In Love With The Chill Town Of Pai
Looking for a trendy mountain town that's sometimes overlooked by American tourists? We love a quick trip to Pai! It's close to Chiang Mai and Chaing Rai, so it makes for an awesome addition to these spots, especially since there is so much to do. Plan some free time to meander down Main Street, poke your head into the little shops, do some yoga, and just see where Pai takes you! The entire town has such a laid-back atmosphere that many of our volunteers completely fall in love with it. Plus, Pai is home to a spread of our favorite cafes in the country making it a winning vacation spot.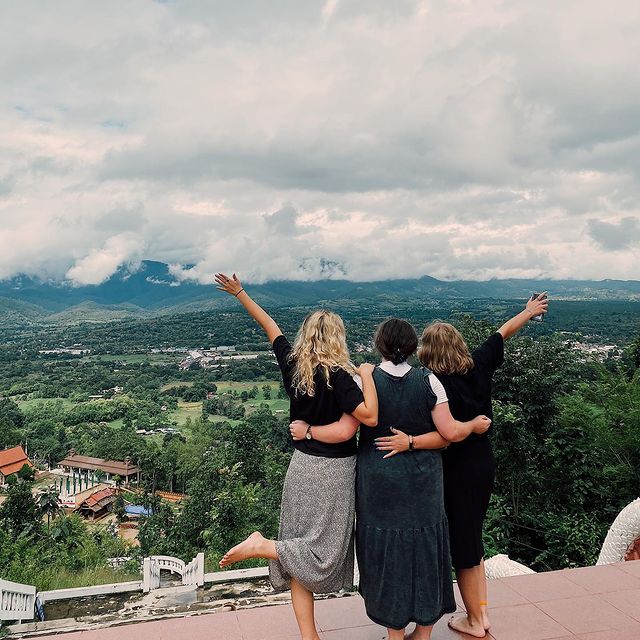 Escape To This Untouched Gem, Nan Province
Trek through the jungle, dye t-shirts using colorful tree bark, hang out with water buffalos, and tour around ancient museums — visiting this part of Thailand is unlike any of your other vacations!
This province is tucked in upper Northern Thailand, bordering Laos. It's crammed full of national parks sporting gorgeous mountain views and thick forests — these tropical jungles cover over half of the whole province and are all home to thundering waterfalls, towering limestone mountains, huge, colorful snakes, fluttering butterflies, a range of reptiles, and more. There are also a few gorgeous (and unique) temples, a walking street, and plenty of opportunities to trek through the dense jungle.
Groups in the past have spent a weekend here, totally reconnecting to the views in this corner of Thailand (which are stunning, if you didn't know). Get details about your perfect homestay adventure in Nan Province here.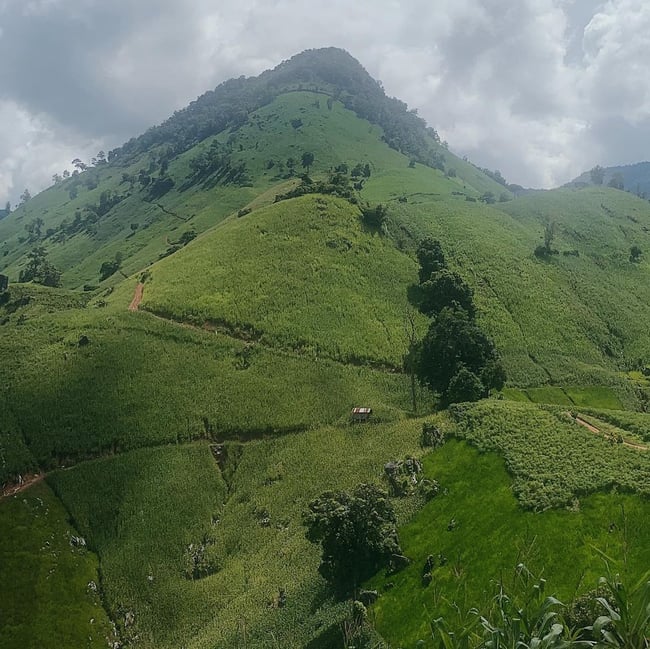 Central Thailand
(Your Day Trips + Weekenders)
Home to my favorite temple (which is a total secret, by the way), iconic hikes, waterfalls, lotus-filled lakes, and more.
Most tourists skip over central Thailand completely, which is probably why it still feels like such a hidden, untapped gem. We're focusing on places and activities around the little city of Phitsanulok (which has a lot to keep you busy!). Plan on a whole list of day trips and weekend getaways to flower fields, waterfalls, elephant sanctuaries, bike rides through ruins, a lake full of huge lily pads, and more. We love this part of Thailand, can't you tell?
These places are typically close enough to see on a day trip or weekend getaway for our volunteers:
The Most Colorful Temple (And Cafes In The Clouds) Are In Khao Koh
Just promise you won't miss Wat Pha Sorn Kaew — which literally means "temple on a glass cliff" if the pictures below aren't stunning enough.
Every inch of the temple has been thoughtfully designed: rainbow tiles, fragments of painted pottery, and pieces of colored glass cover every surface under the towering Buddhas, including the walls, pillars, steps, floors—everything. There are over 5 million mosaic pieces. As you can see, the effect is absolutely breathtaking! It's easily the most colorful temple in Thailand.
This is a perfect day trip, but if you're dying for a dreamy overnight, I have you covered. Up in the hills around the temple is a darling little town, full of stunning overlooks, strawberry fields, and picture-perfect cafes (one seriously has grounds complete with a castle). Groups love glamping in Khao Koh (and waking up to the sunrise in the clouds).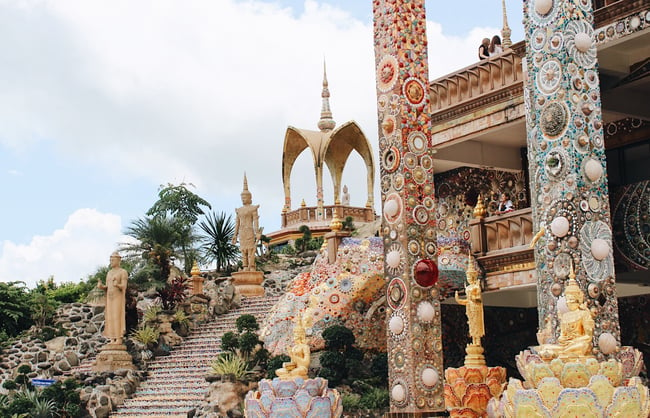 Bike Through Sukhothai Ruins
The ruins in Thailand are stunning, especially the ones here. The name of this magical place literally translates to "Dawn of Happiness." It was the capital of north central Thailand for the 13th and 14th centuries, so almost all of the structures date back to that time. When visiting, you can still see the remains of the royal palace and 26 temples, although there are a total of 193 ruins in the entire area. Woah.
It's a huge space that's best tackled by renting bikes (for just a dollar or two). There are huge stupas, temples, and other buildings adorned with bronze Buddhas and carved elephants. Don't miss the ruins in Sukhothai!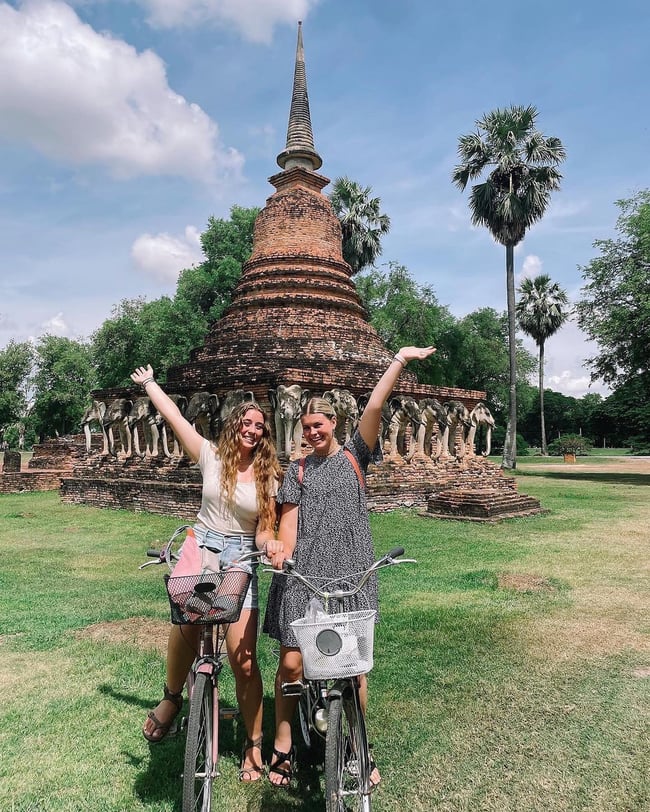 Go On A Night Safari In Khao Yai
Are you ready for a vacation that's totally different than every other one on this list? Welcome to Khao Yai! A few ILP volunteers mention that it is definitely for people who like to get outdoors. This national park feels untouched, and a bit wild, with a maze of hiking trails that you'll experience with a guide who knows the jungle.
Those who do visit, are typically on the hunt to see wild elephants. Speaking of animals, this park is full of things to see — though tigers are rare, you can still find wild elephants (with a little luck), colorful Great Hornbill birds, bright green water dragons or pit vipers, fluffy gibbons, along with elusive sun bears.
Get all the details about a night safari and visit to Khao Yai here.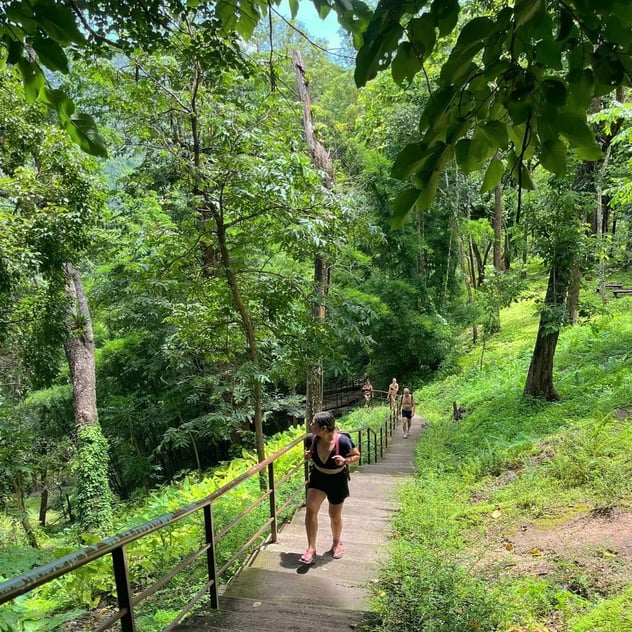 Hike To Waterfalls In Namtok Chat Trakan National Park
This gorgeous park encompasses rolling mountains, towering rock cliffs, and stunning waterfalls. The park has been around since 1987 — Thailand's 55th national park — and has been a popular place among locals looking to escape the heat a bit (it's typically a bit cooler here), and get a little slice of nature. Visiting means admiring a series of waterfalls, local plants like waving bamboo stalks, and maybe catching a glimpse of the many animals which call this forest home.
We'll get to the main attraction below, but as a sneak peek, a 7-tiered waterfall is the star of the national park. You also have the chance to visit a cave with prehistoric carvings, see fossilized footprints, as well as catch a glimpse of the local mushrooms that have been used for medicinal purposes for years. Read all about the Namtok Chat Rakan National Park here.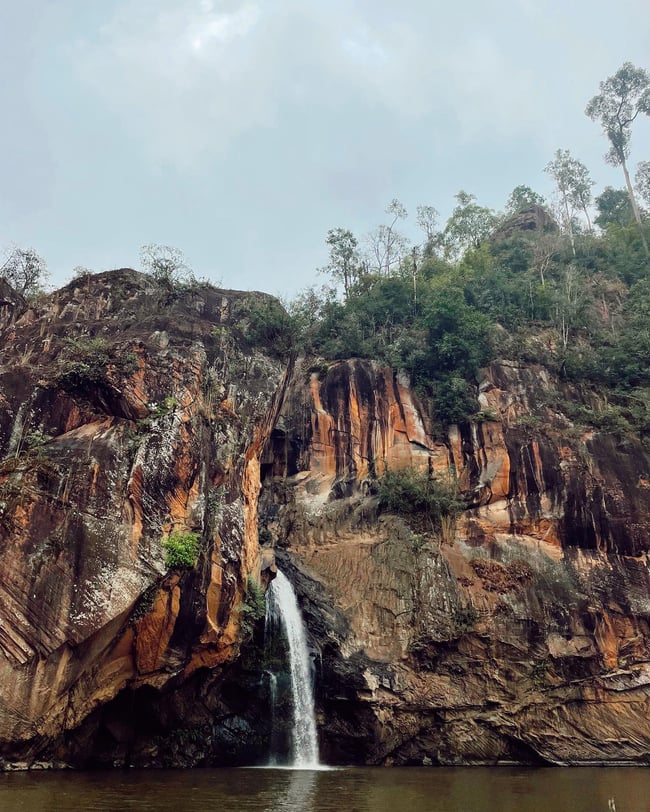 Finding Flower Fields In Ban Mung
Ban Mung (บ้านมุง) is a little community found in northern Thailand. It's in the Phitsanulok Province, and the Noen Maprang District (อำเภอเนินมะปราง) if that's helpful to know. Ban Mung is a quiet collection of little shops, noodle stores, homes, and homestays backed by towering limestone cliffs, all within throwing distance of a thundering waterfall and impressive cave complex.
We've had one or two volunteers groups with ILP venture out to experience this portion of the country and had rave reviews — all summed up by this quote "if you are wanting a super fun, authentic, local, spontaneous, gorgeous day trip and you are ready to just enjoy wherever your driver may stop, it is perfect. We all loved it so much!!"
Your trip should also include several caves, temples, the prettiest fields full of flowers, waterfalls in the rainy season, and more. Get more on Ban Mung here.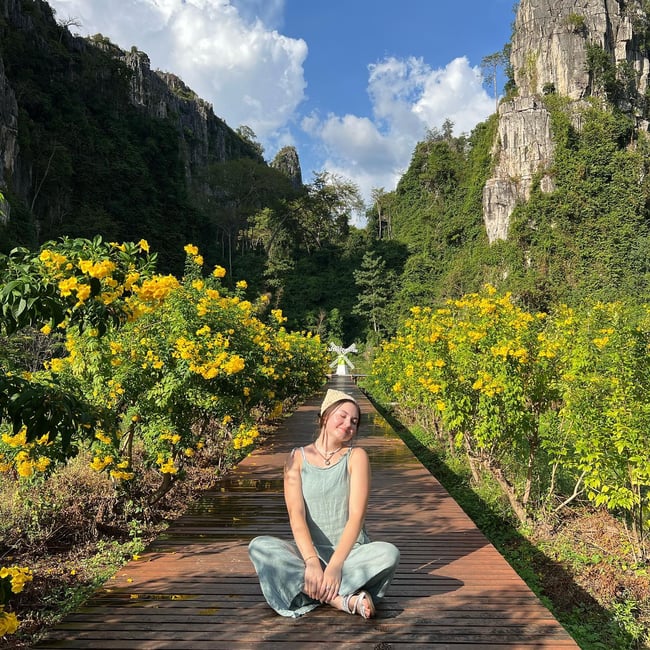 These Pink Lotus Fields
Get your cameras ready because we found the most photogenic lake trip in all of Thailand! Picture floating through an expansive lake, full of thousands and thousands of bright green lily pads sporting bright pink lotus flowers. These flowers spread across the inky waters of the lake creating an unreal effect, like a pint carpet. It's soooo pretty.
The lake isn't much of a tourist attraction when the flowers aren't in bloom, so you'll want to time your visit in the right season which is in December, January, and February. Mid-January is when the city hosts a flower festival — it's technically "the best" month for viewing the lotus flowers. Some bloggers said they visited in November, so if you're there in the fall semester for ILP, you might also have a good shot at seeing the flowers. Get all the other details about visiting this lotus-filled lake here.
If you'd like to do a bit more adventuring, this lake is actually right up next to the Thai and Laos border ... if you'd like, you can do a border crossing and spend a day or two in nearby Vientiane.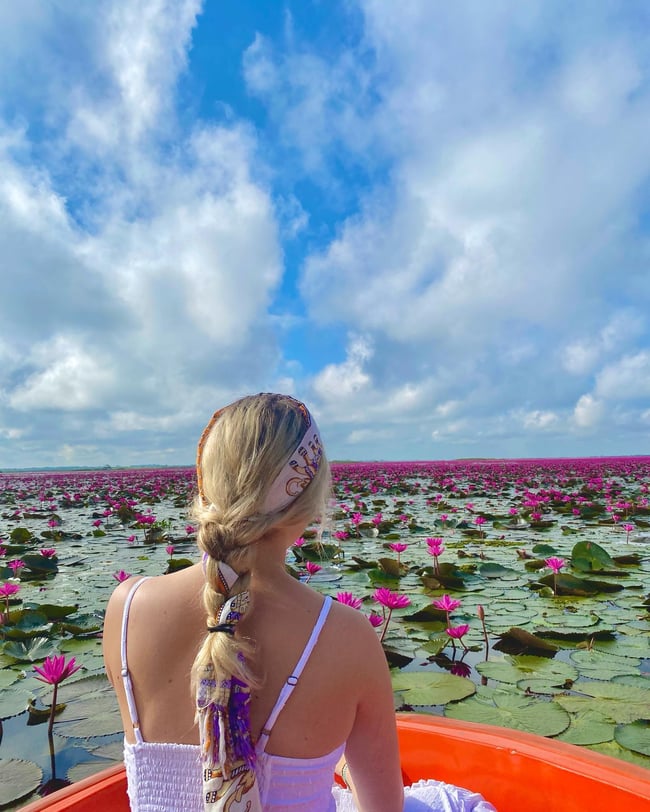 Southern Thailand
(Spend Your Longer Vacations Here)
Now, the islands in Thailand have their very own section below, so just know that most volunteers plan to visit a few islands and maybe combine it with one of these "southern Thailand" getaways to create a 7+ day itinerary.
Visit The Bustling City Of Bangkok
Bangkok is quite huge and honestly, you might even be a little overwhelmed at first if you're not familiar with big cities like this! Even though it rarely hits the "tip-top vacation" out of the semester for most volunteers, it's just something you have to experience ... there are so many highlights!
Most ILP volunteers either plan a quick weekend getaway to Bangkok or use it as a jumping-off point to explore sites like Erawan National Park or Khao Sok National Park ... or as a gateway to get to the dreamy islands in Thailand! It's also close to the Ayutthaya ruins and the monkey-run Lopburi kingdom.
If you only have a couple of days, our insider guide to Bangkok walks you through the sites, like the sprawling Grand Palace, the floating markets, rooftop views, and more.
Erawan Is Home To Thailand's Bluest Waterfalls
When you think about Thailand, you probably already think about crystal blue water against white sandy beaches, but don't overlook the turquoise pools hiding in the jungles. Found just outside of Bangkok, Erawan National Park really is a can't-miss spot. I know I say that about so many things in Thailand ... I guess that's why you should spend a semester there instead of a couple of weeks!
The park is found in western Thailand, tucked in the hills of the Kanchanaburi Province. Founded in 1975, it's quickly become a well-visited national park, pulling in tourists and visitors who want to admire the series of waterfalls and network of caves found in the park.
The most famous attraction is the 7-series Erawan Waterfall (and it's a beauty). The pictures here are stunning (and this post about Erawan has all the details + more pictures to help you plan your trip here.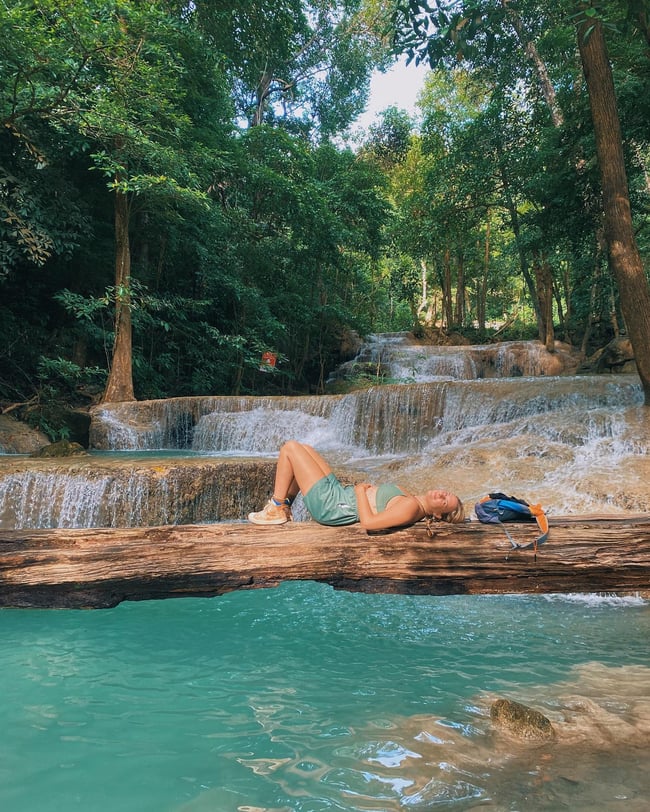 Stay In Floating Bungalows At Khao Sok National Park
has been called Thailand's version of Lake Powell if you're a fan of that getaway in Arizona. Plan on kayaking through the jungle on turquoise waters that carve their way between pinnacle canyons, only to arrive at your overnight stay: a line of bungalows floating on the water. We have tons of info about trekking, kayaking, booking your stay, and more for Khao Sok National Park — don't miss this spot!
You can find regular buses to Khao Sok National Park from Phuket and Krabi (and also Bangkok). The post above has all the details, but know it's easy to fit into your itinerary while you're in the neighborhood.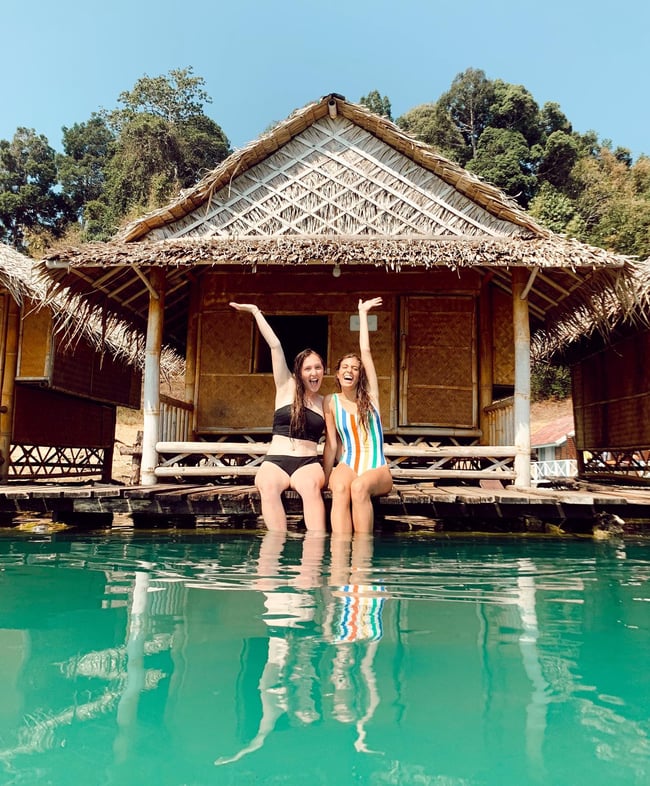 The Islands
(Spend Your Longer Vacations Here)
Sunsets, snorkeling, fresh fruit smoothies, and hammocks beneath the palm trees ...
Sounds like heaven? It pretty much is. If you've browsed Pinterest at all, seeing photos of the Thai islands is probably why you're even planning a trip here. They are SO incredible, and if you can believe it, the photos don't do it justice at all.
Something to know about Thailand is that there numerous islands that you can choose from. If you do southern Thailand right, you'll visit several in one trip, island hopping by hiring a private boat or jumping on a ferry to see the best beaches in Thailand. It can be pretty overwhelming to decide which islands to see, where to stay, how to get there (are you flying into Phuket or Thailand?), and everything else that comes when planning a perfect tropical vacation.
Luckily, we have a whole island-planning guide to walk you through everything!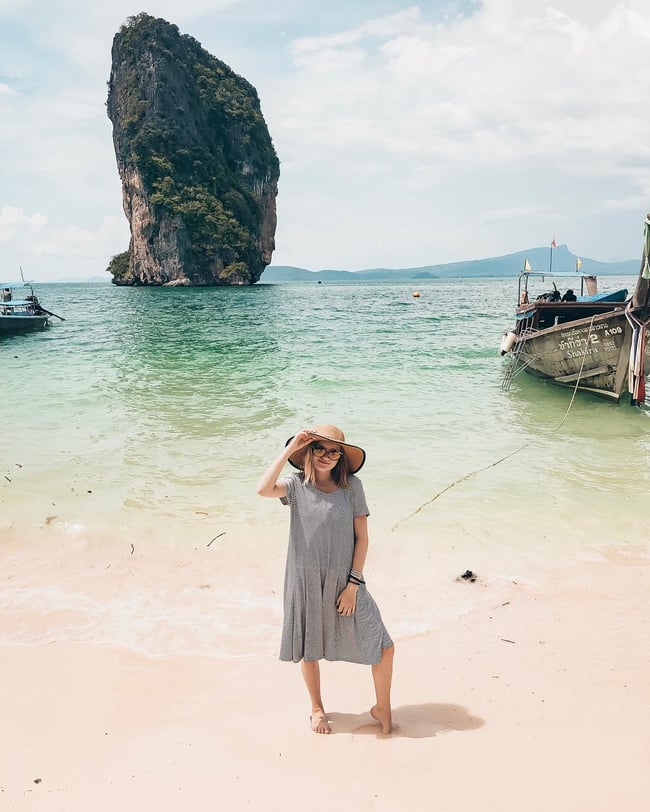 A Bit About Getting Around Thailand
To get to all of these travel spots, volunteers either go by car (you can Uber or Grab), or bus/train/plane. Most groups tend to book on 12Go, where you can pick from a whole range of transportation options. It makes things really easy with schedules and prices.
Each of the blog posts linked above has transportation options so you can get an idea of whether it's best to arrive by taxi, bus, train, or plane.
Another perk of traveling around Thailand with ILP is getting set up with a support system. Every volunteer works with a Local Coordinator who can help with some things, like arranging transportation. Some groups have booked private shuttles to take them to several locations which makes it really easy, too (Chiang Mai, Chiang Rai, Pai, etc. are popular itineraries).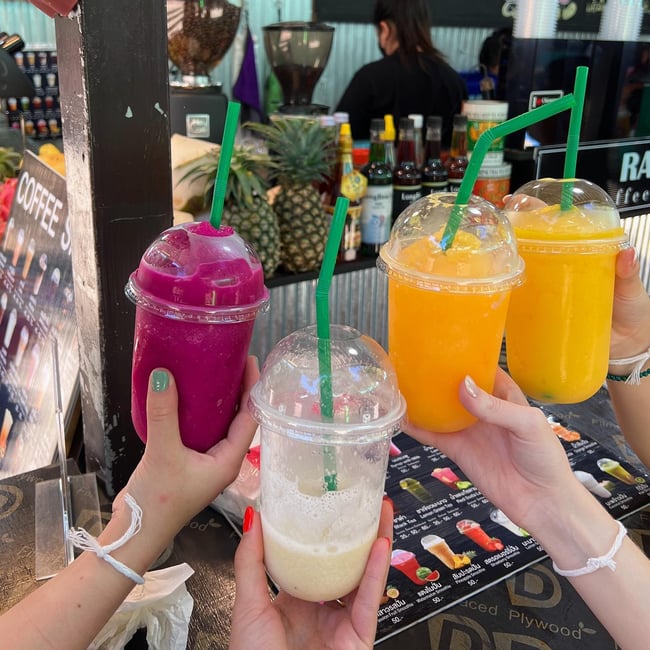 Thinking about a trip to Thailand?
Come spend a semester volunteering here! Volunteers teach English part-time and have free time, weekends off, and vacation days to explore all of these sites in Thailand (and more).