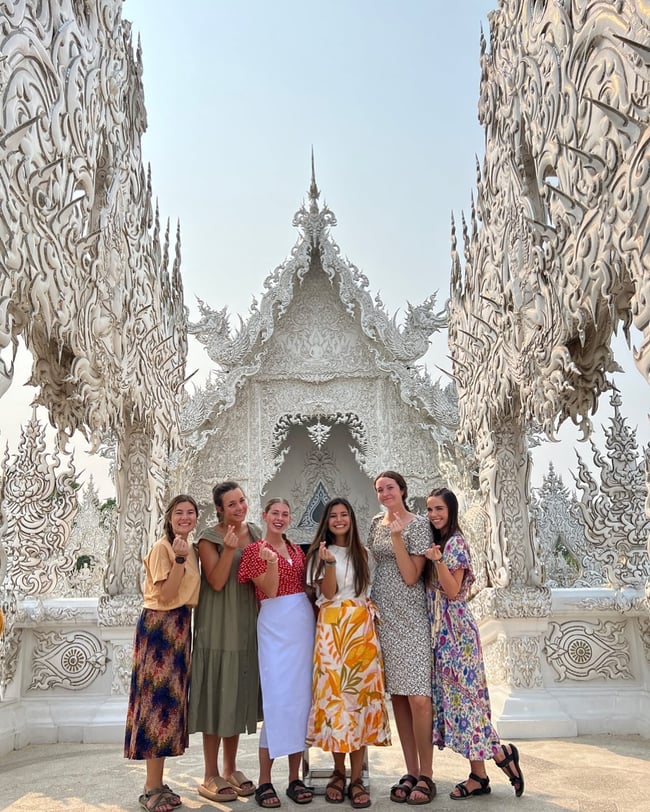 Perhaps you've heard of the White Temple in Thailand? Or maybe you're just looking for awesome places to go during your trip to this magical country? Either way, we recommend spending a couple of days exploring Chiang Rai!
Thailand is breathtaking. It has everything from beaches to waterfalls to jungles to red sandhills. You can literally see every kind of landscape (except for snowy mountains) just by traveling around this one country. There are a lot of places that we recommend visiting, many of which are on our Thailand Destination Guide, and Chiang Rai is one of them!
Interested in spending a semester volunteering in Thailand? International Language Programs is a non-profit organization that sends volunteers to teach English part-time in countries all over the world. Lucky for you, Thailand is one of them! As a teacher, you'll have lots of free time to take awesome vacations like this one!


---
Curious about our Thailand program?
See what it's like to volunteer in Thailand
---

We know that planning a vacation can be overwhelming, especially when you don't have a ton of time and want to make the most of your experience! We've made this guide just for you so you can be sure to visit all of the beautiful and unique places that make Chiang Rai so memorable!
Everything To Know About Chiang Rai
Where It Is
Located in northern Thailand near the borders of Laos and Myanmar, Chiang Rai is about a 3 1/2 hour drive from another city we absolutely recommend checking out: Chiang Mai. Chiang Rai is less busy than many of its neighbors, with a very chill atmosphere and delicious food. The city was founded in 1262 and is a fun mix of traditional and modern Thai architecture.
There's no question that Chiang Rai is the city of colorful temples, and it's home to some of our very favorites in all of Thailand! Up for adventure? Since Chiang Rai is right by the mountains, this is also a great place to go hiking or ziplining. Then relax with a $6 Thai massage and buy souvenirs from the fantastic Night Bazaar!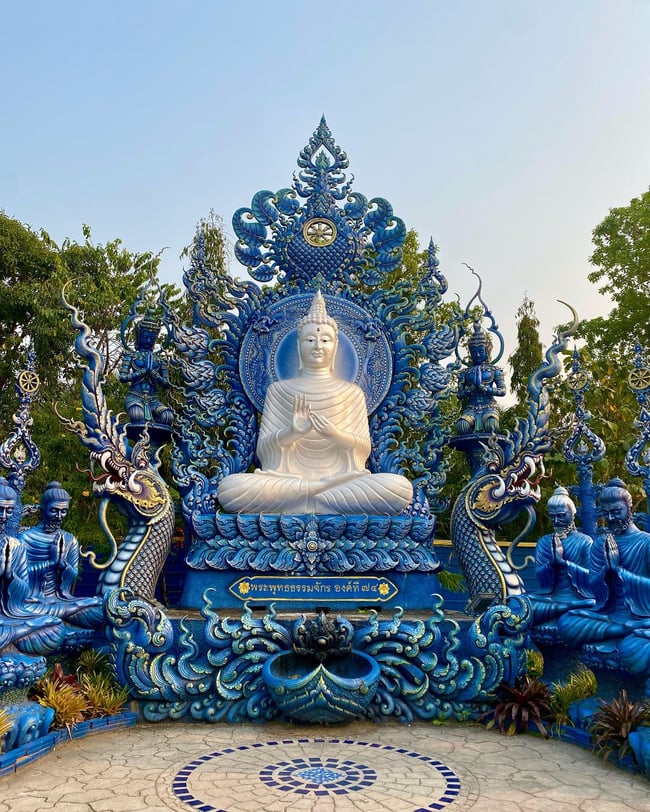 What To Do There
White Temple - Wat Rong Khun
Known as the top tourist attraction in Chiang Rai, the White Temple is small in size but the intricate details of this place are stunning and unique. It does get crowded very quickly, so we recommend making this your first stop and being there right when it opens. Admission is just 50 baht (about $1.30) and totally worth it!
Everything about it is meant to be symbolic since it represents man's journey through life towards nirvana. The outside of the temple is surrounded by horrifying faces, hands that look like they're reaching from hell, and mean looking guardians that protect the path to the temple. Once you get inside the temple, the walls are beautifully painted with families in boats floating through the sky on their way to paradise. Just really cool and thought-provoking!
Cameras are not allowed inside the temple, so you'll just have to see it for yourself. But like we said, lots of symbolism ... and you're probably going to recognize a lot of the characters in the wall murals too.
Hours: Every day from 8 am to 5 pm.
Address: Lahaul-Spiti | Pa O Don Chai Subdistrict, Chiang Rai 57000, Thailand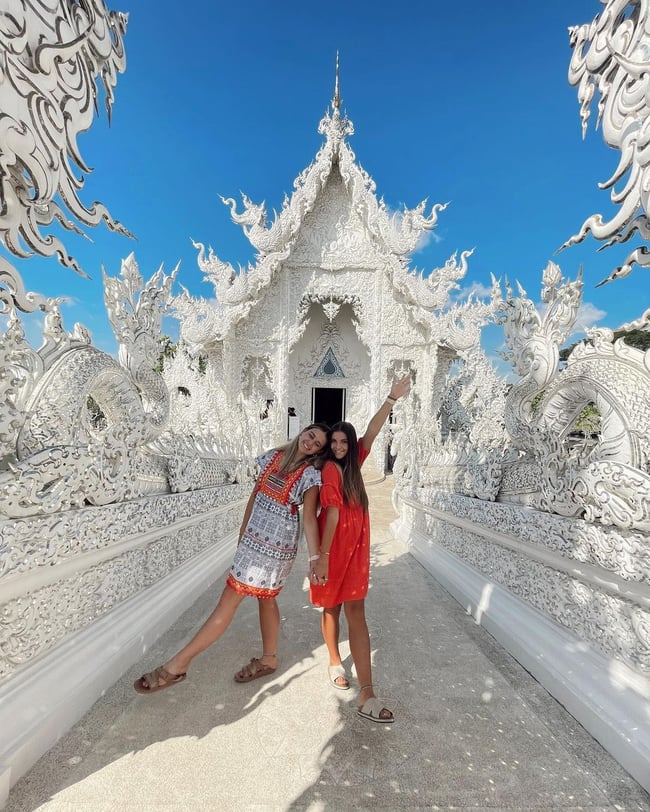 Wat Huay Pla Kang
It's a little farther out of the city, but definitely worth it since you've probably never seen anything like this temple complex. Right next to each other are three different temples: a large, nine-tier one all in gold, a white rectangle one with beautiful carvings along every side of it, and finally a huge Buddha that at first looks like just a statue but for a small fee you can actually go inside and take an elevator all the way to the top and look out on the valley below through the window in the center of Buddha's forehead.
At the base of the Buddha, you can sometimes find a monk who is seated and will give blessings to all who want one. You'll just kneel in front of him, he'll sprinkle water on you, and then give you a bracelet of wooden beads. Quite the memorable experience. And the huge, whitewashed dragons that line the steps leading to the Buddha? Breathtaking!
Address: 553, 57100, Thailand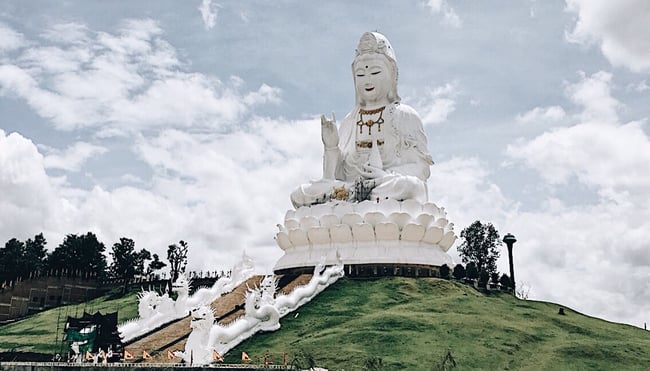 The Golden Clock Tower
Unveiled in 2008 to celebrate the King, the golden clock tower is an incredible piece of art that serves as a traffic circle. Visit from 7 pm to 9 pm and you'll be treated to a music and light show as the clock chimes the hour. It is a surreal experience watching tuk-tuks, cars, and motorbikes continue to drive around the clock tower as it changes color from gold to green to pink to blue.
Address: Suk Sathit, Tambon Wiang, Amphoe Mueang Chiang Rai, Chang Wat Chiang Rai 57000, Thailand
The Blue Temple - Wat Rong Sear Tean
As one of the most ornately painted and decorated temples you'll see, the Blue Temple is one you cannot miss. Plus, admission is free to this small temple. It is surrounded by gigantic statues of mythical creatures and is all different shades of blue and yellow. There are many monks roaming around, but make sure you ask before taking a picture of them. You may even see the locals playing traditional instruments as well.
There are also food stalls located around the grounds of the temple which are the perfect place to grab a snack or even ice cream ... We recommend trying the cone of coconut ice cream on top of purple coconut rice.
Address: 306, Moo 2 | Rim Kok, Chiang Rai 57100, Thailand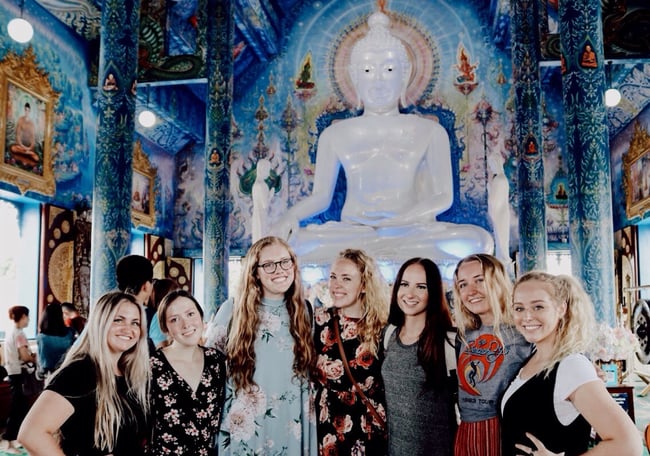 Khun Korn Waterfall
Here's one of those adventure things we mentioned. Although Chiang Rai has many breathtaking waterfalls, this is arguably one of the best! It is about a 45-minute drive from the center of Chiang Rai and is a great place to take a quick break from the city and tourist attractions. Good walking shoes and a swimsuit are a must since after the 30-minute hike that leads to it, you can swim at the base of the waterfall.
Hours: Open daily from 8 am to 4:30 pm.
Address: Highway 1208 , Mae Kon , 57000 Mueang Chiang Rai , Chiang Rai, Thailand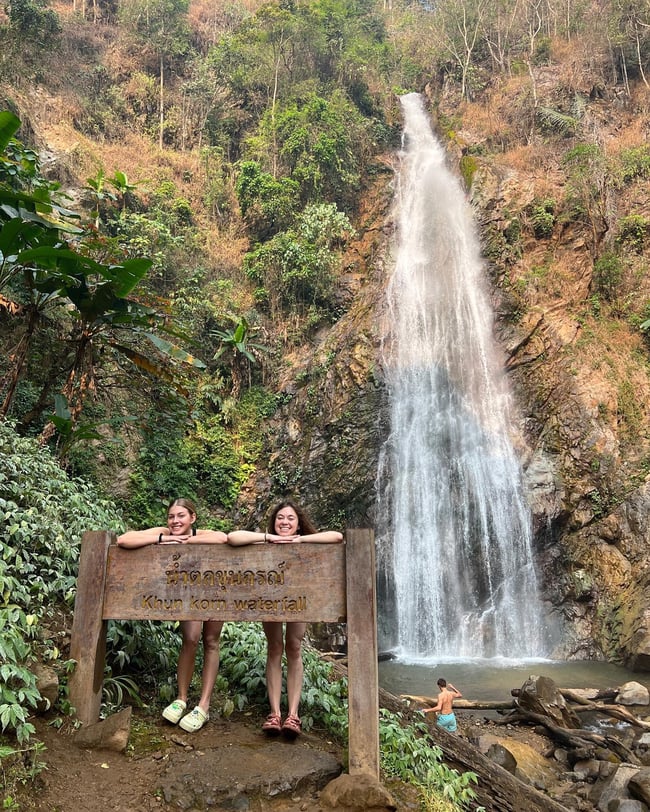 Black House Museum (The Black Temple) - Bann Dam
We've never seen anything like this (and yes we say that a lot)! This site has about 40 structures total, and most of them are filled with animal hides, bones, and traditional Thai statues. It's kind of creepy? But also really cool? It feels a bit like you stumbled on a hidden civilization that still participates in ancient rituals. But it was actually all created by one artist! There's a lot of influence from other Asian countries seen in his work as well.
We almost skipped this place since it's so bizarre, but were glad we didn't! Admission is 80 baht (about $2.50) and worth it! We even got to watch a group of performers but on a little show of traditional dance, complete with a mountain goat costume that had several young boys inside of it. Other volunteers mentioned that this place wasn't the highlight of their trip and would have rather skipped out on it, while some groups absolutely loved it. Just a quick FYI for planning your trip.
Hours: Every day 9 am to 5 pm.
Address: 333 หมู่ 13 Tambon Nang Lae, Amphoe Mueang Chiang Rai, Chang Wat Chiang Rai 57100, Thailand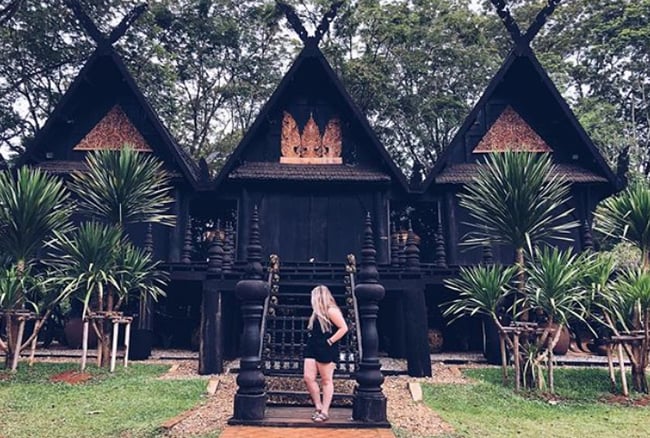 The Night Bazaar
Although our favorite place for souvenirs is definitely the night markets in Chiang Mai, this one is pretty great too. After all, no trip to Chiang Rai is complete without a visit to the local night market. And this one is much less crowded than many of the others you'll find in Thailand.
Open from 6 pm to midnight the night market is a great place to go and grab some of those souvenirs you've been waiting to get. And taste ALL the local treats and snacks (we won't judge)!
Tea Plantation - Choui Fong
This plantation has been producing the finest quality teas for over 50 years! They regularly receive awards and have a great selection including jasmine, green, black, rose and other teas that are unique to the region.
It's a little farther out from the center of the city and you don't have to spend long here. But these views are stunning, even on a cloudy day! And make sure you swing by the cafe for a little treat.
Hours: Open daily from 8:30 am to 5:30 pm.
Address: Pa Sang, Mae Chan District, Chiang Rai 57110, Thailand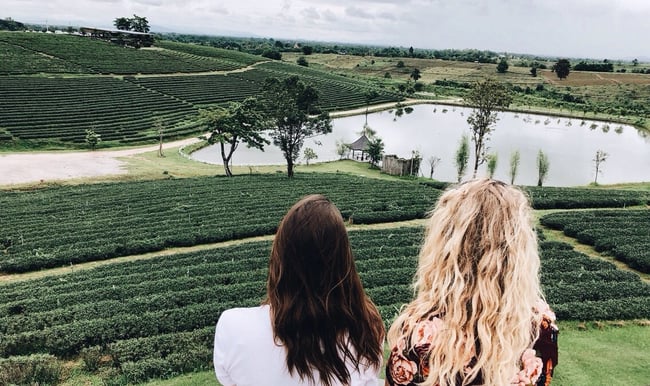 The Golden Triangle
The USA has the Four Corners, and Asia has the Golden Triangle. Just a one-hour drive from Chiang Rai, this is where the borders of Myanmar, Laos, and Thailand are separated by only a small river. There is a very short hike up to an overlook, and the locals say that if you squint on a clear day, you'll be able to see China in the distance as well. This is also a great place to grab souvenirs, ice cream popsicles, and pad thai.
If you have a driver, it's easy peesy to have them take you here. If you don't have a driver but still want to see it, go to this website to explore other options!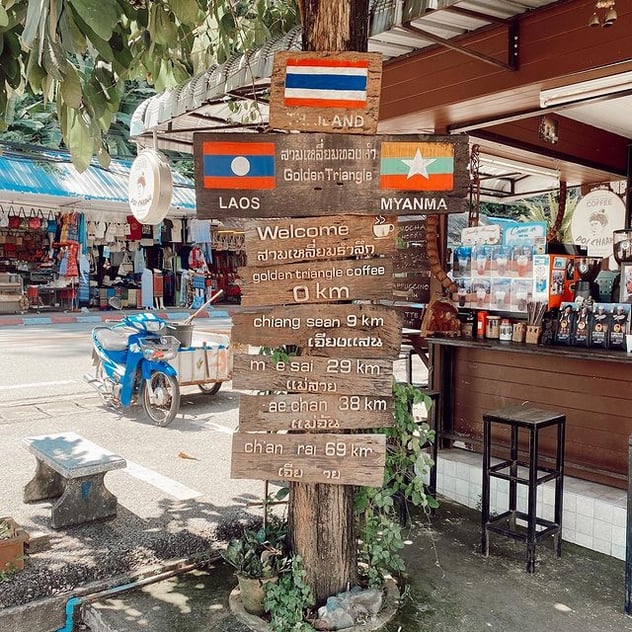 How To Get There
Hire A Driver
Since we recommend taking an entire weekend for this trip, the easiest way to get to Chiang Rai is to hire a driver to take you. If you are a volunteer at any of ILP's Thailand schools, you can do this by talking to your local coordinator, and they may be able to help you organize it. The cost will differ between drivers, but if you have a good-sized group (6-10), this can also be pretty cheap by the time you split the cost for the van between all of you. Plus if you drive through the night, you can sleep pretty comfortably and save money by not having to get a hostel.
Another benefit of hiring a driver is that they can take you to some of the must-sees just outside of Chiang Rai as well. Trust us, these are places you don't want to miss, and hiring a driver is really the only way to see them.
Train
This is another great option! But, do not ride 3rd class! We repeat, do not ride 3rd class! Sure it's a bit cheaper, but you'll be sitting on hard benches, with chickens, and you will be the only American on board. Definitely memorable, but not recommended.
But good news! You can book 2nd class, or even a sleeper if you want to splurge. For a long trip, it's worth it.
From Your Hostel
If you're going to Chiang Rai from Chiang Mai, you can easily book a trip through your hostel. They usually have such trips advertised all over their lobby, so you'll just have to talk to the person at the front desk about it. This is a great day trip and the drive only takes about 3 1/2 hours one way. Just be aware that it will probably be a pre-planned tour and you'll only get to see a fraction of what we mention here.
Getting Around Chiang Rai
Once you get to the city, the easiest way to travel around is by tuk tuk. The best thing about tuk tuks is that you usually don't have to wave one down! The drivers will just pull over and ask where you want to go. And since they're used to driving tourists around, they know where everything is. Make sure you always bargain with them!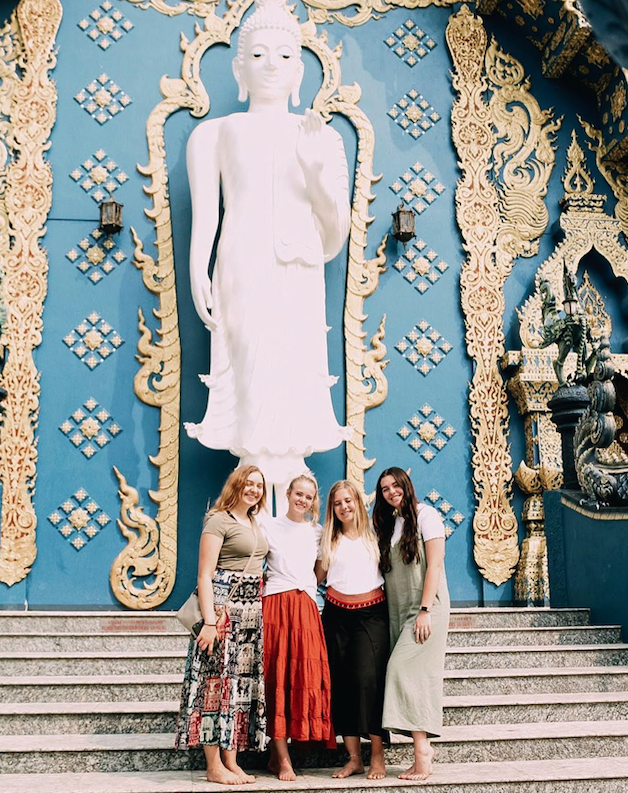 Where To Stay
Mercy Hostel
Our volunteers who have stayed in this one say it's one of the best! It's right in the heart of Chiang Rai (only 600 m from the famous gold clock tower). There's a small pool, no stairs you have to haul luggage up, air conditioning in all ten rooms, individual lockers, and free wifi! Plus the mattresses and bedding are a lot nicer than those at other places!
Book your stay here!
Grace Hostel
With amazing reviews, this hostel would be an awesome place to spend a night or two. Breakfast and wifi are included! It's very clean, is air conditioned, and near the center of Chiang Rai. Sounds like an all-around great deal to us!
Book your stay here!
Connect Hostel
Also located near the Night Bazaar (which you can't miss) and the gold clock tower, this is a comfortable, clean, and nice place to stay! Facilities include wifi, air conditioning, and luggage storage. We definitely recommend staying here, and so do many other travelers!
Book your stay here!
Chian Guesthouse
Past groups recommend this spot for the atmosphere, swimming pool, and general affordability. Bike rentals are also an option which can be a fun way to spend a day.
Book your stay here!
Where To Eat
Sometimes the best places to eat are just the little stands owned by locals that move to a different spot every night. But here are a couple of our favorite stationary places that offer some food options your taste buds may be missing.
Heaven Burger
Craving a good old American burger? Well, these may not be quite what you're used too, but we think they're some of the best burgers we've ever had! They're gourmet, stuffed with fresh ingredients, and totally scrumptious! Plus way cheaper than anything you could buy at home for the same quality. We absolutely recommend their homemade buns and potato wedges.
They do have pretty weird hours that change often, so just make sure you check that out before going. And if you're staying at Mercy Hostel, this is just a five-minute walk away.
Address: 1025/5 Jetyod Rd, ตำบล เวียง Amphoe Mueang Chiang Rai, Chang Wat Chiang Rai 57000, Thailand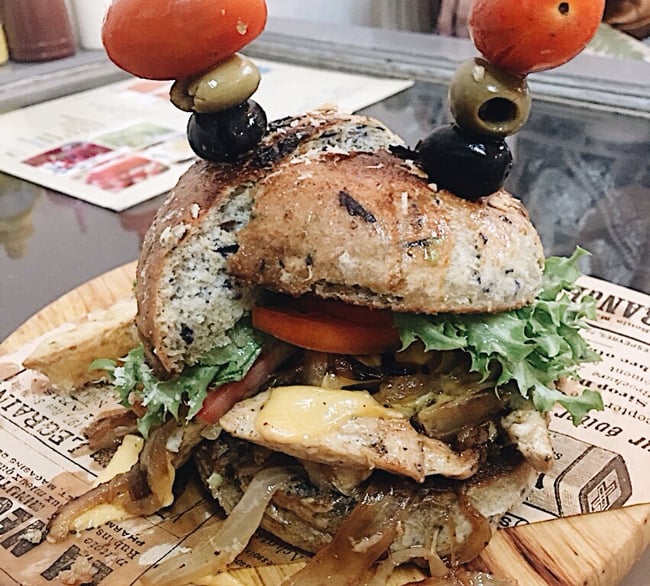 Swensens
Can you ever have too much ice cream when traveling? Of course not. Another great place for familiar flavors, Swensens serves gourmet ice creams and some even have a Thai twist. And since it's really close to the Night Bazaar, this is a perfect stop for an evening treat before heading back to your hostel. Swensens is more expensive than local Thai places, but the servings are huge and we recommend splitting one with a friend.
Address: 869 166 Phaholyothin Rd, ตำบลเวียง Amphoe Mueang Chiang Rai, Chang Wat Chiang Rai 57000, Thailand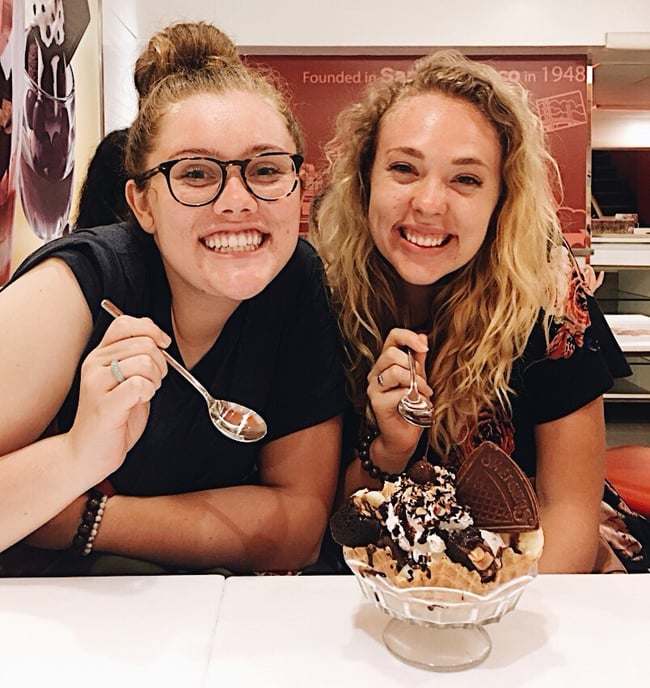 Want to learn more about what it's like to volunteer in Thailand?

Click the button below to get info about group size, semesters, life abroad, and more!