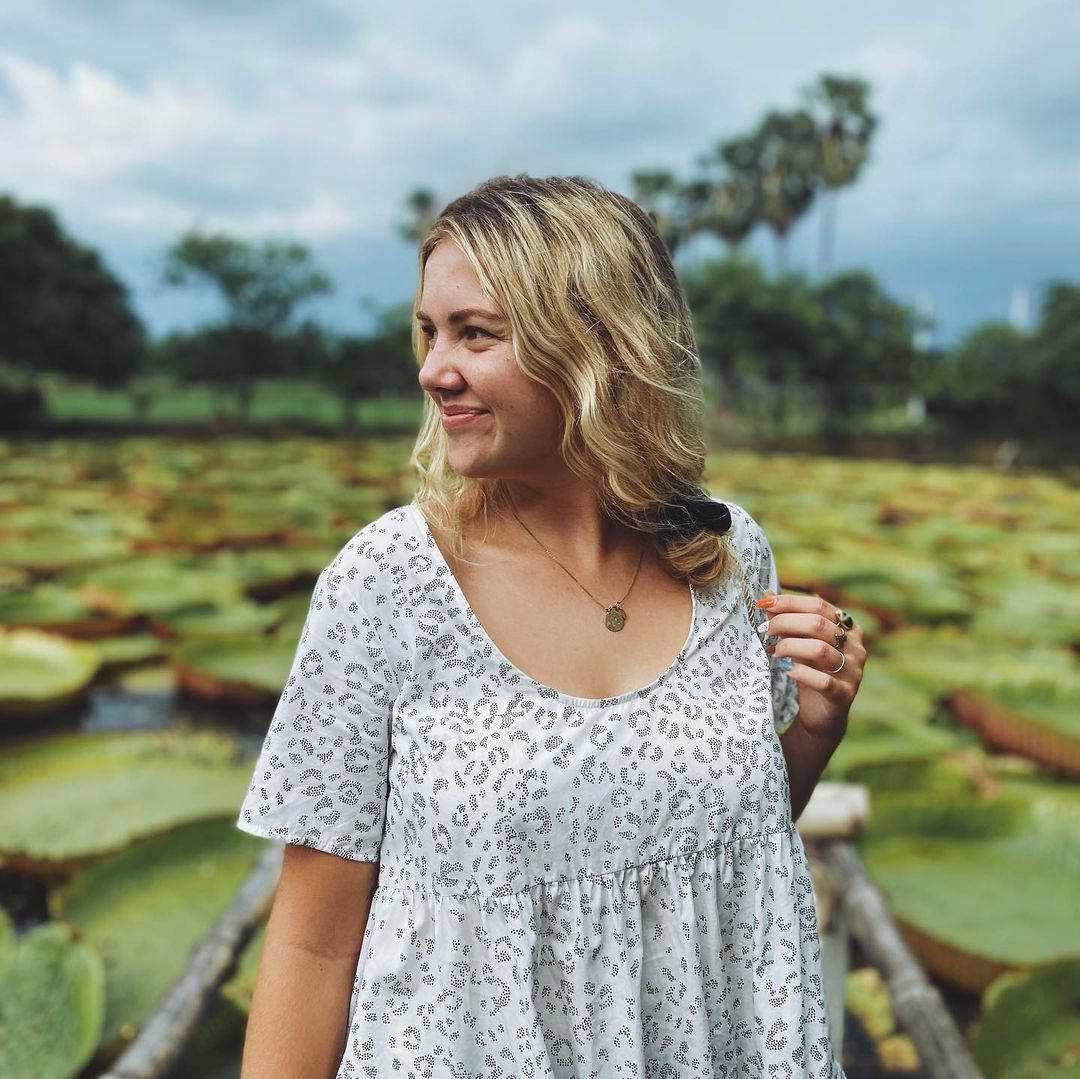 We've gathered up all of our volunteer's top P-lo picks, like their go-to smoothie stands, yummiest restaurants, and fav souvenir shops, all in one place just for you!
If you are one of our lucky Thailand volunteers you might find yourself living in or near the city of Phitsanulok. It's kind of a mouthful, so first and foremost, let's get the pronunciation down — it sounds like: peas-on-a-loge (think peace on a log). However, most ILP volunteers have lovingly nicknamed it P-lo for short.
Phitsanulok is located in central Thailand, tucked away in an area where you won't see many tourists. We love it because you'll get to experience living in a part of Thailand where you'll get a truly unique and authentic adventure. You'll have the opportunity to see how friendly the locals are and fully understand why it's known as "The Land of Smiles".


---
Dreaming of spending a semester exploring Thailand like a local?
Apply today!

---

If you're headed here for your semester abroad with ILP, we're pretty confident that you are seriously going to LOVE spending time in P-lo. It has a completely different vibe than the touristy beaches most people associate with Thailand. Here you will learn what it is like to live like a local, by biking around the bustling city, getting your nails done at cute little salons, shopping for fresh fruit at the markets, and making friends with all of the kind people!
We talked to ILP volunteers who have lived here for a few months and gathered up all of their favorite places like the best massage parlors, most affordable salons, and tastiest cafes. Check out this list of all the best things to do in Phitsanulok!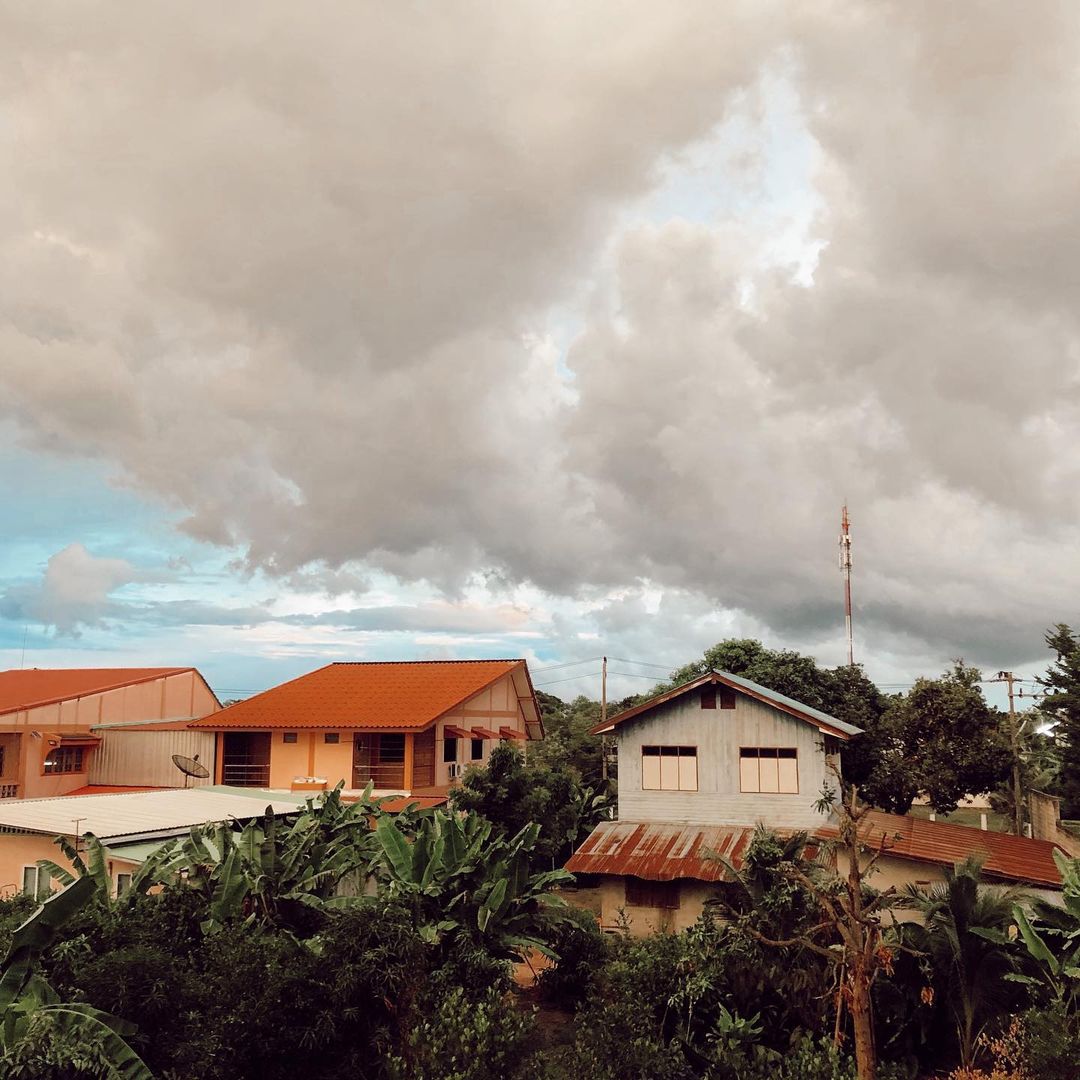 Shopping
Ok ... we love shopping. Especially in Thailand where you can find crazy low prices on items you actually want! For example, small backpacks are so popular right now and we've had volunteers pay only 1000 baht (which is roughly 30 US dollars) for some of the cutest ones that are typically 3x as much! Here are some of our volunteers' favorite places to find a great deal!
Walking Street
This one is definitely our volunteer's favorite market in all of Phitsanulok, and we totally understand why! This market seriously checks off all the boxes. Serioulsy, it has a little bit of just about anything you could want! Clothes? Check! Super yummy food? Check! Unique souvenirs? Check!
It's such a fun place to walk around so make sure you explore all of the booths. We definitely recommend bringing small change for making purchases, and our volunteers say to try their strawberry smoothies, fried ice-cream, and brownie balls!
Hours: This market is open every Saturday and starts right at 5 PM
How to get here: Just type in "Phitsanulok Walking Street" into Grab or Google Maps.
Psst ... have you heard about Grab? It's essentially the Thai version of Uber and ILP volunteers say it's really helpful if you need to snag a taxi. Here's the Grab app — we suggest downloading and getting your card information all set up before departing for Thailand.
Night Bazaar
This market is so fun and so big! And the best part? This one is open every single night! We love the Night Bazaar's fun and lively atmosphere. This market is made up of a lot of boutique-type stalls, so if you are looking for cute and affordable clothes, this is the spot! You'll find so many options here with everything from jewelry to clothes and accessories.
Hours: Open every night!
How To Get Here: Our volunteers in the past have just told their taxi or Grab driver "Night Bazaar."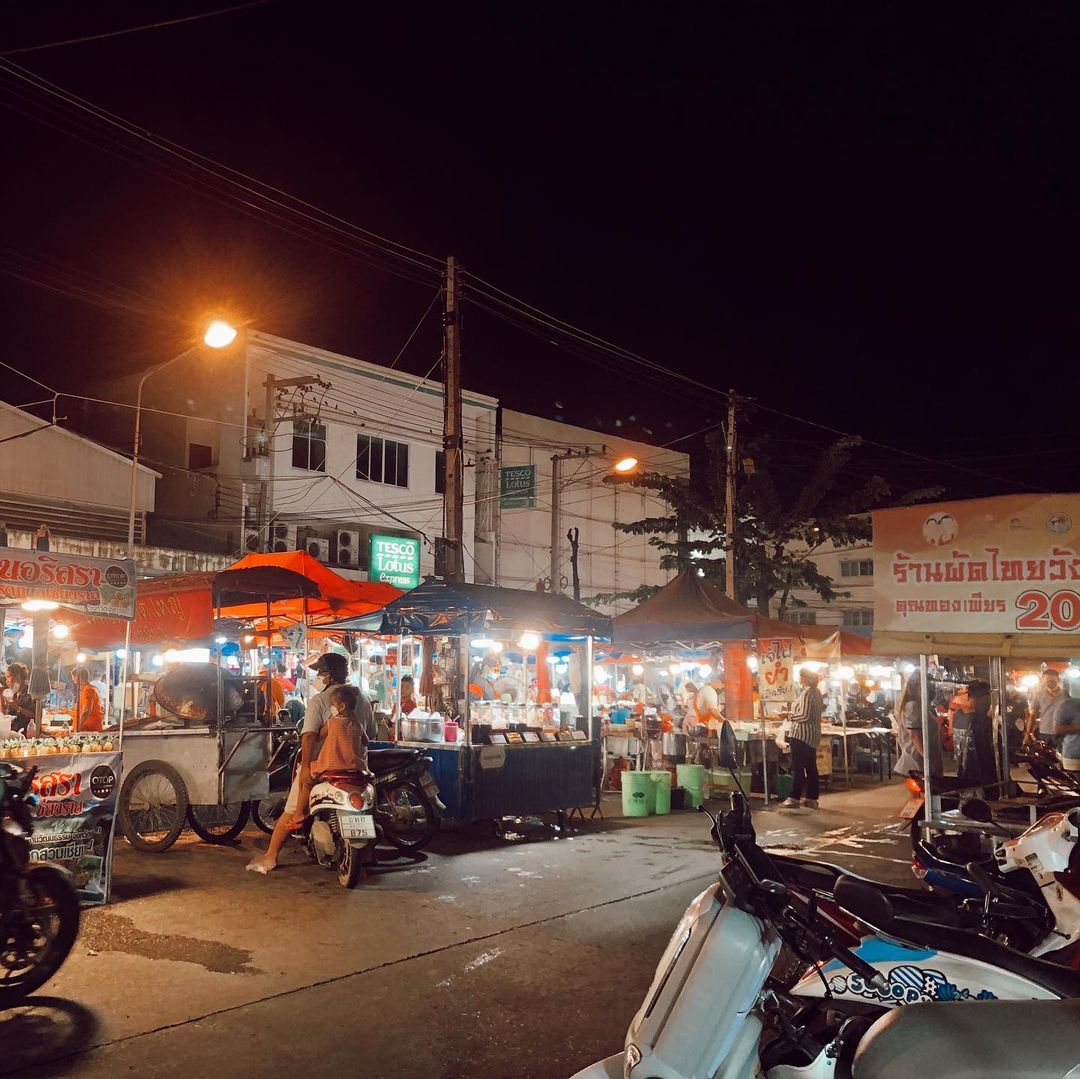 Train (Rot Fai) Market
This market is also open every single night and it's right by the train station (which you'll become really familiar with while you live here). If you are a die-hard foodie, make sure you don't miss out!
Basically, this is strictly a food market where you can try all of our fave local dishes here like Roti. If you haven't heard about roti yet, consider you're introduced — it's a type of bread found in many cultures, but in Thailand, it's often served at street vendors who cook it up as fried bread and often topped with sweets like sweetened condensed milk, bananas, Nutella, etc. Trust me, it's as delicious as it sounds.
And if you are brave, you can even try some of the bugs! Yep, you read that right. In many Asian countries, it's a yummy snack to have things like fried grasshoppers, crickets, water beetles, and more. If you're from somewhere in the west ... this may be your first time seeing these treats at the market, but when in Thailand right? Really though, a lot of our ILP volunteers have tried them and said they weren't too bad, so we say give it a try.
Hours: Open every night!
How to Get There: Just tell taxi or Grab driver "Train market."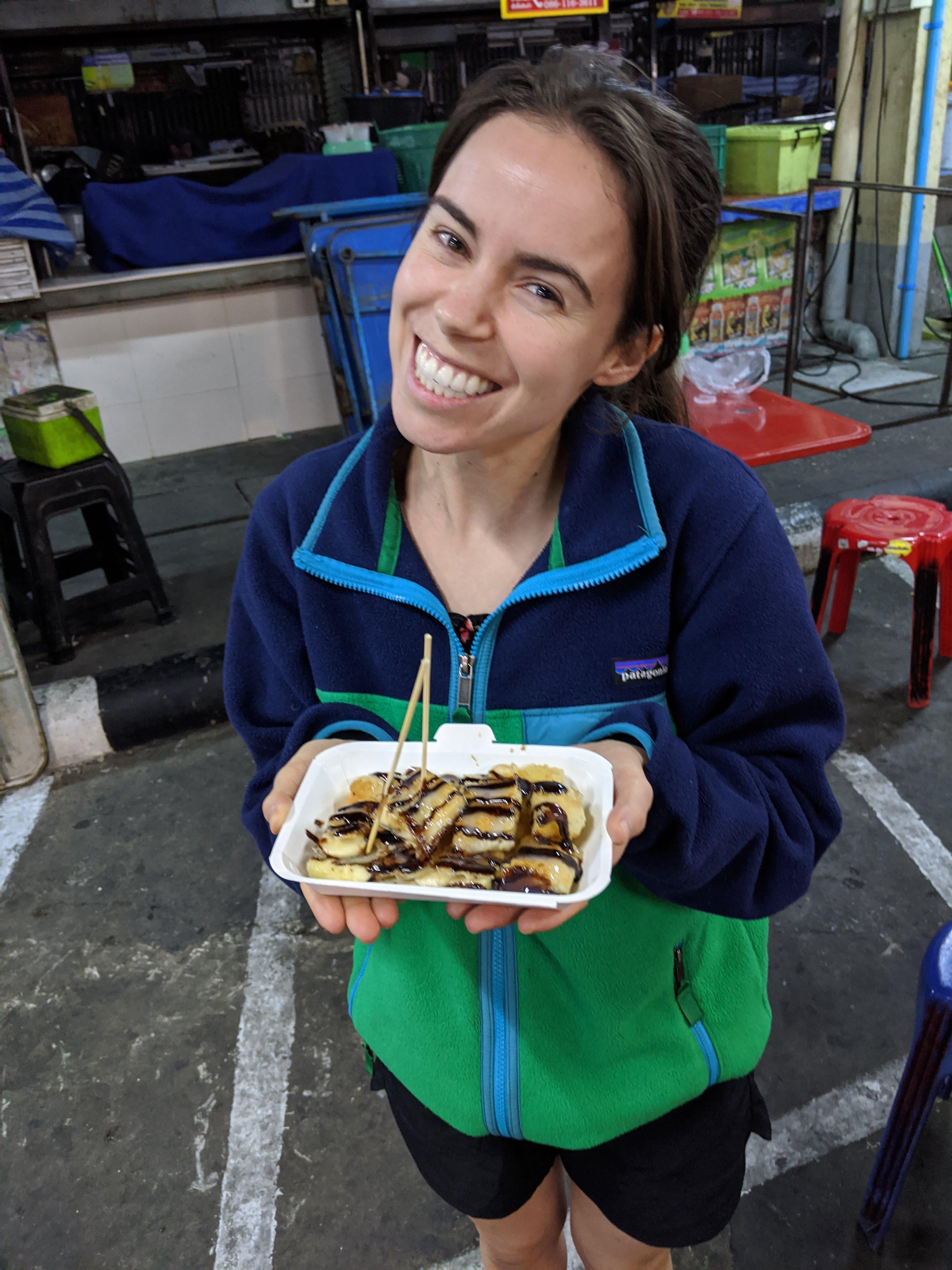 Central Plaza
Central is a gigantic mall and ILP volunteers tend to visit multiple times during their semester. It's got just about everything you might need, and even if you're just looking for something to do on, it's nice to come wander around while enjoying the AC.
You'll find lots of clothing stores like Uniqlo and tons of adorable little local clothing boutiques as well. Just a head's up — just like what you'd find at malls in the States and in Canada, the items aren't necessarily cheap. They're actually more expensive than the clothes you will find in the Thai markets, but they are also typically much better quality.
It also has loads of yummy places to eat, including some restaurants from home like Starbucks, McDonald's, Swensen's (which we love for ice cream), Auntie Anne's, pizza shops, etc. There is also a grocery store called Tops where you can purchase snacks to eat throughout the week! When I lived in Phitsanulok with ILP, my ILP group used to load up on peanut butter and Ritz crackers every time we visited Tops!
Location: 99 ถ. สิงหวัฒน์ Phlai Chumphon, Mueang Phitsanulok District, Phitsanulok 65000, Thailand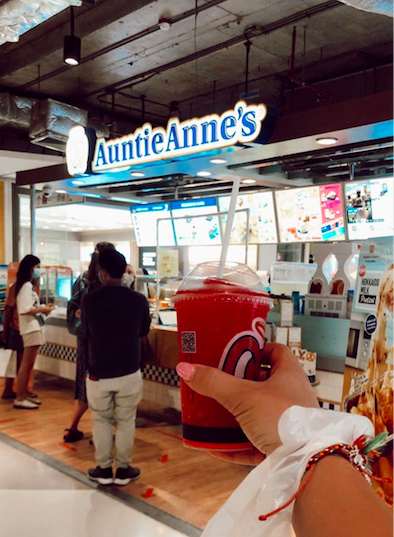 Eating Out
Made for Mouth
This place is very popular among our volunteers, and they love coming here for their mango smoothies! And if you are craving some food that tastes like home, they also recommend getting their chicken pesto panini, margarita pizza, caesar salad, and french fries!
Hours: Everyday 11 AM-9 PM
Made for Mouth HQ Location: 27/18 Thanon Siharajdachochai, Phitsanulok
Buck Town
A super cute cafe with an inviting atmosphere that entices all of our volunteers to go and relax there for hours. They all rave about how sweet and kind the workers here are, and apparently, they also have the best crispy chicken salad.
Hours: 6:30 AM-11:30 PM
Address: Wang Chan Rd, Nai Mueang, Mueang Phitsanulok District, Phitsanulok 65000, Thailand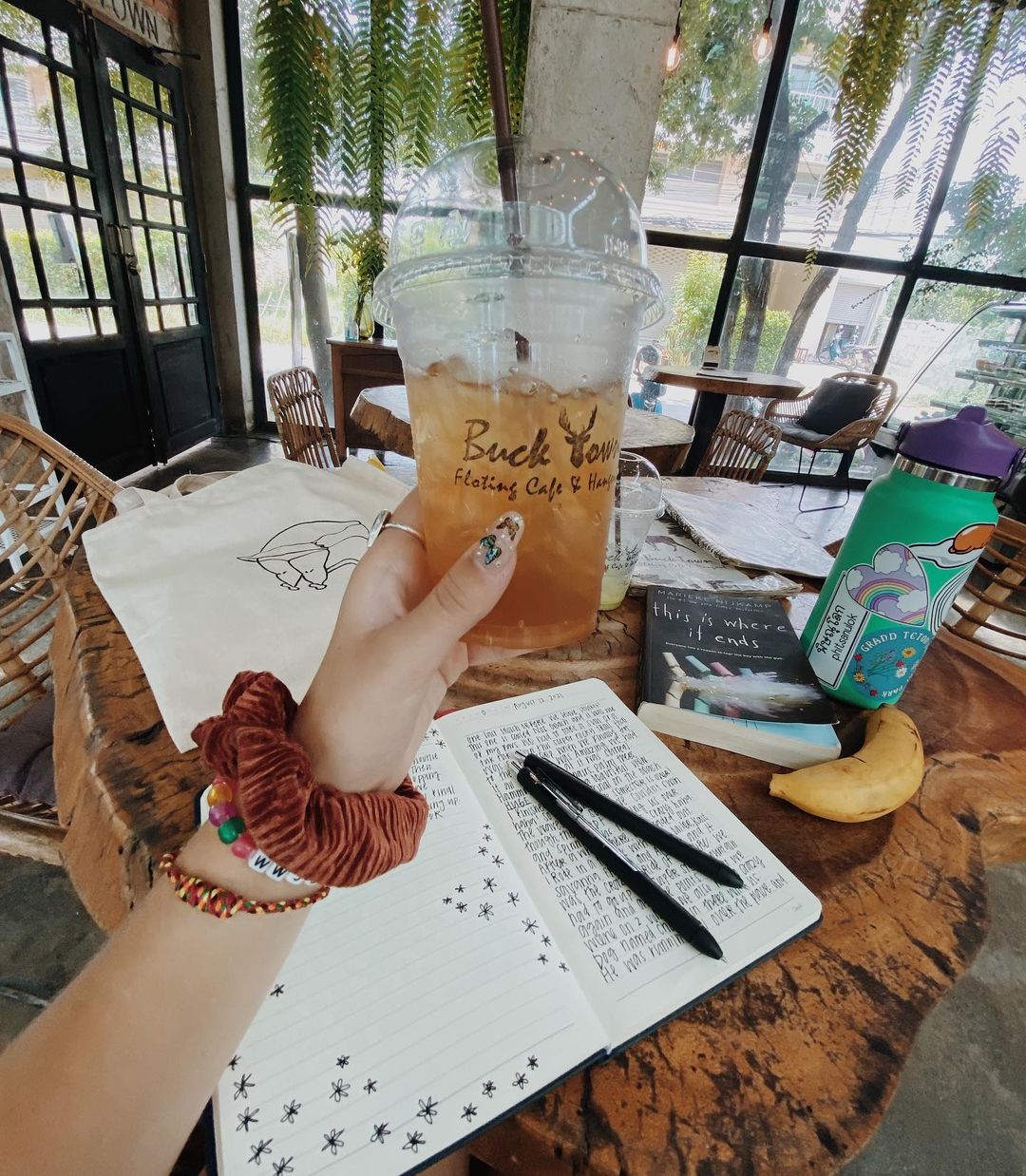 Rubber Tree Café
This place has a huge drink menu with lots of English on it. We recommend the oreo shakes, french fries, fried rice, and strawberry smoothies! Our volunteers swear that this place has the best Wi-Fi in all of Thailand! Groups will go there anytime they need a really good Wi-Fi connection and hang out for hours!
Hours: 9 AM-6 PM
Address: Unnamed Road, Wat Chan, Mueang Phitsanulok District, Phitsanulok 65000, Thailand
Oasis Café
Who doesn't love a picture-perfect cafe? Our volunteers love coming here for a tasty breakfast and for the photo ops!
Hours: 9 AM-6 PM
Address: Ban Khlong, Mueang Phitsanulok District, Phitsanulok 65000, Thailand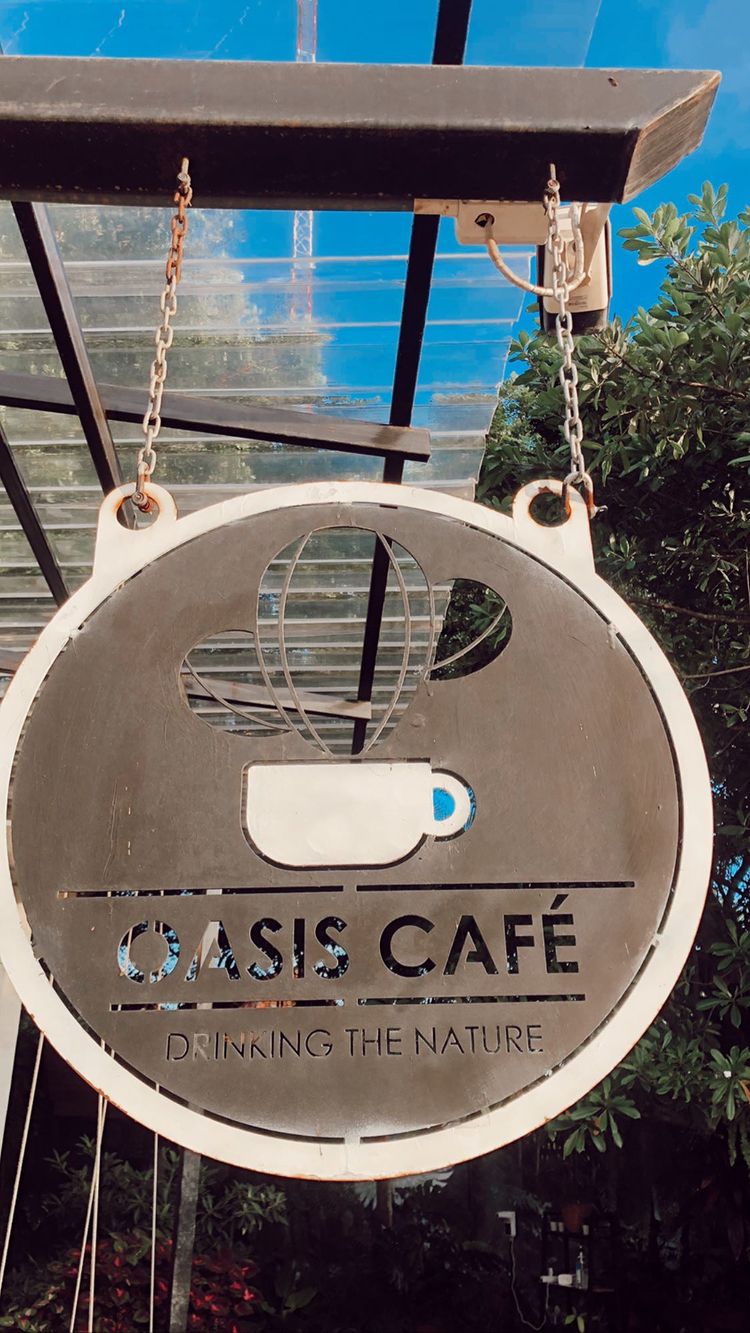 Nannum Restauraunt
This is where you go to get your Thai food fix! Our volunteers recommend getting the Thai toast, the cashew chicken (my personal fav), and the green curry!
Hours: 11 AM-11 PM
Address: 94/2 Wang Chan Rd, Tambon Nai Mueang, Mueang Phitsanulok District, Phitsanulok 65000, Thailand
Cheevit Cheeva
Rumor has it that this is where you can find the best bingsu, nutella toast and boba! For those of you who don't know, bingsu is one of Asia's favorite desserts! It is a shaved ice treat topped with fruit and sweetened condensed milk ... yum!
Hours: 11 AM-8 PM
Address: R62X+MMF, Wat Chan, Mueang Phitsanulok District, Phitsanulok 65000, Thailand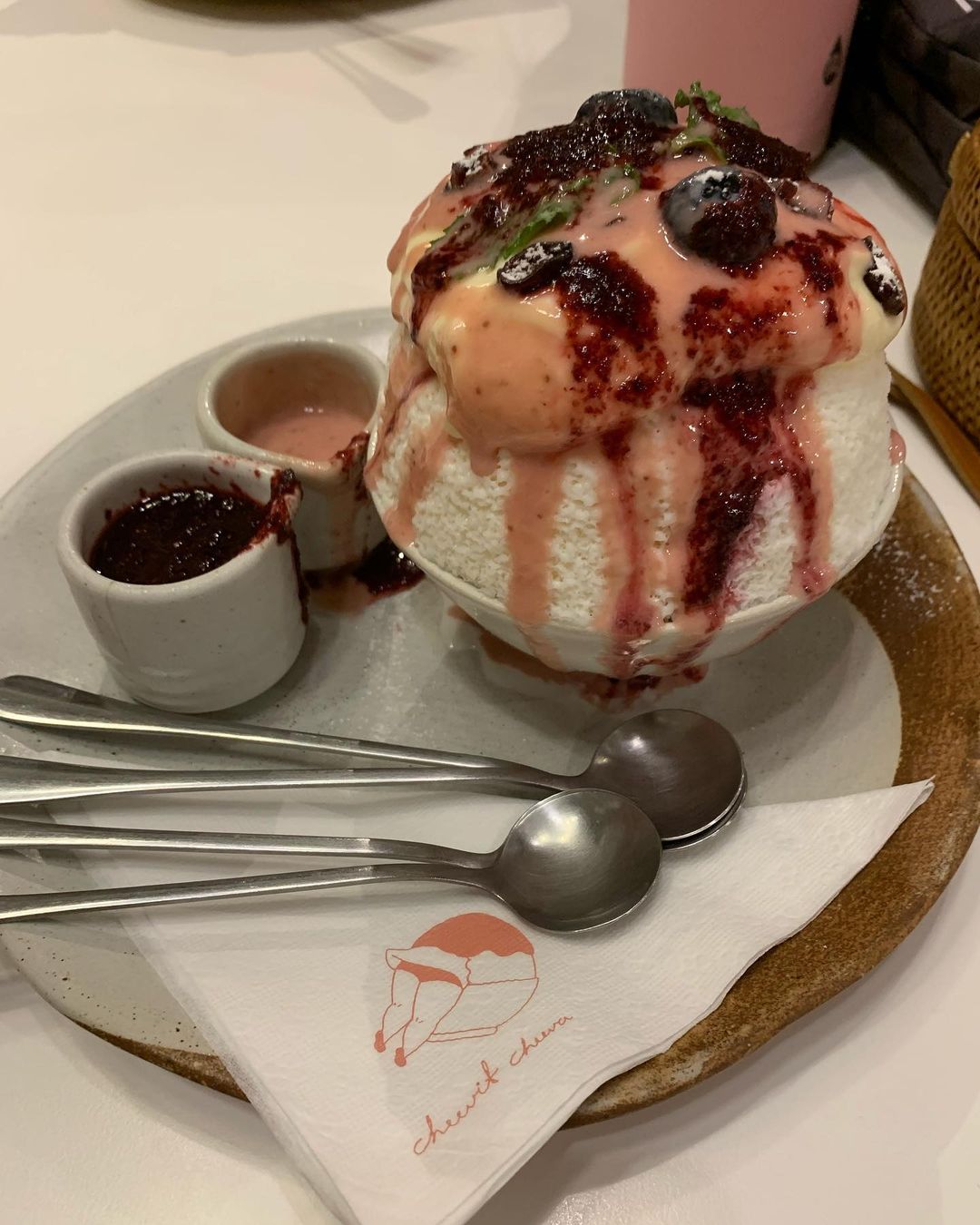 A quick list of some other eateries and restaurants volunteers have recommended:
-Cafe Veggie
-Stamps
-Lavana
-Inside House
-Café NA Café
-House of Smoke
-Pae Pid Lok
-Yotze
Things to Do
Massages
You've probably heard of the famous Thai massages. If you've had a massage in America, know that getting a Thai massage is likely going to be a much different experience.
A true Thai massage is head-to-toe and they're more like a physical therapy session than a typical relaxing "massage". Thai massage is an ancient practice, with many health benefits such as lowering stress and boosting energy by using gentle pressure and stretching techniques to relax the whole body. Although be warned, it's normal to feel sore after. Drink lots of water!
You'll see different massage places all over and they all offer generally the same treatments. A typical price is around 250-300 baht (which is under $10 USD) for a 60-minute massage!
If you aren't used to massages (even from back home) and are feeling a little unsure, you might want to opt for a foot massage instead because it's a little less invasive and in our opinion, this is an experience you won't want to miss out on! Our volunteers recommend going to a place called Massage for Health, which is really good and fairly inexpensive!
Getting Nails Done
We know lots of our volunteers loooooove getting their nails done. One major perk about living in Thailand is that you can get super cute gel nails for a fraction of the price that you would in the US! Our volunteers in Phitsanulok recommend going to the Perfect Nail salon, where you will only pay around $8 for your whole set. Pro tip: We suggest bringing a photo to show the nail tech exactly what you are looking for, especially if you want a more complicated design!
Hours: 10 AM-8 PM
Address: 12, Phlai Chumphon, Mueang Phitsanulok District, Phitsanulok 65000, Thailand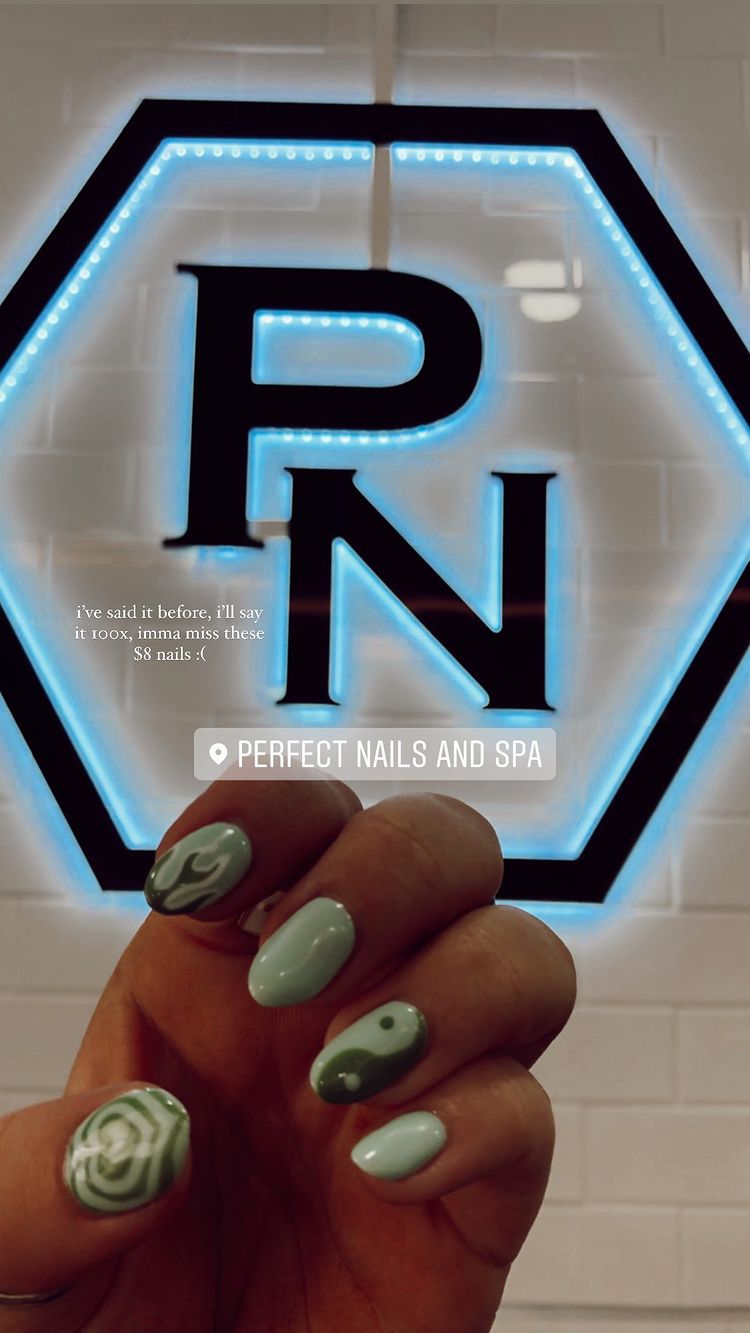 Eyelash Extensions
If you are wanting long, luscious lashes during your semester abroad look no further! Visiting Le Lert Studio has become super popular with our volunteers because they do such an amazing job with eyelash extensions!
Hours: 8 AM-9 PM
Address: 99 144 Pracha Uthit Rd, Nai Mueang, Mueang Phitsanulok District, Phitsanulok 65000, Thailand
See a Temple!
You don't have to go far in Thailand before passing by a stunning temple, and Phitsanulok is no different. Wander around Wat Phra Si Rattana Mahathat (locally known as Wat Yai) and explore this beautiful temple, admire the stunning golden buddha, and tie a ribbon around the wishing tree!
Address: 92 3 ถนน Phutthabucha Alley, Nai Mueang, Mueang Phitsanulok District, Phitsanulok 65000, Thailand
Explore the Ruins
Wat Wihan Thong is a historical site and home to temple ruins. Our volunteers have been able to participate in Muay Thai and sword fighting lessons here!

Address: 2 Wang Chan Rd, Nai Mueang, Mueang Phitsanulok District, Phitsanulok 65000, Thailand
Come See Elephants!
Hanging out with elephants is one of the reasons you're beyond excited to visit Thailand, right? These animals have become a huge part of the culture, a symbol of the country, and are one of the main tourist attractions. And for good reason! Seeing these gentle giants up close is a pretty amazing experience.
Luckily for you, there are a few options where you can have a day with some happy elephants. Our newest find? The Sappraiwant Elephant Sanctuary found right by Phitsanulok, Thailand. Get all the details about volunteering with elephants at this sanctuary, here.
This Waterfall Hike
While we love the elephant rehabilitation and the line of mountain cafes and glamping, the hikes at Namtok Chat Trakan National Park are no short of stunning.
This gorgeous park encompasses rolling mountains, towering rock cliffs, and stunning waterfalls. The park has been around since 1987 — Thailand's 55th national park — and has been a popular place among locals looking to escape the heat a bit (it's typically a bit cooler here), and get a little slice of nature. Visiting means admiring a series of waterfalls, local plants like waving bamboo stalks, and maybe catching a glimpse of the many animals which call this forest home.
We'll get to the main attraction below, but as a sneak peek, a 7-tiered waterfall is the star of the national park. You also have the chance to visit a cave with prehistoric carvings, see fossilized footprints, and more. Get all the details about hiking in the Namtok Chat Trakan National Park here.

One Of The Most Unique National Parks
Our volunteers who spend a semester living in Thailand are here long enough to venture into the corners that are more of a local's secret, like the Phu Hin Rong Kla National Park! In a nutshell, a trip here means some serious exploring, see some incredible viewpoints, photograph fields of wildflowers, and step back into history.
This blog post has all the info on exploring the unique sunset views, hiking to hidden waterfalls, peering into historic buildings slowly being overtaken by moss. It definitely will be one of the more unique weekend trips you can fit into your semester.
Victoria Lily Pads
Probably one of our favorite and most unique things you can experience in Phitsanulok! I have this obsession with giant lilypads and before I left for my semester in Thailand I researched where I could find some. Lucky for me there was some right in Phitsanulok! These incredible waterlilies stretch up to 7 feet in diameter and are strong enough for you to actually stand on! This pond filled with massive lily pads is located in the Ban Khlong district and it's in someone's backyard, kinda out in the middle of nowhere, but a quick trip to the Victoria Lily Pads is definitely a perfect mini-adventure for an afternoon!
Admission Fee: 10 baht per person
Hours: There really aren't particular hours because he lives here, so just be mindful of the hours you choose to visit
Getting here: There is no public transportation to get here so you will have to take a taxi or a tuk-tuk
Address: บัวกระด้ง พิษณุโลก
(this is the Thai name and what I showed our taxi driver to get here.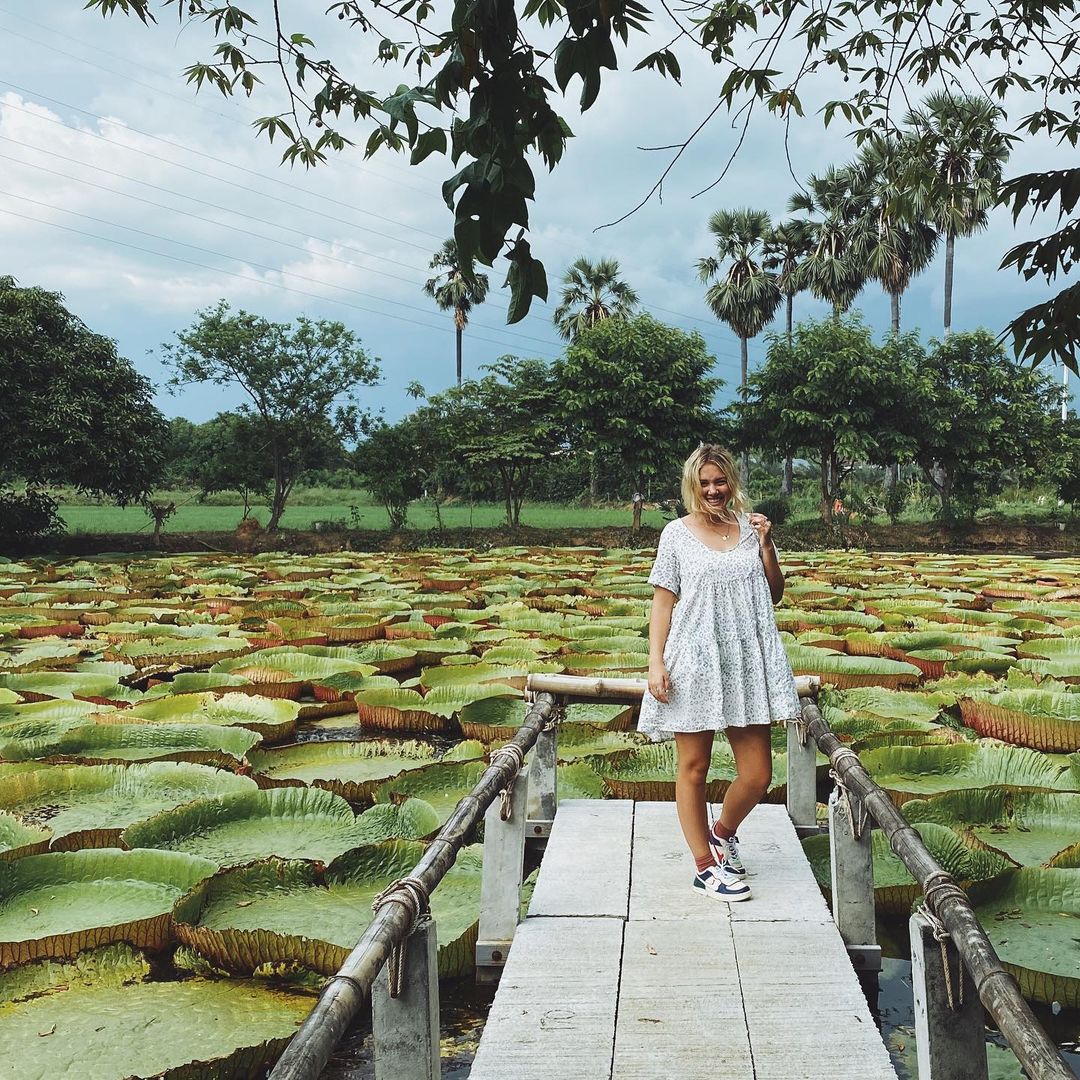 Ready to experience Thailand for yourself?
Come volunteer here for a whole semester with ILP! Volunteers teach English part-time and then have weekends off plus vacation days to explore all over Thailand — I was taking weekend trips to visit ornate temples in Bangkok, feeding elephants in Chiang Mai, and swimming in turquoise water in Khao Sok! Come live out your Thailand bucket list with us!