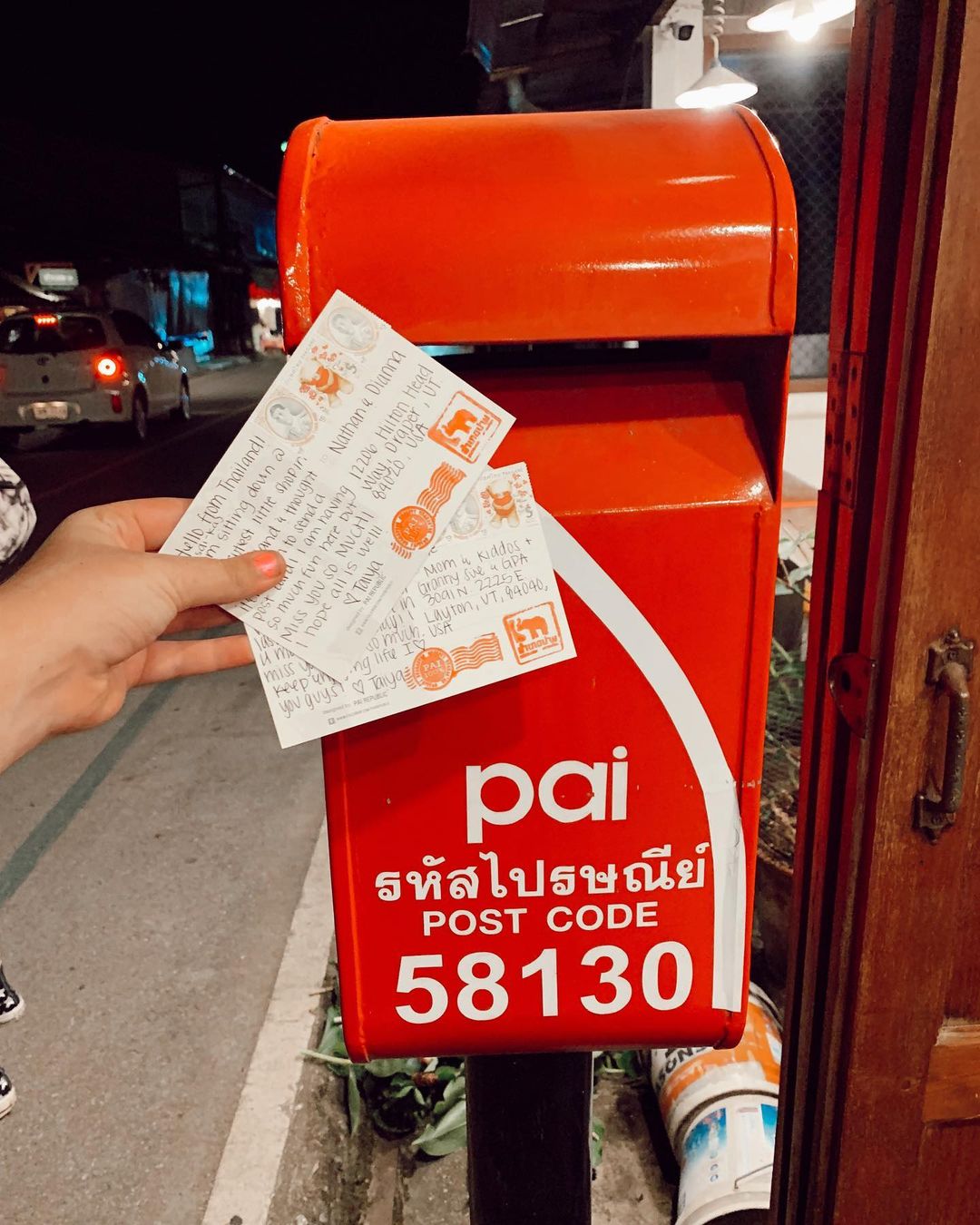 Thailand—oh how we love your white, sandy beaches and cutie elephants, but that's not all there is to see here. With a name like Pai (pronounced pie), it's gotta be good, right? This little, trendy Thai town is a-dorable!
Volunteers teaching English in Thailand with International Language Programs will get plenty of vacation time, and with so many perfect weekend trips just within Thailand, you won't even need to leave the country! Pai is one of these ideal spots, but people forget about it since this quirky town is a lot more popular among European travelers than American ones. Situated in the mountains 3 hours north of the very popular, can't-miss destination of Chiang Mai, it's an extra trek to reach Pai, but we think it's worth it.


---
Have you wanted to volunteer abroad for a semester? Here's how we did it!
Learn About Volunteering With International Language Programs
---

If you get to spend a weekend in Chang Mai during your trip to Thailand (btw that should be a "when" since Chiang Mai sits as the #1 experience on our Thailand Destination Guide) make a stop at the nearby town of Pai for a perfect weekend getaway! Or plan on doing both Pai and Chiang Mai in 4-5 days. Volunteers, come see what this quirky town has in store for you:
For A Weekend In Pai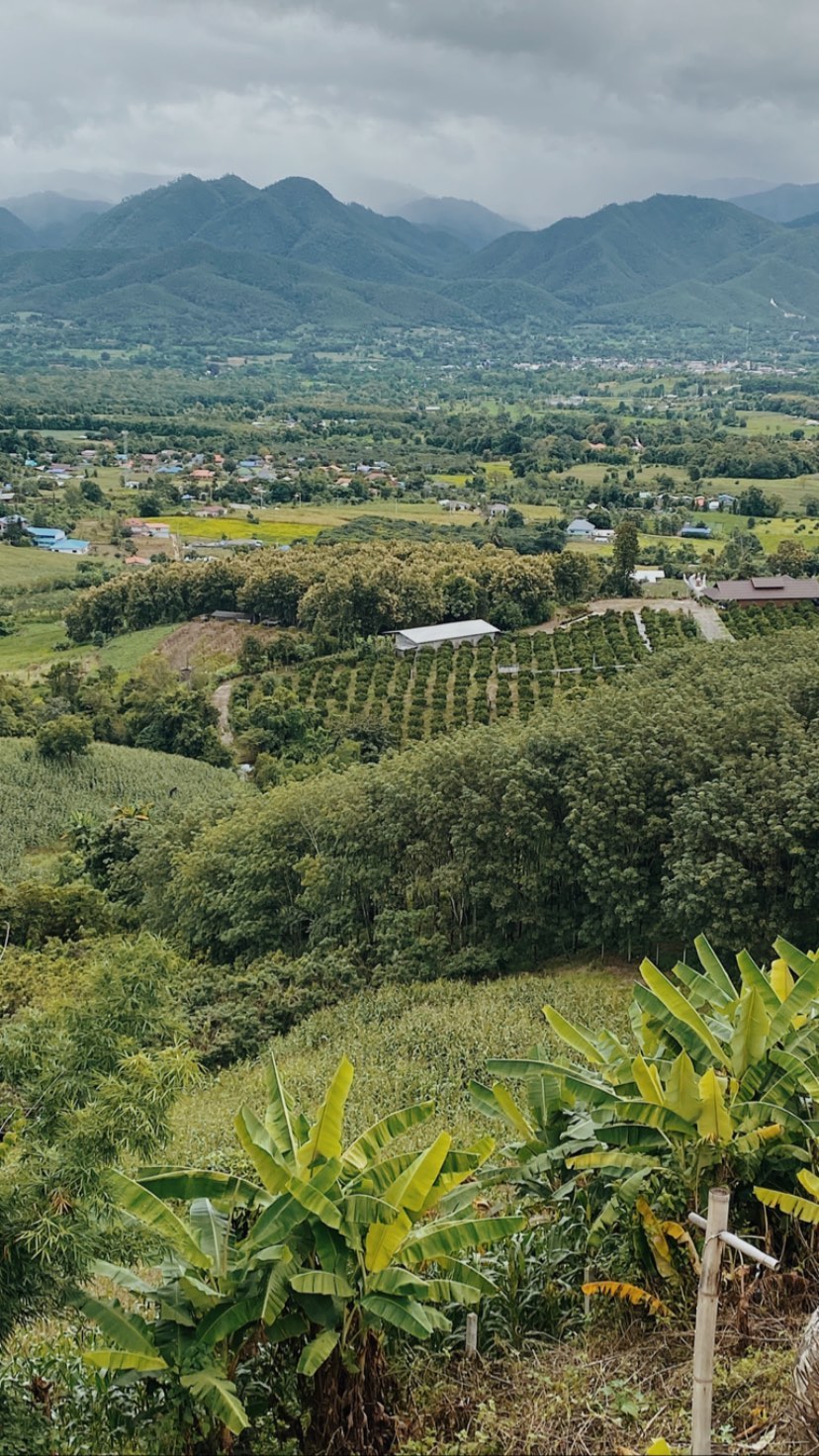 What To Do There
There is so much! Keep in mind that our list of things to do is just the highlight reel. Plan some free time to meander down Main Street, poke your head into the little shops (and we won't judge if you go back for another burrito at our fav spot), even do some yoga, and just see where Pai takes you! The entire town has such a laid-back atmosphere that many of our volunteers completely fall in love with.
Explore Pai Canyon
Really happy that we get to introduce you to Thailand's Grand Canyon! It can be a quick stop because the best views are seen just a short walk from the entrance. Hiking in Pai Canyon is not for the faint of heart. If you decide to go all the way into the canyon and hike back out, make sure you plan a full day and bring lots and lots of water (because, you know, Thailand heat). If you're not big into hiking, don't worry about it. You can still go and check out some of the viewpoints and better yet, watch the sunrise/sunset!
Address: ตำบลแม่ฮี้ Pai District, Mae Hong Son 58130, Thailand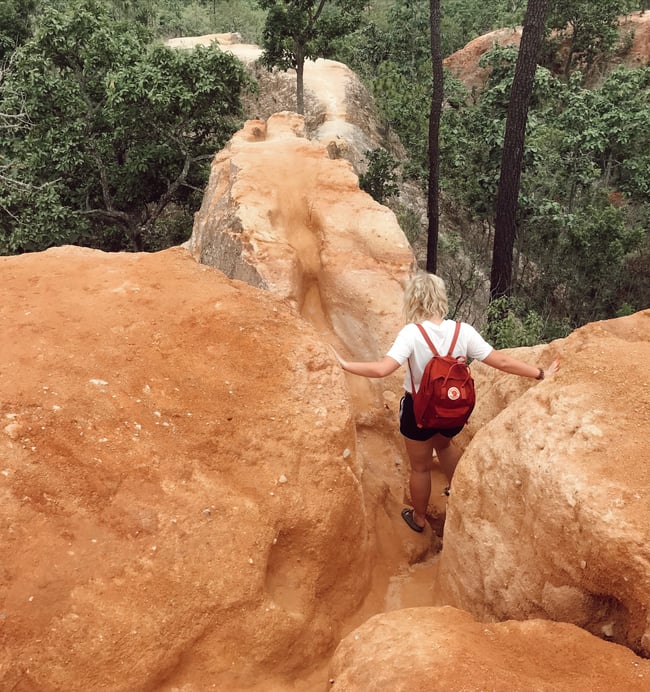 Cooking Classes
You know that when you get home, everyone is going to ask you to make Thai food for them. So you'd better learn how! You can take Thai cooking classes in most big cities, but there is something that is much more relaxing about doing it in Pai. The top-rated, authentic classes are taught at the Pai Cookery School.
They don't have an official website, so you do have to book your lesson at least a day in advance by calling them on the phone or stopping by in person. They have several different types of curries they'll teach you how to make, and you can book either a morning or afternoon class. Plan on being here for a few hours. Here is more info about the school, and their official Facebook page.
Address: Rural Rd Mae Hong Son 4024, Wiang Tai, Amphoe Pai, Chang Wat Mae Hong Son 58130, Thailand
Santichon Village
Every country has a China Town or two, right? Well, Thailand is no exception. This is a fully functioning village and was constructed by immigrants from China. The Yunnanese people who live here now are actually descendants of soldiers from the "Lost Army" who retreated to Thailand after the Chinese Civil War in 1949. These veterans were granted Thai citizenship after they helped to fight against the Thai Communist Party in the 70s and 80s. Now their children are farmers, but they've remodeled this area of their village in hopes to attract tourists.
It's the perfect place to spend an hour or two! There are several little shops where you can try on beautiful, traditional Chinese dresses for 100 baht (about $3). There are lovely bridges and gazebos around a pond, plus several large structures modeled after traditional Chinese architecture, which make for the perfect photo props. Not gonna lie. . .you kind of feel like you're in Mulan. There's even a spot to practice archery, and a little man-run Ferris wheel contraption that is a bit terrifying but fun to ride! All of the locals are just so lovely and happy to have you there.
Hours: Daily from 5 am to 6 pm.
Address: Wiang Tai, Pai District, Mae Hong Son 58130, Thailand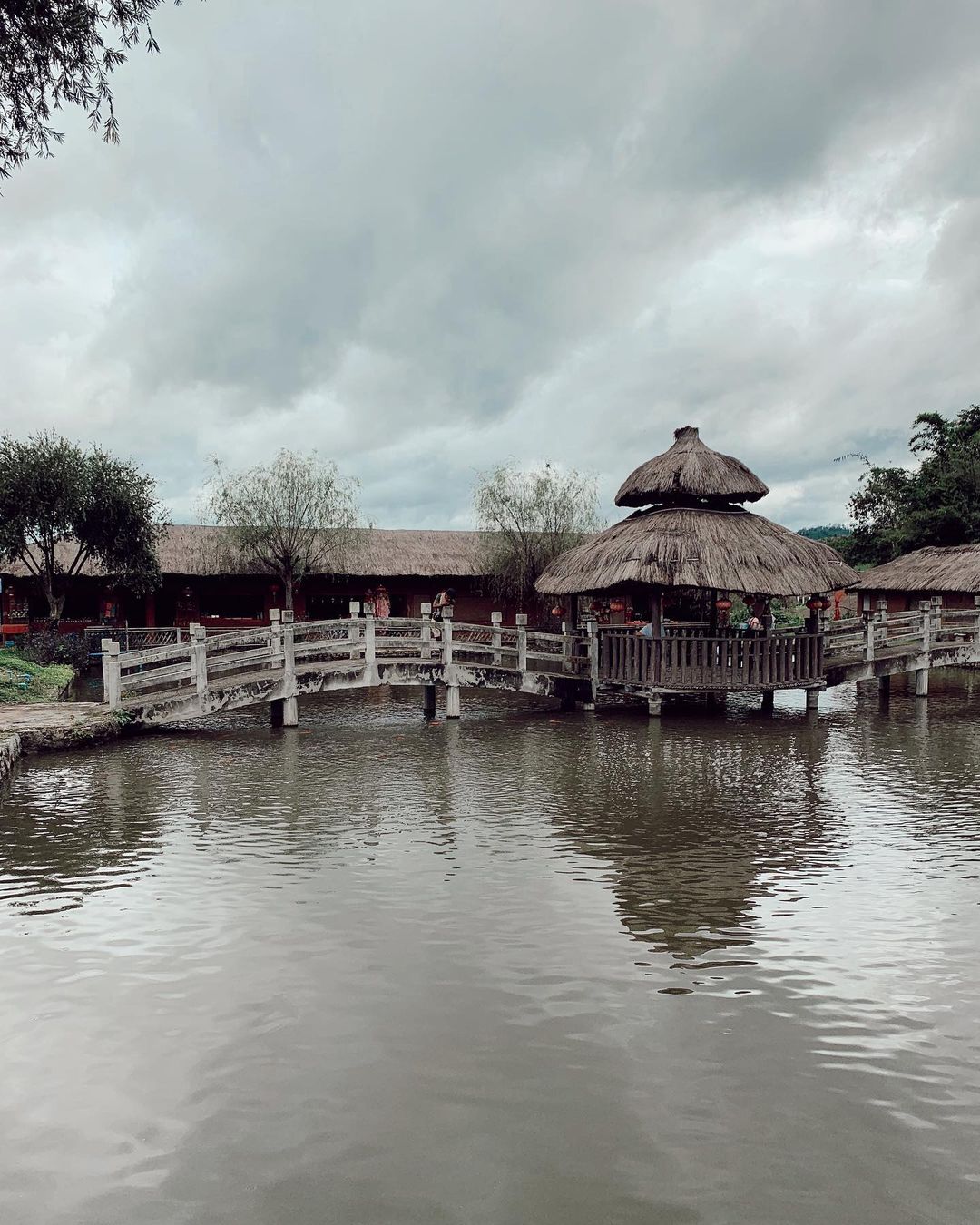 Walking Street
If you've been to any part of Thailand, you know they have markets everywhere. And the one in Pai is awesome! They sell handmade crafts and decor, clothing, jewelry, spices, and pretty much everything else you see at other markets. It's set up every night on Main Street, and no surprise, but our favorite stalls are the food ones. Once you try a fresh, hot roti topped with sweetened condensed milk and banana, you'll understand why.
Hours: Daily from 6:30 to 11 pm.
Address: Chai Songkhram Rd, Wiang Tai, Amphoe Pai, Chang Wat Mae Hong Son 58130, Thailand
White Buddha
Over 300 steps lead up to this open-air temple. Since it's the tallest structure for miles and miles, it offers some of the best views of these hills in Northern Thailand. As always, be respectful of the locals who come to this temple to worship. Another great spot for sunrise/sunset views!
Heads up: They won't even let you climb the first step if you aren't wearing pants that go to your ankles or a skirt that covers your knees. Come ready or be prepared to pay a few baht to rent a wrap skirt at the bottom.
Hours: Daily from 6 am to 6 pm.
Address: Mae Hi, Pai District, Mae Hong Son 58130, Thailand
Waterfalls
The Pam Bok Waterfalls is about 10 miles from the town center. The 5-minute walk from the parking area follows a little creek and brings you into a shady ravine surrounded by cliffs. At the end of it you'll find the waterfall, and the water is deep enough that you can actually jump from some of the rocks that jut around it!
Address: Unnamed Rd Tambon Thung Yao Amphoe Pai Chang Wat Mae Hong Son 58130 Thailand Thailand
Mo Paeng Falls is really just a giant, natural water slide! It's about 5 miles from the town center and once you arrive, you'll only have a 1-minute walk from the small parking area. The waterfall has three levels and is best enjoyed during the rainy season (July-October) when the water is especially high.
Address: Mae Na Toeng, Pai District, Mae Hong Son 58130, Thailand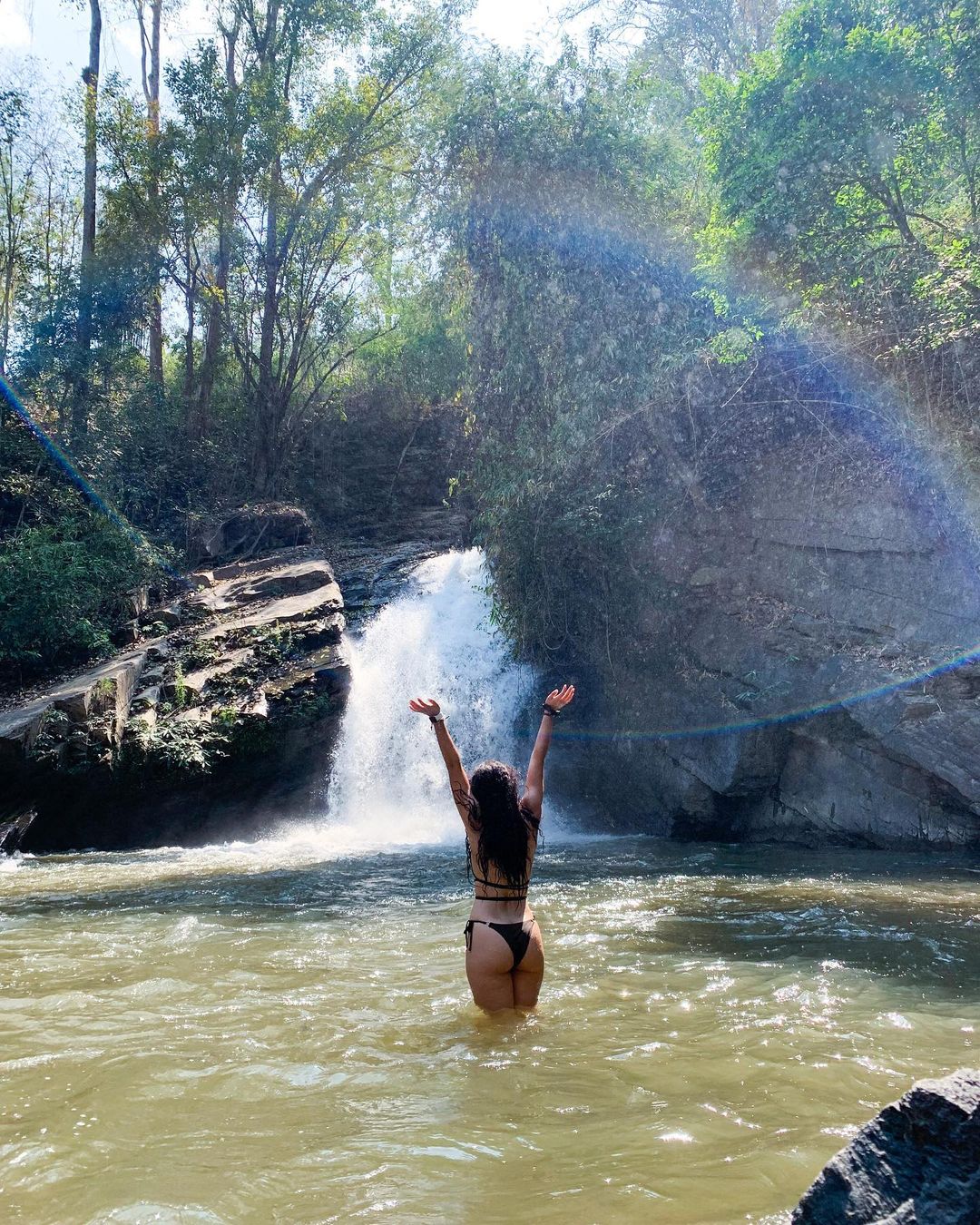 Kho Ku So Bamboo Bridge
Picture strolling through a sea of rice fields via a 1/2 mile walking bridge built of bamboo. It's so dreamy and the view is everything!
If you keep walking the length of the bridge, you'll run into a temple in the woods which is so cool to find! The bridge was built out of respect for the monks who were previously making a rather muddy trek through the fields during the rainy season, but lucky for us, we can use the bridge as well.
There's mixed reports on whether there's an admission fee or not, so it may depend on which day you're visiting. Just bring a little cash and anticipate that there may be a 30 baht fee. It's just a fun little activity if you're looking for some beautiful views (you really only need about an hour or so to enjoy the trail).
Getting here:
This bridge is also found in the very small Pam Tok Village (about 25 minutes drive from the center of Pai), on the same road that takes you to the Pam Bok Waterfall (just southwest of Pai). You'll pass the waterfalls and once you reach the Pambok coffee shop, it's just a bit further. Here it is on the map, but it's not a major tourist attraction and everything around Pai is so laid back — hiring a driver or songthaew (one of those taxis that are covered trucks with benches in the back) is your best option for getting here, but you'll want to arrange transportation back to Pai as well. Or talk to your hostel to see if they have any tips on reaching the bridge!
Tham Lod Caves
While these caves are not directly in Pai, they are only about an hour away and worth the time if you have it. The best way to get to the caves is to hire a driver in Pai, which you can usually do through your hostel/hotel. A river flows through the caves and you can hire a guide to take you through them on a bamboo raft. There are some places you can get out and climb ladders/stairs to explore the stalagmites up close and personal. Find out more about the history, ticket pricing, and tour options on this site!
Hours: Daily from 9 am to 6 pm.
Memorial Bridge
The history of the original bridge in this spot dates back to WW II when the Japanese army forced the local villagers to construct a wooden bridge for their army to cross on their way to attack Burma. After moving their army, the Japanese burnt the entire bridge. Since the locals had come to rely on it for trade and daily living, they came together and rebuilt it.
There are memorial plaques at the far end of the bridge that can tell you a bit more about the history, and you'll see local villagers still working in the area. It's only five miles from the town center, so worth a quick stop.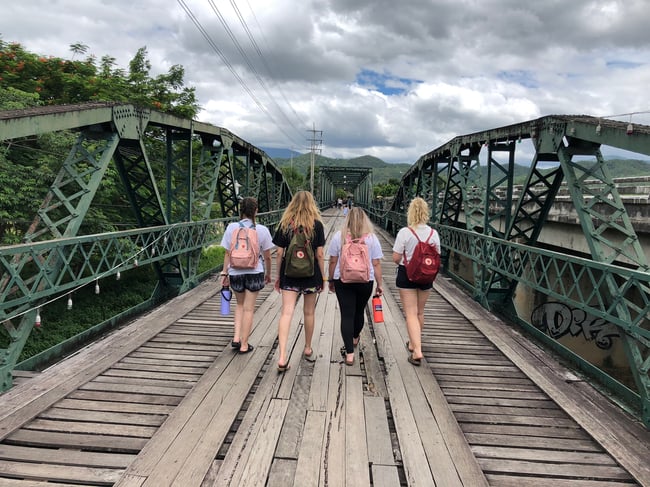 Unique Cafes
Pretty sure you won't find pie here, but these folks know how to do cutie and trendy cafes. You will not be disappointed with the selection of places there are to eat and drink and be merry. In our opinion, they actually have the best cafes in all of Thailand! Since there are so many to choose from, we recommend trying a new one each meal. Buuut we also won't blame you if you find yourself at our favorite spots multiple times every day. Here are the top ones (but some other honorable mentions include Earth Tone and Cheese Madness) —
Cafecito
Fresh guac, salsa, and chips are way too rare in Thailand, so it's no surprise that we've had volunteers eat here for breakfast, lunch, and dinner during their weekend visit. It's the perfect place to get your Mexi-food fix, cause their menu also has fat burritos and fabulous vegan shredded pork tacos. Vegan pork tacos are actually made from delicious and magically marinated mushrooms. Don't be skeptical, I'm not kidding - it's yummy. Plus the owner makes lots of homemade, mouthwatering desserts. Divine!
Hours: Daily from 9 am to 5 pm.
Address: 258 Moo 8, Vieng Tai, Pai, Pai District, Mae Hong Son 58130, Thailand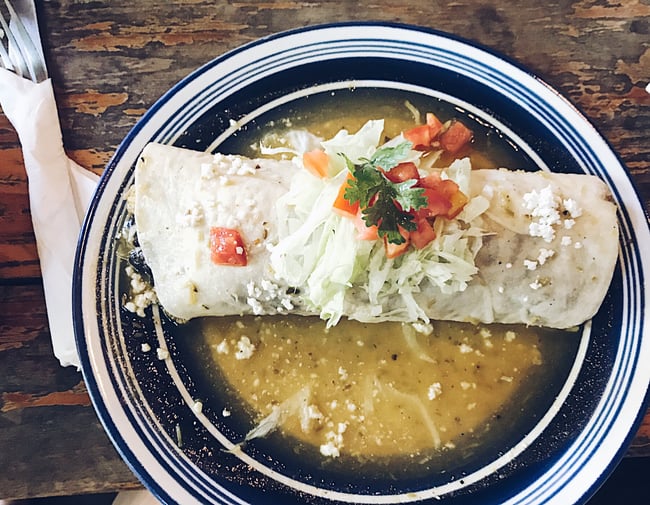 The Pedlar
If you're into coffee, this is the place to get it in Pai! They even add those fancy little cream designs in their perfect white teacups. Delicious, homemade, old-fashioned donuts are also waiting for you, along with so many other incredible meal options. Breakfast is especially amazing!!
Hours: Daily from 8 am to 5 pm. Closed on Thursdays.
Address: 38 Moo 1, Khet Khlang Road | Vieng Tai, Pai 58130, Thailand
Fruit Factory
Right across the street from Cafecito is this cutie, colorful cafe. They have the best smoothies! Ice cream! Plenty of meal options too. And look at the roti. Oh my word. There are no words. Cafecito is our preference for meals, but Fruit Factory is where the sweets are at.
Hours: Mon-Fri from 11 am to 5:30 pm. Sat-Sun 10 am to 6:30 pm.
Address: 264 หมู่8 เวียงใต้ ปาย Chang Wat Mae Hong Son 58130, Thailand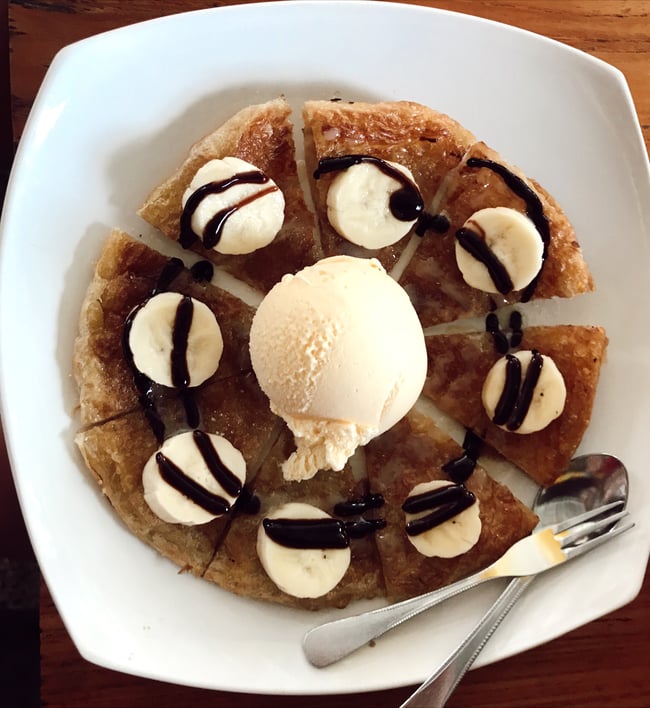 Easy Garden Cafe
Just up the road (towards the town center) from Fruit Factory is this trendy, natural cafe that's all about healthy, delicious food! It's the perfect spot for breakfast, especially because that's when their bread is hot and fresh. Both the banana bread and sourdough are so good. And it only has 5-star reviews, so that really tells you something.
Hours: Daily from 9 am to 5 pm. Closed Mondays.
Address: 458, Pai, Wiang Tai, Amphoe Pai, Chang Wat Mae Hong Son 58130, Thailand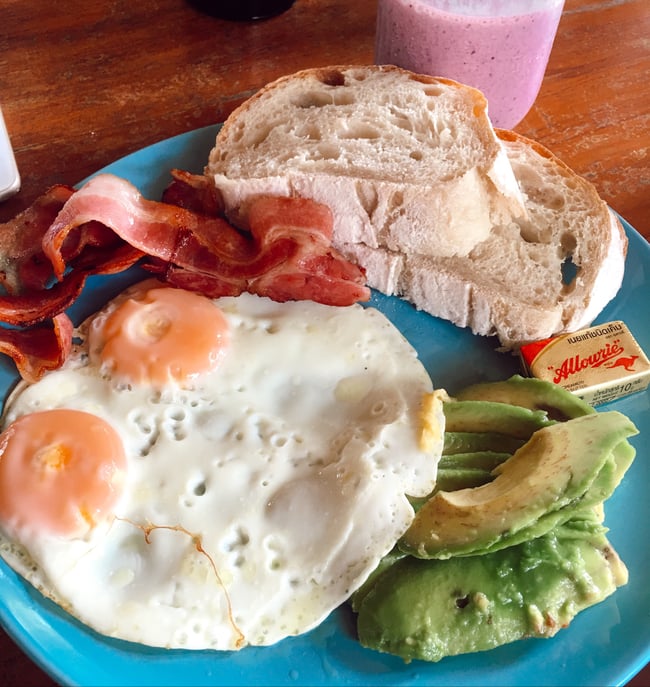 Where It Is
We all know Thailand is beautiful and breathtaking, but this is a whole different kind of pretty than what you'll usually see on postcards and Instagram. Pai is near Thailand's northern border, up in the mountains. Think green rolling hills all around, waterfalls, hot springs, ancient caves, and the friendliest people.
It's about 50 miles from Chiang Mai, and although we think it's 100% worth making the trip, we should warn you about the roads. Over 700 tight curves are on this mountain route, and you'll probably start feeling a bit sick after turn #150. So, if you get car sick, load up on motion sickness medication!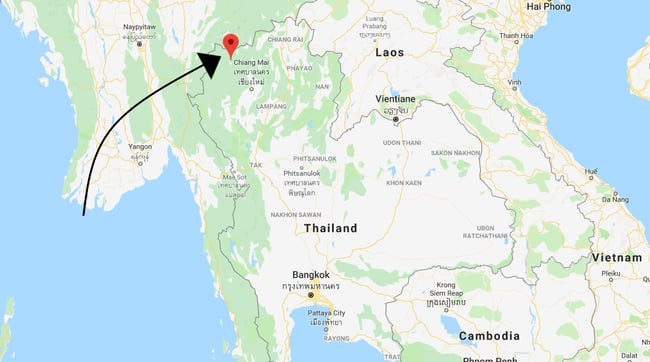 How To Get There?
Hire A Driver
A lot of volunteers talk to their Local Coordinator about hiring a van and driver to take them to Pai from their ILP home city. This is definitely the easiest option since then you can make it an overnight trip and hopefully sleep through all of the winding roads that will otherwise leave you pretty nauseous. The more people in your group, the cheaper it will be since the driver just charges per group and you can split it up among all of you.
Another benefit of opting for this is that the driver will stay in Pai with you for the weekend and can take you around to all of the different sites and tourist spots. So worth hiring a driver!
Bus
If this isn't an option for your group, volunteers have also booked tickets on a bus that can take you to Pai from the popular city of Chiang Mai. It'll cost about 160 baht each way to get to Pai from Chiang Mai — just head to the old Arcade Bus Station and book your ticket. It's a 3-hour trip on the air-conditioned minivan, but tickets sell out fast so we recommend buying the ticket in advance. Read more on this website!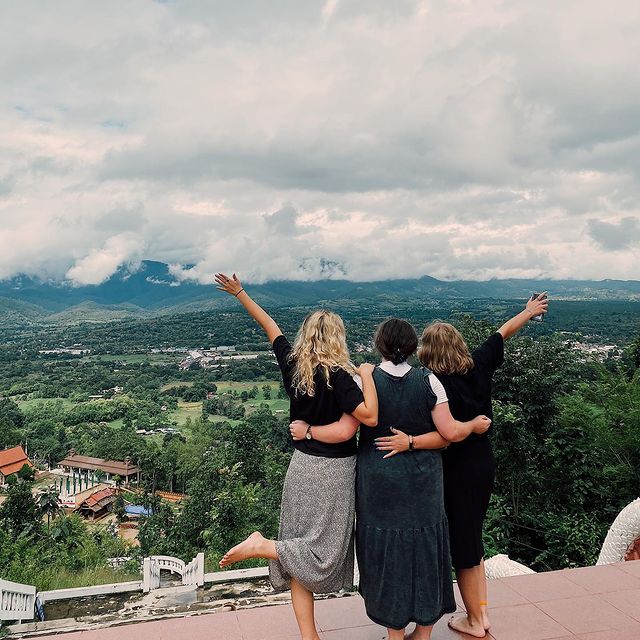 How To Get Around Pai
Many hostels have awesome half and full-day tours you can book through them. It usually works best if you just ask about it at the front desk when you arrive, so that you can book for the next day. If you don't have a hired driver with you, this will be your best option for seeing all of our favorite sites!
Another option is to rent bikes from a local shop. Or if you're staying just around the center of town (where all the best food is), you can easily walk everywhere. However, most of the popular sites are further from town, which again is why we recommend hiring a driver.
Heads up: You may see tourists renting scooters to get around Pai (and other Thai cities), but if you're an ILP volunteer this is not allowed. Accidents are especially likely in Pai since the roads are so curvy and even among locals they happen frequently. Please be careful and don't rent scooters even if encouraged to do so by locals.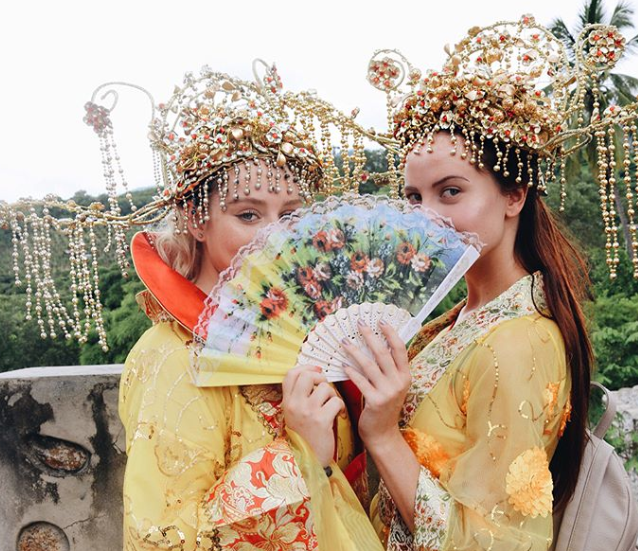 Where To Stay
There are lots and lots of hostels to choose from! You can definitely do your own search by using Hostel World, but if you want recommendations from past ILP volunteers, here they are:
Deejai Pai Backpackers Hostel
Since it's located on the edge of local rice fields, the views from this hostel are breathtaking. A night here will only cost you about $8 per person, and that includes free morning yoga! They also have a kitchen that serves amazing food for a little extra charge. This is just one of those places that all visitors want to go back to.
Here's what one of our past volunteers said: "We stayed at Deejai Backpackers. The staff was very friendly, accommodations were decent, and the view was insanely beautiful".
Book your stay here!
Address: 234 หมู่ที่ 5 Tambon Mae Hi, Amphoe Pai, Chang Wat Mae Hong Son 58130, Thailand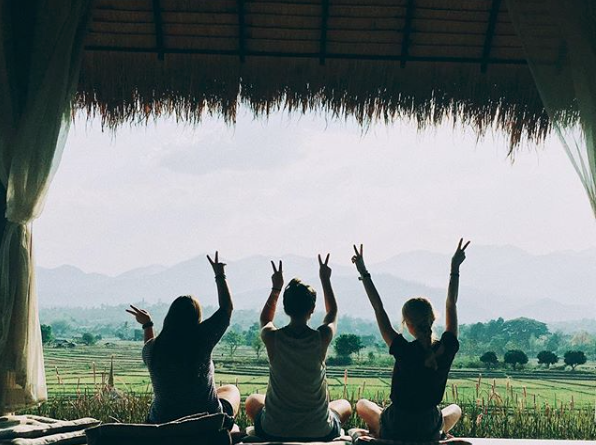 Jikko Harem
The location of this Moroccan-style hostel is the best since it's less than one mile from the center of town. And it's on the same street as all of our favorite restaurants! The owner knows ILP volunteers because so many have stayed here, and he is really friendly and helpful. You'll pay about $10 a night here. The ratings aren't as good as some of the others, but we recommend it!
Here's what one of our past volunteers said: "Jikko Harem is the place to stay (it's a cross between a hotel and a hostel and we booked it on Booking.com). The owner usually does a BBQ every other night and he has a tuk-tuk he will take you into town on. Also, if you book a tour through his hostel it will take you to the Lod caves, waterfalls, hot springs, and the canyon for 500 baht a person".
Book your stay here!
Address: 761 หมู่8 Pai, Pai District, Mae Hong Son 58130, Thailand

Nearby Adventures
Chiang Mai
Obviously, we've already mentioned this, but you guys — you have to go! It's the best place for seeing elephants, getting massages, and buying souvenirs at the night market. There's no place exactly like Chiang Mai and it is a volunteer favorite for so so many reasons. Here's our guide for everything you need to know for planning your trip to this dream destination! And like we said, only 3 hours from Pai so you can totally pair them together in the same long weekend.
Chiang Rai
Another favorite city in Northern Thailand, Chiang Rai is about a 3 1/2 hour drive from Chiang Mai and about 6 hours from Pai. It's known as the city of colorful temples because this is where you'll find the Blue Temple, White Temple, Black Temple, and many others that you've probably seen stunning pictures of. Here's our guide for a great weekend trip!
But, here's a thought ... if you decide you want to spend your longest vacation in Northern Thailand, start in Chiang Rai, then head to Chiang Mai, and finish in Pai before heading home. Spend a couple of days in each and enjoy every second of these beautiful cities! You could easily spend 7-9 days up in this northern corner and still wish you had more time here.
Think you need a little more Thailand in your life?
It's one of our most popular locations for a lot of reasons! Learn more about this country by clicking that button right there: