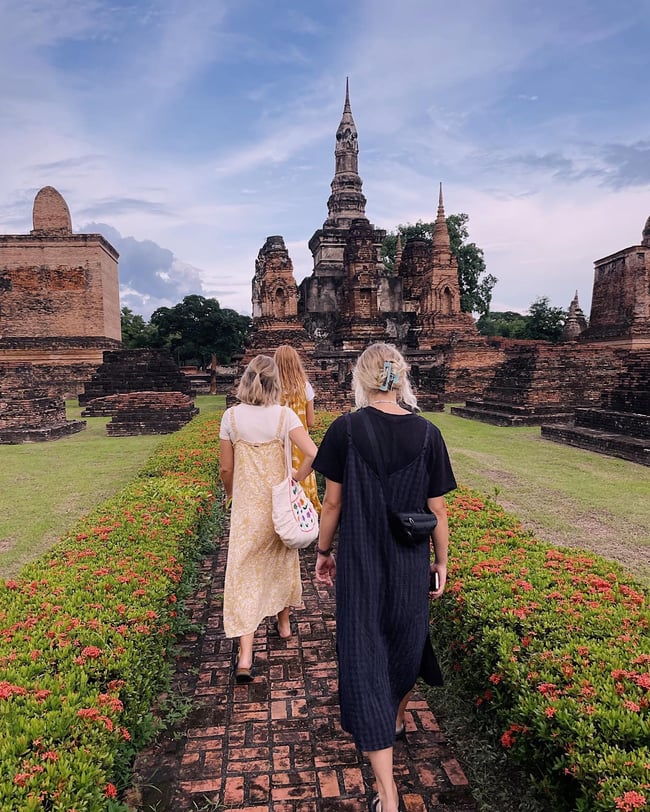 Everyone loves Thai beaches, Thai people, and Thai food. But let's not forget about Thai ruins! And our favorite ruins—Sukhothai—make for the perfect day trip for any of our ILP volunteers!
So, you get to spend a semester teaching English in Thailand? Lucky duck! This country is beyond beautiful. And even though you'll definitely experience some culture shock (trust us—you will), we hope you love every day of it! Making the most of a semester in Thailand includes using your vacation days to explore the amazing sites and cities around you, like Sukhothai!


---
Thinking Thailand is the spot for you?
Here's where to start your application.
---
It's no secret that you can find incredible ruins all over Asia. Surely you've heard of Angkor Wat in Cambodia. As much as we love that World Wonder, don't feel like you have to book a flight to Cambodia in order to experience the ancient ruins in this part of the world. There are actually several similar (although maybe less gigantic) ruin sites in Thailand.
We love Ayutthaya that's located 3 hours outside of Bangkok. And don't forget about Lopburi, which is more about the monkeys than the ruins, but still a must-see! Our very favorite has to be Sukhothai though! Don't forget to also check out everything you need to know before visiting Thai temples just to make sure you're being respectful.
Everything To Know About Sukhothai
What Is This Place?
The name of this magical place literally translates to "Dawn of Happiness." It was the capital of north central Thailand for the 13th and 14th centuries, so almost all of the structures date back to that time. When visiting, you can still see the remains of the royal palace and 26 temples, although there are a total of 193 ruins in the entire area. Woah.
Mapping It Out + Getting Around The Park
You'll only need 2-3 hours actually inside Sukhothai if you're using bikes to get around (more on that later). The entire park is divided up into five different zones: inner city, north, east, south, and west. The area most worth visiting is inner city, so if you're limited on time, start there.
You can rent a bike for the entire day for about 30 baht ($1). Bike shops line the entire street across from the park's entrance, so you really can't miss them! When you want to go explore an area covered in ruins, you can just pull over and leave your bike on the side of the path.
Oh, and here's a list of our favorite temples to help you out. Scroll down a bit to see exactly where they are marked on the map of the park in the corresponding color, but here's a bit of description of what you'll see at each temple.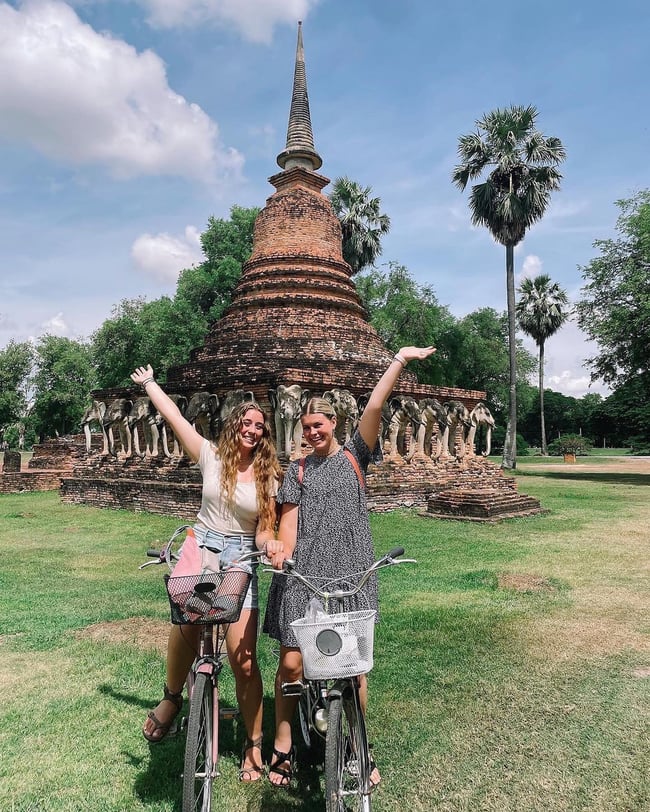 Wat Mahathat (Green)
This is without doubt the most magnificent and impressive temple in the park, and its name translates to "temple of the great relic." The structure is meant to represent the universe, while the main tower is shaped like a lotus bud. There are 168 sculptures of Buddha's disciples around the base, and you can see the remains of an assembly hall.
Wat Tra Phang Ngoen
(Purple)
This is a smaller temple, and it's name translates to "silver lake temple". The large Buddha seated in front of the main tower is in a position known as "calling the earth to witness." Make sure you also check out the smaller, white Buddha that's standing on a pedestal at the front, making a gesture that signifies teaching and discussion.
Wat Si Sawai (Light Blue)
Constructed in the late 12th century, this is one of the oldest temples in the complex and was built even before the founding of the Sukhothai kingdom. It was originally dedicated in honor of the Hindu gods, and was later adapted for the Buddhist faith.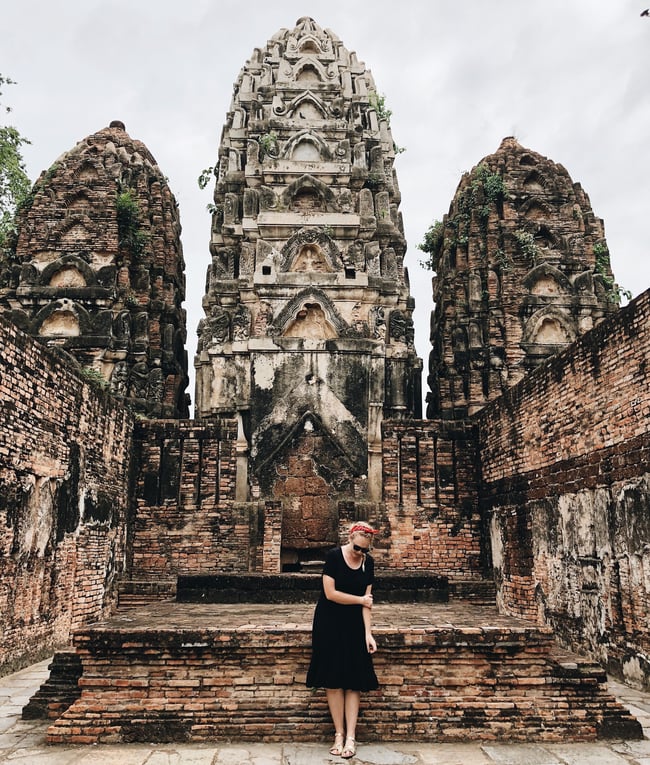 Wat Sa Si (Red)
Situated on an island in the middle of a lotus-covered pond, this temple is probably the loveliest spot in the park. There are several Buddha statues around it, as well as the remains of many pillars that used to support the roof of the assembly hall. This main tower was built as a burial place for the ashes of King Li Thai, one of Sukhothai's rulers.
Wat Chang Lom (Orange)
The name of this unique structure literally translates as "temple surrounded by elephants", and you'll immediately understand why. From a distance, it looks like the 39 elephants are carrying the temple on their backs. You'll also see many carvings of lotus flowers and Buddha statues.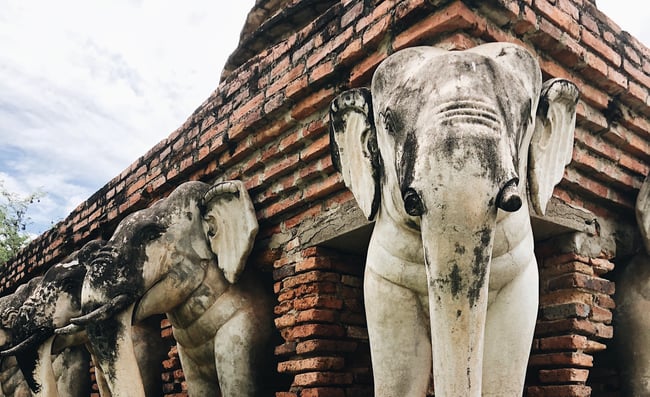 Wat Si Chum (Dark Blue)
Here you'll find one of my personal favorites! This Buddha is the largest you'll find in the park, standing at 11m high. Most visitors completely skip this part of the park because it's not so close to the rest, but trust me the little bike ride out here is worth it. His right hand is particularly incredible and cherished. Since it sits at eye level, visitors often bring gold leaves to press on its fingertips.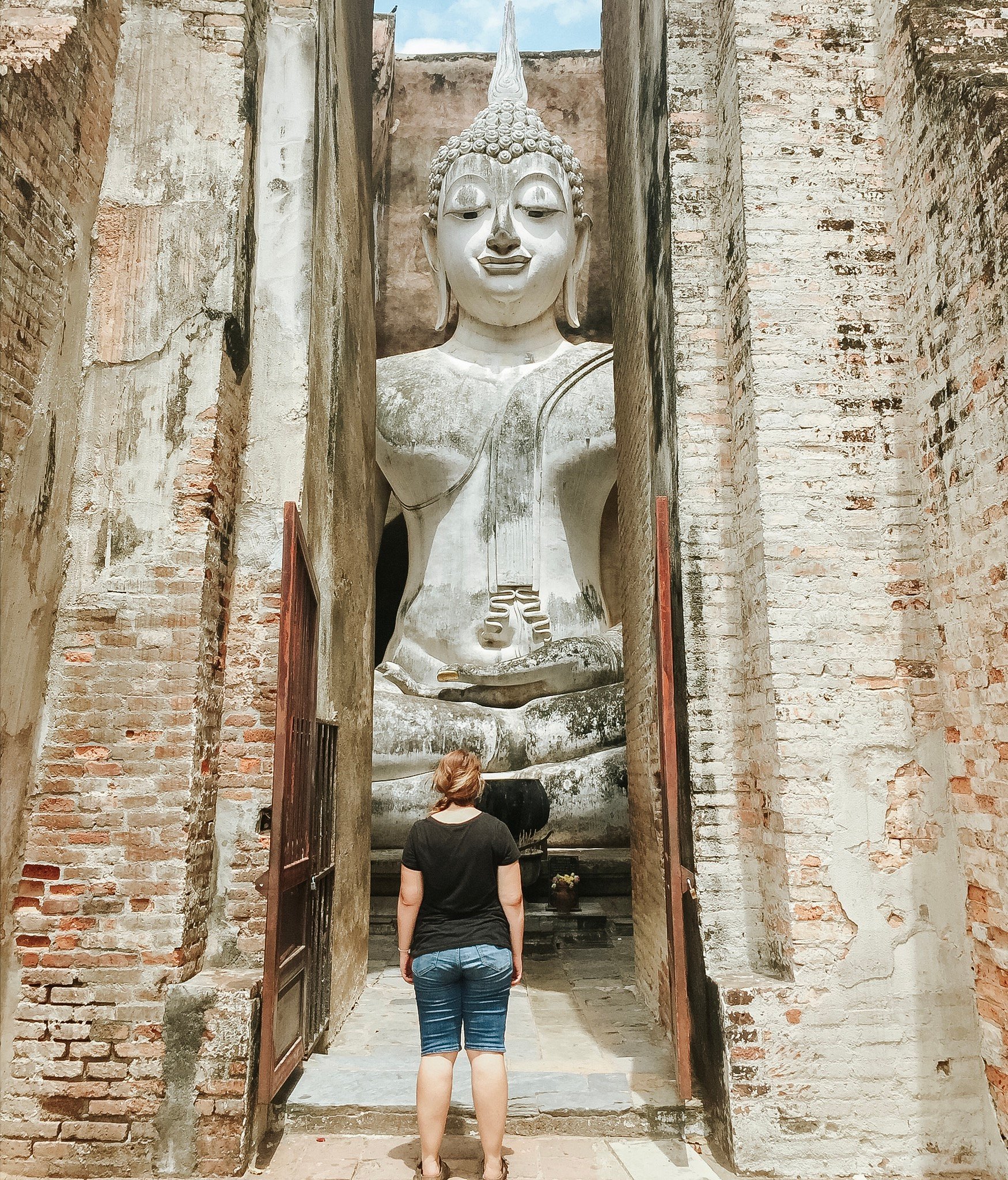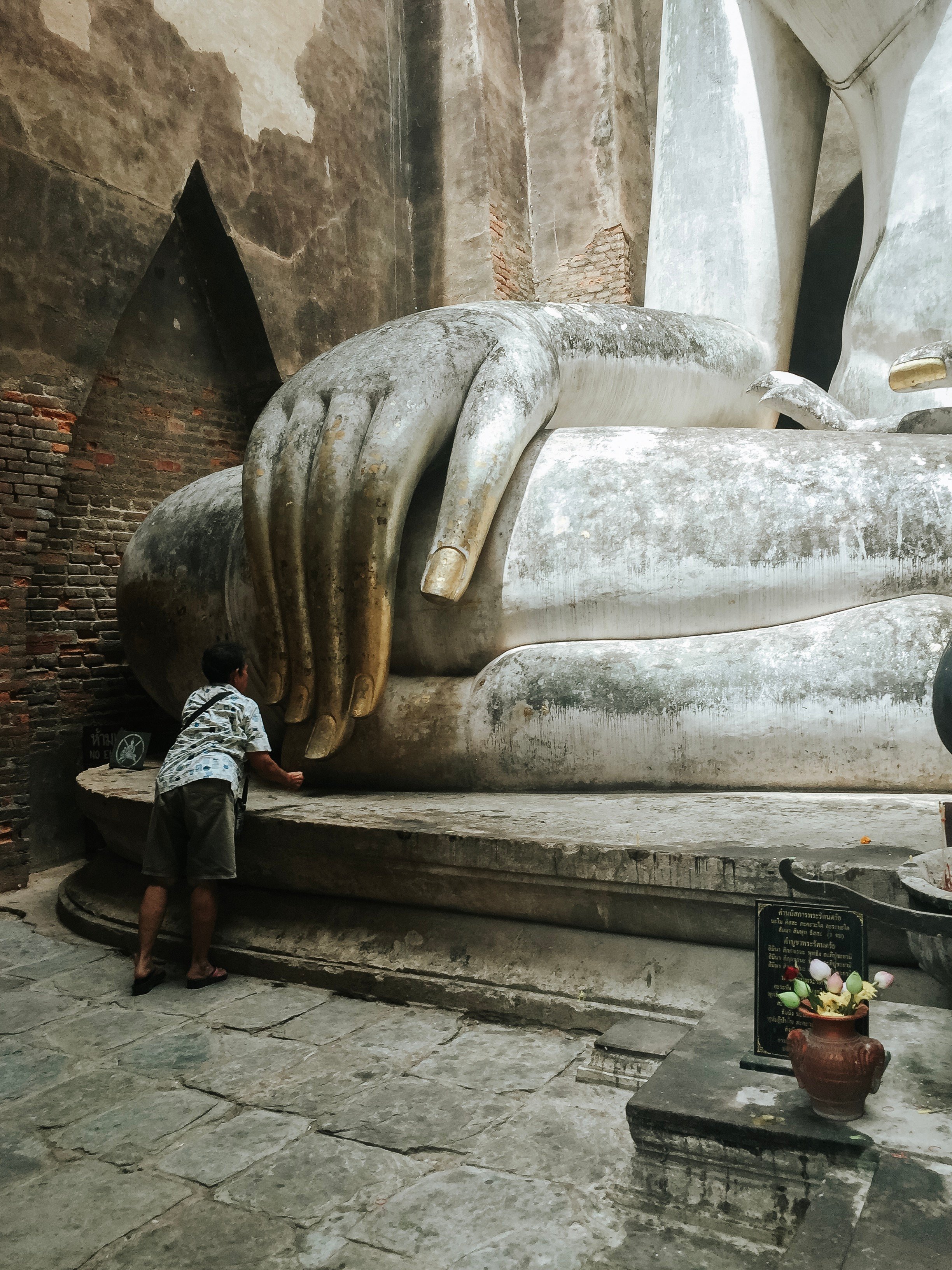 Wat Phra Phai Luang
(Dark Blue)
Another one of Sukhothai's oldest structures, it used to have three towers like Wat Si Sawai, but only one has survived. It was also originally built for the Hindu gods and later was adapted for the Buddhist faith. Scenes from Buddha's life are still visible around the entire tower, and these detailed designs resemble the architecture found at Angkor Wat in Cambodia.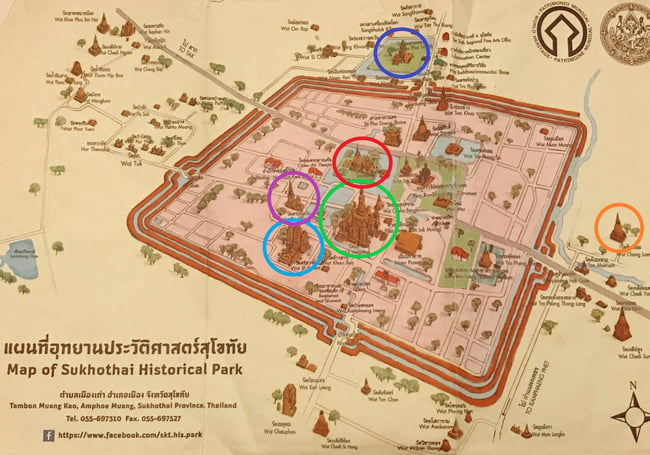 Basic Costs + Festival Info
If you're wanting to see the park by zone, you'll pay 100 Baht (2.60 USD) at each one. However, we recommend purchasing the ticket that will get you into all 5, since it's only 350 Baht (9.09 USD). The passes are only good for one day though, so make sure you use it the same day you buy it. You can just get your ticket at the main entrance to the park.
The Loy Krathong Festival
We love seeing this part of Thailand anytime of the year, but if you are volunteering in the Fall semester you're in luck. There's a massive light festival that happens typically in November (though the exact date of the Loy Krathong does change depending on the full moon).
The festival stems from a folktale where a woman made a beautifully decorated Krathong out of flowers and banana leaves to give to the king, who later lit incense sticks and floated the krathong on one of the Sukhothai waterways. Now, there's a big multi-day festival where you can make or buy krathongs, enjoy the fireworks, tons of vendors, and a lantern show around the park. Find the most activities around Wat Mahathat and around the pond near the statue of King Ramkhamhaeng.
If you go during the festival, you'll want to book somewhere to stay overnight (otherwise, this is really well suited as a day trip for our volunteers). Places to stay book up quickly, so make a reservation ASAP. Some groups in the past have stayed at the Orchid Hibiscus Guest House after the festival if that's helpful to know.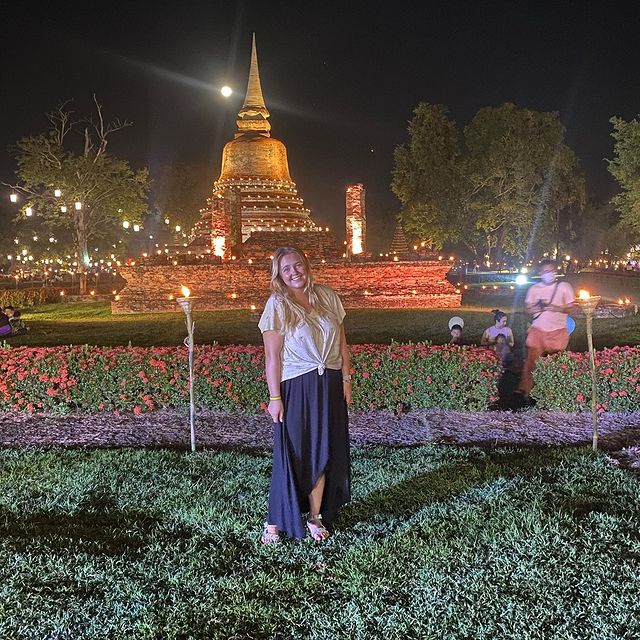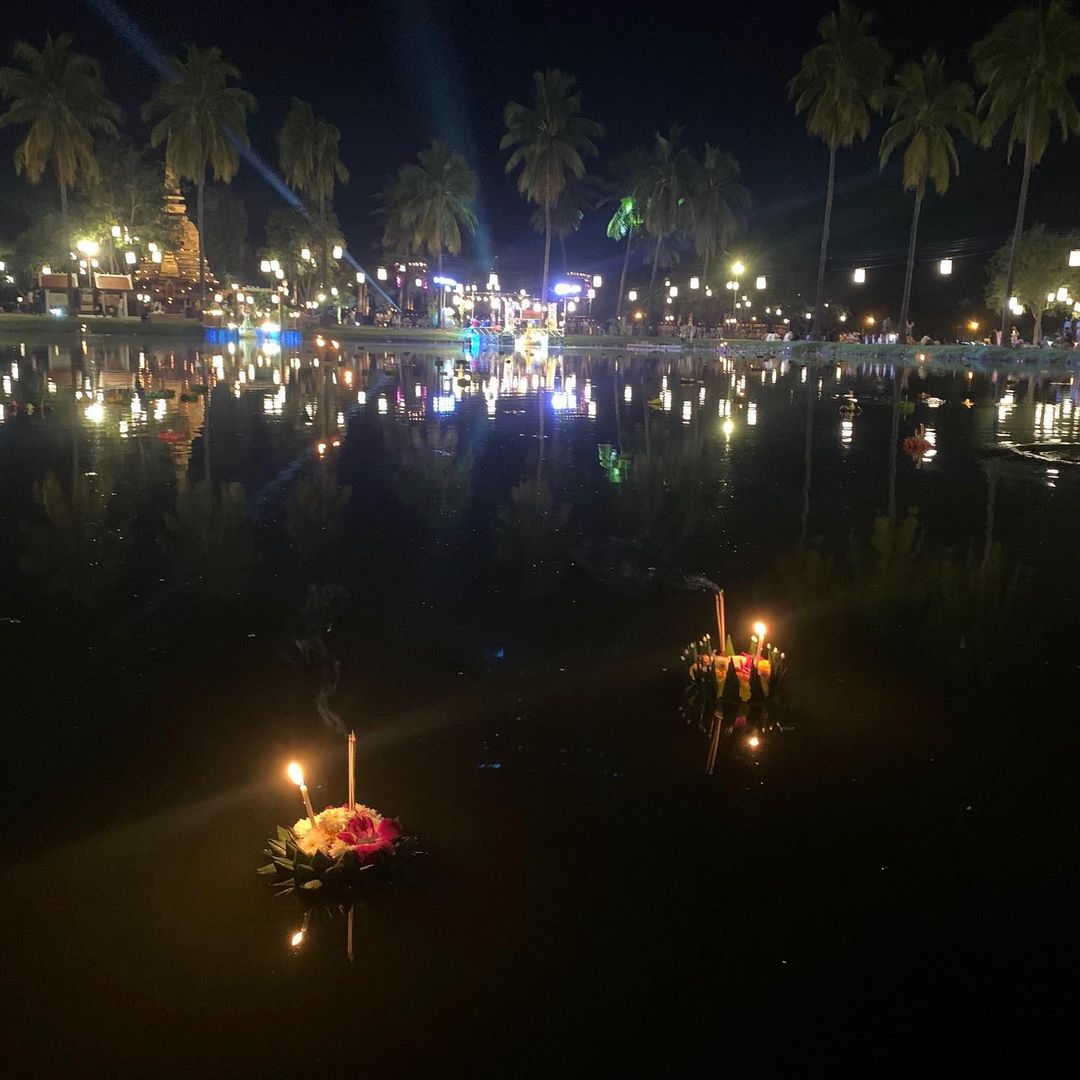 What To Bring
Aside from dressing appropriately and following all of the rules expected of you when you visit a Thai temple (let alone an entire complex of them), these are the things you should absolutely bring with you.
Water! Lots and lots of water. If you run out, you can always buy bottled water from the little stores and booths around the park. Having a good water bottle is key in Thailand especially due to the heat.
Sunscreen & Sunglasses! You'll be outside the whole time you're at Sukhothai, and most of the park is not shaded.
Camera! Or even just your phone. But be ready to take ALL of the pictures. This is one of those places you'll want to remember forever.
Good Shoes! We hope you'll take our advice and rent a bike, but even still you'll want to have shoes with some kind of strap or laces so they stay on your feet. You will not be required to take your shoes off to enter these temple ruins as you will at "living" temples.
Baht! Between renting a bike, entrance fees, buying lunch and water, and possibly purchasing souvenirs, bring at least 200 baht. That's still less than $7! Any money for transportation to and from the park will be in addition to that.
Plans For Lunch
If you step outside of the park, you'll see plenty of little food stands. You may even be able to find some of our favorite Thai treats to try! We 10/10 recommend any popsicles or ice cream you can find, especially since it's most likely going to be HOT while you're there.
We especially love the little restaurant across the street called "Say Hi 2" — some say it's the best Pad Thai in all of Thailand. Here's their Facebook page if you want to take a peek at their menu.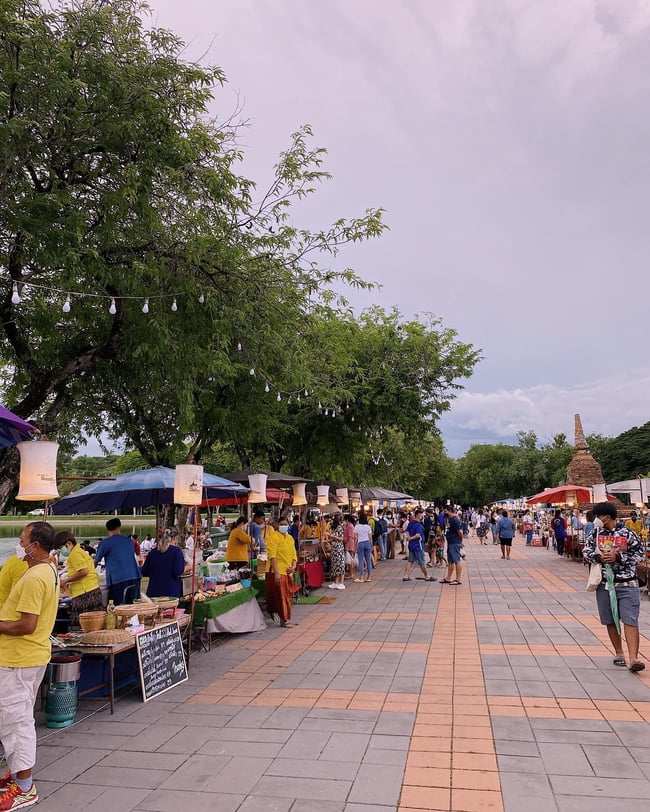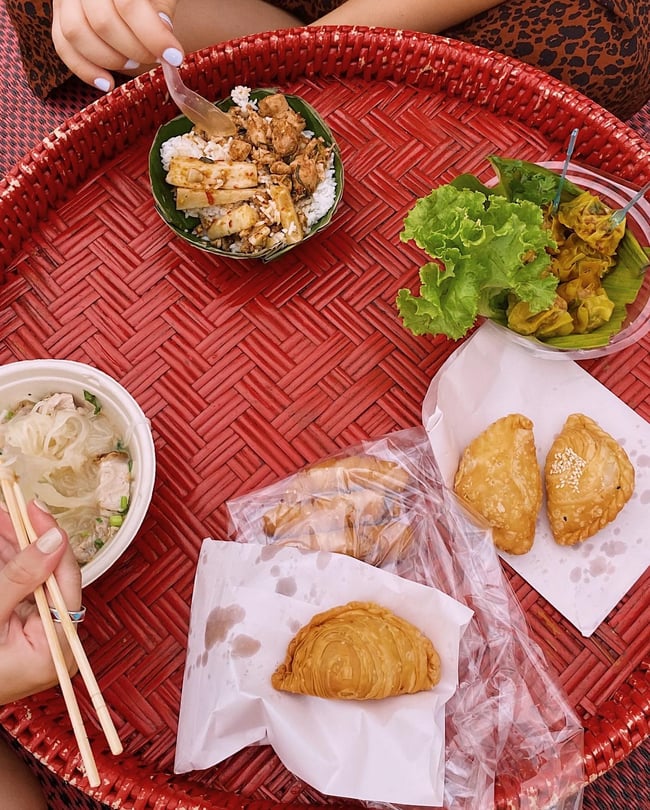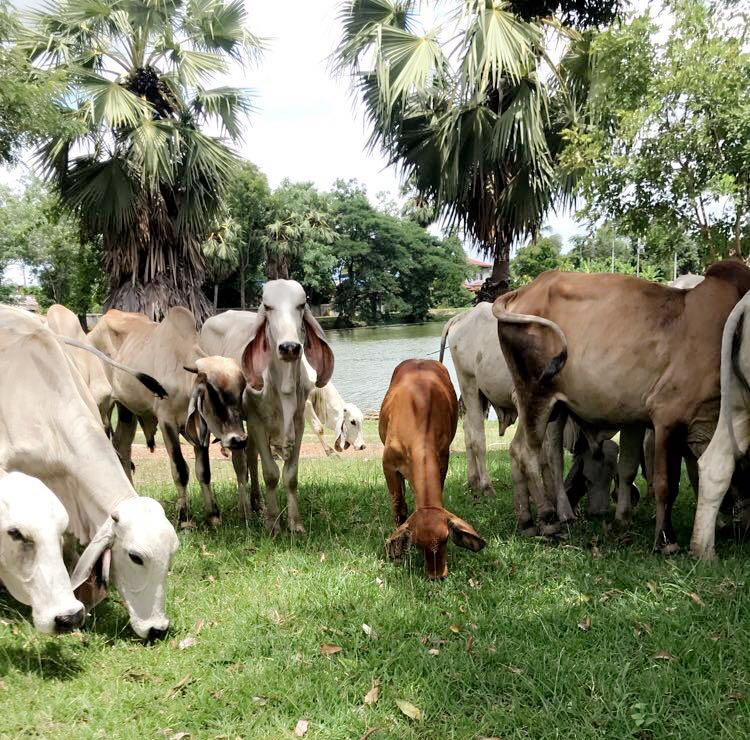 PS: Keep an eye out for these cows that sometimes wander around the park.
How To Get There
Sukhothai Historical Park is just an hour drive away from Phitsanulok, located in central Thailand. It's also conveniently close to where ILP volunteers live for their semester abroad, making this a perfect Saturday adventure.
If you're an ILP volunteer, the easiest way to get there is to just hire a driver with a van, so you can come and go as you please. They'll give you a total cost and then you can divide it among how ever many volunteers from your group are going. Usually these vans can fit 10 people in addition to the driver. The local coordinator at your school can help you to arrange this.
If you'd rather take public transportation (cheaper but a bit more of a hassle), there are mini buses that leave every hour (from 5:40 am until 6 pm) for Sukhothai from the bus station in Phitsanulok. You'll only pay about 40 baht (about $1.30). From the Sukhothai bus station you'll need to get a tuk tuk to take you to the park. This should cost about 150 baht (about $5) per tuk tuk. You'll follow the exact same steps (but backwards) to get home.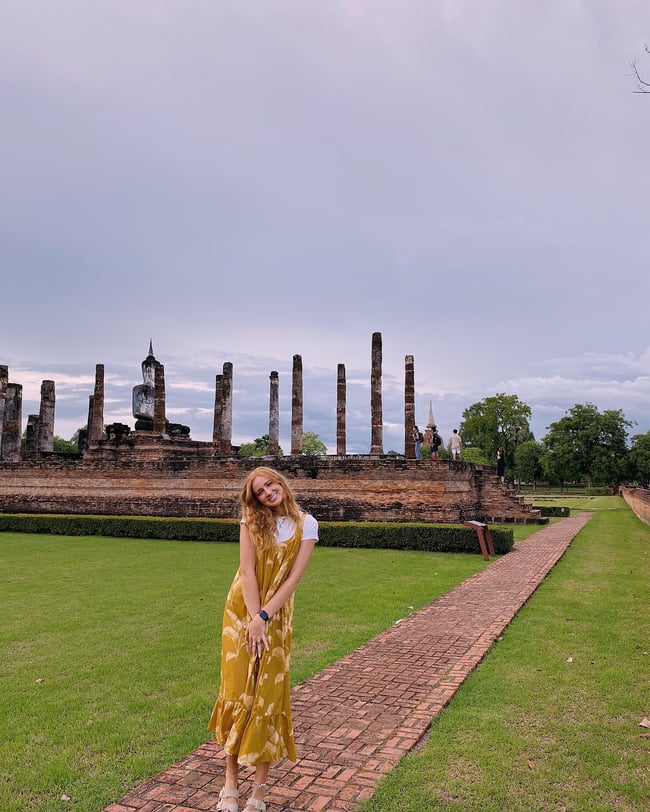 Interested in spending a semester in Thailand?
It's an amazing country! But don't take our word for it. Find out how you can volunteer as an English teacher while experiencing all Thailand has to offer for an entire semester!