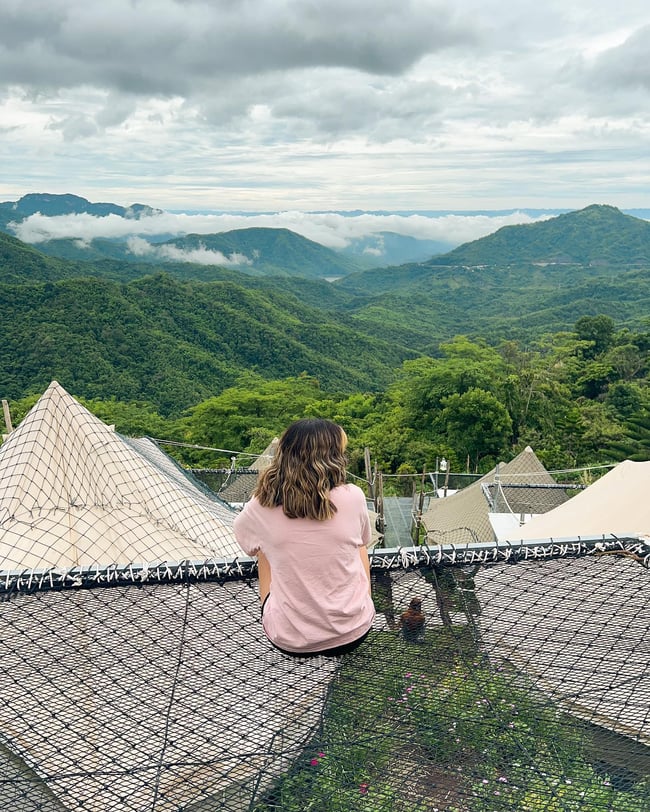 There's more to this part of Thailand than a gorgeously colorful mosaic temple — come for a weekend of glamping, overlook cafes, strawberry picking, and some of our favorite sunrises.
We already know Thailand is on your travel list. Boasting sugar sand beaches, golden temples, and more, it's easy to see why it's one of the most popular places to visit. But there is something to be said about more time in Thailand than a typical tourist — with places like Khoa Kho, you'll want to make sure you have multiple weekends here to make sure you hit all the highlights and the hidden gems tucked away in the mountains of Central Thailand.


---
Curious about spending a semester abroad in Thailand?
See if ILP is the right fit for you!
---

This post is all about highlighting the glamorous side of the region of Khao Kho where you can head up for a weekend of beautiful views, a very colorful temple, and a night or two at an Instagram-worthy resort. Here are all of the tips you need for your own getaway: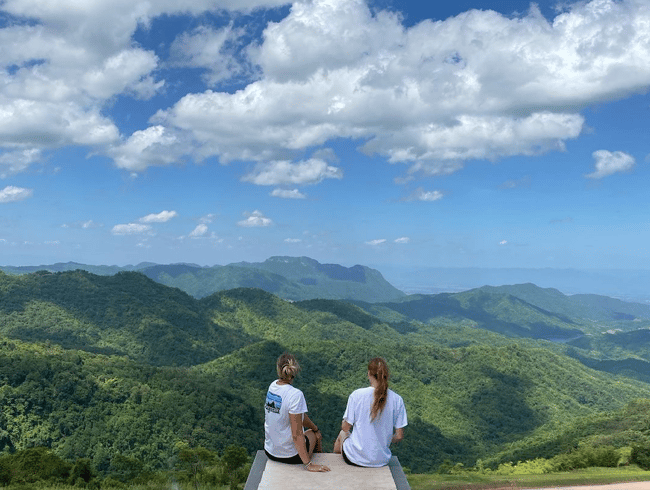 Don't Miss Things In Khoa Kho
Wat Pha Sorn Kaew
Out of all the things I did in Thailand, visiting this temple was one of my favorites. The minute I saw pictures, I knew I had to see this place in person — the gorgeous mountain views encircle a temple that's completely covered in millions of pieces of tile and decoration ... I've never been anywhere quite like this! It's easily the most popular attraction in the area.
We have a whole guide on visiting Wat Ph Sorn Kaew you'll want to keep handy, with instructions on how to get there, making sure you wear the right thing for your visit, and more.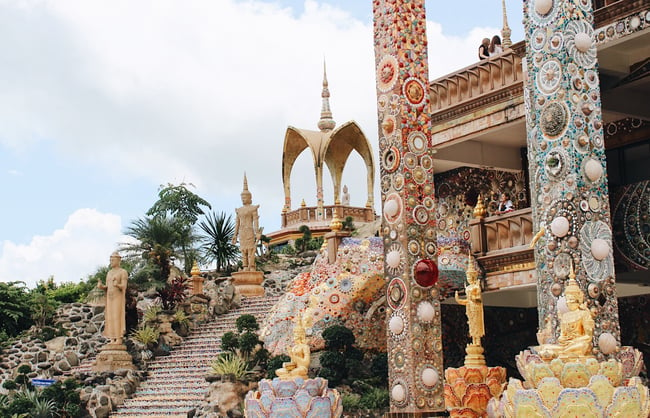 Tour The Wind Farm
It's how several resorts and cafes get their power in the Phetchabun Province, but the Khao Kho Wind Farm is a go-to tourist attraction, with a tram ride that takes you close to these huge turbines. Make sure to snap a picture at the viewpoint platforms, take a turn on the giant swing, and spot the fruit and veggie patches nearby if you'd like to see if you can go strawberry picking or take a walk through the grapevines.
Address: Thung Samo, Khao Kho District, Phetchabun 67270, Thailand
Hours: 5:00 AM to 6:30 PM
Cost: There's a 600 Baht train ride
Go Strawberry Picking
On your way around Khao Kho, notice fields upon fields of growing cabbages, rows of grapes, and strawberry patches, among other fruits and veggies. It's quite popular to go produce picking on a weekend in Khoa Kho, with several farms allowing visitors. There are a few locations where this may be an option for your trip (talk to where you are staying for more ideas) but there's a large strawberry patch near the wind farm that could be an option for you (more info on the wind farm above, if you didn't see it).
As always, make sure you're careful to thoroughly wash your produce before you eat. We've had ILP volunteers in the past who became quite sick to their stomach after eating strawberries straight from the field (it was in another country, but the same idea applies everywhere). We don't want that to happen to you, and washing your produce with clean water can help.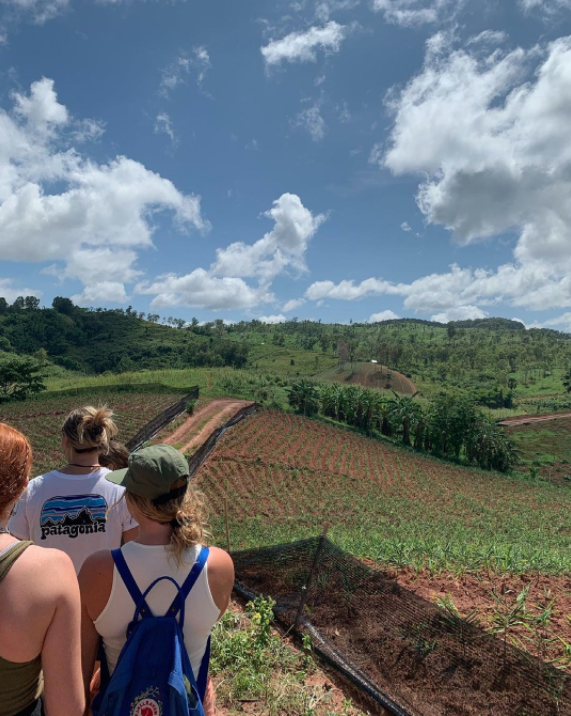 Visiting These Cafes
The cafes in Thailand can be oh-so-cute (like this unicorn-themed cafe in Bangkok), and the region of Khao Kho. You will notice so many cafes in this area, with a whole range of themes (think cartoon characters, ones with flower-themed gardens and huge swings, cafes built like white-washed cottages, etc). Because it's going to be a quintessential part of your experience, here are a few favorites:
Tanrak Talaymok (Love Cafe)
Another popular cafe that's known for many photoshoot opportunities, gardens, and pretty views, along with a cafe full of favorites. It's easily one of the best places to take in the view of Khao Kho, making it quite popular!
If you're hungry, find a mix of local Thai dishes along with blended drinks, fruit slices of cake, and breakfast dishes (some served with an egg in the shape of a heart). Make sure to make a reservation if you'd like a table here at sunset!
Address: JXXW+WF4, Khao Kho, Khao Kho District, Phetchabun 67270, Thailand
Phone: +66 87 020 7014
Phukaew Peak
Snag a picture on the "hand-shape" wooden bridge, a bridge adorned with huge curling fingers made of wood (if you stand at the end of the bridge, it feels like you're standing in the palm of a hand, with the fingers all around you). It's also a nice place to grab sandwiches, rice dishes, drinks, pizza, and a few other items.
Address: 75 Moo14, Phukaew Resort Village, Campson, Khao Kho District, Phetchabun 67280, Thailand
Hours: 7:00 AM to 6:00 PM
Blue Sky Cafe
This is a European-style resort, with some of the most amazing gardens to wander through. Picture cultivated lawns decorated with flowers and perfectly manicured hedges, complete with gazebos, fountains, and statues. It's a very popular place to snap an Instagram picture, stay overnight, or grab something to eat in their cafe. Prices are a bit high, but you're also paying for ambiance (the cafe feels like a magical garden, with flowers hanging from the ceiling, and colorful tables and chairs).
Address: 96 Moo 5, Tambon Khaem Son, Amphoe Khao Kho, Chang Wat Phetchabun 67280, Thailand
Cafe Hours: 7:00 AM to 9:00 PM

*There's a 100 Baht fee to enter the garden, which is highly recommended.
Pino Latte
Come for stacked rainbow layer cakes, eggs benedict, Italian sodas, pizza, smoothies, matcha cakes, desserts so pretty you won't want to eat them, and more, all taken in with some spectacular views. There's bar seating outside, where you can gaze at the overlook and thick swirling clouds — so gorgeous. Oh, and of course you have to take a photo by the Pino Latte sign. It's basically mandatory.
Address: 232 Moo 5, Khaem Son 67280, Thailand
Hours: 7:00 AM to 6:30 PM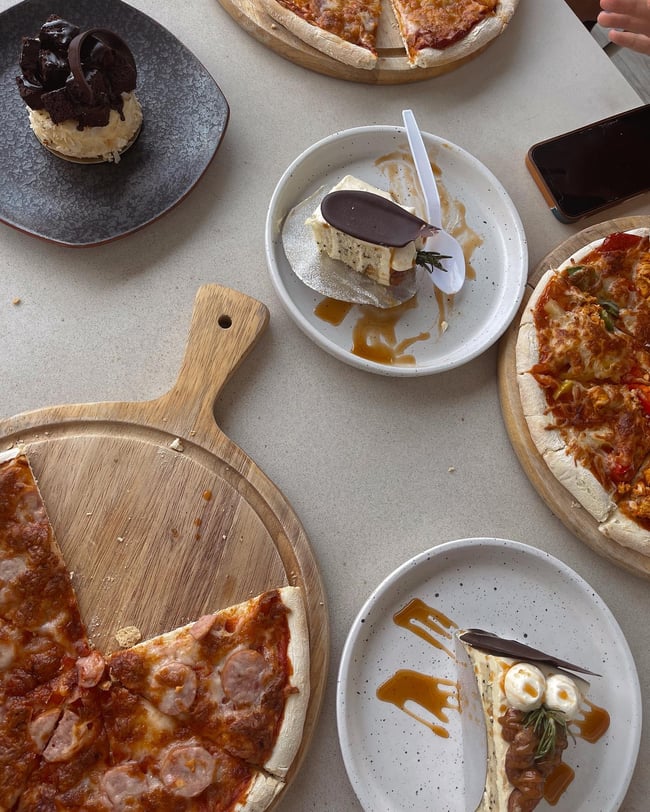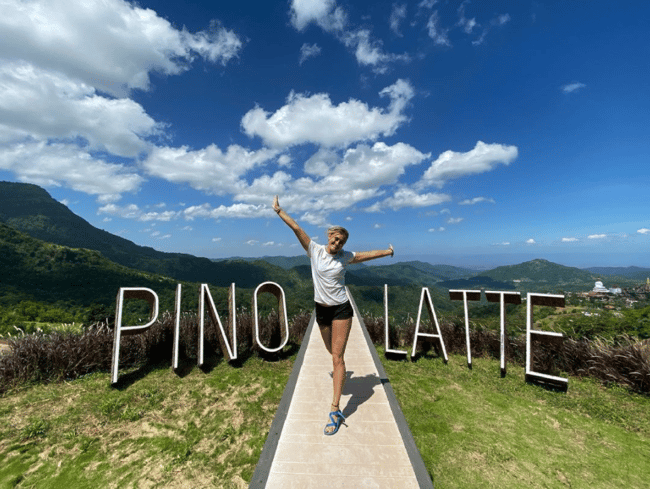 Picture-Perfect Places To Stay
For Hammock Views
One favorite is the "A Moment of Love Resort Khao Kho" resort to soak up morning views on a balcony (or this huge, netlike hammock) of misty mountains and golden sunshine. It's dreamy.
Address

: 272 moo7 Near Wat Pah Son Kaew Khao Kho District 67280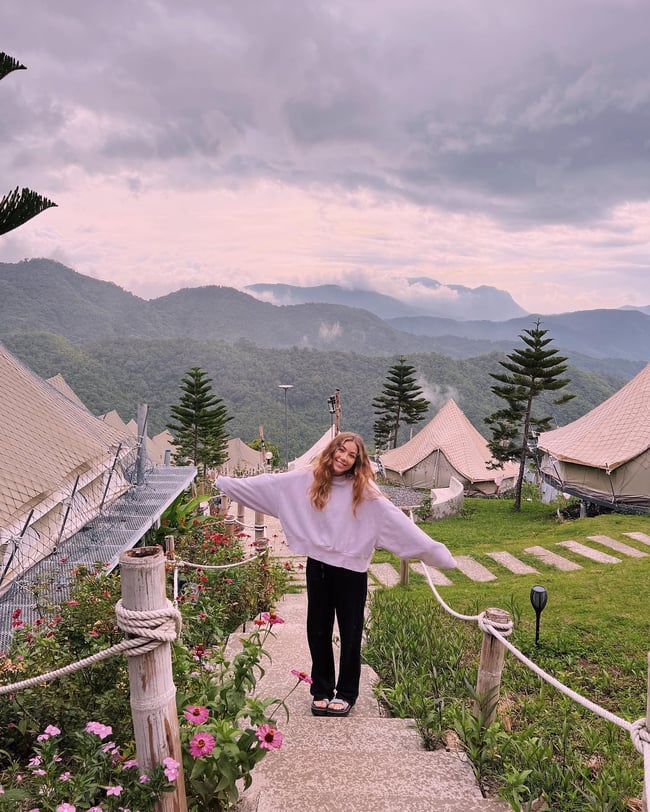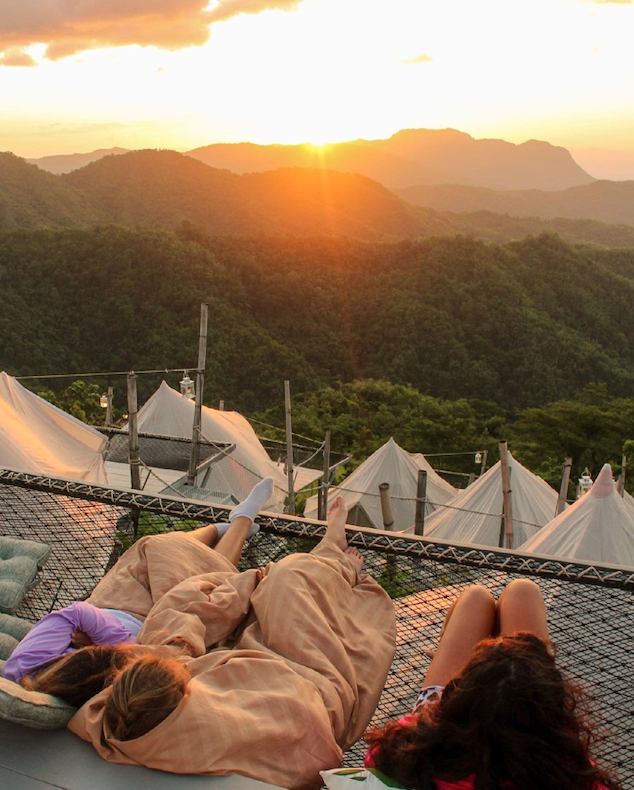 Phu Sandao Resort
This resort has everyone stay in these cute little "rolled" hotel rooms — imagine a room shaped like a jamroll, nestled into the green hillside, complete with a little wooden deck and beanbag chairs to sit in while you soak up the views.
Address

: Unnamed Road, Tambon Khaem Son, Amphoe Khao Kho, Chang Wat Phetchabun 67270, Thailand
Kho Kirin Resort
Grab your group and split space in their "treehouse room", or another one of these little cottages. We love that this place has a view of the colorful mosaic temple and stacked white Buddhas.

Address:

201 Moo 7, Baan Khao Khao, Khao Khok , Khao Kho , Phetchabun 67280 Thailand
Benya Khaokho
Another favorite for ILP groups wanting a glamping-style night, with stunning views above the clouds.
Address:

364 กนกงาม Khao Kho District, Phetchabun 67270, Thailand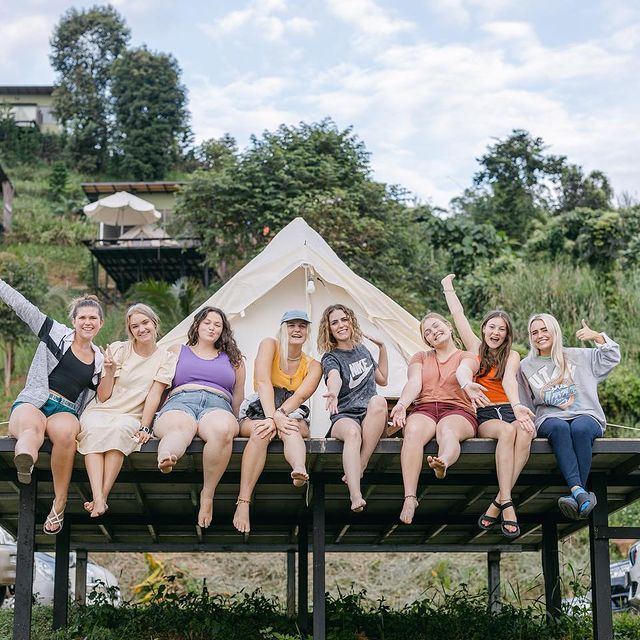 Imperial Phukaew Hill Resort
Looking for an option with sweeping views, and a pool? Enjoy the water, sauna, and spa at this resort.
Address:

99 Moo 14, Phitsanulok-Lomsak Rd. Campson Khao Kho Chang Wat Phetchabun 67280, Thailand
Sleep Above The Clouds
We've had volunteers in the past stay at Lake Hill Khao Kho, where a row of white canvas tents line the mountain, with a viewing platform and a small cafe. It's an extra fun glamping experience if you bring marshmallows, cookies (for graham crackers), and a chocolate bar or two to make s'mores.
Address:

Lake Hill Khao kho 276 ม .1, Tambon Khao Kho, Amphoe Khao Kho, Chang Wat Phetchabun 67270, Thailand (Coordinates here)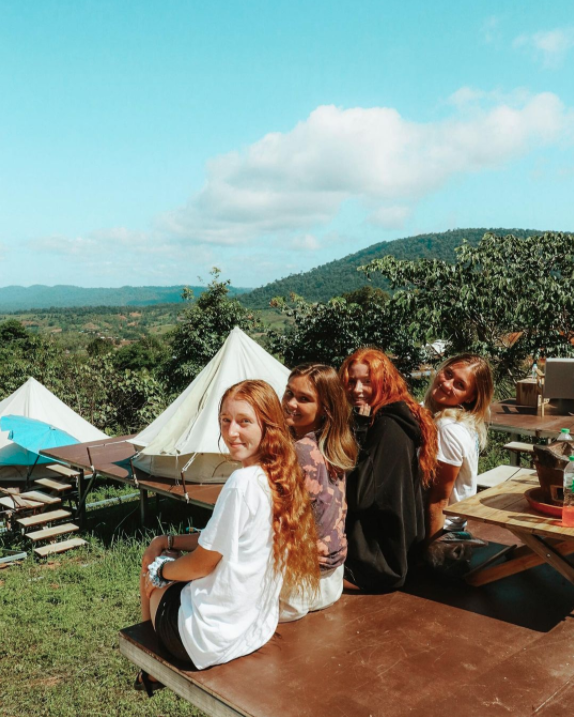 About Your Trip Here
For The Best Blanket Of Clouds
Some visitors like to plan their trip to this region to feel totally above the clouds at the sunrise — a fun experience if you're staying overnight at a place with a balcony you and peer over. If you're into planning a trip for a sea of clouds, you'll find the clouds at their most dense from July to September (the rainy season).
This region of Thailand is great to visit any time of the year, however, you'll just get more clouds during the rainy season and hotter temperatures in the summer dry season (June is typically rather warm).
Pack Warm Clothes
It gets pretty chilly up in these mountains, so make sure your overnight back is stocked with some warm layers if you plan to stay the night. Even day-trippers mention that sometimes the wind makes things rather chilly if you're dining outside at one of the cafes, particularly around sunset.
For A Day Trip
It's very popular to just head up to the colorful glass temple, Wat Pha Sorn Kaew, found right on the edge of these rolling green mountains. Its location was chosen specifically to inspire meditation, and it is one of the most peaceful places you'll visit. This temple is easily one of Thailand's best-kept secrets.
However, you could absolutely head to some of the other attractions in Khao Koh, just know you'll be able to fit in more if you stay the weekend. That post above has details on how to make it up here.
For A Weekend Away
In the past, ILP volunteers have done a little mini-vacation in this region of Thailand (it's close to where you're living on your semester abroad), so it makes for a perfect weekend getaway. Volunteers typically stay just one night, enjoying the perks of the resort that day, then wake up early to see the sunrise before heading to the colorful mosaic temple (and maybe one other activity).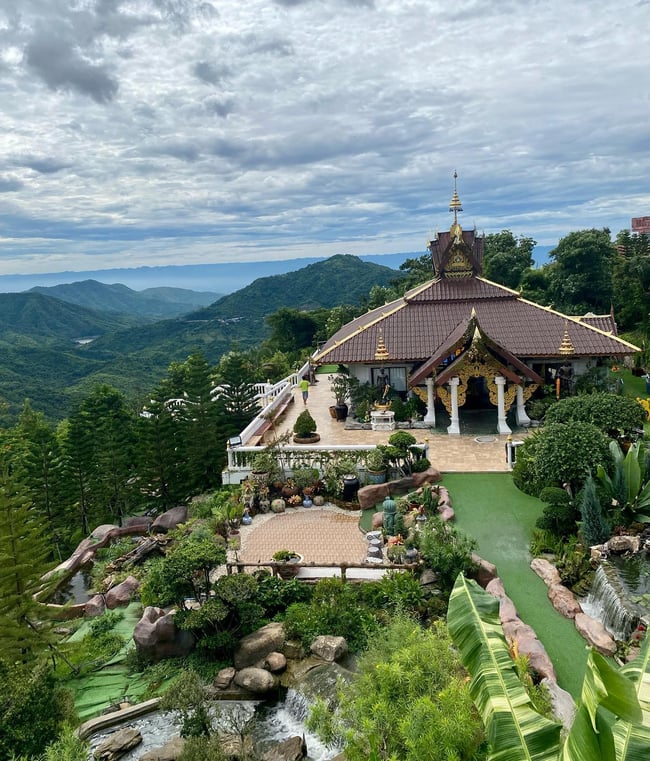 Getting Here
From Phitsanulok
Phitsanulok is the closest mini-hub in the region, so if you can make it there, it's an easy jumping-off point to Khao Kho. Plan on around 1.5-2 hours to arrive, depending on your method of transportation.
There are local buses that leave Phitsanulok and stop nearby in Lom Sok, where you can take a taxi (45ish minutes) to the resort, strawberry fields, temple, etc. Or, you can bus to Lom Sok, make a transfer there and ride to Ban Tha Pon before taking a 30-ish minute taxi ride. Get bus schedules here.
Groups also have just taken a taxi for the drive (a little less than two hours) and shouldn't be too expensive ($40 USD) if you split it with your ILP group. Another perk of traveling with ILP is your Program Manager and Local Coordinator who can help you arrange a private shuttle transfer for your ILP group.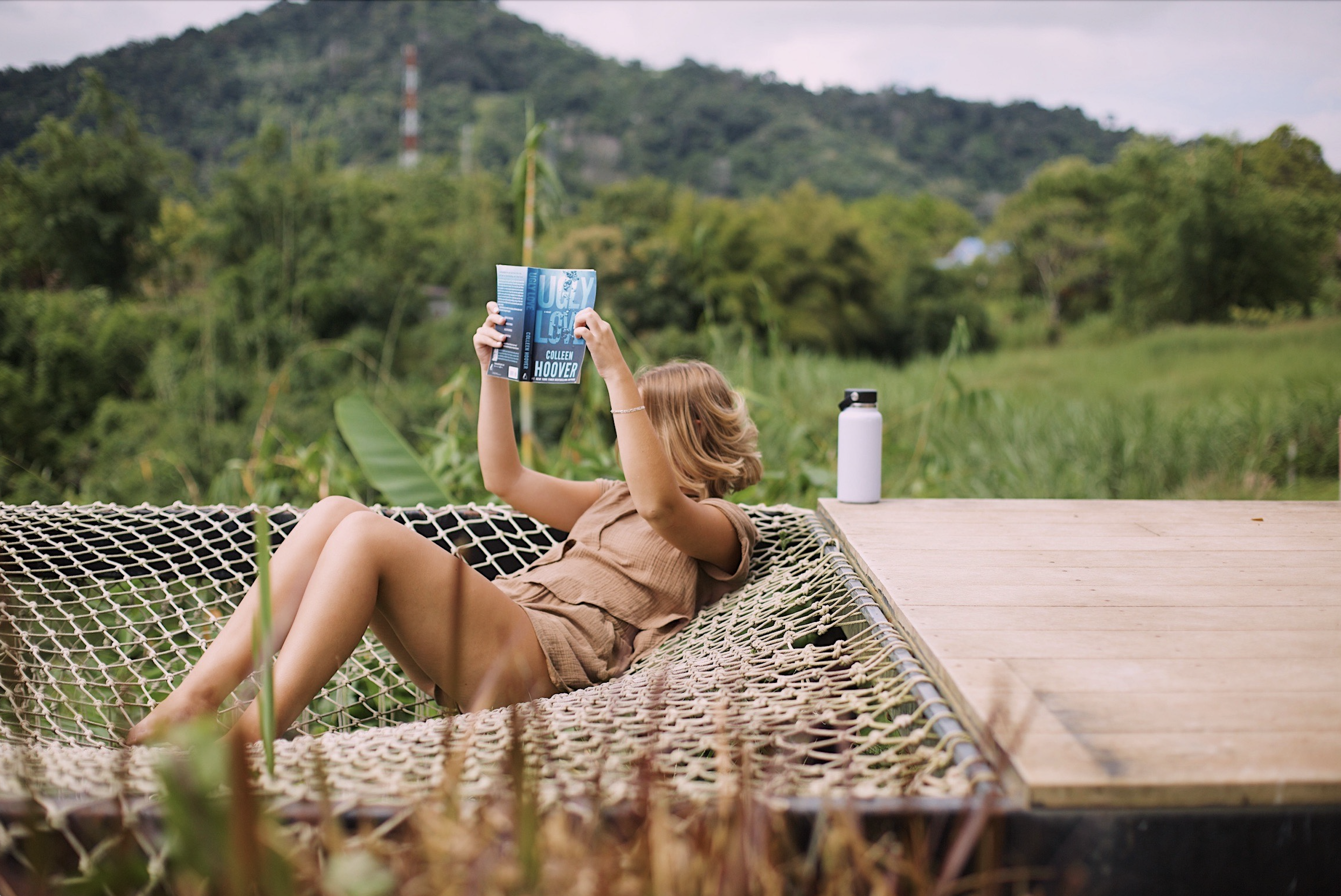 Need more info on Thailand?
Sounds like you need a semester of volunteering there to really get your fill. Come see what it's like to volunteer as a part-time English teacher here, and have time to explore all that Thailand has to offer.