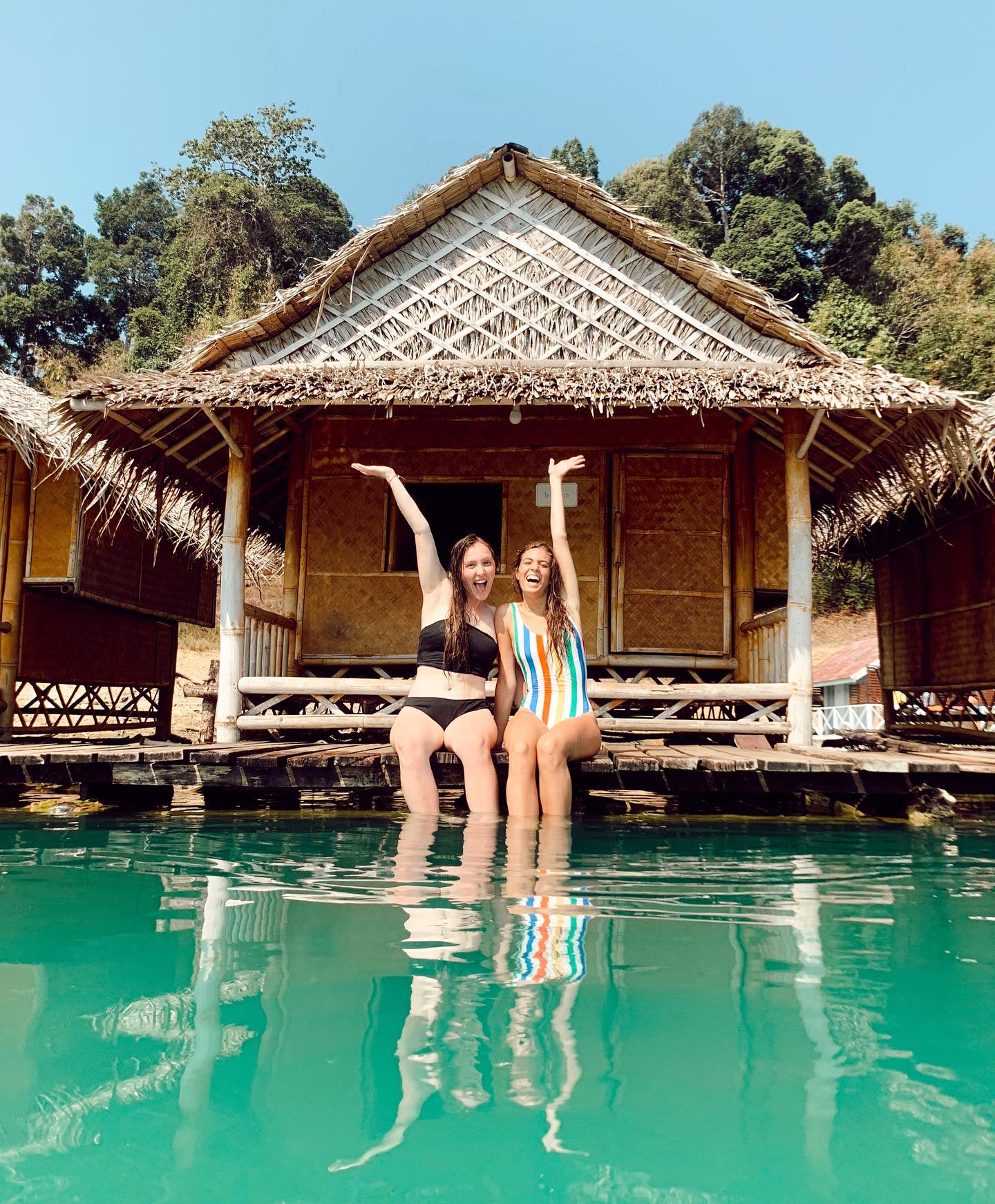 Nestled in the southern part of Thailand is a verdant green jungle, home to colorful bungalows floating on deep blue pools, hiding behind waterfalls and groups of jabbering monkeys — if you're looking for a prettier place to relax, we wish you luck finding one!

Thailand keeps giving us the prettiest places to explore: With dense forests and pristine beaches, you'll have a hard time narrowing down which adventure you want to tackle on you trip to Thailand … unless you're living here for an entire semester, of course.
---
Interested in Thailand?
Learn more about volunteering in Thailand here.
---

If you're interested in seeing a rainforest that's more diverse and untouched than the Amazon (possibly older, too), come to Khao Sok National Park. There's something about kayaking through the jungle that makes you feel like you've stepped back a few hundred years that we can't get enough of. It's also one that's a bit off the track, so you'll likely only run into a handful of more adventurous tourists.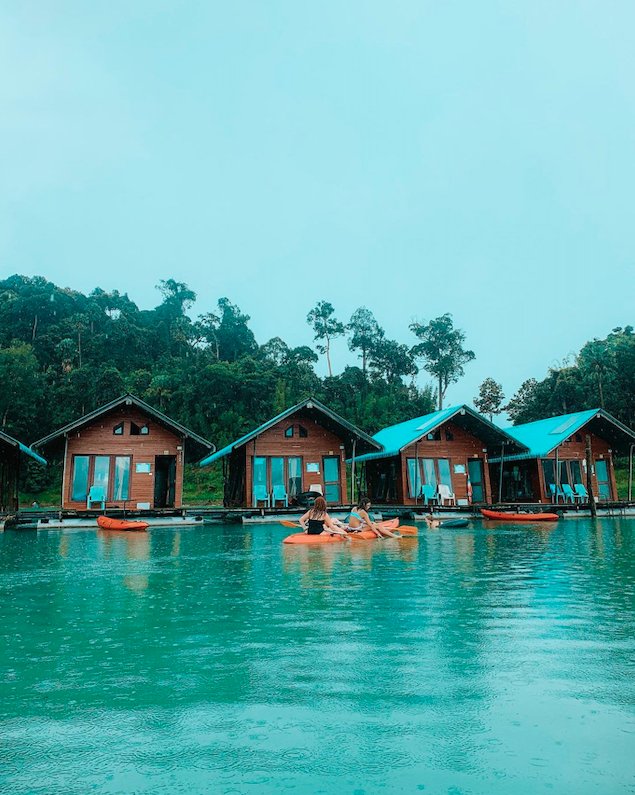 About The Park

This protected region of Thailand is where all of your vacation dreams come true. It's perfectly situated on the mainland, found between Phuket and the other beachy-destinations of southern Thailand. It's a rich area filled with green jungles that are only interrupted by a river that's an impossible color of blue (plus a few waterfalls and huge limestone cliffs). Visiting here means staying on floating raft houses while you take kayaking tours around the floating karats that emerge from the river around you ... can you believe a place like this actually exists?
It's a very remote area of the country, filled with a dense forest that's home to animals like parrots, monkeys, and even elephants and big cats. The park was first established in 1980 as the country's 22nd national park. For our ILP volunteers, it's a postcard worthy getaway that's a surprising chapter of Thailand: you knew you'd love the beaches and the temples here, but did you think you would find something like Khoa Sok? It's a must-visit spot if you ask us.
Costs To The Park
There is a 300 Baht ticket to enter the park. it's valid for 24 hours, so you can leave the park for lunch and re-enter, but only if you still have your ticket (so don't lose it).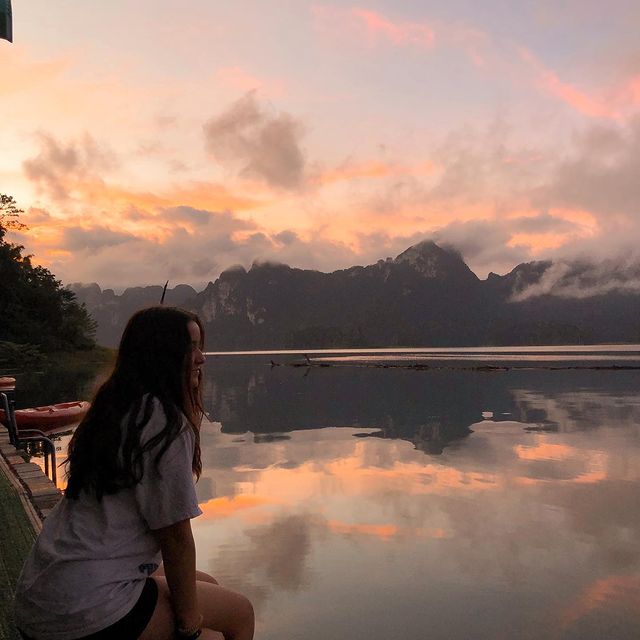 Things To Do
Trekking
The main pull of this park is trekking through to see if you can spot some wildlife (if you're lucky you can spot jungle cats, elephants, and other animals), and spending time on the lake. There ares some self-guided tours that are more like paths to waterfalls if you would like to go that route.
Guided tours — Kayaking, Tubing, Night Safari
Kayaking, tubing and a night safari are also popular options. It is not required for you to have a guide to do everything here, but we suggest it. Hiring a guide with a tour means you'll be much more likely to find your way through the jungle and spot animals, plus they can get you to the best parts of the jungle .... like the floating bungalows.
Visiting The Bungalows
Kate G. (ILP Thailand volunteer — also, a big thanks for all of her info for this post!) said that the floating Bungalows was the best part of the trip to Khao Sok — Here is what she said:
"The cheapest/easiest way to get to the Floating Bungalows is to book with a tour as they will take care of all the transport. My group booked our tour with Smileys Bungalow as it was the cheapest and also included the most. We each paid 2800 baht (including the National Park fee) so about $80 for a 2 day 1 night tour. That 2800 baht includes all your transportation to the lake and bungalows, the stay in the bungalow, all your meals while you're there, and a morning safari, night safari, and jungle hike (during rainy season) or a cave hike (during dry season).
"If you stay at Smileys the night before you can just meet them at their lobby for breakfast and then the van will take you from there. If not you can arrange to meet them elsewhere. The van will take you to a market for snacks and an ATM and the dock and then you take a longtail boat on the prettiest lake through limestone cliffs covered in trees to the floating bungalows. You can swim, kayak, or relax in your bungalow that sits on the water (plus each bungalow can fit 4 people as they have 2 queen beds).
"Not only is it an amazing view but you also can't see any other bungalows or people besides whoever is staying with you so it feels really private. You have the option of going on morning and evening safaris with your guide on a longtail boat and you can see monkeys and all sorts of birds. Your group gets a private guide so it will be just your group on the boat with your private guide (all included in the 2800 baht). The second day you can do a jungle waterfall hike or a cave hike with your guide. We did the waterfall hike and loved it. We were in the middle of the jungle and got to swing on vines and see like 15 layers of this smaller waterfall. They will then take you back to Khao Sok and can arrange transportation back to Bangkok or Surat Thani airport for you."

Sounds easy, right? We love this option because you get a taste of the highlights of what this national park has to offer.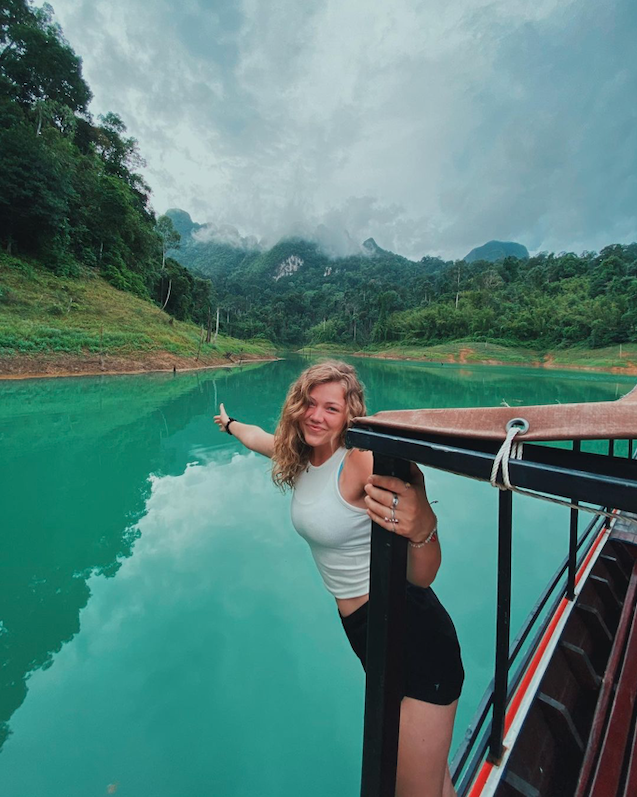 Booking These Tours
You'll find lots of vendors advertising their tours at all the guesthouses in the park and at the entrance. Unless you want to go with a specific tour company, you probably will be okay if you don't book in advance.
If you'd like to do what Kate and her group did, book directly with Smileys Bungalow by emailing Phaiwan Rakbuathong to get the best bungalows and the complete tour package. <smileybungalow@gmail.com>
This blogger had good things to say about booking tours at Khao Sok Good View resort, where Bao (the owner) was exceptionally helpful when it came to booking tours and helping out. His wife cooks at the resort and his brother leads some of the treks including a night safari. They also mentioning paying 10 Baht to hang out at Monkey Temple and watch a family of monkeys play and squabble.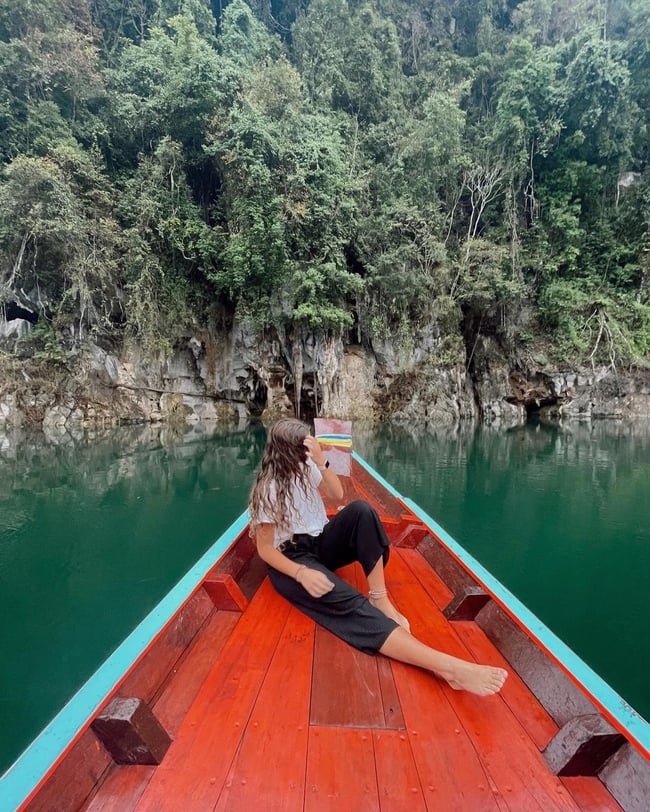 Places To Stay
Kate G. stayed with her group at Smileys Bungalow. Here's what she said "This place was seriously the cutest! They have these bungalows that are on stilts above all these trees and each one comes with a hammock. You can fit 4 people into each bungalow and we paid about $4 each when we split the cost. They don't always have warm water for showers and it can be slightly rustic but the atmosphere and view of the place makes it well worth it (not to mention the cost)."
Book by emailing Phaiwan Rakbuathong: <smileybungalow@gmail.com>
We're in!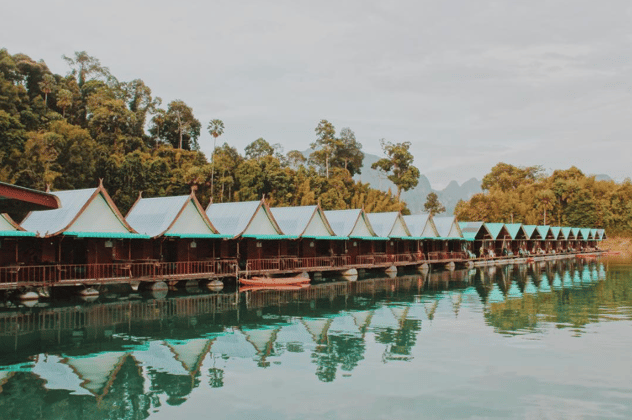 Tips To Know
This is best done on a 4-day weekend, or a 3-day trip if you are thinking of flying both ways to get to the park — buses (especially from Bangkok) are cheaper than a flight, but take up a lot of time.
Also, bring a dry bag for your adventures. It tends to rain here so you'll want a place to store phones and cameras when it rains during your safari, and sprays during your boat ride to the bungalows. Also, you'll find zero cell service or WiFi on the bungalows, so plan on just enjoying the view.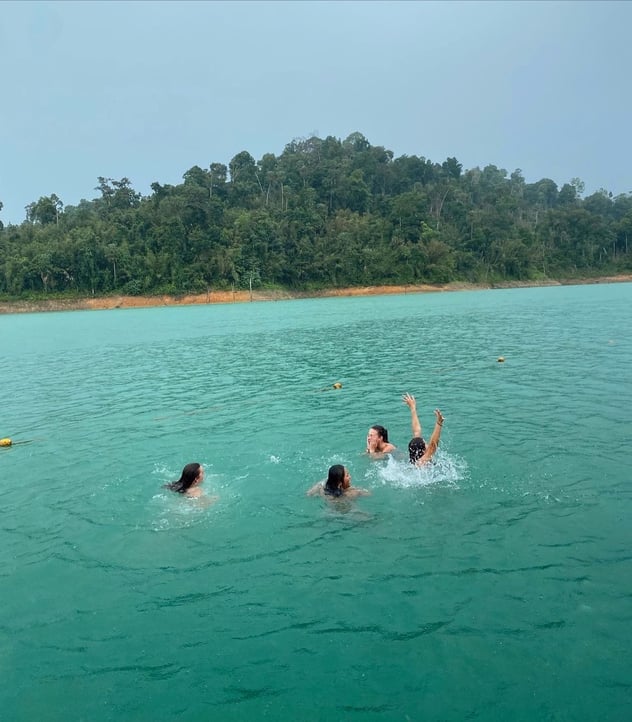 Getting To Khao Sok National Park
First off, you'll need to know that this park is in the Surat Thani Province, which is about 3ish hours by car from Phuket, if you're heading north.
By Plane + Taxi/Mini Bus
The nearest airport to the park is Surat Thani. You can book pretty cheap flights to Surat Thani from Bangkok or even from Phuket which could make this a good option.
Once you land, you'll need to get a bux/taxi/car to take you to the actual park (it's about two hours away). You can hire a taxi and split the price, but it's going to be a bit pricey that way.
One ILP group got to Khao Sok for $8-10, via a mini bus. They leave every hour and you can catch one directly from the airport. They can be booked beforehand on 12go.asia. The bus ride is about two hours and will drop you off on a corner, just down the road from the entrance to the national park. From there, you can hire a truck for $2 a person to take you up the road to your hotel, or just take the 10 minute walk to where you are staying (all accommodations are close to each other). We recommend just walking.
Good to know : NokAir does offer a package where you can fly into Surat Thani and have transportation to the park itself all in one for about 1400 Baht.
By Bus
Buses run from Phuket to Khao Sok and are extremely affordable (about 130 -180 Baht). The ride length varies according to the websites you look at, but plan at least 3 hours and maybe up to 5. According the Phuket Bus Terminal, there are six departures from Phuket to Khao Sok daily, but other sources suggest they leave roughly one bus per hour, from 7:00 AM to 3:00 PM. That link gives you an address to the terminal if you'll be getting a bus from Phuket to Khao Sok.
There are buses from Krabi (another favorite vacation spot). That blog post has more info if you want to visit it for the details.
Other ILP groups have reported booking beforehand on 12go.asia — you can hire a 9-passenger van for around $10 per person on 12go.asia from a lot of different locations in the area. Hiring your own car will mean having more flexibility about when you leave and where you are dropped off.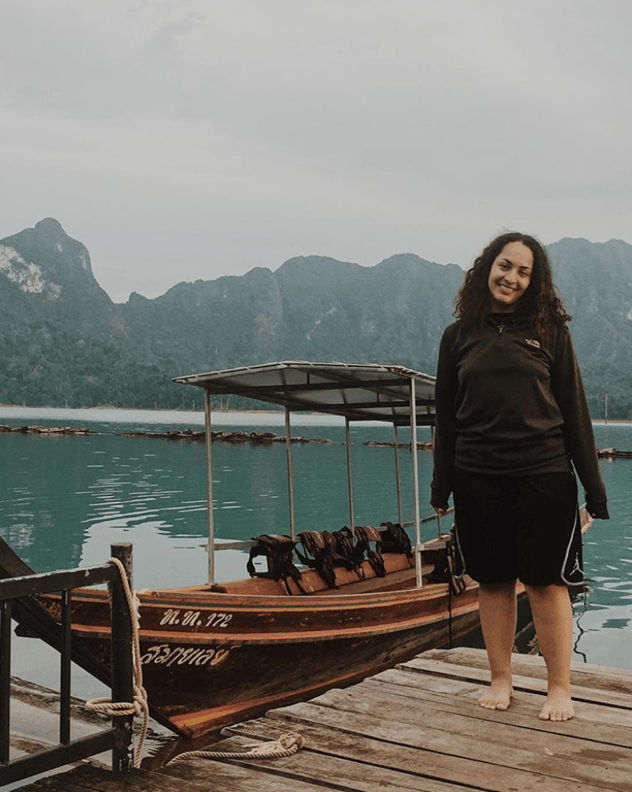 Thinking you need to know everything there is to know about Thailand?
We are here to help! We think the best way to see this country is to live here for for a few months instead of just visiting for a week or two. If you have questions about how you can volunteer here for a semester, come chat with ILP: