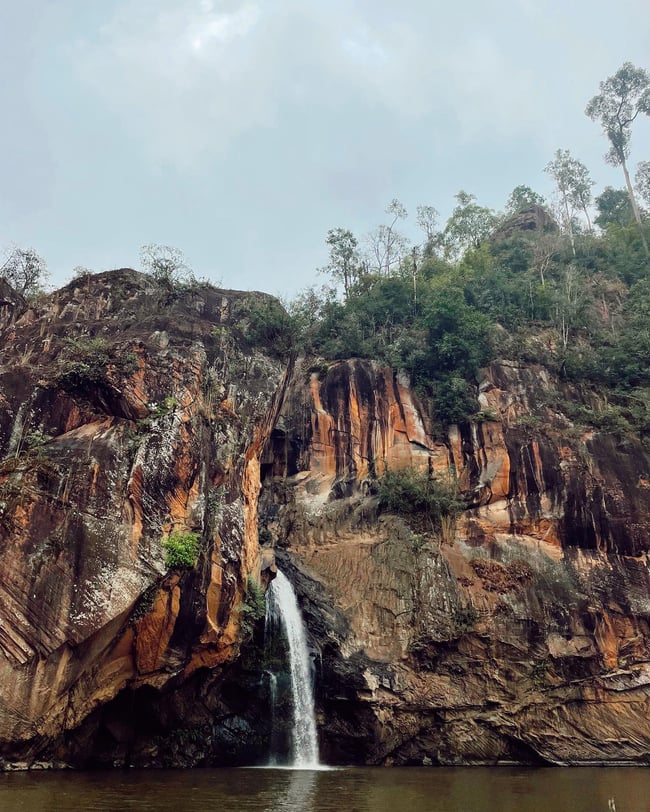 Spend a day (or weekend!) hiking to thundering waterfalls and soaking in the sites at this national park — these pictures are going to convince you to come, ASAP! Sometimes the beaches in Thailand get all the attention — don't get me wrong, the white sand and turquoise water are every bit as pretty as you think it is, but there are so many untouched jungle experiences that you don't get to see unless you spend some serious time in this country! Our volunteers living up in central Thailand have found some of the prettiest views and gorgeous hiking they can visit on any weekend, all in this national park.


---
Come live in Thailand for a whole semester! All about volunteering with ILP.
---

But our hearts are totally devoted to the fun weekend trips our volunteers are taking up in central Thailand that don't get the spotlight. While we love the elephant rehabilitation and the line of mountain cafes and glamping, the hikes at Namtok Chat Trakan National Park are no short of stunning. If you find yourself near Phitsanulok and want a day or weekend of sites like this, you have to come to visit (especially since we've planned your entire visit, below!):
About Namtok Chat Trakan National Park
This gorgeous park encompasses rolling mountains, towering rock cliffs, and stunning waterfalls. The park has been around since 1987 — Thailand's 55th national park — and has been a popular place among locals looking to escape the heat a bit (it's typically a bit cooler here), and get a little slice of nature. Visiting means admiring a series of waterfalls, local plants like waving bamboo stalks, and maybe catching a glimpse of the many animals which call this forest home.
We'll get to the main attraction below, but as a sneak peek, a 7-tiered waterfall is the star of the national park. You also have the chance to visit a cave with prehistoric carvings, see fossilized footprints, as well as catch a glimpse of the local mushrooms that have been used for medicinal purposes for years.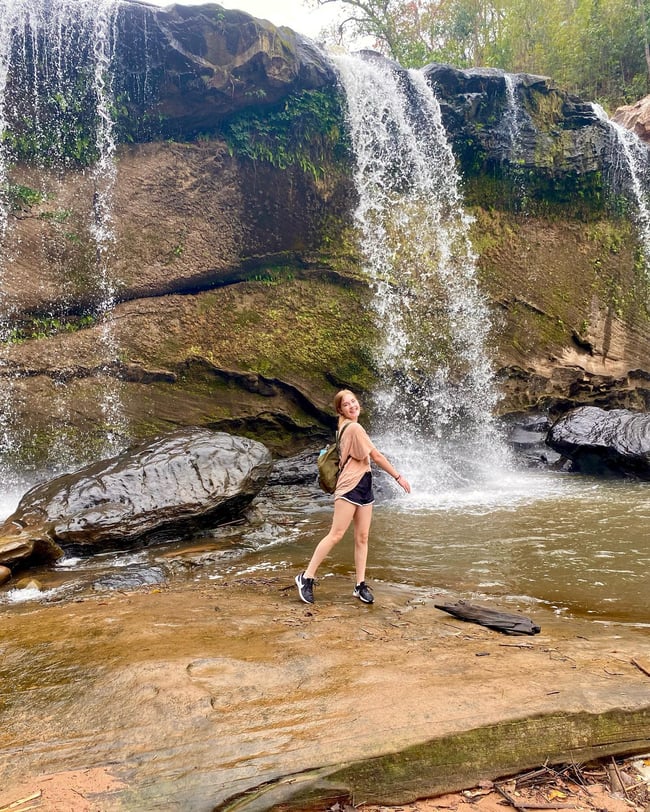 Hiking Through The Park + The Most Popular Sites
You Will Need A Guide
The entrance fee for visitors includes a guide, so make sure you head to the visitor's center after you purchase your ticket to get set up with your guide. Groups mention they first headed here to DIY the trails but loved having a guide saying, "Honestly it was really nice to have a tour guide! He took us to all the waterfalls! The hike is one big loop (it was actually a really easy hike too!)"
Going with a guide also gives you the chance to learn more about the history, ask questions, and have someone with you who knows how to navigate the trails. We will get to what there is to see in the park in just a minute, but going with a guide means you can customize what you'd like to see in the park.
Past groups also mentioned that their particular tour guide was helpful when exploring the waterfalls, pointing out the rocks to step on that weren't as slippery. It's up to you, but ILP groups in the past have tipped their guide as another way to say "thanks" after their tour.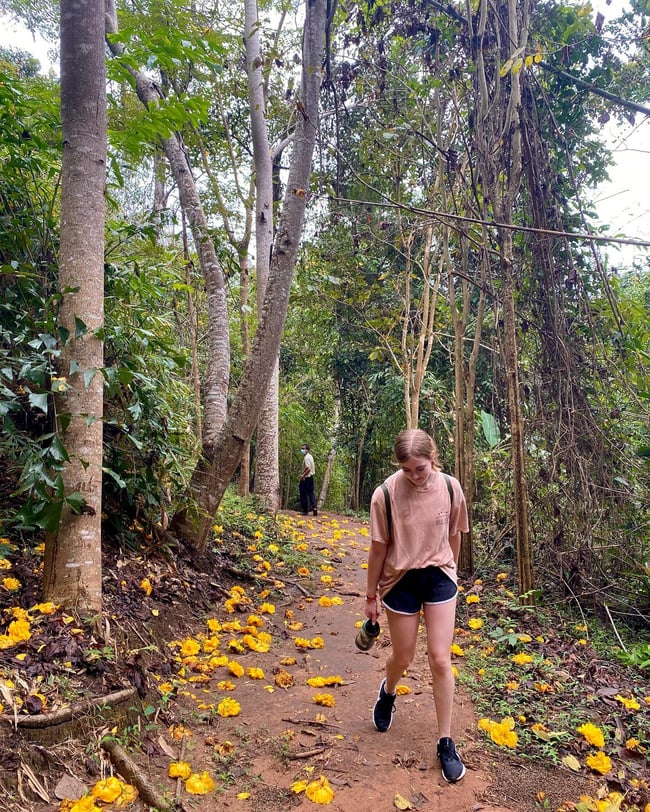 The Chat Trakan Waterall - 7 Levels
This waterfall steals the show, tumbling down 4,200 feet, with seven total levels you can hike to that give you a completely different view. At each level, the falls are surrounded by different plants and animals, sometimes pooling into a perfect place to take a swim, or pouring over a cliff overhang, letting you walk under the falls during your trip.
Some of the levels do require a stream crossing or climbing up some shakey wooden ladders but that can be skipped if you'd like! It's quite popular to visit the first, second, and fourth levels and still get some amazing views if you don't have the time or desire to hike all seven. ILP groups mention that their route (which just included a couple of levels) wasn't too hard of a hike and loved the views. Most visitors come to this national park just to see this waterfall.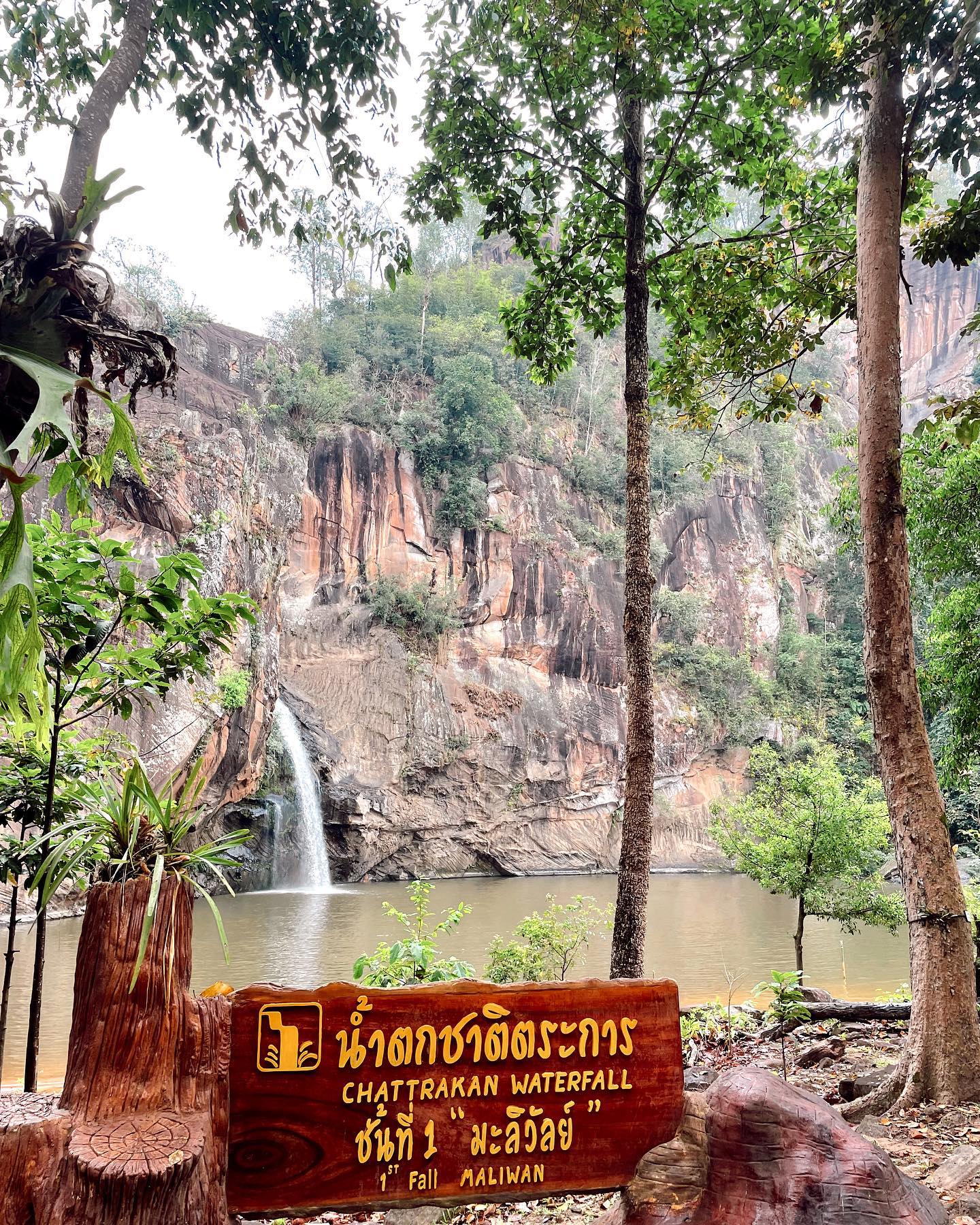 Pha Lek Cave
This area goes by a few names (Tham Pha Kraden Lek, Pha Kraden Lek, or even Pha Lek Tunnel), but is an interesting attraction if you have the time. It's a small cave located on a towering cliff, which has a sandstone shelf adorned with a bit of a mystery. The carvings on the slab are dated to be prehistoric, but researchers aren't sure what of — maybe it records an event or maybe it's a map of some area? In any case, it is an addition you can ask your guide about on your visit.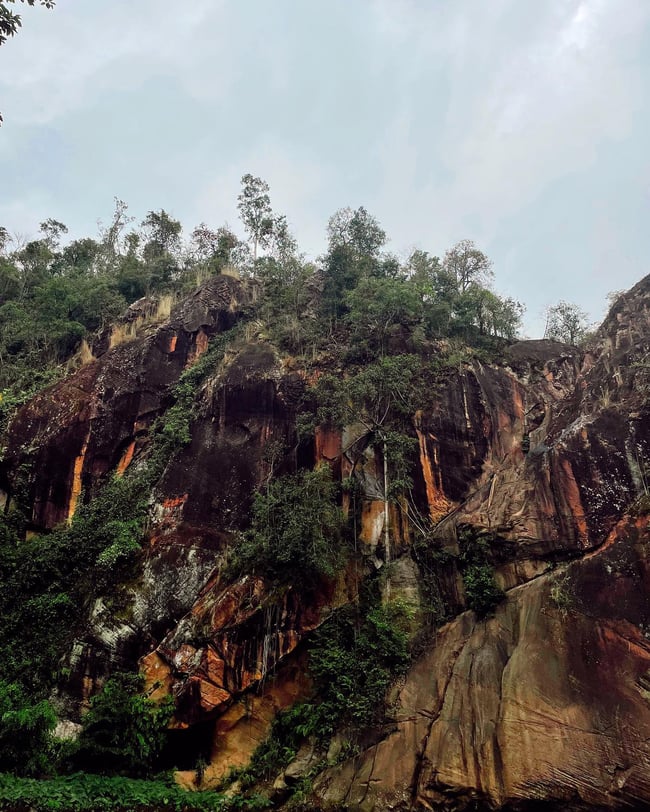 A Few Helpful Details For Your Visit
How Long Should I Visit?
Groups in the past have come for just the day — "We just visited for a day trip on the weekend. And you wouldn't need more than that (the park isn't that big and we explored it all in one day".
However, others recommend spending two days in the area just to soak up more. If you decide to stay overnight, there are some overnight accommodations in the nearby town of Chat Trakan, though options are limited. According to the Thai tourism office, the park also provides some accommodations: To make a reservation, contact the Royal Forestry Department at 0-2579-0529 or 0-2579-4842. But as we said, you can see plenty of the park in just one day.
Visit During The Wet Season
There have been some reports of the park closing during the dry seasons when the waterfalls aren't running (the dry season here is roughly from November to May). However, we've had groups visit in February and got such lovely pictures of the waterfalls (the pictures in this post are from their visit). It may be worth chatting with your Local Coordinator or the park itself to make sure you're not going to be visiting when the waterfalls may run dry.
Hours + Cost
Entrance fees are around 300 baht for foreigners.
The park is open from 6:00 AM to 6:00 PM.
Getting Lunch
There are food vendor stalls inside of the park if you want to grab lunch while you are there (the vendors sell basic dishes like rice and chicken).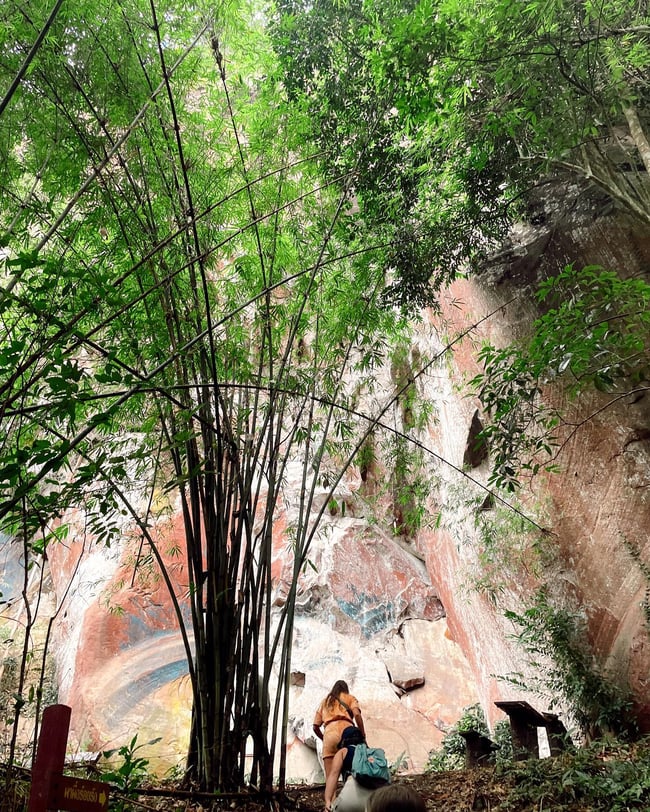 Getting Here
From Phitsanulok
We're using this city as our jumping-off point because it's a straight shot (if you're traveling from other locations, we love booking on 12go.asia to snag a bus to Phitsanulok).
Once you're in Phitsanulok, groups in the past have hired a private driver, but you can also take a taxi. Supposedly, a bus departs to Chat Trakan a few times a day (one report had buses leaving at 6:00 AM, 7:20 AM, 9:30 AM, 11:30 AM, 3:20 PM, and 4:30 PM), but I'd double check to make sure. You'll need to take a songthaew after you get off the bus to take you to the park, and vice versa.
Here's the name and address of the Namtok Chat Trakan National Park in English and Thai if that's helpful for drivers and asking directions:
Namtok Chat Trakan National Park: 7MXM+48G, Chat Trakan, Chat Trakan District, Phitsanulok 65170, Thailand

อุทยานแห่งชาติน้ำตกชาติตระการ: 7MXM+48G ตำบล ชาติตระการ อำเภอชาติตระการ พิษณุโลก 65170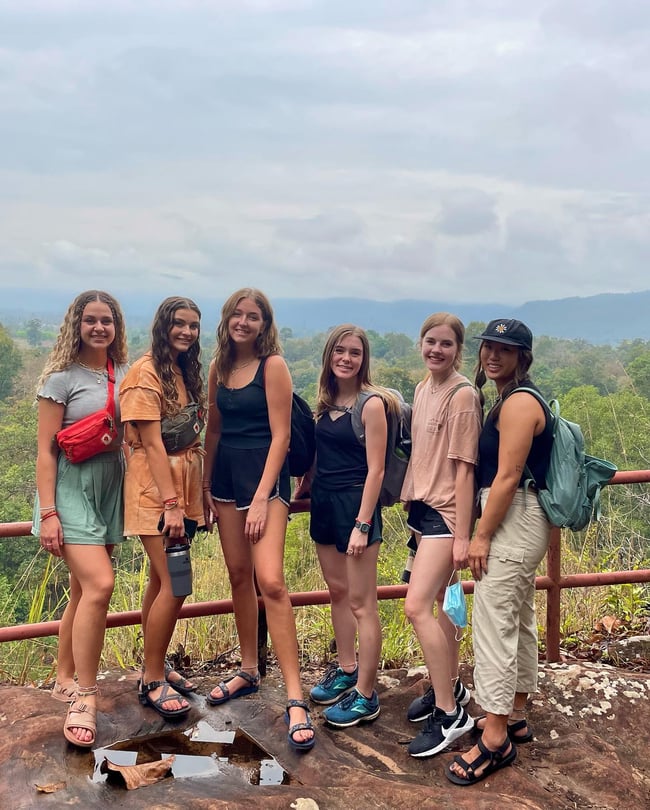 Don't settle to just visit Thailand as a tourist for a week or two ...
Come spend a whole semester here instead! ILP (that's us — International Language Programs) sends groups of volunteers to come live in Thailand. You'll spend part of your time teaching English, no experience necessary, and the rest of your time exploring. That means time during your week, every weekend off, and scheduled vacation days to experience all the best of Thailand.