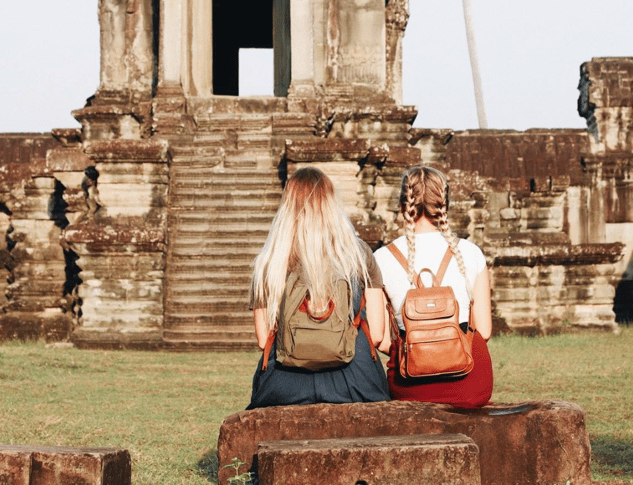 We're not sure how the entire country of Laos isn't on everyone's travel radar because it's one rad place to vacation — especially the capital city.

Grab your travel journal and add Vientiane to your bucket list. This city is the underrated capital of the underrated country of Laos. Don't get me wrong, there are some rad capitals to visit around Asia but Vientiane is a total hidden gem — it's bursting with cool things to do, but has a sleepier feel than the crazy busy bustle of Bangkok. Plus, it's an easy jumping off point to what may be our most favorite place in Laos, the turquoise Kuang Si Falls.


---
Thinking of traveling the world for a bit?
Come live abroad with ILP!
---


Laos is sandwiched between Thailand and Vietnam, and is somehow less popular than both of these countries despite the fact that Laos is hiding turquoise waterfalls and a golden capital city. But for the travelers who have made a quick stop over to Vientiane, they've left left surprised (and wanting more).

Here's your guide to spending a couple of days in Vientiane:
The Can't Miss Spots
Places To Stay
Places To Eat
Info On Getting Here
The Can't Miss Spots
Wander The Buddha Park
Okay, this park is just cool. It's a big sculpture garden full of giant Buddha heads, some Hindu deities and animals (some real, some are totally made up). It's sorta eerie to wander around these enormous heads that have been weathered by the humidity and rain found in Laos, but it makes for some stellar pictures, especially since the park is full of leafy ferns, waving palm trees, and blooming bougainvillea for most of the year. The overall effect is a green lush jungle full of towering statues and a spiderweb of pathways that take you through the park. Yep, I'm in.
It's best pack up a few snacks yourself if you plan on being at the Xieng Khaun Buddha Park for long — it's not huge, but you can easily see a lot in 15 minutes if you run through it exceptionally fast, or up to a couple of hours if you want to really get all the photos and experience all the sites. Around the park, there is a small restaurant and snack stalls selling things like taro or fruit but you don't have tons of options (hence packing in your own snacks).
Getting Here: The Xieng Khaun Buddha Park is found about 20 km outside of the city itself, which is handy if you're coming by bus straight from Thailand (it's just right by the border crossing at Nong Khai). If you're coming from the city, go to the Talat Sao bus station and find bus #14. Tickets are about 8000 KIP (less than a dollar). Buses run frequently (every 20 minutes or so) and the ride will take under an hour depending on traffic.
If you'd like to visit right after crossing the Nong Khai Thai border, you'll find tuk-tuks waiting to take you to the Xieng Khaun Buddha Park.

Cost And Hours: Entry tickets are 15000 KIP which is about $2 USD. The park is open from 8:00 AM to 4:00 PM.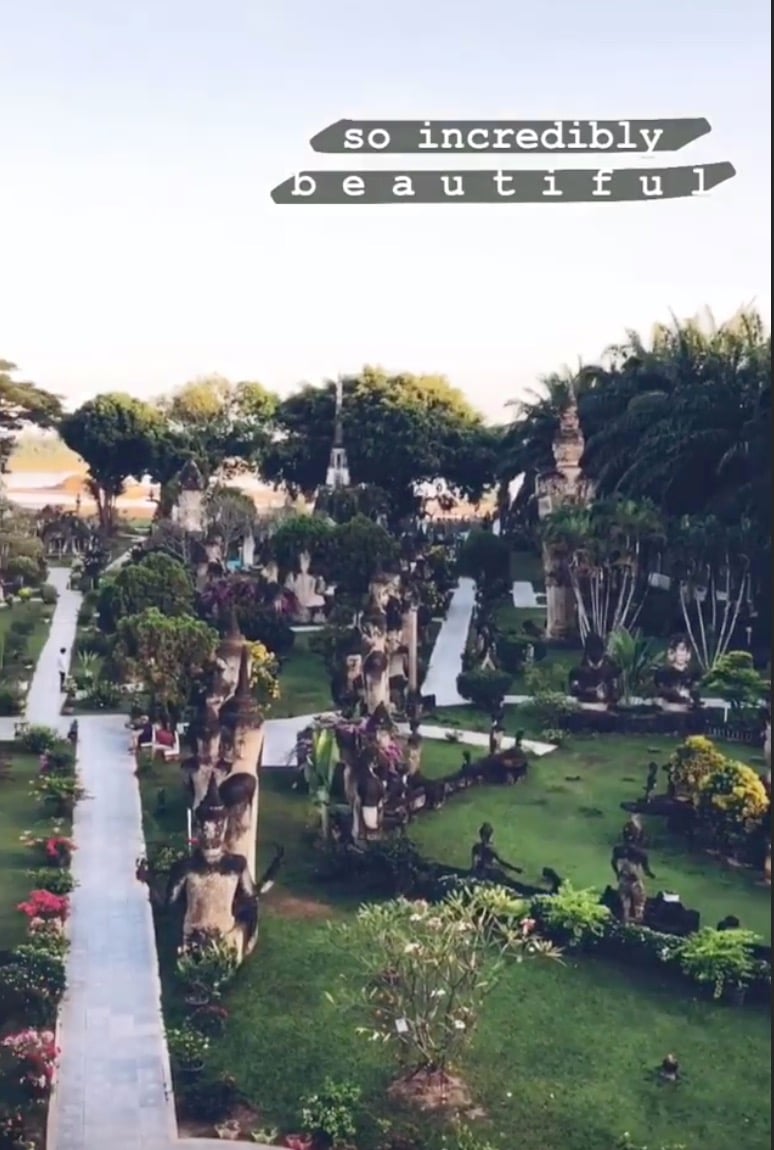 Meditate With Monks
You'll have to time your visit right, but each Saturday at Wat Sok Pa Luang, a group of monks gather for a meditative service primarily aimed at English speakers. You'll be able to sit in meditation with the monks and ask questions — the whole afternoon is structured as a sort of exchange, with the chance for visitors to practice meditation and the monks getting the chance to practice their English. After the mini discussion, you'll be taught the different types of meditation and get the opportunity to practice what you've learned.

Of course, this isn't the only time you can chat with a monk (you'll see them all over South East Asia), but now's a good time to ask questions.

Getting Here: best to take tuk-tuk to Wat Sok Pa Luang (Tuk taks are the best way to get around this capital city) if it's too far for you to walk

When: Saturdays at 3:00
Usually, the English conversation lasts for about an hour (in small groups) then at around 4:00, there will be 20 minutes of discussion about meditation, 20 minutes of practice (while sitting) and 20 minutes of practice (while walking). It's about a two hour activity and you'll want to wear loose, flowy clothes you don't mind sitting and walking in.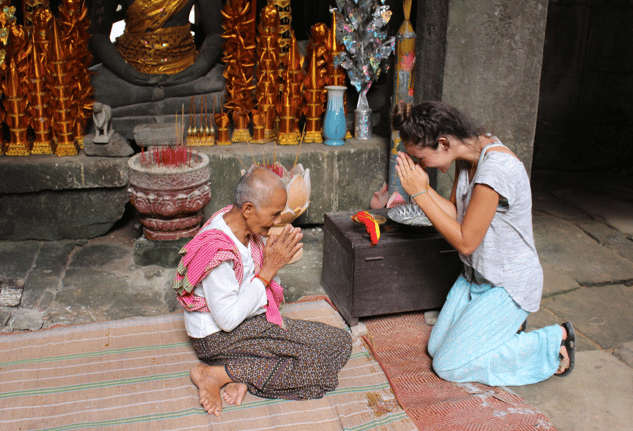 Visiting The Capital's Prettiest Wats
Words like jaw dropping come to mind when you look at the temples (or "wats") all over Laos. You will probably get your fill of wats if you do any exploring in Bangkok or Chiang Mai in Thailand, but Vientiane has a few to admire as well:

Wat Is Saket
Wat Is Saket is the oldest standing temple in the city (built around 1818 and survived the Siam invasion). On the outside you'll see a pitched roof painted in bright red, held up with yellow columns, and on the inside? Admire over 5,000 statues of Buddha.
Wat Si Muang
One of the more popular temples, Was Si Muang has all the hallmarks of a Buddhist temple — a stunning prayer hall, ornate ceilings, reverent shrines, and people paying their respects and praying.
+ The Luang
Technically not a temple (it's a stupa) this structure is one of the most famous in Vientiane and one of the most photogenic. The pinnacle is completely covered in gold leaf and the entire structure is painted in gold paint which creates a pretty show stopping effect. Inside, you'll find three floors that are broken up into different beliefs of Buddhism.
*No matter which temple you choose to visit, make sure you know how to dress. We have this post all about visiting Buddhist temples in Thailand, but the same guidelines apply.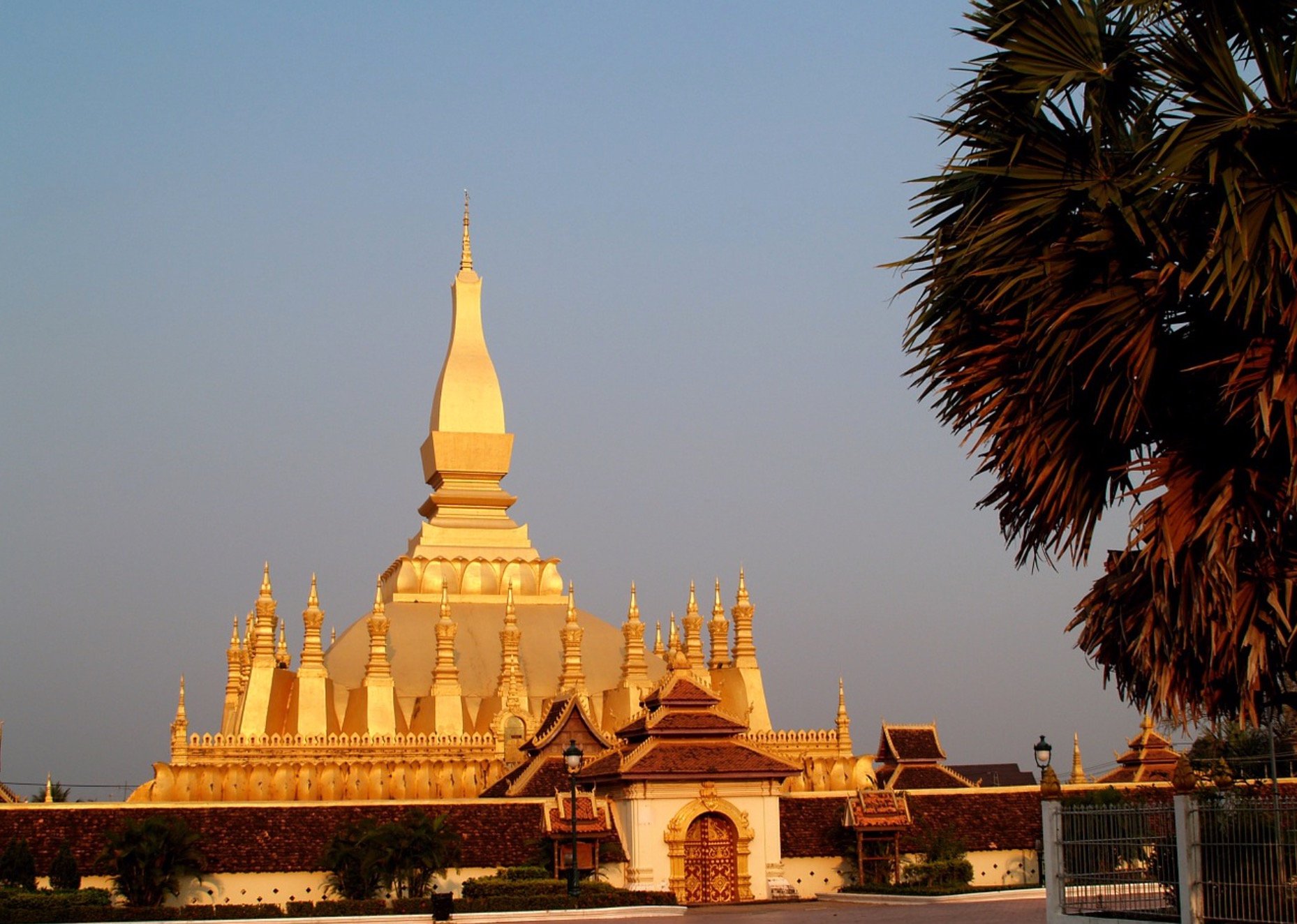 Donate At The COPE
Visitors have said that if you only have one day in Vientiane, visit the COPE.
COPE (or the Cooperative Orthotic and Prosthetic Enterprise) is a charity based in the Vientiane that works to help and rehabilitate those with mobility related issues. This charity is particularly relevant in Laos, due to all the unexploded landmines that dot the country, left after the Vietnam War. Per capita, Laos is the most heavily bombed country in history. Thousands of farmers, those out for a walk in the fields, and others have suddenly been involved in life-altering accidents and COPE is here to help. The charity has helped thousands be fitted for prothetic limbs (and other services, like orthodontics) after falling victim to the landmines. COPE also helps the people of Laos with other mobility related needs. Learn more here.

The COPE Visitor Center walks you through the prosthetic process and displays and who they have been able to help. It's pretty heavy and emotional to walk through, listen to the survivor's stories, and realize how horrible the Laotian people have suffered from the aftereffects of the war; visiting can help you glimpse that impact and do your part to help.
Cost: It's free to visit, but a donation goes a long way. Just to give you an idea, $20 USD goes to paying for five days of food for a COPE patient, and $170 USD can pay for a lower arm + hand prothesis. Every little bit helps!

Address: Boulevard Khou Vieng, Vientiane, Laos

Hours: 9:00 AM to 6:00 PM

Places To Stay
Feel free to sort out your own hostel, but ILP volunteers in the past have stayed at Bed Box Hostel: Some of the rooms you can book include breakfast, but rooms are very affordable, starting at around $10 for the night. Another big perk? There's a ping-pong table where you can hang out and meet other travelers, but we love that the beds have a lamp and charging port right by your pillow.
Places To Eat
Stroll The City's Night Market
Nestled along the huge Mekong river that flows through this country (and a few others), you can't miss night markets while traveling in Asia. You'll definitely want to spend time at the night market just shopping around and tasting some of the local food.

For foodies, we like the things at the Ban Anou Market: it's more like a cool, outdoor food market rather than your traditional night market. Be sure to try some of the tasty (and local) food. Local dishes in Laos have similar roots to dishes you'll find in nearby Thailand and Vietnam, but with a distinctly French influence. Find goodies like lettuce wraps with peanut dressing, small rice pancakes stuffed with bean sprouts and minced pork and bowls, baguette based sandwiches smeared with pate, and bowls of noodles. Cool down with a local drink; a mixture of coconut milk, chai tea and little bits of jelly (sorta like Boba). Yummmmm.
Address: Rue Phai Nam, Vientiane, Laos

Hours: Daily from 5:00 PM to 11:00 PM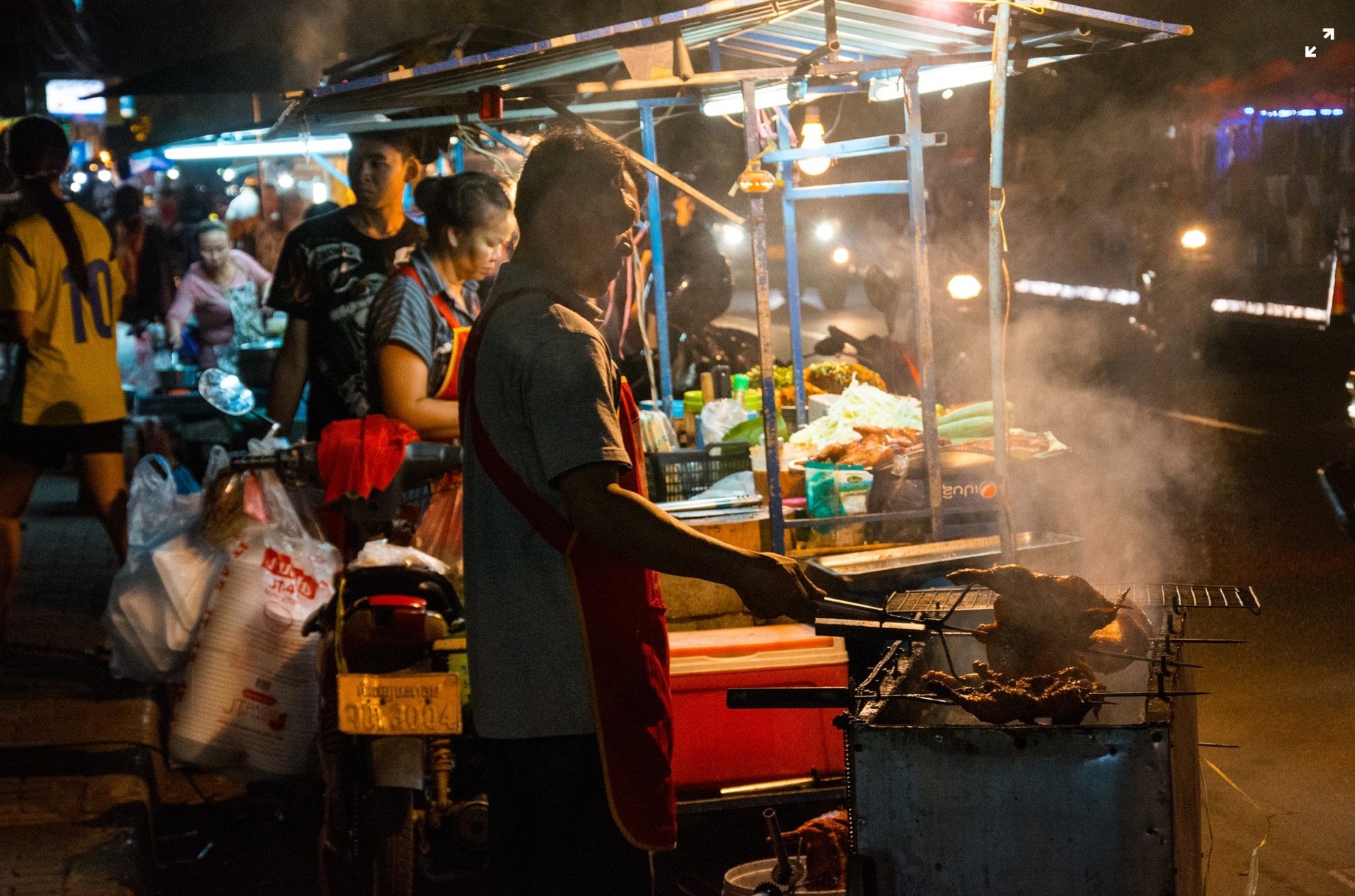 Bacan Cafe
In the mood for Mexican food? We're big fans of the local dishes you can eat in Laos and Thailand, but after a few months of spring rolls, curries, and rice you may want something a bit more familiar, like tacos or empanadas. The cafe is cute and stylish and also serves up yummy tea, coffee, and desserts like flan. We love that there's good Chilean food in Laos!
Address: Rue Samsenthai, Vientiane 01000, Laos
Hours: 7:00 AM to 6:00 PM (Except Saturdays: 8:00 AM to 5:00 PM, and it's closed Sundays).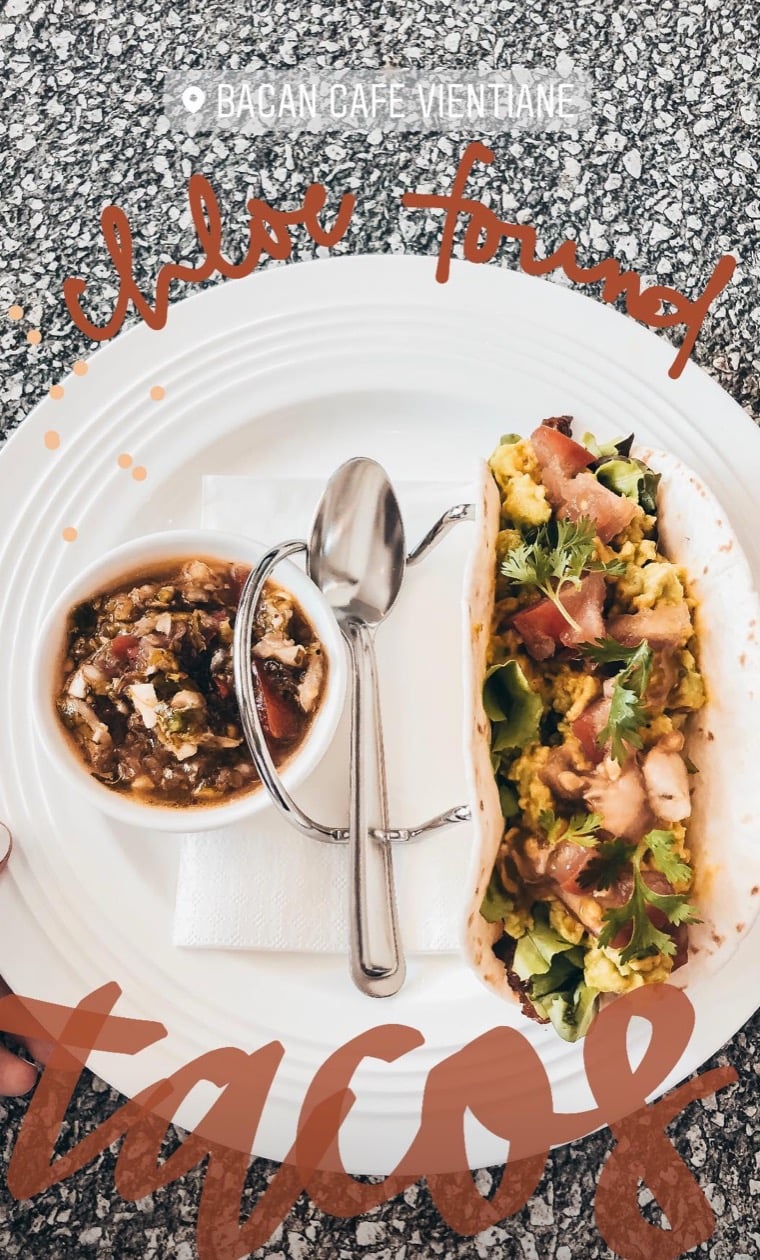 Info On Getting Here
From Thailand
Our ILP Volunteers often take a quick visit to Laos since it's so close. Vientiane is right on the border of the two countries and is a popular jumping off point to other adventures in Laos. ILP Volunteers will be able to get transportation help from their Local Coordinator (sometimes groups book a group van to take them over there for the weekend, so more information on that once you arrive in-country) but if you want to DIY, you can also visit Vientiane by bus.

From the city of Phitsanulok, you can take a bus that routes through Udon, so technically it's two separate routes. The bus from Phitsanulok to Udon Thani is just over 6 hours, and the bus from Udon Thani to Nong Khai (the border town, right outside of Vientiane) is just over 2 hours. You can check out buses here but tickets are often available the day of unless you're traveling over a holiday or busy weekend. Also good to note that bus schedules in Thailand are rather unpredictable when it comes to their online schedules: Best to visit the bus station yourself and find out departure and arrival times, or talk with a local (like your Local Coordinator) to get the most accurate information.
A Little Info About The Border Crossing
Since you'll be crossing into a new country, you'll need to go through a border crossing and get your visa-on-arrival for Laos. Not a big deal as along as you know what to do. For the Laos visa (at the time this post was written) you do need a blank page in your passport, two passport photos, and cash for the single-entry, 30 day visa ($35 USD for US Citizens, or the equivalent in Thai Baht). Please be sure to to double check official policies before crossing the border to make sure you are prepared.
To visit Vientiane, you'll probably cross at the Nong Khai/Vientiane border. The process is straight forward: If you go by bus, you'll be dropped off near the border crossing (you may need to take a tuk-tuk to the actual office), go to a desk to get your paperwork, fill out your paperwork, pay your fee, and hand over your passport and visa picture to get your actual visa at a second desk. Then you're done! So you know, the border crossing checking is about 20 km from the actual city of Vientiane, but you'll find tuk-tuks or other transport to take you from the crossing office to the city (or the nearby Buddha Park if you'd like to visit that before you visit Vientiane).
A note on coming back into Thailand:
Be aware that when you enter Thailand, a 30 day visa is free for US citizens, but you'll need to make plans to leave the country again before those 30 days are up.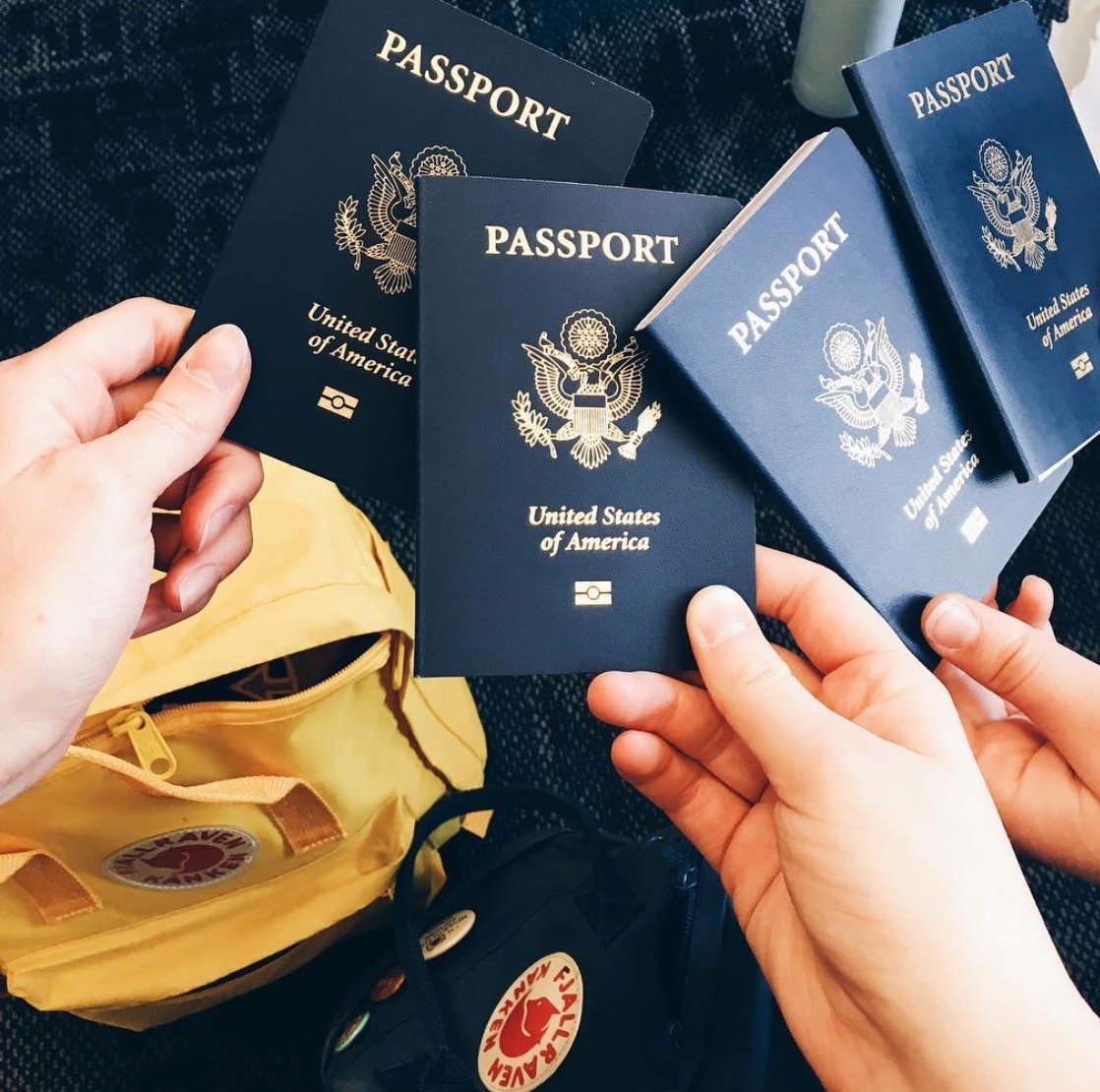 Ready to pack up and head here yourself?
What about living in nearby Thailand and taking a vacation to Laos? ILP volunteers get to live in Thailand and take weekend trips or vacation days to explore southeast Asia and other spots.