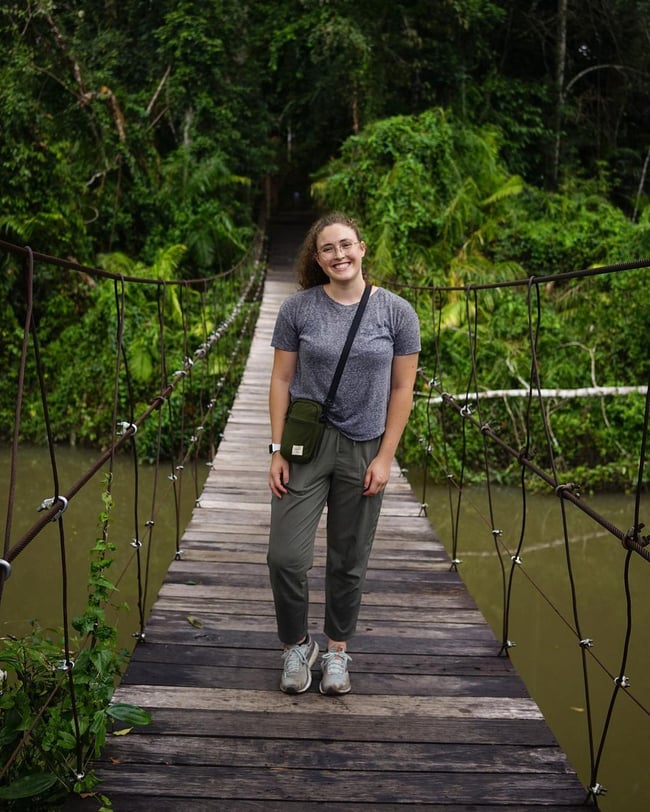 This sprawling National Park is full of dozens of waterfalls, lush mountains, and animals like elephants, monkeys, maybe an elusive tiger or two, and more. It just may be the off-the-beaten-path kind of adventure you need.
When you think of Thailand, a few things probably come to mind — the famously beautiful beaches, glittering gold temples, and elephants are just a few things waiting for you in this country. All of this you can easily fit into a short trip to Thailand, but if you ask me, living here for longer means you can have adventures like trekking through Khao Yai, Thailand's first national park. It's a UNESCO recognized site, home to quite the span of wildlife, thousands of plant species, and some think more than 30-40 waterfalls.


---
Thinking you need more time in Thailand than just a tourist? Volunteering in Thailand with ILP might be what you're looking for.
---

Khao Yai is not an adventure for everyone, but if you're looking for the chance to take a night safari, hike through a dense jungle, trek through with some very fashionable socks to prevent leeches, and maybe even spot wild elephants, we have all the info you need to plan your trip. According to one ILP volunteer, "we still had an absolute blast". We've pulled their tips and recommendations to help you plan your own trip here:
A Bit About The Park + What To Expect
We said it before and we'll say it again — Khao Yai is not the weekend trip for everyone. A few ILP volunteers mention that it is definitely for people who like to get outdoors, but you'll want to know that national parks in Thailand aren't like the national parks you'll find in the United States, especially this one. It feels untouched, and a bit wild, with a maze of hiking trails that you'll experience with a guide who knows the jungle.
One volunteer had this to say "It had some national parks vibes mixed with a lot of "Thailand Vacation" vibes ... It was neat to be there because it seemed like most of the visitors were local Thai people. Most vacation spots are filled with foreigners so that felt very unique. Almost like we were seeing a less westernized version of Thailand."
This park is huge (more than 800+ square miles, which is over three times the size of the country of Singapore!), and became Thailand's first National Park in 1962. It's officially the oldest National Park in the country but isn't nearly as busy as other hot spots in this country. Those who do visit, are typically on the hunt to see wild elephants (we have more info below about that). Speaking of animals, this park is full of things to see — though tigers are rare, you can still find wild elephants (with a little luck), colorful Great Hornbill birds, bright green water dragons or pit vipers, fluffy gibbons, along with elusive sun bears. You can get a peek and pictures of some of the wildlife here.
There are a few hiking trails, ranging from ones that take about an hour or less, to ones that are more like full-day adventures. You'll get your choice of viewpoints, waterfalls, and lookout points to hopefully see some elephants.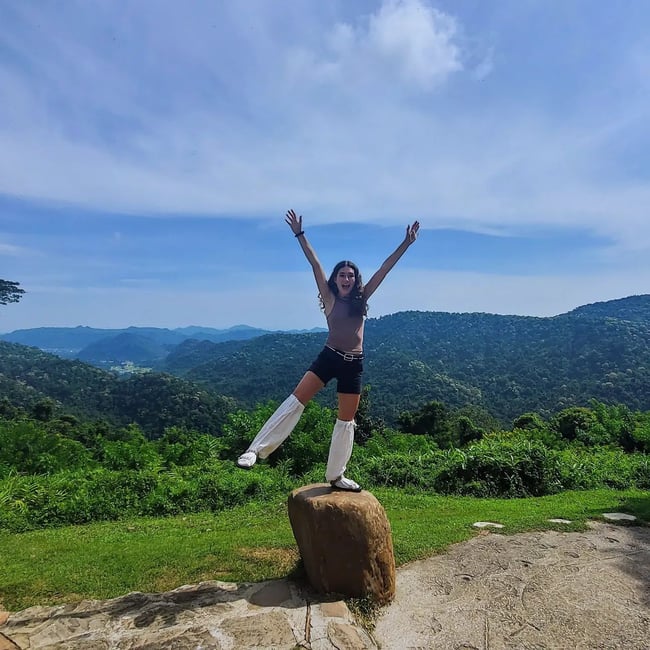 What To Do In The Park
Short Hiking Trails
This is a good go-to if you want to do a bit of DIY (though guides are recommended for a better Khao Yai experience, especially if you want to tackle longer treks, where a guide is mandatory!) Below are a couple to consider, though you'll find all seven available trails here:
Visitor Center to the Kong Kaew Waterfall: Short, no guide required — Found right behind the visitor's center, this is an easy hike that starts on the suspension bridge, takes you through the forest (keep an eye out for gibbons and birds — supposedly, a family of gibbons lives in the area) until you reach the Kong Kaew Waterfall. The hike is just over 0.7 miles, and supposedly takes 45-60 minutes. This is named "route 1".
Haew Suwat Waterfall: Short, no guide required — This may be one of the most famous waterfalls in the area, probably thanks to its appearance in The Beach, a movie that includes a scene where Leonardo Di Caprio jumps off the falls. There isn't any jumping or swimming in this waterfall, but the hike there and seeing the falls comes recommended. Make sure to snap pictures of the bamboo forest you'll walk through. This hike begins at the Pha Kluay Mai Waterfall tent and ends at the Haew Suwat Waterfall (and will return the same way). It's almost a 2-mile hike, and supposedly takes two hours.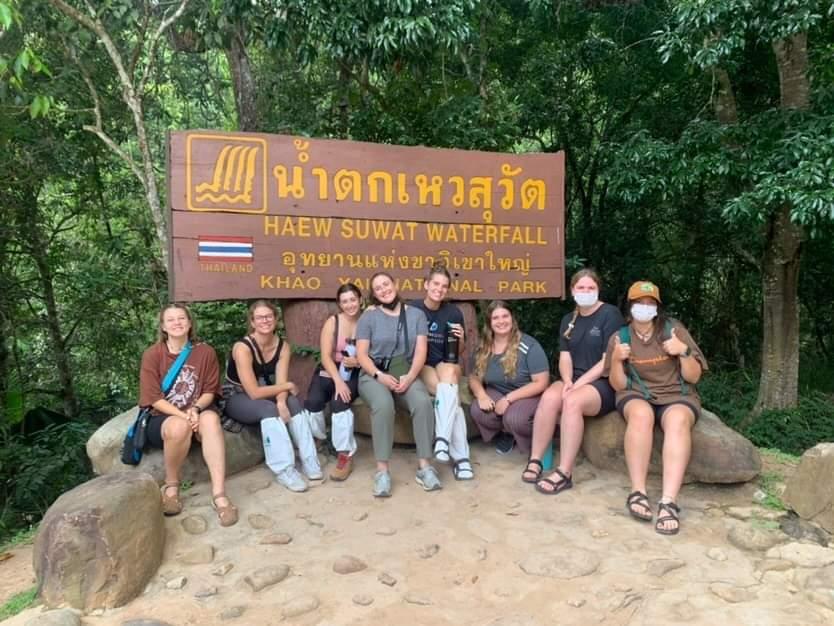 Seeing Elephants
There are hundreds of animals that live in Khao Yai, but the main attraction are the some 200 elephants that call this jungle their home. When it comes to elephants, apparently the best times to see them are in the morning and evening if you can time your visit right. They're also fond of visiting the wide-open grasslands to get a little salt lick that's been placed there and get a drink from the small pond that's there.
One popular spot to hang out in to watch elephants is in the Non Phak Chi Watchtower, which gives you a great view of the grassland landscape and a higher-up view to scan the area.
The watchtower can be reached from the Visitor Center. It's just about a mile away along the main road (Route 2090) by car. There is also a longer hike that takes you to the Non Phak Chi tower. It's known as the route 3 (or 33km) hike. You start on the roadside at kilometer 33 and end at the 35-kilometer mark, next to the Nong Phak Coriander Observatory.
Booking The Night Safari
We've heard great things about the night safari here — though the group we talked about didn't have the chance to book it, other visitors said it was a highlight of the experience. Quite a few of the animals that call Khao Yai home are nocturnal, so the evening is the best time to spot wild deer, porcupines, as well as the ever-so-cute spotted civets (part of the extensive cat family, closely related to badgers and weasels).
The night safari includes a trip around the jungle in a truck, with a guide equipped with sharp eyes and a high beam flashlight to help point out the animals nearby. It's 600 baht per truck (10 people can be together on the tour, which makes the price very affordable).
As far as time goes, there are two nightly tours, one from 7:00 PM to 8:00 PM, and the other is 8:00 PM to 9:00 PM. Just make sure you head to the Khao Yai Visitor Center before 6:00 PM to make your reservation and pay then plan on being there 15 minutes before your scheduled time.
You can get a bit more info about the night safari here (including a few tips for your visit). You can contact the department for night safaris at 086-0926529, and 081-0639241.
Other Sites In The Park
If you have a driver for the day, a guide with transportation, or if you have a tour that can make adaptations, you may want to visit these other spots within the park:
Sarika Waterfall: come to soak in the views and take a swim in this waterfall. There are reports of a dual 200 baht entrance fee here, just as an FYI.
Pha Trom Jai Cliff is a popular viewpoint, with a little cafe up at the top so you can get a snack while you soak in the views.
Wang Ta Krai Waterfall, a popular place to take a swim, or rent tubes to float. the wide river that feeds into the falls.
Haew Narok Waterfall, the park's largest falls. There's a car park nearby, where you'll just need to hike the 600 meters to the falls (just look to the pavilion-esque starting point).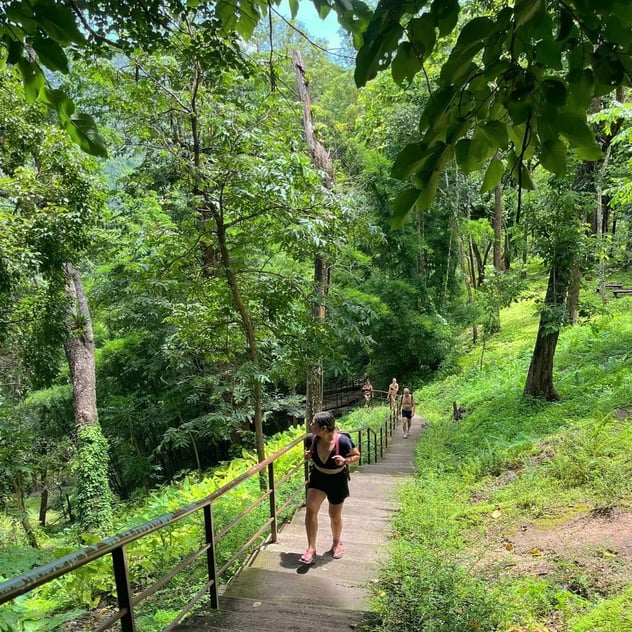 Planning Your Trip Here
With such a huge park, you can bet there is tons and tons to see and do. We're catering this post to our ILP volunteers, who are likely to visit on a weekend, have a budget, and are interested in a few shorter hikes and a night safari, or maybe one of the slightly longer hikes. We've also included info on where to potentially find elephants if that is something you are interested in as well (though chance does need to be on your side).
For Some General, Need To Know Info
You can find the park's website here and can send them an email at khaoyai.np@gmail.com. Their website has a ton of information like tips for bird watching, info about all the different plants, how to plan your trip, etc.
Cost: It's 400 baht to enter the park

Hours: The park has business hours from 6:00 AM to 6:00 PM (if you're doing the night safari, you can be in the park after those hours). The visitor's center has a 24-hour phone line you can call: 086-092-6529
There are a couple of places to eat in the park, found near the Khao Yai Visitor Center, as well as restrooms. You can also find some places to eat around the Conventional Orchid campsite. Also good to know? There's a 7-11 and mini Tesco Lotus along Thanarat road if you're traveling from the little city of Pak Chong to the northern gates of the park entrance.
Getting A Guide
Here's what one ILP group said about this topic: "Because we had the private driver, we decided to do it all independent(ly), but we wish we would have taken a tour because you can see so much more with the tours" while you're in the park!
If you visit the hiking page of the website, you'll notice that certain routes require a guide. These are routes 3 through 6. Supposedly, you can hire a staff member ranger to come with you for anywhere between 500 and 1,000 baht which does include transportation to the trailhead (very handy). Just go to the visitor's center to arrange that.
One that comes up very frequently is Green Leaf Tour which is a guide company and backpacker hostel just outside of the park. The guides are supposedly excellent, with half-day and full-day trekking options that mention hiking trails to spot macaques, gibbons, and several colorful birds and insects while on the way to a waterfall or two, like the Haew Suwat waterfall. The tour can also include lunch at the Nong Pak Chi observation tower, which overlooks a grassy area and a salt lick, making it a prime spot for elephant watching. The half-day tour is 500 baht, while the full-day is 1,500 — entrance to the park isn't included.
Another popular wildlife guide option is through these operators.
Getting Around The Park
Remember, the Visitor's Center is several miles from the entrance of the park, so not an option to reach on foot. There are reports of songthaew that will take you from Pak Chon to the gate but not into the park. You can catch a songthaew at the 7-11 for about 40 baht ... but then you need to find a way into the park to the visitor's center. You can hire a taxi from Pak Chon into the Visitor's Center for about 300 baht ... just make sure to negotiate a pick-up time so you also have a way out of the park.
Plus, remember how big this park is? Unless you want to see more than the Visitor's Center (and the hike just behind the building), you'll need a way to get to the other sites in the park.
Going with a guide is one option to bypass that, same with hiring a private driver.
Supposedly, you can rent bikes from the visitor's center for 50 baht (but availability sounds pretty limited). Or, you can get a taxi for the day for a supposed 1,500 baht (or more) in Pak Chong.
Make sure to get a map from the center before embarking on your journey. Google Maps has limited labeling, so you'll want a map for sure.
Rent The Leech Socks
Just know that our volunteers highly, highly recommend renting the leech socks before you go hiking! "MAKE SURE you buy the leech protection socks. We didn't think we needed them at first but we got SO many leeches on us. We went back and bought the leech protection socks, and they were literal life savers!! Best $3 I have ever spent. " Especially in the rainy season (May to October), these little bloodsuckers are everywhere, and the tall, cotton socks that slip over your pants are an absolute must. They're available to rent at the visitor's center.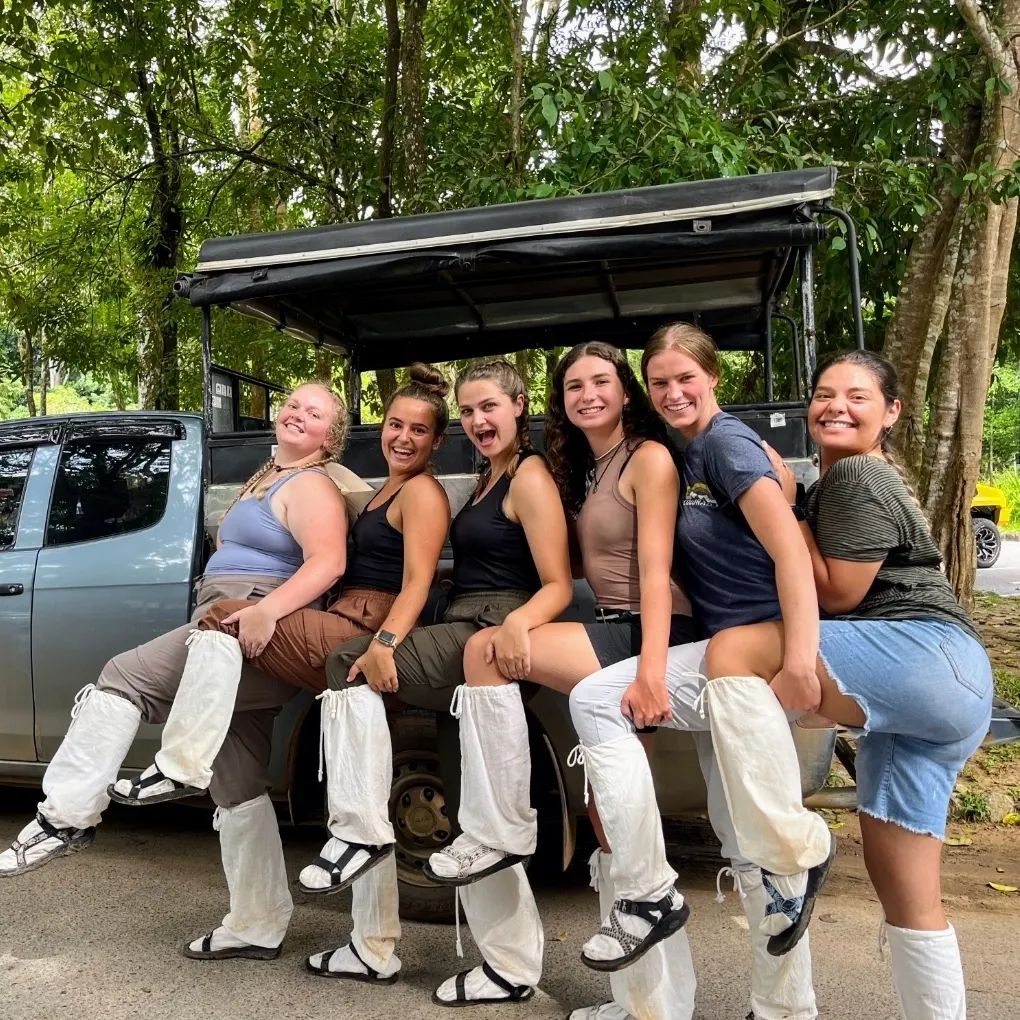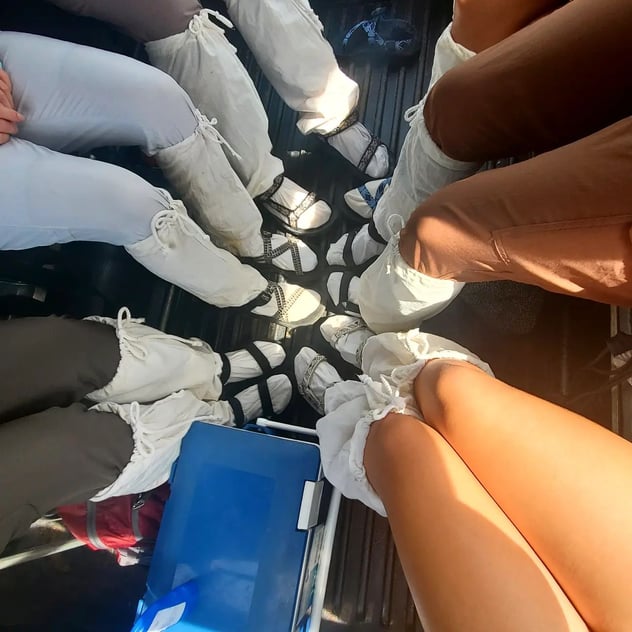 Where To Stay + Eat
You have a few options just outside of the park in the nearby city of Pak Chon and in the park, but here, we're recommending somewhere a past group has stayed:
"We stayed at White Knot Khao Yai, and it was so cute!! It was our favorite place we stayed the entire semester. The beds were super comfortable, each room had hammocks overlooking a pond, the staff was so kind, and it was just such a good place to stay. I highly recommend it!!" So you know, it's found about 30-45 minutes away from the park entrance, where you'll need to get to the visitor's center (and other trails) like we mentioned. Book here.
Oh, and if that glowing recommendation isn't convincing enough, past volunteers also have good things to say about the nearby place called The Chocolate Factory. It's about a 15-minute drive away from White Knot Khao Yai and volunteers said it was well worth it! It's a bit pricey but everyone from the group said it was the place to go.
Hours: 11:00 AM to 9:30 PM
Another restaurant recommendation is Toscana Piazza. It's in the village of Palio (we talk more about that below) and was another spot a past ILP group passed along to future visitors.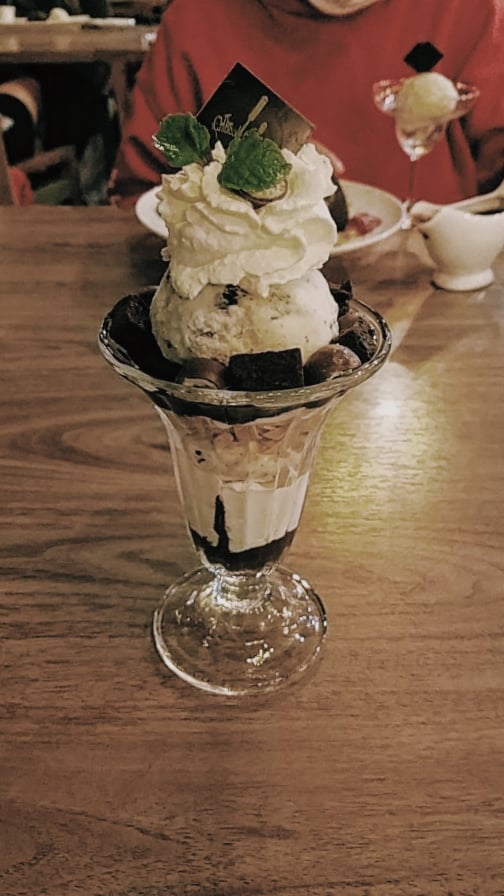 A Few Other Things To See And Do Nearby
Ready for even more? Our volunteers mentioned a few other things to do in the area to help fill up your weekend around Khao Yai.
Ban Tha Chang Spring
Take a refreshing swim (or just a pretty look) at the blue waters of this freshwater spring. The water here is pretty stunning — a rather blue and clear spot to jump in to cool off, or you can rent kayaks if you'd rather explore the pool that way. There are a few food stalls to grab lunch (it's a popular spot for locals to picnic and take a swim). There are supposedly some changing rooms available for a few baht if that's handy to know.
Lam Takhong Dam Viewpoint
The perks of having a private driver include the option to add a few stops on your journey to Khao Yai and the way back home. One ILP group had their driver take them to this viewpoint, a scenic spot that overlooks a massive lake created by a dam installed there in 1974. It's a gorgeous view.
This Italian Village
A visit to Palio Village will make you feel like you're spending time in Europe, not Thailand. It's a recreation of an Italian city center, complete with cobbled streets, terracotta buildings painted in pastels, tiled rooftops, and charming gardens and fountains. The village is dotted with little shops selling dresses, jewelry, toy stores, craft markets, along with foodie spots selling fresh fruit and local Thai dishes. It's a fun spot to spend 20ish minutes (or longer if you're here for lunch).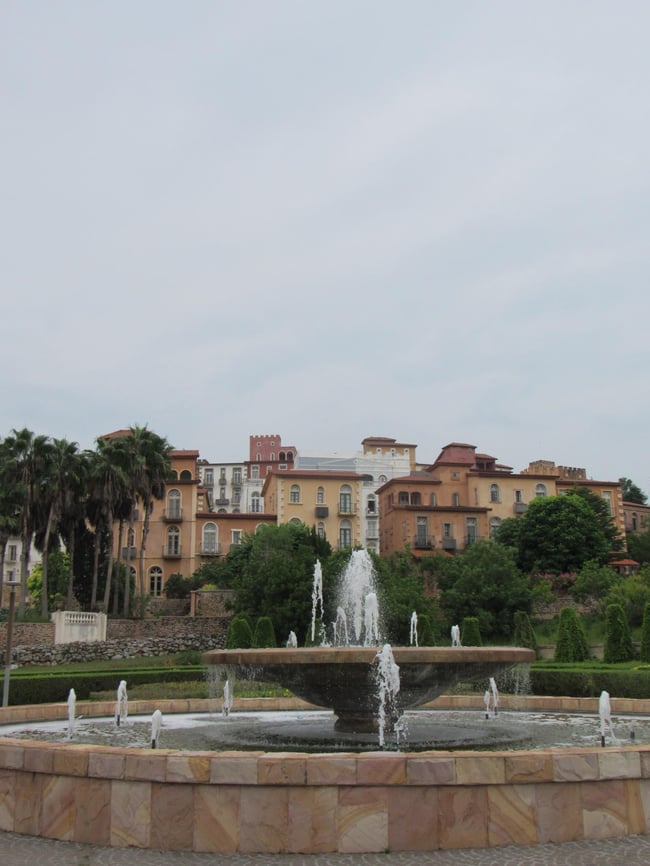 Getting To Khao Yai
The park is found rather close to Bangkok, about 120 miles to the northeast. For ILP volunteers in the past, they've gotten a private driver to take them from where they are living to Khao Yai. Reports price that at about 2,000 baht per person, and volunteers were able to get help booking that through their Local Coordinator (just one perk of being in Thailand with ILP!)
However, there are some public transportation options available if you don't want to go that route. Here are some recommendations, all from Bangkok.
Go By Bus
Several bus routes are available via Bangkok, leaving from various points in the city. It's a 3.5-hour ride, with tickets for $8 USD. We love looking up routes and booking on 12Go.
*There may also be bus routes from wherever you are located in Thailand.
Once you get to Pak Chong, we referenced songthaews or taxis that can take you to your guesthouse for a tour pick up. There are also songthaews that can take you to the park entrance (but not to the park itself), so best to hire a taxi to take you to the Visitor's Center.
Go By Train
Going by train is an option. You'll want to catch a train from wherever you are (here's a railway map of Thailand's train connections) to get to Bangkok, then a train to Pak Chong (unless you can make a direct connection from where you to Pak Chong). There are a few train routes from Bangkok to Pak Chong to choose from. The ride is around 2-4ish hours, and prices seems to be about $8-$13. We love looking up routes and booking on 12Go.
Once you get to Pak Chong, we referenced songthaews or taxis that can take you to your guesthouse for a tour pick up. There are also songthaews that can take you to the park entrance (but not to the park itself), so best to hire a taxi to take you to the Visitor's Center.
A Map
Here's a map to help you out. This blog is structured as if you're going through the park via Pak Chong. Remember, the entrance to the park is about a 30-minute drive (12.5 miles) from Pak Chong, then another driver to get into the park, where the Visitor's Center is. That's going to be your best starting point for your time in Khao Yai.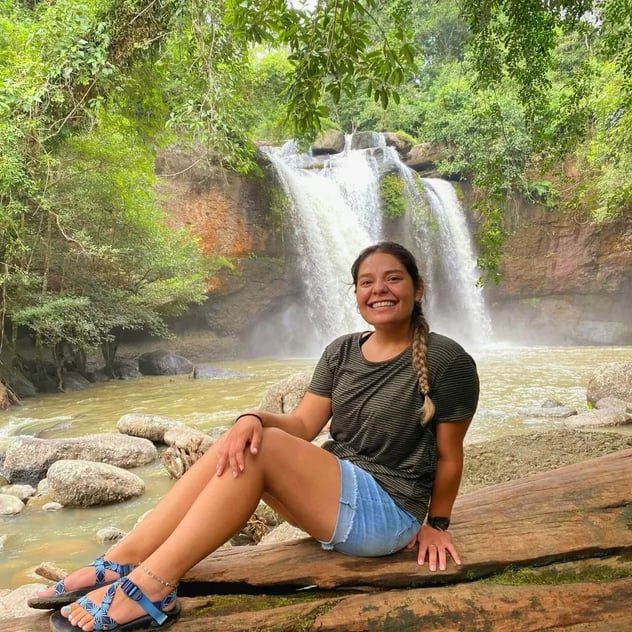 Interested in finding out how you can
live in Thailand as a semester abroad?

ILP can make it happen! Schedule a call to speak with an ILP representative and get all your questions answered.