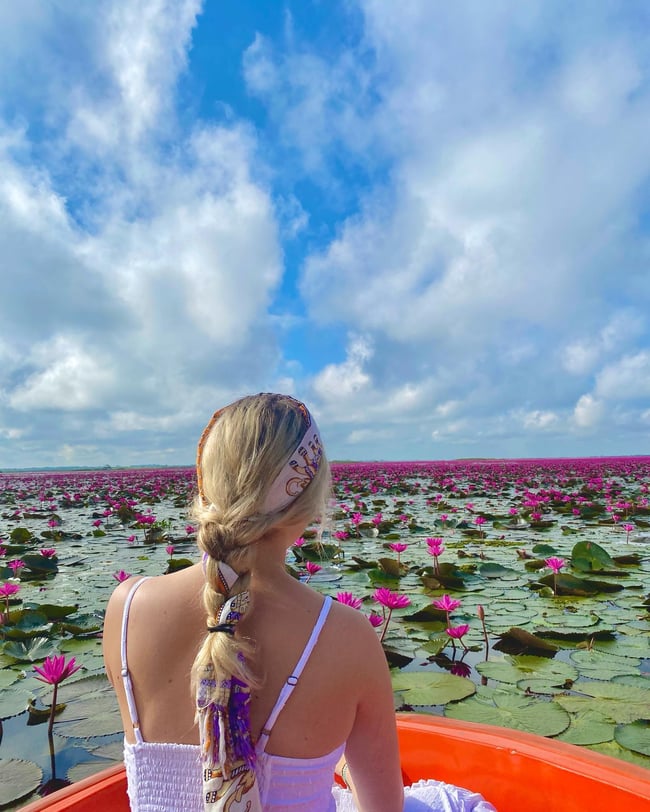 Get your cameras ready because we found the most photogenic lake trip in all of Thailand.
Thailand is pretty, there is no doubt about that. From the classic viewpoint of the Phi Phi islands (um, hello turquoise waters) to the most colorful temple in Thailand you are going to want to pack up your camera before you head out on any Thai adventures.


---
Want to see more of this country?
Come volunteer in Thailand for a semester!
---

One of the biggest perks to actually living in Thailand is getting to see things tourists don't get to see. You can also visit places like Bangkok and the islands on a touristy-trip, but if you call a Thai city home for a few months, you can easily travel up north to the Udon Thani province to experience Thailand's Red Lotus Sea.

We've had volunteers just head to see the display of lotus flowers on a quick day trip, or made a whole weekend out of it — this blog post is here to give you all the info on both options to see which fits best into your Thailand plans.



A Bit About Udon Thani
You'll find this charming city in the Udon Thani Province, tucked up on northeast Thailand, near the border between Thailand and Laos. It's a relatively large city, know for incredible snapshots of nature (peek the info about the red lotus lake) as well as some towering temples. The city was actually very close to the home of the Udorn Royal Thai Air Force base in the Vietnam War, which gave a big boost the economy — you can still see remnants of that presences in the local restaurants and coffee shops, which have a Western twist.
Now, it's a popular getaway for those looking to take a zillion pictures of the lotus flowers in bloom, as well as those who want a weekend escape filled with temples, nature, and some scenic views.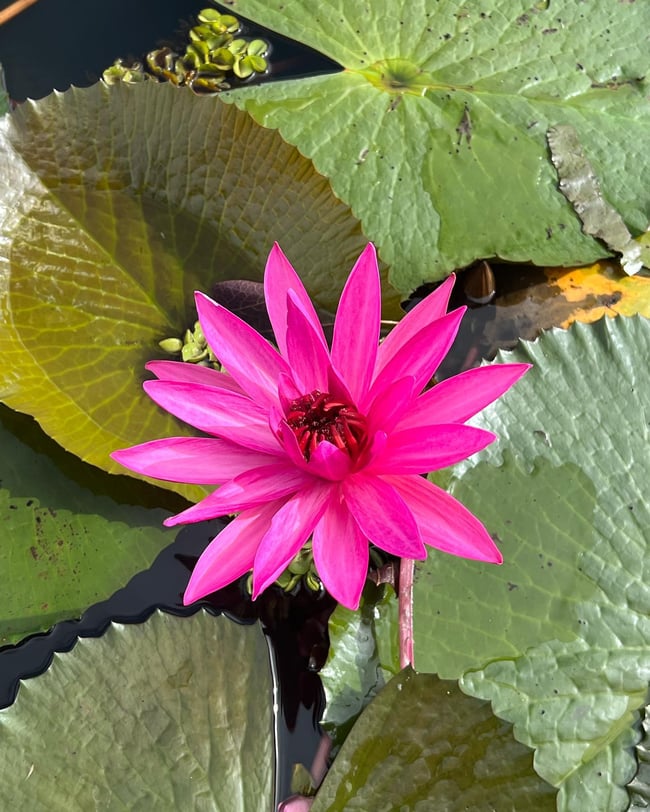 All About The Red Lotus Sea
Picture floating through an expansive lake, full of thousands and thousands of bright green lily pads sporting bright pink lotus flowers. These flowers spread across the inky waters of the lake creating an unreal effect, like a pint carpet. It's soooo pretty, and a main attraction of visiting Udon Thani. If you're headed here just for the day, this is likely to be your main event.
Getting A Boat To Explore (+Costs)
You can certainly see a bit of the beauty from the shore, but the best way to really experience the lake is to float right smack in the middle of it. Little channels in the lake create tiny boat-highways where you can paddle through the flowers.
Booking a boat is easy — get tickets for a boat ride by the small kiosk by the lake. Once you get your ticket, you'll walk down a few steps to the "Port" where you'll find a small army of motorized boats for larger groups and smaller wooden boats to take you across the lake.
You have a few choices depending on how many people are in your group and how much you want to spend on the lake. The big boats hold at least eight people and cost 300 Baht for a short route (45 minutes), and 500 baht for a 90 minute ride.

The smaller boats cost 100 Baht per person and 150 Baht per person for a longer route.
When Are The Flowers In Bloom?
The lake isn't much of a tourist attraction when the flowers aren't in bloom, so you'll want to time your visit in the right season which is in December, January and February. You can find some flowers open in March, but January and February are really the best months for a visit (perfect for our ILP spring semesters!). Mid-January is when the city hosts a flower festival — it's technically "the best" month for viewing the lotus flowers.
Some bloggers said they visited in November, so if you're there in the fall semester for ILP, you might also have a good shot at seeing the flowers.

Pro tip — get there earlier rather than later for a couple of reasons. You'll avoid the crowds, plus the flowers mostly close up when the temperatures rise which doesn't make for a great experience. Get there early to book a boat tour between sunrise (6:00 AM) and 10:00 AM for the best shots of the flowers. You may want to spend the night in Udon Thani so you can make the 1-hour trek out out to the lake first thing in the morning after spending the night nearby, instead of traveling all the way there and back on the same day.
Getting to Kumphawapi
The actual lake is about 39-45 minutes away from Udon Thani, so you'll need to arrange transportation form the city to the lake. Luckily, most hostels and hostels can help you get there via taxi. Plan on a 45ish minute taxi ride, or you can hop on a train to Kumphawapi, and taxi to the lake. You can book train tickets and look at times and prices on 12go.asia.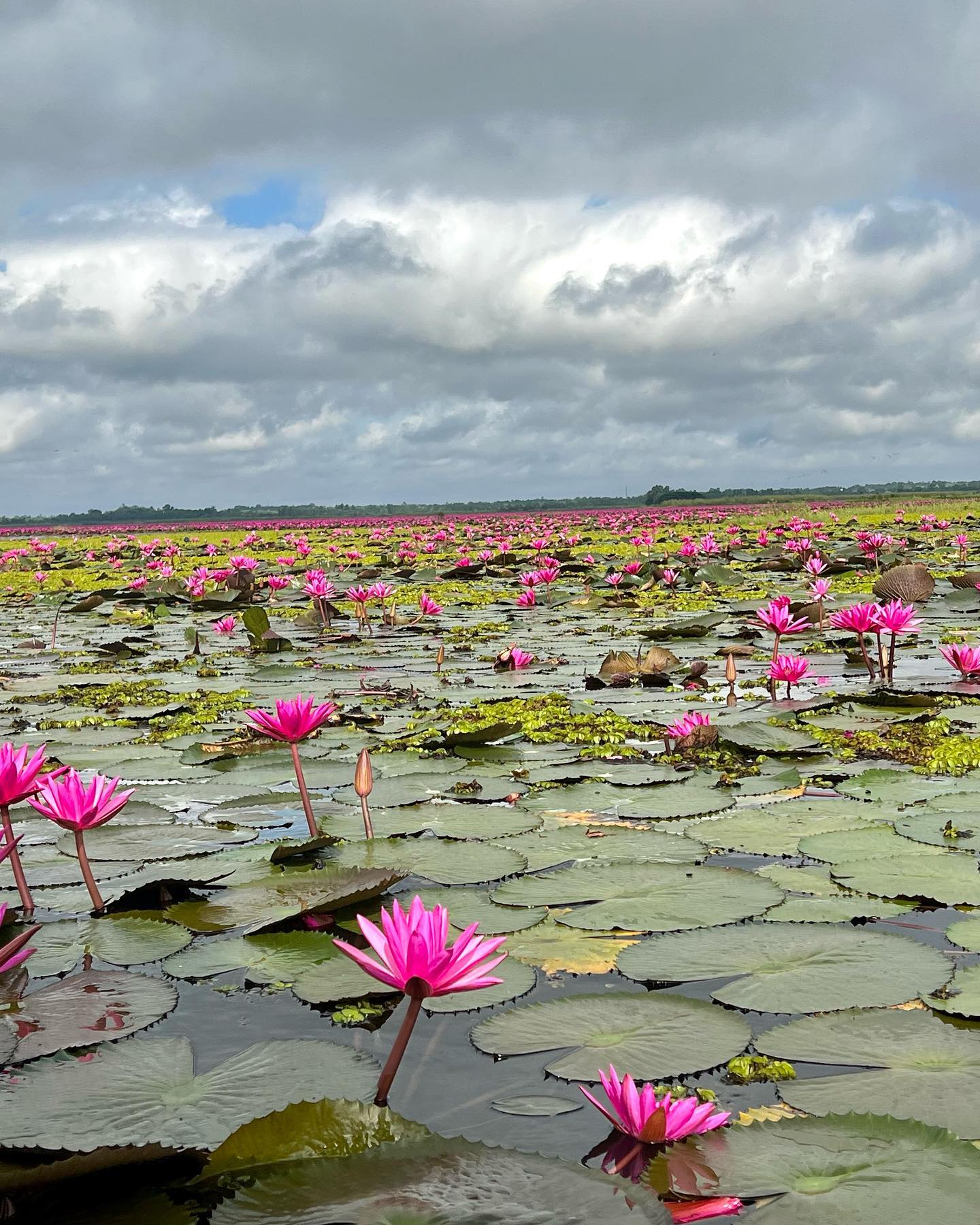 Make A Weekend Out Of It!
Are you wondering what else there is to do in Udon Thani if you want to spend the weekend there? We've had a handful of groups want to soak up this little town and get more out of the lotus experience by staying for the weekend — here are a few things to help you out with that if you decide to do the same.
A Few More Things To Do
Visit The Lotus Temple
Officially known as the Wat Santi Wanaram, this flower-like temple is another stunning site to visit near Udon Thani. It's a Buddhist temple, built to resemble a lotus, long used as a symbol of purity and resilience. The scenes inside are striking — think beautiful and colorful murals depicting scenes of Buddha's teachings and life and half moon windows that give you a view of the lake where the temple sits.

While the interior of the temple is striking, the whole scene outside really takes the cake. The white "petals" of the temple seemingly float on top of a lake, only reached by a long narrow walkway. But first, you have to pass by the fearsome Naga, statues of mythical serpents that are believed to protect the temple from negative energy and harm.
The temple is about an hour away from Udon Thani, in the Nong Han District.
Hours: Open 24 hours a day
Cost: Free (though donations are encouraged)
Find it here.




See Wat Pa Phu Kon
Thailand has a lot of temples to admire, but this particular one is a fan favorite. It's found tucked up into a remote region of northern Thailand, giving you feeling that you've stumbled upon an absolute gem in the thick trees. The Buddhist temple was built recently (just in 2013), and is an active place of worship. It's a massive temple complex, sometimes called "the blue temple" due to the shimmering blue and temple details and tile work. While visiting, don't miss the surrounding pavilions on the hilltop, as well as the long reclining Buddha, Buddha's life displayed on 22 panels of copper, as well as the marble sculptures of reclining monks.
As a reminder, you'll want to check your dress before visiting. If you need a refresh on what to wear to a Thai Temple, you can get a more in-depth explanation on that post (but making sure your shoulders, chest, stomach are covered is a good start, in addition to wearing a flowy skirt, dress, or pants that reach your ankles).
This stunning temple isn't found in the city of Udon Thani, but in a nearby national forest preserve — it's about 2 hours away from the city. A taxi should be about 1,500 baht (round trip) or you can take a train/taxi combo from Udon Thani to Na Yung (and snag a taxi for the remaining 4ish miles to the actual temple). It's worth the time for this day trip!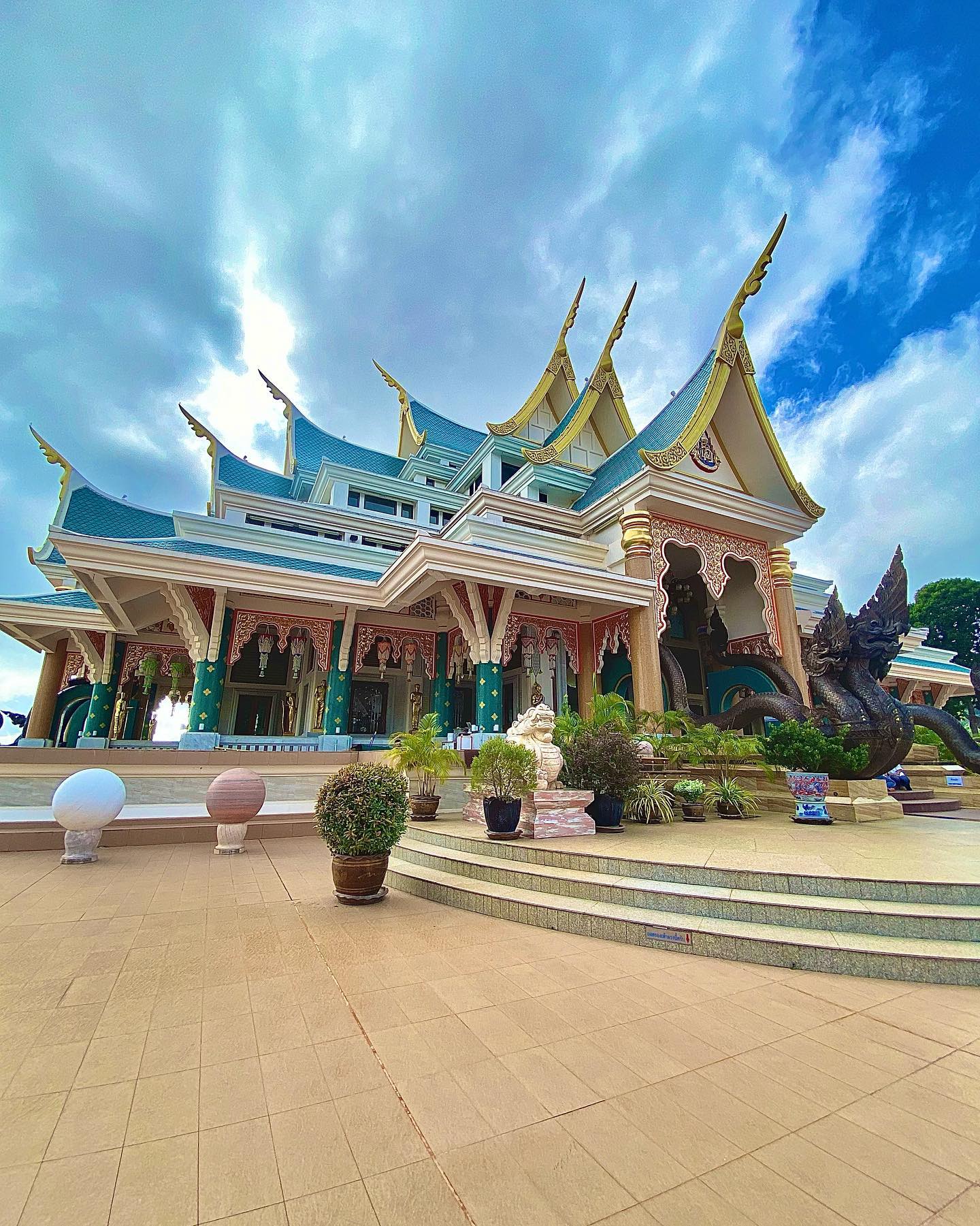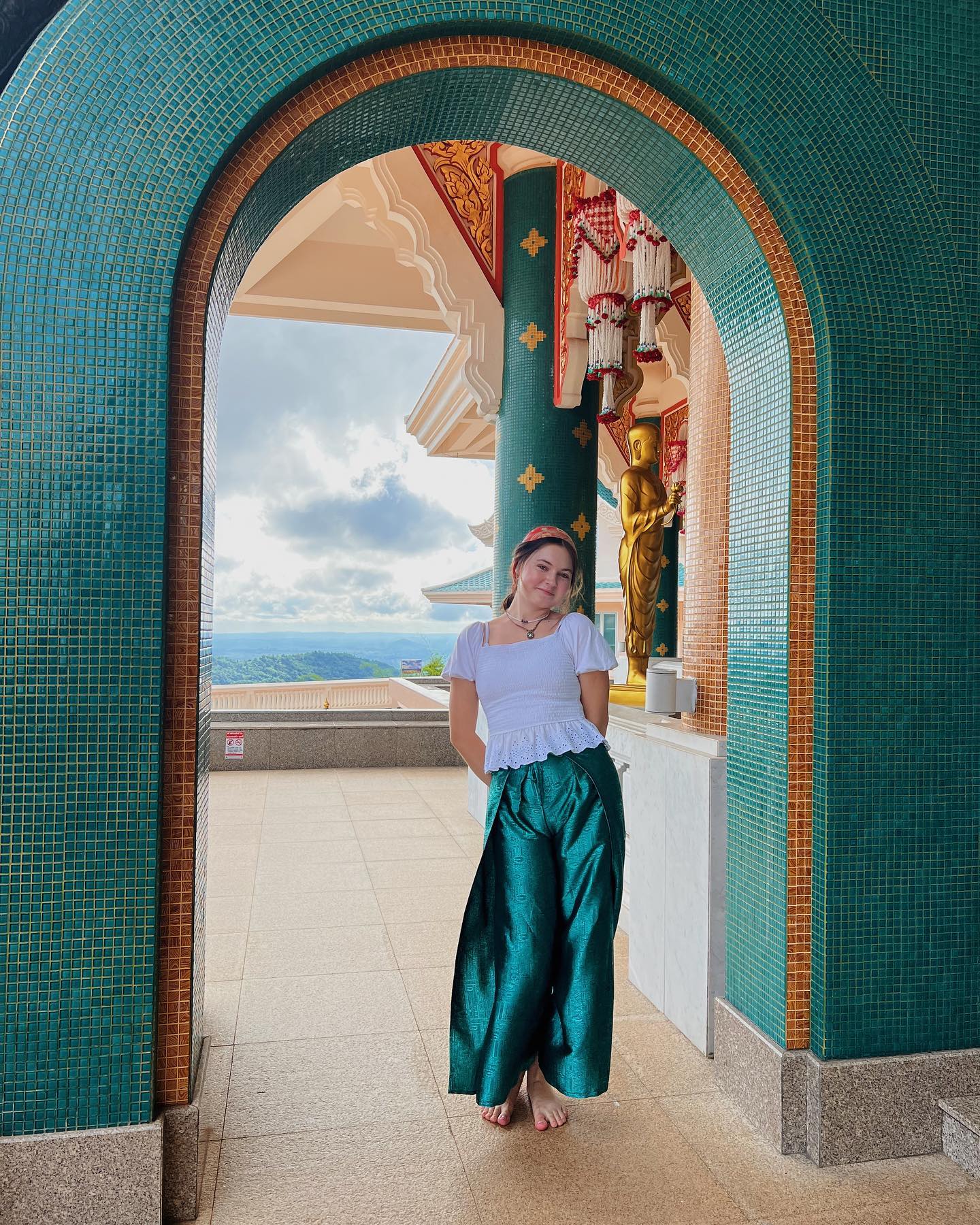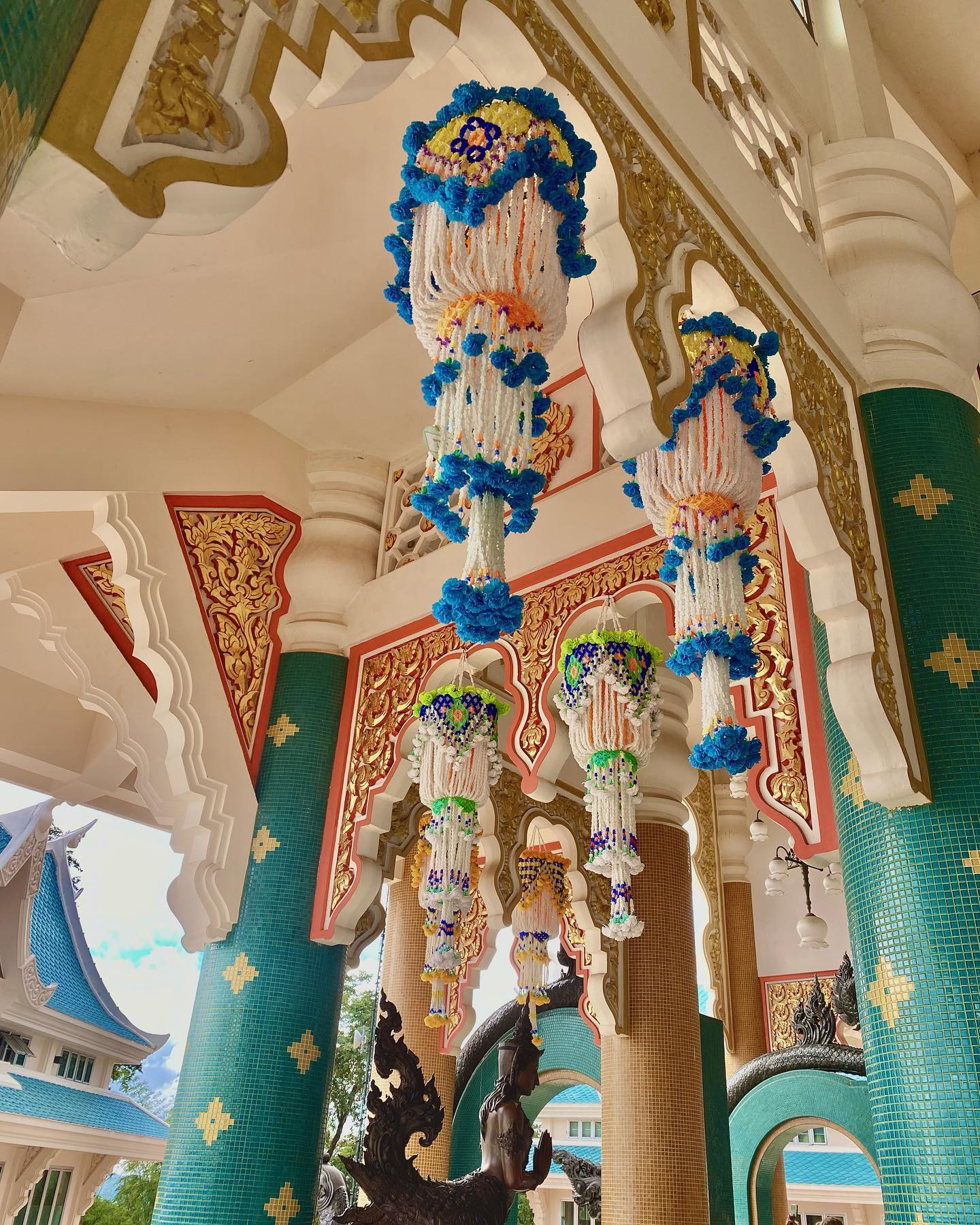 Snag Dinner At The Udon Thani Night Market
Any city that has a night market automatically makes it into my itinerary plans (and my dinner/dessert plans). The night market in Udon Thani has a spread of favorite Thai dishes to try like coconut ice cream and noodle dishes (try pad krapow moo, which has pork and Thai basil).

There are a couple of markets and plazas to choose from, but Preecha Market is the favorite. You'll find tons of vendors selling fresh fruits, locally caught fish, shoes, purses, other clothing items, as well as a ton of food options — think fresh fruit, noodle stir fries, barbecued meats, all kinds of skewers, smoothies, juices, and more.
Hop Over To Laos
If you'd like to do a bit more adventuring, this lake is actually right up next to the Thai and Laos border ... if you'd like, you can do a border crossing and spend a day or two in nearby Vientiane.
Where Should I Stay?
You have your pick of hotels and hostels in the area, but if it's helpful to know where past ILP groups have stayed the night, we can help you out a little bit. The Udon Backpackers Beds and Cafe has a great location and good reviews from ILP volunteers (and other visitors). Learn more here.
How Do I Get There?

Get yourself to the city of Udon Thani, which is east of the city of Phitsanulok. The Red Lotus Sea is actually an hour south of Udon Thani in a nature reserve called Kumphawapi (just keep that in mind when planning out your day — we have info on getting to Kumphawapi from Udon Thani below as well).
Getting to Udon Thani
If you're already up in Northern Thailand, things aren't too far away. You can find bus routes from main cities like Phitsanulok — you can book a bus ride on 12Go Asia. It's about a 7 hour drive for around $12 USD.

If you're an ILP volunteer, groups in the past have worked with their Local Coordinator to hire a private shuttle which is a nice way to travel (especially since your driver will be with you the entire weekend and can help you travel between Udon Thani and the other adventures on your list). These connections are a big perk to being an ILP volunteer.

We have a bit more info about how to get around on your vacation below if you're not going with a private shuttle.
Getting Around The Area
The city of Udon Thani itself is pretty walkable, though you'll want to know how to get around if you plan on visiting some of the day trips or half day adventures we talk about on this post.
Grab is available in Thailand and makes it easy to travel by car (so do taxis, though you may get a slightly better price with Grab). If you want to check train or bus routes, I always book everything on 12go.asia. The city of Udon Thani itself is pretty walkable, though you'll want to know how to get around if you plan on visiting some of the day trips or half day adventures we talk about on this post.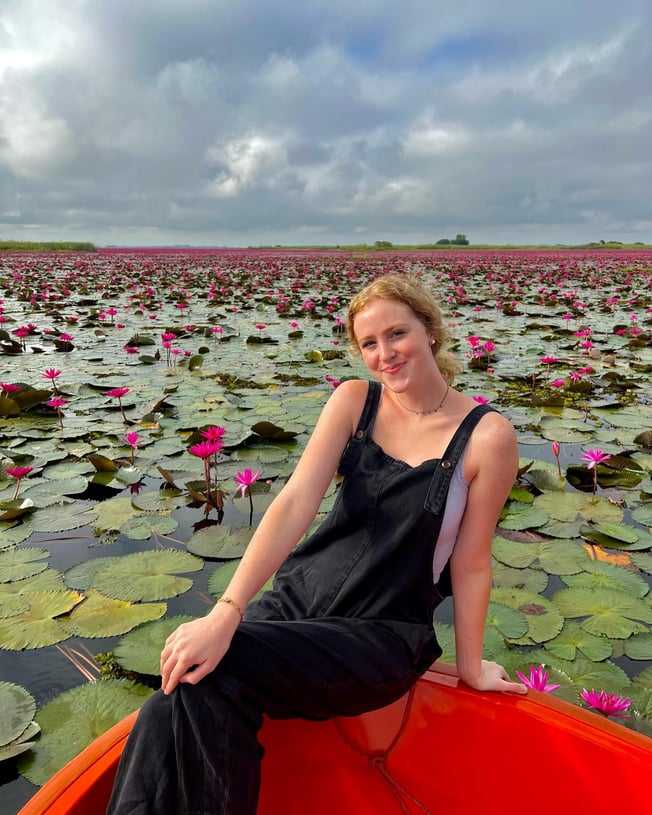 Thinking you need more time in Thailand?
Come volunteer there for a semester! ILP Volunteers in Thailand are teaching English part time with plenty of free time during the week, weekends off, and vacation days to see everything Thailand (and nearby countries) have to offer.