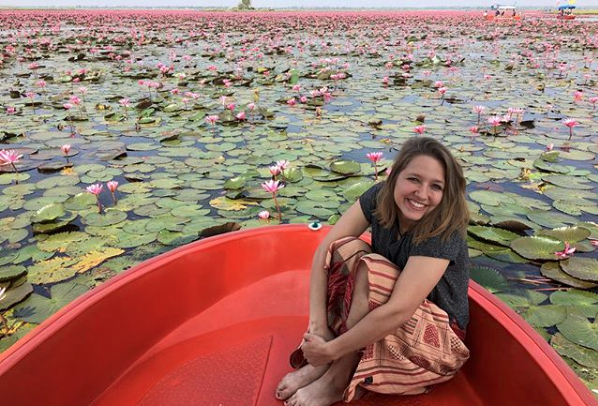 Get your cameras ready because we found the most photogenic lake trip in all of Thailand.
Thailand is pretty, there is no doubt about that. From the classic viewpoint of the Phi Phi islands (um, hello turquoise waters) to the most colorful temple in Thailand you are going to want to pack up your camera before you head out on any Thai adventures.


---
Want to see more of this country?
Come volunteer in Thailand for a semester!
---
One of the biggest perks to actually living in Thailand is getting to see things tourists don't get to see. You can also visit places like Bangkok and the islands on a touristy-trip, but if you call a Thai city home for a few months, you can easily travel up north to the Udon Thani province to experience Thailand's Red Lotus Sea. Basically, you can see it all which we're big fans of. Keep reading to know exactly how to plan your adventure:
What Is Thailand's Red Lotus Sea?
Picture floating through an expansive lake, full of thousands and thousands of bright green lily pads sporting bright pink lotus flowers. These flowers spread across the inky waters of the lake creating an unreal effect, like a pint carpet. It's soooo pretty.
If you'd like to do a bit more adventuring, this lake is actually right up next to the Thai and Laos border ... if you'd like, you can do a border crossing and spend a day or two in nearby Vientiane.

How Do I Get There?

Get yourself to the city of Udon Thani, which is east of the city of Phitsanoluk. The Red Lotus Sea is actually an hour south of Udon Thani in a nature reserve called Kumphawapi.
Getting to Udon Thani
If you're already up in Northern Thailand and can easily hire a van to take them east over to Udon Thani; your Local Coordinator can help you book a van and split it with your ILP group. The drive is about 6 hours long. That's how most volunteers have made it happen, but you can also book a bus ride on 12Go Asia. It's about a 7 hour drive for around $12 USD.
Getting to Kumphawapi
The actual lake is about an hour away from Udon Thani, so you'll need to arrange transportation form the city to the lake. Luckily, most hostels and hostels can help you get there via taxi, which leads us to tour next point.
Where Should I Stay?
We've had ILP volunteers stay in this hostel (the Udon Backpackers Beds and Cafe) the night before, so they can get up early the next day and visit the lake before going back home. It makes for a good weekend trip.
When Are The Flowers In Bloom?
The lake isn't much of a tourist attraction when the flowers aren't in bloom, so you'll want to time your visit in the right season which is in December, January and February. You can find some flowers open in March, but January and February are really the best months for a visit (perfect for our ILP spring semesters!). Mid-January is when the city hosts a flower festival — it's technically "the best" month for viewing the lotus flowers.
Some bloggers said they visited in November, so if you're there in the fall semester for ILP, you might also have a good shot at seeing the flowers.

Pro tip — get there earlier rather than later for a couple of reasons. You'll avoid the crowds, plus the flowers mostly close up when the temperatures rise which doesn't make for a great experience. Get there early to book a boat tour between sunrise (6:00 AM) and 10:00 AM for the best shots of the flowers.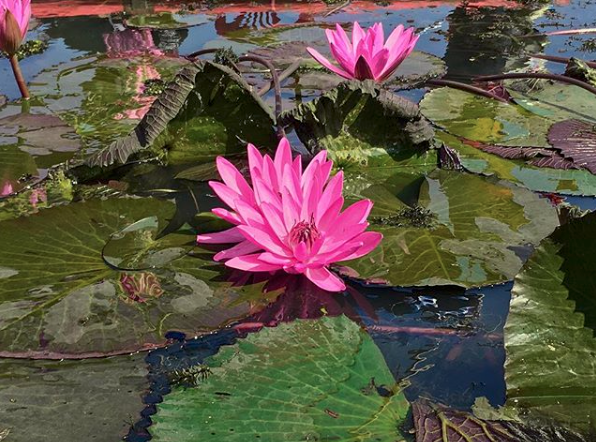 Getting A Boat To Explore (+Costs)
You can certainly see a bit of the beauty from the shore, but the best way to really experience the lake is to float right smack in the middle of it. Little channels in the lake create tiny boat-highways where you can paddle through the flowers.
Booking a boat is easy — get tickets for a boat ride by the small kiosk by the lake. Once you get your ticket, you'll walk down a few steps to the "Port" where you'll find a small army of motorized boats for larger groups and smaller wooden boats to take you across the lake.
You have a few choices depending on how many people are in your group and how much you want to spend on the lake. The big boats hold at least eight people and cost 300 Baht for a short route (45 minutes), and 500 baht for a 90 minute ride.

The smaller boats cost 100 Baht per person and 150 Baht per person for a longer route.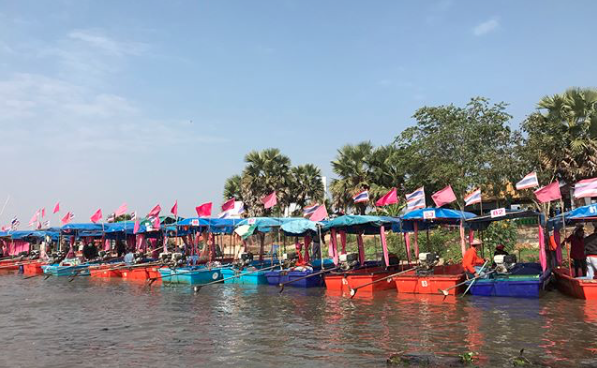 Thinking you need more time in Thailand?
Come volunteer there for a semester! ILP Volunteers in Thailand are teaching English part time with plenty of free time during the week, weekends off, and vacation days to see everything this country (and nearby countries) have to offer.