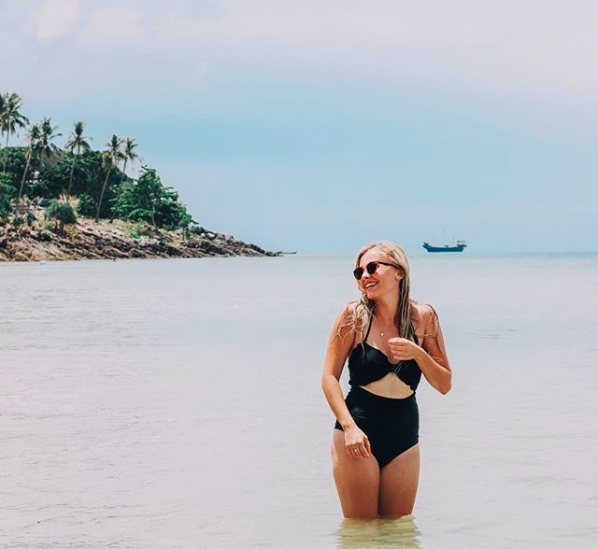 The southern part of Thailand is hands down the best place to see those Instagram-famous beaches, but with so many islands to choose from, you'll want some help planning your trip.
We know the Thai beaches is why you're visiting Thailand. We love the ancient ruins, jungles, temples and elephants you'll find up north but for vacations full of island hopping and smoothies on the sand, you need to head south.
---
Want to see even more of Thailand?
Volunteer in Thailand and call this place home for a semester
---
Since your vacation should be all about seeing the best views, the most famous (but less crowded) beaches you'll want to keep this guide handy when you're planning your vacation to this part of Thailand.
Getting To Southern Thailand
Your best bet is getting to Bangkok first. Some airlines fly from Krabi to Chiang Mai, but for the best prices and itineraries, fly out of Bangkok.
Keep in mind that Bangkok has two airports: Don Mueang International Airport (DMK) and Suvarnabhumi Airport (BKK). Both airports have flights in and from the islands pretty much every day. Know which airport you're flying in and out of to avoid any mistakes!
You'll also want to choose your arrival airport carefully; certain airports (like Krabi vs Phuket for example) give you better access to certain beaches and islands, and have some pros and cons attached which you'll want to consider.
Flying Into Phuket
There are multiple airlines and multiple routes from Bangkok to the Phuket airport (HKT). You can find daily departures every 20 minutes or even more frequent in popular traveling seasons. Just look for "DMK to HKT" or "BKK To HKT" on your fav flight search engine.

The flight is about 1 1/2 hours and is quite affordable on budget airlines. I sporadically checked months like March, June and November and found roundtrip airfare from $30 - $50.

Look for budget airlines like Air Asia, Vietjet Air or Thai Lion Air. They won't be fancy (double check their baggage policy … most charge for checked bags, so pack light in carry on!) but they get you there for a good price.
My favorite way to see what prices are looking like for specific months and dates is on Skyscanner; just search Bangkok (DMK) to Phuket (HKT) for the month you are planning your vacation.
Pros and Cons of Phuket
Phuket is a huge tourist magnet; around 8 million tourists visit this part of Thailand, so you'll be looking at more crowded, more expensive and more commercial areas. The beaches can be crowded especially in the high season and some tend to have more of a party reputation that get loud and leave trash on the beaches. However, there are more flights to Phuket which gives you much more flexibility in your itinerary, and since Phuket is so popular, it's set up to island hop rather easily.
Flying in Krabi
When flying into Krabi (KBV) verse flying into Phuket, you'll find flights for about the same price ($30 - $50ish), and on the same airlines (budget airlines like Air Asia, Vietjet Air or Thai Lion Air), and it's still a 1 1/2 long flight — you just have 20+ flights per day from Bangkok to Krabi, versus 60+ flights per day from Bangkok to Phuket.
Pros and Cons of Krabi
We prefer Krabi over Phuket. While it's still popular, about 3 million tourists visit Krabi which is quite a bit less than the 8 million tourists who swarm to the area of Phuket.
We also love what there is to do in Krabi. Both destinations give you access to island hopping and pretty, pretty beaches, but Krabi is home to the Tiger Cave Temple Hike which we think is an absolute must-see. We also love the nearby beaches like Railay that are only accessible by boat, which is the perfect excuse to jump on one of those classic long tail boats that will fill all your Thailand expectations. Krabi is also touristy (just not as much as Phuket) so you'll find easy access to island hopping and many English speakers to help you out, but in our opinion, it's less touristy and commercial than Phuket.
If you take a peek at the map below you can see that both Phuket and Krabi are relatively close to each other, and will give you access to the islands you're wanting to see. Basically, you should decide what kind of activities and vibe you want, then choose between Krabi and Phuket.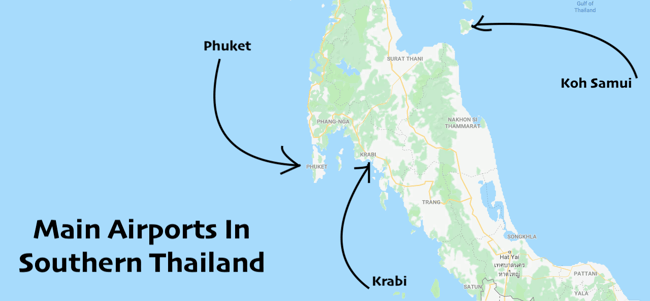 Flying Directly To An Island
… isn't really an option. The biggest hubs for island hopping is Phuket and Krabi, with an exception. You can fly directly to the island of Ko Samui on the eastern side of southern Thailand (see the map below), but that's about it. Prices to fly directly there can be expensive (plan on about $160 to $250ish roundtrip from Bangkok) but you can also fly into Surat Thani or Chumphon on the eastern coast, then taking a ferry over the island to save some cash (Budget airlines fly into Surat Thani or Chumphon).
If you'd like to access our favorite islands (like the ones below) you'll need to island hop by boat.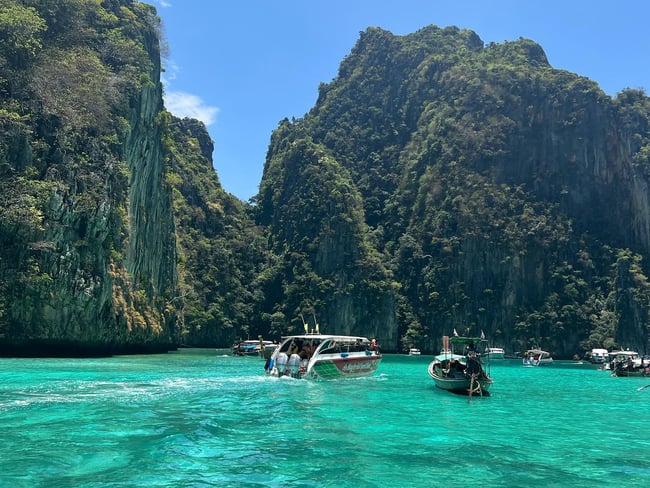 Islands Worth Seeing
The main itinerary for this part of Thailand is island hopping. While Krabi and Phuket do have their things to do, our volunteers typically only spend 1-2 days there before jumping off and exploring places like Ao Nang, Koh Chang, Koh Lanta, and others (if you didn't know, "Koh" means "Island" in Thai). Don't worry, it's easy to hop around to all these different islands
Here are a couple of itineraries past ILP volunteers have done to give you an idea of what you should be seeing in 8-10 days. You can obviously see more, that just means less time in more places.
Itinerary #1
Krabi (Ao Nang Beach)
Phi Phi Island
Koh Lanta
Back to Krabi
Itinerary #2
Krabi
Hong Island
Koh Lanta
Koh Phi Phi
Back to Krabi
Itinerary #3
Phuket
Koh Phi Phi
Koh Lanta
Krabi
Other Islands
There are tons out here, if you didn't know. Here's a more comprehensive list if you're looking for more in your itinerary!
Hong Island
Koh Samet
Koh Samui
Koh Phangan
Koh Nang Yuan
Koh Tao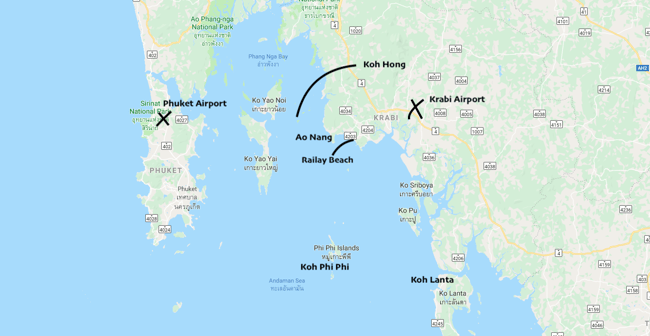 Plan Your Route + Find Your Ferry
Once you decide whether to fly into Phuket or Krabi, you can decide which islands to visit, which is no easy task. We've found that Koh Phi Phi and Koh Lanta, are typically the favorites (as you can see in the above itineraries).
Once you know which islands you want to visit, you can start figuring out how to get there. That's where these ferry schedules come in handy. You can view their list of connections to see if you can visit Koh Phi Phi, then take a ferry to Koh Lanta. Then from Koh Lanta, you can see that you can take a ferry from Koh Lanta to Railay Beach. This is my go-to site for finding island hopping ferries.
Insider tip:
Past ILP volunteers suggest booking online: you may get a cheaper price by planning ahead (800 baht online, instead of 1,000 baht at the gate). You can also see what your hostel is offering. Some provide day-trips to islands or transportation and lunch for way less than you might think. Once you plan where you want to see, book your hostels and send them an email about your itinerary and any packages they might be offering.
You may also meet locals who offer tours on their own private boats. In this case, you arrange a price with them. This isn't as reliable and you're taking your chances by trusting them ... we're not saying this is always a bad idea, but there have also been scams out there. Just trust your gut. We prefer the above listed options of booking ferry tickets or tours via your hostel.
Once you get to each island, you'll often see signs for 1/2 day group tours. Especially on Koh Phi Phi, we LOVE this option. It gives you an opportunity to get out and explore, snorkle, cave swim, etc and see all there is to see around the island and away from the busy beach. We're a big fan of this and you can often book a tour for the next day or look early in the day to see if you can jump on one for the same-day.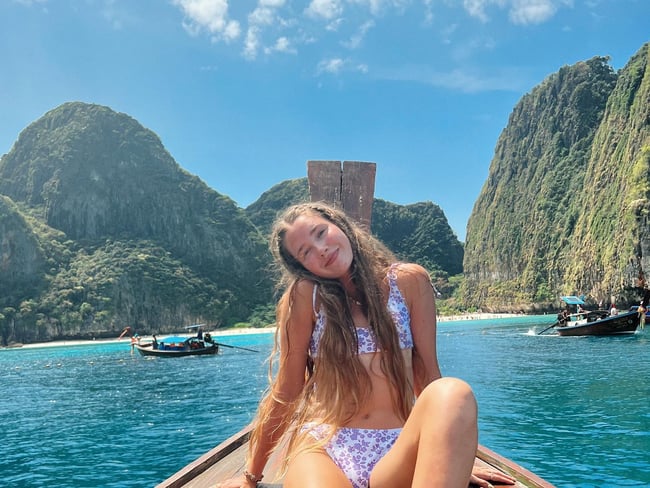 A Few More Tips
This part of Thailand is gorgeous, with a ton to see. Some islands other swear are worth staying on for 2-3 days, while others say you can see it all in a day trip. You'll have to peek and see what there is to do on the islands on your itinerary and decide for yourself — we would love to plan your itinerary, but so much of the fun is figuring out which islands would be perfect for you.

Bring motion sickness medicine. Some of these ferries and boat rides around the islands can be very bumpy, and you don't want to spend 1-2 hours seasick on your island vacation.
Watch what time you fly out; one ILP group was hanging out on Railway Beach which is amazing, but only accessible by boat. It was their last day and since they were flying out in the morning, that meant they had to take off earlier than expected to get the last boat from Railay back to the mainland and stay the night in Krabi Town before flying home. If you have an early flight, best to have accommodation on the mainland so you can get to the airport in time, instead of scrambling to find a boat early in the morning.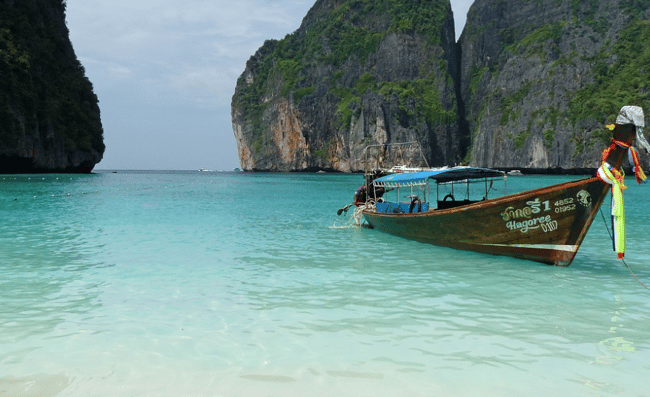 Have what you need to book your flight to Thailand?
You're set for your vacation down south, but don't forget what else Thailand has to offer — get a peek at what a semester of teaching English there is like, with ILP.