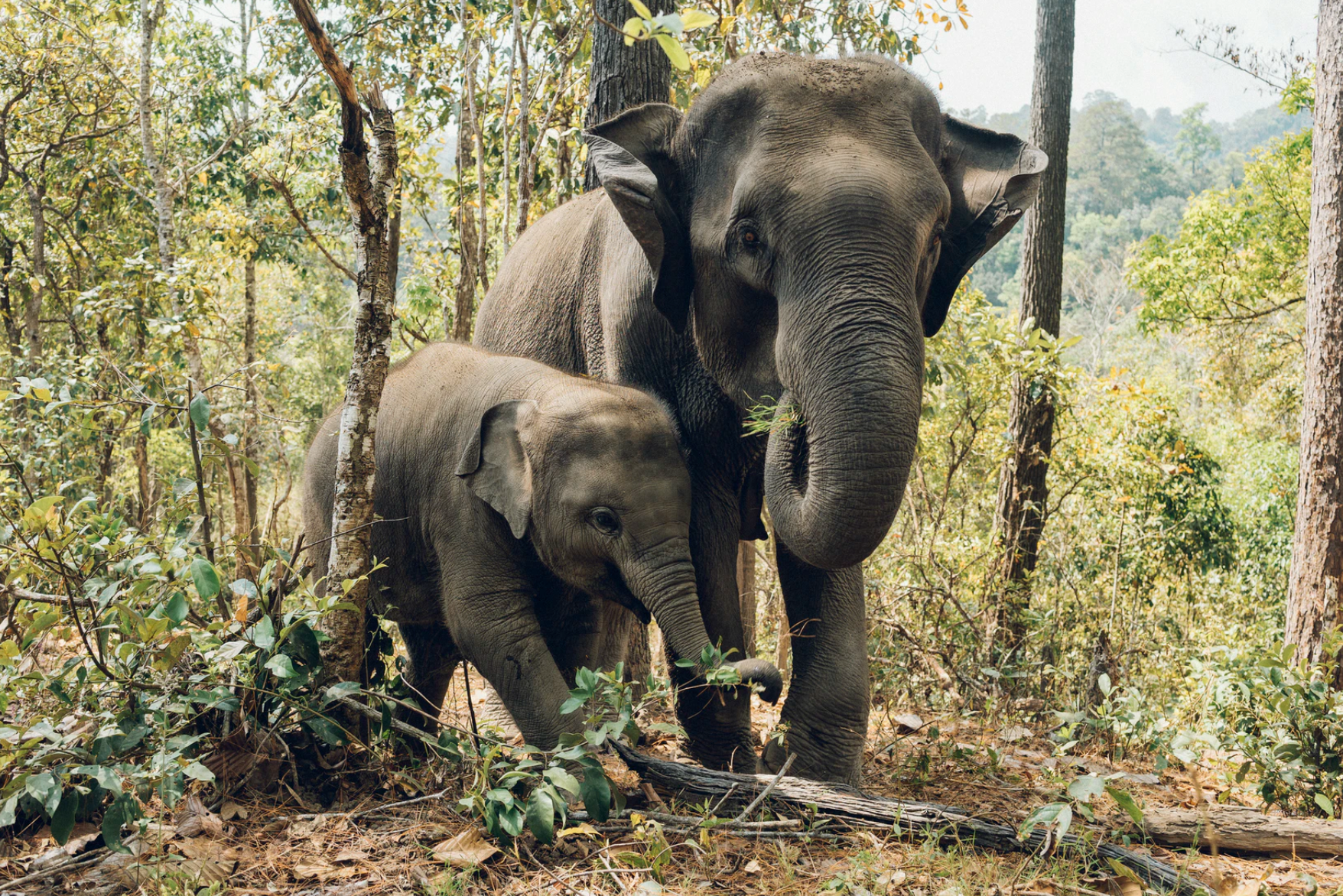 If you're traveling to Thailand and want to hang out with some elephants, make sure you're going to the right parks.
Millions of tourists flood to Thailand every year — for good reason. There are some incredible places to see in this part of the world! From the dreamy beaches in the south to the underrated jungles found in Northern Thailand, it's no wonder it's one of the most popular vacation spots in the world.


---
Headed to Thailand soon?
All our favorite spots are in this Thailand Destination Guide
---
One of the things everyone wants to do in Thailand is hang out with elephants. These beautiful animals are so gentle (and so beautiful to see up close) it's no wonder everyone visiting Thailand wants to make some elephant friends. Sadly, way too many tour organizations horrifically mistreat the elephants for tourism. Elephants are beaten, mistreated, brutalized, and more .... not something you want to support!
If you're looking to interact with some elephants while in Thailand, please make sure you do your research to make sure you're visiting an ethical and sustainable organization that has the best intentions for both their elephants and for you.
What Makes A Good Elephant Park?
There are what seems like endless options for ways to see elephants in Thailand. You can easily weed out the parks to avoid if you see a few things. Any park that has the elephants doing something unnatural like painting, standing on their hind legs, wearing a seat for tourists to sit on or anything else like that isn't something to support. For years, elephants have been brutally trained for entertainment shows for tourists, or unnaturally forced to wear a metal-frame seat to give rides for tourists. Not good at all!
Instead, look for rescue or sanctuary parks that are out there to provide a better experience for the elephants and for you. Reputable organizations often take elephants from where they are being mistreated and give them a better life, one where they're able to heal and do elephant things, all day long.
The best option is to look for an organization that has no interaction with humans at all, and are known as "observation only". As tourists begin to demand more and more for ethical practices, some organizations are starting to respond by doing away with activities where tourists get up close like riding, bathing, etc. Instead, they allow you to observe elephants ... just being elephants! You can watch elephants play together and just live their day. In their natural habitat, while being protected and cared for by the organization's team. Those are the experiences we recommend the most.
It's a good sign if they limit the number of people who can come see the elephants each day — meaning they're likely not pushing as many people through as possible and not putting extra strain on the animals. Sometimes it's better to step into a typical day of a healthy elephant, volunteering to do things like prepare food, or trek out into the jungle to see how the elephant family is interacting. Riding isn't something to look for — the bamboo or metal saddles are incredibly harmful. Even riding in general isn't the most ethical, especially 2-person rides which forces one person to ride on the back, which is harmful to the elephant's spine. Riding, if it happens at all, should happen right behind the elephants neck, not on its back.
Some Look For These Things
The number of daily volunteers is restricted
Don't allow elephant rides (with or without a saddle)
Observation only parks
Once you make a list of parks you're interested in (we have some suggestions below), do more research on the individual parks. Don't be fooled, all of their websites will say they do not abuse the animals because they know that tourists are picking up on this practice and expect them to be treated better.
Oh and just as a heads up, just because there is the word "rescue" or "sanctuary" in the name of the organization, it does not mean that they follow those practices.
We suggest reading reviews to see what other visitors are saying. Look for pictures and reviews that mention any elephant tricks (like standing on their hind legs) or elephant rides to help let you know how the elephants are treated.
Another thing to look for is price — you can find some really inexpensive options and some more expensive options. As a general rule the more expensive organizations are the way to go: most are using your cost as a donation to provide the care and food these animals require. Your cost also helps reputable organizations raise the tens of thousands of dollars it costs to buy an elephant from an abusive trainer, so this animal can hang out in a sanctuary.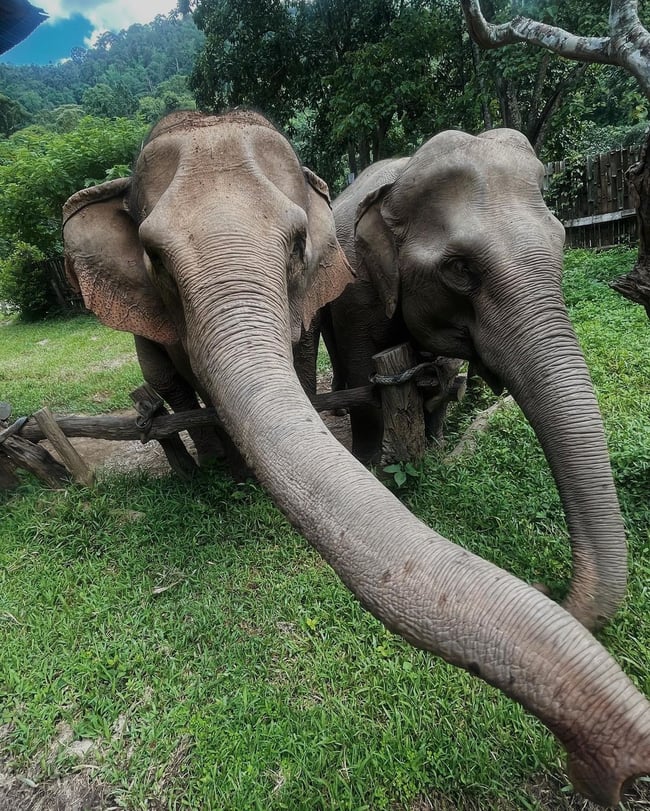 Some Organizations To Consider Going With
There are two companies we want to let you know about. After working with the team from the World Animal Protection they have both transitioned to provide opportunities for tourists to observe elephants from afar, and there are no human-interaction activities that have the tendency to harm animals. You can read about some of their efforts here.
Conveniently they're located in two of our favorite vacation spots in Thailand, so places you'll definitely want to go see anyways!

Observation only elephant interactions —
Another observation only location worth looking into —
Also, our ILP volunteers in the past have told us that they loved their experience at these parks, listed below. If you are going to interact with the elephants (bathe, feed, etc), we've found these locations to be better than some of the other options in Thailand:

Interaction experiences —
Elephant Nature Park
Ran-Tong (Save And Rescue Elephant Center)


Elephant Jungle Sanctuary
Just so you know, there are many parks that will rip off the name of the good ones and try and lure people over there. Don't let that happen to you! Book and make any plans directly through official websites.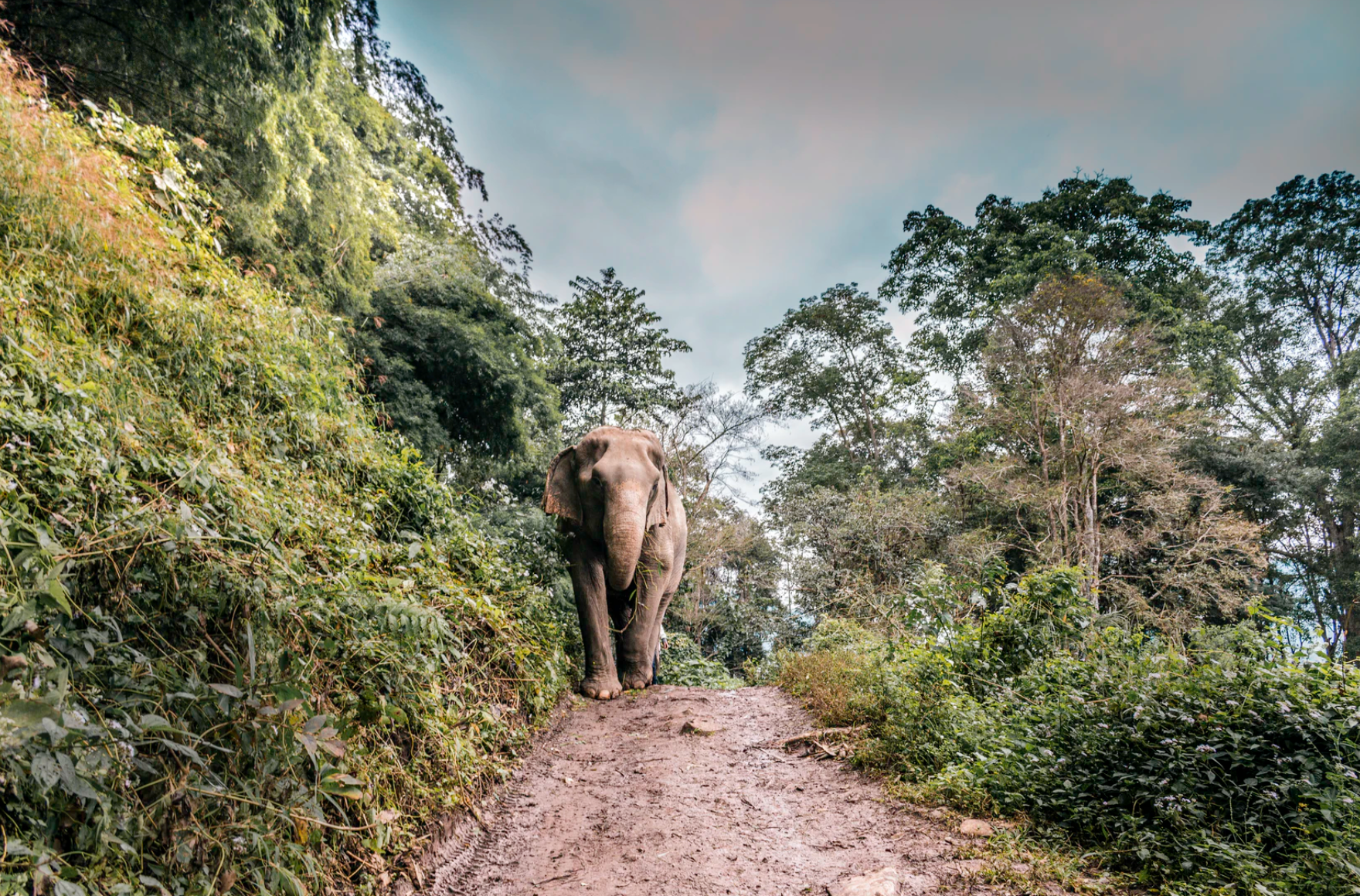 Looking for ways to get to Thailand?
Come volunteer in Thailand for a semester! International Language Programs (ILP) is a non-profit organization based out of Utah with years of experience sending college-aged volunteers abroad to places like Thailand where they can make a difference, really live in the culture, and of course travel all over the country.