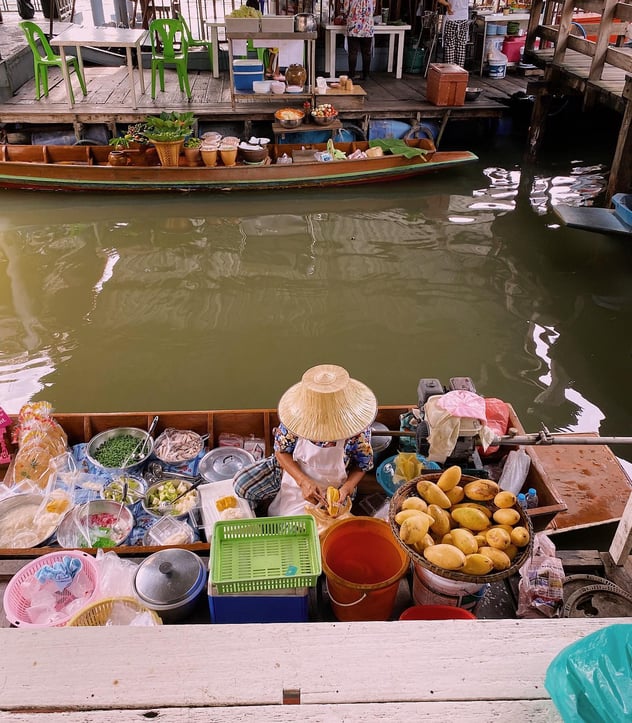 The minute you see the dreamy pictures of the floating Thai markets, you'll want to head straight there — just make sure you're picking the right one and know all the insider tips to make your trip here the chaotically picturesque adventure you're looking for.
The floating markets in Bangkok aren't a secret (quite the opposite, in fact). They are as much a colorfully shopping center for locals as they are a tourist attraction. And after skimming through pictures, you can absolutely see why.
Vendors line narrow streets on either side of a wider canal, where wooden longboats piled high with a bright array of bananas, piles of coconuts, packets of spices, bowls of soup, and hanging racks of colorful fabric makes for quite the scene and experience. It's a way to taste some of my favorite parts about Thailand and an experience I would recommend.


---
Spend time in Thailand as more than a tourist
See what volunteering in Thailand is like for a semester
---

You'll want to do your research before visiting … which is why this post comes in handy! There are a handful of floating markets to choose from, and most come with an early wake-up call, and some time to get there from Bangkok. You'll find all the info (and more) if you keep reading.
Choosing The Best Market
Something to know? There are multiple markets to choose from, but the locals (and tourists) have their favorites. Floating markets have been around for decades, found all throughout Thailand, Indonesia, and Vietnam. For Thailand specifically, the markets in and around Bangkok stemmed as a way to travel and sell all sorts of materials and supplies. Now, they are definitely a huge pull for tourists, but locals still do some shopping and trading at these hotspots.
Our volunteers tend to hit the most popular market, Damnoen Saduak Floating Market, but there are a few others to consider depending on what kind of experience you're looking for (and how much time you have). Because time is probably one of the biggest factors to consider especially if you're only in Bangkok for a few days, we've broken up the markets into two different categories: ones farther away from the city and ones closer. From there, you can pick from more "touristy and popular markets" and ones that are slightly more authentic, and get info about the food, cost, hours, etc.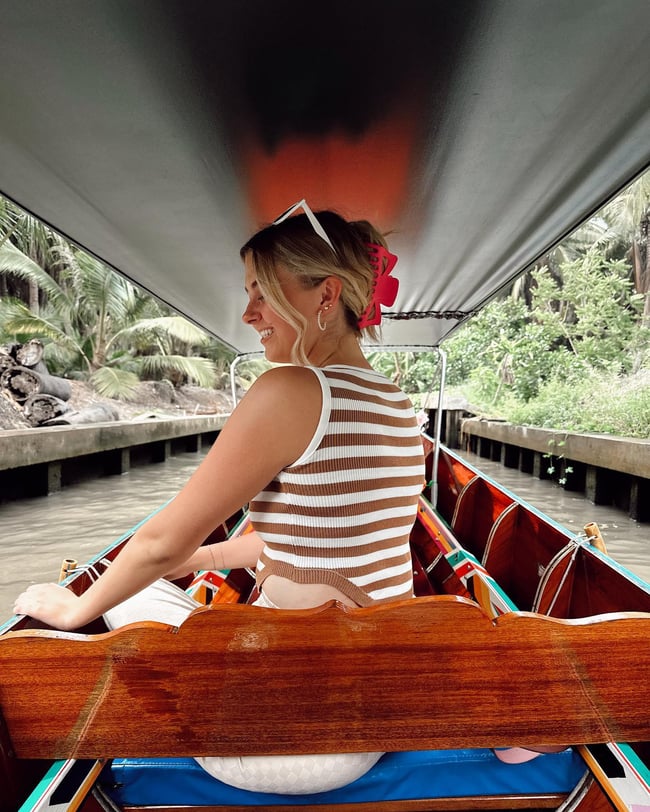 Ones Further From Bangkok
Damneon Saduak Floating Market
This is the most popular market to visit, found almost 100 kilometers away from Bangkok. This market is a frenzied maze of vendors, canals filled with longboats, and lots of tourists. The Damneon market made a very famous debut in the James Bond The Man with the Golden Gun in the 1970s. This market may be the most well-known, but it's well worth a visit. All that attention means a lively market that present some gorgeous pictures — think boats laden with bunches of yellow bananas, and the sweetest ladies who are serving bowls of spicy noodles.
The actual market is only a block long, but there is so much to see. In the middle is a mess of vendors selling food and souvenirs, and you'll find loads of foodie options from the boats themselves. You can get a good view of the action from the side of the canals and from a bridge or two. Just know it gets pretty crowded, particularly after 9:00 AM.
Hours + Boat Cost
Open daily from 7:00 AM to 5:00 PM.
There's no fee for the market, but you can take a longboat tour if you'd like (I'd just recommend walking around and see if you'd really like a different perspective — walking around is free and you can see quite a lot). Rowboats are anywhere from 200ish baht but you'll pay around 600-800 baht for a motorboat. There are also tour options available that arrange transportation from Bangkok. Look online or talk to your hostel about those options if you're interested.
Getting There
As mentioned above, half or full-day tours are popular. It should take around an hour to an hour and a half to get there from Bangkok, without much traffic. It's nice to not worry about transportation and to be guided through the market just know that you'll probably arrive at or around 9:00 AM, so things will be crowded.
You can also arrive via bus — book on 12GoAsia. That'll take you around 2-2.5 hours, and you can also hire a taxi on this website which can get you there faster and on your timetable.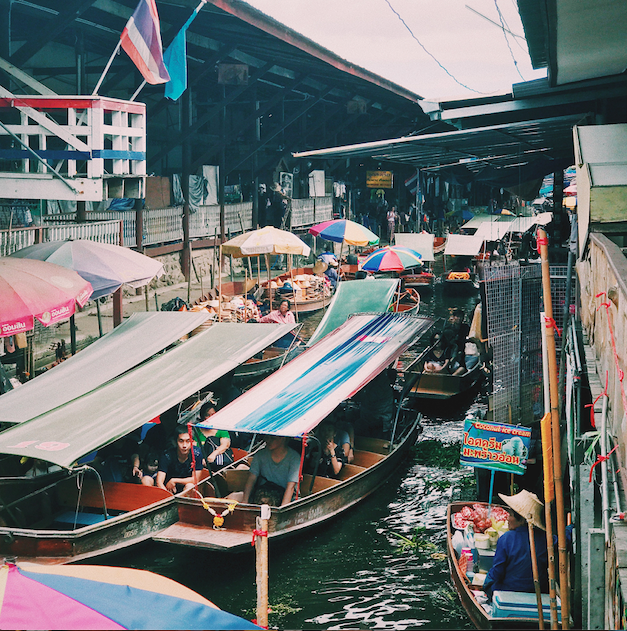 Amphawa Floating Market
This market is probably the second most popular, and a smidge more authentic, with more locals shopping around. It's found about 50 kilometers outside of the city and is all about the seafood. The Amphawa Market has a more local feel, less focused on souvenirs and pulling in tourists, and more focused on bamboo steamers full of dumplings, piles of giant prawns, and fish cakes served in a sweet and sticky sauce. For dessert, grab a bowl of coconut ice cream served in half of a coconut topped with a drizzle of chocolate or some peanuts. Come hungry because the seafood here is really why most people visit ... that and the firefly tour! We have more info on that below (and yes, it's pretty magical).
There is a small, quieter central market where you can find food, t-shirts, spices, and more. There's a small temple tucked away in the wooden buildings and houses for you to explore once you have your fill of the market and winding canals.
Hours + Cost
Open Friday to Sunday afternoons (2:00 PM to 8:00 PM).
The market is free to enter, but you can take a boat tour if you'd like to see more from the waterways. You can hop on a boat tour for around 50 baht (with 10ish other people), or hire a private boat for 500 baht if you bargain, around 2,000 if you don't. It should take around an hour.
Oh, and if you're visiting in the evening, make sure you check out the firefly tour — They tend to start around 7:00 PM and you can find longtail boats advertising the tour right by the market. The tour winds around the Maeklong River, tucking into little alcoves home to bunches of the brightly lit bugs. This tour takes about an hour and is about 1,500 baht for a six-person tour.
Getting There
Minibus (or private tour) is going to be your best option. Book tickets on 12GoAsia. From Bangkok, plan on a 1.5+ hour drive depending on if you go by taxi or by bus.
If you want to be extra adventurous, you can go by train. From the Thonburi station, make a change to Mahachai and take a train right to the Maekhlong Railway which is an amazingly unique railway station — there's a bustling market that runs in the middle of the tracks and clears out whenever the train comes thundering through. You can get train tickets on 12GoAsia. From the railway station, the Floating Market is only about a 10-minute songthaew ride away so it's easy to do both on the same day.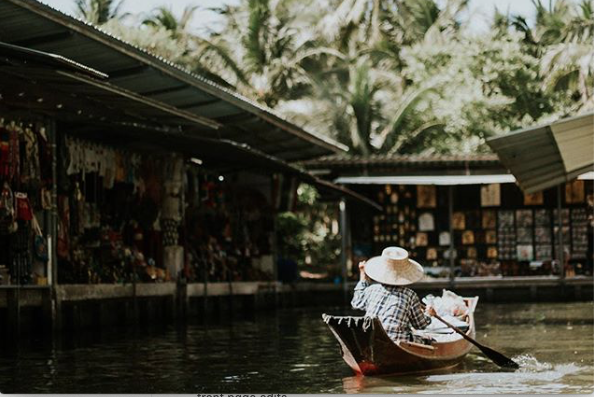 Ones Closer To Bangkok
Khlong Lat Mayom
You don't have to wander far from Bangkok if you want to visit a fantastic floating market. Khlong Lat Mayon is a top pick for a lot of reasons — it's a mecca for some of my favorite Thai foods, incredibly picturesque, and a busy spot to do some shopping, all tucked away in the jungle. The main section is on land, a massive sprawl of food vendors and souvenir shops, surrounded by a relatively quiet canal where you'll find longboats piled high with fresh fruit, veggies, and other dishes.
But the food is really the star of this particular floating market. The inner section is set up kind of like a food court where you order and sit in a collection of tables and chairs in the middle. Order up salted grilled fish, piles of glass noodles topped with bright pink prawns, and a few other favorites like Pad Thai. Yum!
Hours + Cost
Open 9:00 AM to 4:00 PM Saturday and Sunday. Best to be there around 10:00 AM.
The market is free to enter, with charges associated if you'd like to take a boat tour. You have a couple of options — to visit a homestay or visit the temple (both are recommended options!). Plan on either taking around an hour and a half and cost about 50 baht per person. You'll leave once the boat fills up, and make your way on the river, passing homes and orchards peeking out between the thick foliage until you reach the homestay or temple, where you can get off and do some exploring before boating back to the market
Getting There
A taxi is probably best — it should be around a 15-25 minute ride (or longer) depending on where you are in Bangkok. For reference, the market is just a 15-minute taxi from the Grand Palace.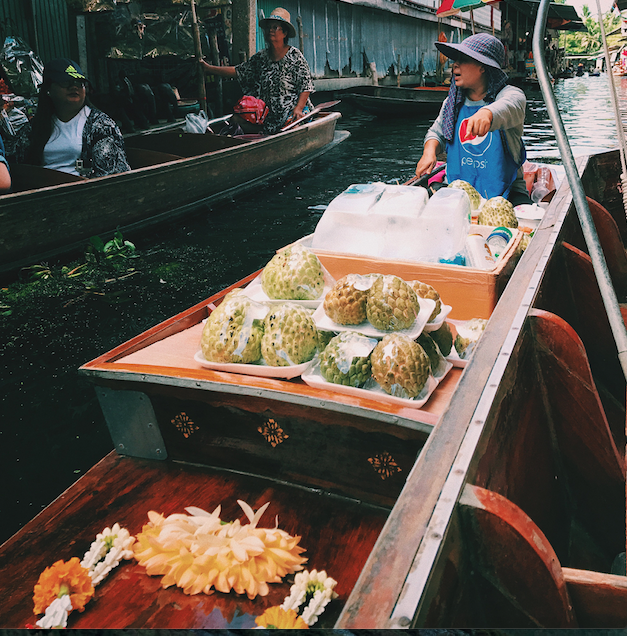 Bang Kachao
Found just six miles away from Bangkok, this market is a bit unique — It's not like the other markets full of longboats, more of a market set up on the river with plenty of foodie stalls to keep you busy. This market is centered in the thick jungle of the city, nicknamed the "green lung". Bang Kachao Market actually makes its home on a man-made island on the Chao Praya River, which is best navigated via bike. Once you ferry over, you can rent a bike at the Bang Kracho Pier (plan on paying around 70 baht for the day).
The market is just one of the best things to do on this man-made island, so plan on grabbing lunch while you tour the canal-ridden market, then riding your bike to explore the Sri Nakhon Khuean Khan Park or the local farms found between the park and the pier.
Hours + Cost
Open 8:00 AM to around 4:00 PM, on Saturday and Sunday.
The Market is free and there aren't boat tours available.
Getting There
First, you'll have to get the island of Bang Krachao itself. You can easily take a short ferry ride across one of the rivers, Chao Praya. Just make your way to the Bang Na Pier (or the Chang Nongsi or Klong Toei Pier). Ferries leave every 10-15 minutes or so, and tickets are very affordable.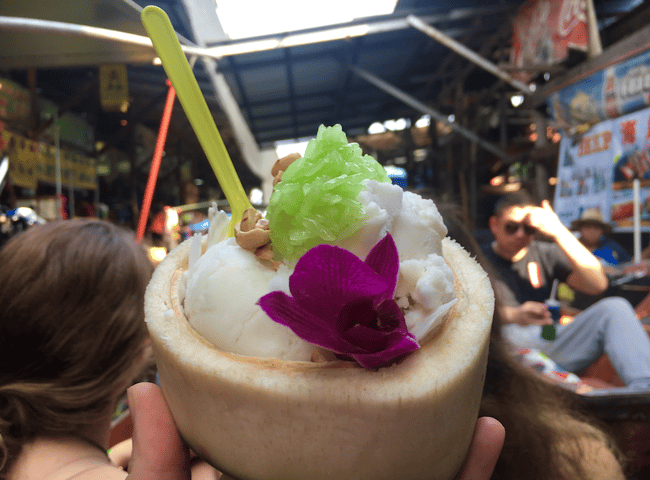 Things To Know Before Visiting
Go Early + On The Weekends
Most markets are only open on the weekends (we have hours if available for all of the featured markets above), but for each market that isn't an afternoon market, know that mornings are best. Every one gets significantly more crowded the later in the day, so you'll have the best experience the closer you arrive to opening (most tour buses tend to arrive in the afternoon which only add to the crowds).
Bring Cash
Like most situations in Thailand, cash is pretty much king, especially if you'd like to purchase food items at the market from one of the floating boats. If you're on the pier and want to purchase something from the longboats, typically a basket will be passed up to you for you to put your Baht in. Your food then is delivered via pole + basket. You'll find that most vendors won't take a card, so it's best to have exact change.
Come Hungry
These markets are good spots to purchase some souvenirs, but the food really is the star of the show. What you'll find can vary from market to market, but here are a few dishes to look out for
The fruit in Thailand will blow you away — out of all the places I've visited, Thailand is probably the best country when it comes to bags of pineapple, piles of mangoes, sweeter-than-candy mangosteens, dragonfruit slices, and cups of cut melons. Yum.
Sticky rice in banana leaves that are folded up in cute little pyramids are a can't miss. The rice is cooked with coconut milk and plenty of sugar, and typically you'll find a gooey center of dried banana in the middle.
Lots of seafood is a given, considering that these markets are right on the river. Most of these markets are full of seafood dishes including shrimp, prawns, octopus, and fish.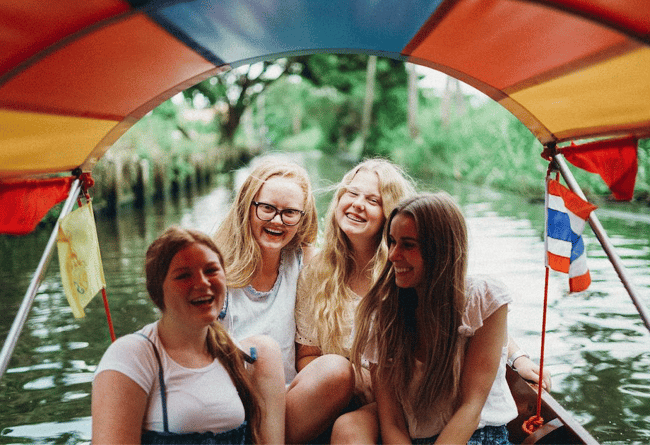 It's time to really see Thailand
There are just some countries that have too much to see and do in just a short trip — Thailand is one of those places. Come see what living here is like for a whole semester. You'll live, teach, and travel with a group of college-aged volunteers, and spend part of your time teaching English and the rest of your time exploring.