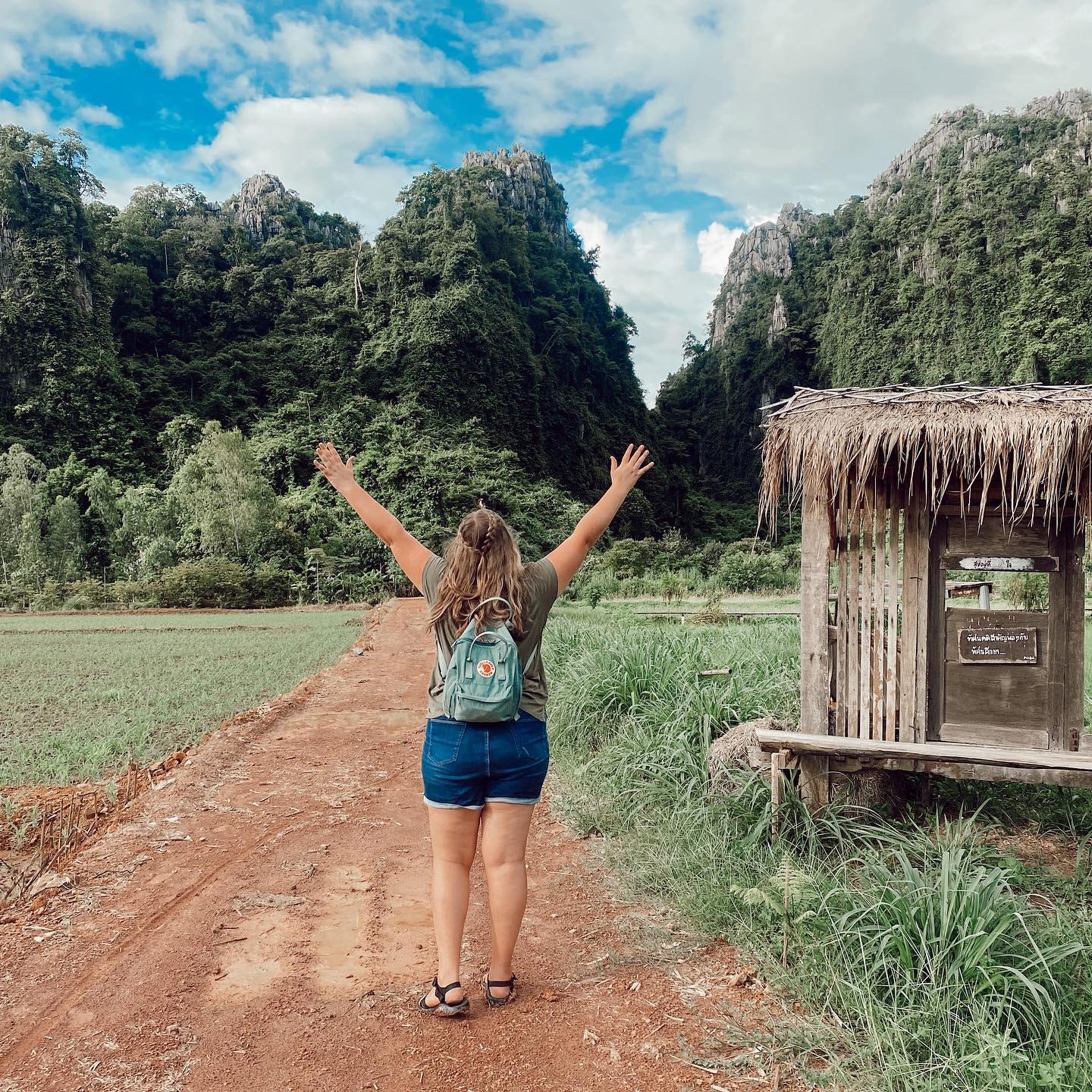 Looking for a weekend full of beyond beautiful views and hiking to hidden waterfalls, all in an undiscovered corner of Northern Thailand? We have the details on a weekend trip to Ban Mung, just for you. Out of all of the countries I've visited, Thailand is one that I wish I spent more time in — I went for a week or so, and got a taste of the mountains and the beaches, but wasn't there nearly long enough to have the same experiences as our volunteers who live in Thailand for a whole semester!


---
Seriously, come live in Thailand for a semester! It's the best way to see this country like a local, rather than as a tourist just here for a week.
---

Because our volunteers call this country home for a few months, they have so much time to really explore the secret spots not many tourists know about, like Ban Mung. It's nestled up in the hills of northern Thailand, just a quick drive from the city of Phitsanulok (and nearby) if you're familiar with that area of the country. It's a spread of land that makes for an idyllic weekend, spent with sweeping views, surrounded by rice fields and flower fields, all while you admire limestone cliffs that are hundreds of years old.
It's one of those seemingly impossibly pretty places (that's hiding a few other surprises) that we can't wait to share with you: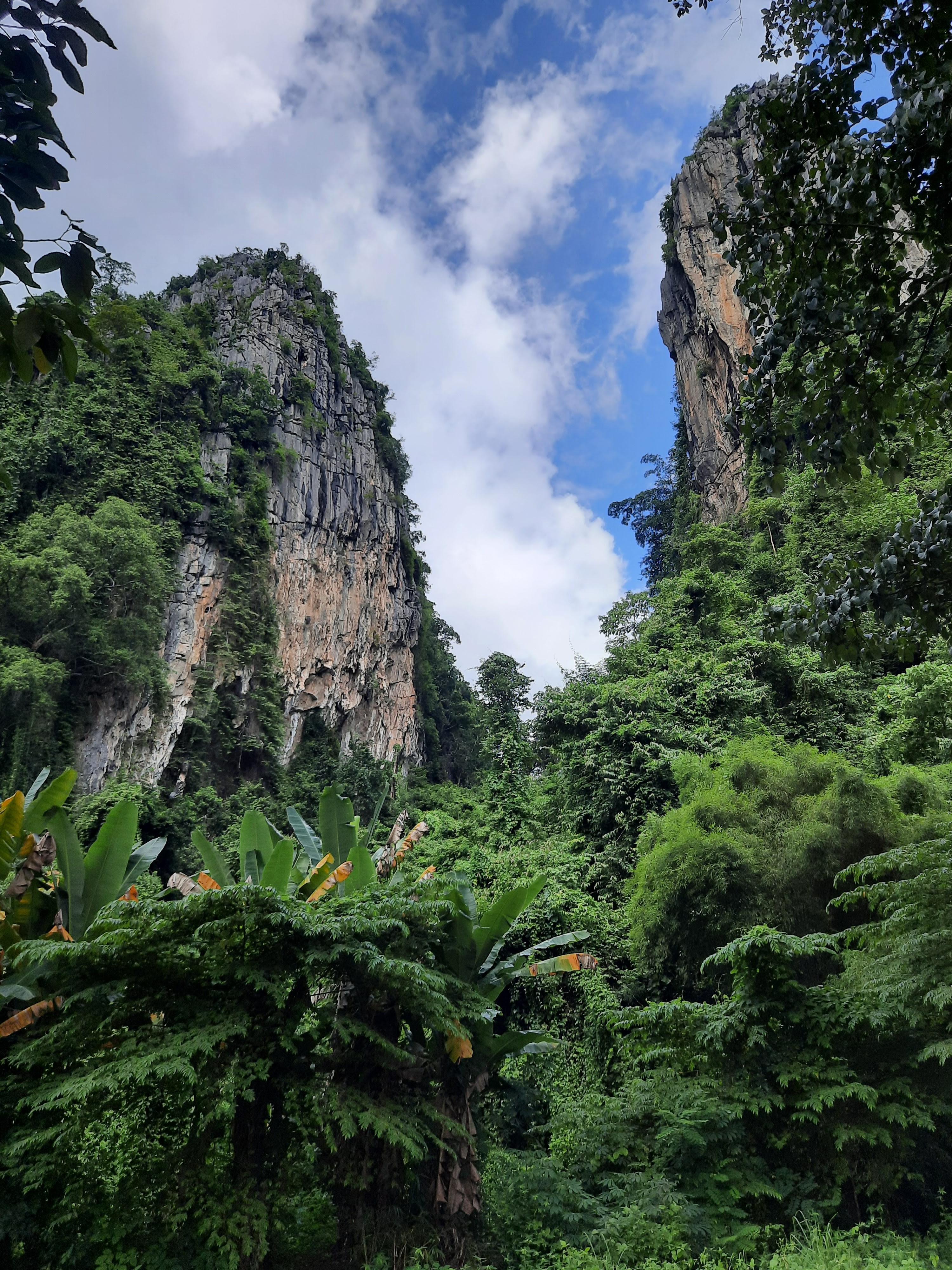 A Bit About Ban Mung
To help you get oriented, Ban Mung (บ้านมุง) is a little community found in northern Thailand. It's in the Phitsanulok Province, and the Noen Maprang District (อำเภอเนินมะปราง) if that's helpful to know. But beyond the location, it's important to know Ban Mung is a quiet collection of little shops, noodle stores, homes, and homestays backed by towering limestone cliffs, all within throwing distance to a thundering waterfall and impressive cave complex.
Visiting here is a chance to reconnect with nature with beautiful views, and get a break from the heat of Thailand (it's often considerably cooler up in the hills).
Pictures of this place remind me of northern Vietnam, though friends who've visited Krabi, Thailand also draw some parallels ... but the rows of rice fields surrounding jutting limestone mountains feel just like the areas around Nihn Binh, Vietnam if you ask me!
The quiet community of Ban Mung is the gateway to something really spectacular: a few roads branch off from the main road in Ban Mung and lead you to several caves, temples, fields full of flowers, waterfalls in the rainy season, and more. It would be worth seeing if you can get a taxi for the day or afternoon to drive you around, or see if you can rent bikes to just go do as much exploring as you can while you are here.
We've had one or two volunteers groups with ILP venture out to experience this portion of the country and had rave reviews — all summed up by this quote "if you are wanting a super fun, authentic, local, spontaneous, gorgeous day trip and you are ready to just enjoy wherever your driver may stop, it is perfect. We all loved it so much!!"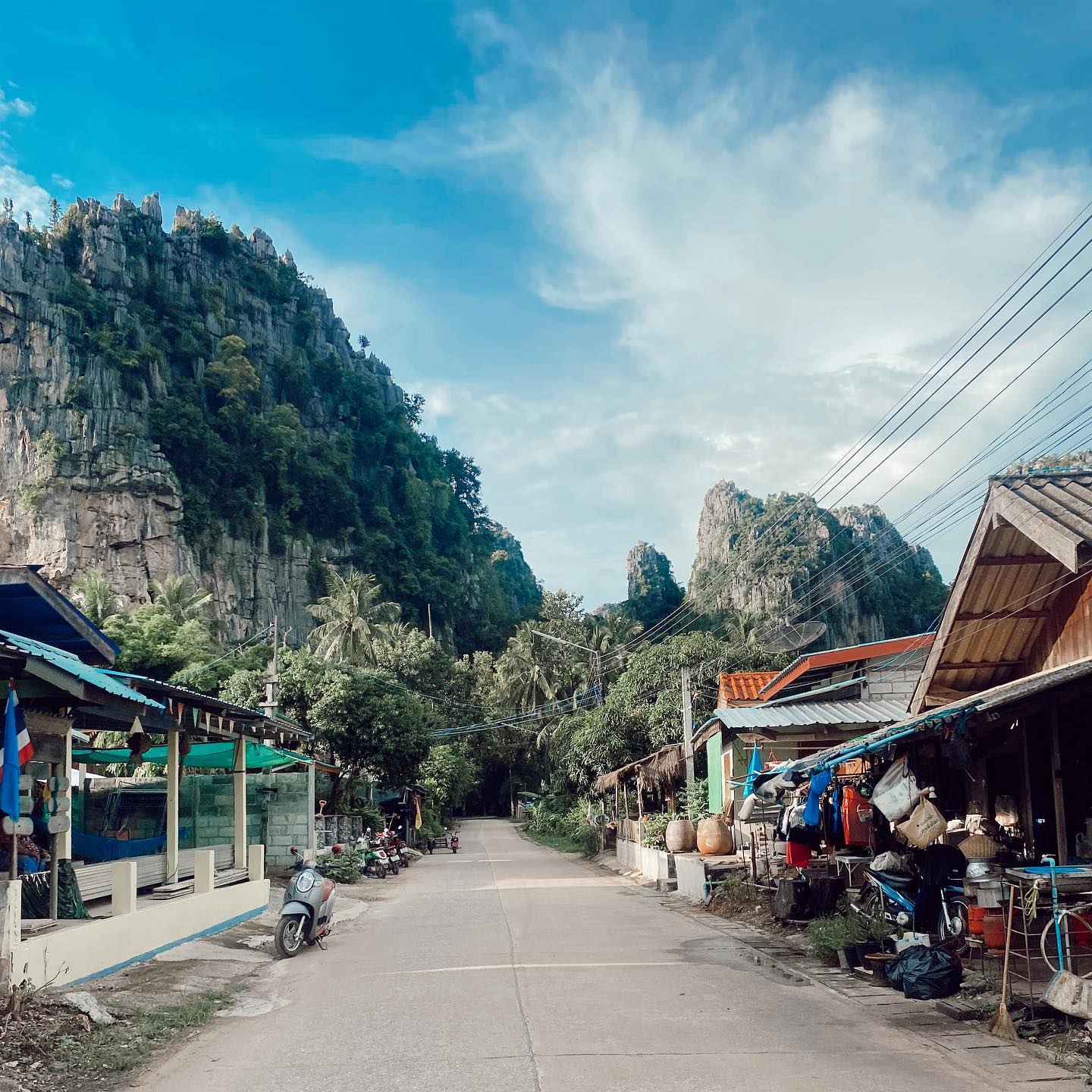 Things To Do + Places To See
See Millions Of Bats
Ban Mung may not be at the top of every tourists' wishlist, but it's a pretty popular getaway for Thai locals who are living nearby, mostly to see the bats at sunset. Yep, every night, at sunset, millions and millions of bats come flooding out of the mountain caves in a curling ribbon, set against the purple-y sky. It's said to happen every night (rain or shy), just right before sunset and the spectacular flight lasts for about 10 to 20 minutes.
If you're like me, the idea of watching bats fly at night doesn't sound like a highlight but give it a try and you might be surprised — I didn't think much about seeing the bats in Austin, Texas, but after a friend insisted we go, it ended up being an amazing highlight I'd go back to see in a heartbeat ... especially in Ban Mung! The spectacle of seeing so many bats stream out of this Thai cave complex sounds enchanting.
According to some visitors, the bats are best seen from the nearby temple — there is a set of two caves right behind the temple where the most bats emerge. Plus, the temple gives a rather pretty backdrop. Find the temple just a short walk from this bridge (also a good viewpoint) on the right side. There is a little parking lot area where you can watch.
Both viewpoints (the temple and the bridge) are within walking distance of the main section of town. Just make sure you time your visit right: you'll want to look up when sunset is for your visit and make sure you're there a few minutes before the sun sets.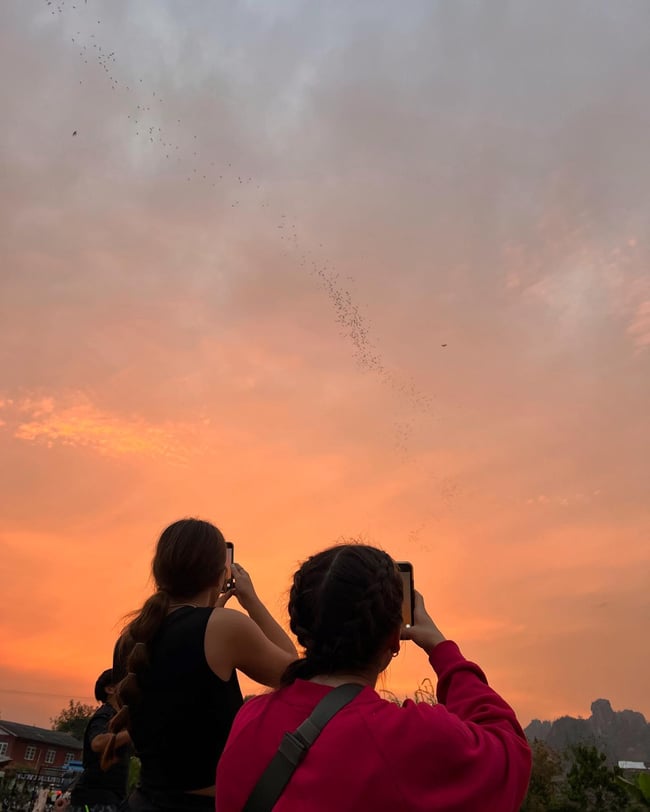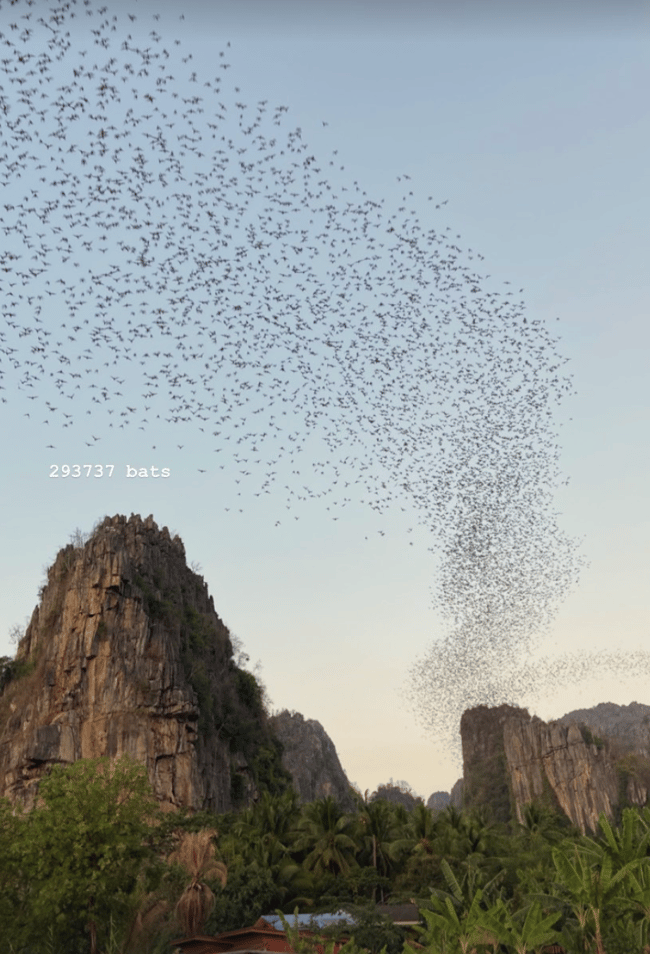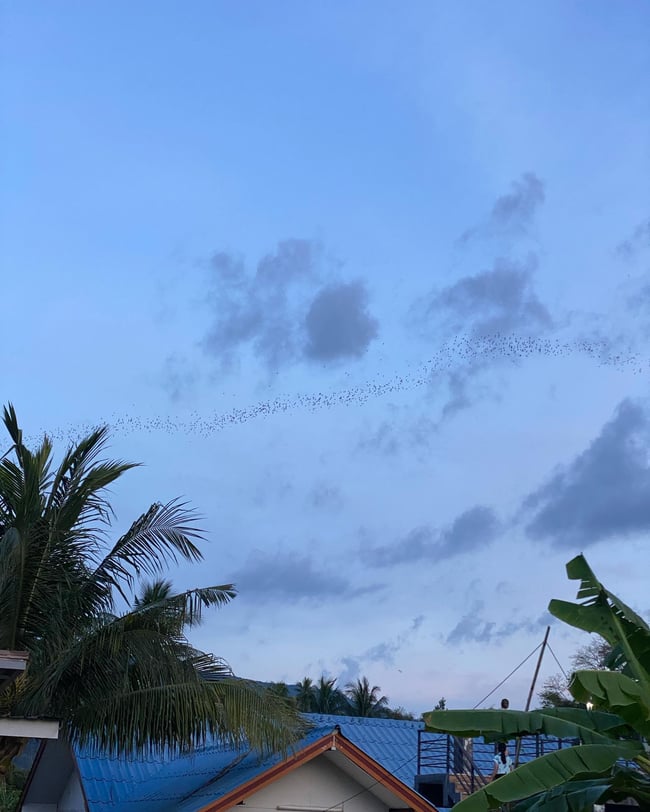 Chase Waterfalls
There are a few in the area, some labeled on Google Maps, and others are found by asking the locals (or your driver). One thing to note is that these falls vary quite drastically depending on when you visit in the year. Many aren't there or are just a trickle if you're here in the dry season, so best to come during the wet season (end of February to end of November) if you want to see an actual waterfall instead of just a trickle or some muddy rocks.
Here are a couple to out, with their location hyperlinked (though as was mentioned, one ILP group just found one by happenstance, thanks to their driver, so it sounds like there are several others in the area if you know where to look):

Explore The Caves
If you want a closer look at some of the caves here, you have more than a few to get you started. You can explore the entrance of the caves the bats fly out of (just be quiet and careful not to disrupt them during the daytime), or check out others in the area.
One popular cave complex to explore is this one, ถ้ำลอด. You may need to walk through a pool of water to reach the entrance (and other chambers), though the staff onsite only allows visitors to explore the entrance — some visitors mention that life jackets are supplied and that the cave can sometimes be closed depending on the rainfall, which can flood the chambers.
There are several you can explore — just look for signs around town pointing you where they are. Just so you know, the signs will be in Thai so it's good to know the word for cave ถ้ำ, so you can look for that as the start of the word to let you know if you're headed toward a cave or not. Just know that most of the caves close at 4:30 or 5:00 PM so you aren't disrupting the bats.
See A Temple Or Two
Like the caves, there are a handful of temples dotted around the rice fields and limestone mountains. Wat Ban Mung is one of the most popular, found at the mouth of the bat caves, meaning you have a cave and a temple you can see while visiting.
The Flower Fields
According to this visitor, there are stunning flower fields if you're visiting in December — but a few other visitors mention that it's a highlight to walk, bike, or get a car to drive you out to some of the fields away from town to have the chance to take photos of the stunning fields (flowers, or no flowers).
One blogger mentions just opening up the satellite map of the Ban Mung and head to where the road reaches a lookout point or field. It may also be worth asking your homestay if you're staying overnight. It sounds like there are quite a few pretty places to take pictures, so we have a few destinations linked below to get you started, where users have submitted some pretty views online: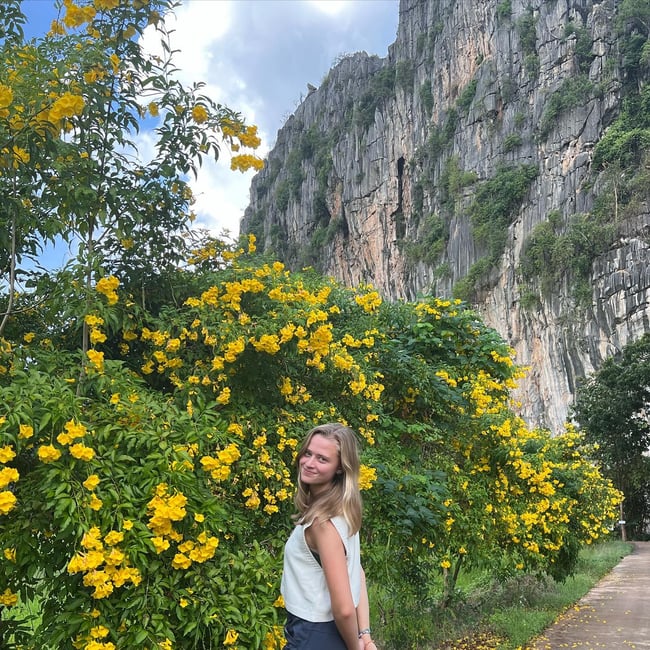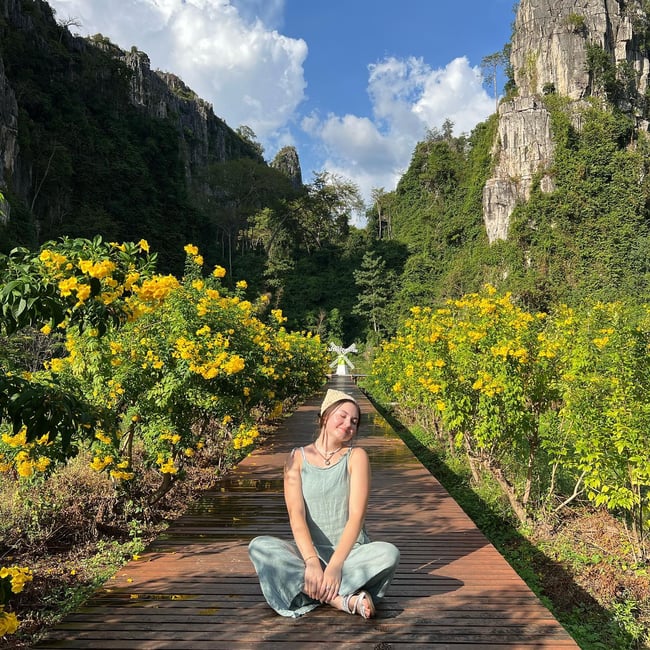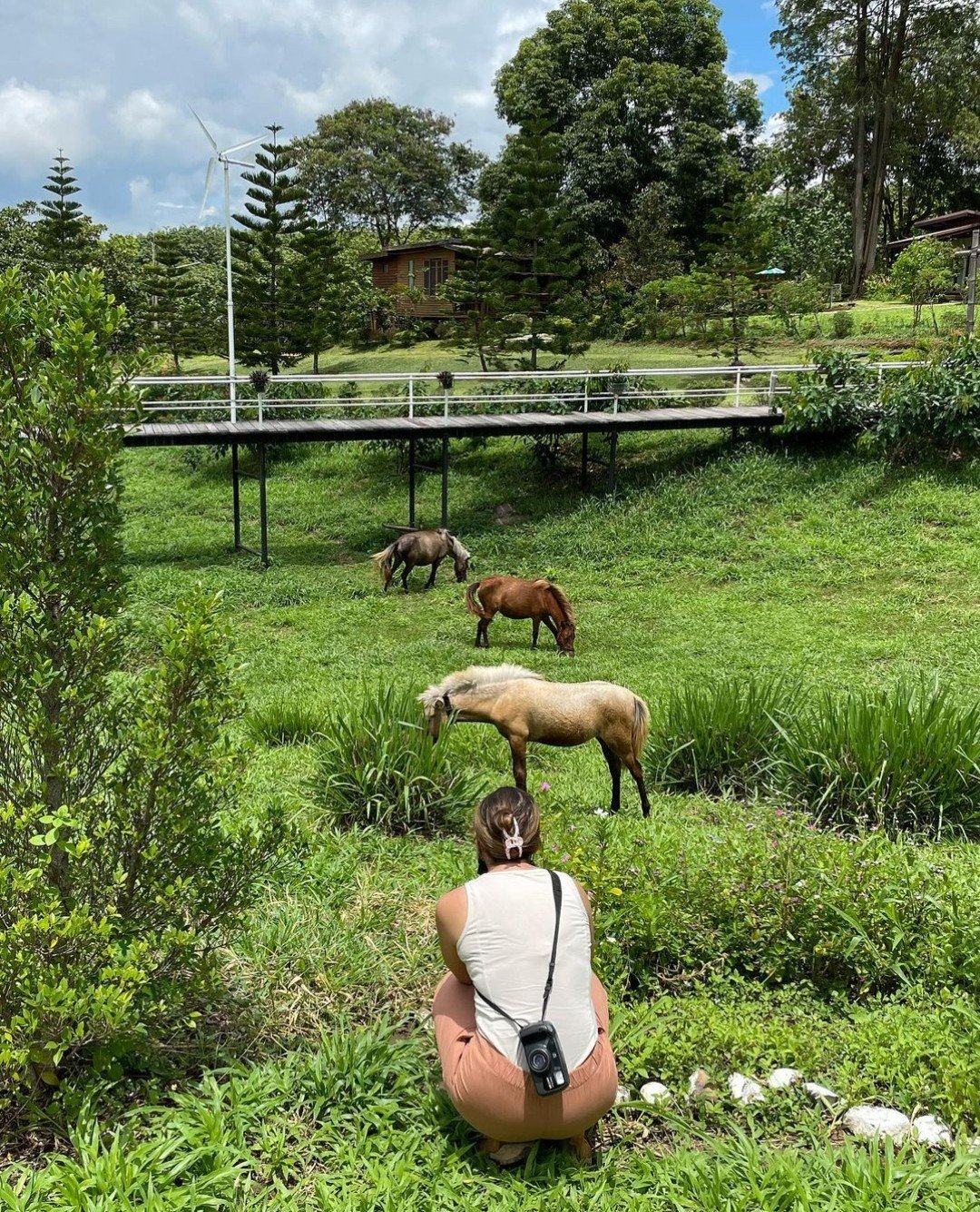 Venture Out Of The City To See This Tree
On your way there or home, you should ask your driver (more info on transportation below) to stop off in the nearby town of Ban Rak Thai. It's a very quiet mountain town with one spot our ILP volunteers can't get enough of: this heart-shaped tree. You'll find a platform and a two swings at the top which makes the some of the most unique pictures in Thailand we've seen! The view from the top is just stunning — don't miss out if you can fit it into your itinerary! (It's 30-40 minutes away from Ban Mung).
There is a 10 baht entrance fee (you can also get some snacks and drinks here, at a nearby cafe). There's a limit to the number of people allowed at the platform, and sometimes there's a bit of a line, just as a heads up.

Here's the GPS coordinates to help you find it.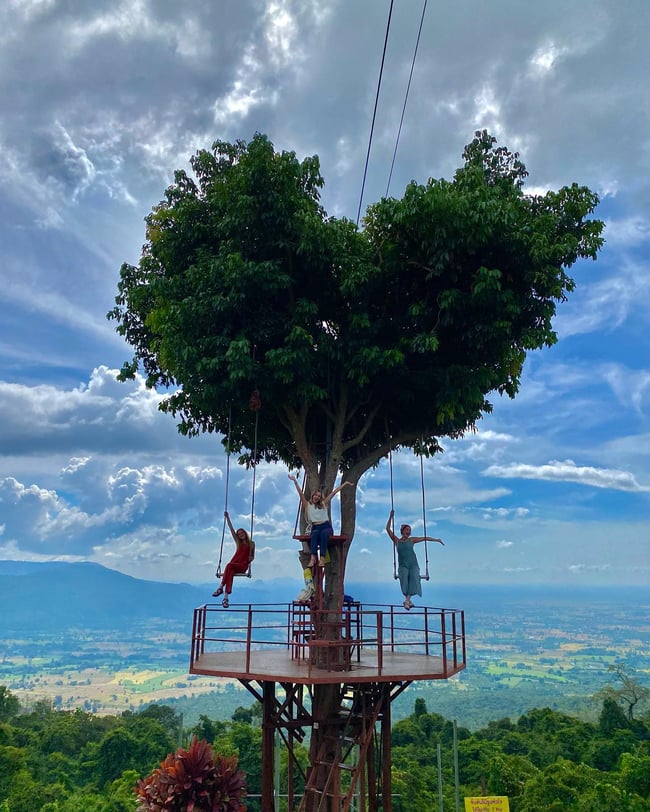 Some Logistic Details
Most Things Are In Thai
As we mentioned earlier, this is more of a popular spot among local tourists, not foreign tourists, meaning finding signs in English is going to be tricky. It's helpful to have someone (like your Local Coordinator, if you're an ILP volunteer) call ahead and arrange some details, like somewhere to stay if you're visiting overnight on a weekend: it can sometimes get busy.
How Long Should I Stay? + Help Booking Something Overnight
We've had an ILP group in the past go for just one day, but it sounds like a fantastically beautiful place to spend a weekend if you ask me. There are a number of homestays in the area to look at — if you search Ban Mung on Google, you can see a handful of homestays pop up where you can read some reviews. However, none are linked to a website or have a phone number listed. This blogger has some pretty pictures and info about Ban Mung — they also have some pictures of phone numbers they saw for homestays in the area.
One thing to help may be asking around on Pantip, or having your Local Coordinator or other Thai friend help you out. Pantip is a messaging forum where people can ask questions and get things answered. One blogger mentioned that you may be able to find info about Ban Mung here, then see if people shared contact info for the places they stayed. As we mentioned earlier, sometimes places get fully booked on the weekends, so you may not want to risk booking in person once you arrive in case there isn't any availability.
Renting Bikes
Through some research, there were slight mentions of bike rentals available but nothing concrete came up. We have some info below about the visitor's center that may help you get that arranged. Or, it may be worth reaching out to a few homestays in the area to see if they have info on where you can make that happen.
Info At The Visitor's Center
You may be able to get some guidance on details like renting bikes, places to see, best ways to get around, etc. by visiting the visitor's center: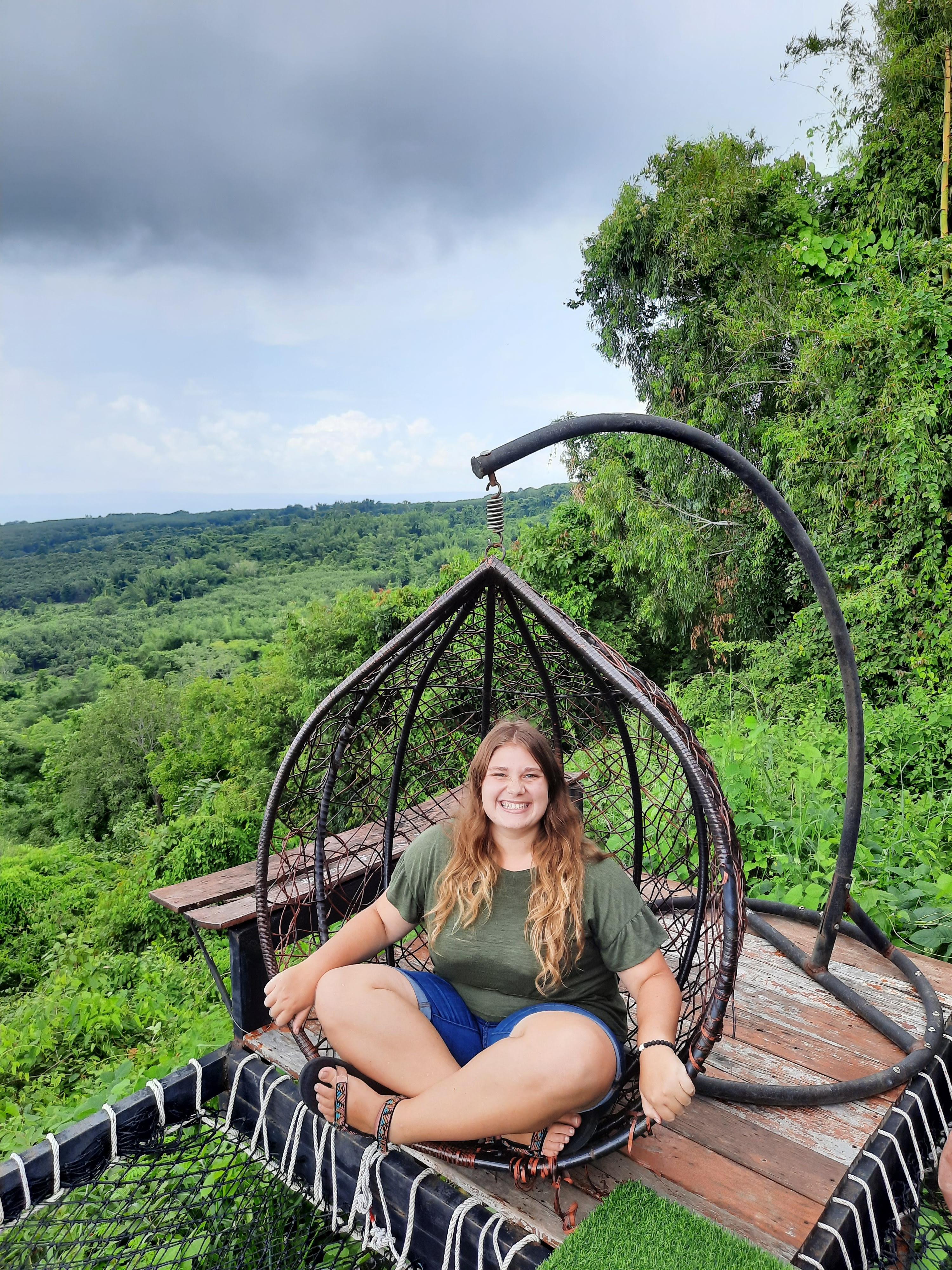 Getting Here
Phitsanulok is the best jumping-off point to this dreamy mountain escape. If that's not your starting point, best to head here from wherever you are (there are trains/shuttles/buses that can connect you to Phitsanulok from many major cities — we love booking travel on 12go.asia.
By Car, From Phitsanulok
We had ILP groups in the past get help arranging a private car to take them the 1-hour drive from Phitsanulok to Ban Mung. It's the most straightforward way to get there. Groups in the past have gotten help from their Local Coordinator to arrange a van transfer for about 3,000 baht.
You can also take a taxi, just make sure you have a way to have that taxi (or another car) come pick you up in case you can't call one back to Phitsanulok. A taxi should be about $25 or $30 each way, which isn't bad to split with your ILP group.
Some bloggers had mentioned that a train can take you from Phitsanulok to the Noen Maprang district, but it's unclear what the timetable is, where the train drops you off, and you'd be able to get a taxi to Ban Mung.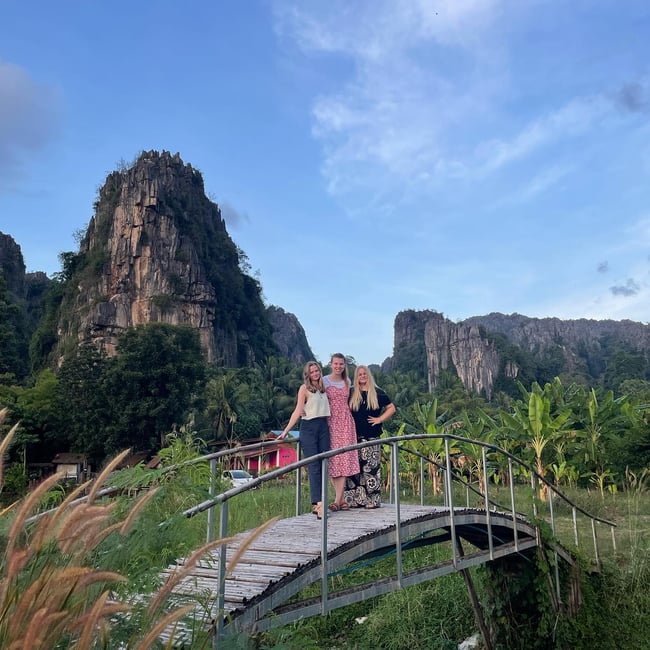 Does living and traveling in another country for a semester sound
like a dream come true?
Come volunteer with ILP! We have countries all over the world where you can really dive into the culture and get to meet a group of fellow volunteers to teach, travel, and live with. Come get your questions answered, here: