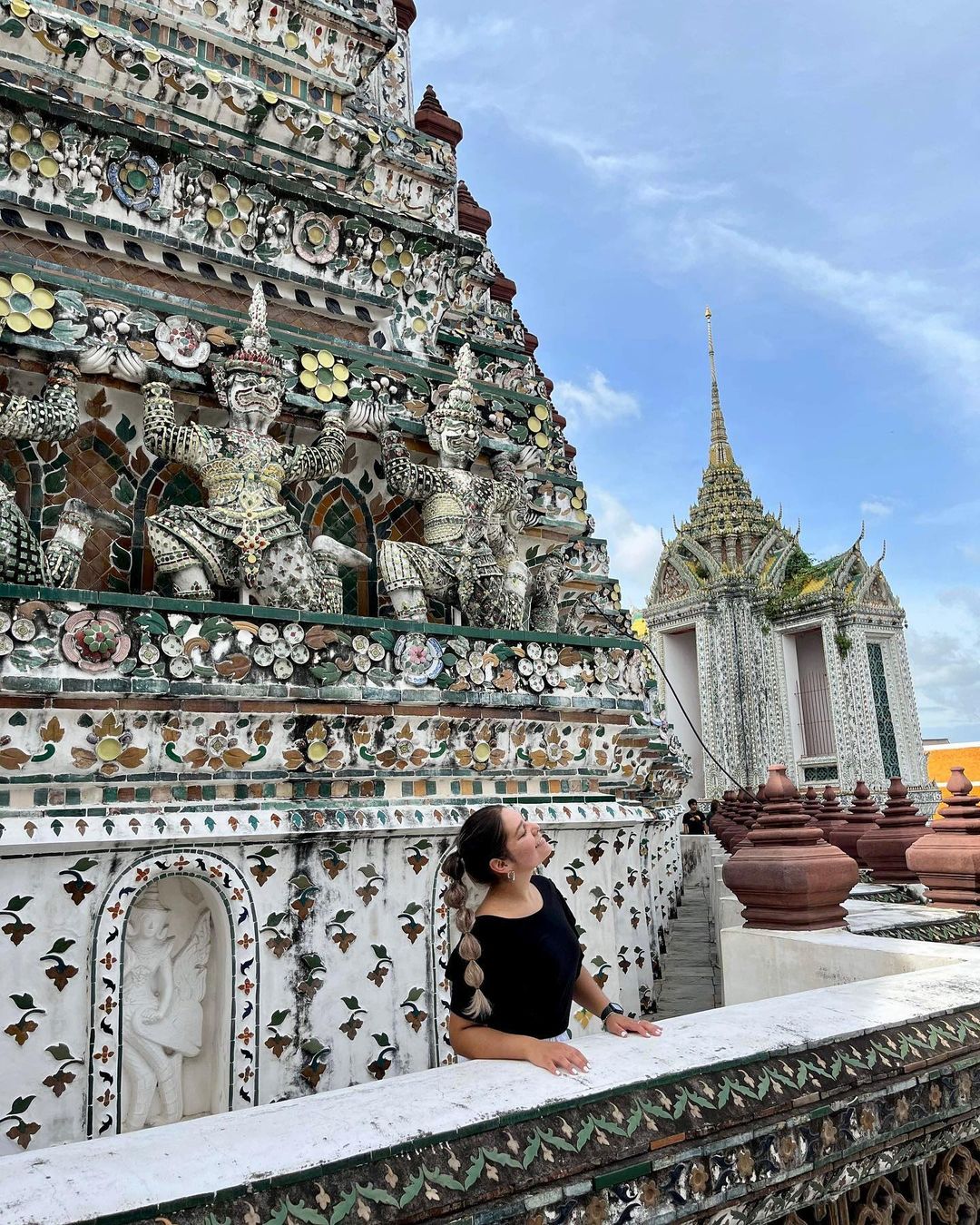 Bangkok is just one of those vibrant, bustling, and absolutely captivating cities that you should see at least once. And if you're living in Thailand for a semester as an ILP volunteer, we even recommend visiting more than once if you can.
Oh, Thailand. A country that's full of the adventure you're looking for. Miles of the prettiest beaches around, dense jungles filled with quaint little villages to explore, ancient ruins, waterfalls, and picturesque lakes you can visit while you spend time out in a colorful bungalow.
As if that wasn't enough, Thailand also boasts one of the most impressive capital cities in the world: Bangkok.


---
Feel like you need more time in Thailand?
See the best of the best with our Thailand Destination Guide.
---

In such a sprawling city, you'll want to make sure you are seeing the best of the best. Good thing we have an insider's guide to Bangkok. We've talked to our volunteers and have put all of their favorite restaurants, things to do, places to stay, and other tips to make sure you're seeing it all.
Tourist's Guide To Bangkok: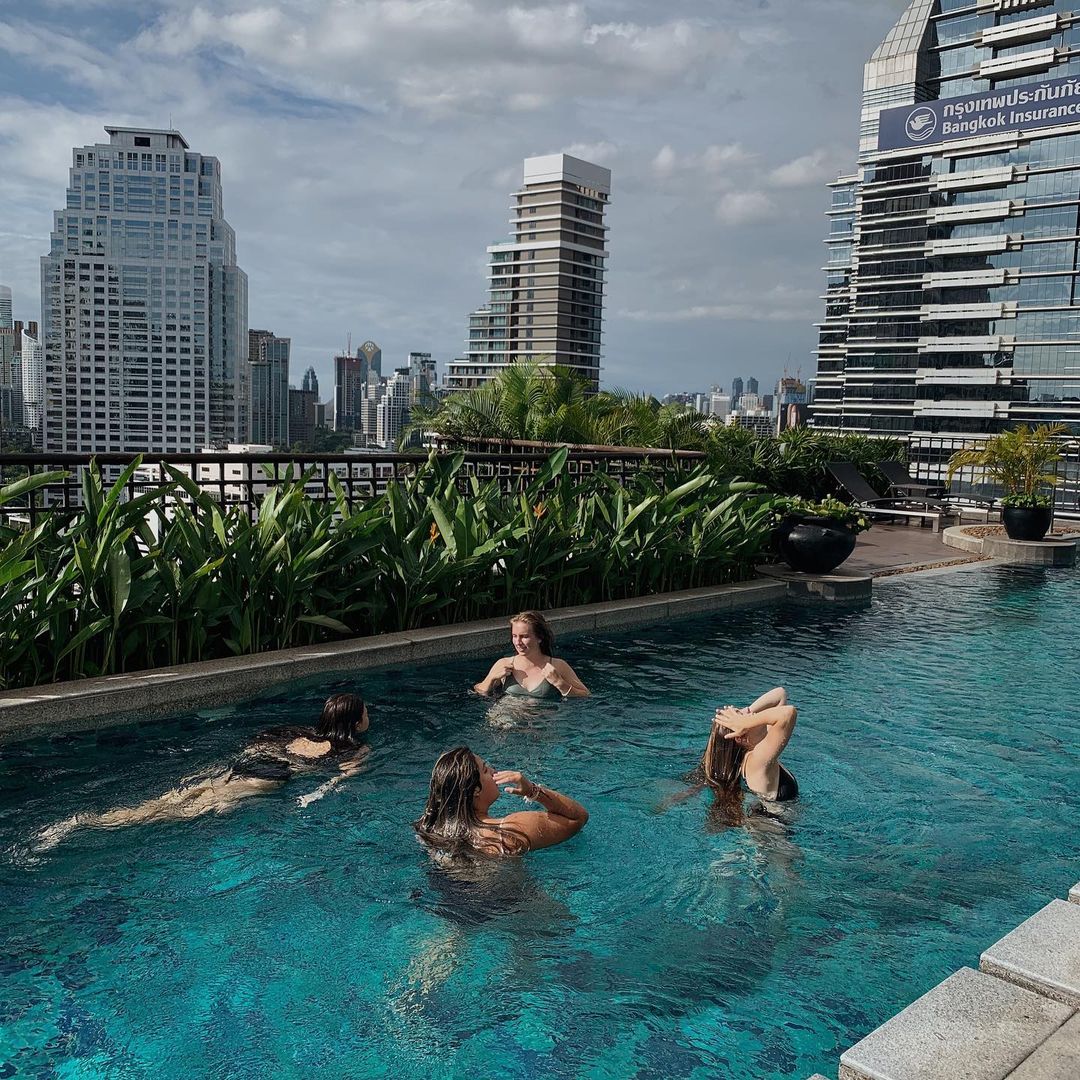 Favorite

Things To See + Do In The City
Bangkok is quite huge and honestly, you might even be a little overwhelmed at first if you're not familiar with big cities like this. Having a plan in advance can really help with that anxious feeling of being in a new, loud, busy place. Know where you're going and how you're getting there (don't expect to just jump off the train and start wandering the city).
Luckily, Bangkok is no stranger to tourists. The tip-top tourist sites are very well known so you shouldn't have too much trouble finding them, and there are many locals who do speak English if you're in a pinch.
If you only have a couple of days, here are the most popular places to get you started:
Temples
First — some very important info about visiting temples
Temples all across Thailand are more than just beautiful sites for you to photograph, they are active worship areas. Having a mind to show respect before you enter is a good place to start, and one way of doing that is by being very modest in your dress. That means no tank tops, shorts, no shirts that show your stomach, no miniskirts, nothing see-through, no torn pants, or anything too tight. For females, it's best to wear a tee shirt that covers your shoulders and a flowy skirt that reaches the floor, or long, looser pants that are free from rips. And at most temples this isn't just a nice thing to do, it will be required for entrance.
You might be required to rent a wrap skirt if you aren't dressed appropriately. Sometimes rentals are free of charge but anticipate paying around a 30+ baht fee. My advice though? Just always keep a quick change of clothes in your bag (a light flowy skirt you can pull on and a light shawl you could put on your shoulders, both of which can be purchased at souvenir markets). One time in Bangkok we stumbled on a temple that we wanted to go see and they were requiring that you wear a skirt, but didn't have any for rent. One of my friends who was wearing shorts just didn't have the option to go inside. That was really disappointing to miss out on that opportunity she may never have again, so I like not leaving it up to chance.
There are more tips on what to expect though — Here's a whole post about visiting Thai Temples.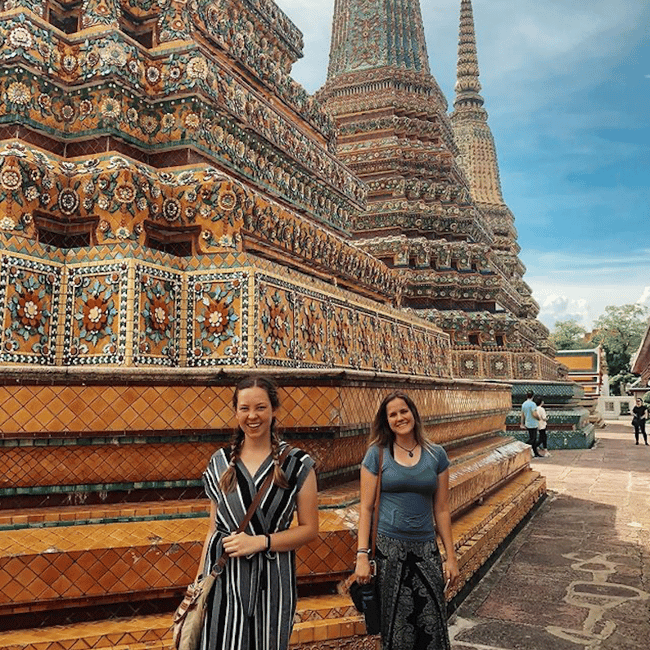 The Grand Palace

"You have to go to the Grand Palace and see all of the buildings, temples, the Emerald Buddha, and the amazing architecture." It's a must- see in Bangkok, so make sure you make room for it in your itinerary.
The Grand Palace is a huge complex of stunning buildings, the residence of the King of Siam, dozens of temples, courtyards, throne halls, and other things to explore. It's massive! To give you an idea, you can check out this really helpful map of the Grand Palace. Our volunteers recommend seeing these attractions inside, but you really can't go wrong because everything in the Grand Palace is pretty stunning.
The Emerald Buddha

The Golden Stupa (called Phra Siratana Chedi)

This crazy ornate library (called Phra Mondop)
Hours: 8:30 AM to 3:30 PM, open every day

Cost: 500 Baht ticket (Can be purchased online 24 hours or more in advance, or in person when you arrive)

Tips: There are some common scams in Bangkok when it comes to ripping off tourists, and there's a popular one right here. Sometimes tour guys will stand on the corner around the outside of the entrance to the palace and ask if you're going inside. They'll tell you that unfortunately the palace is closed today ... or that it's closed for lunch, or even just that the line to get in is really long this time of day. Conveniently, they're happy to take you to see another tourist site and bring you back when the palace is less busy (or open). Nice right?
Wrong! They are lying and just trying to get your business. Don't trust anyone who tries to stop you from going in — it's open year-round.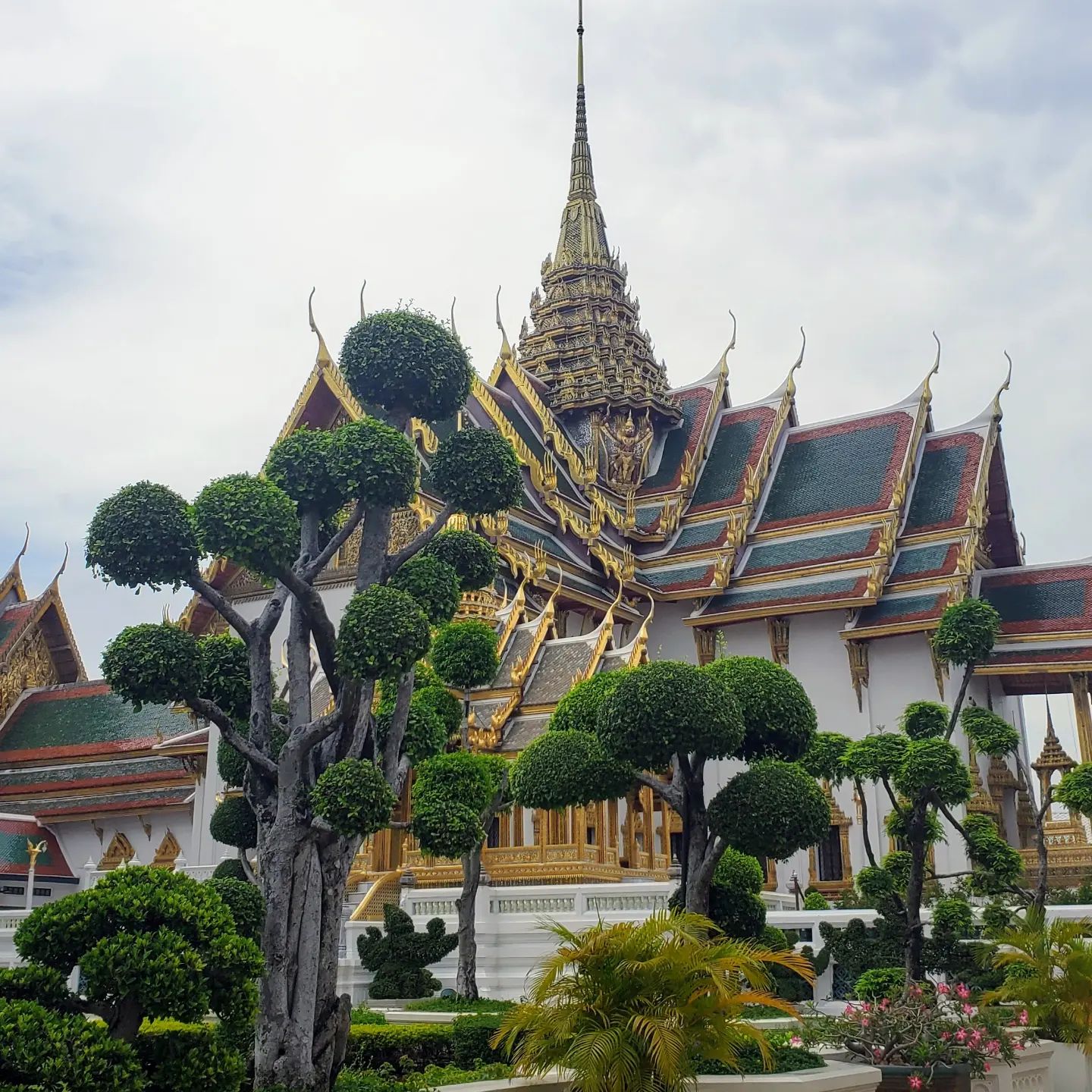 Wat Pho (For the Reclining Buddha)
I'd head here after you see the palace — it's not far away! This used to be the first public university which is pretty impressive if you look at this complex and compare it to any college in the United States! Beautifully intricate and ornate, Wat Pho houses a few sites ILP volunteers recommend, including the Reclining Buddha. Stretching over 150 feet long and some 50 feet tall, the entire figure of this Buddha is covered in gold, from head to toe.
Don't leave without peeking into four chapels which hold 394 golden Buddhas all sitting in the lotus position.
Hours: 8:00 AM to 5:00 PM (Massages are popular here, and go until 6:00 PM)
Cost: 100 Baht

Getting Here: It's an easy 10 minute walk from the Grand Palace or you can hop into a tuk-tuk.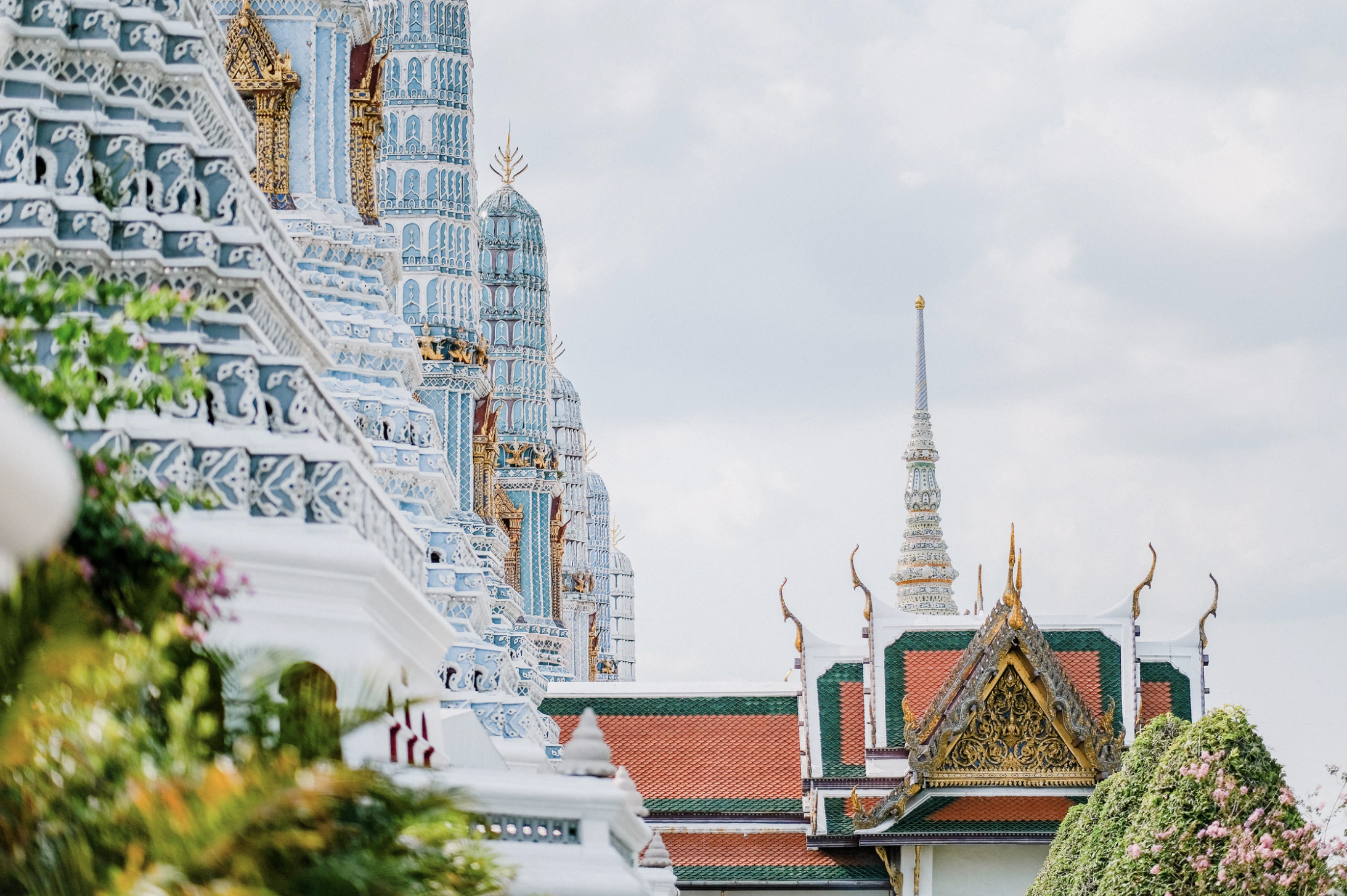 Wat Arun (The Temple Of Dawn)
Built in an intricate Cambodian style, this particular temple has been around for a few hundred years and appears on early European maps of the city. The pearly, painted porcelain is definitely ionic and seems to shine in the early hours at sunrise, or if you're lucky, during one of the pink-and-orange sunsets you can sometimes find in Bangkok.

Plan on climbing an insanely steep set of steps if you want to get to the higher viewpoints around the temple, and leave time to explore the surrounding gardens.
Hours: 8:00 AM to 5:30 PM (cross the river to get the best sunset view ever!)
Cost: 50 Baht
Getting Here: Walk down to pier 8 (Tha Tien Pier) which is right across from Wat Pho. You'll find regular boats to take you over to Wat Arun, for 3 Baht.
Tips: Get dinner at Eat Sight Story Deck so you can watch the sun set behind the temple. It's a bit pricier but the view is stunning. Check out the menu here.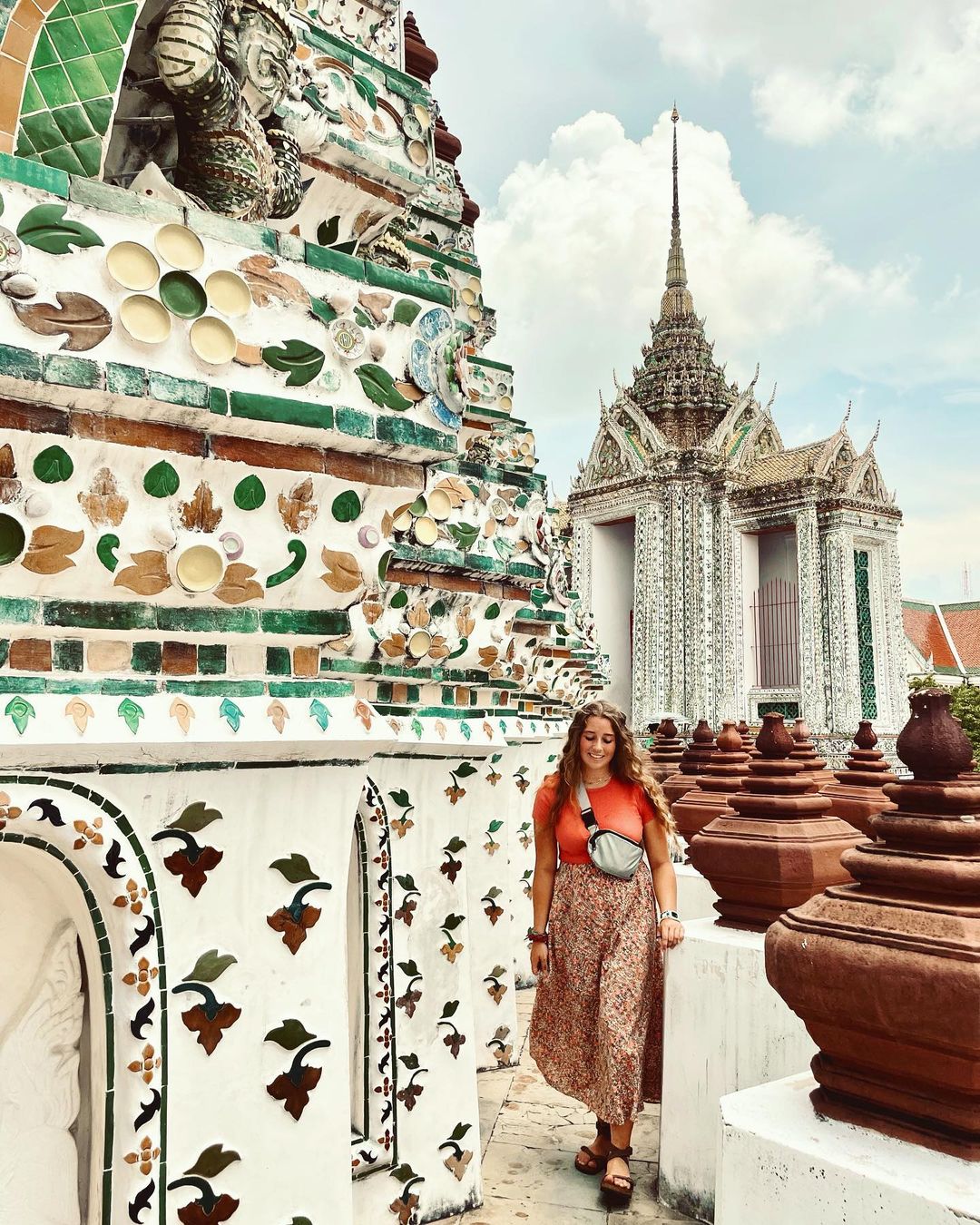 The Temple For The Church Of Jesus Christ Of Latter-Day Saints
In April 2015, President Thomas S. Monson, prophet of the Church of Jesus Christ of Latter Day Saints, announced during General Conference that there are plans to build a temple in Bangkok, Thailand. It's now open as of 2023.
This is the first Latter Day Saint temple in Thailand. In fact, it's the first in Southeast Asia, so it's huge news for all members of the church in Asia; Thai members used to travel to Hong Kong to go to the nearest temple, which is over 1,000 miles away.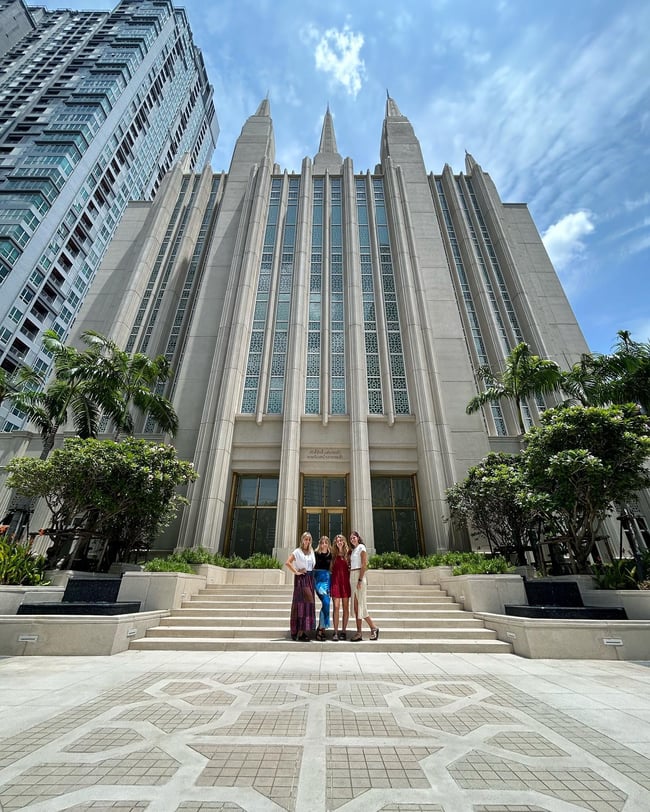 The Erawan Museum
This temple is one of the most unique and is a bit of a temple + museum combo. It's technically sitting just outside of Bangkok, but easy to get to. One ILP teacher said, "seriously the COOLEST museum I have ever been to!"
You can't miss the most notable feature — a gigantic 3-headed elephant perched on top of a structure, overlooking the grounds. You'll also find gardens and other sculptures, impressive stained glass ceilings, and lotus flowers for purchase that visitors like to release in a moving stream.
Getting There: You can take the BTS Skytrain to Bang Na station. From there the temple is still about 2-3 miles away, so you could easily jump in a taxi, or take bus #25 or #511 straight to the temple.
Hours + Cost: 8 AM-5 PM, 300 THB for foreigners
More Info: Check their website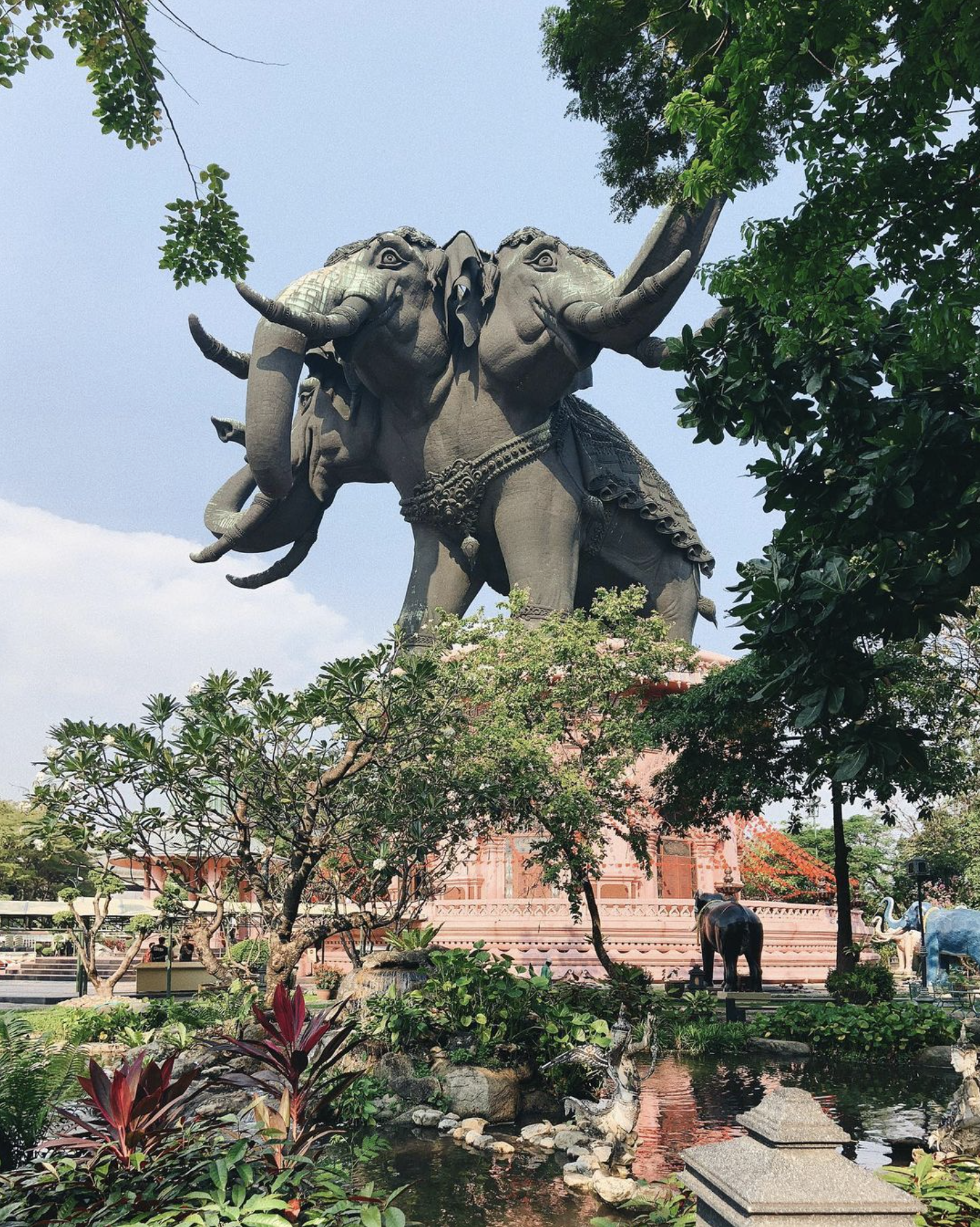 Parks
Ancient Siam
Not far from the Erawan Museum, you'll find this expansive 200 acre theme park. It's a bit of a lesser known attraction so you may not have heard of it yet, but in true Thai style, it's absolutely stunning, full of intricate designs. It's got a few names, but commonly known as the Ancient City, Ancient Siam, or Samut Prakan Ancient City, and home to Muangboran Museum.
The creator of the park, Lek Viriyaphant, also played a part in designs in the Erawan Museum, so if you have a chance to visit both spots back to back, you'll definitely find similar themes. It shows off models of different important landmarks throughout Thailand. Because it's such a large area, there are actually bikes available for free use so that you can explore it that way, so fun! Oh and we like going in the morning to avoid crowds as much as possible.
Getting there: Just take the BTS to Kheha station and it's close by from there, or alternately you could grab a taxi to take you directly there.
In Google maps, it's marked as "Samut Prakan Ancient City".
Learn more on their website

Entrance Fee: 700 Baht — you can often find steeply discounted tickets if you book ahead on Klook (and there are even tickets for nearby Erawan as well).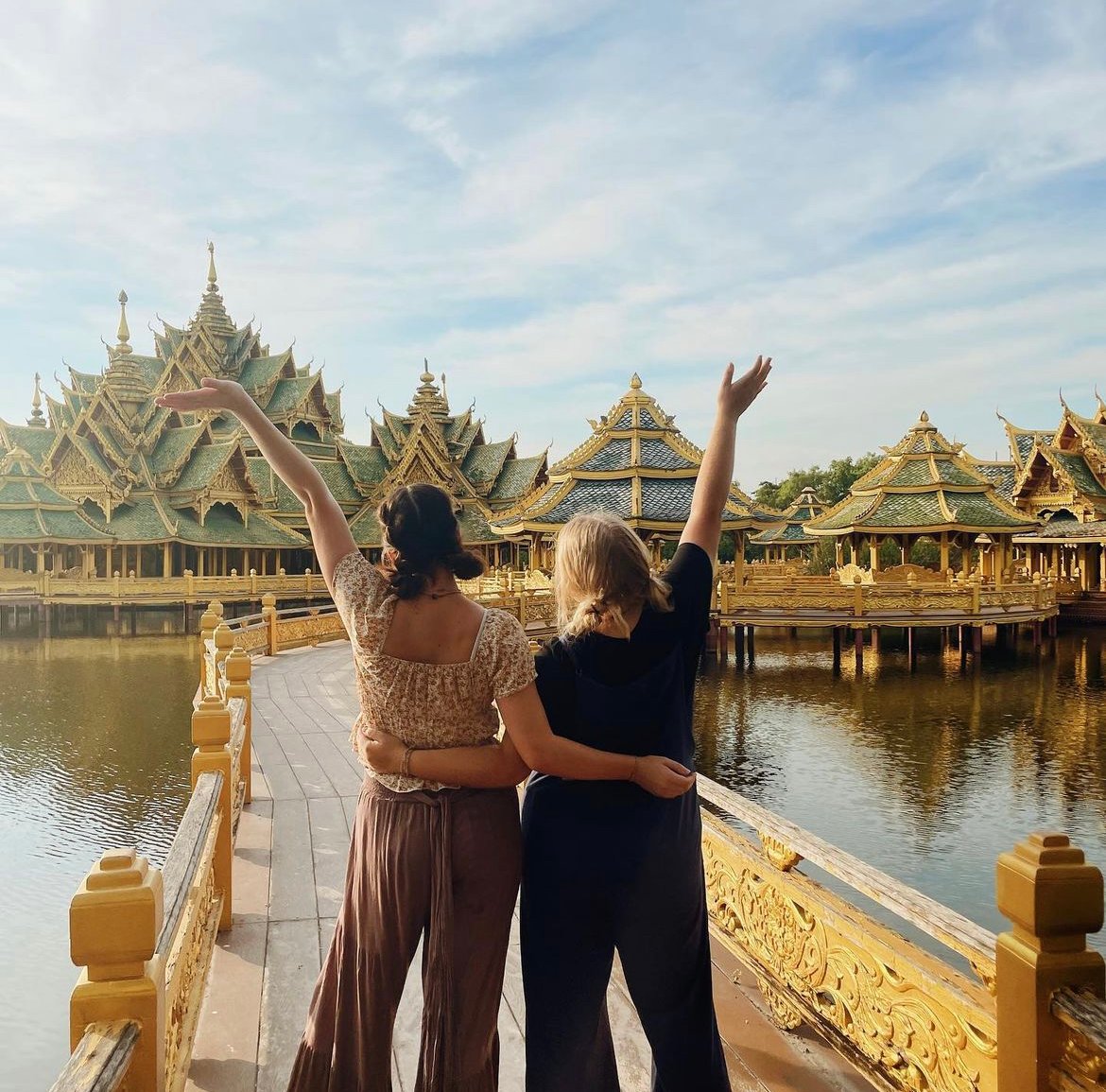 Markets
Floating Markets
As a head's up, these markets are technically about 2-3 hours outside of Bangkok, but most volunteers absolutely love visiting them so we're including them in this section on things to do in Bangkok. You really can do them in a day, and still have time to return back to the city to hit up a night market if you'd like.
There are several to choose from, but volunteers tend to visit the Damnoen Saudek Floating Market. We have a more in-depth breakdown of the Floating Markets here (with suggestions for some that are closer to the city if you're short on time).

Cost: Depends. Hiring a boat for the day is the best bet (150 - 400 Baht) instead of paying for little short rides throughout the day. Plus, you'll need to add on transportation to actually get to the markets which will depend on how you're getting there (tour, private driver, etc).

Getting There: Best to hire a driver or go with a hostel that arranges a tour. Volunteers mention Good One Hostel having a tour that'll take you to the floating markets and back, though you'll find others.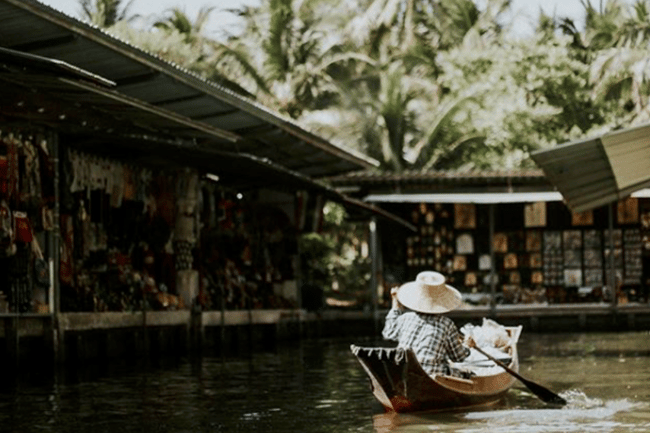 Khao San Road
Also known as the Night Market on Backpacker's Street, this is a huge mecca for all of your knock-off shopping needs, plus just a pretty fun experience. From food vendors selling our go-to street foods to rows of shops sporting backpacks, purses, sunglasses, shoes, souvenirs, etc. it's kind of the best place to window shop. You'll find better prices in the markets in Chiang Mai (and that's our favorite spot to shop), but that doesn't mean Khao San Road isn't fun to walk around.
Address: Khaosan Road, Banglumphu, Bangkok 10200
Hours: Best to visit after dark, though there are some stores and vendors open earlier.
Chatuchak Market
Get lost in some 8,000 stalls at this weekend market (which some claim as the biggest market in Asia). There are 26+ sections of souvenirs and supplies sold, broken up into categories. You'll find everything from art, food and drinks, plants, pets, souvenirs, clothing, shoes, and more in this sprawling market. You'll find everything from cheap knock-offs to more boutique clothing times and even day-to-day items that locals need. In part of the market there is some food and drinks sold, but make sure you have your own water bottle on you to stay hydrated. Much of the market is covered, but some is open air, under the sun.
It really is big and you could easily spend a couple of hours wandering and not even see everything. Stay close to your friends and have a plan in case you get lost. I went to Chatuchak with my friends and we actually did get separated! A couple of people wanted to shop at one vendor and a couple of others wanted to move on to the shop next door, and then before you know it, we were out of sight and lost each other in the maze of vendor stalls. Hopefully, you have an international data plan and can text each other, but if not, have a plan like checking in before moving on to the next vendor and having a meet-up point if you do get lost.
Hours: Friday (9:00 AM to 12:00 AM) Saturday and Sunday (9:00 AM to 6:00 PM)
Getting Here:
There are multiple entrance points to the market, but one easy way to get there is to take the BTS to Mo Chit Station. Exit through Exit #1 and walk until you see vendors selling clothes. You're in the clothing section of the market
Ride the MRT to Chatuchak Park Station, and go through exit #1. You'll see a small entrance that leads to the clothing section of the market.
You could also jump in a taxi and they'll usually drop you off at one of the main entrance points — when I went, they dropped us off right where the food markets were so we started off with a yummy drink!
Other Things To Explore
Night Cruise on the River
One ILP alumna hands down recommends taking a night cruise on the river that flows in and out of Bangkok. You can find a huge variety of options (some include a fancy and expensive dinner), but most are around 2 hours long. Plan on paying anywhere from $30 to upwards of $90, depending on what you book. Doing a quick search online can help you decide which option is best.
Find The Best View
Want to see the city sprawled out below you? There are a couple of places to do this, but volunteers tend to love the glass-bottom view of King Power Mahanakhon. You'll be able to peer down at skyscrapers that look so tiny! Get the info here on hours, prices, etc.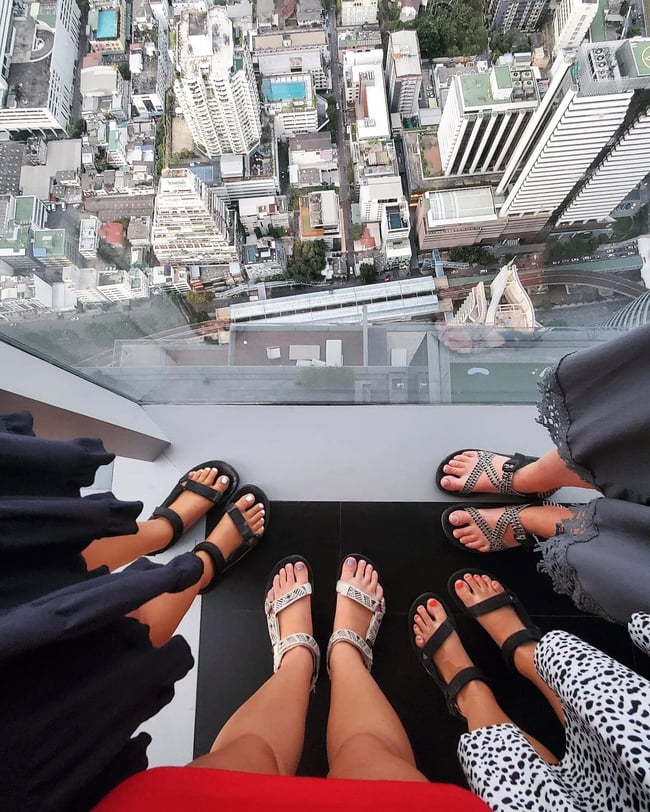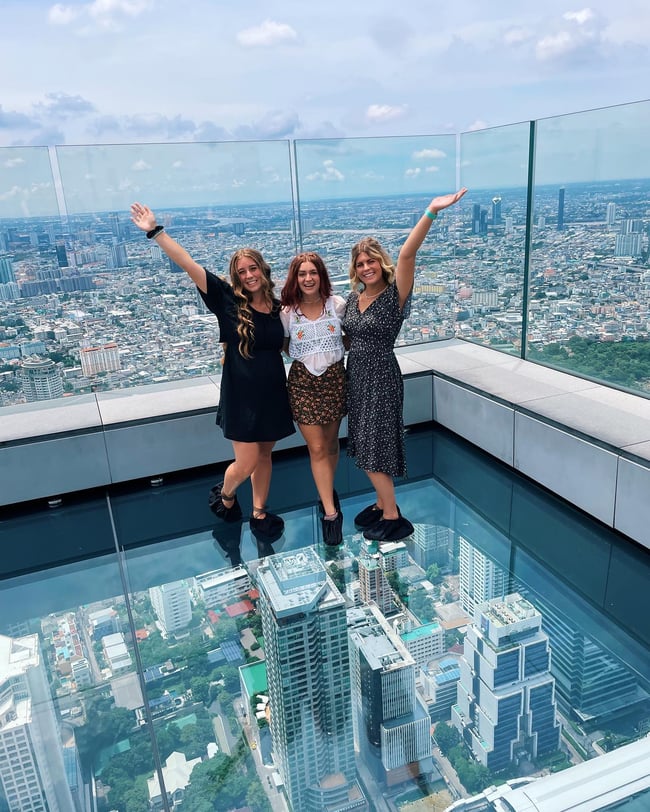 Places To Stay
As with any huge city, there are a ton of places to choose from when you're picking a hostel or hotel. We have talked to a few of our volunteers to get their suggestions on where to stay that are close to the things you want to see, have a helpful staff to help you book tours or help you get around the city, and have other perks (like a free breakfast):
The best hostels to stay at in Bangkok (according to ILP volunteers).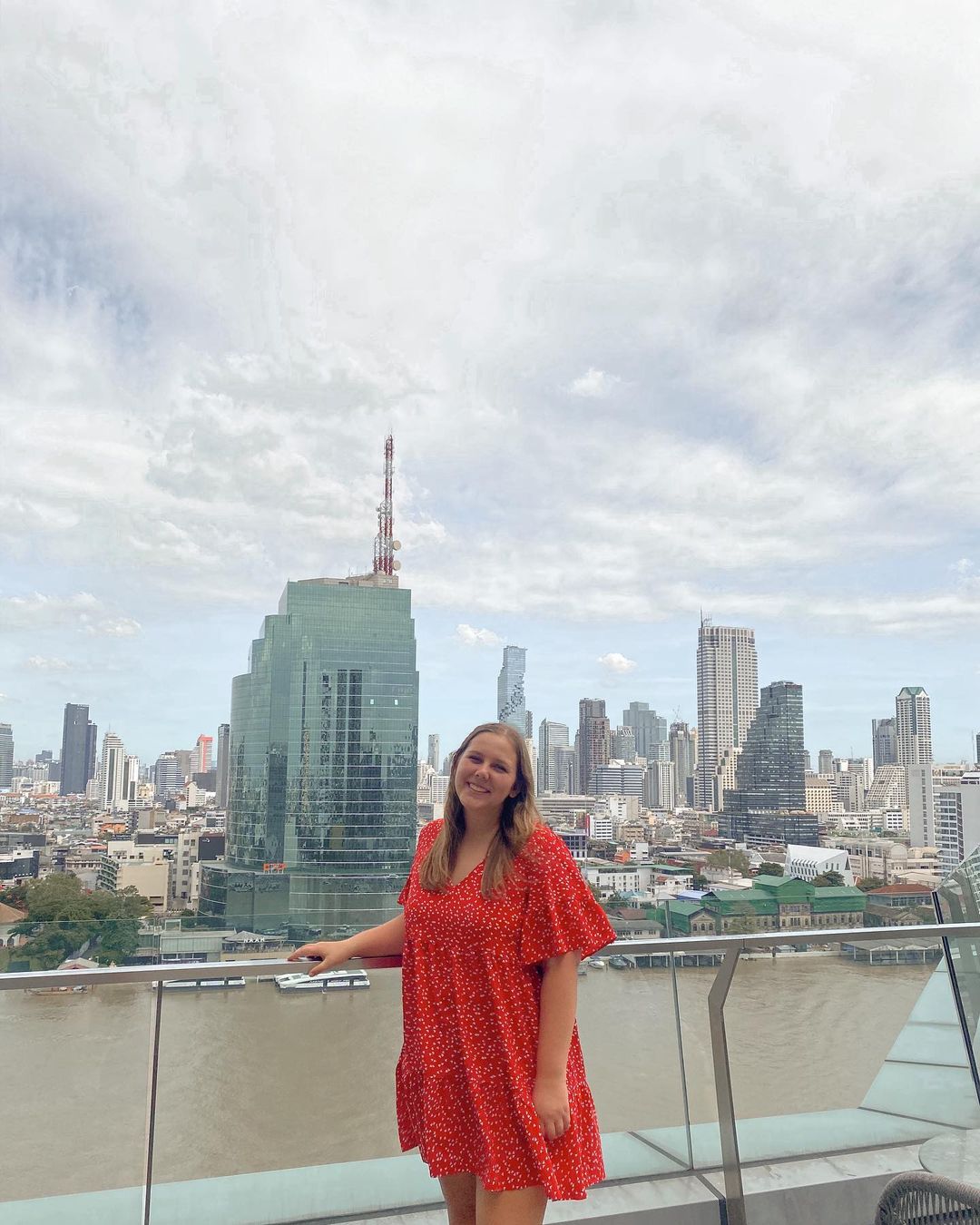 Restaurant Recommendations
Another place where you can choose from literally hundreds and hundreds of places to eat, we've pulled together a few recommendations to help you navigate your meals in Bangkok:
Eat At A Sky Bar
This is a recommendation made by pretty much all of our volunteers who take the chance to have dinner above the bustling city of Bangkok. There are several spots around the city where you can sip drinks, have dessert, or a full-on dinner on the 40-something floor of a building that gives you quite the view.
We're loving Zoom Sky Bar And Restaurant. Make sure you ask to go outside, and make the additional climb up two more stories to get the real outdoor experience (it's a larger terrace than the one you might be led to initially). Such a good spot for a 360 view of Bangkok.
Hours for Zoom are 5:30 PM - 1 AM. I'd get there right at opening so that you can time it to catch the sunset during dinner.
When I went, I was looking like a grungy backpacker (which I basically was). I definitely felt out of place when I realized how nice the restaurant was. If you're a budget backpacker like me, just realize this is a special night so put on your best outfit and maybe even do your hair and makeup!? Oh and things are always changing, so check out reviews here before you go.
Address: ป้ายรถประจำทาง จันทร์ ซอย
41 2 Khwaeng Thung Wat Don, Khet Sathon, Krung Thep Maha Nakhon 10120, Thailand
If you don't take a taxi, you can be dropped off nearby by riding bus 1 to this stop: ป้ายรถประจำทาง สะพานปลา 1.

From there, it's just a short walk to the restaurant.
Coconut Ice Cream
You'll find vendors all over the city (and in places like the Thai Islands) selling fresh coconut ice cream, drizzled with some chocolate or strawberry, and topped with peanuts. So yummy and less than $1. Check on the walk from the Grand Palace to Wat Pho, or the vendors around Chatuchak market.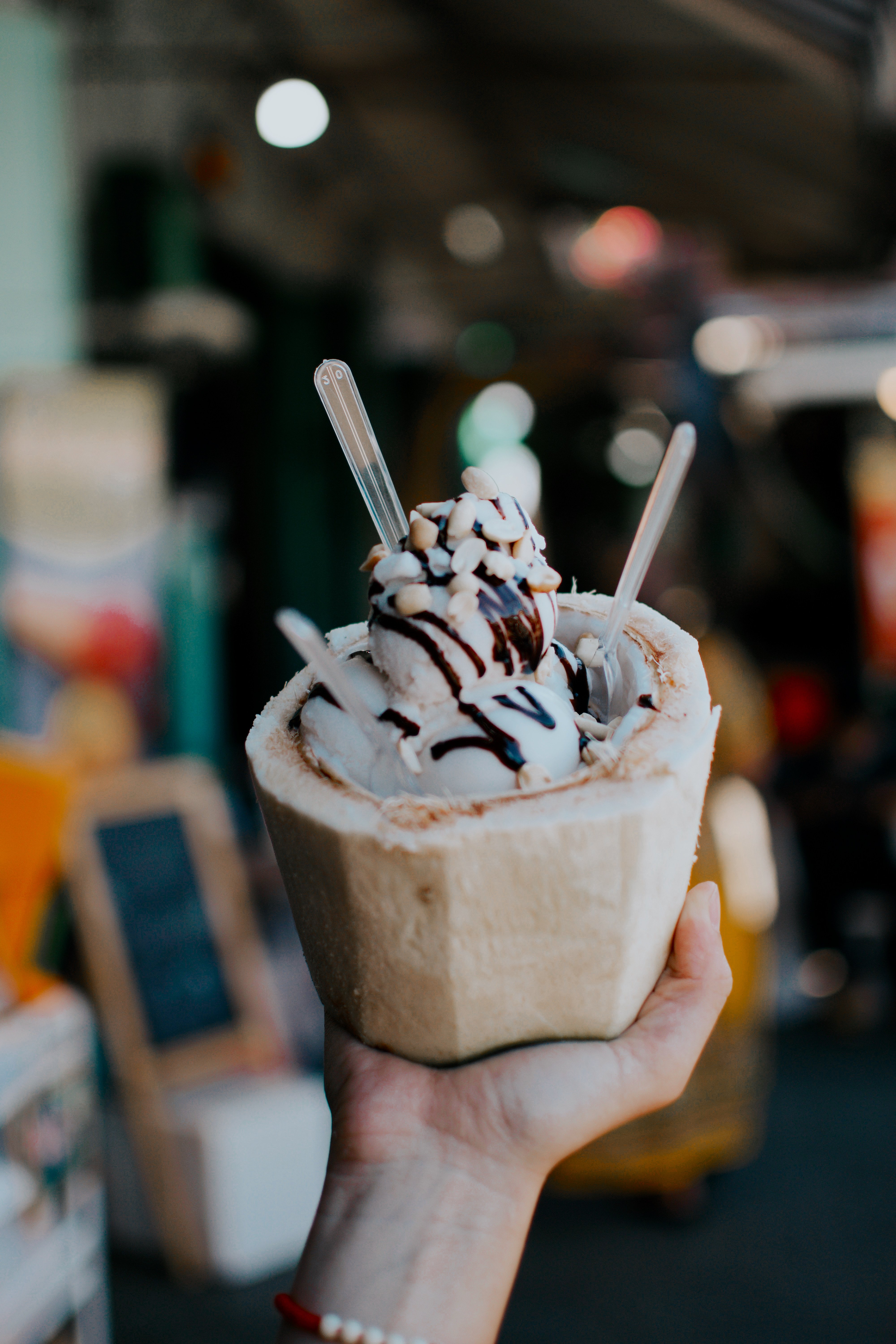 Sunrise Tacos At The Terminal 21 Mall
We love the food in Thailand, but after living in Asia for a few months, you might want something different which is where Sunrise Tacos comes in. Get your fill of fajitas, tortilla soup, horchata and other goodies on the 4th floor of this huge mall.
The Unicorn Cafe
A favorite of anyone who loves rainbows and unicorns, this Bangkok cafe is sort of the stuff dreams are made of. We love their ice cream and waffles, but you can get other magical creations while you dress up in a unicorn onesie.
Here's how to get to the Unicorn Cafe.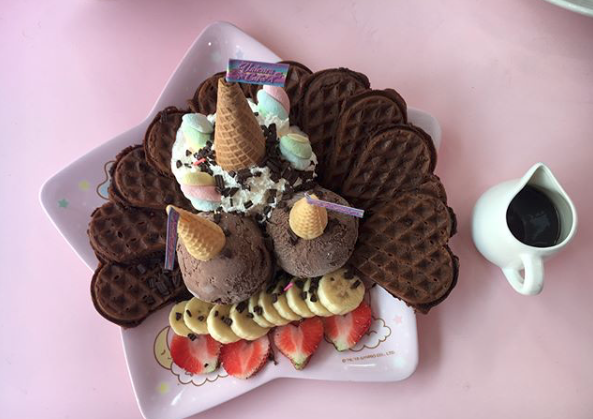 + Nearby Adventures
Since most ILP volunteers hang out in Bangkok on a weekend or travel there before hopping off to another country (looking at you, Bali!) quite a few volunteers make a few trips to Bangkok just so they can see it all … then want to go again to experience some of the country's best hidden gems that are a couple of hours outside of the city:
A Few Bangkok City Tips
Scams and Tricks
Like any big tourist city, there are some common scams that happen in Bangkok. It's not a big deal, but knowing they happen and tips to help you spot them can make you a more informed and confident traveler. We mentioned the Grand Palace scam above, but here are a couple of others that we've heard about.
If someone hands you a bag of birdseed to feed the pigeons, just know it's not for free. Just shake your head, keep your hands in your pockets, keep walking, and refuse if they try to put it in your hands.
And that really applies to similar tricks that happen all over the world in major tourist destinations — if someone offers to carry your bag at the airport, offers to let you hold their pet _____(insert any cute animal) and take a photo, or hands you a free, simple braided bracelet to try on. They're hoping to drop the price on you after the fact and demand that you pay for the service they just gave you. Have you ever seen people on the highway in big cities in California who start washing your windshield while you wait in traffic, hoping that you'll tip them? It's the same idea with these tricks. Just always keep in mind that it's very rarely free.
Taxis and even tuk-tuks are another area where scams tend to happen. The best thing is using something like Uber where the price is determined by a third party, but it's also pretty typical to find taxis that are metered — that means the cost goes up per mile and you can see a little device on the dash that tells you what the price is currently at, depending on how far you've gone, and you don't know the total cost until you arrive at your destination. But sometimes you're using a car of tuk tuk that isn't metered. In that case, make sure that you decide on the price before you even get in the vehicle. One time I got in a taxi and as we were driving off, I noticed the meter wasn't counting the distance and he said, "It doesn't work" and kept driving. I asked what the price was going to be, but he wouldn't say. I knew immediately that I was sort of out of luck and in the middle of a scam. Luckily I had done some research ahead of time and knew the ballpark amount that is typically paid for the route we were going because when we arrived he tried to make me pay 3 times that amount "because of the highway tolls". I had to be a little confident and aggressive in talking the price down to a fair-ish range, but I could have avoided that entire situation if I had just asked him about the price before I got in the car.
It can get a little complicated since it varies depending on how you're traveling, but I always suggest researching blogs and things online to get an idea of how much you should be paying. I prefer to use an app like Uber or Lyft when I can since everything is arranged ahead of time in the app, but that's not always available. So if you're using a taxi type of service — Never get in the car unless you know how the fee will be decided (whether it's by meter or whether you need to just agree on a price before the ride starts). There should never be an additional fee to put your luggage in the trunk (yep, sometimes they try to demand that one). Oh and at the Bangkok airport, always always always get your taxi from the designated taxi area. Don't just go with someone who randomly yells out asking if you need a taxi. It's worth it to wait in that long taxi line. Here are a few other tips to look out for when using taxis anywhere in the world.
One last thought ... know that scams do happen to even the most experienced travelers, so don't let it get you down if it happens to you. Seeing Bangkok is an incredible experience and spending a little extra money because you got tricked into doing so shouldn't put a damper on your overall view of the beautiful city and the people that live there. Scams are such a small part of travel.
How Long Should I Stay?
We've mentioned before, but most ILP volunteers can fit in quite a bit on a weekend to Bangkok and tend to visit multiple times to experience not only the city but other destinations that are outside of it. A 2-day visit is a pretty good goal to shoot towards, or 4-5 days if you plan on seeing Bangkok, plus another spot place like Lopburi, some nearby ruins, or the floating bungalows.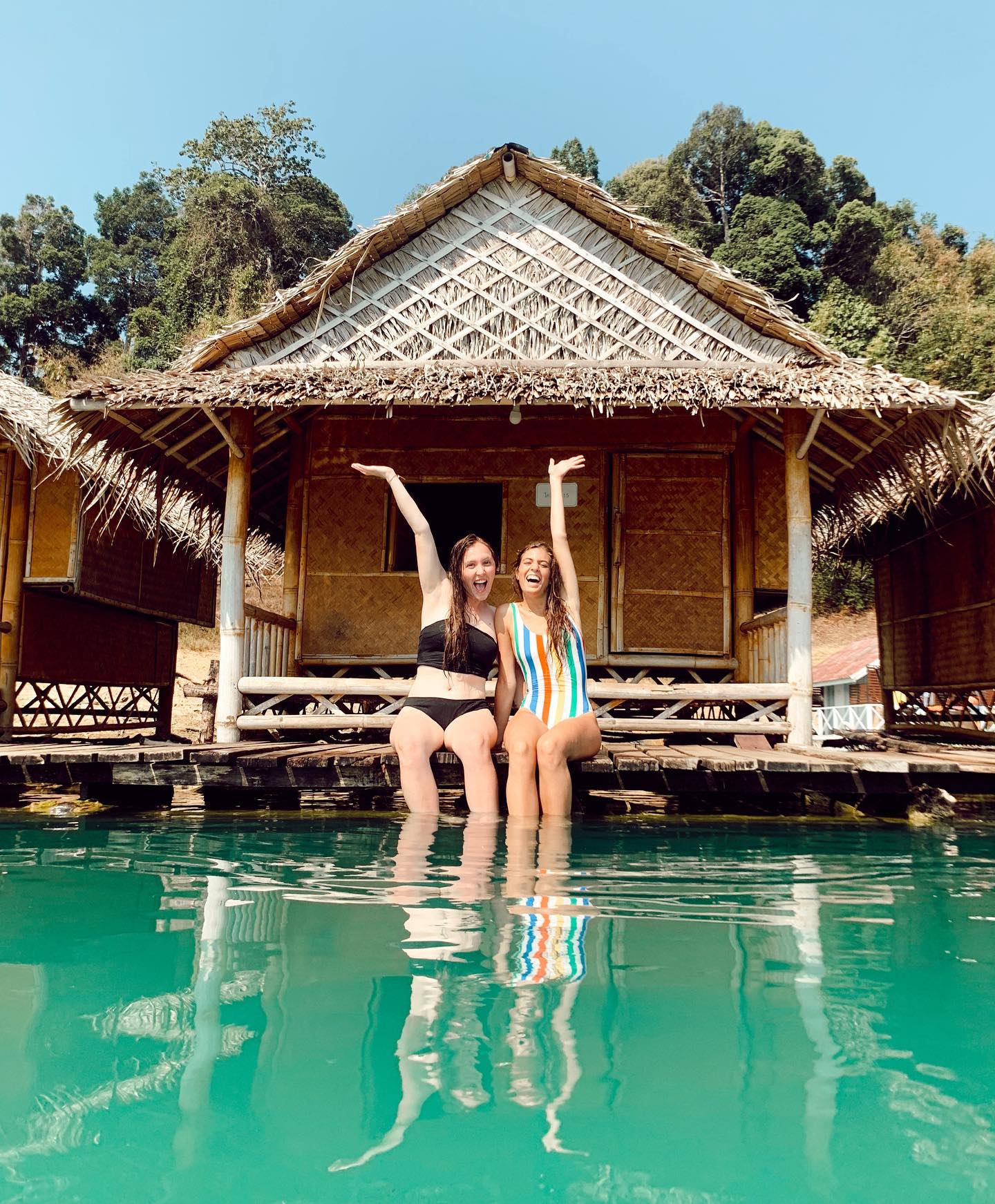 + A Weekend Itinerary
To help you map out a 2-day itinerary, we've pulled together an idea of what that might look like:
Saturday
Let's say Saturday is your first full day in Bangkok. Start early in the morning to avoid crowds and avoid the heat.
Visit the Grand Palace (opens at 8:30 AM)
Tour Wat Arun
Grab Lunch
Shop at Chatuchak Market to get out of the sun
Visit a Skybar for dinner
Sunday
Again, you'll want to start early, especially since you're traveling to the floating markets:
Half day at the Floating Markets
Tour Wat Pho
Tour Wat Phra Kaew
Take a Night River Cruise
Or Shop on

Khao San Road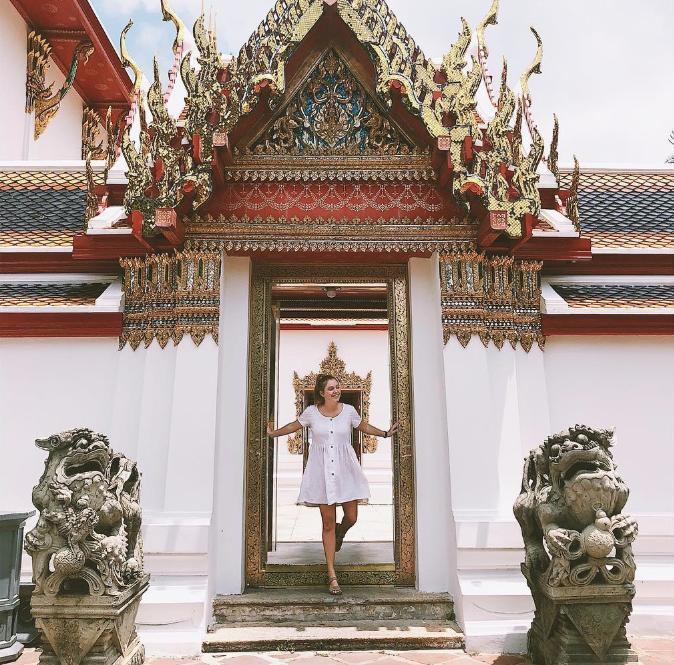 Getting To Bangkok
By Plane
Bangkok has two airports you need to be aware of: Don Mueang International Airport (DMK) and Suvarnabhumi Airport (BKK) and the two are about an hour apart (more with traffic). Both airports have flights in and out of Thailand, as well as domestic flights, so you'll need to keep it straight which airport you're flying in and out of. Our ILP volunteers are living up near Phitsanulok where you can find crazy good deals to Bangkokg (it's a one hour flight) on airlines like Nok Air and Air Asia.
Both airports are about 30-50 minutes outside of the city, so once you land, you'll need to factor in the time it takes to hop on the metro or grab a cab to take you to where you want to go.
By Train
This is the longest option, but you can get a one-way ticket on an overnight train for about 500 Baht from Phitsanulok. It's a convenient option because the train drops you right off at the airport. One suggestion: Volunteers suggest booking 1st or 2nd class tickets and avoid booking a lower class. Typically, the trains in Thailand usually aren't as nice or comfortable as the buses, but it's better if you book a more expensive ticket. The train rides are about 6+ hours. You can look at bookings here.
By Bus
You can also take a long distance bus to Bangkok. It's the most affordable option (with tickets around 300 Baht or less for a one-way ticket). The bus rides are a good overnight option since it'll take you 6-7 hours to arrive. You can look at bookings here.
By Van
One major perk of volunteering in Thailand with ILP is that you're set up with a Local Coordinator who can help you arrange a few things that you might not have been able to. Some groups have gotten help hiring a van to take them down to Bangkok + drive them around for the weekend. The price will vary depending on how many people you're splitting it with, but it can be very cost effective. Plan on a 5+ hour drive.
Getting Around Bangkok
When it comes to getting around this huge city, the easiest way is to hail a tuk-tuk or a taxi. The traffic in Bangkok can get very congested with some 14 million vehicles on the roads, so just keep that in mind when you're traveling around to certain places and need to get there in a hurry. As a general rule, taxi prices start at 35 baht for the first kilometer, then will tack on 5.5 baht for each kilometer. You'll also pay if you get stuck in traffic. All in all, even if you travel 10 km, you'll only pay around $3 which isn't bad if you split the fare. Make sure your driver always, always uses the meter.
Tuk Tuks are also affordable, with a 10 km ride costing about 30-60 kilometers if you bargain a price. Set the price before you get inside to help avoid being charged too much.

Bangkok also has a skytrain system (BTS) and an underground metro (MRT). The rates are very affordable for a ticket if you'd like to go that route. You'll find metro stations and BTS stations pop up on your Google Map app.

Here's a map of the BTS
Here's a map of the MRT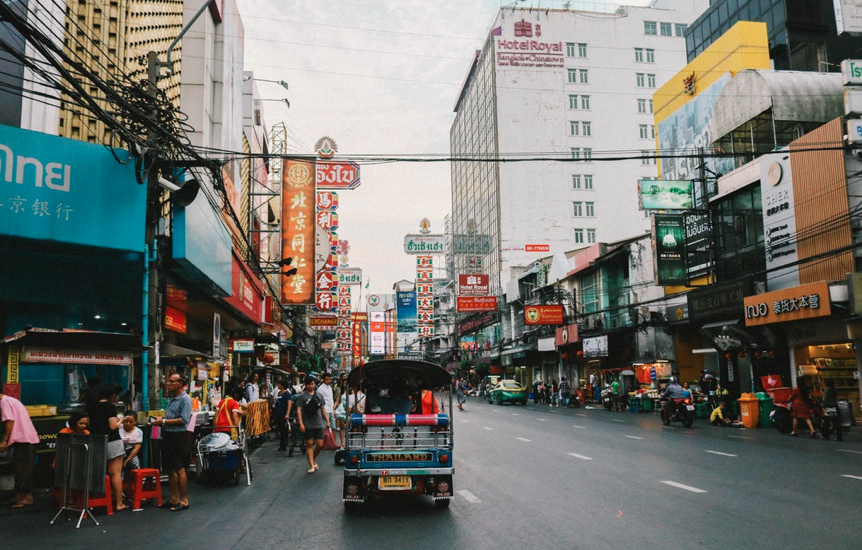 Interested in living in the land of smiles?
You get to see all the best of Thailand by living there as an ILP volunteer. Spend a semester teaching English part time, with weekends off and vacation days to experience everything from Bangkok to the northern jungles, to the beaches in the south.