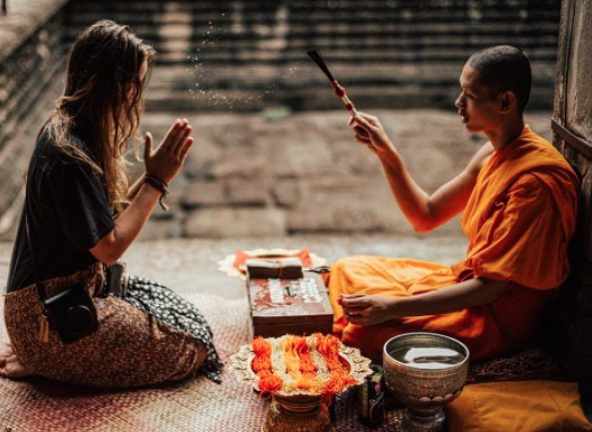 We love the beaches in Thailand but if you ask us, Chiang Mai is where it's at.
I'm sure you know why you want to visit Thailand. Maybe it's the idea of sipping on dreamy smoothies. Or heading down to white-sand beaches. Or running into monkeys while you explore ancient ruins. It's hard to say goodbye to this country after just a week or two, which we why we love the idea of volunteering here for a semester.
---
See how you can make volunteering in Thailand actually happen
---
If you're looking for more convincing, just know that Chiang Mai is a favorite vacation spot for our volunteers. It's close enough to visit on a long weekend (many volunteers go more than once!) and is crammed full of some of our favorite adventures. Here's your go-to guide for visiting this favorite Thai city.
Our Favorite Things To Do
Just as a head's up, you might be able to get a discount with some of these tour options or cooking classes if you mention you are volunteer English teachers. It's worth asking about!
Take A Cooking Class
Chiang Mai is a mecca for cooking classes. If you love the bowls of the best noodles and coconut-based curries, you would love the chance to get your hands in the kitchen and learn how to make your favorites yourself. The kinds of classes you can take vary: Chiang Mai is home to classes for beginners and full on cooking courses that are weeks long for experts.

We have a guide to choosing a cooking class in Chiang Mai which is full of recommendations, prices, and things to expect, but this is an activity we highly recommend doing! You can book half or full day tours.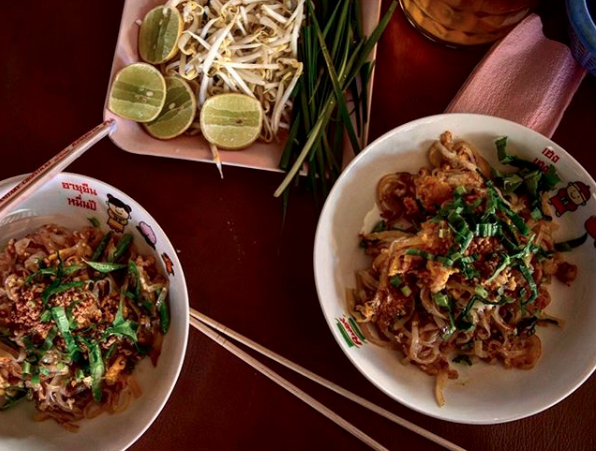 Markets
There are a ton of markets in Chiang Mai so keep an eye out for the cheapest things to buy in Thailand, because you'll find most of them here. Most volunteers tend to do the majority of their souvenir shopping in Chiang Mai because you'll be able to find everything you want to buy for a pretty good price. You'll end up seeing the same trinkets over and over again but you'll find all the classics here: elephant pants, spices, carved elephants, paintings, etc.
When it comes to markets in Chiang Mai, you have a lot of options. Here's a breakdown of the markets to visit in Chiang Mai, but if you only have time to visit one, we suggest planning your trip to match up with the weekend night markets.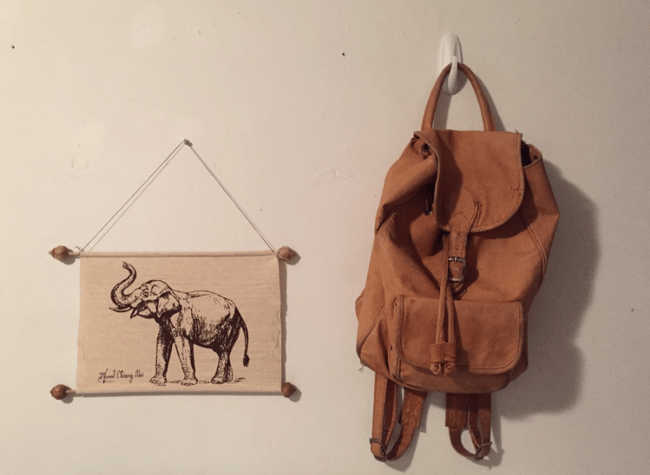 Elephants
Elephants are one thing that most people think about when they think of Thailand, and Chiang Mai is one of the most popular places for those elephant experiences. Similar to the cooking class situation, you will find hundreds of companies to experience elephants with. It's daunting, especially when you think about the ethics behind some of these companies who are there to exploit these gentle giants. We do not want to endorse these.
Instead, we suggest you do your research about which elephant sanctuary to choose! Volunteers have found certain companies that are promoting elephant rescue, sanctuary and rehabilitation and have their recommendations ... plus, one overnight hotel that lets you get up and close to these beautiful animals.
We love that Chang Chill is dedicated to letting elephants simply be elephants, and not forcing them to entertain tourists. Chang Chill is known to be an observation-only facility in Chiang Mai where you can come see these beautiful animals without worrying about causing harm.
This is typically a half or full-day activity.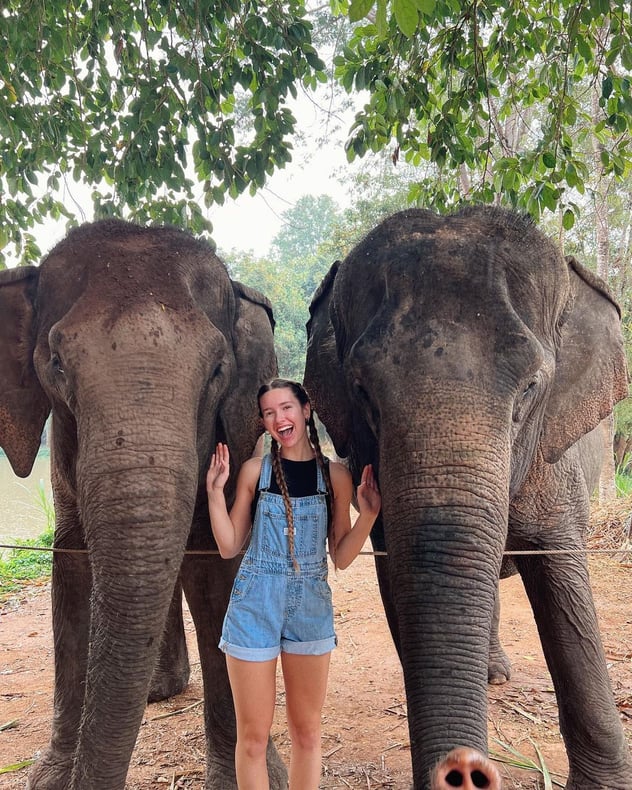 Ziplining
You're near the jungle, after all, so you might as well go zip lining. Groups in the past have recommended Flying Squirrel; they have a gold package that includes 30 platforms for about $80 which included a tee shirt. Pick up and drop off, and lunch is included. It's an all-day adventure.

Other groups went with Dragon Flight; They have a package that is $55 per person which includes transportation, a t-shirt, lunch, and almost 50 platforms. Groups report that the experience was crazy fun and the company had really nice and helpful guides to help you through to course.
We have also had good experiences with Eagle Track Zipline. They have several packages so be sure to explore which each includes to get the best for you, but most include several platforms, bridge walks and more, with prices around $40 - $65.
Since it takes 30-90 minutes to get to the actual zip lining course, this tends to be a full-day activity.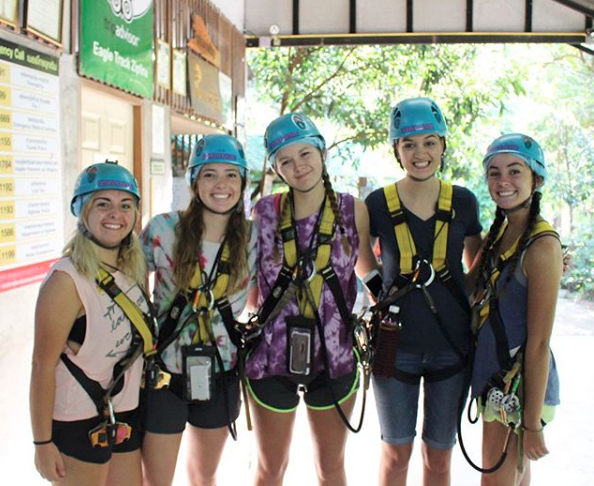 Jungle Trekking
Some ILP volunteers have visited Chiang Mai a few times during their semester (it's close enough to do on a weekend) so visiting multiple times means getting to do everything you want to in Chiang Mai. If you have more time, some ILP volunteers loved doing a 2-day jungle trek. One group booked with Chiang Mai Trekking with Piroon and they "11/10 recommend!".
The 2-day trek included a guided hike, meals, and a stay in a hill tribe village, and the opportunity to feed elephants at a local sanctuary. Prices for the 2-day trek are 3,000 baht if you have more than 5 people going.
Temples
You'll see a lot of temples in Chiang Mai but one of the most impressive is Wat Phra That Doi Suthep ("wat" is Thai for temple). You absolutely can't miss taking the trip up to the temple grounds to admire the glittering gold tower and surrounding complex, legendary white elephants, meditation rooms, and other decorated shrines. You could easily spend an hour here (or more) looking at everything.
Probably the easiest way to get there is to hop into a songthaew (usually red trucks/taxis that can drive you places). You can almost always find them on Huay Kaew Road near the Zoo. Plan on paying about 40 baht per person each way.
Entrance is 30 baht. Like most Thai temples, you'll need to remove your shoes, and ladies — make sure your shoulders and knees are covered (We suggest wearing some flowy elephant pants or a long floor length skirt). If you forget, there are wraps available.
Plan on seeing this temple before or after a full/half day activity, or fit it into a day of site-seeing in Chiang Mai.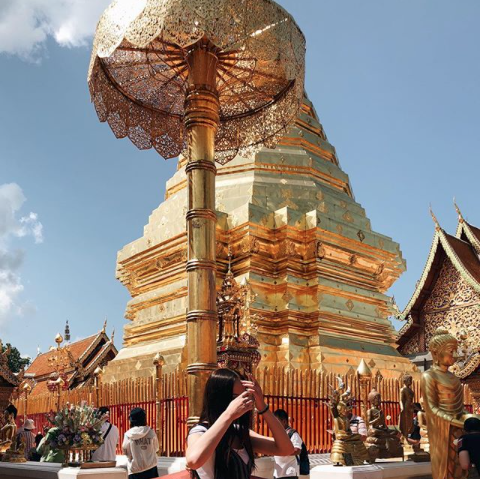 The Lantern Festival
If you time your visit right, you can take part in one of the most magical things ever (we're not even exaggerating). The Lantern Festival happens in two different spots just outside of Chiang Mai, usually in the months of October - November, so perfect for our Fall semesters.
You can get more details about the Thailand Lantern Festival here.
This is an evening activity, so you can easily fit in another adventure earlier in the day and make it to the fields where the lanterns are lit just after sunset (or a bit later).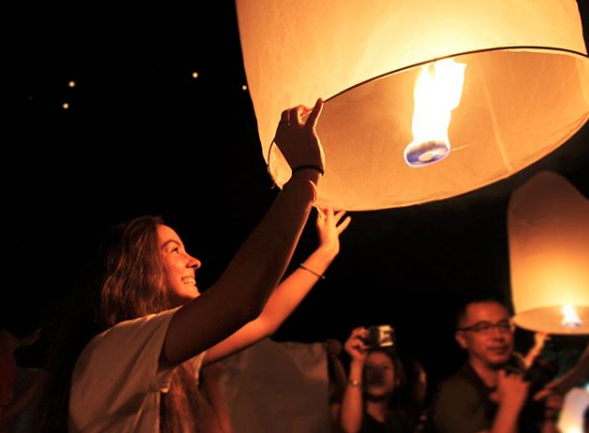 Places To Stay
There are no shortages of places to stay in Chiang Mai. We have what volunteers in the past have recommended, but feel free to click the link and see what other visitors have said by reading reviews on Hostelworld.
The Hobnob Hostel
Here is what one group said about their stay: "Our group stayed at The Hobnob Hostel in Chiang Mai. It's in the upper west part of the square and is really close to tons of cute cafes, shops, and night markets. The hostel itself is part of a cafe, everyone who works there is so sweet and fun to talk to! And they have really good burgers and brunch foods. We also discovered the coolest thrift store ever, it's called Love70s, really close to the Hobnob Hostel." Book here.
So Hostel
One ILP Thailand head teacher gives this place five stars and even says "it's the nicest hostel I've stayed in" (and she's had a few semesters of experience). So Hostel is right in the center of Old Town, right across the street from a massage parlor, which you can definitely take advantage of. Dorm beds are about $6-$10 per night.
Haus Hostel
Cozy is the word that comes to mind with this hostel. You'll find lots of little reading nooks a rooftop lounge for hanging out after a day of adventuring in Chiang Mai. Haus Hostel has a great location and extremely helpful staff willing to help you book things to do in this city. Dorm rooms are complete with a reading light and a charging port, with prices around $11 per bed.
Monkey Toe
One ILP volunteer had one word to say about her stay: "Excellent!". This hostel is decorated with artwork and crafts made by the owners themselves which lends this place some charm. Complete with a cool hang out area (plus a pool table) and helpful staff, dorm rooms at Monkey Toe are also affordable, with bunks around $6 per night.
Bed — Chiang Mai Gate
This place is a nicer hotel, so if you feel like splurging, try this one out. Situated near a few bucket list places you need to experience in Chiang Mai (like a top rated cooking school and a massage house) Bed has fabulous service, excellent food, and a gorgeous pool to hang out it. A double room is about $80 per night, adults only.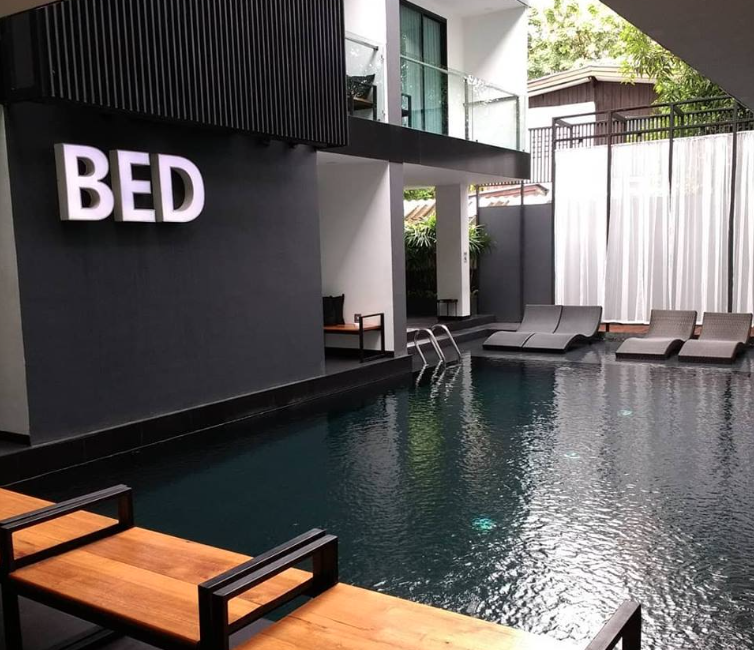 Muan Hostel
Another spot with great staff, wonderful design, and a superb location, Muan Hostel is right by the Sunday Market street and has a "hammock cafe" which we think should be a part of every hostel in Thailand. There is also a 24/7 mart nearby which is handy for snacks and water. Dorm rooms are around $12.

Hostel #11
Find Hostel #11 in the Old -Town of Chiang Mai, within walking distance to a few of the city's temples. The street where you can find Hostel #11 is on is full of little cafes and eateries which is also convenient. Rooms here are basic, simple, and clean, with double bed room prices hanging around $16 (for two people).
Thai Thai Hostel
Hang out in a common room decorated with Thai-carved wood in this hostel. We love the good location and the room set up (complete with a lamp and bedside power socket for charging your phone). This hostel also supplies lots of information about tours you can set up in Chiang Mai. Dorm rooms at the Thai Thai Hostel are around $8.
The Glur Chiang Mai Hostel
Free breakfast and a pool await you at the Glur hostel. It's a bit far away from some of the places you might want to explore, but maybe the pool and breakfast make it worth it. Reviews do mention that since there are several private rooms, you'll find some families and couples here, instead of a more backpacker based clientele. Find dorm rooms around $7.
Chiang Mai Gate Capsule Hostel
You'll find very helpful staff at the Chiang Mai Gate Capsule Hostel. Close to a couple of temples to explore and a variety of tours and excursions you can book with the hostel; dorm room prices are cheap (around $4-$5).
S*Trips the Poshtel
Get "the comfiest hostel beds we've ever stayed in with some amazing breakfast in the AM", according to one ILP volunteer. Another spot that is within walking distance to the night market, you'll find dorm beds for about $9 per night at the S*trips The Poshtel.
Places To Eat
We know you love Thai food, but Chiang Mai is also home to some cuisines you miss from home. We have our favorite restaurant recommendations here:
Salsa Kitchen

There is Mexican food in Chiang Mai. I repeat, there is Mexican food in Chiang Mai! This is the closest thing you'll find to Americanized Mexican food in all of Thailand according to some volunteers, is at Salsa Kitchen. Order up quesadillas, enchiladas, burritos and some vegetarian and vegan options too (which we love).
Address: 26/4 Huaykaew Rd, Su Thep, Amphoe Mueang Chiang Mai, Chang Wat Chiang Mai 50300, Thailand
Hours: 11:00 AM to 11:00 PM
Dukes
Here's what one volunteer said: "If you're looking for some of the best pizza in Thailand, go to Dukes restaurant!!" It's an American restaurant and bar which serves burgers, pizza, sandwiches and other foods you might be missing from home.
Address: 49/4-5 Chiangmai-Lamphun Rd., T.Watkate A.Muang, Chiang Mai 50000

Hours: 10:30 AM – 11:30 PM (last order 10:30 PM)

Visit their website here.
Mad Dog Pizza
Though you can order your favorite pizzas, this restaurant does serve other dishes like apple pie and ice cream, a full English breakfast, steak and potatoes, hot sandwiches and a killer breakfast, for good prices.
Address: 9/3 Mun Mueang Rd, Tambon Phra Sing, Amphoe Mueang Chiang Mai, Chang Wat Chiang Mai 50100, Thailand
Hours: 8:00 AM to 11:00 PM
The Larder Cafe
You have got to order the French Toast at this restaurant. It's delicious, but so are loads of other options on their menu (like avocado and bacon sandwiches. YUM).
Address: 3/9 Sukkasem Rd | Suthep, Chiang Mai 50200, Thailand
Hours: 8:30 AM to 3:00 PM
Our Favorite Day Trips + Nearby Vacation Spots

Day Trips
Come splash in Chiang Mai's Grand Canyon! This place is a cool little spot outside of the city of Chiang Mai. You get dive into blue pools, lounge on bamboo decks and play on inflatable floating challenge courses. That link has info on ticket price and details on how to get there.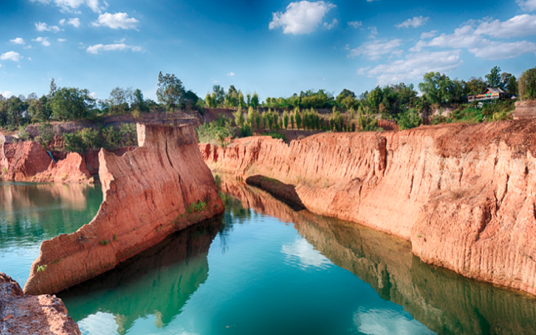 Climb this sticky waterfall. Just outside of Chiang Mai is a pretty unique waterfall. The rock the water flows on is "sticky" — instead of smooth glossy stones, there are textured rocks that have enough grip that you can climb up them. That post has all the info you'll need to get there, and suggestions on what you should bring with you. It's a fun and unique little side adventure.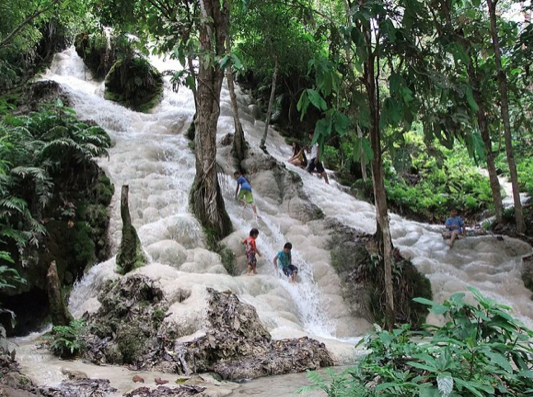 Nearby Vacations Spots
Pai is a spot most tourists miss. It's a cool, chill, hippie mountain village to the northwest of Chiang Mai. Come for a couple of days trekking in the mountains, exploring darling little shops and cafes, and relaxing in our favorite hostel.
Admire the White Temple in Chiang Rai. You'll see your fill of Thai temples after a semester in this country, but the White Temple in nearby Chiang Rai is astonishingly unique.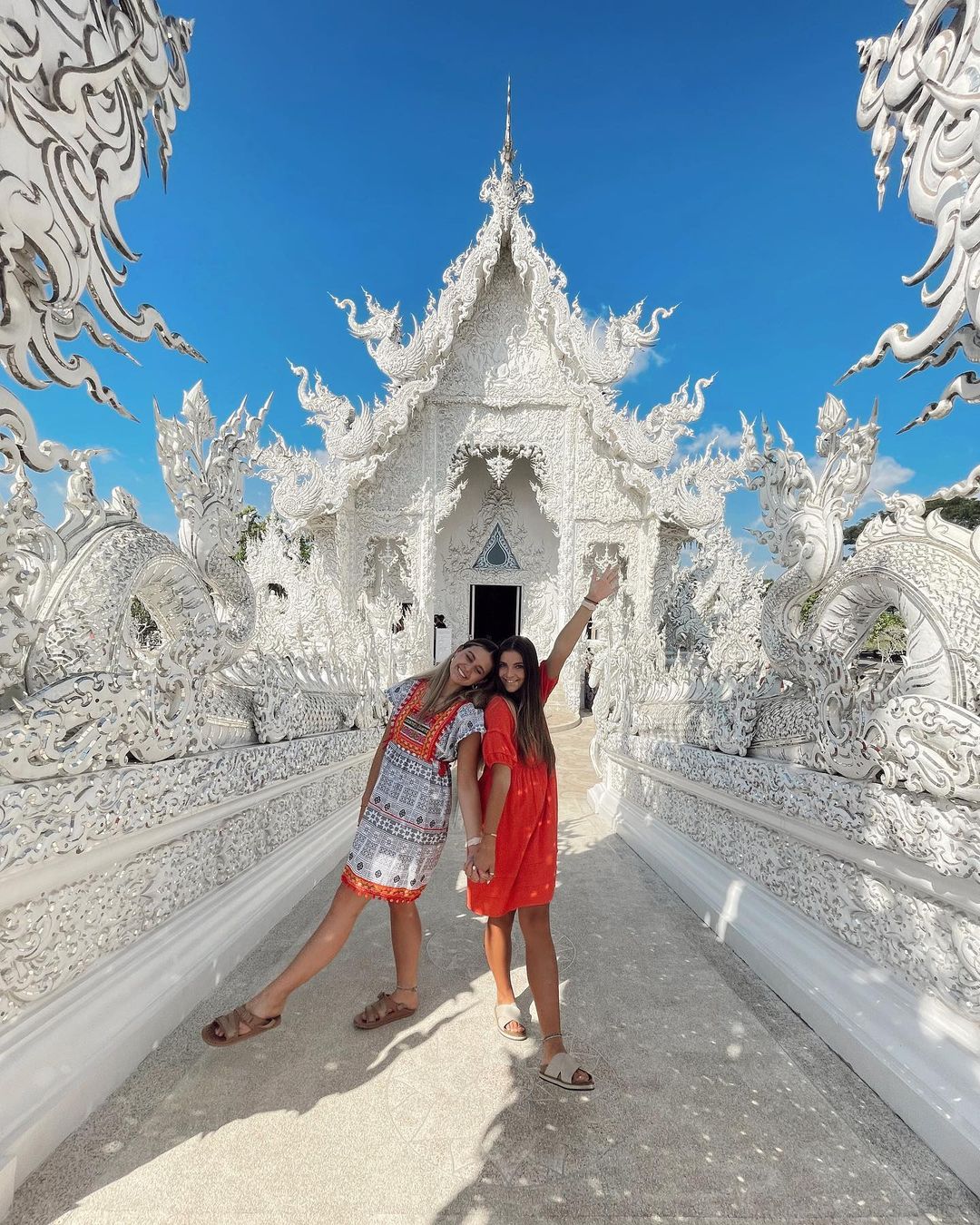 Where Is Chiang Mai?

In the long skinny country of Thailand, the city of Chiang Mai is nestled between the green mountains in the north. It's a major tourist destination that's well connected by train, bus, and plane which is good news for you.
Visiting this part of Thailand is a must: This country has so many things to offer, you really would be missing out if you didn't explore the verdant mountains just to spend more time at the beaches. Don't get us wrong, we love the Thai beaches, but visiting the north gives you a better idea of what Thailand is like as a whole.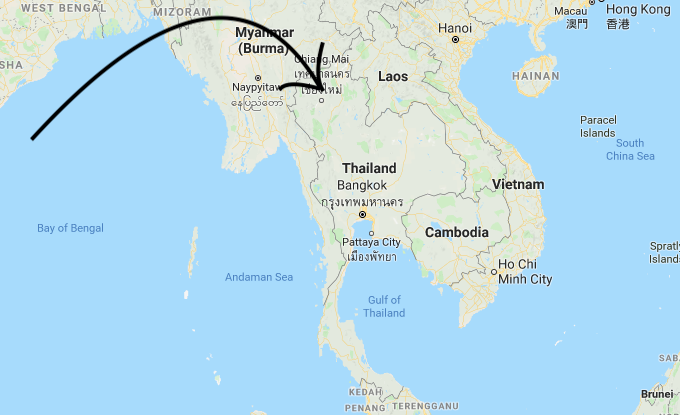 Getting To Chiang Mai
Luckily for everyone who would like to visit, this Thai city is very well connected and a big spot for tourists which makes getting here very easy. There are frequent flights from the capital city of Bangkok, but don't worry, if you're not in Bangkok you can still get here easily.
Our ILP volunteers are living in a few cities that are just a few hours south of Chiang Mai near the city of Phitsanulok. Depending on your budget and your preference, you have a few options.
Get Here By Train
Your best bet is booking a train ticket there in Phitsanulok. Overnight seated express trains to Chiang Mai about 350-600 Baht each way. Sleeper trains are between 650-800 Baht per person each way. If go the train route, DO NOT book 3rd class tickets - get 2nd class and up.
It should take about 6-7 hours to get there.
Get Here By Private Shuttle
Some ILP volunteers have preferred to contact their ILP Local Coordinator to help them arrange a private driver to bus them up to Chiang Mai. That way, you can split the price between whoever is going and can have more of a say when it comes to when you are going to leave.
+ Getting Around Chiang Mai
Most of the places you will be visiting are rather walkable, but you can always hire a tuk-tuk or a songthaew to take you places. When you're walking around the city, you'll find that they tend to pull over and offer if you need a ride somewhere. Around Chiang Mai, it should cost about 30 baht per person for a ride.
For excursions farther away or outside of the city, you'll likely be going with a tour that arranges hostel pickup and other transportation.
Learn more about volunteering in Thailand
Getting curious or even tempted to sign up for a semester abroad with ILP? Click below to see more pictures and get a little more info to see if our program is right for you.