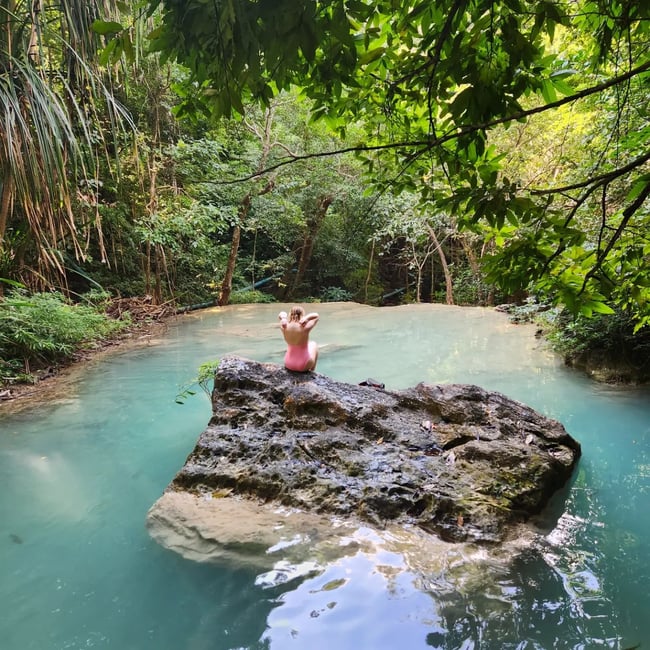 When you think about Thailand, you probably already think about crystal blue water against white sandy beaches, but don't overlook the turquoise pools hiding in the jungles.
There is this place just a couple hours outside of Bangkok called Erawan National Park and you really can't miss it. I know I say that about so many things in Thailand ... I guess that's why you should spend a semester there instead of a couple of weeks.
---
See more of Thailand than you could as a tourist
Go ahead and apply now to volunteer in Thailand with ILP
---
The park, besides being incredible picturesque, is rooted in religious history which adds to the experience of visiting Erawan National Park. If you're familiar with Hindu mythology, you may recognize the image of a 3-headed elephant, named Erawan. This is where the park's name stems from, and the name of the most famous waterfall found in the National Park. While the park is full of a handful of lakes and waterfalls, you'll most likely want to spend most of your time at Erawan Falls. Here's the info you need to make that happen: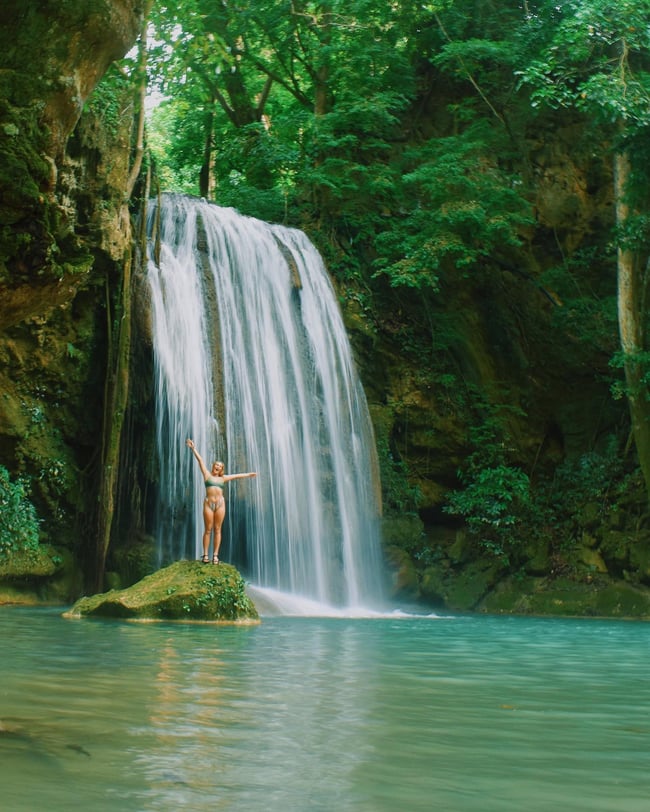 All About Erawan National Park
The park is found in Western Thailand, tucked in the hills of the Kanchanaburi Province. Founded in 1975, it's quickly become a well-visited national park, pulling in tourists and visitors who want to admire the series of waterfalls and network of caves found in the park.

The most famous attraction is the 7-series Erawan Waterfall which is said to resemble the 3-headed elephant referenced above. You're more than welcome to trek to the top of the falls, through a winding pathway that leads you through the dense jungle.
Hiking Erawan Falls
This waterfall is broken up into 7 sections, so hike what you'd like. Plan on about an hour of hiking to get to the top. The first layer is easily reached, scattered with vendors selling chicken skewers, sticky rice, and a few other snacks if you're getting hungry. It's the easiest to get to by following a mostly flat trail.

The second tier is one of the best for swimming. If you're carrying a plastic water bottle, you'll need to pay a small fee and deposit the bottle to be recycled. The rangers are really strict about no littering once you pass the second tier — you won't be allowed to bring snacks up this part of the trail. This tier is typically pretty popular.

Climb even higher, and escape some of the crowds by trekking up to the third set of falls, or even the fourth/fifth/and sixth. When you get to the upper falls, you'll run into less of a trail and more hiking, stepper inclines, climbing over rocks, etc. You'll find various pools and waterfalls to swim in, all in that distinctive, cloudy jade color. But make it to the seventh pool and you'll find a shocking crystal pool swimming pool to paddle around in.
In most of the pools you'll find little fish who like to nibble on your toes, like the fish spas that are popular all across Asia.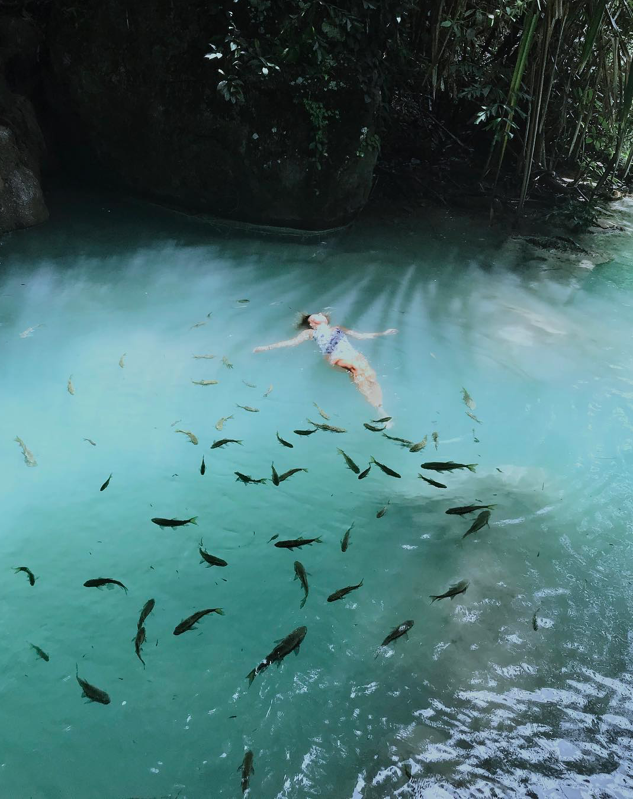 Hiking The Caves
There are five caves nearby that you can go to if you're interested: Ta Duang Cave, Mi Cave, Reua Cave, Phartat Cave and Wang Bah Dan Cave. One of the most popular hikes is the 12 km trek to the Phrathat Cave. You can get clearer instructions on this once you arrive, but the pathway starts out northwest right from the visitor's center. Once you reach the dave, you'll see a huge cavern filled with dripping stalactites and stalagmites, and maybe some of the bats who live in the dark cave. You're more likely to see these guys if you arrive at dusk when they leave the cave to feed.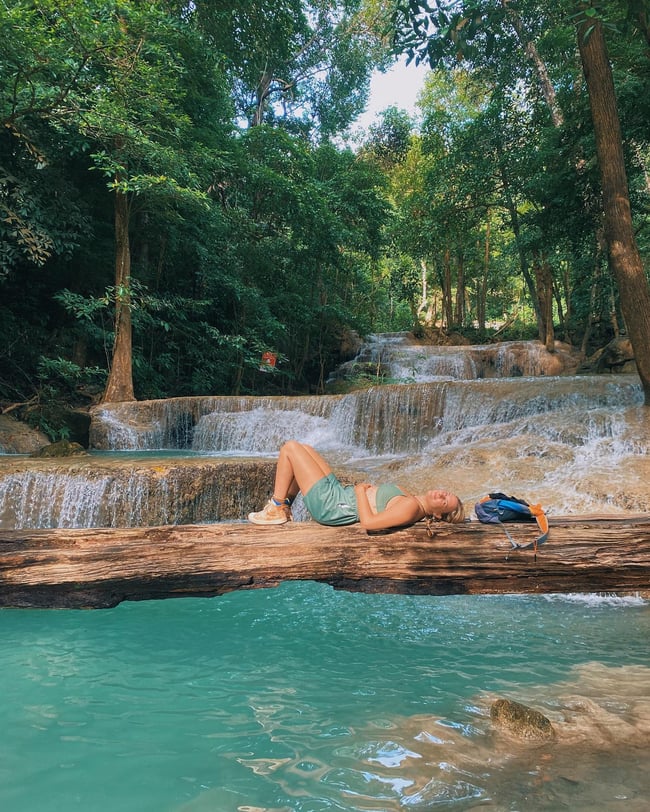 Hours + Costs (And Other Details)
The park is opened from 8:00 am to 4:30 pm every day, all year round. They start to clean around 3:00 and make people move down tiers as they clean (they start at the top), so get there as early as possible to make sure you have enough time to explore what you want to explore. You can get more info about the park overall here.
There's a 400 baht entrance fee, best paid in cash.
You can also rent bikes to explore the park, at 20 Baht per rental.
When Should I Visit?
You'll want to make sure the waterfalls aren't dry when visiting, so best to not go in January to April. Best to visit during or just after the rainy season which spans from May to October. Just know that the rainy season can make the blue water murkier and not as photogenic.
Can I Stay Overnight?
While the park can be reached from Bangkok as a day trip (more on that info below) you can also stay in the park if you'd like more time. Most visitors end up spending a few hours at the falls, but you may want more time if you'd like to hike Erawan Falls and see one of the caves. Reportedly, stays in the bungalows are These bungalows are available at an average price between 800 THB to 5000 THB, with no need to book in advance in the low season.

You're also welcome to stay in the nearby city of Kanchanaburi which is around 45 minutes outside of the Erawan National Park. We have more info about Kanchanaburi below when we give details on how to get to the park from Bangkok.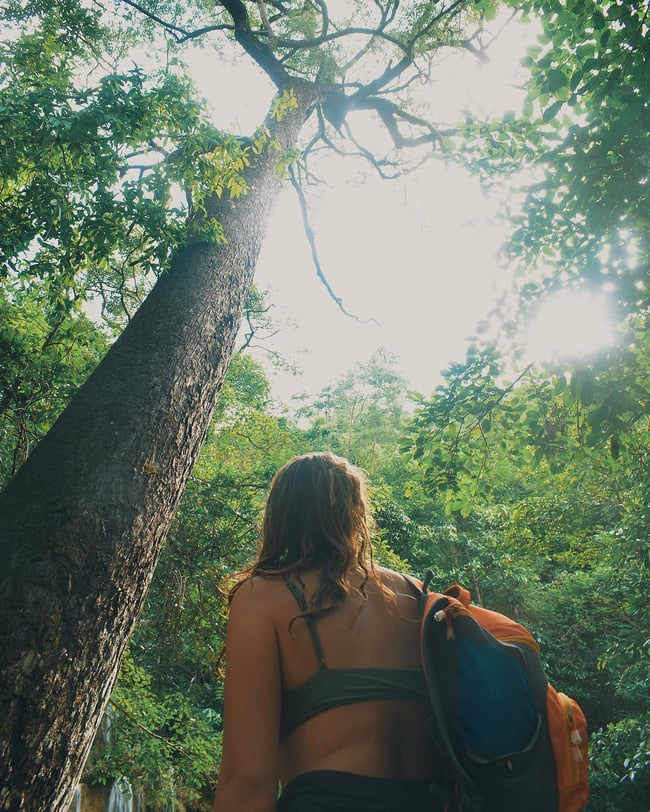 Things To Bring With You
You won't need too much, but be sure to bring a waterproof bag, a waterproof camera, sunscreen, bug spray, swimsuit, water shoes and a water bottle. Just a cultural thing to be aware of here: you'll need to dress modestly, even with your swimwear. Bikinis are discouraged. Thanks for being sensitive to the local culture.
Don't bring anything that can't get wet. You can leave your bag on the side if you want, but I don't recommend it unless you have someone to watch it for you. These falls can get really busy, so you'll want to be able to carry everything with you to avoid any of your belongings going missing. A small dry sack (we love these ones on Amazon) is highly recommended. They are big enough to carry all your essentials, but small enough to carry with you as you hike (and keep your stuff dry).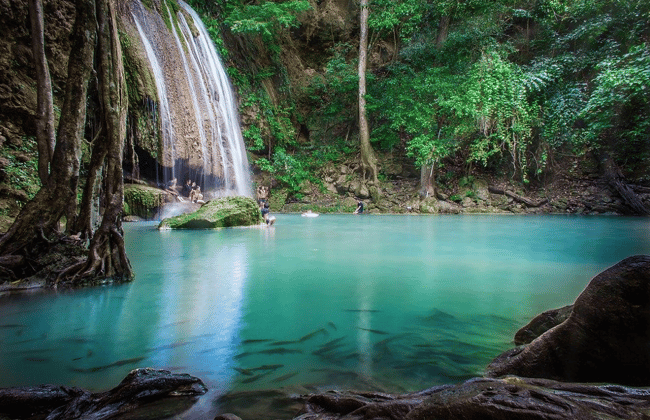 Getting Here From Bangkok
From the city of Bangkok, you have a couple of options. You'll want to get to the city of Kanchanaburi. Here's a breakdown so you can figure out what works best for you and your budget.
Bus
Book on 12Go Asia. It's about a 3.5 hour drive for around $8 USD. There are typically a couple of times and routes you can take per day, more in the high season. You can also go by van, which sometimes is slightly more affordable ($6 USD) and can be a smidge quicker. That booking site makes it really easy to see your options.
Train
Another option that give you a really scenic glimpse into this part of Thailand. YOu'll want to catch your train from the Thonburi Station in Bangkok, which isn't where most trains leave. It's not far from the Khao San Rd area, on the other side of the river.
Last reports said there were two train times from Bangkok to Kanchanaburi. The first train leaves at 7:50 AM and arrives at 10:25 AM in Kanchanaburi. The second leaves at 1:55 PM and arrives at 4:24 PM in Kanchanaburi. You'll want arrive on time, but some tourists mention that the trains leave late, almost as much as 30 minutes. Just something to keep in mind when you're planning out your timeframe from this trip.

The fare for this train is 100 Baht (about $3), but keep in mind that times and fares are always changing so check it out for yourself before you leave.

Getting From Kanchanaburi To Erawan National Park
The national park is about 45 minutes away from Kanchanaburi, so you'll want to keep that in mind when figuring out your visit. You're welcome to take a taxi (typically around 1,000 Baht if you can get the price down) or take a bus.
From the Kanchanaburi Bus Station, you can get a ticket for 50 baht, with a schedule that last was reported to run like this:
Departing from Kanchanaburi to Erawan Falls: 8:00, 8:50, 9:50, 10:45, 11:50, 1:00, 2:10, 3:25 , 4:30, 5:50PM.
Departing from Erawan Falls to Kanchanaburi: 5:20, 6:10, 7:20, 8:30, 10:00, 12:00, 2:00, 4:00, 5:00PM.
The drive to Erawan National Park is scenic and lasts at least 45 minutes to an hour, depending on weather conditions and traffic. The bus will bring you directly to the entrance of the falls where the trek to the waterfalls starts.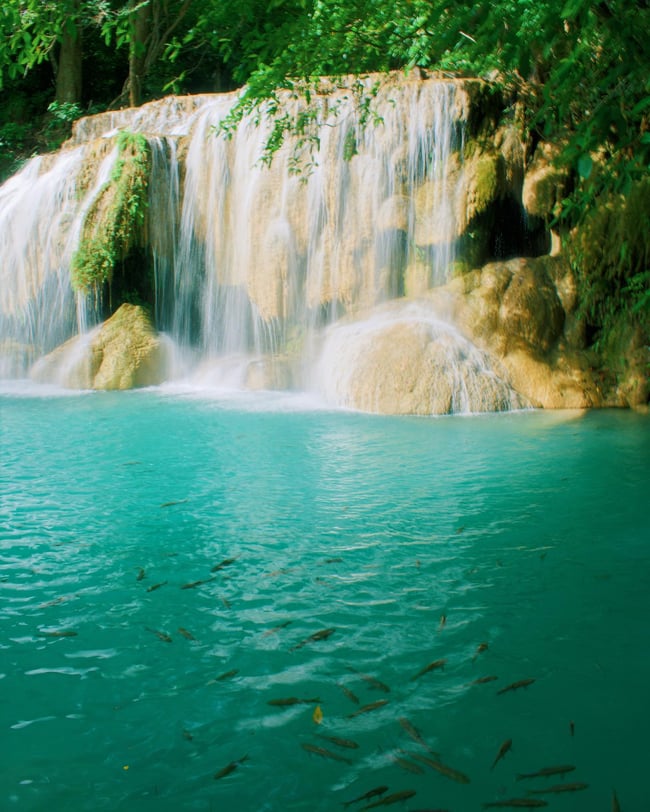 Thinking you need more time to really explore this country?
We are so with you. Get more information about volunteering in Thailand here: