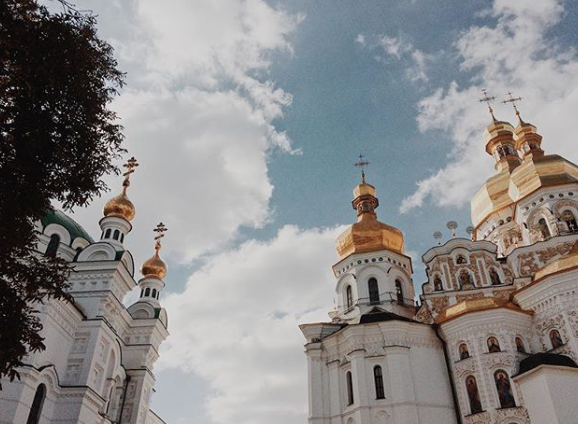 If you've done your research and compared study abroad and volunteering programs, you probably already know that one of the biggest benefits of the ILP program is that you only have to pay for the first semester. Seriously.
If you volunteer with International Language Programs, you can volunteer once ... then go back for practically free once, twice, three times ... or more! Currently the record holder for the most about of ILP semesters is Kerry, and she's done 10!


---
Ready for your first trip, but not sure how to pay for it?
All of our tips for affording it are right here!
---
What's a Head Teacher?

With every ILP group, there is a peer volunteer who who is the designated leader that semester. ILP Head Teachers are volunteers who did such a great job their first semester teaching abroad, and wanted to have the experience all over again. Maybe they are volunteering in the same country again, or maybe they wanted to try a new country and see more of the world.
For Head Teachers, we hold interviews a few months prior to the semester to be a Head Teacher (so it's sort of like a getting hired for a job). The spots are much more limited because there's only 1-2 leaders per ILP group.
How Can I Go Abroad For Free?
If you're selected to be a Head Teacher, you get some serious perks ... but the best one if you ask me is the price!
For our Exchange programs (so places like Thailand, Montenegro, and Mexico) Head Teachers have their program fee completely waived — yep, that means ILP is paying for your international flight, your visa, your housing, and your meals for the entire semester!
For our Humanitarian programs (places like Costa Rica, Nicaragua, and Romania) Head Teachers get a huge discount off of their program fee — you're just paying $1,000-1,500.
Then on top of that, all Head Teachers, no matter what program you're leading, receive a cash stipend that you can spend however you want. When I was a head teacher, I used it to pay for the majority of my vacations during the semester ... so it was like I got a free trip to places like Puerto Escondido when I was in Mexico and a free trip to Chiang Mai when I was in Thailand!
Pst — You can compare Exchange and Humanitarian programs here.
I Can Really Go For Free More Than Once? For Reals?
Yes, for reals. I was a volunteer first in Mexico and paid for that trip through hard work and a little bit of help with fundraising, but then I went back and lived in Asia (twice) and Europe as a Head Teacher ... so it was nearly free for me to go to those 3 places because ILP paid for things like my flight, housing, and meals and also gave me a cash stipend!
Head Teachers have a huge affect on the entire experience living abroad for our volunteers. You're there every day and doing quite a bit of work behind the scenes to help us make sure everyone has their needs met. Because of this, Head Teachers are really important and we decided to reward your hard work by making it so affordable that you can go again and again.
There's no limit on how many times you can be a Head Teacher. If you're doing a great job, we want you to travel with us as many times as you can.

Because of this great deal, many ILP volunteers have been able to travel the world multiple times on the smallest of budgets. Areil Larsen went on 7 semesters and she's been gracious enough to share a few of her experiences with us.
"The decisions I made to volunteer with ILP have been some of the best decisions of my life. Not only did I get to do some of the best things, like teaching English and traveling, but I met some really wonderful people, and learned a lot of life lessons. During my seven semesters abroad I did everything from enjoying the beaches of Mexico, to watching world famous opera in the square outside the National Opera House in Vienna.
"It would be hopeless to even attempt to tell you everything that was wonderful, inspiring, or breathtaking, so here are a few of my many, many favorites."
Tehuacan, Mexico – Fall 2008
"One of my most memorable experiences from Mexico is the day I learned that I love teaching these kids English. It was also when I realized I was making some small difference in the world.
"During a holiday party, I was drawing with a handful of our uncooperative kindergartners (all ILP volunteers can identify who those kids are in their groups). One of the kids, Jose Ma, had been my nemesis all semester. He did not like me. However, a small picture of my house in Washington proved to be a big help. As I drew raindrops on the paper, and explained that it rained all the time, a brilliant smile spread across my little enemy's face. Clear as day, Jose Ma exclaimed, 'I love the rain! It's my favorite!' With that simple declaration our alliance was formed. Those few words also helped me to see how I had helped this one little boy to understand and speak English, after he started the semester without knowing more than a couple of words. To this day, I love to see that lightbulb effect where the language really clicks for them. It's truly wonderful."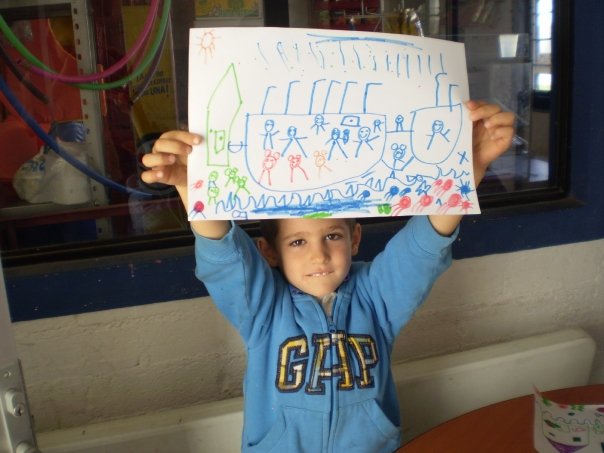 Jose Ma, the day we became friends
Voronezh (Winter 2010), Moscow (Fall 2010), and Saint Petersburg (Winter 2011), Russia
"I was lucky enough to serve in all three cities in Russia, and I honestly can't tell you which I loved more. Russians are amazing. If I begin to explain to you just how much I love Russia and Russians, this post will never end. Just know that there is a very special corner of my heart reserved for Mother Russia and her people. There is also a special place in my stomach for her borscht, syrniki, and pelmeni.
"My three ILP groups in Russia were completely different, but I had a blast with all of them. From constant shenanigans with the Voronezh group, to my first trips to Sweden, Finland, and Estonia with the Moscow girls, to green cheese testing with the St. Pete's ladies, it was good times all around. We taught wonderful kids, had awesome vacations, and made great friends. I love Russia, I love Russians, and I love all of my teachers and kids. The end."
Vilnius, Lithuania – Summer 2012
"Vilnius took me by surprise. It is a very small, but beautiful and one of a kind city. Although it's rather little, it is delightful to explore. Per usual, I was with a wonderful group of teachers, with an awesome coordinator.
"A favorite discovery in Vilnius was instigated by a visit to Aušros Vartai, or the Gates of Dawn. As we meandered down the street there, we happened upon a nearby alcove with an awesome wood shop. The owner creates wonderful pieces of furniture and décor right there in the shop. He also sells paintings done by his daughter and her friends. During the semester we visited often, and happened to meet the daughter, Aiste, one day. She sat me down to give me and another girl a private showing of her work. It was absolutely magical. The painting I bought that day has a special home on my wall, and that memory finds its way to the corners of my mind often."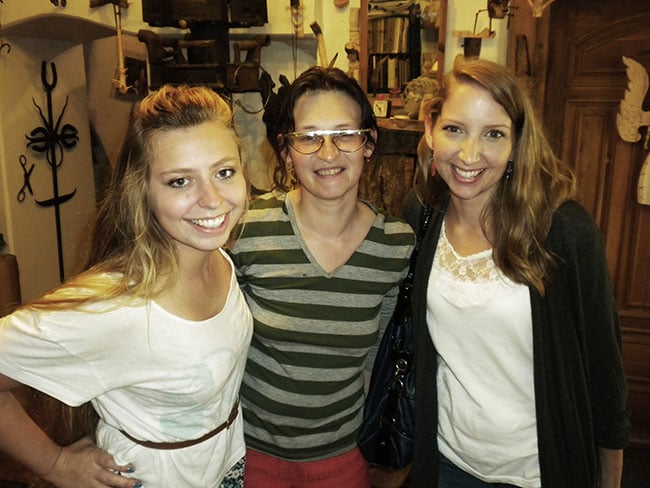 Meeting Aiste in Vilnius
Kyiv, Ukraine – Fall 2012
"Among the many things and people I loved about you Ukraine, something that I really loved was that I got to live with a host family again. I had secretly been a little jealous of all of my teachers who got to live with host families in Russia. When I was told that I would get to live with a family in Ukraine I was so excited. This sweet Ukrainian family made me feel so at home, and I'm glad that we have Facebook to keep in some contact now. Even though I was busy and away from home often, they found ways to show they cared, and accepted my small contributions of love. They really helped me to feel at home in Ukraine, and gave me the full cultural experience. Host families are the best."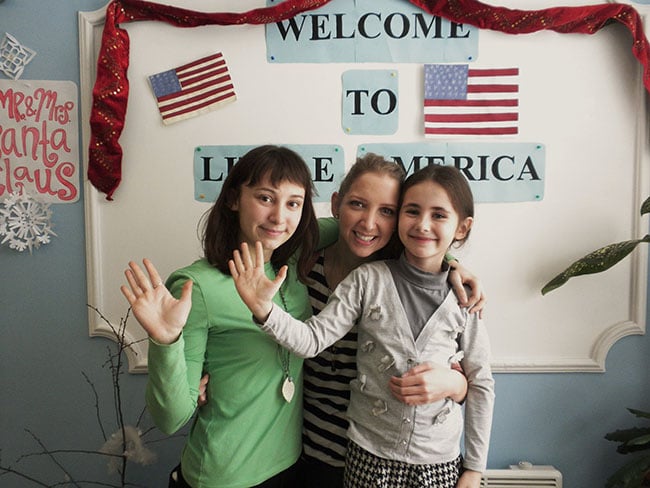 My Ukrainian host sisters
Ready to get going?
Already been an ILP volunteer and want to be a Head Teacher? Head here to start your HT application.
Is it your first semester? Let's get your application started so that we can start helping you dream up how many countries you'll be jet setting off to go see!