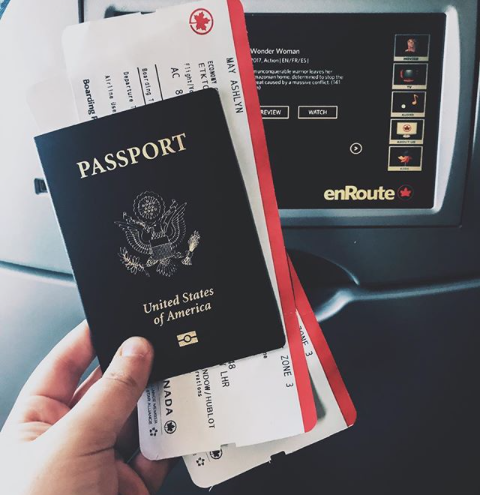 Are you headed to go start living in a foreign country .. and want to stay safe on your semester abroad? Here's how.
Going abroad is always exciting. Whether you're going on a college's study abroad programs, serving abroad with ILP or simply taking a vacation, you want to make sure you take all precautions and keep yourself as safe as possible right?


---
Come spend a semester abroad!
See what countries you can volunteer in with ILP.
---
Registering with the foreign embassy is one of many things you should consider doing before you leave — it's one way to keep yourself safe while you travel. When you register, you'll get updates and alerts about things going on around you so you can be updated with what's happening. Our go-to recommendation for our ILP volunteers to to register for the US Department of State's STEP website.
As a heads up, you'll need your passport for some of the info so make sure you have that on hand. There's nothing worse than starting and realizing you can't answer some of the required questions.

Here's how to get started:
Step One
First, create an account with the U.S. Department of State website for STEP (Smart Traveler Enrollment Program). To do this you will need to go to this website and follow the below instructions:
Select "Create an account".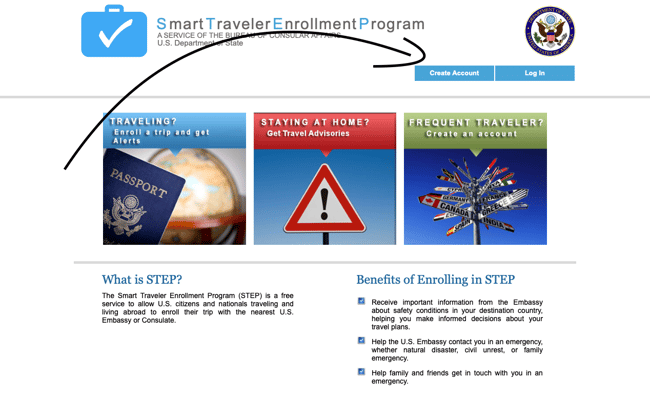 Read through the information and check "I have read the terms of the Privacy Act Notice".
Click on the "Account Information" tab and enter requested log in information.
Click on the "Traveler Information" tab and enter your personal contact information (Enter your passport information in the "Passport Number" field. It is okay to leave the "Passport Card Number" field blank).
Enter emergency contact information (if you want) and click next.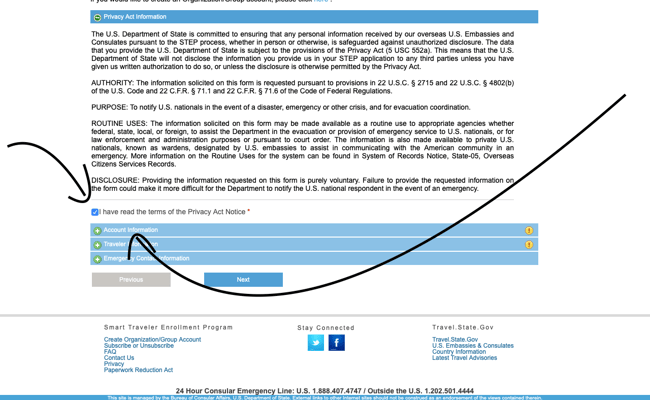 Review your information and click "finish".
Step Two:
Now that you have created an account, it is time to put in your trip information. Follow the below instructions to do this:
Click "Add a Trip/Residence Abroad".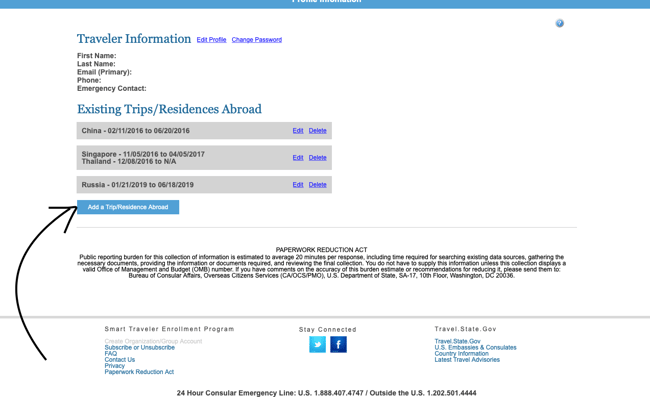 Choose the country you will be volunteering/staying in under "Destination".
Choose the American embassy located nearest to your city (if you are an ILP volunteer, refer to your travel documents for this information).
Enter the date (or estimated date) of your arrival in country (ILP volunteers can refer here for the dates of their semester abroad).
Enter the date (or estimated date) of your departure home.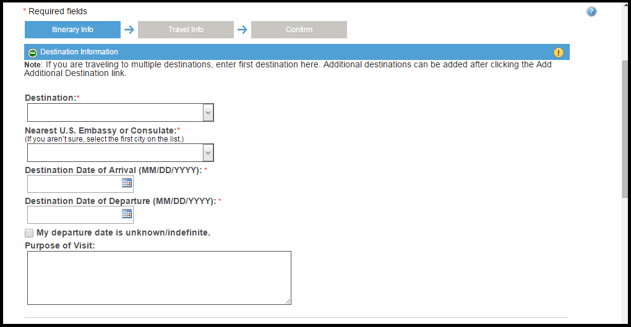 Enter your destination's address (where you will be staying. ILP volunteers can find that information here).


Skip the "Additional Traveler Information" bar unless it pertains to you.

Click next.

Any information or travel warnings may appear, so give those a quick ready, then click next

.
A confirmation will appear. Click Finish.
A confirmation page will appear saying you were successfully registered (if you are an ILP volunteer, please send the office a copy of this page). You will now be able to go to your home page and see that your trip is now on your account!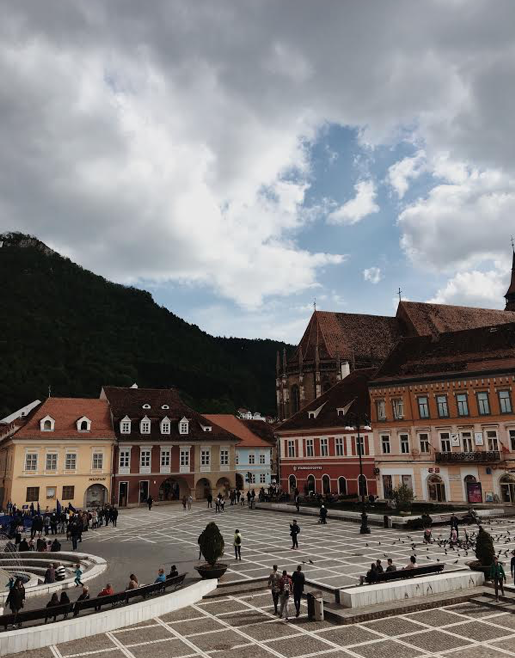 ---
Want to make a difference and do some traveling?

Don't miss your chance. Click below to find out how you serve abroad with International Language Programs! ILP has countries all over the world with years of experience sending college-aged volunteers around the world to teach English, volunteer in an orphanage, and take dreamy vacations all over the place.