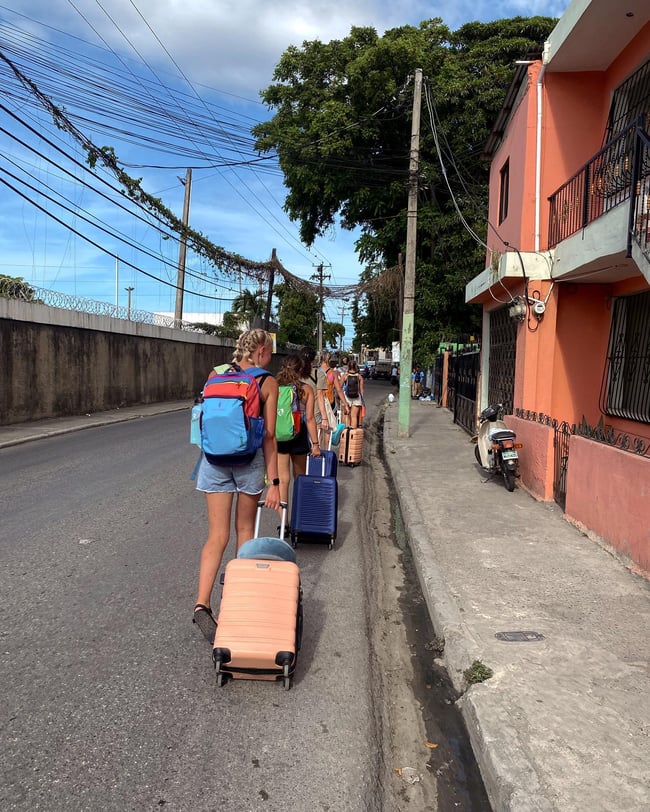 Packing for an international trip can be a bit tough—it's hard to know what you will need, want, and use. But what about the actual luggage? Keep reading for all of our tips!
As a volunteer with International Language Programs, you'll be spending an entire semester living in a new country! And don't forget about all the traveling and exploring you'll get to do while you're there. That means you'll not only need to get all of your stuff for the semester to your volunteering destination, but you'll also have to be prepared with the bags you'll use for those little trips throughout the semester.
You really don't need to buy any special (or expensive) bags for your trip, but we get soooo many questions and requests for tips. So we're here to help you prepare as best as possible with recommendations from past ILP volunteers.
This post has affiliate links for your convenience (which means if you make a purchase after clicking a link, we earn a small commission). Just know that we only share products that we ourselves have used and loved, that other volunteers have recommended, or that we think just look like they'd be pretty useful!
---
Have you wanted to volunteer abroad for a semester? Here's how!
Volunteering With International Language Programs
---

Now packing is an entirely separate issue, so we've put together a very extensive packing guide specifically for our volunteers. But this guide is just for the luggage—the actual bags—you'll need for your trip. So whether you're headed to explore the sunny villages and beaches of Nicaragua, or to wander through the history and architecture of Europe, we want you to feel prepared and ready to make some of the best memories of your life!
All About Luggage
Types Of Luggage
Two Bags Or One
What To Plan On
Types Of Luggage
Backpack
"Bring a backpack!" - says every volunteer ever. It works great as a carry-on (or personal item if it's a bit smaller) for your initial trip to your new home. Here are some great tips for packing your carry-on. But your backpack will also be the only piece of "luggage" you'll want to bring on your little vacations throughout the semester.
Trust us—dragging a roller bag up and down cobblestone streets in Paris, or through the sand in Krabi is the biggest pain. And if you have already checked out of your hostel, but don't want to visit museums or beaches with your luggage in tow, then you'll have to leave your bags in their luggage room which is just never a safe guarantee. The solution? Bring a backpack! You can comfortably, conveniently, and safely carry around all of your belongings all day.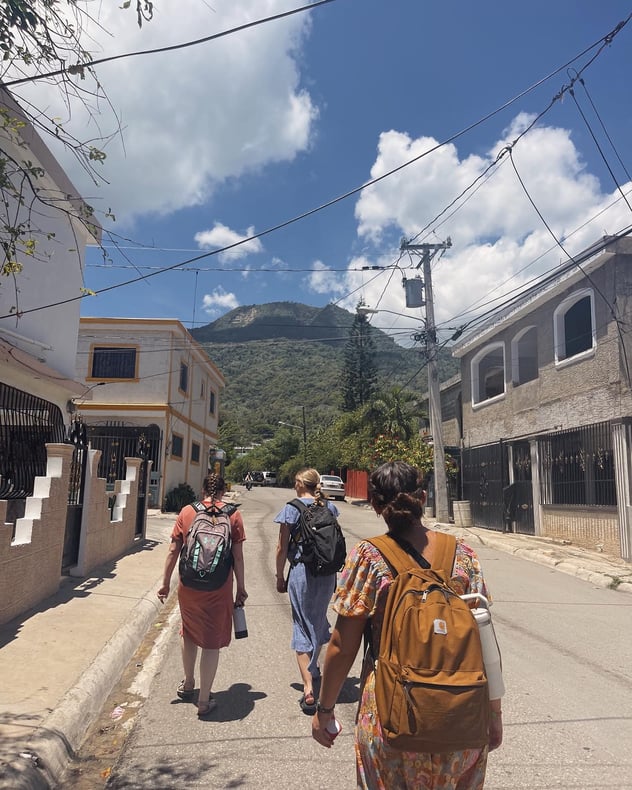 Now the things to look for when trying to decide what kind of backpack to get: front-loading (rather than top-loading), waist strap (not necessary but nice so the weight isn't all on your shoulders), rain-resistant, and carry-on sized (standard maximum length is 22 inches, width is 18 inches, and and depth is 10 inches) are all really convenient features to have if you can.
Tortuga, Osprey, Cotopaxi, Nomatic, and Topo Design are all such good brands. But getting a bag like these is an investment. Totally worth it though if you plan to be a world traveler! You'll want to read about these other backpack suggestions from volunteers.
Worried about fitting everything for your vacation in a single bag? Get ready to be a light packer! So worth it for short trips. Here is an entire blog post dedicated to packing for a 10-day vacation in a backpack.
Volunteers have also said that they liked having a small backpack (like the Cotopaxi or Jansport size) for day to day things, like carrying teaching supplies to school or days when they want to carry more than what fits in a purse. It's really up to your preference.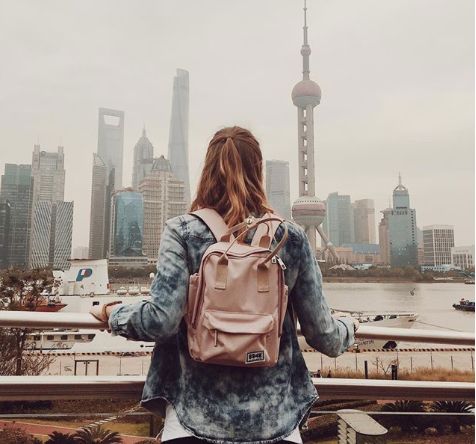 Purses
This is another must! Backpacks are great, but sometimes all you'll need to carry around are the essentials: phone, wallet, hand sanitizer, chapstick, and snacks—all the snacks. You'll need a purse especially for day trips. We recommend having a cross-body purse so that you can always swing it in front of you and keep your hand on it when you are standing or sitting somewhere. No pickpockets allowed!
Purses also look a lot nicer than backpacks, so they're great if you're headed to a restaurant, concert, ballet, or other nice venue. They can also be worn under your coat in rainy or cold weather.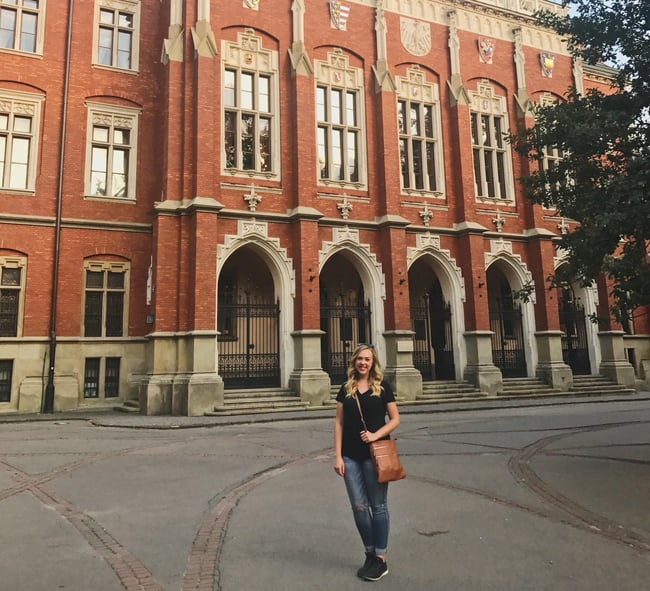 Roller bags
When trudging through an airport with lots of luggage, roller bags are the way to go since you can easily drag them behind you with no weight on your shoulders. Our volunteers typically have roller bags for their checked luggage since it's just the easiest way to pack all of your clothes, shoes, school supplies, and larger toiletries items.
When shopping for a rolling suitcase, make sure you get one that has four wheels, not just two, because you want it to be able to stand up by itself. You can honestly find great rolling bags on Amazon for a lot cheaper than getting them from any particular place. JCPenny also has regular sales on all of their luggage sets.
The only bad side to roller bags is getting them on and off public transportation...probably the most anxiety-filled ten seconds you'll have during your entire semester. But it's only ten seconds compared to the hours you would spend walking around with a heavy duffel bag on your shoulder.
A note on duffel bags: Just don't even bring one! Unless it's the kind that can be either a roller bag or a duffel. Otherwise they're totally unpractical if you have to do any walking around, which you will.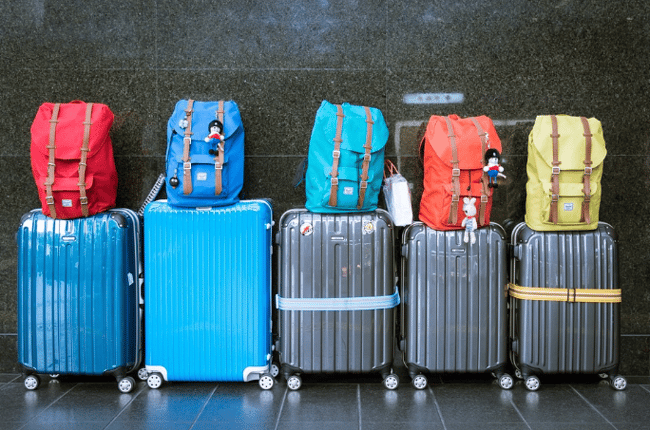 Hard Vs Soft
Some travelers love hard shells because they are sturdier, water-resistant, and are better able to protect the items inside. But they are a bit bulkier and difficult to stack since the hard shell cannot be pressed in at all. The exterior also tends to get scratched easily.
Those who love the soft-shell luggage just can't let go of the outside pockets. While you wouldn't want to put anything valuable on the outside, the pockets do give you a little more packing space. But if something were to spill, or if you get caught in bad weather, that is bad news bears for everything in your bags.
This is a tough decision, so you'll just have to decide what will work best for you. But no matter which kind you get, avoid all of these common suitcase problems and make sure your bags are ready for a semester abroad!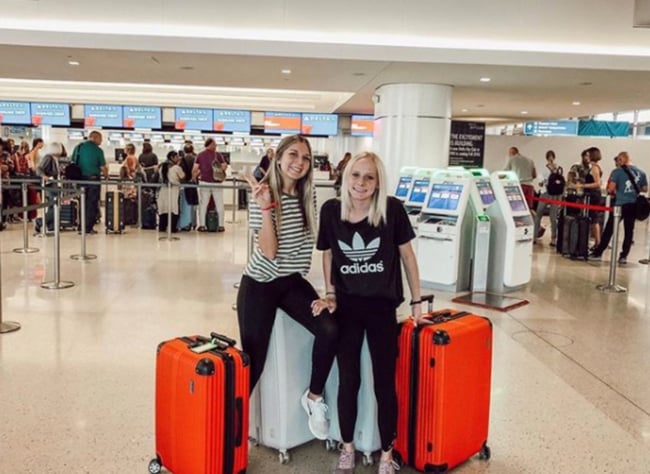 Two Bags Or One
Already a minimalist packer with a capsule wardrobe? Then this will be an easy decision. But for the rest of us who want to make sure we have every "just in case" item for every possible scenario, this is a little tricky. Of course you'll have your carry-on and personal item, but here are the pros and cons for bringing one vs two checked bags.
One bag is a lot easier to maneuver around the airport. Fill it up with teaching supplies, shoes, and any toiletries items you have that are bigger than the 3 oz. carry-on limit. But you'll have to fit all of your clothes in your carry-on. Worth it to save the money? Yes. But then during your semester you'll probably spend more money because of having to buy the things you weren't able to bring.
With two bags you can easily bring everything you could need during your semester abroad. And as you can imagine, dragging that much luggage around with you can be a bit of a hassle. Remember what we said about public transport.
Long story short - most volunteers find they need two checked bags in order to bring everything they want to, but if you can fit it all into one that's great too. You'll want to double check your airline's baggage policy because many have a fee for checking 1 or 2 bags, so that could affect your decision as well.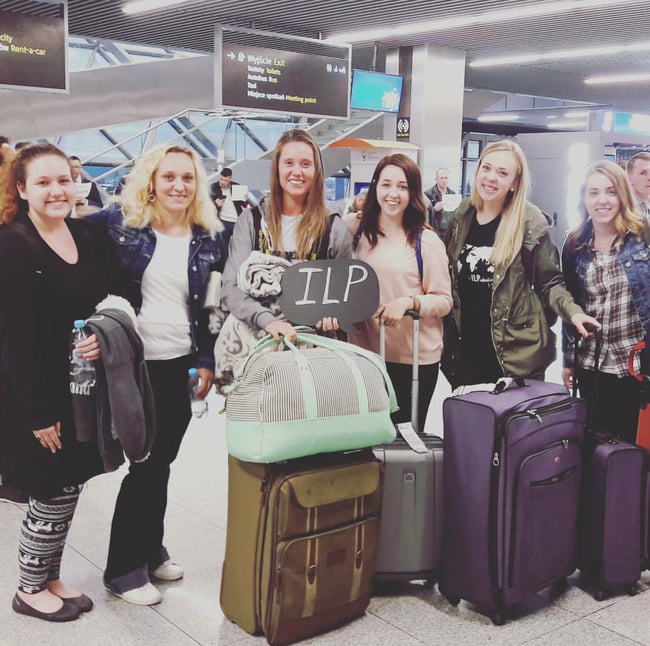 What To Plan On
Since we are able to send volunteers to countries all over the world, there are a variety of different climates that our volunteers will need to be prepared for. The expected weather of where you're headed will definitely affect how much luggage you should plan on bringing.
Colder Countries
Only a few of our countries will be cold enough that you will need to bring all of your winter gear for your semester abroad. European countries get very cold and snowy during the end of the fall semester and during most of the spring semester.
Trying to decide if you should bring your warm clothes or buy them there? Read this! And make sure you look at these tips before buying a winter coat for your semester abroad. Those European winters are no joke.
Warmer Countries
The majority of our countries are pretty warm all year round. If you pack carefully, you may be able to bring just one checked bag if you pack carefully. Swimming suits and sandals take up a lot less room than winter coats and boots. Bring at least a backpack, a purse, and one checked back.
Have questions about what to expect during your semester abroad?
All of the representatives working in our office have volunteered with ILP at least once before and are so happy to answer any questions you have!
Click the button below to get in touch with one of them.