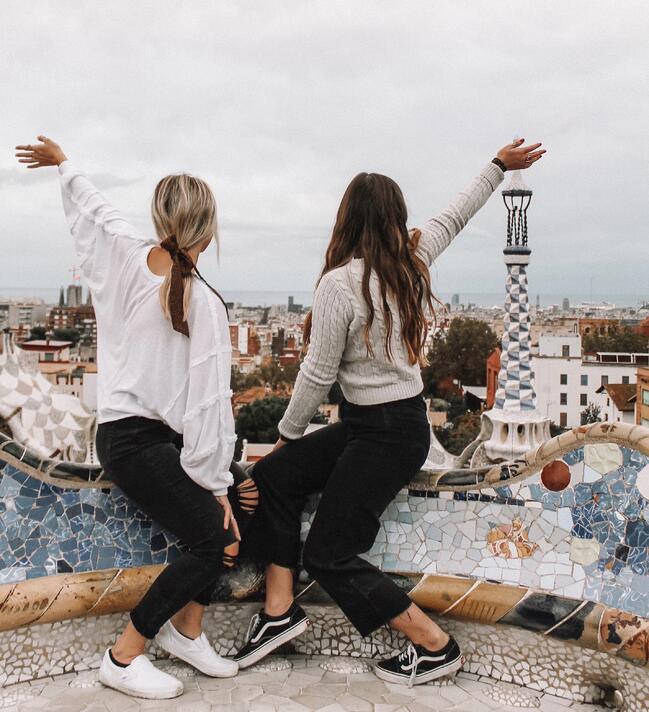 Thank you, Google Maps.
Sometimes I can't believe I used to travel without my phone, aka Google Maps. Along with my passport, it's probably the most important thing I pack, even if I don't have an international data plan. Recently I got back from a trip to Barcelona and had zero problems navigating (without a data plan) all because of this one trick — Downloading Google Maps.
We have all the info you need about this handy hack, below:
Downloading Maps
Google Maps allows you to download the map of any city/cities you're visiting for offline access. The downloaded map gives you crazy amounts of detail including street names, restaurants, popular spots, etc. You can even see your live location, so you can see exactly where you are at any time as you walk along the street toward your destination. There's even a handy arrow that helps you see which way you're facing as you walk so that you know whether to head south, east, left, right, etc. It really helps anyone get around a city, even if you're not exactly a pro when it comes to navigating.
You can also pin places you want to visit, which is such an amazing feature. In this post, I'll walk you through exactly how to do this, using my most recent trip to Spain.

Before leaving for Spain, my friend and I charted out all the buildings, museums, and restaurants we wanted to visit in Barcelona, favorited them, then downloaded our map. The minute we stepped off the plane, we knew exactly where to go and what to do, all without needing to run for WiFi or paying for international data. Score.

Here's a step-by-step guide to help you out:
Download A Map
Step One? Make sure you first have the app on your phone, of course. You can get it for free on iTunes and GooglePlay if you don't already have it downloaded.
Next, open your Google Maps app, and search for the city you want to download. I'm using Barcelona. When the map pulls up on your screen, you can zoom in or out and make the map cover as much area as you want.
Good To Know — Downloaded maps DO take up space on your phone, so I zoom in enough that I can see just the parts that I want to visit. Just know that you won't be able to access more than what you see on your screen when you download it (unless you have data).
You'll see a little white menu on the bottom with labels like "directions" "label" "share". Scroll to the right and click "Download".
A little menu will pop up letting you know how much room it'll take, then it'll do its thing. It will take a couple of minutes, and will stay downloaded for 365 days (or you can remove the download once you're home from your trip).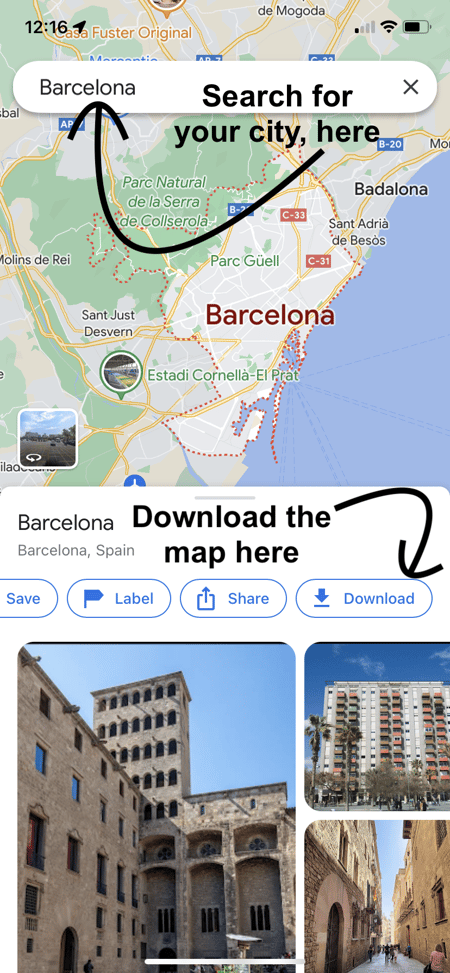 Then, this little menu will pop up — click "download" if you have the space.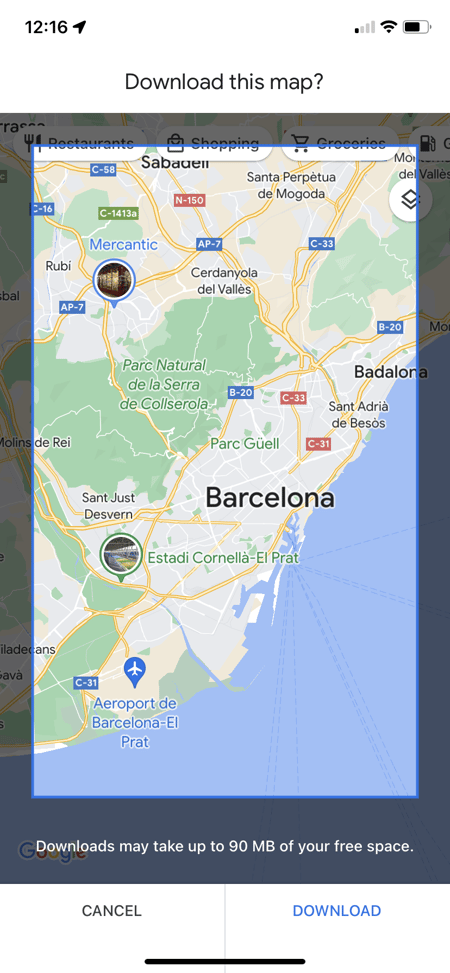 How To Pin Places
You are fine to just use this downloaded map to help you get around, but I like to go the extra mile and pin the places I want to see while I'm visiting. That way, I can just open my map and decide if I want to see that museum, go get breakfast at the cafe, etc. ... by planning out my itinerary, I know I can get exact directions to the places I've already pinned. (It's also super visual: once you have things pinned, they pop up on your downloaded map, so it's easy to see that your hostel is right next to that really good churro place you pinned.)
Example: Type in the name of the place you want to visit (Let's use Casa Batlló). Once the place pops up, open up the menu, and click the "Save" button.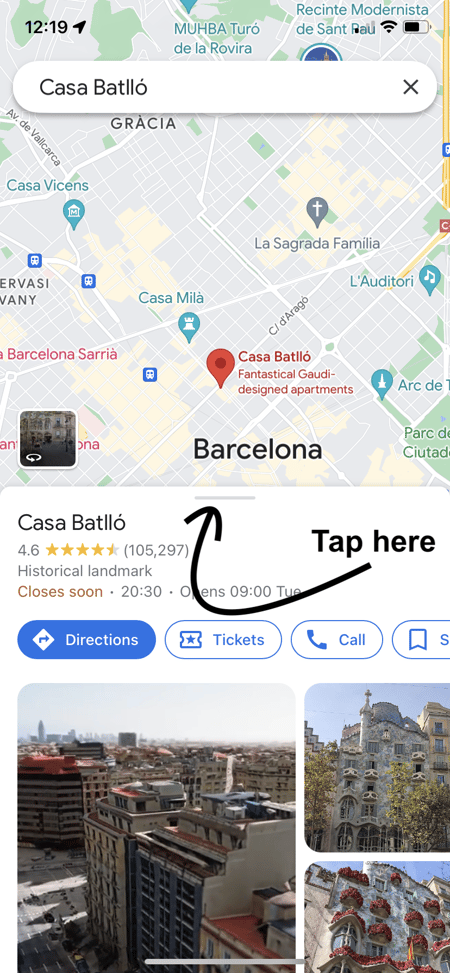 That little gray bar will bring up a pop-up menu — If you click "save" you'll see some options. You can create a New List, or add to a pre-existing one ... or, Google has some premade lists you can use (Want To Go, Favorites, Starred Places, etc). These are just here to keep your saved items organized, but no matter which you choose, you now have a little pin on Casa Batlló! Easy, peasy.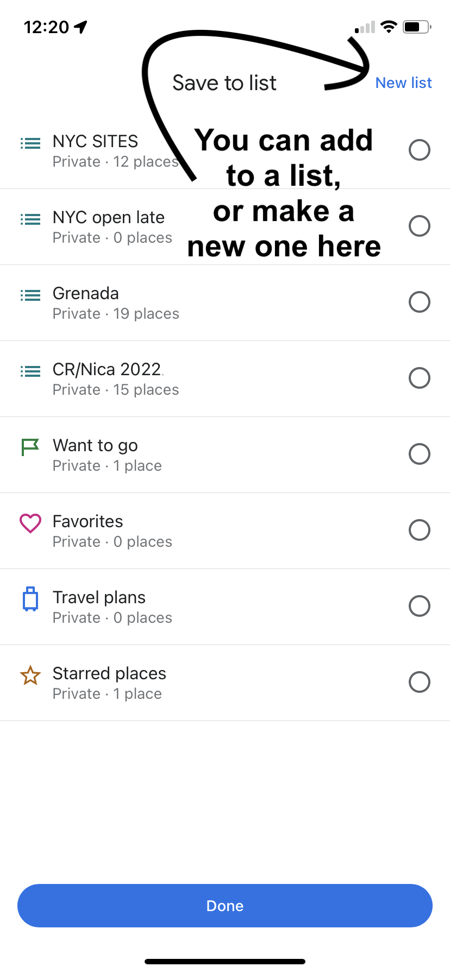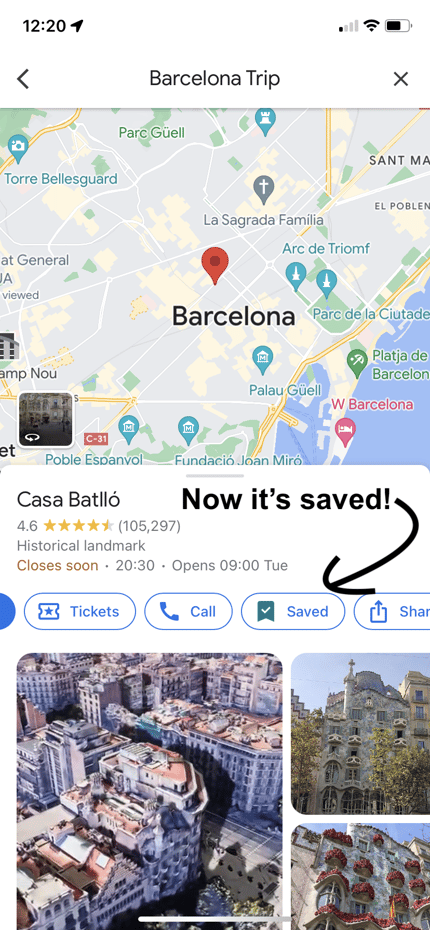 Here's What It Looks Like, All Downloaded


A Couple Of Tricks
Map Out Where You Want To Go
Before leaving, my travel friends sat down and we mapped out what museums, buildings, restaurants, and other things in Barcelona we didn't want to miss and pinned every one. It helped give us an idea of how far away each attraction was, and allowed us to have a map of all the things we wanted to get done that day.
Seeing everything mapped out also helped us know which order to see everything in because we could easily see which spots were close by meaning we should hit them one right after the other before moving on to another part of the city.
Do All Of This With WiFi
The trick to this helpful travel tip is being prepared beforehand … you HAVE to download the map and all of your saved places before you get somewhere for it to be the most helpful without data. Do this all before you are leaving, with a good connection. Remember, your downloaded map saves for 365 days, so you should have plenty of time to follow these steps and start planning.
As a reminder, you won't be able to use Google Maps without data if you didn't download your map while you were either connected to WiFi or had data. You also can't download it without data/WiFi.
And, if you're cautious (like me), I still download the map ahead of time even when I'm traveling with a data plan. I've been stuck trying to get directions when things are loading slowly which is avoidable when you have your map downloaded with your pinned places.
Pin Everything
Your hostel, the train station, the bus station, the restaurants that look interesting, favorite museums, pretty buildings, cafes … the more you pin, the more options you have when you're traveling.

If some activity finishes early or the museum is actually closed that day, you can just look at your downloaded map to figure out what to do next, instead of hunting for an internet cafe to do some Googling. It's always a good idea to have several ideas of where to go and what to do when you're traveling so you can really fit in a full day of adventures with minimal stops to "figure out what to do next".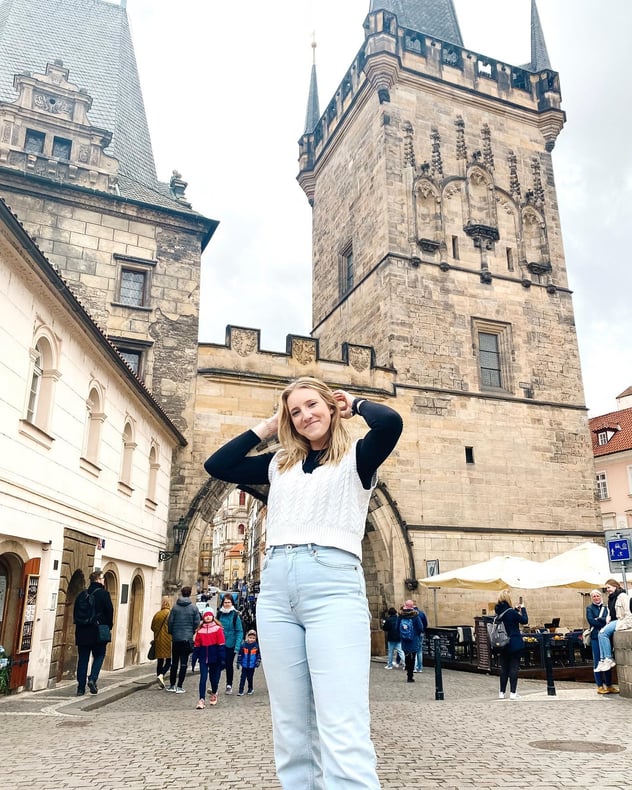 Are you wanting more?
Every Friday, our team which is absolutely obsessed with travel (like you!) sends out a quick email with all the travel tips — favorite vacations, secret spots, insider tips on the latest travels, and discounts so you can travel for cheap.