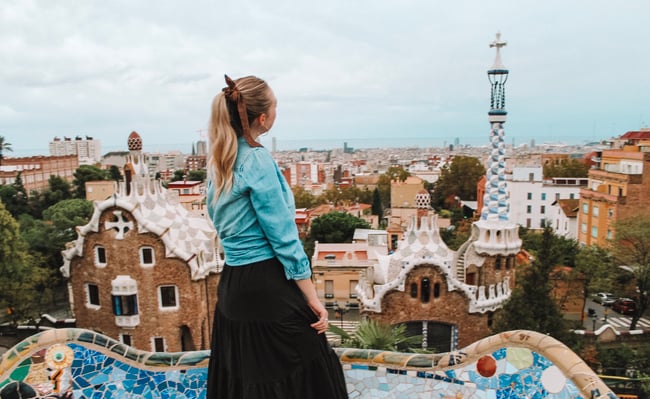 Getting ready to spend weeks or even a few months living abroad? Through trial and error, all of these travel items have become necessities for me and I think they are 100% worth investing in!
Somehow it's been part of my life journey to spend almost three years living and traveling abroad. I got to spend 1 1/2 years in Australia, then three different semesters with International Language Programs in three different countries, and a short time in France as an au pair too. Thanks to these experiences, I know how important it is to have the best travel gear! And I have definitely tried my fair share of products.


---
Dreaming of spending time abroad? Here's how I did it!
Learn More About International Language Programs
---

I've read so many lists and tips and tricks over the years, and this is the travel gear I've found most helpful, but I also totally understand that everyone's needs are a little different. If you're getting ready for a semester abroad, especially on a student's budget, I recommend considering each of these items, and then just decide which of them you can't do without. With that said, these are the things that I've been grateful I had or wished I had and made sure I purchased before the next time around.
When evaluating different travel gear, I have a handful of characteristics that I always consider: quality, affordability, functionality, and customer reviews. Based on those factors and my own experience, here is my list of favorites to help you make sure you have everything you need. This post has affiliate links for your convenience (which means if you make a purchase after clicking a link, we earn a small commission). Just know that I'm only sharing products I use and love!
Make sure you also check out our post with tips for how to not pay top dollar for everyone's favorite travel brands!
My Favorite Travel Gear
Travel Backpack
I looked far and wide for a good travel backpack. I knew it had to have enough room to carry everything I needed for at least a ten-day vacation, while still staying within the carry-on measurement restrictions for the popular European budget airlines I knew I'd be flying on. It had to unzip like a book and lay flat when open, rather than opening from the top, and with interior pockets for easy organization. It also needed to have comfortable straps since I knew I'd be carrying it around for 15+ hours on some full tourist days. And it couldn't cost me more than $50. With all of that in mind, the Hynes Eagle 38L Backpack was the obvious winner and I have loved it!
Heads up: If you're looking for a bag that is also waterproof, then this isn't the bag for you and you'll probably need to spend a little more. Check out our list of backpacks recommended by ILP volunteers!
Packing Cubes
First things first, this probably isn't a necessity for most people. But, I am obsessed with organization, and need my toiletries and personal supplies all lined up not only in my suitcase, but also in my closet shelves/wardrobe drawers all semester long. These are the packing cubes I have.
Crossbody Shoulder Bag
While having a good backpack is essential as a traveler, having a great crossbody shoulder bag is also really important. Let's create a scenario. You're visiting Salzburg, Austria in November and can't wait to experience the Christmas markets (which btw are the absolute best Christmas markets in Europe). What you don't expect is how completely crowded the whole area is with tourists from all over the world coming to experience some of the Christmas magic, just like you are. Now, imagine trying to haul a 25 lb backpack around all evening, through stalls overflowing with holiday trinkets. Yikes!
Instead, pack an empty crossbody shoulder bag in your backpack. When you're ready to leave your hostel or Airbnb that morning, just take out the empty bag and fill it with your daily essentials, then leave your backpack safely locked up in your room. It's so much easier to always keep a protective hand on your crossbody bag when walking through crowds and to be spatially aware of what it may bump into when browsing shops. Plus, most museums and cathedrals won't even let you bring a backpack inside.
Target has the best crossbody bags! My first bag from there held up really well through my three ILP semesters. I bought a new but similar bag for my latest trip to France and loved it just as much. I always get a light brown one that matches easily with everything while still hiding dirt; has a zip closure with several interior pockets; and is big enough to fit a book, wallet, hand sanitizer, lotion, chapstick, snacks, phone, any small souvenirs I might pick up along the way, and maybe even a water bottle. My newest one has both a crossbody strap and handles on top, which offer great versatility. Both bags have cost about $40 and were totally worth it!
Lightweight Travel Blanket
No matter where you're living for a semester, and what time of year it is, you will spend chilly nights on buses and airplanes. Yes, even in Thailand in the middle of the hottest season. And speaking from experience, if you don't bring a blanket, you will regret it.
Instead of carrying around a big, plush blanket that won't fit in your bag and will pick up all of the germs around you, bring a lightweight, packable blanket. Major game changer! They're usually filled with down feathers, making them ultra comfortable and adjustable to every temperature, with barely any added weight to your load. I found mine at Costco for less than $20, but I know they aren't always available there so here is another example of a great packable throw.
Microfiber Towel
You could pack a big, soft, HEAVY towel that not only adds weight but takes forever to dry, especially in countries with major humidity. Or, you could bring a towel that is so lightweight and fast-drying, you can even bring it on your quick weekend trips. I did one semester without my microfiber towel and I won't be doing that again. Besides, as smart travelers know, every ounce in your suitcase counts, and a lighter towel equals more room for travel snacks!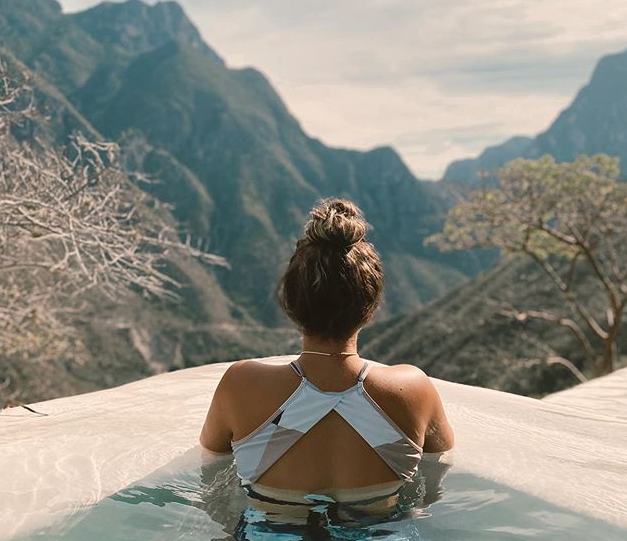 Toiletries Travel Bottles
Pretty much all of ILP's teaching locations have stores nearby where volunteers can buy shampoo, conditioner, soap, and everything else they need for personal hygiene. It's really not necessary to bring huge bottles of these products that take up lots of weight and room in your suitcase. But, it is smart to bring small quantities of these products, just in case you aren't able to get to the store for a couple of days after arrival. Plus, then you have the little bottles to take with you on flights when all you'll have is a carry on and you can't bring any liquids of greater volume than 3 oz.
This set is pretty similar to my collection of toiletries bottles, and even includes two tiny toothbrush covers. I usually just get my bottles from Walmart for less than $1 a piece, but they aren't sold online. I've also seen great options at Target.
Heads up: if you have sensitive skin, and are accustomed to specific products, I do recommend bringing enough face wash and moisturizer for your entire semester since they can be harder to find in local stores.
Insulated Stainless Steel Water Bottle
Drinking a lot of water is really essential to maintaining good health while volunteering abroad, especially in our tropical and humid locations. While it is likely that you won't be able to drink the tap water where you're living, we make sure there is always safe and clean drinking water available for our volunteers. You absolutely want to have a reusable water bottle with you that will keep your water cold, whether you're in the classroom or exploring a tourist gem.
There are tons of the insulated options out there —you could grab one of our rad ILP water bottles, a Hydroflask, or there's discounted brands too at places like Costco as well.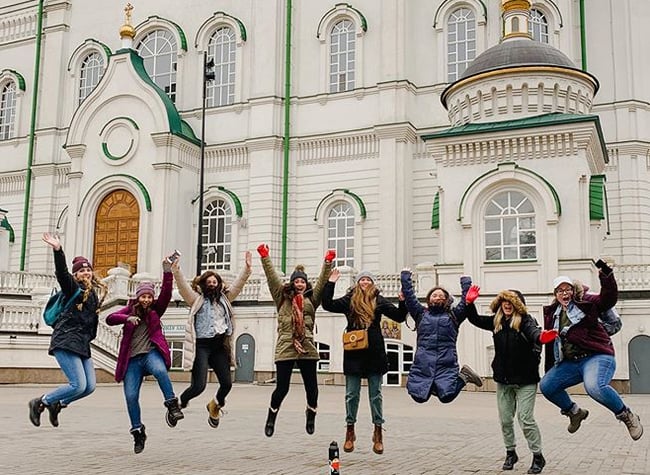 Passport Cover
Totally not necessary for most travelers, especially since you always have to take the cover off at airports and border checks. But, after my second semester abroad, I found that the gold embossing on the front of my passport had almost completely worn off. I immediately bought a cover for my passport and it has prevented any further wear and tear that might cause problems in the future. This one is similar to my passport cover and here's another great option with a magnetic closure.
Phone Accessories
Your phone will end up being one of the most important things you bring for your time abroad. It will likely serve as your primary way to communicate with your family and friends, transfer money, take and save pictures, make reservations and purchase tickets, access maps, and a lot more. So take good care of it! There are several things I make sure to bring with me on every trip.
I bring at least two lightening charging cords for my iPhone (in case one gets a short or stops working), a top-quality portable charger (in case I don't have another way to charge my phone for a couple of days), and a wall-charging block.
I also recommend having a good phone case, and my go-to is called the Loopy case. No, it's not cheap (about $40) and is the most money I've ever spent on a phone case. But, it's worth having both of my hands free when trying to manage multiple things, like luggage and tickets. I also don't have to worry about dropping my phone when taking pictures, or about getting it swiped out of my hand when I'm walking down a busy street. I've absolutely loved my Loopy and can never go back to a phone case without some kind of loop. Keep an eye out for discount codes, because they almost always have them!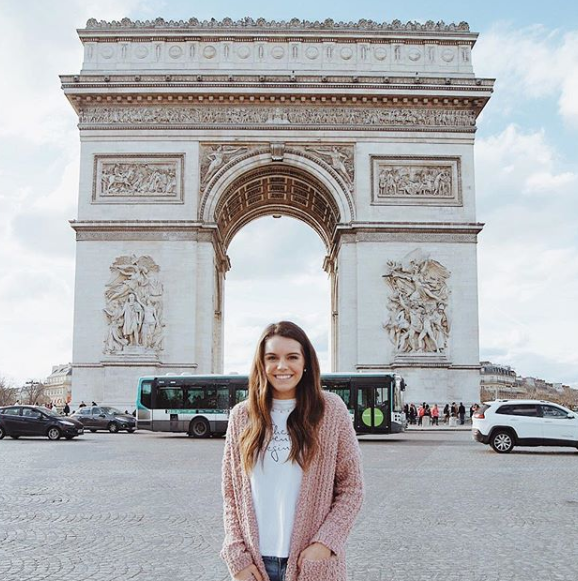 Luggage Scale
Have you ever experienced the major stress of arriving at luggage drop-off to find out that your bag is a solid 5 lbs over the weight limit and you either have to dump necessities/priceless souvenirs or pay an extra $100? Not fun. So, avoid that scenario all together by snagging one of these small and totally portable luggage scales. Sure you can maneuver your bag onto a full-sized scale at home before you leave, but you can't pack that and likely won't have access to one when you're preparing to return home. This little hand-held tool takes away all the stress, anxiety, and what-ifs. I own two of them.
Electronic Adapter
Hopefully you've already figured out what the electrical sockets of your destination look like since they're probably different than the ones at home. This nifty little device serves as the go-between for your electric plugs and the socket. Here's a great one that works for 150 different countries!
Heads up: this isn't a converter which actually adjusts the voltage for your devices. Those can get pretty pricey, and I've found that everything I need to bring for life abroad usually has a converter already built into the device, like my phone and laptop. I do bring hair tools, but only those with dual voltage so they don't need an additional converter either. More on that below.
Dual Voltage Hair Tools
I actually earned my cosmetology license before I started traveling and doing hair is still something I really enjoy. I like to get dressed up and curl my hair regularly, but didn't want to buy a new curling iron in every location I spent a semester in, without being able to then use those tools at home because the voltage was different.
I did some research and found this dual voltage flat iron and dual voltage curling iron. They are amazing! And I actually like them better than any other hair tools I've owned in the past. They travel with me everywhere since all I need is an adapter, and I use them every week at home too. 10/10 recommend! Unless you're traveling somewhere with a very hot and humid climate. In that case, you will NEVER do your hair. Trust me.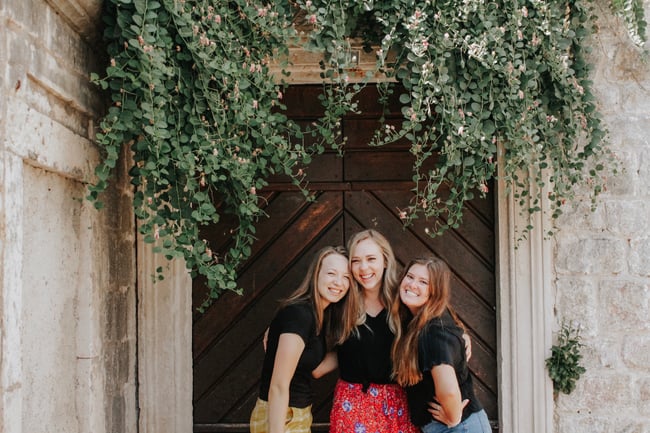 Do you have more questions about how to prepare for your semester abroad?
Every employee in our office has volunteered with ILP at least once before, and we love talking about our own experiences, what we learned, and what we wish we'd brought, etc. Click the button below to get in touch with one of our ILP representatives: