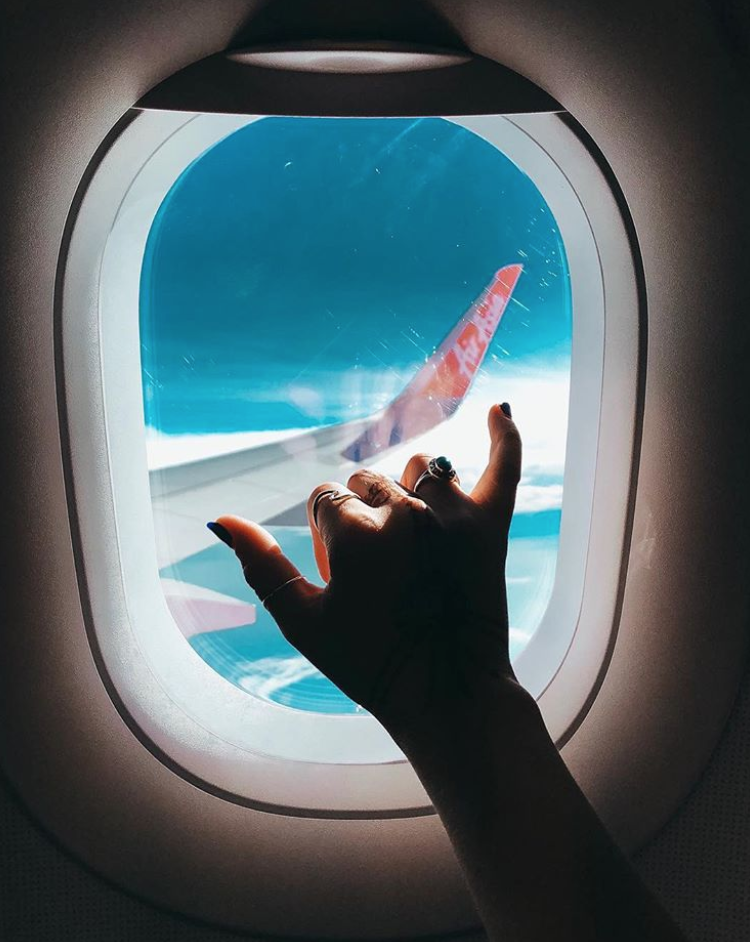 Let's face it, sometimes even the quickest flights can be difficult to get through unless you're prepared. How are you supposed to survive your 12+ hour flight and layovers and what in the world makes the cut for the carry-on?
Here are 10 ways that can ease the pain of those long, dreaded international flights, and hacks so that you have everything you need right in the seat in front of you.


---
You don't need these tips unless you've got your trip planned though!
Come see which country you'll be flying to on your semester abroad
---

And just to make your life that much easier, this post has affiliate links for your convenience (which means if you make a purchase after clicking a link, we earn a small commission). Just know that we only share products that we ourselves have used and loved, that other volunteers have recommended, or that we think just look like they'd be pretty useful!
Essential Tips To Survive A Long, International Flight
Getting through a long flight is no joke. A lot of times you're in a state of high stress just packing for your trip not to mention being excited to get there, and then getting through the airport can be a whirlwind. Finally ... you're on the flight! Now you're just sitting in one spot for hours on end. Welcome to a long flight, but it's definitely doable if you bring some comfort for yourself.
1. Bring A Journal + Something To Write With
There is something so exhilarating when you're sitting on that plane, so why not take notes of it all to look back on later? Some of my favorite journal entries are from when I was sitting on the plane anxiously awaiting a new experience, it's so fun to look back and see the things I was worried about and so excited to see.
Once you are coming home, you can compare your pre-experience thoughts to your actual time across the world! You'd be surprised how many people decide they want to save a little room in their bag and throw that journal to the side. Big mistake! Believe me, on those 12 hour flights, having something to write your thoughts down could save your sanity. I love these little Moleskin notebooks or this much prettier travel option. Plus, I feel like I never have time to journal, so it feels like a fun way to spend a portion of my trip.
Pro-tip: Make sure you put a pen or two in a small pocket in your bag, where you can find it. Bring an extra in case someone next to you asks to borrow a pen (that happens to me all the time because people never think to pack a pen). You'll need one to fill out any immigration forms.
2. Charge Up All Your Devices + Download Entertainment
Most international flights have not only a personalized screen so that you can watch movies but also an outlet (usually a USB port) where you can charge your phone, wireless headphones, etc.
But ... there's nothing worse than getting on the plane and realizing that's not the case. I've done so many flights without the conveniences I thought I would have. Once on an 8-hour flight the in-flight movies just weren't working, so we couldn't watch them. I've also been on a number of planes that didn't have the charging ports at each seat.
Now I always have a backup plan, just in case. The night before my trip, I download several movies or shows to my phone or iPad, and download several Spotify playlists and podcast episodes so that I can listen while I'm up in the air. Make sure to download them beforehand! Even if the airline advertises free WiFi on the plane, most of the time the signal isn't strong enough to download entire shows. And then I always charge up in full while I'm waiting by my gate.
Not already a podcast junkie yet? Look no further! We put together our top podcast picks right here.
Pro tip: Even if I'm bringing my wireless earbuds, I also bring wired ones too! You'll need them if you want to watch the airline's movies. Sometimes they have complimentary headphones, but not always.
3. Don't Be Afraid to Move Seats, and Spread Out!
Most international flights have assigned seating, but if your flight isn't full and there is a row with no one on it ... take it! Flight attendants prefer that you wait until everyone has boarded the plane (and even until after the flight has departed and the seatbelt sign is off), but after that, I've never had a problem moving seats. Having even a little extra room to spread out is worth the hassle of moving. You will appreciate every inch you have.
4. Wear Something Comfortable
No one cares what you look like when you travel. You can usually catch me in leggings or sweats on flight days. Most flights get pretty chilly too (in my opinion) so I love having a small blanket and a baggy sweater in case I need it.
To get specific ... personally, this is my favorite thing to wear while flying:
A loose t-shirt with a sweatshirt over it (so that I can take the sweatshirt off if I'm hot or put it on if I'm cold)
Loose, baggy pants like joggers and compression socks (it's easy to pull on knee-high compression socks if you have loose pants)
Shoes that slide on easily and are comfortable to walk in, like tennis shoes
A neck pillow
But that's just me. You do you. But really, just wear something stretchy with lots of layers.
Why compression socks? This is another pro tip. Our bodies just go through the wringer on those long flight days that are 12+ hours in the air — you're in high elevation for extended periods of time, not sleeping well, not eating well, dehydrated, stressed, etc. All of this means it's common for your feet to swell and it can be a little uncomfortable when you finally get off your last flight. Wearing compression socks on long flights can significantly reduce that though! Give them a try the next time you fly, you can find them in lots of places (like these ones from Amazon).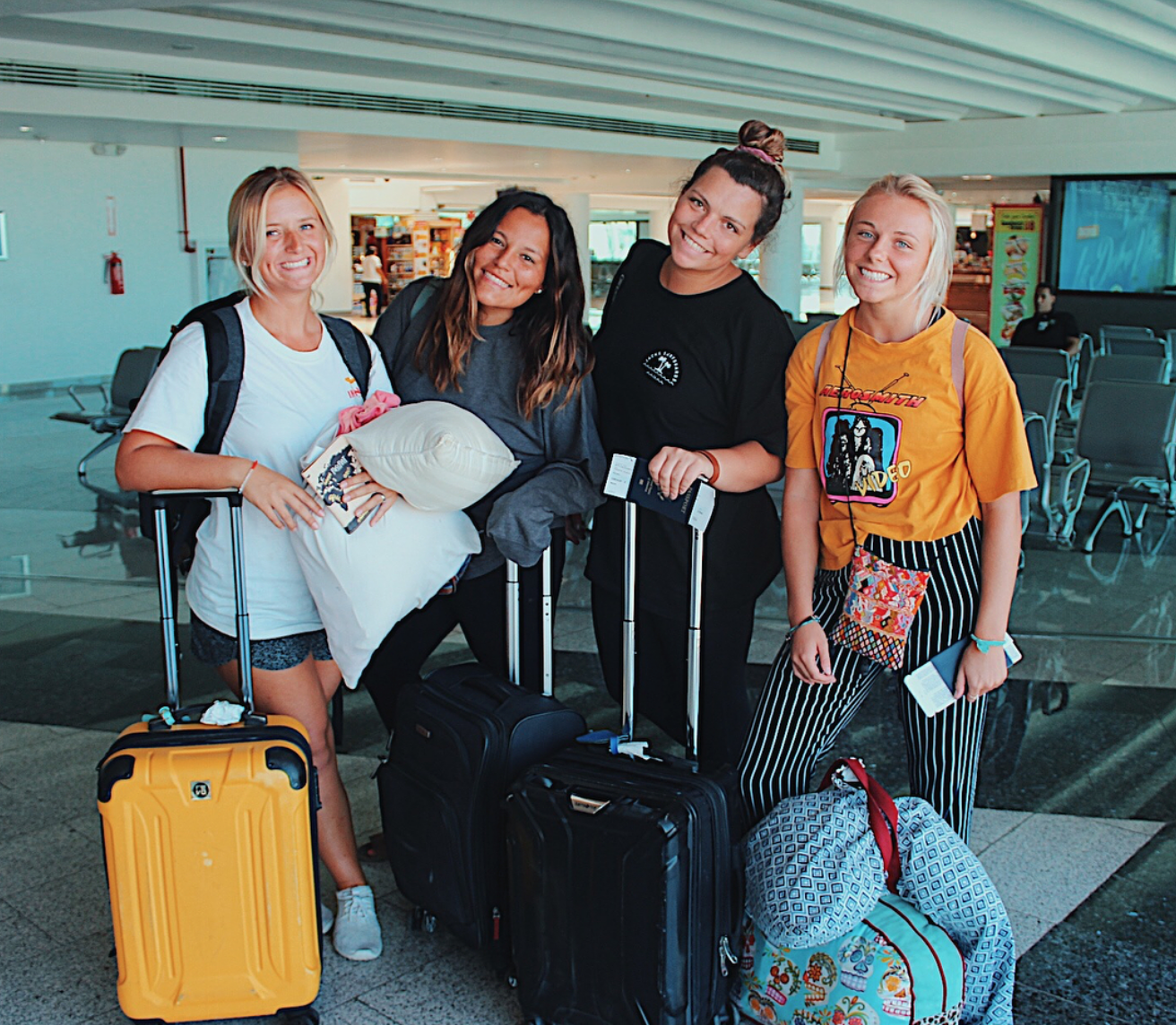 5. Get Up And Move
It is so important to get up and walk around every couple of hours. These little walks will keep your legs from getting super stiff. Even if you need to awkwardly climb over the people sitting next to you, just do it.
6. Bring A "Bathroom Essentials Pouch"
Whether you are traveling through the actual nighttime or not, it's important to have travel-sized items like a toothbrush, toothpaste, deodorant, gum, floss, and maybe even face wash. I even bring mascara and chapstick because even those two small things help me feel a bit more put together and confident before walking off the plane. This is something that I have been doing on my recent flights and it really makes all the difference! After eating airplane meals, being able to brush my teeth and stay fresh really helps me stay relaxed, which is the ultimate goal right?
You can make a little pouch with these items and bring it with you when you go to the bathroom. That way it's discreet and you don't have to carry your whole backpack with you, just to brush your teeth or wash your face. Here's my list of travel-sized goodies to have with me on any flight.
7. Stay Hydrated + Bring Healthy Snacks
Do you ever bring a water bottle thinking you'll be staying hydrated the whole flight, just to empty it out at security and forget to refill it on the plane? No? Just me??
Staying hydrated is rule #1 when it comes to traveling, and that starts with your flight ... and no, drinking 5 mini cups of Diet Coke will not help the situation. Make a rule to drink a cup of water with any sort of soda you get. If you plan on sleeping, ask your friend sitting next to you to get you water in case you're snoozing when the flight attendants come by so you can have something to drink when you wake up.
As much as I love the airline meals that come in metal tins (jokes, they're usually meh), I love having my own snacks. When traveling internationally, the airlines stick to schedules for how often they bring around food and drinks. If you take a nap and miss a snack, it could be a couple of hours until they come around with the next thing, so you'll want to be able to reach into your carry-on and pull out a protein bar or trail mix. Here's my go-to list for travel snacks to pack.
8. Catch Those Extra ZZZs
Sleeping is one of the best ways to make it through a long flight. The time will pass by, and you won't have any idea. Sleeping on a plane can be a little tricky though. The lights may bother you, the people moving around a lot may bother you...how are you supposed to sleep?

We suggest bringing an eye mask (I love this one) and headphones or earplugs. While it still won't be as good as laying in your own bed, catching even a little sleep makes the time fly. If you are the type of person who can't sleep anywhere but their bed, try a sleep aid. It will help relax you, and help you sleep a little longer. Which sleep aids? There are so many options out there from natural, to over-the-counter, to prescription. Do some research to find what's best for you!
9. Read Up
Bring some reading material! I do like watching movies on flights because it helps pass the time, but if you're on a 12 hour flight, you watch 3 movies in a row and still have time left to fill. I like to give my eyes a break from the screen by packing a good book in my carry-on bag, but if you want to save space you could also download material to your phone.
I usually pick a book I just can't put down because it can help pass the time so quickly. You might even pick a book about the country you're going to! For ILP volunteers, another reason I like bringing an actual book is because it can be nice to share books once you're abroad with your ILP group so that you have reading material for your free time during your semester too.
10. Have a Good Attitude
Last, but not least is having a good attitude! If you mentally hype yourself for a fun and relaxing flight, go prepared with things to keep you entertained, fresh and hydrated then you will have a great time! Having a positive attitude about the flight will cause you to enjoy your time more, as well as the people around you. Nobody wants to sit next to the grumpy person on the flight, so don't be that person! Have fun, the plane ride won't last forever (and it will alllllll be worth it).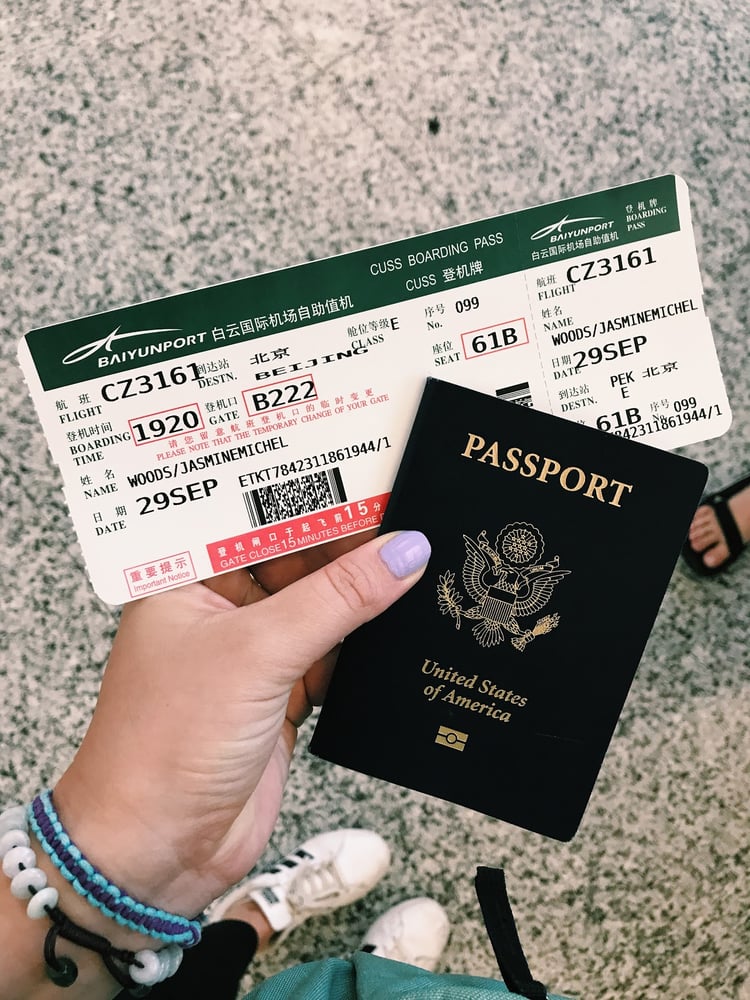 Let's Review: What To Pack In Your Carry On
Okay, now that you have all the tips you need, you need to make sure you're not packing something essential in your checked bag! Your carry-on (or your personal item) will be accessible during your flight, so these are the bags you'll want to put everything into. If it's up to me, I try to fit it into my personal item so I don't have to get up and get my carry-on bag from the overhead bin.
— Journal, notebook, pen, and a book you have been dying to read but putting off for months
— Cell Phone, iPad, Kindle, headphones, charging chords
— Healthy Snacks: Protein bars, granola bars, trail mix, dried fruit, etc.

— Extra clothes for layering: leggings, sweater, extra pair of fuzzy socks

— "Bathroom Essentials Pouch" filled with a toothbrush, toothpaste, deodorant, gum, floss, and chapstick

— Sleep aids, eye mask, ear plugs

— Water bottle (Volunteers really recommend something temp-regulated. You could grab one of our rad ILP water bottles, or there are discounted brands at Amazon and Costco too)
Now you're all set! It can be easy to forget the small things before a flight so be sure to refer back to this as needed so you can have the ultimate cozy flight abroad!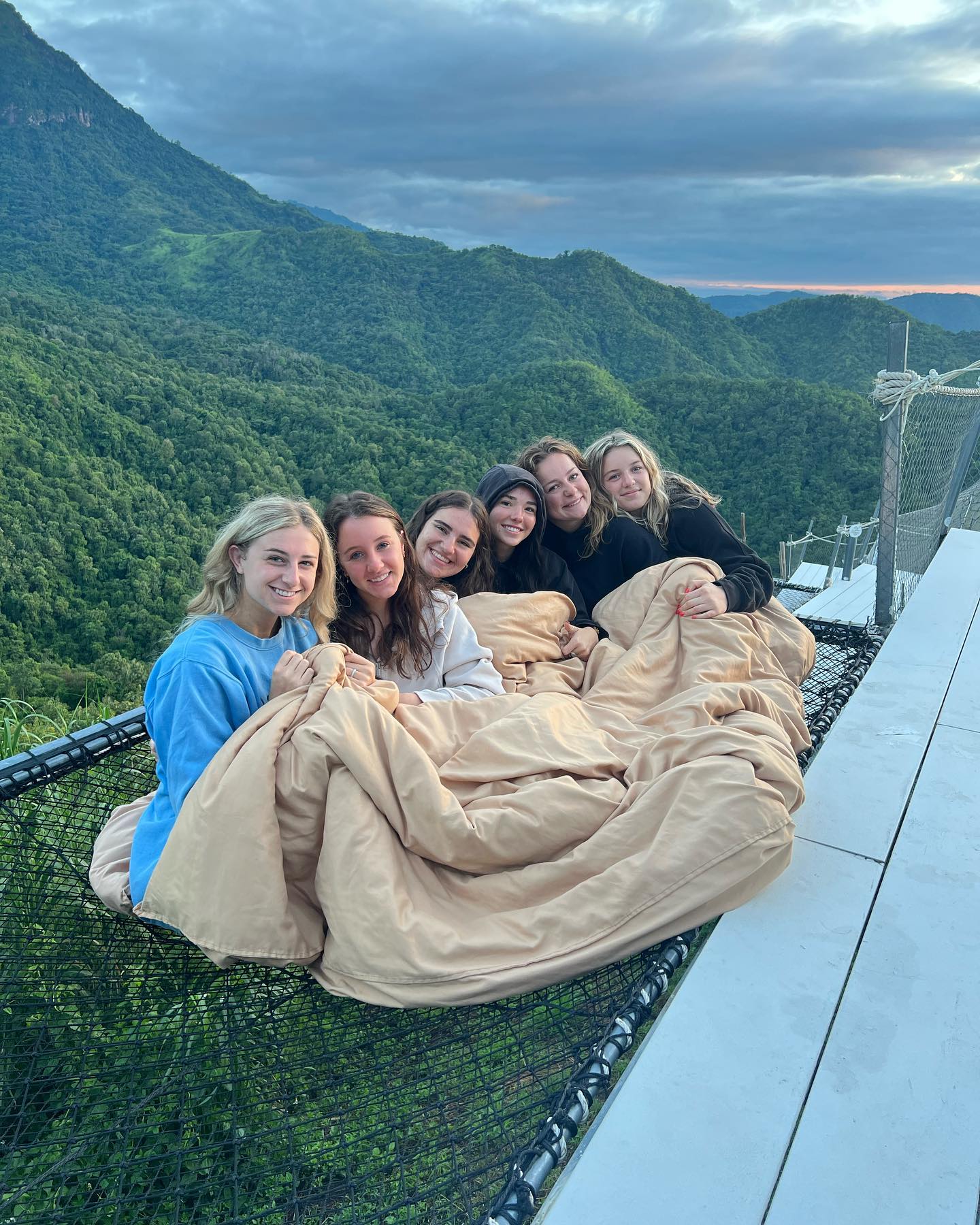 Interested in volunteering abroad?
Go with ILP! International Language Programs (ILP for short) sends college-aged volunteers abroad to teach English or volunteer in an orphanage. We've got programs all over the world (so you can use these tips no matter what ILP country you're headed to). Plus, we keep costs low and let you travel with a group, so you won't be adventuring alone.
Come talk to an ILP representative and get your questions answered!