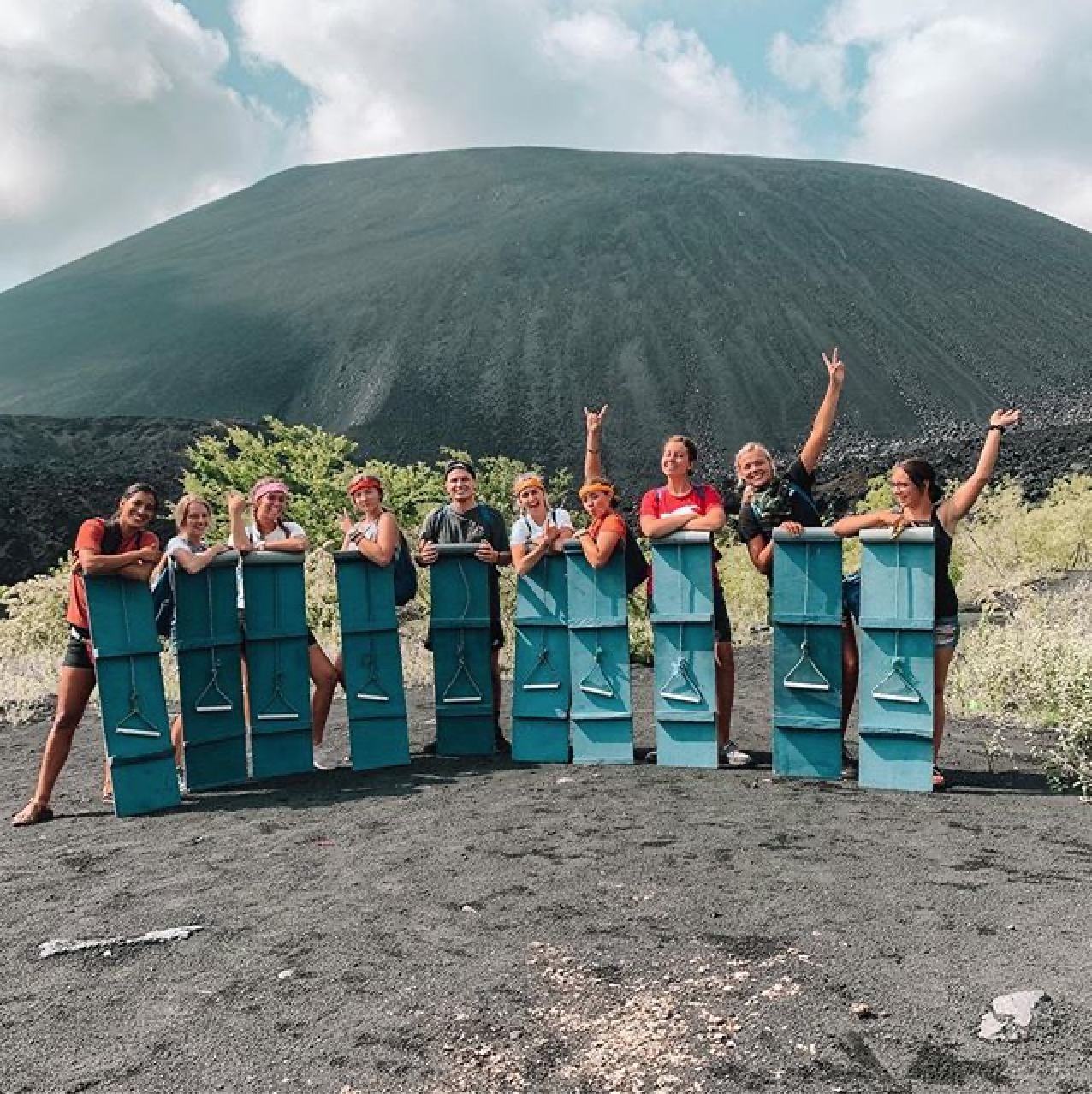 The secret is out — Nicaragua really is the hidden gem of Central America.
Bursting full of history, rainbow colored buildings, unreal beaches (and cheap surfing lessons), jungle excursions and islands that rival the rest of the Caribbean, this country is a spot to see before it gets too touristy.
Never thought about really experiencing Nicaragua? You're not alone … this country really is Central America's best kept secret. But that's why we love it so much and has become a home to one of ILP's humanitarian programs. We've got opportunities for you to come explore this country with the comfort of a group of American volunteers for your semester abroad.


---
Volunteer with us in our Nicaraguan Humanitarian Program!
Come fill out an application
---

In Nicaragua you've got all the dense jungles, white sand beaches, plus adventures upon adventures but without the price tag of more touristy countries. It's perfect. Just looking at a couple highlights and it's official — Nicaragua, we're in love.
We put together a bit of a guide to the country to help you plan out your vacations, including the favorite spot we (and ILP volunteers) have discovered and recommend.
Jungle + Mountain Adventures In The Northwest
This part of the country has those thick Central American jungles you're dreaming of, plus mountains and lakes to boot. There's several spots to come have big outdoor adventures, just make sure to pack up your sunscreen and hiking shoes!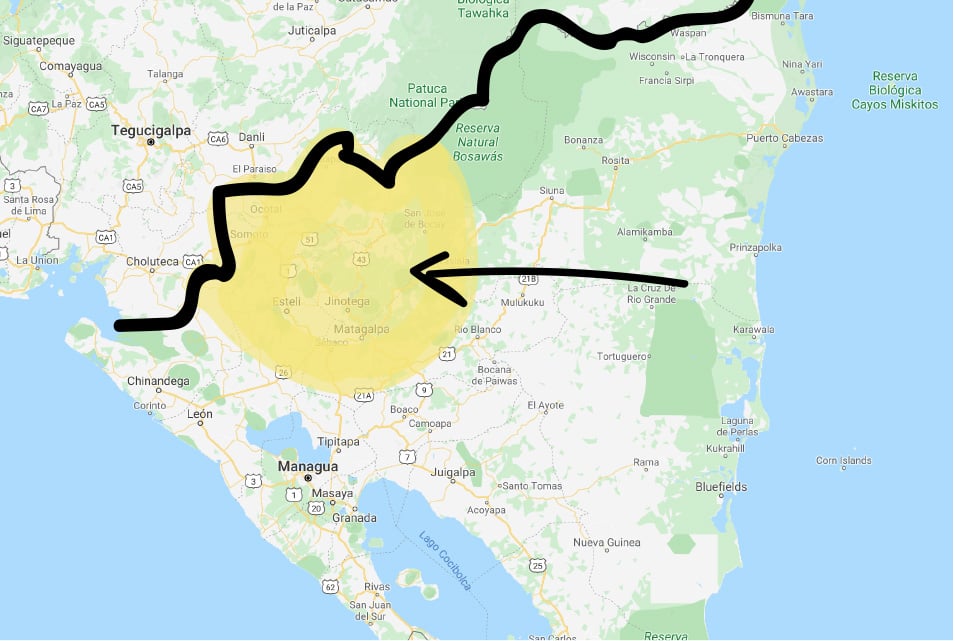 Hike Nicaragua's Grand Canyon
Head up to the northwest border for this adventure. In Somoto Canyon, sheer limestone cliffs are filled with clear turquoise water that twist into narrow canyons (aka, the ideal photo op). Plus, the water helps keep you cool while you hike. At some points, the water is deep enough for a little cliff jumping or just a relaxing float in the pools. There are also dozens of spots for canyoneering and rappelling in this country.
This post has more information on how to plan a trip up to the canyon, including tours that past ILP volunteers have used and recommended.
For The Best Rafting In Nica
As much as we love the colorful streets of Granada, this is where you'll get back to nature. It's home to the best rafting spots in the country, plus it's very remote — you're likely to find more Nicaraguan cowboys than tourists out here!
You can come give back to the locals by touring organic farms, go horseback riding, go hiking through tree covered trails, and of course, white water rafting. Get a peek at what's waiting for your Matagalpa, here.
Hike Through The City Of Mists
Jinotega. True to this part of the country, you'll find lots of rural local life, plus we love the pretty, pretty churches up here. Hiking is going to be your go-to activity and you might want to cool off by the lake.
Trek Through Waterfalls
Nicaragua has dense rain forests and cloud forests just like Costa Rica, but they're just waiting to be discovered — Miraflor Nature Reserve is a favorite spot among backpackers to adventure in. You'll find mazes of trails covered in thick greenery and peppered with the sounds of howler monkeys and bird calls. Since Nicaragua's secret isn't quite out yet, plan on feeling like you have the whole rain forest all to yourself. Trek over rivers and through waterfalls, past local farms hidden in tangled forest.
We've got information to help you plan your trip to Miraflor right here.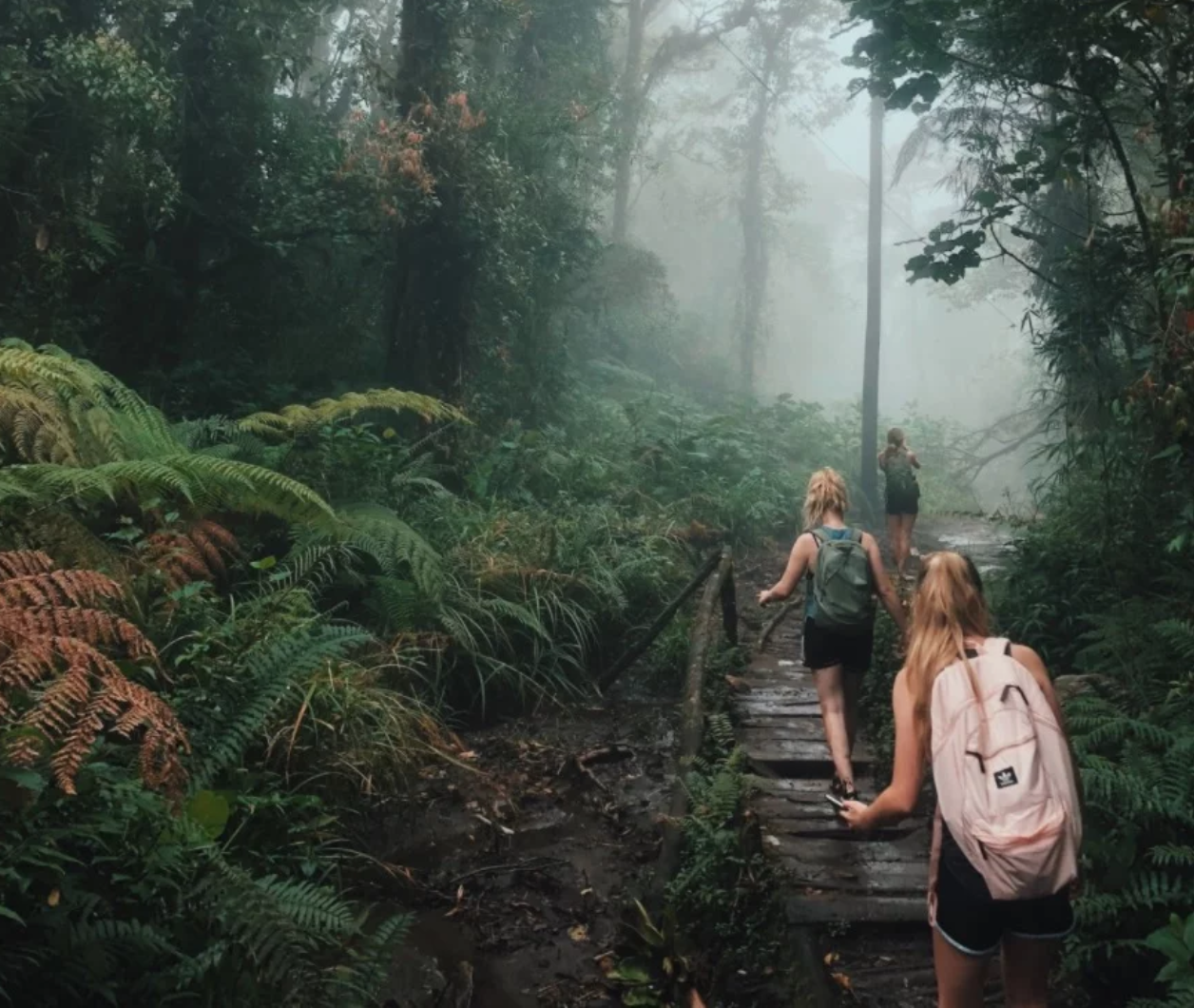 Caribbean Side Islands
Vacation In Actual Paradise
These two islands are as gorgeous as the ones you'd find on your Caribbean cruise but it's so far west that it's not a hot spot. And most tourists don't know it even exists. So you know what the means? Nearly untouched paradise just waiting for you while you're in Nicaragua!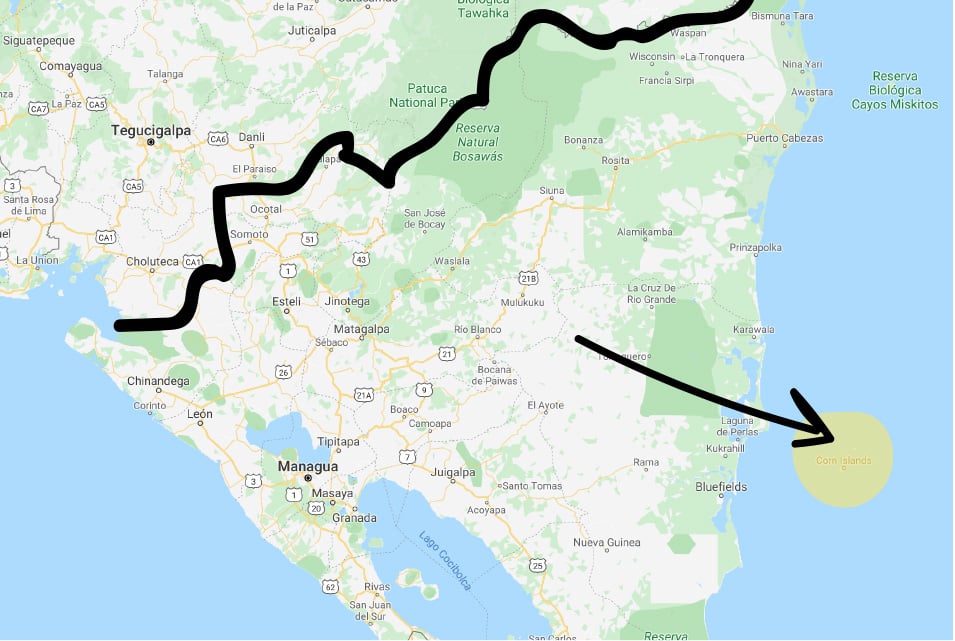 Tucked away on the eastern side of the country, Little Corn and Big Corn islands are made for the vacation life. We're talking clear and blue water, tall palm trees plus secluded coves and beaches. Head to Little Corn for a quieter experience, or Big Corn for larger resorts, but both will give you turquoise water, white sand and palm fronds aplenty … You aren't going to want to leave. Trust us, we loved our trip here so much.
Our go-to-guide to the Corn Islands breaks down all the tips to help you plan your trip here.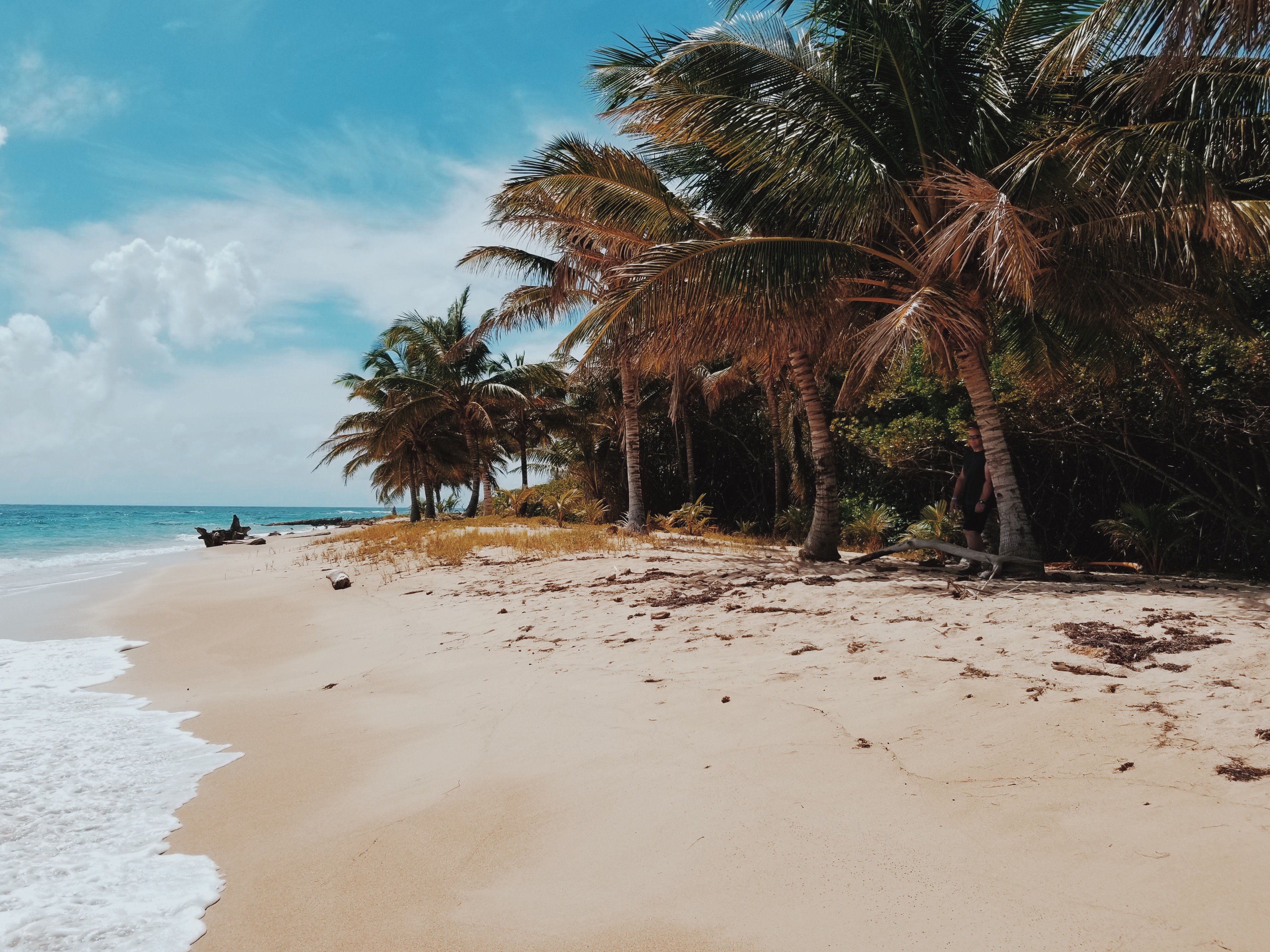 Pacific Coast Beaches
Head to the opposite side of Nicaragua to find even more vacation worthy beaches. The entire coast line is full of sleepy, surfer filled beaches where you can get sunbathe without the crowds.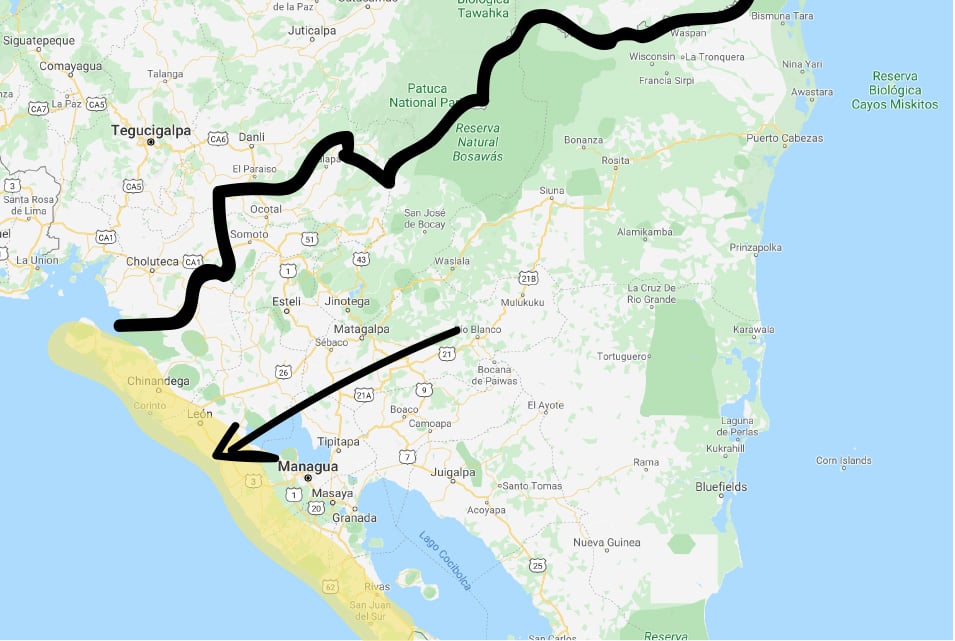 There's tons of options, but we pulled out a few of our favorites Pacific side beaches on this post.
San Juan del Sur is the most famous (and also most traveled to), sitting close to the Costa Rican border. Here you'll get loads of excursions and activities like riding horses along the beach and hiking to the Christ Statue. Plus you can even release baby sea turtles!
If you're looking for something a bit more off the beaten path, head north along the coast. You might want to check out this beach side hostel we found, you can do all the things we love (like horseback riding, surfing, and supporting a turtle conservation) but it's got more of that adventurous, off the grid, backpacker's vibe that we love so much from Nicaragua.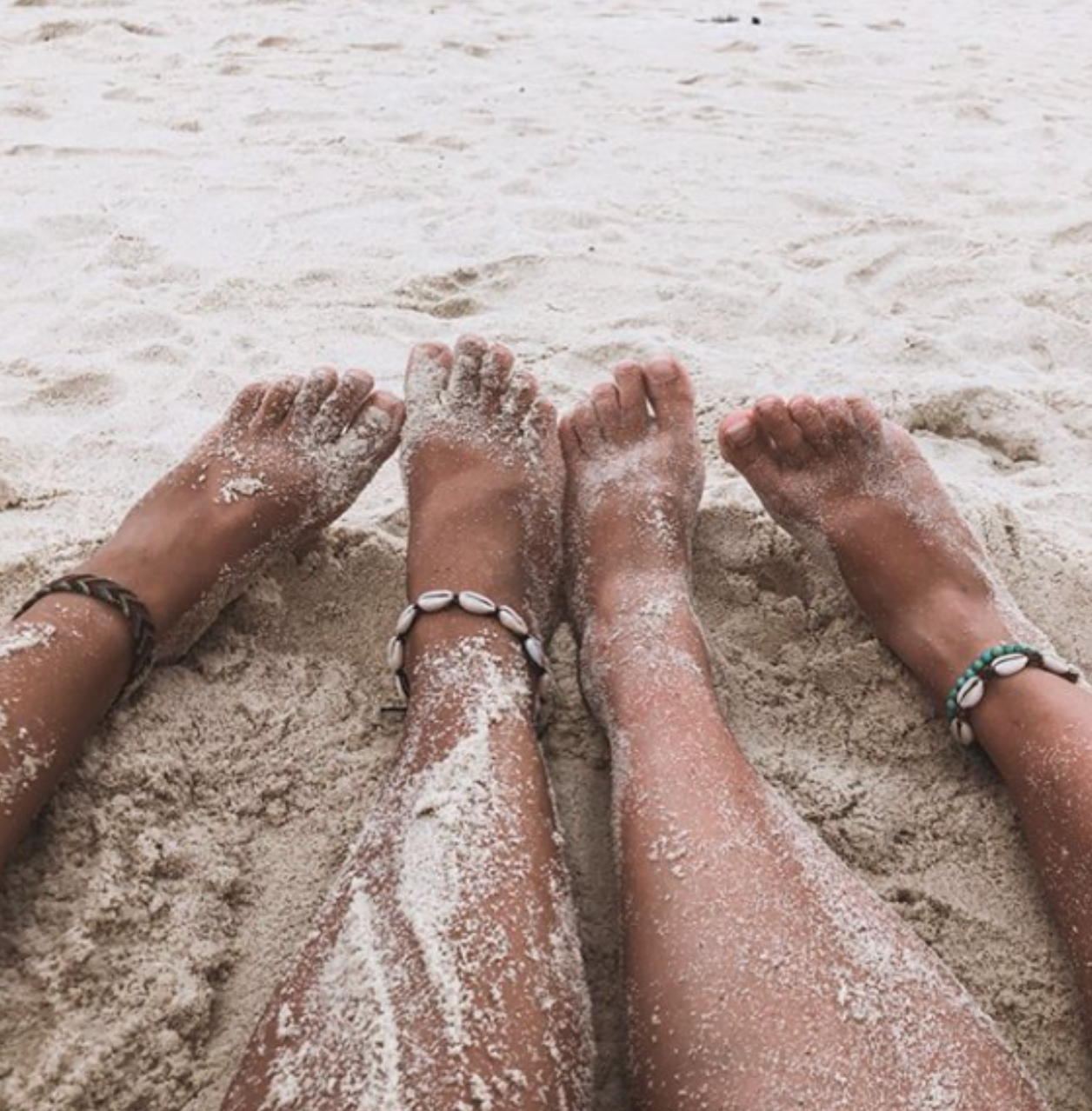 Oh-So-Famous Volcanoes
Nicaragua is known for its volcanoes — it's actually often referred to as "the country of lakes and volcanoes". The best part is they are all waiting for you! It can be a bit of a strenuous hike, but those killer views at the top are so worth it.
The Volcano String
While there are actually something like 19 active volcanoes here, there's a string of them towards the southwestern edge of the country that make up the most famous. I've actually heard a rumor that you can stand on top of one of the volcanoes and see 2 or 3 more in the distance. Let me know in the comments if that's true!
We put together a post to help you decide which volcanoes you're going to go see, but if you ask me ... I'd say you definitely can't miss Masaya where you can actually lean over the rim of the volcano to see active, bubbling lava. How cool is that?
Oh and don't forget to check out the nearby markets in Masaya — while shopping for handmade beaded bags, beautiful ceramic pots and colorful jewelry, stop off for a snack. Try the local cabbage and pork dish, "vigoron". Or for something sweet, grab a glass of leche con cacao … it's like chocolate milk but wayyyy better.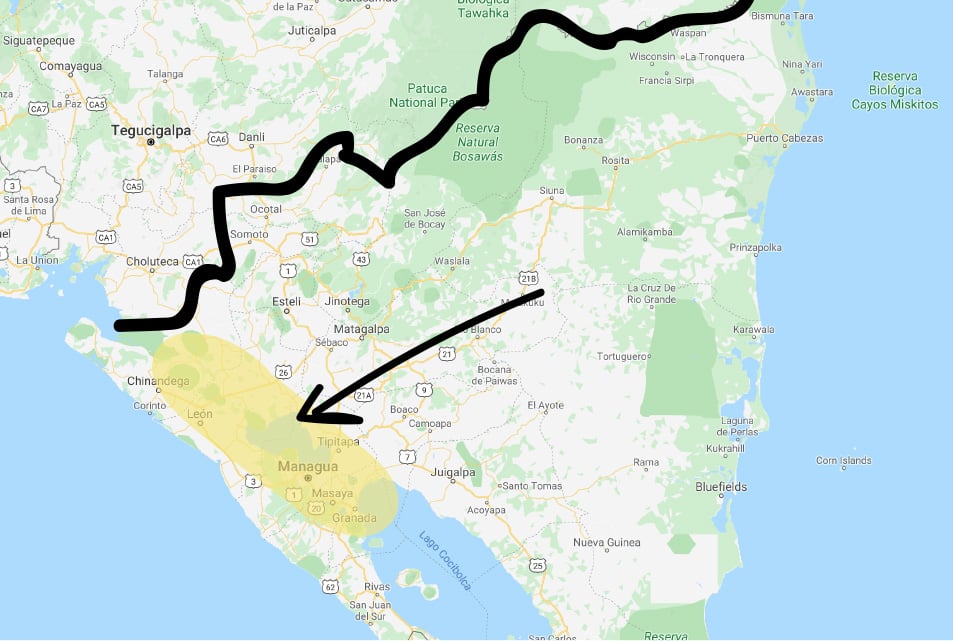 Volcano Boarding + Stop By Cathedrals
Another volcano you definitely can't miss!
Come sledding on an active volcano. Yep, you read that right. The Cerro Negro volcano is where you can hike to the top of the volcano's rim, put on this rad jumpsuit, grab a toboggan-like sled and zoom down the side of a volcano. It's a total thrill and an iconic activity that is one of those must-do things in Nicaragua. Oh, and be sure to pick up a "I went Volcano Boarding" tee shirt on your way out, just for the bragging rights.
One ILP volunteer said, "YOU HAVE TO GO!!! WENT VOLCANO BOARDING AND IT WAS AWESOME!!!! Not as scary as it looks. Promise."
Here's more pictures and info you'll need to make this happen during your semester.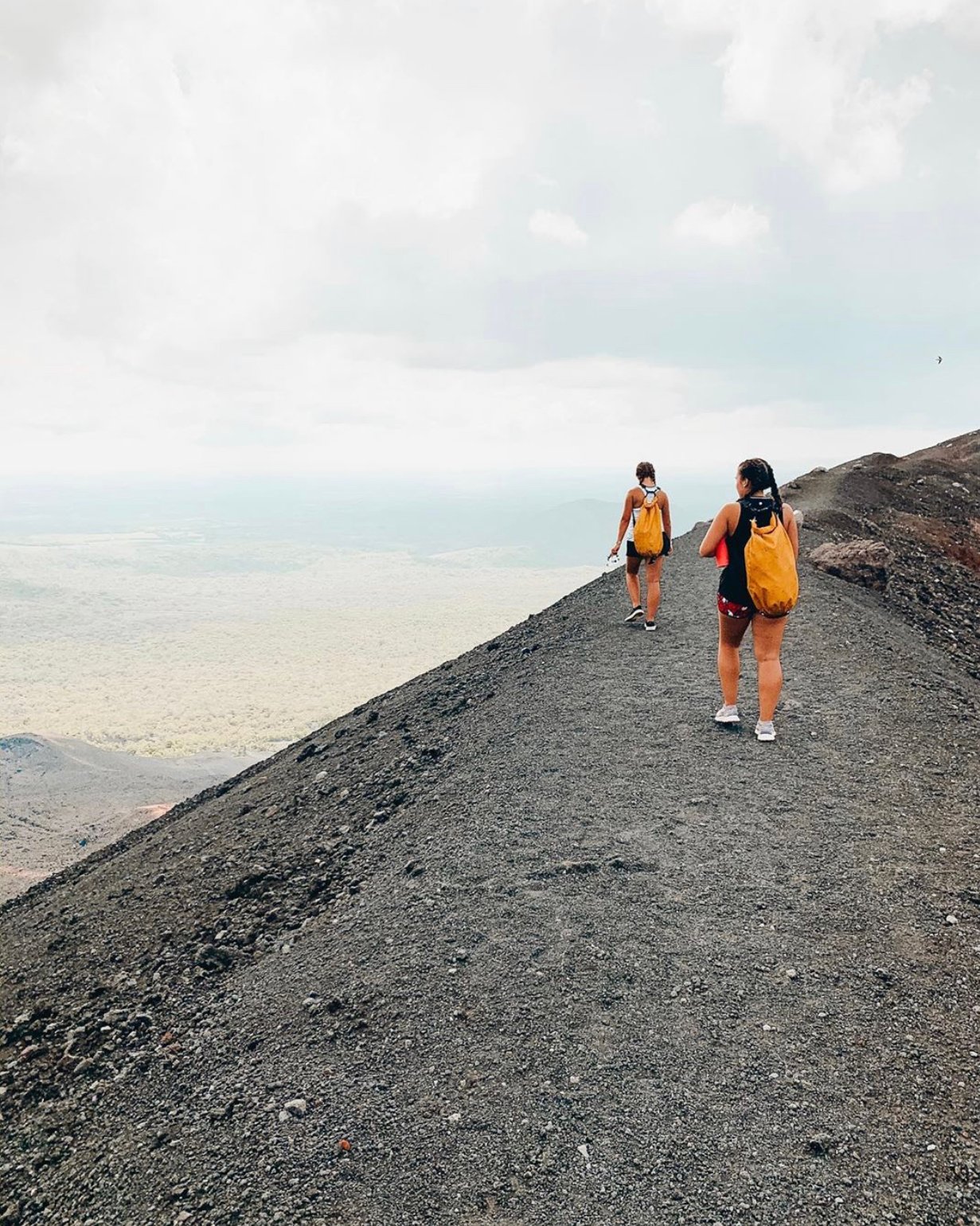 This volcano sits right outside of Leon, which is a destination city all on its own. Come wander the streets to find some of the most beautiful cathedrals in the country. My personal favorite is the one where you can kick off your shoes and walk across the pure white rooftop. It's seriously rad.
We've got a post all about Leon to help plan your trip.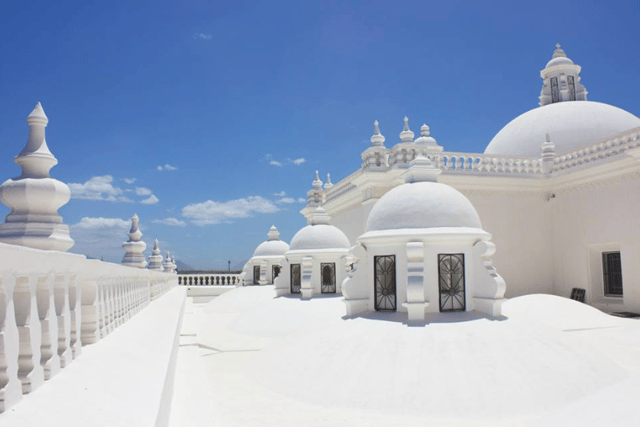 Colorful Streets, Our Favorite Lake, Chocolate Massages + More
Okay so I can't really say we saved the best for last because we already talked about some of my favorite spots on earth, but this part of the country really brings it all home.
The area surrounding Granada (and the city itself) holds some of the best photo op moments, plus I can't even wait to tell you about Ometepe. This area actually overlaps with our previous section about volcanoes. That Masaya volcano that I was raving about? It sits right outside of Granada! So you're in luck for adventures that are all so close to each other.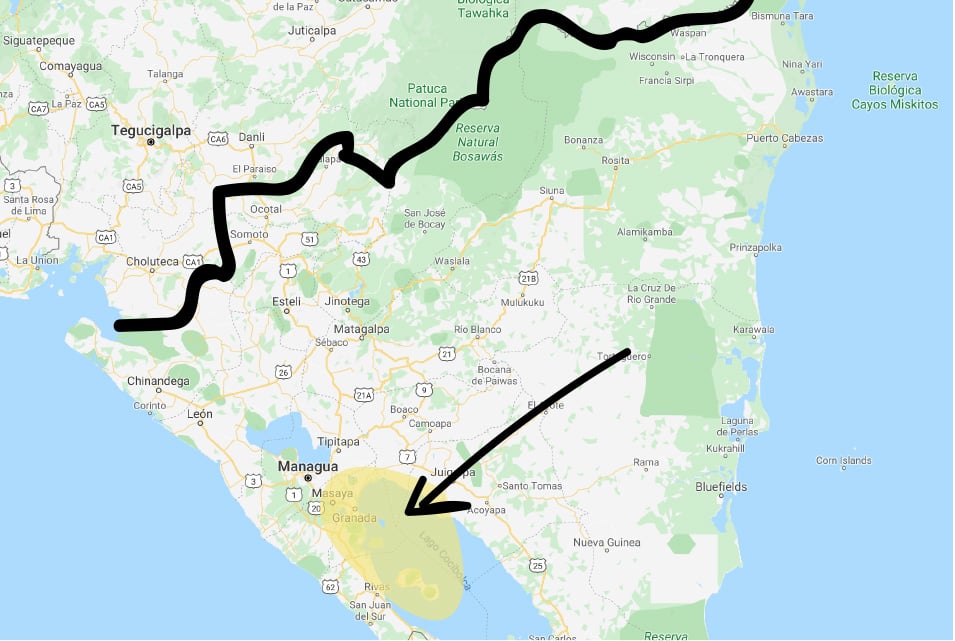 Wander Rainbow Streets + Get A Chocolate Massage
If you think buildings are boring, think again. Wander the colorfully painted streets and get photo after photo of you standing against vibrant yellows, cobalt blues and vivid pink walls while touring in Granada. This city is ranks high on the list for most tourists and we're not surprised. After your photoshoot, get a chocolate massage (seriously!), or climb up to the Inglesia de la Merced's bell tower for the best view of the famous, canary-yellow cathedral. Fruit smoothies are also around every corner. Yum!
Contribute To Humanitarian Efforts
Granada is also home to our Humanitarian Program. Each semester, International Language Programs send college-age volunteers to live in Granada together for a few months. They live within walking distance to both those colorful downtown streets, as well as local areas that are more impoverished. They help children learn English by providing free classes to them during the week, but then have the weekends plus vacation time to explore the rest of Nicaragua (as well as nearby countries we love to vacation in like Costa Rica and Panama).
Learn more about how that volunteer program works right here.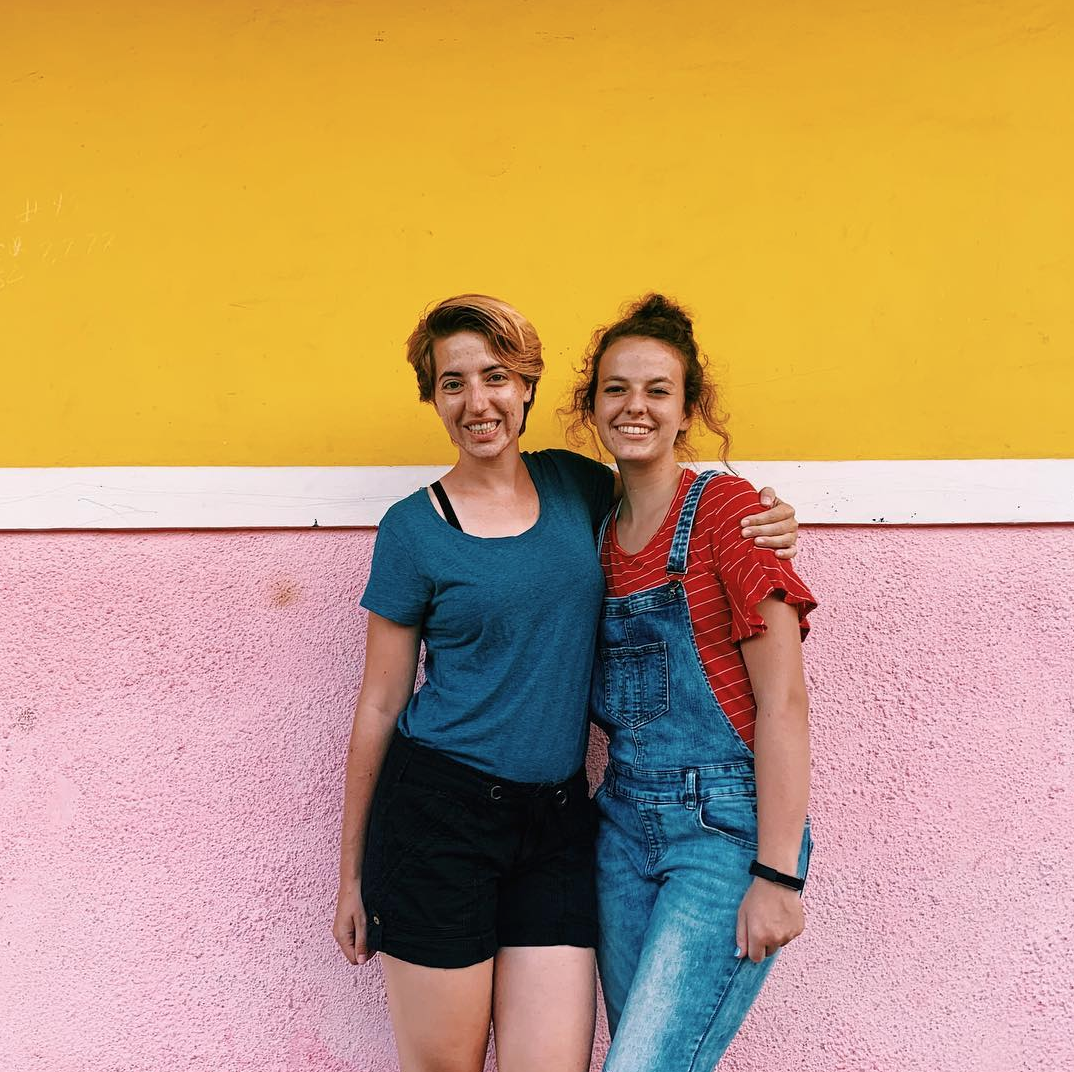 Kayak + Hang In Hammocks Around Ometepe Island
If you're itching to get back into nature, come explore the nearby island chain by kayak ... there are 365 to see!
Massive volcanoes formed this now island that we can't get enough of. Plus we're stoked that it's so close to Granada that it's easy for our volunteers to come enjoy any weekend they want. There's crystal pools, waterfalls, hiking, kayaking, black sand beaches ... it's seriously what dreams are made of.
Check out this post to learn more about Ometepe.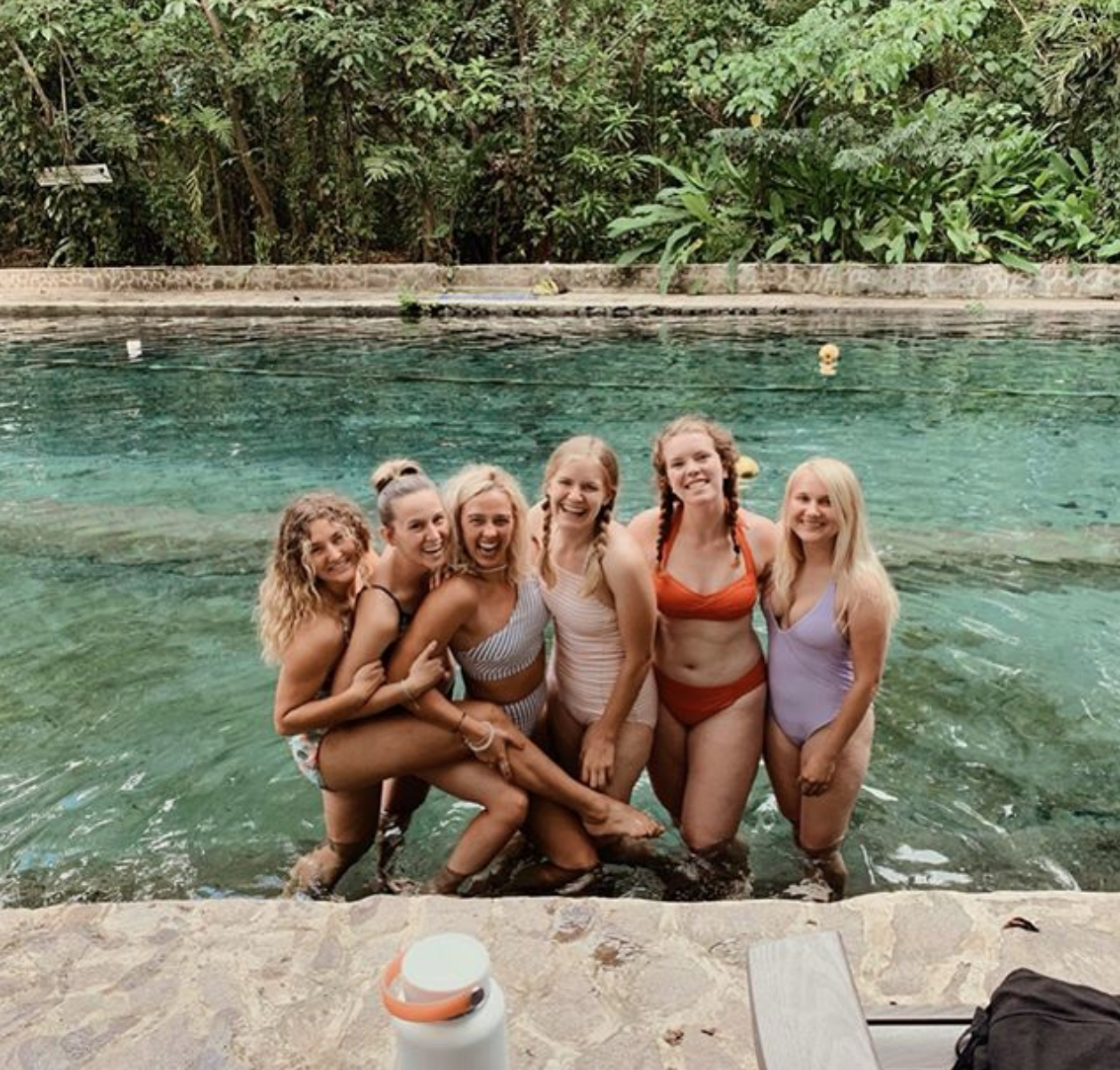 Come explore Nicaragua with a group of American volunteers
Whether you're headed to Nicaragua to roast marshmallows over actual lava, or want to just hike to the top of a volcano for the best views, or are here to zipline the jungles or spend your time wandering beaches and colorful colonial streets, Nicaragua is definitely the country for you.
See what a typical day is like for volunteers in Nicaragua plus learn more about the costs, dates, etc.