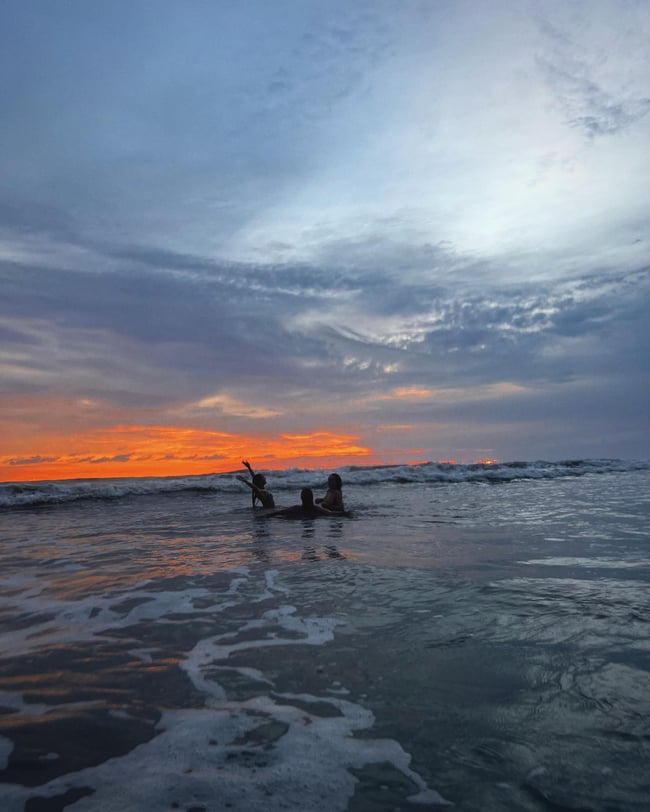 If you're nearby Granada, Nicaragua, you're in luck — this relaxed surf spot is a close coastline for when you need a beach day.Be prepared for time in the sun and water if you're spending time in Nicaragua! This country is full of lakes hiding in volcano craters, tumbling waterfalls, and of course, the beach. When it comes to the sand and surf, you have your pick — this country boasts several top-tier surfing destinations, along with seemingly private islands you have all to yourself if you trek out to the Caribbean side of the country.

We're big fans of a trip out to the stunning Corn Islands, but sometimes you need something a little closer to home, which is why we love love love Popoyo.


---
Wondering how to fit all of this in just a quick trip?
Come volunteer in Nicaragua for a few months instead!
---

For those who find themselves around Granada (or nearby), visiting San Juan Del Sur is just a couple of hours away, but Popoyo is slightly closer, with a chiller, more relaxed vibe. It makes for an idea quick weekend trip of relaxing ... or one of the best beaches to surf, if you're wanting that experience.
Popoyo is framed as a surfer's paradise (more on that below), with a string of hostels, surf shops, and houses lined up behind the beach. This very laid-back location is one of the best surfing spots in the world, with spots perfect for the pros and those just starting out. With water this pretty and lots to do besides just surfing, can you see why it's one of the best beaches along the Pacific Coast? To help you plan your trip here, peek below to get all the info and tips you need: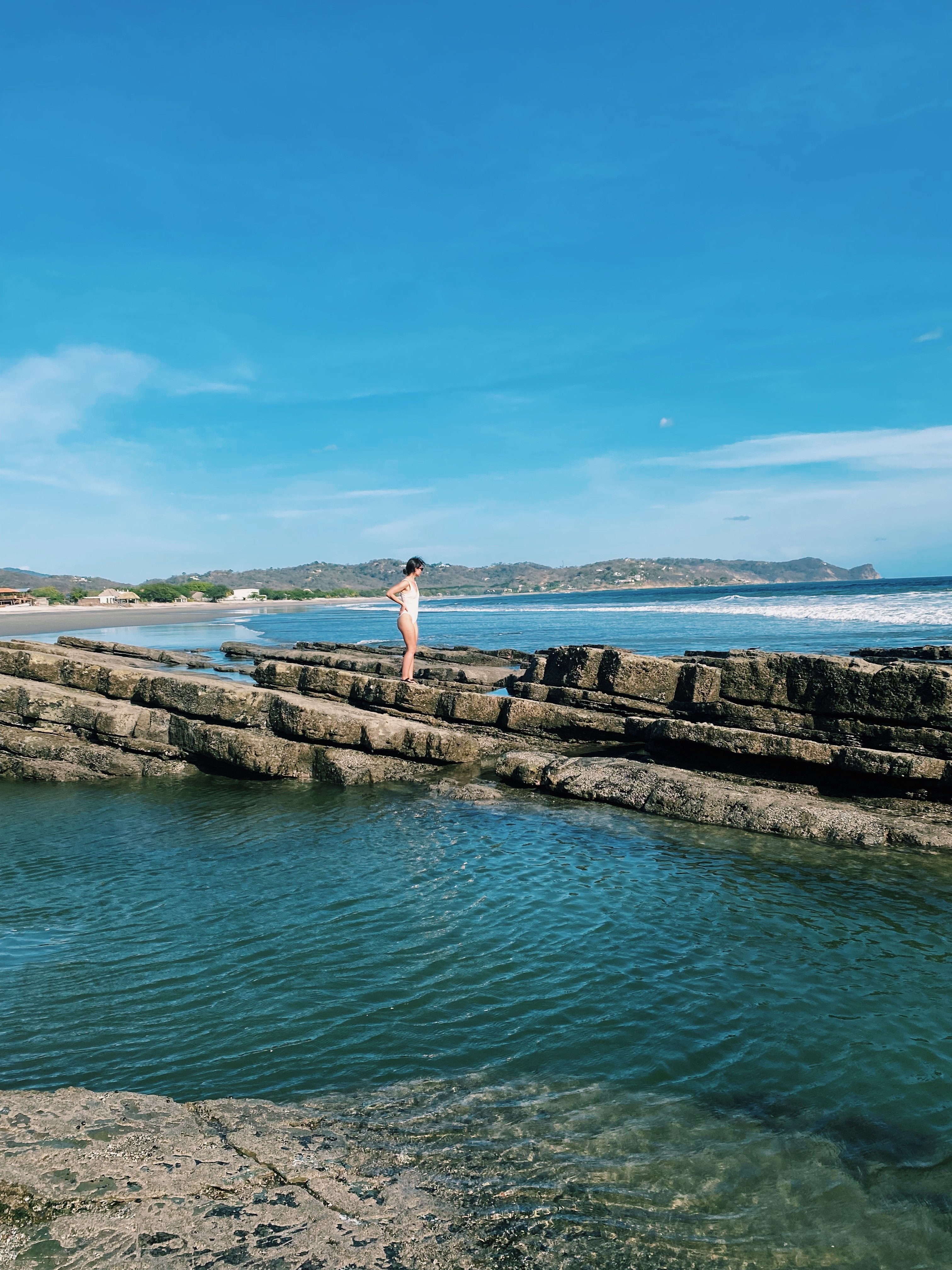 Picking The Right Beaches
Popoyo is a huge stretch of coastline broken up into different beaches and sections you'll want to know about depending on your surfing, swimming, and tide pool interest — below, we'll point out the areas for the experts and beginners:
For beginning surfers, Playa Guasacate, Playa Santana, Playa Sardina are a few choices: both have consistent beach breaks and frequent barrels in the right conditions.
Many of the best surfing spots for more practiced surfers are right around the main "village" of Popoyo. It's an "A-frame" shaped reef that has consistent waves that's quite popular with surfers. Find it between Magnificent Rock and Playa Guasacate — past the stacks of rocks full of tide pools (more on that later) there is half-moon bay where there are a lot of surfers to join or just watch (if you're here to watch, find a spot on the sand and see how many hermit crabs you can see just scuttling around).
There is also a Popoyo outer reef that's just for by experts, with massive swells sometimes cataloged as Nicaragua's most dangerous waves. It's a fun place to set up on the sand to watch. This site has tons more info about the specifics of each location (wave direction, recommended skill level, best tide, etc).
If you're interested in sunbathing or swimming in the shallows, you're fine to take your pick, just avoid the outer reef.
+ A Bit About The Beach
The sand here is very fine and switches between being a dark golden color and a dark gray, so when it hits the water, the shoreline can almost look like an almost-black sand beach. The area around Popoyo itself is pretty desolate and dry, then you suddenly arrive on the beach, backed by a few trees and thickets that are pretty dense and lush in one area, then dry and almost desert-y in another area. It's a unique contrast.
Another thing to know? There isn't any natural shade or plant coverage, so plan on wearing plenty of sunscreen and finding shade inside a restaurant because you'll be out in the full sun whenever you're on the beach.
Like we mentioned, this is an enormous beachfront, spanning a couple of miles, so you'll want to make sure your surfing, food, and others plans match up with where you are staying. I had heard great things about one restaurant, then realized we were a good 50-minute walk away — which meant calling a taxi to come pick us up. Totally do-able, but not something we'd budgeted into our schedule.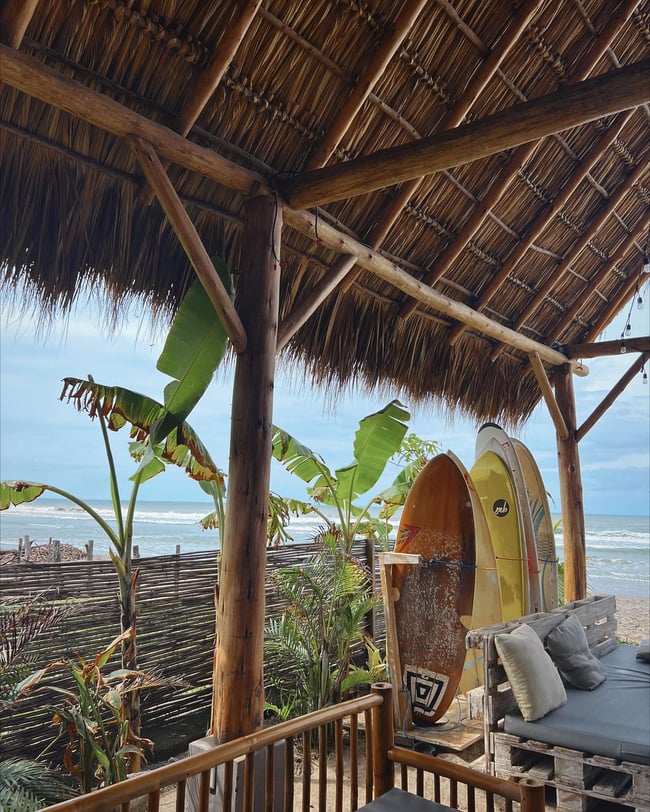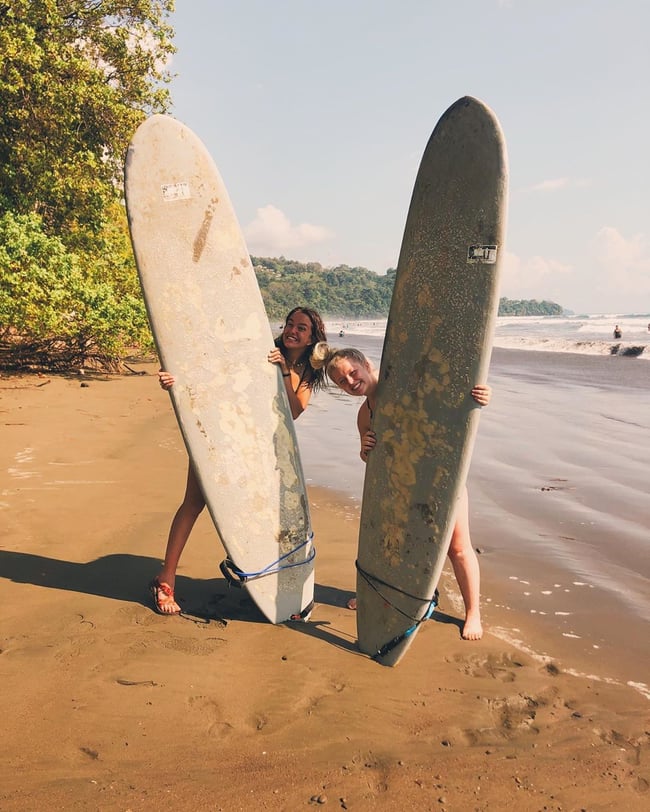 + Other Things To Do
Spot Some Tide Pools
Walk down to Guasacate (around 30-minutes from Popoyo) and the soft sand is interrupted by some rather stunning rock formations that perfectly catch the tide — creating a home for all kinds of sea creatures. Bring shoes that can handle the rocky shore and climb out to the outcrops to see crabs, anemones, starfish, and more.
Once you've seen the tidepools, there's a pretty fantastic swimming hole to keep you there even longer. Find the swimming spots at the north end of the beach (just around the rocky outcrop on Guasacate). These swimming holes are located on the north end of the beach just around the rock outcrop.
Or, you can spend hours at the tide pools in front of Magnificent Rock. There is a layer of flat rocks that jut up from the sand, creating an amazing cliff where you can overlook the waves (especially pretty at sunset), or peer into the pools between the rock slats to spot spindly starfish, spiky urchins, flowery anemones, and little hermit crabs. There are also areas that are deep enough to swim. This was a total highlight of my time in Popoyo.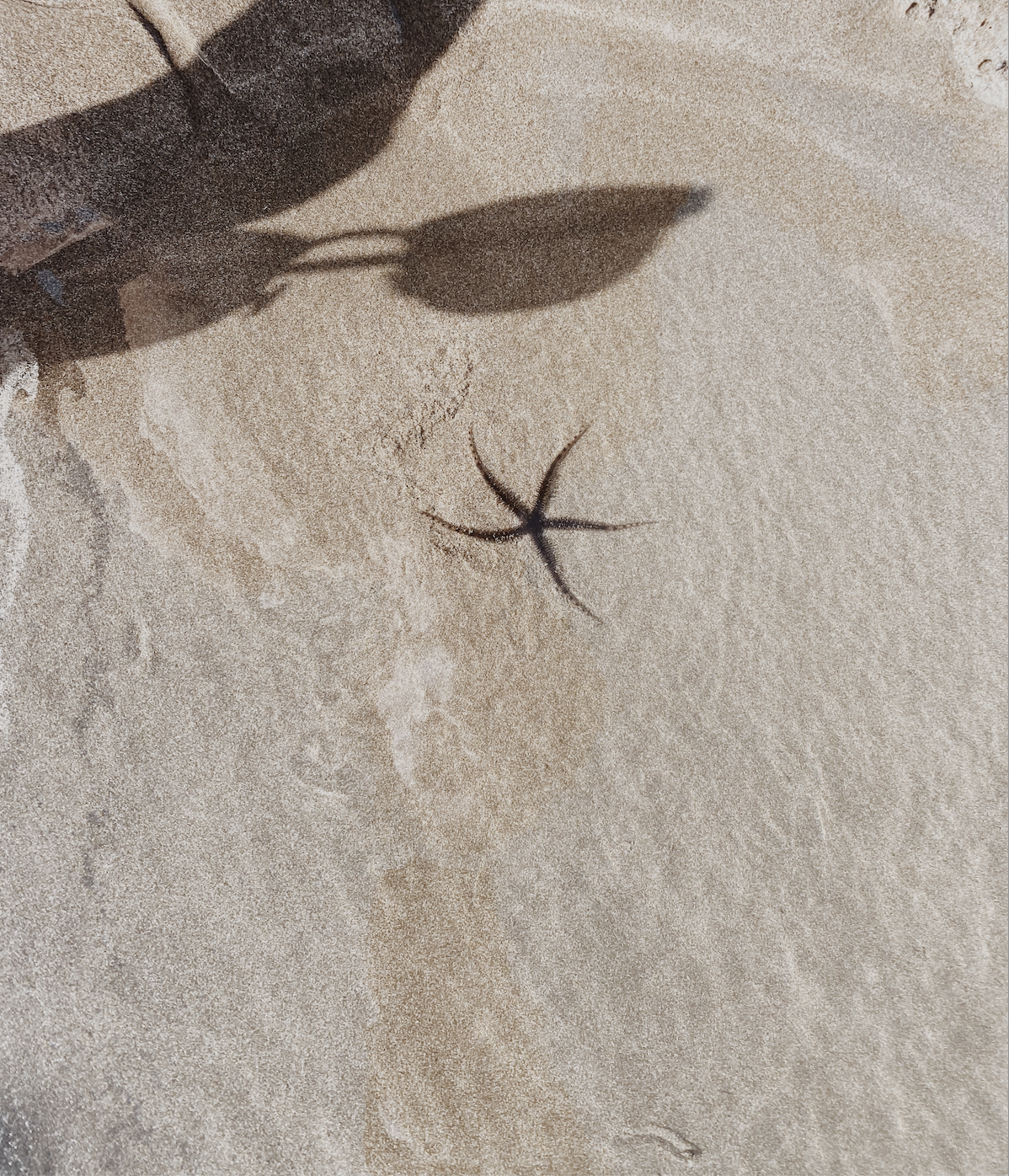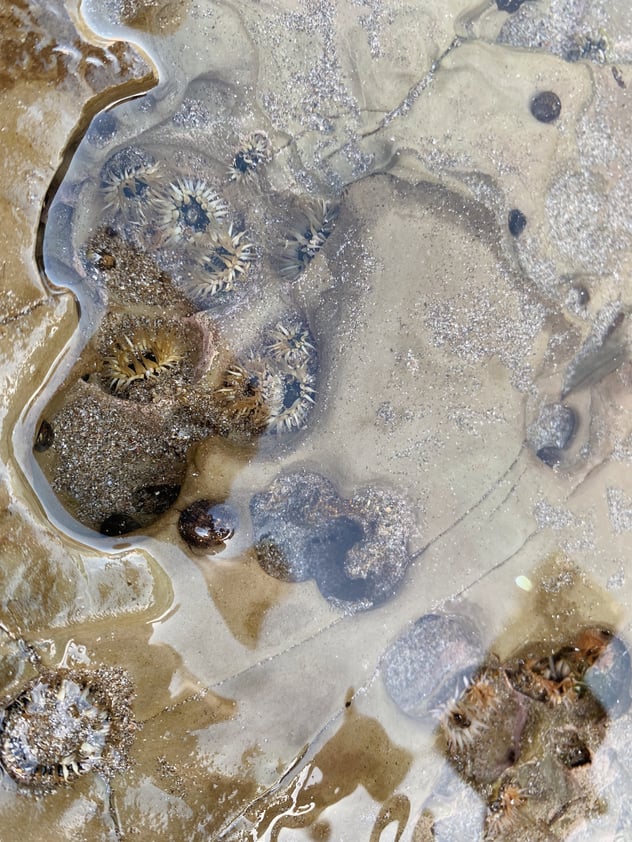 Soak In Hot Springs
If you'll be staying for more than the day, it may be worth it to take a swim in the nearby hot springs. Find them in Las Salinas (a short way from Popoyo). There are three pools, built out like swimming pools: the hottest pool is a circular one, that flows into the other two pools that are meant for soaking in (the circular center pool isn't meant for swimming, it's that hot). Come at night when the weather is cooler and the warm soak is even better under the stars. It's $3 for a soak.
Time For Turtles
Near Popoyo is one of the largest nature reserves in the country. Chacocente Wildlife Reserve surrounds a nesting beach for the Olive Ridley Sea Turtle, who come here in the hundreds and thousands to lay their eggs. Visit between December and July and you may be lucky enough to visit and night and see all of these turtles.
It's also the spot to see chattering monkeys, colorful toucans, and several other favorites, along with a community farm. It's a rugged experience focused on conservation and community (the area also includes 84 different farm owners who own and dedicate the land).
The entry fee to visit is $10.
Horseback Riding On The Beach
Best at sunset, this bucket list adventure is easy to arrange — my AirBnB host provided the contact info of a couple of operators who will take you out on horseback to admire to ocean views and stunning sunsets. Just message Omar on WhatsApp at +505 83239984 to schedule your ride. It's 30$ for each hour of your horseback adventure.
An Afternoon of Aerial Yoga
Near Magnificent Rock is an outdoor aerial yoga studio which I wish we had time to try out! The platform is found right on the beach, so you can perform your practice with the sound of the waves crashing right in front of you. Contact Magnificent Rock for info.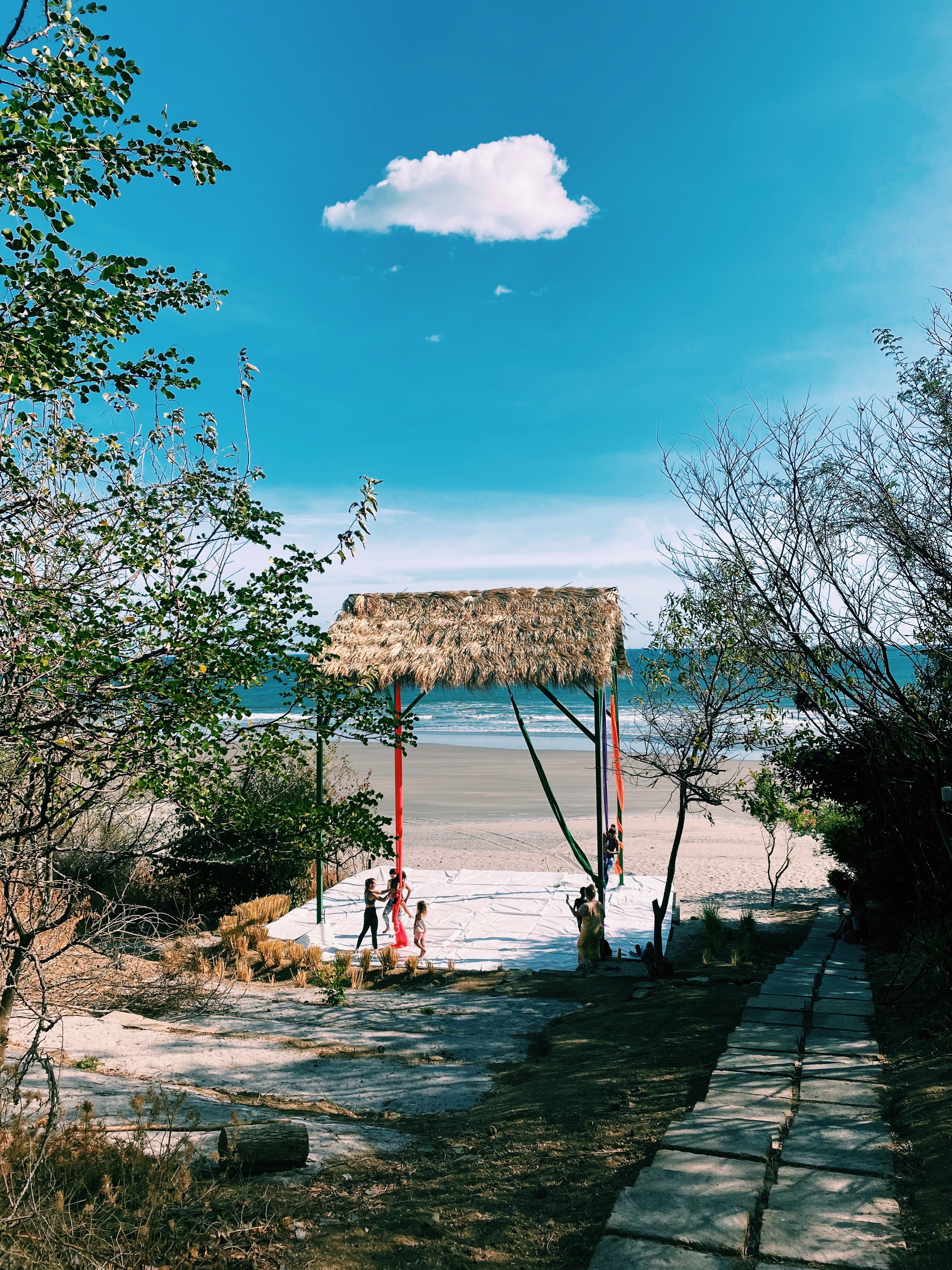 A Few Tips & Pointers
Surf Lessons + Renting Boards
One of the big appeals of Popoyo is that it's a surfer's paradise for professionals and beginners. If you're just starting out or don't have your gear with you, many of the hostels by the beach double as rental shops (where you can rent a board and snag a surfing lesson if you'd like).
Surf lessons typically range from $10-15 per lesson, with the same cost for the boards ($10 for shorter boards, $15 for longer ones). Some hostels also rent out rash guards for around $3. A few places to rent boards and gear include Camping Luna, Popoyo Surf Shop, Cafe Con Leche, or Beginner Bay Surf School.

You can contact Erol about surf lessons or surf coaching at +505 81402601
Visit The ATM Before + Bring What You Need
There aren't any ATMs nearby, so double check you're set with cash (and check which places take your card). Some restaurants will add a 4% surcharge if you do pay with a card.
Another thing to note? This area feels pretty remote. It's just a collection of spread out hostels, some surf shops, and restaurants along a huge beach. I was glad I was prepared with what I needed because we were quite a drive from any market. For any beach trip, I make sure I have plenty of sunscreen, aloe, a sunhat, sunglasses, a towel, a small bag for essentials, snacks, and plenty of water for the day.
If you do need to stock up (or get access to an ATM), the closest spot for that is Riviera Market, which was about a 20-minute drive from where I was staying (in Playa Popoyo).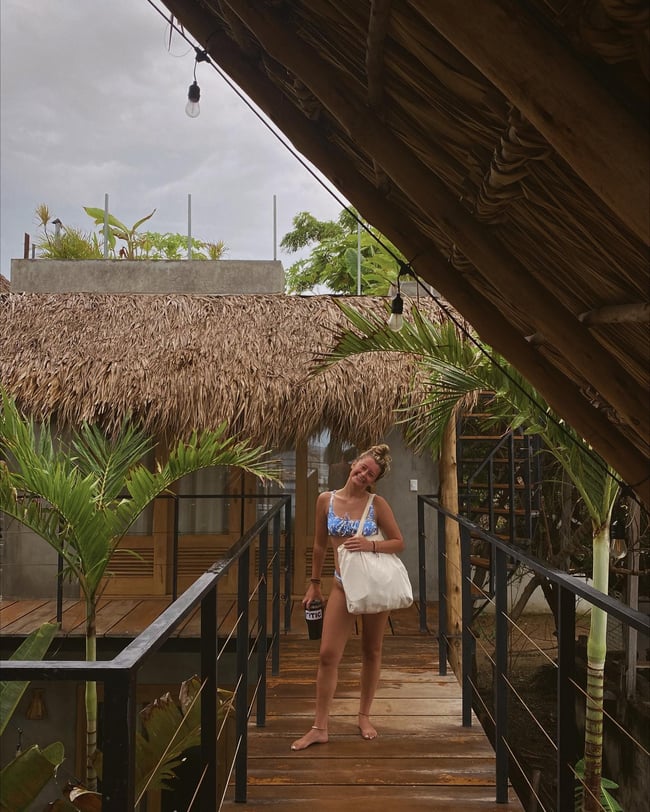 For Food
There are a few restaurants around, but are spread across the span of the huge beach. When booking your accommodation, make sure you're within walking distance of a couple of restaurants, to make sure that your hostel or accommodation has a cafe or restaurant where you can order some staples.

It's also popular to buy fresh fish from the local fisherman on the beach and see if they'll barbecue the catch of the day for you for a few dollars. When I visited, I didn't see any fishermen out, but also snagged some of the best views and best ceviche at the Magnificent Rock restaurant that overlooked the beach. It was more of an upscale eatery, but I didn't pay more than $15 for fresh ceviche and a passion fruit mango smoothie. So yep, a bit on the pricey side for Nicaragua, but still very affordable. If you are staying near there, I'd recommend visiting.

Like mentioned, this is a huge beach, so you'll want to figure out where you're staying then go for food options, but here are some recommendations that popped up in my research and were recommended by my AirBnB host
Popoyo Republic
Soda Luna
Cafe con Leche
Malibu Popoyo
The Happy Coconut
So Lost
Paolones
Asados el Bosque
Pili's Kitchen
Duchy's Deli for breakfast is a fav (especially the smoothies)
Where I Stayed + Getting Around
We were dropped off at our AirBnB (we stayed at the Sirena Surf House which was gorgeous — loved the shared kitchen for breakfast in the morning (we picked up a bag of mangos from a teeny fruit stand tucked in thickets between the dirt road and the beach on the way to Magnificent Rock), plus the hammocks were the perfect spot to see the sunset. Just know that there isn't A/C (there is a powerful fan though) and like many open-air accommodations, we saw a few bugs and geckos. The AirBnb was picture-perfect and right on the beach, which meant falling asleep with the waves.
I also found a few options that were top contenders if you want to take a peek at those as well:
These poolside cabanas
These beachy casas
This seaside cottage
And this breakfast-included-stay
Past volunteers also recommend this spot.

As far as getting around, we mostly stayed at our AirBnB and walked, just here for a quick overnight before running off to see more spots in Nicaragua. However, our host did provide a few taxi contacts in case we wanted to visit a restaurant further away or another attraction on the other side of the beach. If it's handy to know, here's the WhatsApp contact for local Popoyo taxi driver Dan (+505 77432132) and Francisco (+505 81042098).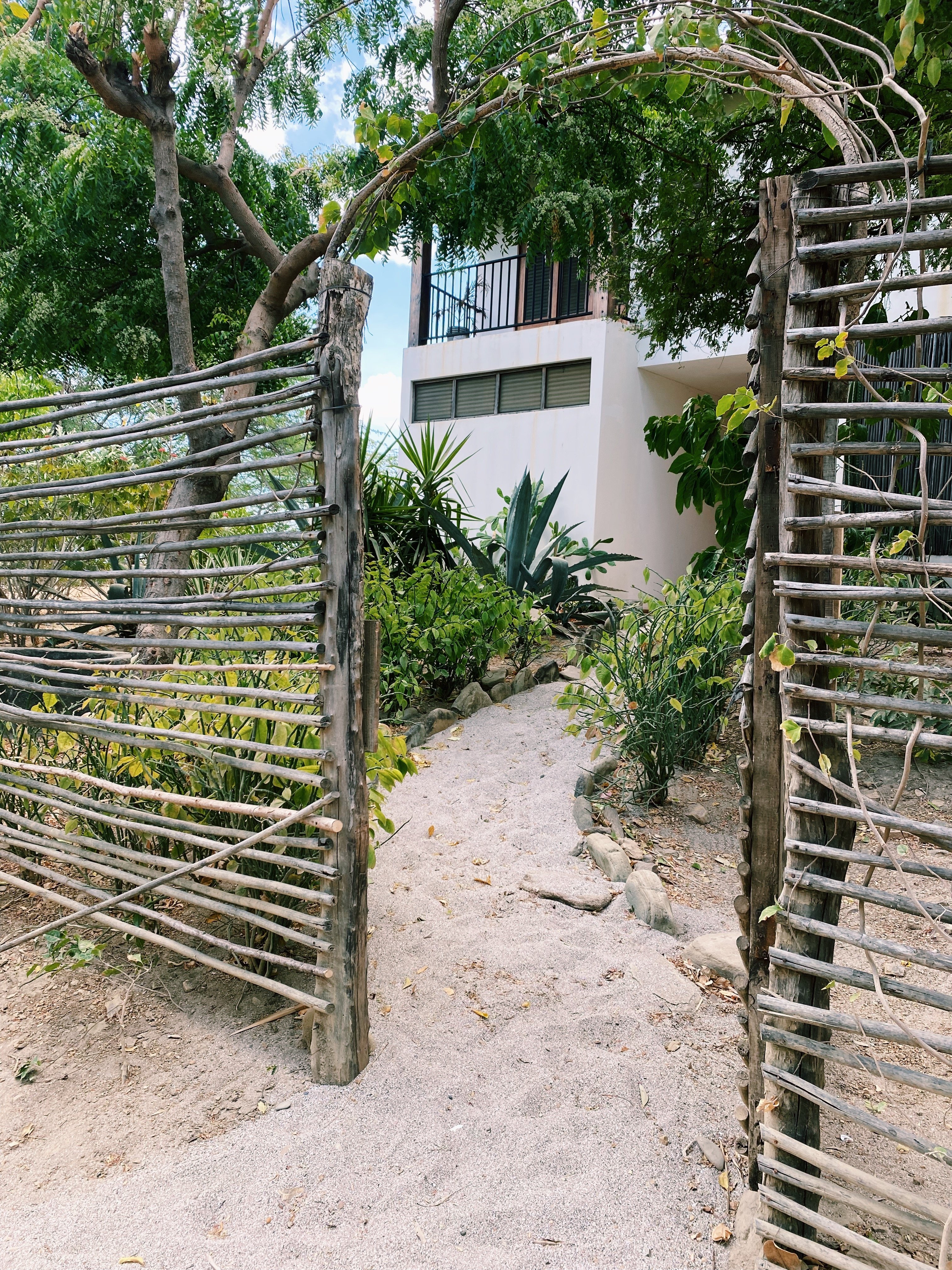 When To Visit
It's recommended to surf in Popoyo from April to October (you'll find more consistent waves), just know that's also the rainy season for this part of the world. In the sunnier months (November to March) you'll have smaller waves and more sunshine.
I visited in March and enjoyed a stunning sunset and sun all day long, with smaller waves that were perfect for body surfing on my end of the beach (I was staying near Magnificent Rock) in an AirBnB about a 10-minute walk from the restaurant.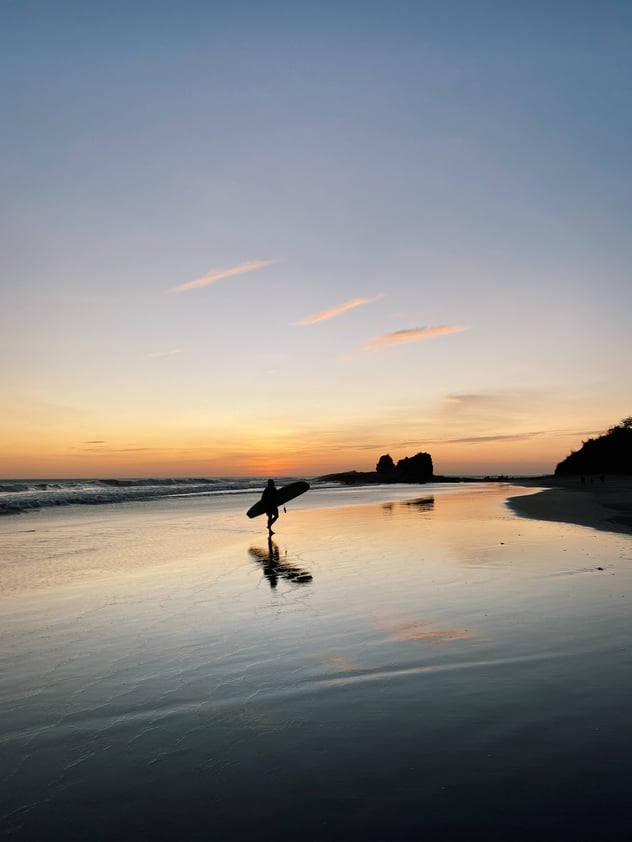 Getting To Popoyo
From Granada
There isn't a direct route from Granada to Popoyo, but it's rather affordable (and quick) to get there via taxi. Plan on a ride that's about 90 minutes, for $15 USD — even more affordable if you split that with your ILP group! That's the most time-efficient way to get there unless you'd rather bus to Jinopete and then take another bus to Nandaime before taking a taxi the rest of the way there.
From San Juan Del Sur
Find yourself in San Juan Del Sur and want to see another beach? One that's a lot less crowded and way more laid-back? It's possible, but the route is a little less than direct. You'll need to taxi there (no buses run a great route), and drive over to La Virgen, up to Rivas, then over to Popoyo. Since there isn't a road that goes straight north, it's about a 1 hour and 45-minute drive. Plan on spending around $13 for that trip.
From Rivas
Rivas is the transportation hub of Nicaragua, so if you're riding around by bus a lot, you'll most likely find yourself in Rivas. From there, a taxi can get you to Popoyo in about 75 minutes, for around $8.
Here's more info about taking a private taxi transfer (Yasmil was one recommended to us by our AirBnB host) and bus details if you plan to travel by Chicken Bus.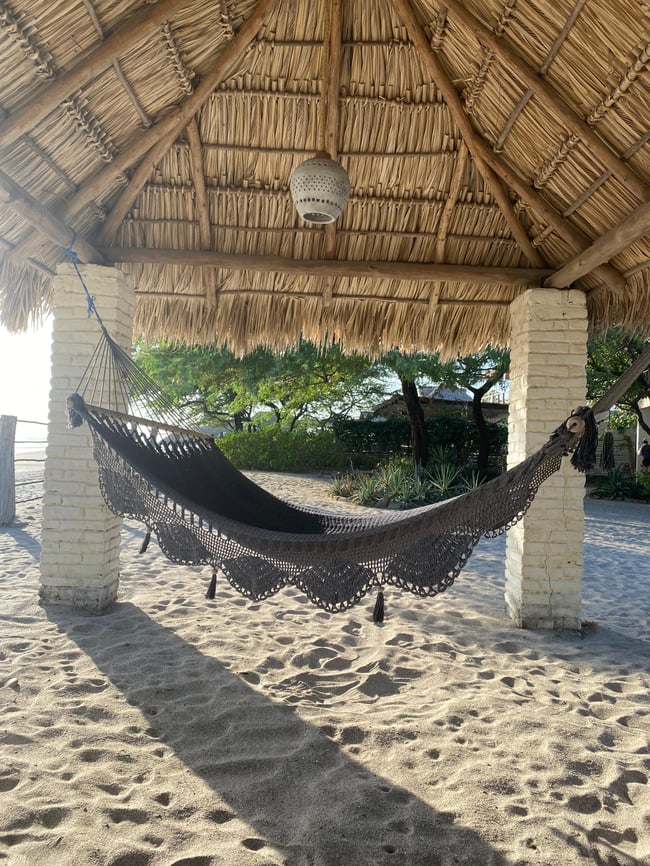 Interested in seeing more of Nicaragua?
Spend a semester here instead of visiting as just a tourist. ILP (that's us — International Language Programs) sends college-aged groups to Nicaragua and other locations for a semester of service and travel. Teach English part-time, then head out on all sorts of adventures with your fellow group members during the week, on every weekend, and on vacation days.