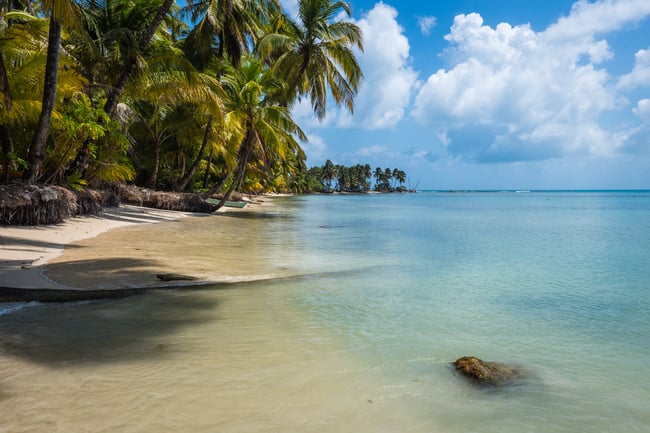 Rent out a whole island for less than you think! Your newest island paradise vacation all starts at the Pearl Lagoon: This quiet spot is the best jumping-off point to the dreamiest and most secluded islands in the country — the Pearl Cays.
Planning to spend some time on the coastline of Nicaragua? I'm just a bit jealous! The surfing beaches found on the western coast are definitely a highlight of the country, but the Caribbean islands hiding off the eastern coast are literally what dreams are made of. I had no idea Nicaragua was home to sugar sand beaches, with waving palm trees, and that unreal blue Caribbean water. If you're looking for that kind of vacation while in Nicaragua, we love spending time on the Corn Islands ... but are also very much smitten with the nearby Pearl Cays. Some said that while on their trip to the Corn Islands, taking a day trip to the Cays was their absolute favorite part!
The very best part of about these sets of islands is that they're still rather untouched, meaning you could travel to one of these islands and literally have the whole thing to yourself for the day, or stay overnight as one of the few guests at a luxury ecolodge.


---
Read Next: The Corn Islands Is Another Dreamy Set Of Islands To Vacation On
---

If you're eyeing the chance to come to see the Pearl Cays of Nicaragua, we have all the info you need about Pearl Lagoon (and how to island-hop all week long).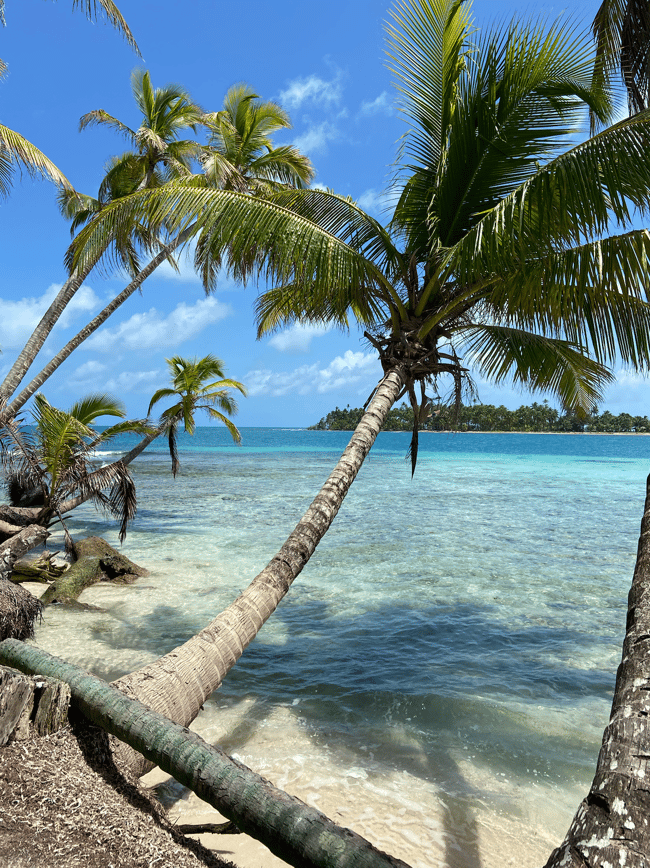 About The Pearl Cays
Welcome to the Pearl Cays, aka untouched postcard of pretty views and pristine beaches. Found on the eastern coastline of Nicaragua, the Pearl Cays are a series of 12 cays (pronounced "keys" found just a few miles off the coast of the Pearl Lagoon — more on that later. There used to be 18 of these picturesque islands, but due to rising tides, six were swallowed up. These cays are all uninhabited, though you can find a couple of places to stay on a few of the islands, but all give you that "totally remote" paradise kind of feeling.
Picture thick green jungles on each of these islands, surrounded by sandy beaches and swaying palm trees once you reach the blue water. Several of the islands are home to nesting grounds for the endangered Hawksbill Turtle and the boat rides out to these islands have been known to be accompanied by dolphins which sounds just magical. They are rather isolated, meaning you can come and visit and have the entire island to yourself for a day of swimming, snorkeling, and sun. Sound absolutely perfect for those looking for an untouched paradise.
Where Can I Find Them?
Head to the Caribbean side of the country, just east of the gateway city, Bluefields. They're accessible via a tiny coastal town called Pearl Lagoon (the best jumping-off point to visiting these Cays). We have had groups in the past come visit a Cay or two while in the Corn Islands (another dreamy destination found a bit further out in these pretty waters) but it's a longer boat ride if you come from the Corn Islands, and you only get to visit for the day.
By starting off in the Pearl Lagoon, you have the chance to use that as your home base and see even more of the islands, or even stay overnight. We have all the details about that, below.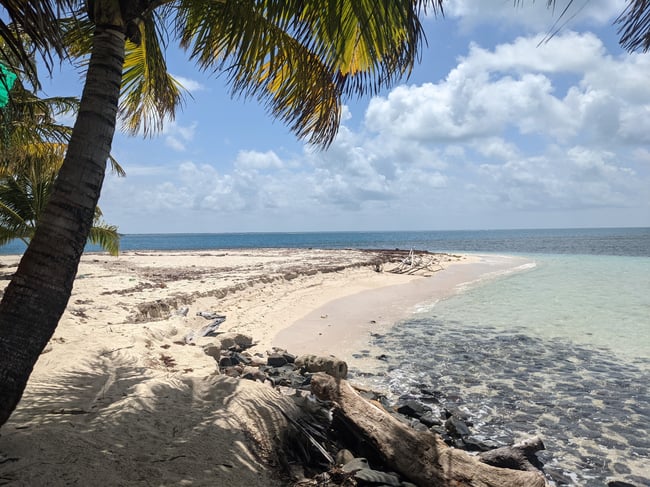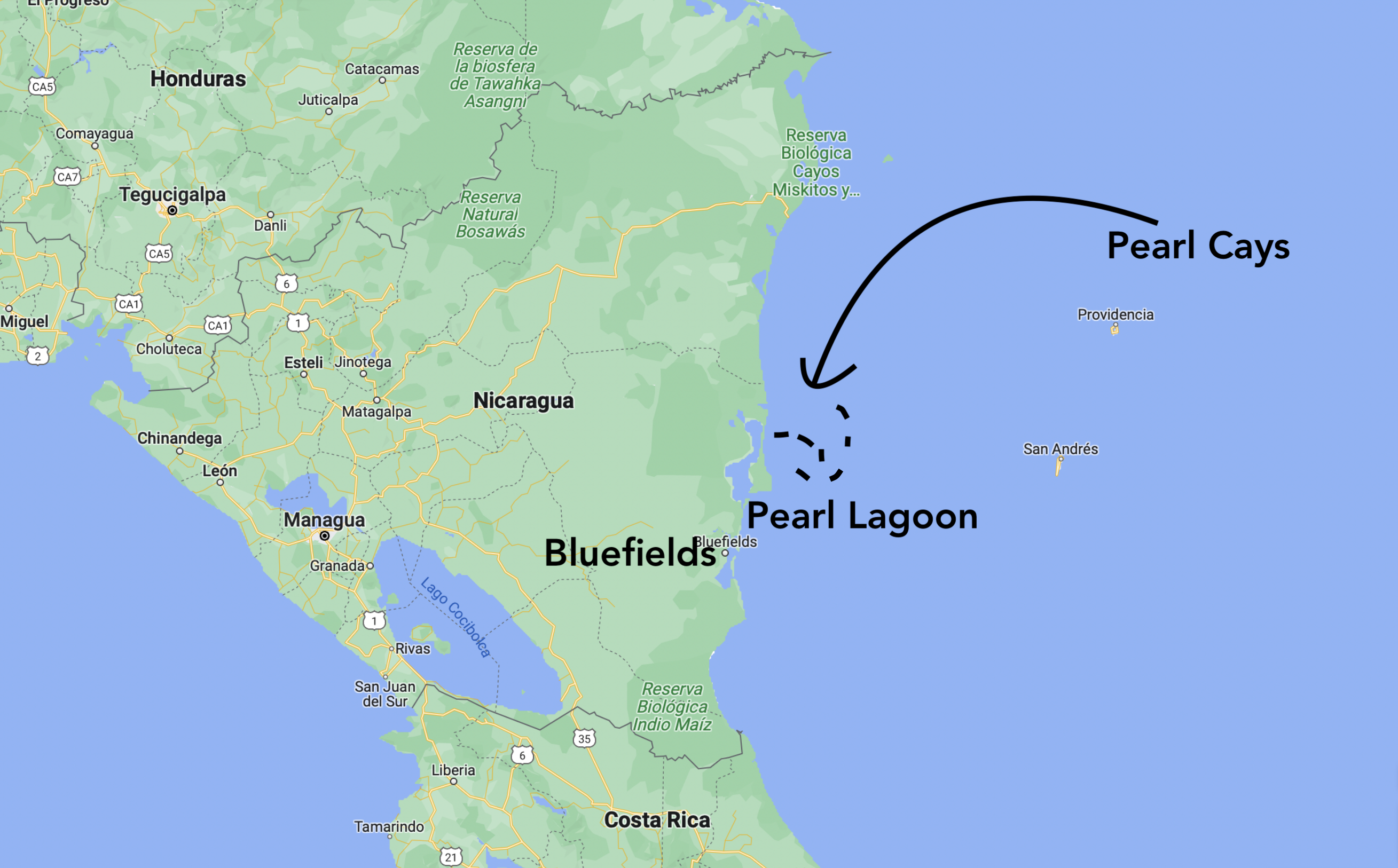 Picking The Cays To Visit
Since you have quite a few to visit, we're narrowing down your list to islands we've heard great things about when it comes to things to do there, views to soak in, and how accessible the Cay is. We have a bit more info about how to get around to each of these on our list, below, but know there are twelve to visit and all boast some spectacular views:
Cayos Perlas For Lunch — It's a popular option for those hanging out in the Pearl Lagoon to come to this Cay for lunch. One of the resorts there (the Queen Lobster) has had an offer in the past to take you to this dreamy island for a few hours for $38.
Pink Pearl Island — Have the entire island to yourself (seriously). This resort has rentals where you can book the whole island for just you and your friends. Their place sleeps up to 8 people which means for under $60 a night, you can stay on a private island, with seafood meals included, along with kayaking, snorkeling, and more. Prices do fluctuate for the nightly price, but split between 8 people makes this once-in-a-lifetime experience quite affordable. Sounds like a pretty unbeatable bucket list thing to do if you ask me! Pick up from Bluefields is also included if that helps you plan your trip.
(You can book the entire Lime Cay by staying at the Calala Resort, but prices are much much higher — more like $2,500+ a night).
Visiting A Few — There are also tour options that take you to 2-3 islands, or more. We've linked to a few resources here that can help you make those arrangements (like the Queen's Lobster) or there are other reports of visitors asking around town in the Pearl Lagoon for pangas (boats) that can take people out for a day of island hopping.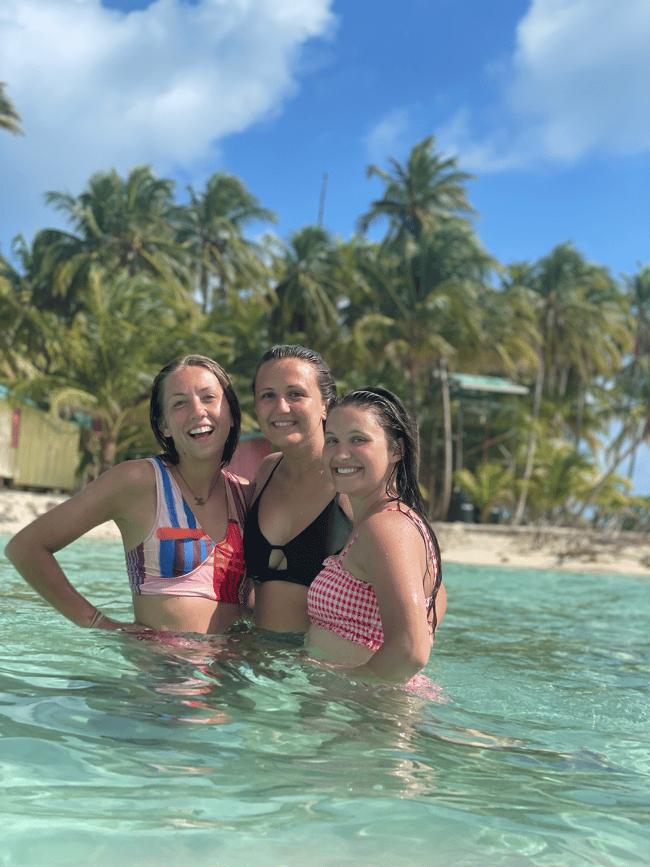 Getting To The Cays
The hotels and fishermen in the Pearl Lagoon are going to be your best bet for traveling around the Cays. The Pearl Lagoon is a tiny settlement that's the gateway to these islands, although you also can make a shorter visit via the Corn Islands (that post has the details for that).
However, if you're looking for more time on the Cays and more time visiting more than what a Corn Island visit can get you, best to start in the Pearl Lagoon and make your way there. Most of the specific Cays talked about above have transportation options out of the Pearl Lagoon.
That being said, some excursions (like the Pink Pearl Island stay) include transportation from nearby Bluefields, where you'd fly into to get to the ferries that take you to the Pearl Lagoon or the boats to take you to the Corn Islands. Just be aware of transportation options (pick up and return).
Other visitors mention working out a price to visit a few of the Cays on their list. Prices will fluctuate according to gas prices and the number of people headed out for the day, but talking about the island tour you're looking to replicate or adapt can give you a budget to ballpark towards.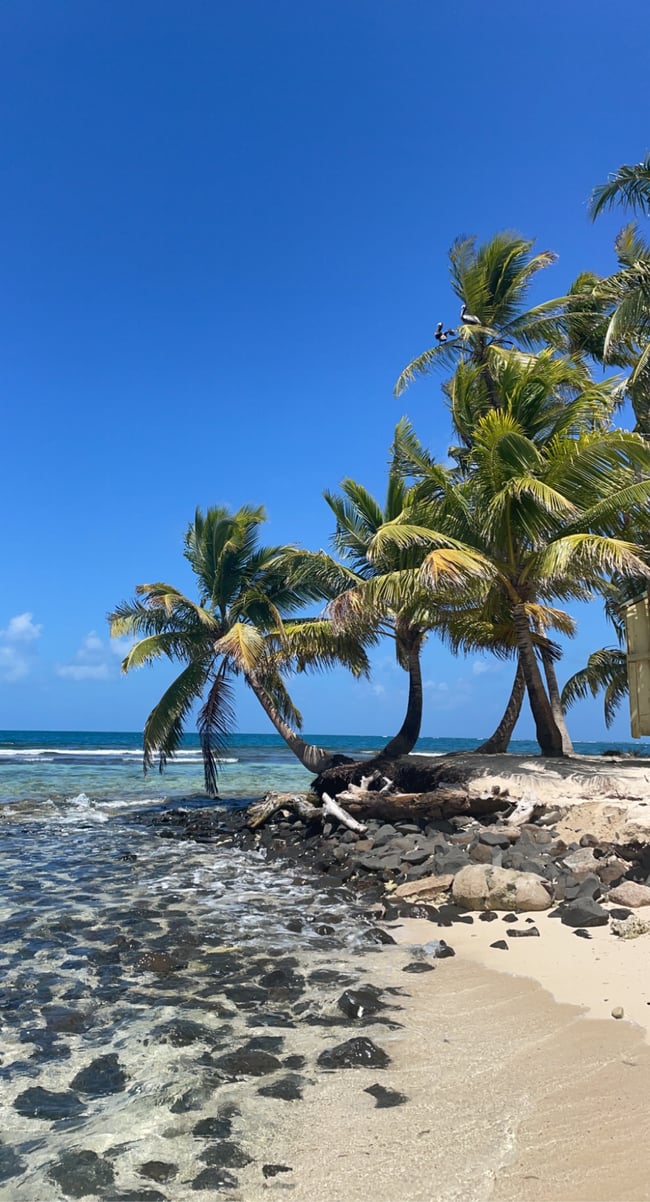 Things To Know About The Pearl Lagoon
We'll get to transportation details in just a minute, but know that the Pearl Lagoon (Laguna de Perlas) is the best gateway to visit the Cays, meaning it's likely to be a part of your itinerary, even if it's just to immediately board a boat to your favorite Cay.
Here's a bit more on the area so you know what to expect:
It's Very (Very) Quiet
The Pearl Lagoon is a quiet rather remote area of Nicaragua that's not too familiar with floods of tourists. It's very small, home to a handful of stores and eateries, homes, and the occasional guest houses and hotel all situated on a little inlet of water that opens up to the Caribbean sea (and all the Cays, as well as the Corn Islands).
Off the one main road in town are dirt walkways and cement homes nestled between rows of waving palm trees. Some of the hotels in the area (like the Queen Lobster) do have opportunities to learn more about the 200-year-old communities that helped to establish Pearl Lagoon if that's something you're interested in.
A Few Options Around Town
Most visitors come to the Lagoon to relax at one of the lakeside bungalows or hotels and take day trips to the nearby Cays, or just use the Pearl Lagoon as a jumping-off point to stay at one of the hotels or ecolodges on the islands themselves.
If you are staying around the Pearl Lagoon for a night or two, the Queen Lobster has excellent reviews, free kayaks to use to explore the lagoon, with an accommodating and helpful owner (Nuria) who can help you arrange trips to the Cays. The food also has rave reviews, full of fresh seafood, plantains, and other Nica staples. You can get more info about their Cay tours and ask questions on their Facebook page or you can contact the owner, Nuria: 8910-2390/ 2572-50281. You can also peek at their over-the-water bungalows on AirBnB.
There are a couple of other noteworthy mentions, like the Hotel Tranquilo, with perks like hot showers, a property close to the beach of the lagoon, and staff who can help arrange tours to the Cays. Green Lodge Guest House is another with good reviews and connections to travel around to the nearby islands.
About The Lagoon
The water in the lagoon is more like a warm, tropical, freshwater lake — it's not the Caribbean blue that you'll find on the Cays (and the Corn Islands), but don't worry: the water is stunning once you arrive at your official vacation spot. Just a heads up that the Pearl Lagoon is a different kind of picturesque than the magazine shots found on the tropical Cays.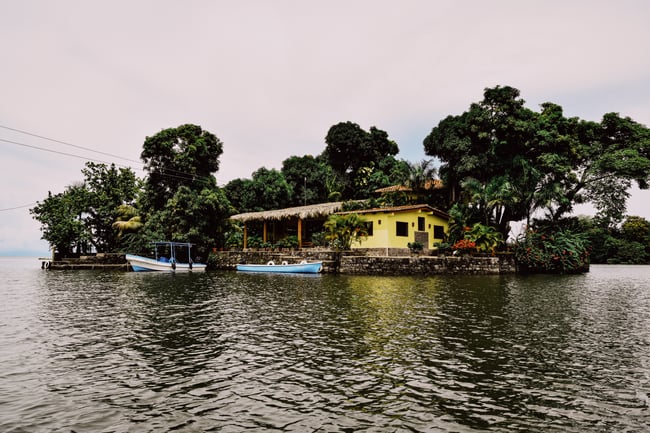 How To Get To The Pearl Lagoon
Since the Pearl Lagoon (or Bluefields) is our preferred method of spending the most time in the Pearl Cays, we're giving the details on how to get here.
You're going to want to make your way to Bluefields first, which typically involves a plane ride for most visitors. That direct flight from Managua to Big Corn is perfect. It's a 45-minute flight (ish) through the La Costena airline, with daily departures.
Once you're in Bluefields, you'll need to arrive at the Pearl Lagoon via boat, which is a 1.5-hour ride. You can also arrive via road, but road travel to the Pearl Lagoon is more like six or seven hours (so much longer). Reports mention boats depart daily in the morning (after the plane arrivals from Managua and cost about $10 USD). There isn't a schedule posted online, so asking around for the panga to Pearl Lagoon is your best bet. Remember, this area of the country is a bit untouched, which just adds to the adventure of it all! If you're visiting here on a vacation during your ILP semester, you can get in touch with your Local Coordinator who may be able to help you make some arrangements or secure some details.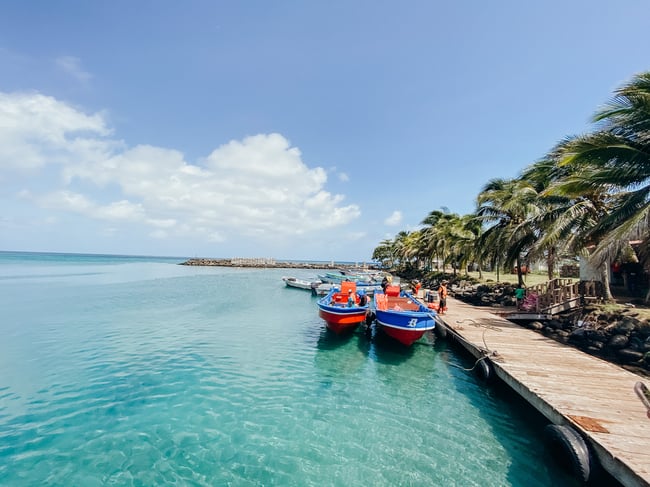 Ready to see some of the best parts of Nicaragua?
Live in Nicaragua's most colorful city and make a big difference in this humanitarian program! International Language Programs (ILP, that's us) sends groups of college-aged volunteers to teach English in Nicaragua, along with a few other countries. You're set up with a group to teach, travel, and live with, with a part-time schedule. Volunteers have every weekend off, plus vacation time to explore everything about the country (including these secluded islands). We can't wait to see if the DR is right for you!