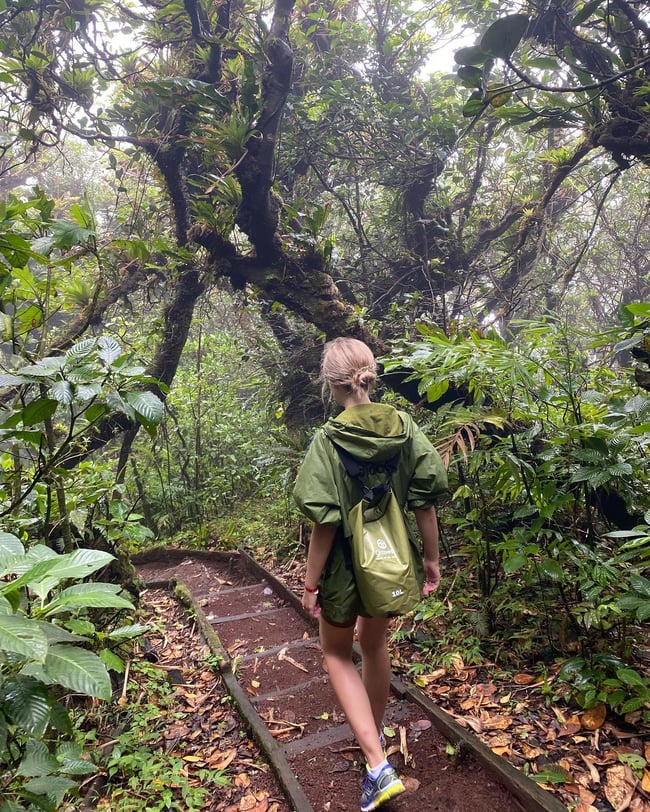 Peñas Blancas is full of towering mountains, thick jungles, hiking trails galore, and the most charming little eco stays. We love taking a trip here, can't you tell?
If you're like me, you're all about soaking up the things to do in Nicaragua. On my latest trip there, I ventured to a few popular cities (I'm still obsessed with the colorful city of Granada), hit up a beach town or two, and then traveled up north for more of a remote, jungle experience. I wanted a trip where I could relax in the thick jungles and fill my days with waterfall hikes and relaxing. If that sounds like your kind of trip, I highly recommend a trip to Penas Blancas.


---
READ NEXT: All the perks of Nicaragua in one spot
---

We'll dive into a bit more info about the area, give you resources on the things to do here (and what's nearby), and more, so you can plan your own jungley getaway. Handy, right?
About Peñas Blancas
We're honing in on one of the six nature reserves that make up the expansive Bosawas Biosphere. The protected biosphere is located in the northern areas of Matagalpa and Jinotega and is crammed full of dense forests, rural farming communities, and rich flora and fauna. Things were made official in the 1990s, but this area has long been a favorite place to hike, thanks to the thick rainforest and cloud forests. Did you know Nicaragua could be so tropical and green?
In Peñas Blancas specifically, the mountains are one of the main attractions. Officially known as the Peñas Blancas Massif, the name of this particular region comes from the unique volcanic rocks. A massif is a large portion of the earth's crust that has dramatically been separated from the other mountains in the formation. The unique white mountains found in Peñas Blancas are part of the larger Isabelia Mountain Range and lend to some spectacular views — the white mossy peaks shoot up between thick layers of green jungle to provide stunning viewpoints as you hike in this part of Nicaragua. The dramatic cliffs reminded me of karst formations found in Southeast Asia, which only added to the charm of this place.
In a nutshell, this area is intensely green, home to so many tropical birds and plants, and filled with protected hiking trails and waterfalls. Oh, and charming little eco stays tucked away in farming communities. Paradise found!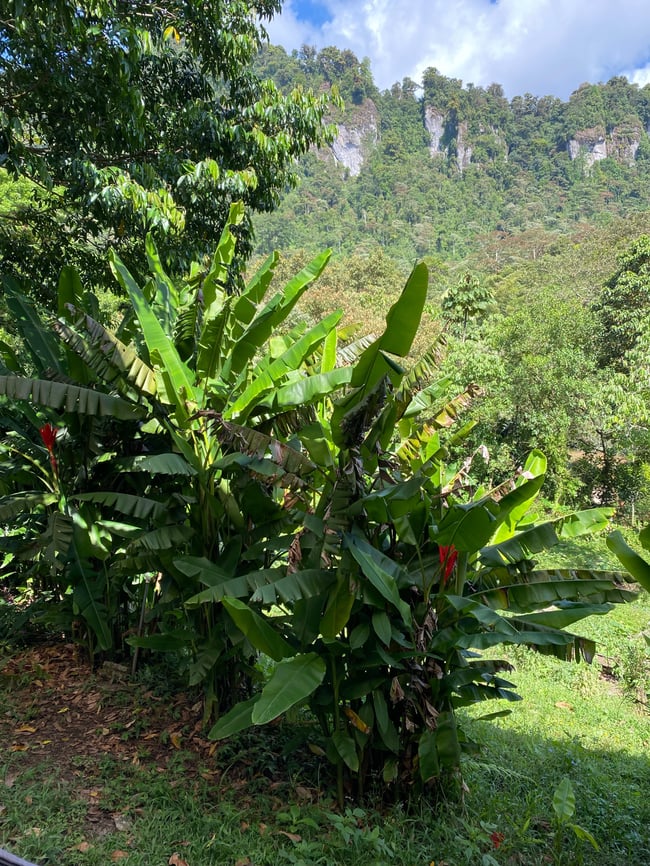 Things To Do
Apart from relaxing in this cooler part of Nicaragua (seriously, bring a sweatshirt), you're going to want to soak up all the jungle vibes by taking at least one hiking trip to see a waterfall. Here are some options for both.
Hiking
There are a range of hikes in the area which means you can work with a guide to find a trek that suits your ability level and itinerary (some are all-day treks, others are more like 30-minute adventures). Of course, a local guide is going to be the best resource for finding what you are looking for, but here are some popular options to consider and look more into:
El Cafetal Trail : This is an easier hike, more like a walk around to learn more about the coffee plantations here. The trail takes you around a local coffee farm with the chance to take a peek at how this bean is produced.
La Piscina de las Guardatinajas Trail: Take a short but semi-challenging hike (about 30 minutes) to get a view of the Pavona waterfall from afar. Don't worry, there is also a more intense hike that takes you to the actual base of the falls, just keep reading. However, this hike does lead to a stream that pools into a nice pool if you'd like to cool off a bit.
El Horno Trail: A more strenuous 3-hour hike will take you through the thick forest where you can dive deeper into the complex ecosystems in the jungle here. There may be an option to camp at the top (or hike early to see the sunrise) and hopefully spot quetzals. This colorful bird has been a sacred symbol of Mayan and Aztec communities and today is considered an honor to spot while hiking.
Macizo de Penas Blancas: This link marks the start of one of the most popular hiking trails that splits into two different experiences. One hike is about 2 hours, while the other is more of a 5-hour (more difficult) adventure. Both hikes allow you to glimpse a few waterfalls as well as an up-close look at the plants, insects, and birds (and maybe other animals, if you're lucky) that call these rainforests home. We have more info about guides (like Don Chico) who take tourists on these trails.
Waterfalls
This kind of goes hand in hand with hiking (who doesn't love a mountain trek that ends in a tumbling waterfall), but the falls in Peñas Blancas deserve their own section. There are dozens to be found in the biosphere as a whole (over 27 rivers originate in the dense jungles here), but Peñas Blancas itself has a few popular falls visitors like to see for themselves.
The most famous is the Rainbow Waterfall (Arcoiris), an impressive set of falls that flows almost 300 feet from the rocky cliffs above. The name comes from the tale that a rainbow can always be found in the misty falls.
El Salto de la Sonora is another popular choice. It's an easier 30-minute hike to get to the falls. If you're looking for something more challenging, head to Salto de la Pavona. Plan on a 2-hour hike past streams and creeks until finally reaching the impressive waterfall.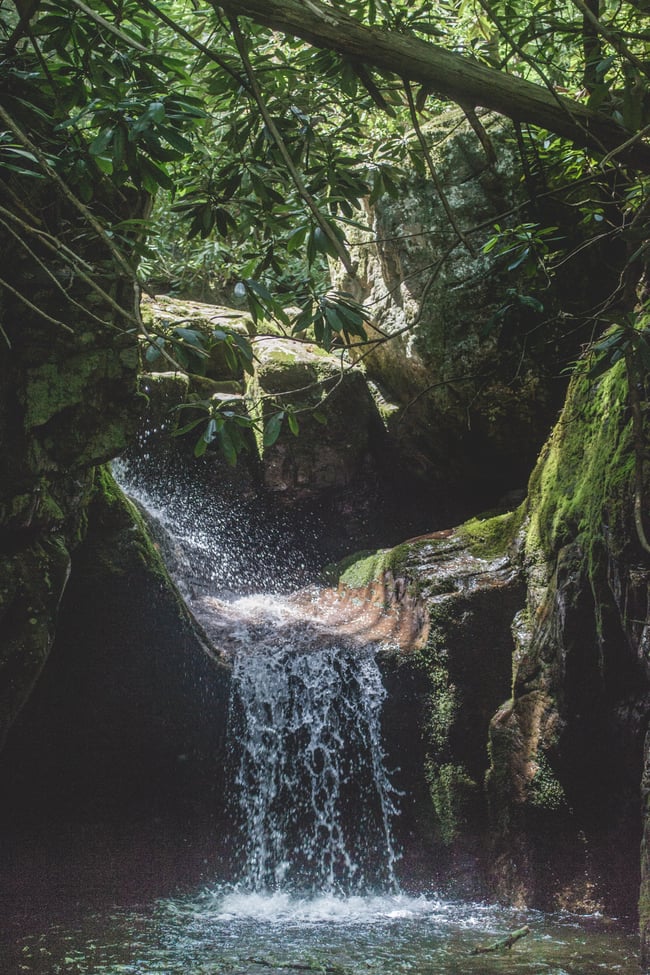 Learn More At The CEN
There is a visitor center in the area known as the CEN (it's a center for understanding nature as well as an entity that manages the reserve). They can help answer questions about finding somewhere to stay, what hikes are available in the area, info on guides, etc. Their Facebook can help give you an idea of what they offer. Here's their email address as well: cenbosawas@gmail.com.
Where To Stay
I'm biased, but I loved my time at this eco lodge. Some meals are included in your stay, and others are just a few dollars. Ingredients are locally sourced from the on-site gardens or locally made, plus the whole vibe was exactly what I was going for. I mean, there were patches of pink, yellow, and orange flowers and butterflies flitting around the garden. The pictures speak volumes, but picture a set or two of A-frame bungalows fitted with a hammock, an open-air kitchen with bunches of bananas hanging off the beams, greenhouses and local flowers, a big pavilion, and a gurgling waterfall just a 3-minute walk away. That link has a deep dive into my stay there.
You'll find a few other homestays available (like this one or this one) if that gives you an idea of what's out there — just know that lodging in this part of the country is pretty rustic. We paid in cash and made our reservation over the phone (instead of online).
A pro tip — I would make sure you have a confirmed reservation before making the trek out here: Peñas Blacas is more remote, and there isn't a string of hotels nearby that you can use as a Plan B if you just arrive and all the rooms in the limited number of places to stay here happen to be full.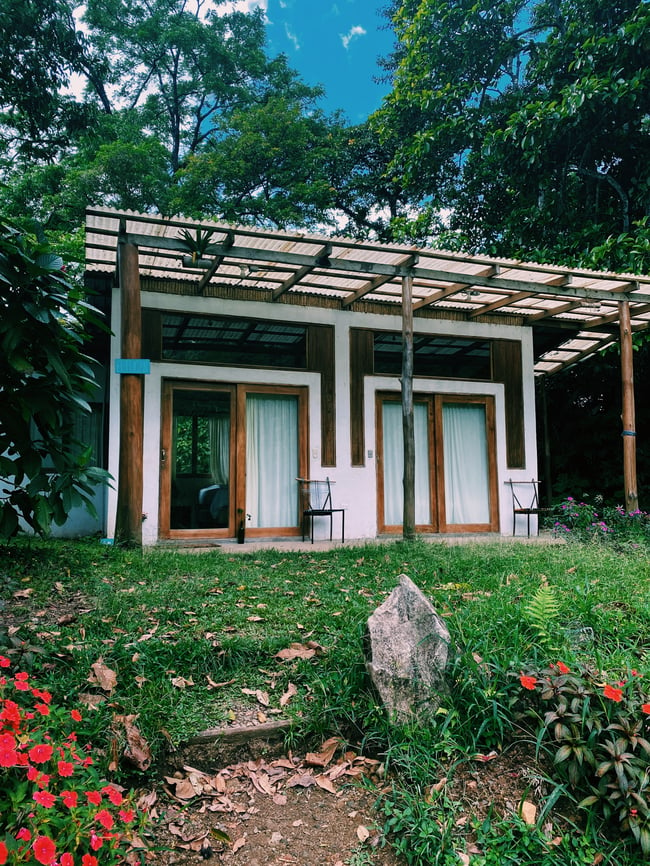 Booking A Guide
Most hikes and waterfalls are best accessed with a guide. Longer hikes are easier to navigate, plus you can sometimes get included perks like rubber boot rentals for muddy trails, snacks, and lunch. Plus, the local guides here are incredibly knowledgeable so you'll walk out of the forest knowing more about the plants and animals you see on the trail.
There are a few options to secure a guide during your time — first off? Checking to see if your overnight accommodation has connections. Many places to stay can refer you to local guides who can take you on a 1-2 day trek into the jungle to see the sites and hikes we talked about earlier. As a guideline, hiring a guide for the day starts at about $5 and goes up from there. Price does depend on the difficulty of the hike if that helps you gauge local prices.
Some of the more popular tours that came up in my research were Matagalpa Tours. They have this example which includes a visit to the Rainbow Waterfall and may be adapted to a 1-day excursion or 2-day adventure that incorporation more specifics you had in mind. It may be worth connecting with them and seeing which tour packages can be adapted to fit your situation (if you need transportation from Matagalpa or not, if you're only here for a day, etc.). I tried to visit their office in Matagalpa myself to confirm these changes, but when I visited, their office was closed. From my research, they seem to be the most expensive option, by far, but are still an option.
Here's their contact info:
Don Chico is another place to stay overnight/name that came up pretty frequently in my research. It sounds like Don Chico and his team have been taking tourists out on mountain treks for years (and his place is also a popular accommodation spot). We linked the info above, but here it is again, as well as his phone number. +50557391547.
Fair warning — I tried to get in touch with the Don Chico team before my visit several times but didn't receive an answer. If I had more time, I would have visited the address myself to ask in person, but I ran out of time.
Here's a helpful blog post to give you an idea of what a "Don Chico" hike is like, plus some beautiful pictures.
What's Nearby?
Matagalpa
Matagalpa is one of those yet-to-be-discovered gems, a corner of the country that's blanketed with thick jungles and farms, meaning you'll probably be the only tourists around to check out the waterfalls, hiking, rafting, and other experiences here and nearby. It's a quiet mountain town that hasn't been hit by crowds, meaning it's an easy escape for some relaxation. One ILP volunteer said "This city was one of my favorites to visit in Nicaragua" if that gives you an idea of what to expect.
There are a few activities to do in the center of Matagalpa, but it's typically used as a jumping-off point to nearby activities and locations like the lush mountains of Selva Negra or hunting down some waterfalls. I spent a few days up in this area exploring a few of those things, then spent about a day in Matagalpa and thought that was a good way to structure my trip (but that's up to you, of course).
Matagalpa is about 2 hours away from Peñas Blancas (and that link has more info on where to spend your time in Matagalpa while you're there).
These Waterfalls
You'll find a couple of waterfalls right off of the road from Matagalpa to Peñas Blancas — both are a nice way to take a break from the car/bus maybe take a swim. Read about the nearby waterfalls here.
Selva Negra
Selva Negra is found about 20 minutes outside of Matagalpa and has been a highlight for ILP volunteers who have visited — it's tucked in the hills, so the cooler climate is a draw, same with the European feel. The area was settled by German immigrants so staying in a cabin and keeping warm by a cozy fireplace is exactly what you should be expecting. It's a quaint corner of the corner to experience if you want to hang out here before or after your time in Peñas Blancas.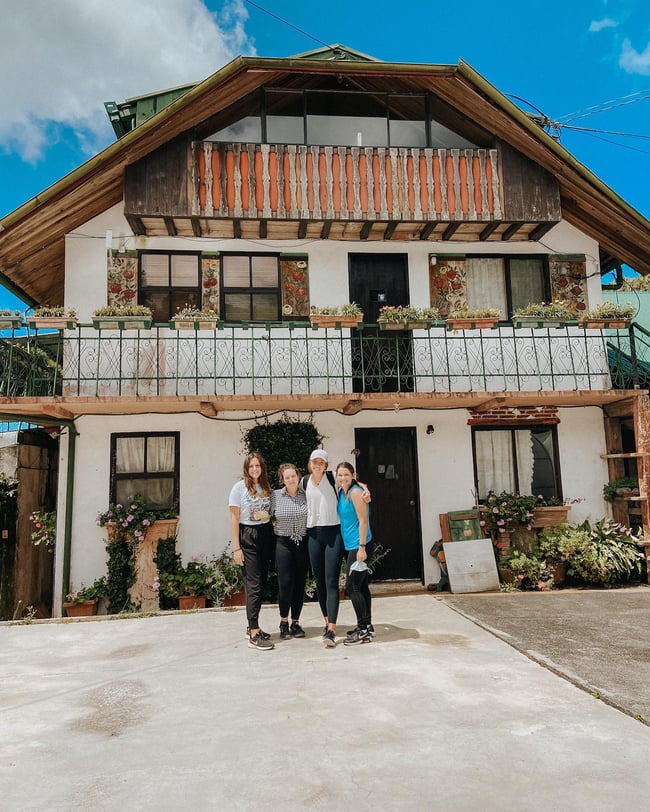 A Little Itinerary Help
Sometimes, it's helpful to see what one traveler did in this area so you can base your itinerary off of theirs. If you're looking at how to fit Peñas Blancas into your own trip, I'd recommend following a similar timeline that can easily be altered for a 3-5+ day trip.
Day 1: Travel To Peñas Blancas (relax at your eco lodge if you arrive early!) Aim to get here earlier than later, especially if your stay has yoga classes, bird walks, star gazing, or other activities. Overnight at your eco lodge.
Day 2: Hiking in Peñas Blancas. This is a full-day activity. Overnight at your eco lodge.
Day 3: More hiking in Peñas Blancas + overnight at your eco lodge.
OR, hit waterfalls on the way back to Matagalpa + overnight in Mataglapa.
If you have the time, spend another day hiking or just relaxing in Peñas Blancas and the night here, before traveling to Matagalpa tomorrow. If you're shorter on time, spend today traveling to Matagalpa (stopping off to see a waterfall or two).
Day 4: Time in Matagalpa OR travel back.
We love spending time in Matagalpa and can easily spend a full day exploring here. If you're short on time, plan on staying for breakfast and traveling back to where you need to be in Nicaragua.
Day 5: Travel back today (or spend more time in Matagalpa, like a quick trip to Selva Negra).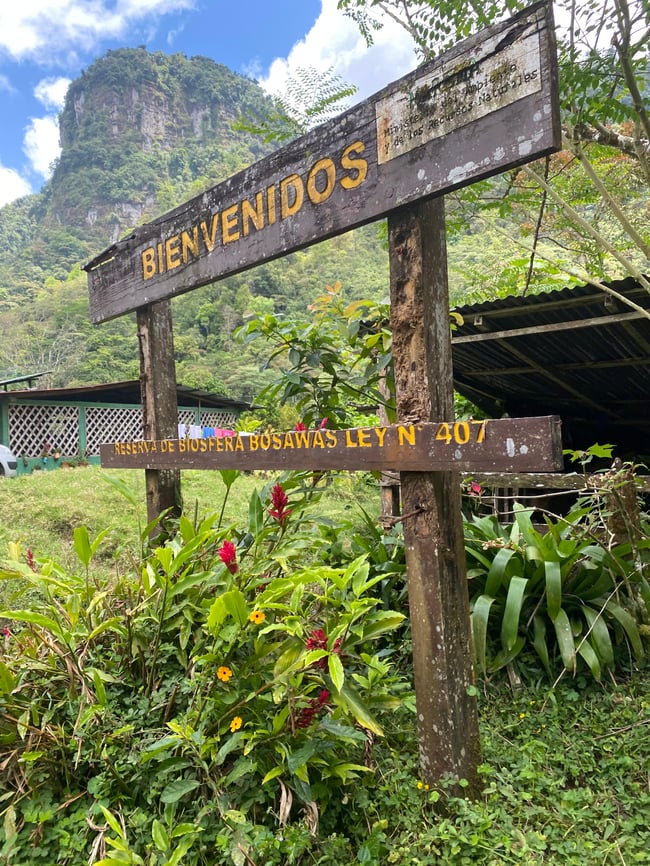 Getting Here
First, focus on getting to Matagalpa. There are a few ways to do that, starting with public transportation.
By Chicken Bus
It's going to be a longer ride, so make sure you have time for that in your itinerary if you're coming by the local Chicken Bus (we have more info on traveling by bus in Nicaragua here, which may be helpful). I went with a private driver, but did chat with a few travelers to get the following bus info:
I'd suggest getting a Chicken Bus from Matagalpa to La Dalia (or another nearby little city). We did see Chicken Buses hanging out in La Dalia with "Matagalpa" on the front, but you may be able to get more info here. Supposedly buses leave when full, from 6:00 AM to 6:00 PM. Tickets are $2ish, and the ride will about 1.5-2 hours. From La Dalia, you'll need to take a taxi to your stay in Peñas Blancas or get a bus headed towards Sonora or Cuá to get closer to your final location. You'll likely still need to taxi from where you get dropped off to the location of your homestay or hostel unless you can arrange a potential pick up.
Some report that Chicken Buses that can take you to Peñas Blancas from Matagalpa. I'd ask around to confirm, but supposedly you hop on a bus headed towards Él Cuá and get off at Empalme la Manzana, the turn off for Peñas Blancas. It's a 3-hour ride, for about $2.50. Again, you'll likely still need to taxi or hike to where you get dropped off to the location of your homestay or hostel unless you can arrange a potential pick up.
Basically, Matagalpa is your starting point (with lots to do there, too). Basically,
Booking A Driver
I had a few stops I wanted to make on my drive from Granada to Matagalpa, then on to Peñas Blancas, so it made the most sense to hire a driver for my short visit. If you're here as an ILP volunteer, hiring a driver for a weekend trip to Peñas Blancas is something that your Local Coordinator can help arrange!
There are also private shuttle services you can find online. This is the pricier (but more time sensitive) option rather than taking a bus here).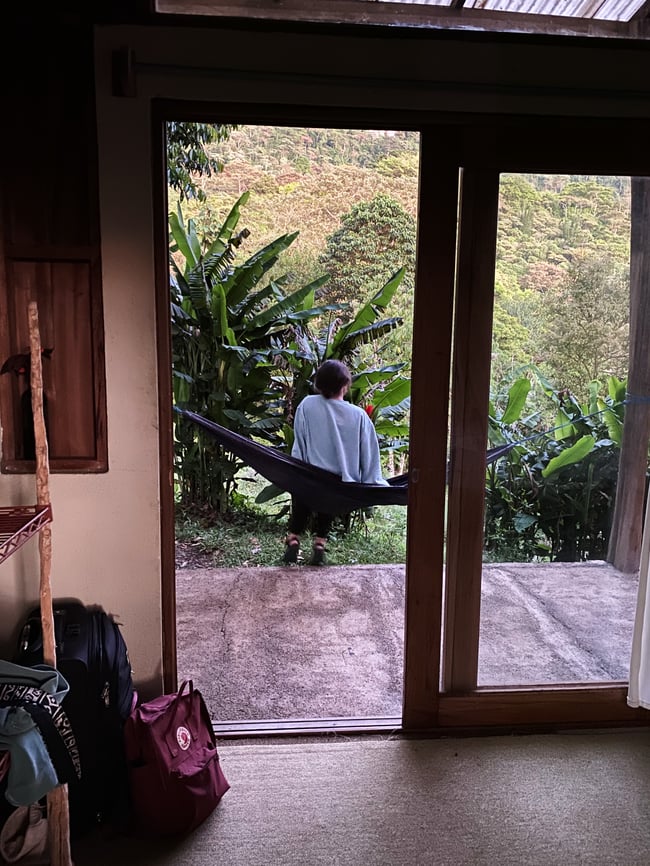 This is the best way to see Nicaragua
Volunteering with ILP is the best way to see Nicaragua. First, you're living in a quiet city where you can really connect with the culture and the people, then you have a whole spread of vacations to choose ... all you need to do is pick your favorites! Plus, ILP handles all sorts of things like your flight, visa, housing, training, meals, and other details.
Come teach English in Nicaragua with ILP!