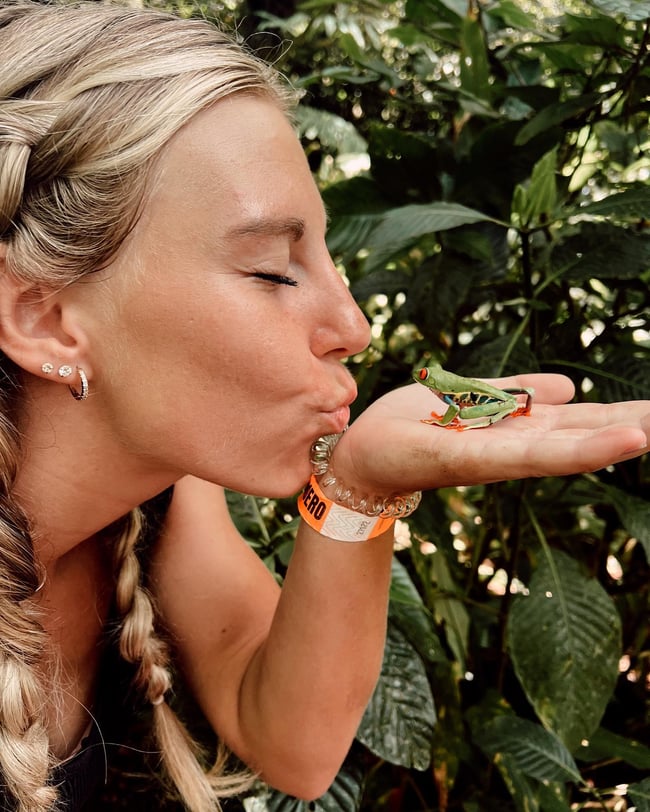 Hike through trails, over mossy bridges, and spot luminescent tree frogs on your way to this towering volcano ... then fly through the trees like Tarzan on a zip line. See why we love this spot?
Ready for another adventure? Nicaragua is full of them but this post is all about our newest weekend adventure. Tucked away just outside of Granada is a lush green forest, with winding pathways that take hikers through a misty cloud forest (with monkeys zipping overhead) … all of this leads up to a towering volcanic peak that'll give you views of the Apoyo Lagoon.
What's more is that you can see this all via zip line and tree top bridges, if you want a bit more of an adrenaline rush. For our ILP volunteers who get to live in Granada for their semester abroad, you can easily do all this on a Saturday!


---
Now accepting applications for adventurers:
Volunteering in Nicaragua
---
To make your trek through this thick forest even easier, we've broken down how to make this happen, step by step.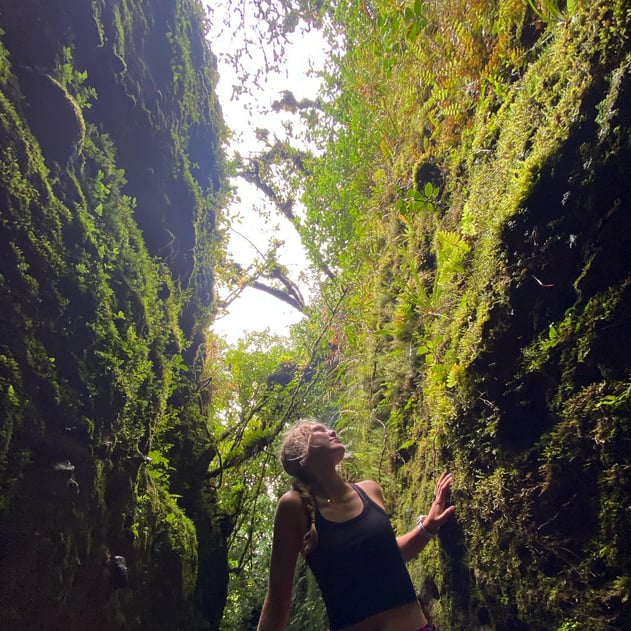 Hiking Mombacho + Costs
What To Look Out For On Your Hike
The whole area is one of the richest growing plots in the country, meaning you'll be hiking through thick swathes of coffee plants which also creates a favorite hang out spot for lots of your favorite animals. Hikers on the quiet trails have seen monkeys swinging overhead, the slow crawl of a sloth, and brightly luminescent poisonous tree frogs hiding underneath huge green leaves. You may also hear the eerie call of howler monkeys calling to each other in the trees.
When you reach the summit, the forest clears and you're left with an unobscured view of this country — if you've been busy exploring the area already you'll recognize these top sights: the city of Granada spilling out below you, the glittering islets of Lake Nicaragua, Apoyo Lagoon, and the smoldering Masaya volcano (just a few of our favorite weekend trips for ILP Nicaragua volunteers).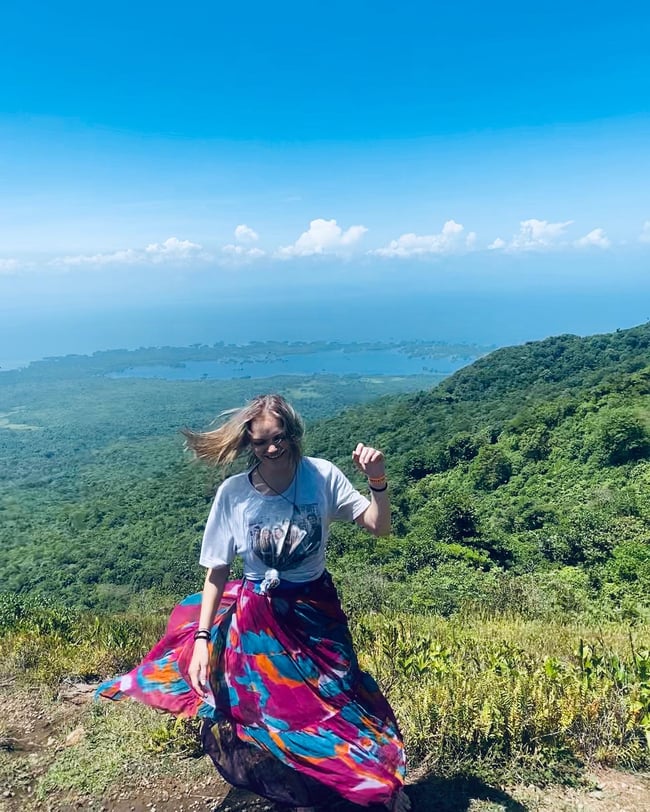 Costs Of The Park
There is a $5 entrance fee for all visitors on foot (here's the entrance). It will be a $22 fee to enter the park in a vehicle — There are trucks parked right outside that you can hire if you'd rather not make the climb up to the top/to your trailhead. It's doable, but the steep trails typically mean people would rather hire a truck to take them rather than hike to the trailhead before starting their hike. Trucks typically leave at 8:30, 10:00 and 13:00, returning at 11:30, 13:30 and 16:00. If you book a tour, this "truck fee" will be paid for.

There are three separate hikes you do choose to do, some require a guide, one does not:
Sendero El Crator Hike — No guide required, $2 maintenance fee per person // Difficulty: medium // Duration: About 1.5 hours // Pros: Tends to be the most popular, easiest hike and still gets you get great views


Sendero El Tigrillo Hike — Guide required ($17 for the group), then a $4 per person maintenance fee // Difficulty: hard // Duration: About 2.5 hours // Pros: Some say it has the best view points, but you definitely have to work to see them


Sendero El Puma hike

— Guide

required ($22 for the group), then a $6 maintenance fee // Difficulty: hard // Duration: About 4 hours // Pros: If you love a challenging hike where you won't see other hikers on the trail, this is your best bet. It is the longest and most difficult hike, giving you new views of the forest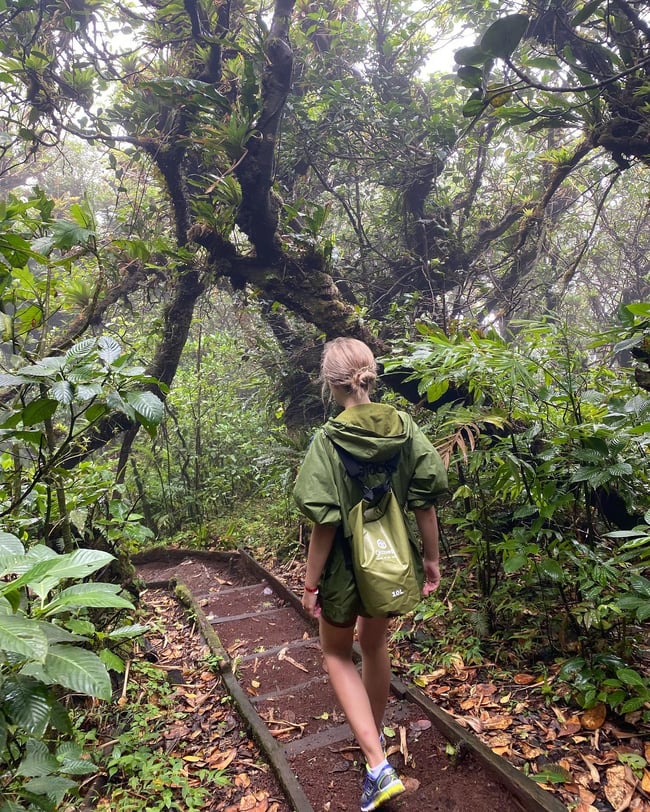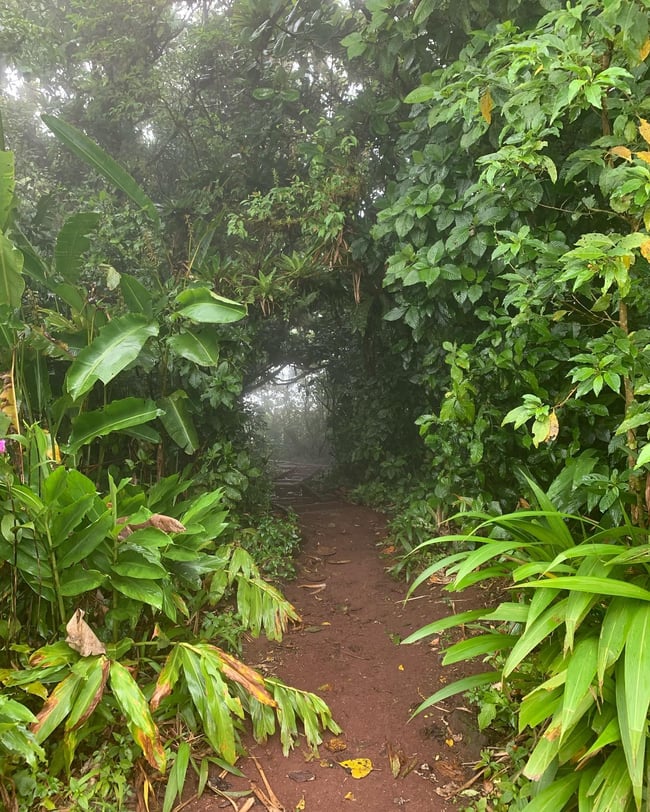 Go With A Tour
It's a popular excursion from Granada, and irons out all the wrinkles of figuring out how to do it yourself. There are a few trails to get to the summit of Mombacho, but going with a guide means you don't have to hike the 5 km to the top — a truck (cost included) will pick you up and drive you up the steepest section. You'll still hike to the summit, but you'll probably arrive a lot less sweaty than those who did it themselves. Most tours arrange transportation from Granada, include a tour around the coffee plantain at the base, then let you pile in the back of a 4x4 to zoom up the muddy trail closer to the top.
There are a few different companies to book with, with varying prices. At the bare minimum, look for a tour company who arranges transportation, but you'll find lots that include a tour of a coffee plantation, or an additional excursion (like zip lining). This Viator option has a tour for a 3.5 hours, while this Viator option includes zip lining for $113. It's definitely easier to go with a tour, but it is possible to DIY. Tierra Tours also is a fav tour company in the area.
Are you an ILP volunteer? You can get info about a tour option through your Local Coordinator (someone who's from the area and a resource for each of our volunteer programs). Our Coordinator in Nicaragua has been known to arrange a hike for $27 (with a guide and transportation) — and another $28 if you want to do the zip lining, outlined below. Groups have gone with Miraville Ziplining Mombacho with some help arranging details from their ILP Local Coordinator.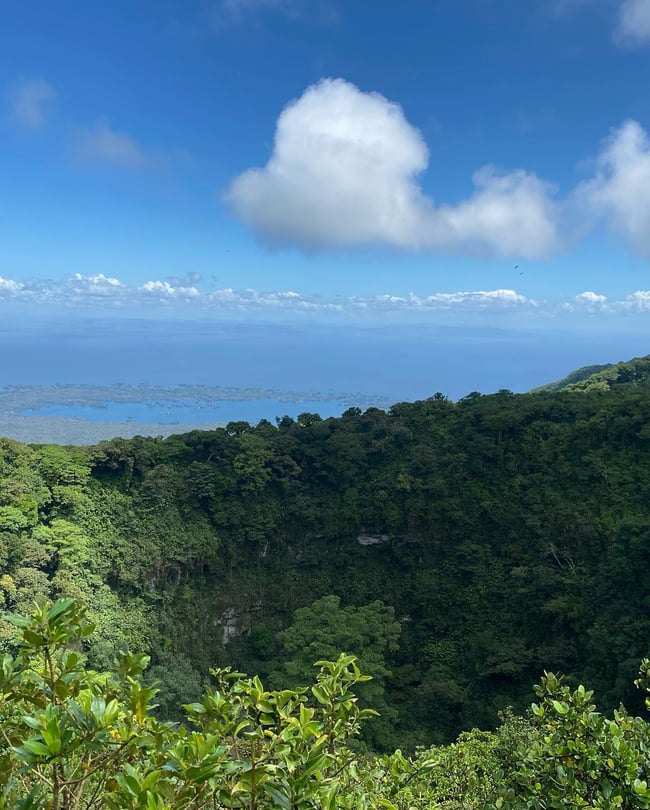 Or Do It Yourself
If you'd rather skip out on the tours (and want to save some money) you could DIY this adventure. Once you're at the entrance gate and have paid your $5 entrance fee, you'll choose your trail. Remember, there are three to choose from but you will need to hire a guide unless you hike the Sendero El Crator trail (the most popular, and the one we recommend).
Things to know about this trail — it's just a few miles, but there is a very steep incline (40%) at one portion. You'll climb small stone steps through muddy trails, trek over mossy bridges, and then up that very steep incline. It's a less expensive option than taking a tour (because a tour charges you the truck fee to drive you up), but is a route for fit hikers. These bloggers have a more complete guide to DIY'ing things if you're interested.


Info On The Zip Line
There are a few tour operators who will take you up to the volcano for a treetop adventure, but in the past, ILP volunteers have loved going with the Mombacho Volcano Canopy Tour Zip Line. You can check out their site here, but the company handles transportation and entrance fees, and sets you up with the gear you need (harnesses, gloves, helmets, etc). It's a crazy fun way to see this part of Nicaragua, that's for sure!
Another group went to Canopy Miravelle and had a rad time. You can check out their Facebook here, which has tons of pictures, but it's the same kind of deal, with transportation options, the gear you need, etc.
Again, your Local Coordinator has arranged zip line tours on Mombacho as well for the ILP groups in the area, for about $28.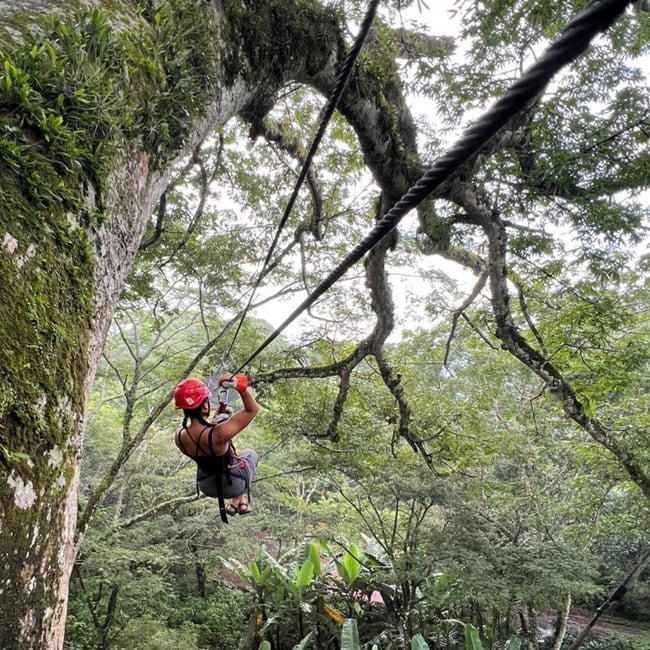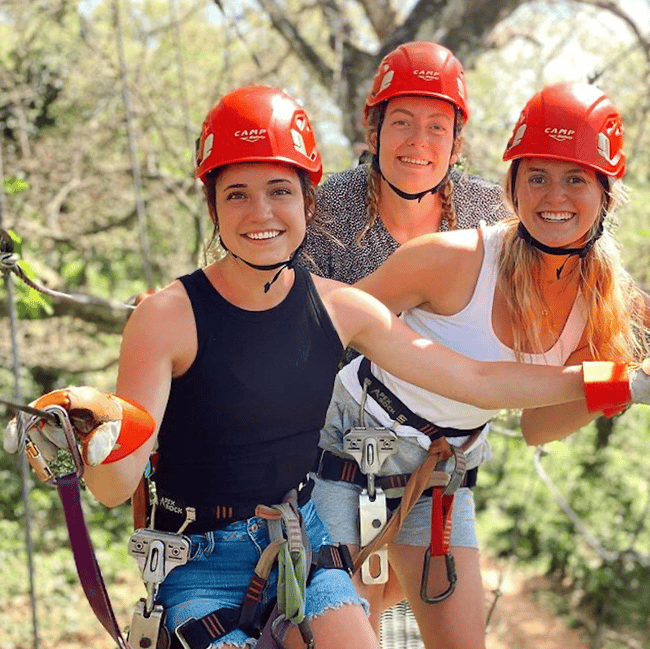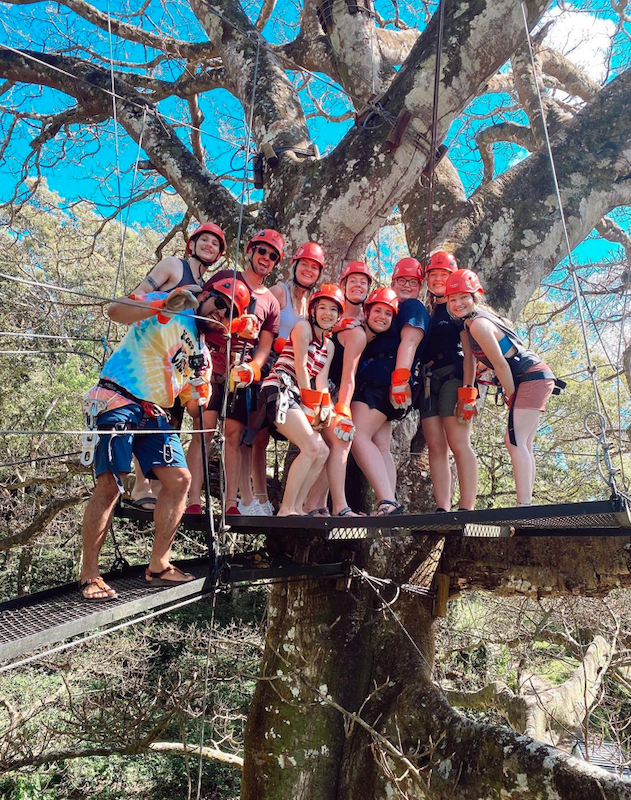 Getting To Mombacho
From Managua To Granada
Microbuses are cheap — they leave Managua when they are full, and cost 29 cordobas. The ride is about 1.5 hours. Buses pick up passengers at the UCA "terminal" which is more like a bus stop on the street. It's on the southwest corner of the Parque Central (Calle Vega). Buses run from 5:00 AM to 9:00 PM on the weekdays, and 5:30 AM to 8:00 PM on Saturday, then 6:00 AM to 7:00 PM on Sundays. Like any bus station or schedule, details can change without notice, so talk to your hostel, hotel, Local Coordinator or other resources to confirm.
From Granada To The Nature Reserve
If you're booking a tour, most pick you up at your hostel/hotel in Granada, but double check. They'll get you right there so you don't have to worry about a thing.
If you're doing a DIY hike, you'll need to get yourself to the entrance of the park. You'll just need to take any bus heading to Nandaime or Rivas. Ask to be let off at "Volcan Mombacho". Buses leave regularly, are very cheap (about 8 cordobas), and is a short ride (about a 20 minute drive). You'll hop out, and continue walking down the road to get to the nature reserve (on the left). Here's a pin of that location. It's about a 1 mile walk to get to the park entrance, along a flat and paved road.
Once you reach the entrance of the park, you'll pay your $5 fee to enter the park, choose your trail, and hike to the top.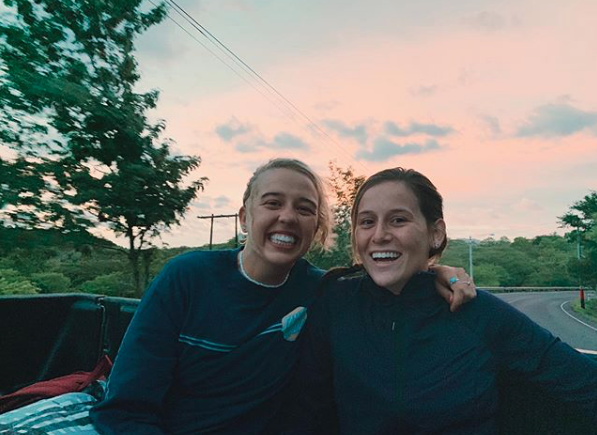 Nearby Adventures + Things To Check Out
More Volcanoes
Come peer over the edge of a volcano still bubbling with lava, or sled down a slope of volcanic rock on another volcano. Nicaragua is your top stop for volcano adventures, so don't leave without exploring a few more.
The Mombacho volcano's thick green forest is a total turnaround from what you'll see on other slopes — get our guide to hiking Nicaragua's volcanos, here.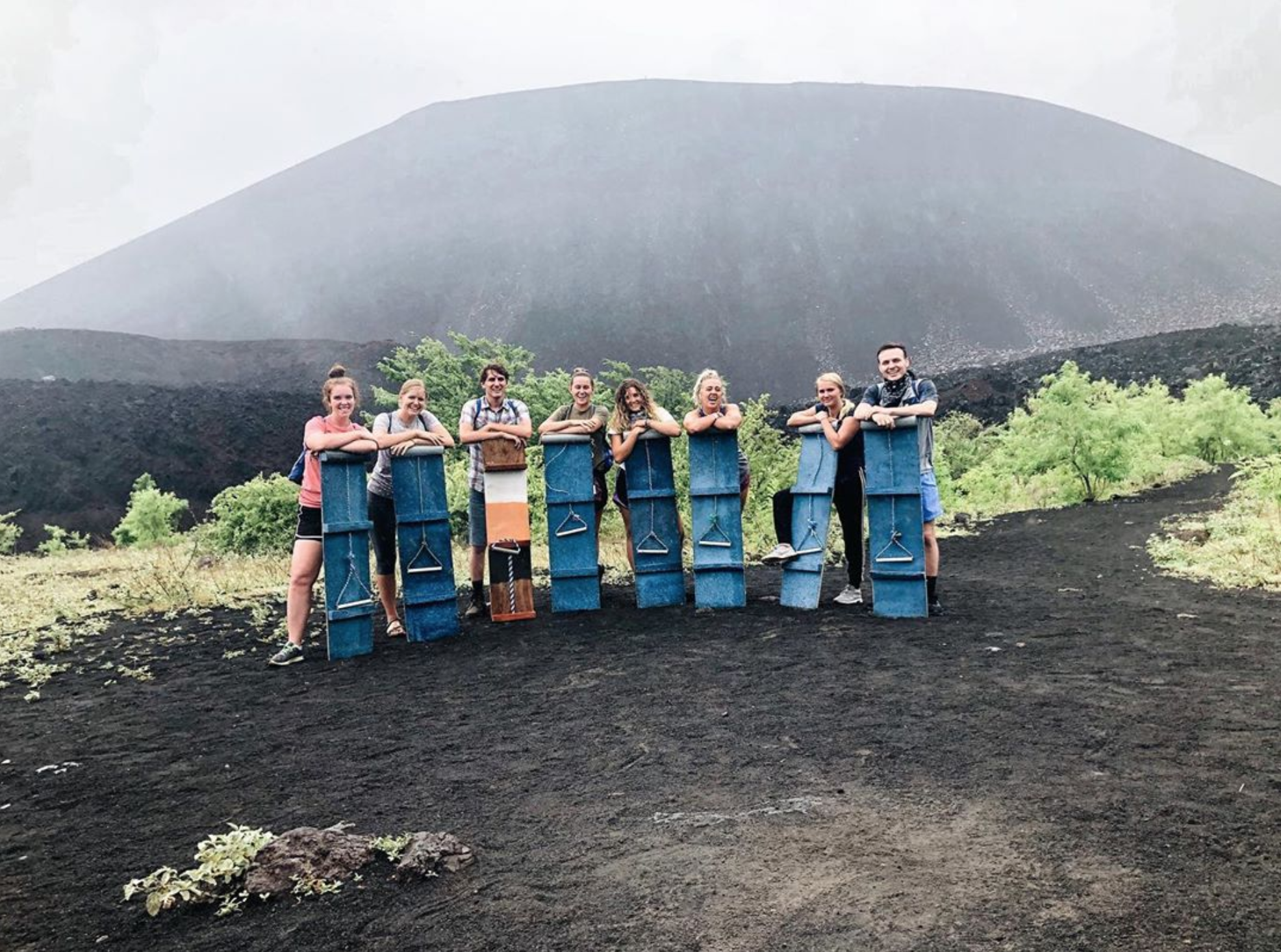 This Volcanic River
Aguas Agrias is a secret spot that is made for swimming. First, the water is clear and tinted a pretty blue-green color, especially on a sunny day. There are several ideal swimming areas where the river has widened out and gotten deeper (around 4.5 feet). Other areas are more shallow. Some spots have a little "side bank" with stone walls and a dirt bank where you can sit and just let your feet cool off. The river here is fed by a spring that flows from right under the nearby Mombacho Volcano — some believe the waters here have magical healing properties, thanks to its volcanic source.
All about swimming in Aguas Agrias, here.
Granada
Warm, tropical, and oh so colorful, Granada isn't just a hopping off point to Mombacho volcano. It has colonial roots which means you'll be able to spend time in the city square, a towering Spanish-influenced cathedral, and lots to do. You'll find streets lined with brightly painted storefronts, so even just walking around the city is a photographer's dream come true.
Come for chocolate massages, take a hundred photos against green, blue, yellow, and red walls, plus and hang out with monkeys when you take a kayak trip on Lake Nicaragua. This city will keep you busy, that's for sure. Get our go to guide to Granada here.


Tips For Your Hike
Go Early
If you can swing it, this hike is best done in the morning. The green slopes have a temperamental "mini climate" all their own. It can be a hot and humid day in Granada but head up to Mombacho Volcano, and you'll find a rainy, foggy, and windy day at the top of your hike. Hikers have suggested going early to help you combat the heat, and catch the view before the microclimate sets in (and leaves you hiking in thick fog).
The park is open from 8:00 AM and 4:30 PM, so best to get there at 8:00 (the first truck leaves at 8:30 AM if you're arriving there, then paying for a truck to drive you up).
It's A Hot Hike (But Maybe Bring A Jacket)
Nicaragua has a thick humid climate, which means perfect days at the beach … but it leads to hot hot hot hiking weather for most of the year. You will get very hot and sweaty while hiking, so wear lightweight clothing and more than enough water.
However, when the mountain is shrouded in mist, the temperature can get a bit chilly — enough that you'll want a light jacket.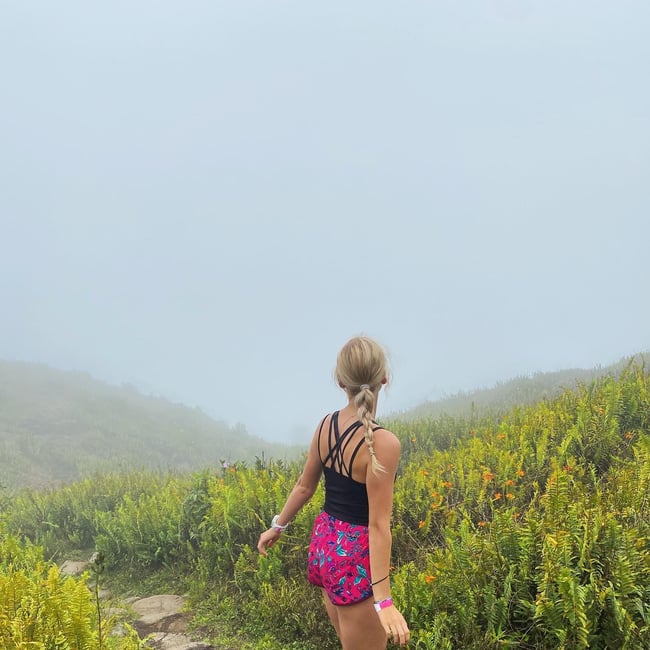 Nicaragua is the best kept secret around
While tons of tourists crowd the hiking trails in nearby Costa Rica, Nicaragua is still that undiscovered adventure that only a few know about …. Come see what this country is all about yourself!