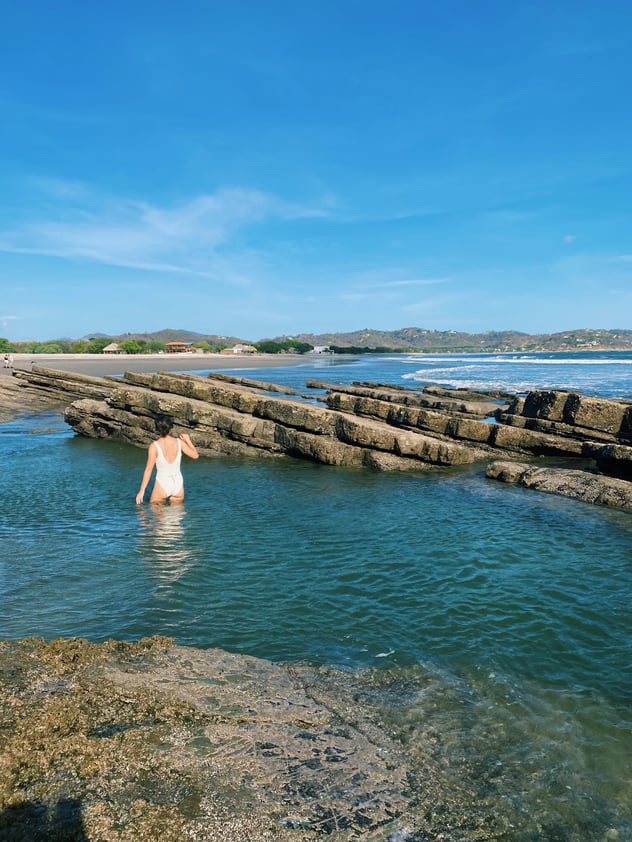 If you're headed to Nicaragua you should definitely start getting excited about the beautiful beaches you can visit.
Lucky for you, the best beaches in Nicaragua can be found on the Pacific Coast which is conveniently close for ILP volunteers in Nicaragua who live there, and Costa Rica volunteers who come to vacation. We know you'll love spending time on the beach and we've narrowed it down to the ones you just can't miss (handy, right?)


---
Looking for in Central America?
We love Central America and put together a guide with some of our very favorite places. Check it out here!
---
While Nicaragua has its fair share of coastline, as with all countries not all beaches are created equal. We've pick out the best of the best beaches, whether they are famous for white sands and swaying palm trees, the best surfing around, or make for the most relaxing and photogenic spot you could find, all along the Pacific coast of the country. Listed north to south, here are the ones we would recommend during your time abroad:
Our Favorite Nicaraguan Beaches
Las Penitas
Look no further for a breathtakingly gorgeous beach — unless you don't love white sands, a rolling surf all fringed with jungly-mountains. Las Penitas is one of the most famous beaches to explore because it's a big stretch of sand so it's doesn't get horribly crowded, plus there are lots of things to do: It's a good place for surfing and you can find lessons for about $20 an hour.
Not into surfing? Find a restaurant, grab a cold smoothie, or go on a horse ride on the beach for about $14.



Jiquilillo
Jiquilillo's one of those untouched places, a "locals only" kind of spot that hasn't really been discovered by the adventurous backpackers that are making their way through Central America. It's a sleepy fishing village, home to dark sand that's a rich toasted caramel color, palm trees that wave in the sea breeze, and sheer relaxation and quiet. One of the biggest perks of spending a whole semester abroad somewhere is to tap into these types of secrets … we have the feeling the ILP volunteers who call Nicaragua their home for a semester will love having Jiquilillo all to themselves!
We have way more info on all the surfing, hammock, coconut-bread, and turtle adventures you'll find on Jiquilillo beach here.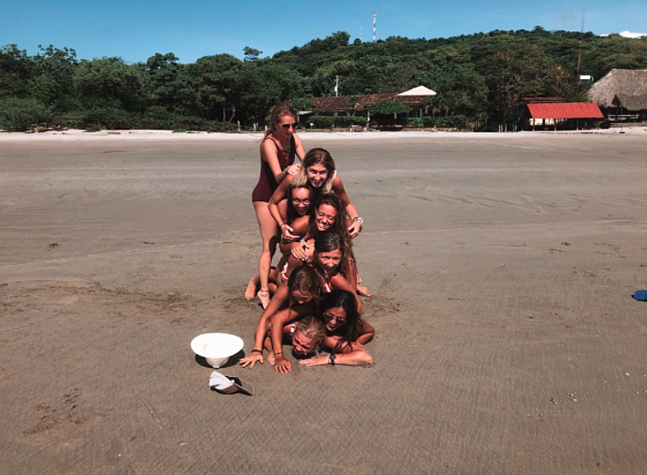 Playa La Boquita
With towering cliffs that overlook the ocean, Playa La Boquita has a rocky section that creates crashing waves while the other side of the sand rolls into sandy shores perfect for swimming. One of the more popular beaches with the locals, this beach is the place to hang out on the sand, do some swimming, or test out one of the local restaurants that fringe the shoreline. Fresh seafood here is especially popular, with boats going out daily to fish for the nearby restaurants.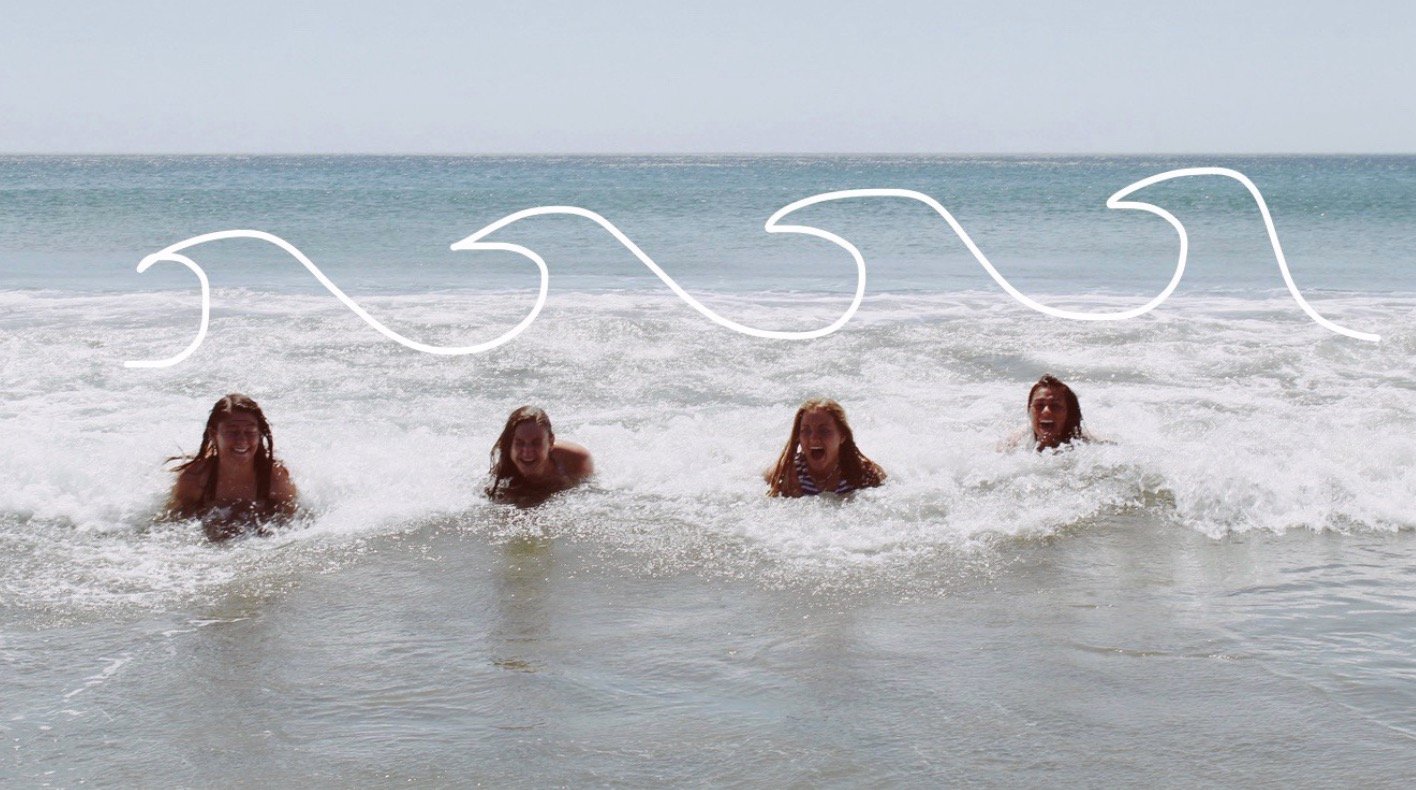 Playa Popoyo + Ones Nearby
A wide stretch of sand that's interrupted with bigger surfing waves on the northern side, and calmer waters perfect for swimming on the southern side is what's waiting for you at Playa Popoyo. One section even breaks out into a rocky "half moon" that floods with water during high tide, trapping sea water against the rocks to create tide pools full of tiny crabs and other creatures, and a shallow swimming spot.

While you're in the area, head a bit further south to explore Jiquilste Beach/ Playa Santana: known by both names, this beach is just a short taxi ride south of Playa Popoyo or a 30 minute. Playa Rosada is also another popular and nearby beach which is just a 10 minute walk from Playa Popoyo. The Outer Reef is also a popular surf spot with big swells that's a 5 minute drive or a 20 minute walk. Sounds like a great spot to hang out if you want to spend a day or two beach hopping around this part of Nicaragua.
We've got a blog post all about Popoyo to help you plan your trip.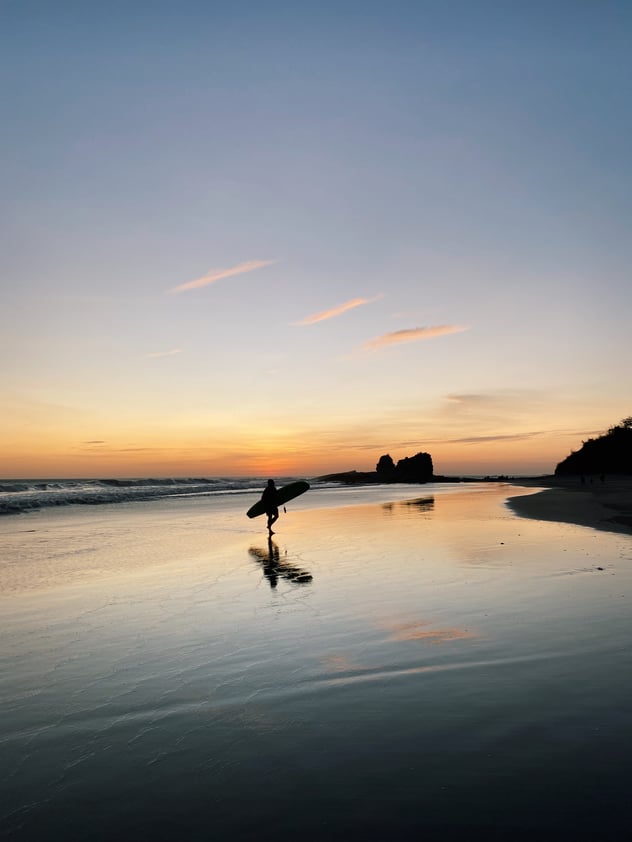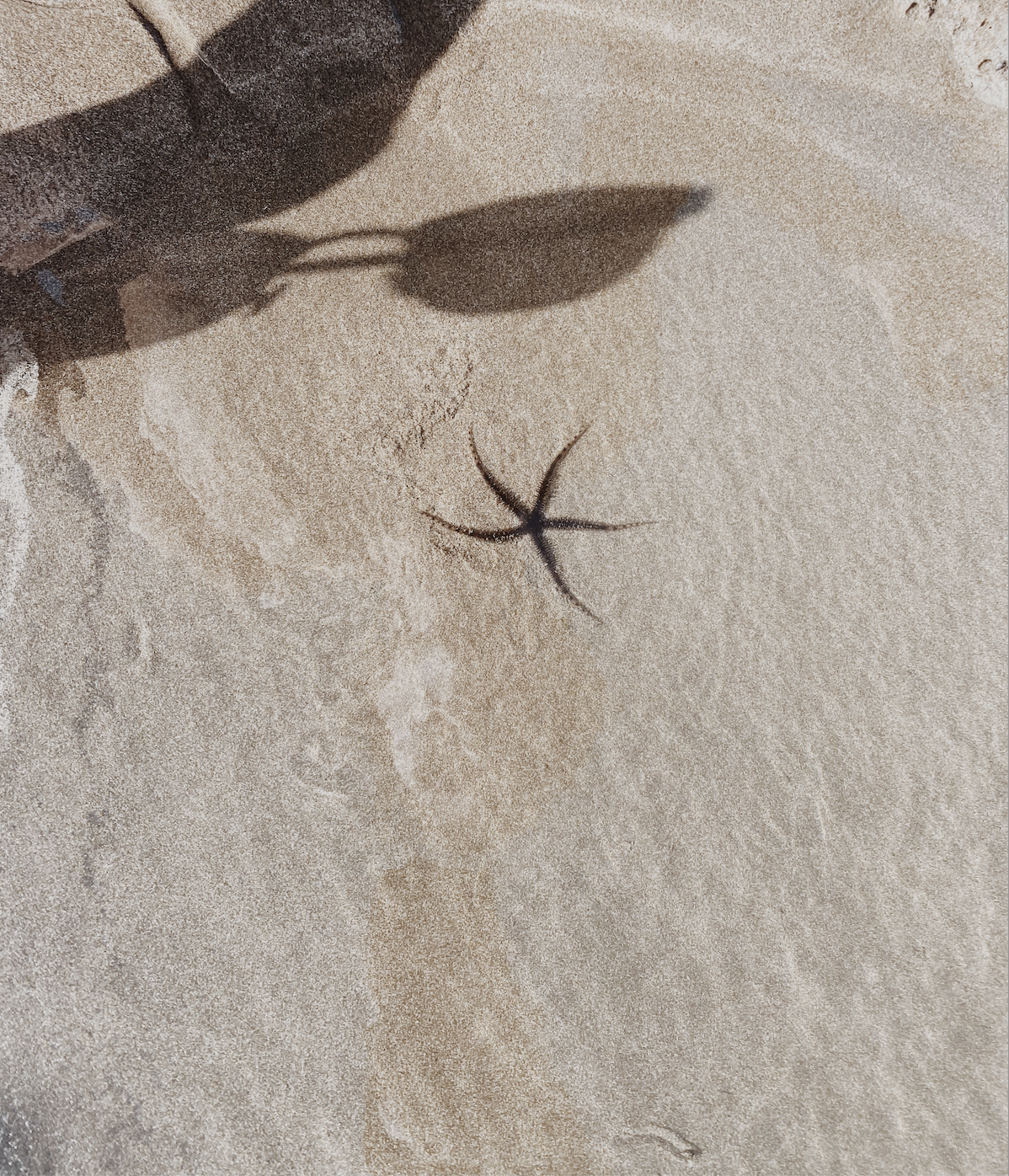 Playa Maderas
Playa Maderas is one of the most stunning beaches out of all the beaches in Nicaragua. The warm sand is a perfect place to sun bathe and the rocky areas of the beach make great areas for tide pooling and finding cute starfish and other creatures. Grab some snorkel gear from a local shop and see what else you can find in the water. Or, switch up your schedule by taking a 15 minute walk down to the nearby Playa Majagual.
Playa Gigante + Ones Nearby
Gigante Beach has a chill, little surf town nearby that's become pretty popular with tourists and surfers. If you want to try surfing this is one of the best beaches you can visit.
Similar to Playa Popoyo, Playa Gigante a spot where you can set up a base, then spend a couple of afternoons exploring different beaches. Playa Gigante is a great learning-to-surf beach, but you'll find quieter waves on Playa Amarillo. If you'd like to watch the surfers handle the biggest swells, Playa Colorado is the spot to go. This part of Nicaragua has a cluster of some of the country's best beaches, so best to spend a couple days here beach-hopping.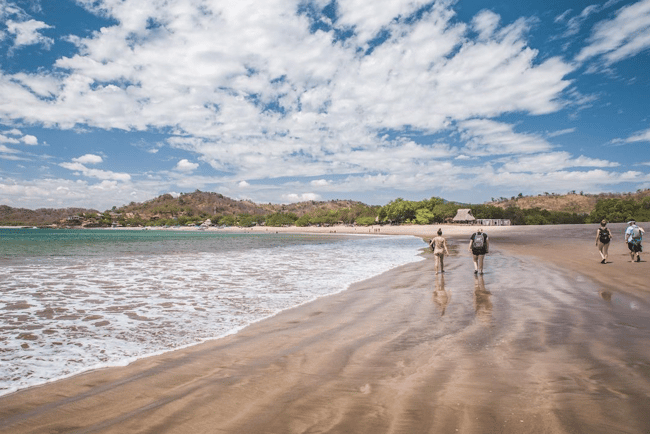 San Juan Del Sur
Tucked on the south west coast of Nicaragua, this fishing village-turned paradise is a little picturesque spot nestled in a "c" curve cove of the Pacific ocean.
You'll find a range of big surf beaches and relaxing stretches of sand to catch some sun, along with colorful waterfront homesteads. Take a boat trip to nearby beaches, sign up for the surf lessons, ride horses on the beach, and hang out in the waves. While that's so fun, our favorite favorite thing to do here is heading to a nearby stretch of beach to hang out with sea turtles!
San Juan Del Sur is a favorite for a few reasons!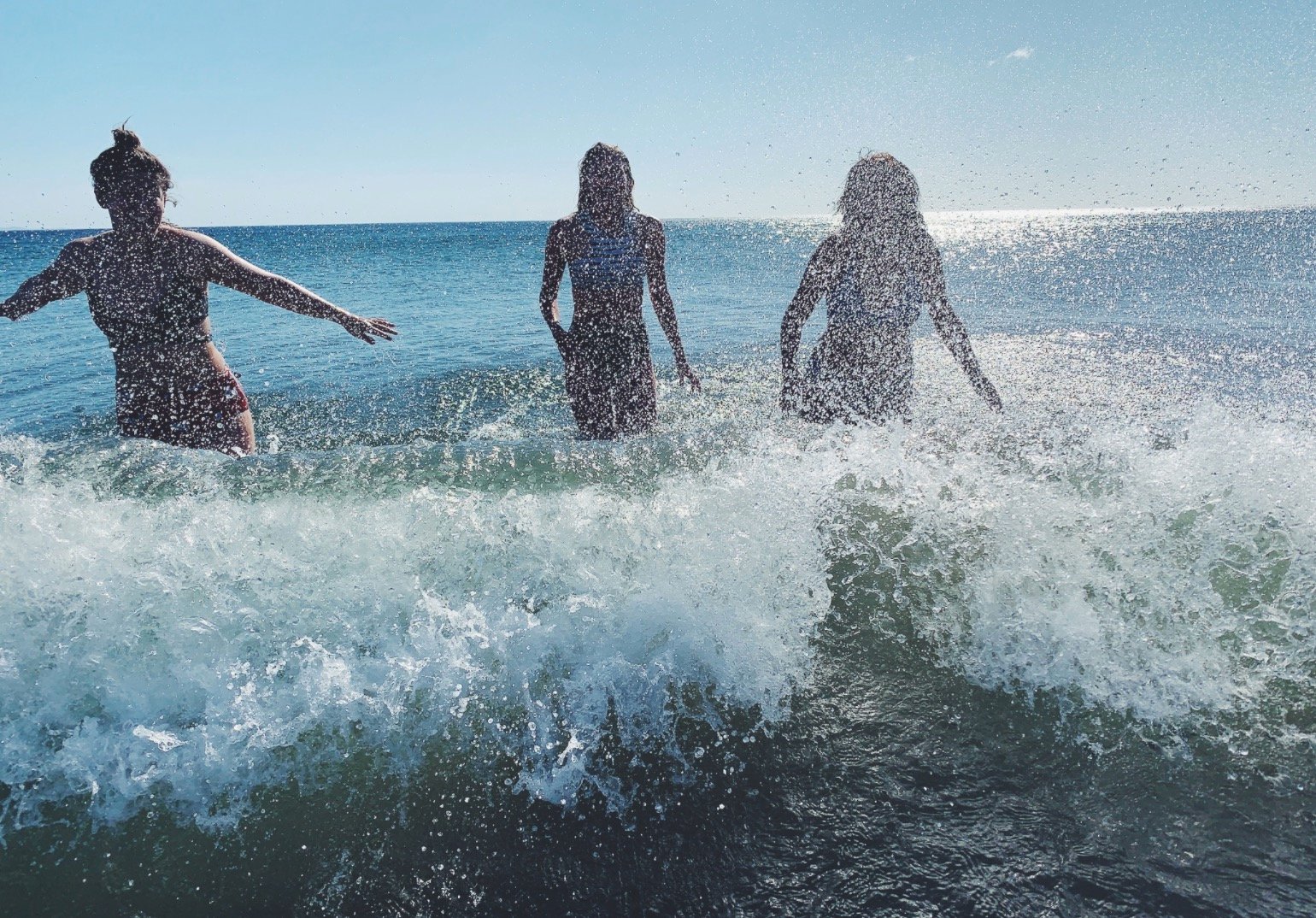 El Remanzo
A big half-moon cove makes up this beach which is quite popular for a few reasons — the sand stretches to have a big beach front where you'll find a rocky section in one part, calm waves in another section, and lounge chairs set up near a handful of restaurants. You have rock hills behind you, but the sand stretches a couple hundred yards before you'll even reach the water so there is a ton of room to lay out in the sun.
Playa El Coco
If you love soft sand and beautiful cliffside views, you'll love Playa El Coco. This beachy paradise is surrounded by hills and is the perfect place for a day of relaxation and swimming in the water. You'll find dark, almost milk-chocolate brown sand that turns the water in a pretty gray-blue water framed by the green hills behind the surf. It's a nice swimming beach with gentle swells (good if you're not into surfing).
Playa El Coco is also smaller a bit lesser known than some of the more popular beaches (San Juan Del Sur is right up the road) so you'll have more beach to yourself instead of fighting the crowds for a good bit of sand or one of the hammocks hung up behind the shoreline.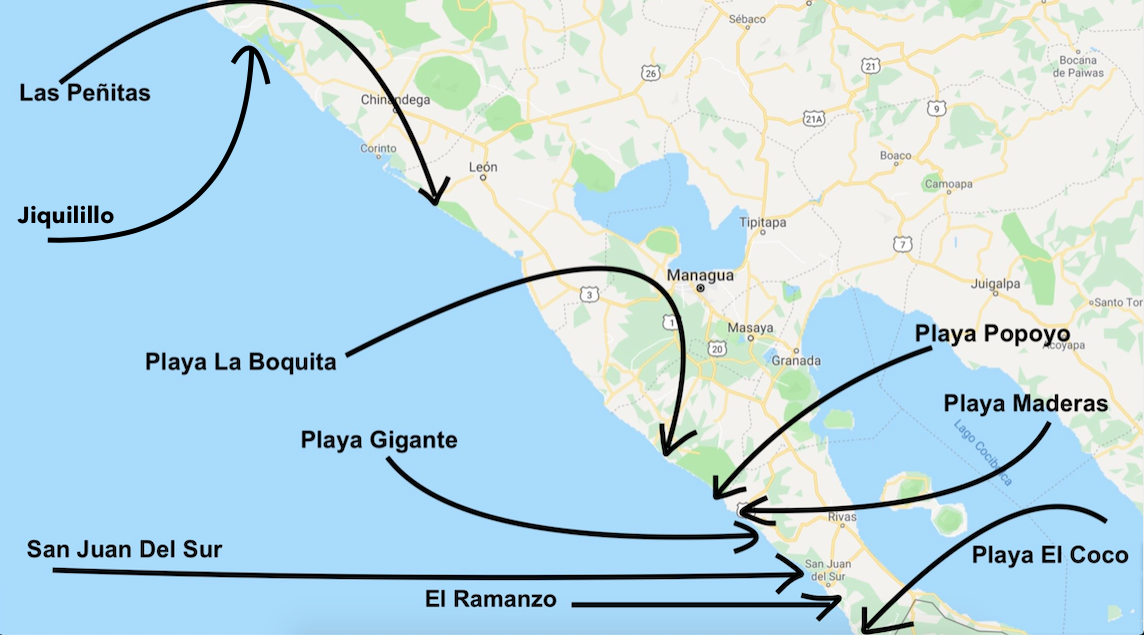 Don't Miss The Corn Islands−
The Corn Islands are on the Atlantic Side of Nicaragua but definitely deserve a shout out. These islands have bright white sand, Caribbean-clear water, towering palm trees and miles and miles of coastlines to sunbathe on. We are talking actual paradise that not too many travelers know about so visiting means having paradise all to yourself.
Here is all the info you need to know visiting the Corn Islands.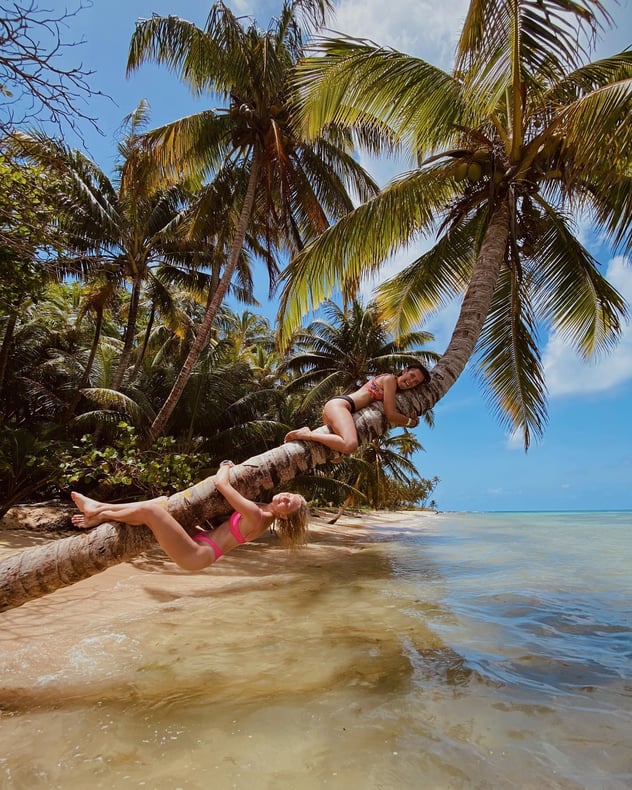 Ready for a semester of beach hopping and helping out?
Volunteer with us (ILP!) for a semester and you'll have the opportunity to serve and travel all around the world.