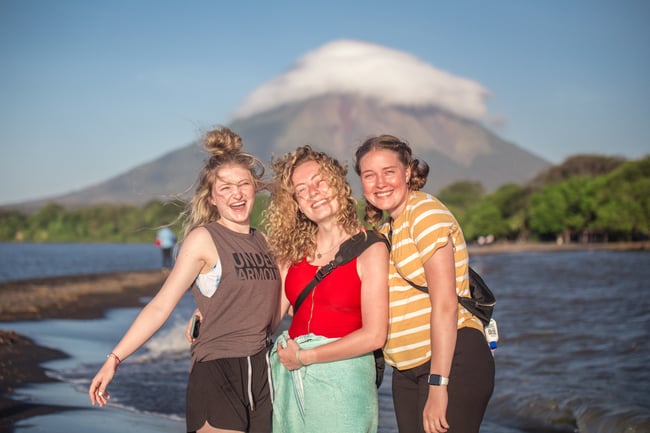 Volunteers in Nicaragua, you're going to want to explore this hip island every weekend.
Turns out there are about a million cool things to do in Nicaragua, and most of them include volcanoes...which makes any activity even cooler. One spot ILP volunteers have been loving is the volcanic island paradise known is Island Ometepe. It's crammed full of the best kind of weekend adventures, like paddle boarding on the lake, black sand beaches, and a little swimming spot that has crystal clear water. This place is an actual oasis and so easily done on a weekend.


---
Already know you want to spend your weekends on a tropical island?
See what volunteering in Nicaragua is all about, right here.
---


The volcanic island of Ometepe is floating in the giant Lake Nicaragua and once you learn a bit about what there is to do here, you won't believe that it's still a bit of a secret, known only to the cool backpackers who know how to travel around Central America. Here are the details to make your trip here a breeze:

A Bit About The Island
Everything You Should Check Out
A Few Notes On

Moyogalpa
Places To Stay On The Island
Getting To Ometepe
A Bit About The Island
This lush tropical island is formed completely by two massive volcanoes. Ometepe sits on an enormous lake, giving you the chance to soak up the scenery on your ferry ride over. Be sure to peek out the windows and see the looming twin silhouettes of Maderas and Concepcion — the two volcanoes that build this island. So. Cool.
The island has been inhabited by native people for thousands of years (some scientists have found petroglyphs that date all the way back from 300 BC). Now, there are a couple of villages of people who live here and a burgeoning interest for tourists in the know. The two main ones are The Altagracia on the northeastern side and Moyogalpa which has the boat/ferry harbor and is found on the northwestern side of Ometepe. You'll want to know where things are to help you figure out where to stay and where everything is, so here's a map to help you out.



Everything You Should Check Out
Just a heads up, while this island is full of fun and memorable things to do, some of them may be closed or unavailable during the off season.
Slackline Over Crystal Pools
After an intense hike up ancient volcanoes, you are going to want to relax. We know just the place.
Tucked away in the north-eastern part of the island is Ojo De Agua — AKA, a naturally crystal clear lagoon, nestled in the lush green forests Nicaragua is famous for. It's a magical little place where you can soak in the natural springs or slackline across the clear water. If you're hungry, order some drinks and food, served poolside. Basically, this place is actual paradise. We did tell you you're going to want to visit here every weekend, right?
Cost: $3 entry fee

From Altagracia, you can take the bus to Playa Santa Domingo and tell the bus driver to stop off at the Ojo De Agua. According to this bus schedule, there's a bus headed that way every hour or two starting at 4:30 AM and ending at 5:30 PM. A bus ride there should be between $0.50 USD and $1 USD.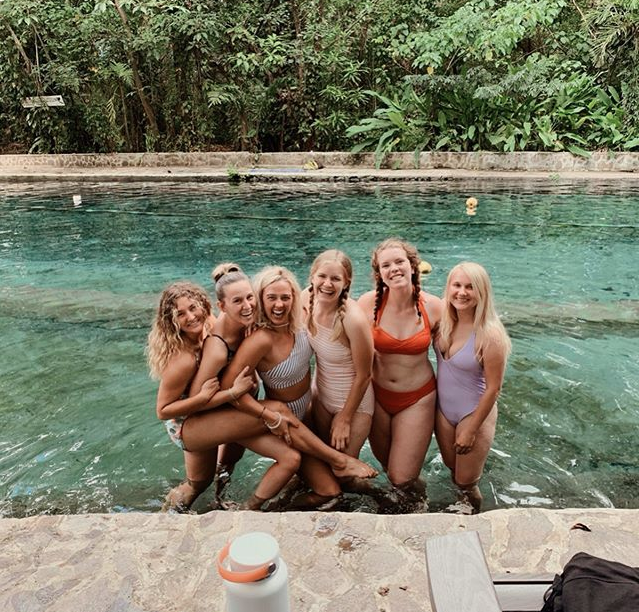 Hike Some Volcanoes
Oh and if you're wondering, you totally can climb both of the volcanoes which formed the island. If you climb Maderas, you'll spend a good chunk of time in the lush slopes, so keep an eye out for howler monkeys and parrots (it's a 6-8 hour hike). Concepcion is more intense and rocky at points but gets you higher up (it's an 8-11 hour hike). Both are pretty grueling hikes but the sights from the top are unreal. For those who don't want to climb to the summit, they can hike until the lookout point of El Floral. This tour takes about 3 hours each way and also winds through the jungle.
How To Hike The Volcanos: Once you get to Ometepe, you can find guides to take you on these hikes (it's mandatory). If your hostel can't help you, pop into another hotel to help you arrange a guide. Prices from past tourists range from around $23 to $55 dollars (most include transportation). The trail are intense and unguided hikers have gotten lost, so be sure to go with an expert.

Make sure to bring lots of water (more than you think you would need) and hikers headed to Maderas will most likely be getting muddy. Both hikes require sturdy hiking shoes and some endurance.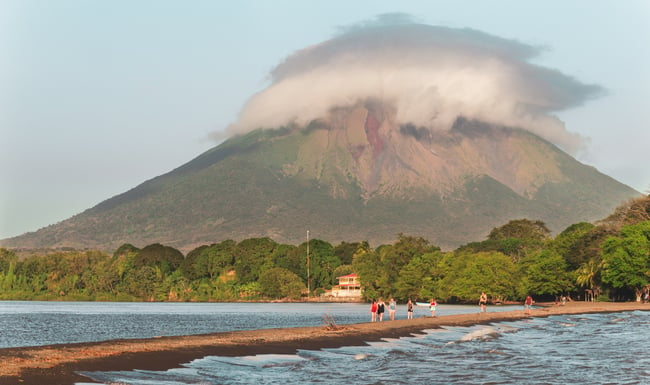 Trekking To The San Ramon Waterfall
If you're not up to the intense challenge of a hike like that, San Ramon is exactly what you're looking for. The waterfall is one of the biggest attractions of the island, an almost-200 foot cascade that drips down a mossy cliff face, forming a little pool that you'll be dying to swim in. From the little town of San Ramon, it's a 3 kilometer trek through the jungle to reach the falls. It's an easy path to follow but you may find some local guides hanging around if you'd like to be guided to the falls for a small fee. If you have the time to go early, that would be best: this place is pretty popular and it's best enjoyed without the crowds.
Here's more on the San Ramon Waterfall to help you plan your visit. Just so you know, some groups in the past said this hike was more intense than they had thought but it was totally worth it.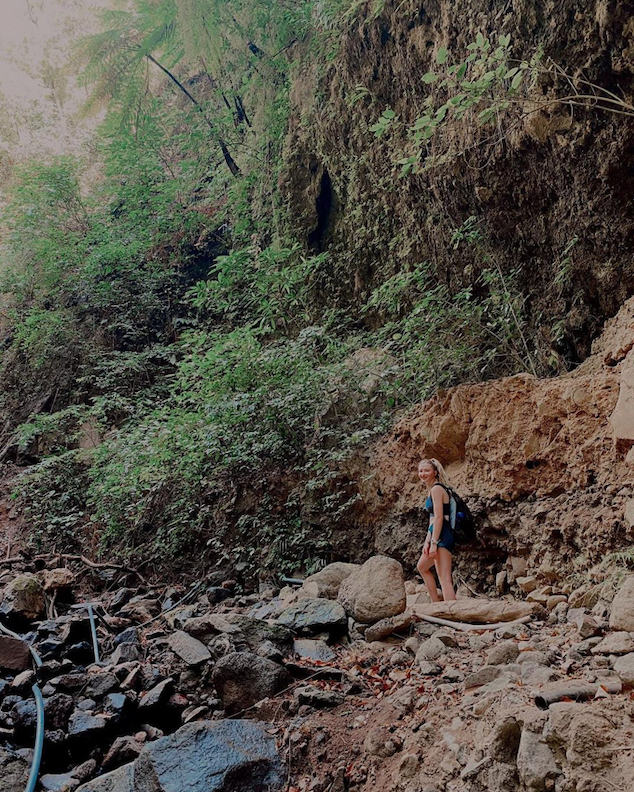 Tan On Black Sand Beaches
Lake Nicaragua is so huge, it actually forms a freshwater sea, complete with black sand beaches on Ometepe island. At certain times of the year, there's a sandy peninsula that's exposed, letting you walk almost a whole mile down this split sea. And of course, the view can't be beat. Punta Jesus Maria gives you the perfect view of both of the island's volcanoes and is highly recommended if you talk to our volunteers!
How To Get There: Rent a bike! It'll be $5-6 for the whole day, but you can easily get to Punta Jesus Maria via bike from Moyogalpa or Charco Verde. You'll find bike rentals at most hotels and hostels.

From Moyogalpa: it's about 2.5 miles away, about 0.5 miles after the airport strip.
From Charco Verde /San José it's around 3 miles. There's a billboard along the road that lets you know that the lake is down an alley; it's about 1 mile from the entrance.
There's usually an entry fee of $1 to get to the sea.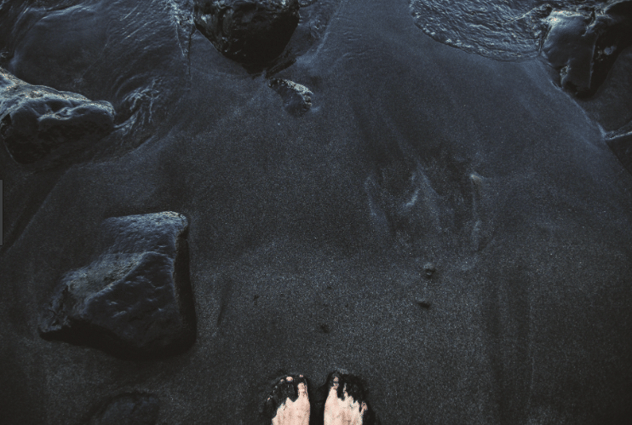 Kayak/Paddleboard The Coast Or Ride Through The Jungle
Feel free to do a little exploring while you're here — the island is peppered with tiny fishing villages, complete with brightly colored buildings and quaint little restaurants and museums. You can kayak around the coast to get around (or a paddle board!), or hire a bike.

Kayaking tours are usually around $25, but will charge some transportation fees (usually $20); you'll need a 4x4 to get to the really gorgeous and remote part of the island called Rio Istian. Find kayak rentals online or by heading to the coast and seeing if you can rent one there. This tour company is an option to look into.

If you'd rather connect with nature, hike through one of the dense and lush nature reserves to hang out with the local monkeys and parrots, or go on horseback; hiring a horse for the day only costs a few dollars and you can easily arrange that through your hostel or hotel.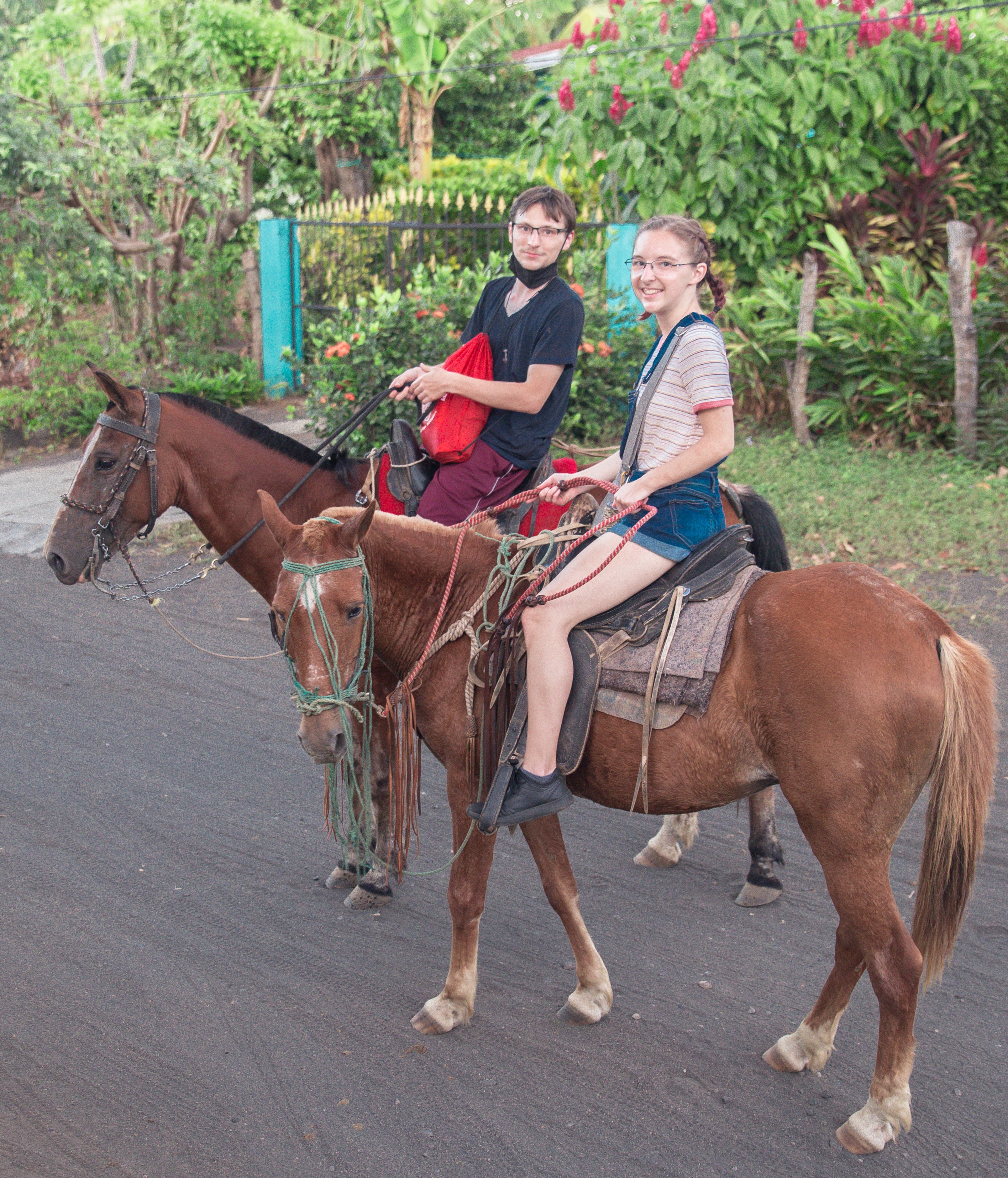 A Few Notes On Moyogalpa
This is the gateway for Ometepe and likely where your ferry will drop you off! For visitors with a short amount of time on the island, Moyogalpa is a great starting point for exploring the rest of the island. In Moyogalpa, you can enjoy the comforts of a small town since it has hotels, restaurants, shops, and other services. Also, the entire island is cash only, so make sure you have enough for your entire visit. There is a bank/ATM in Moyogalpa just up the road from the ferry.
You can also find tour operators here that can arrange volcano hikes, trips to the petroglyphs, beach excursions, and other attractions. Since Moyogalpa is on the western side of Ometepe, this is a great place for watching the sunset. You can also rent bicycles if you're wanting to explore the island with your group!
There are several local holidays that are celebrated here with parades and music. The most important of these is the festival of Moyogalpa's patron saint which is held from July 23-26.

Where To Stay On The Island
There are some groovy places to stay on the island. We'd recommend looking into hostels which are inexpensive and a fun place to stay. Hostels are pretty spread out on the island so look at where they are when you are booking. No matter where you stay you will be able to get everywhere you want, but some will be closer to certain things than others. You may want to look into hostels that have bike rental or connections to help you get around the island.
Here are a few to look into:
Nathaly Hostel (They offer horseback rides to the beach for a good price).
El Pital hostel (Free yoga classes, but it's quite rustic and not super well maintained, just so you're aware).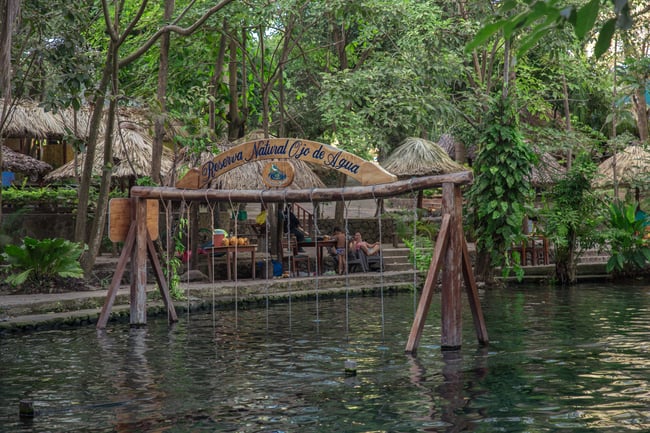 How To Get There From Granada (+Costs)
Granada is a nearby tourists spot that you'll likely visit or get very familiar with if you're spending any amount of time in Nicaragua. Here are the directions to Ometepe island from Granada, though if you're coming from anywhere else, you just need to get yourself to Rivas first, then take a bus to San Jorge. Once you get to San Jorge, you can take a ferry over to the actual island. Here's more detail on each of those steps.
From Granada to Rivas
Take a Minibus. If you go to Calle La Cazada (the main street of restaurants in Granada), you can find travel agency or two to help you hire a mini bus that will take you directly to the ferry launch. Expect to pay $25-30 and only 1-2 buses leave per day.

Take a Chicken Bus. Head to the Granada Market Station (in front of the Shell Gas Station). Buses leave once they are full, but arrive at 6:30, 8:05, 9:30, 11:30, 12:30, 1:30, 3:10, Sunday through Monday. Expect to pay around $1.50 or $2.00 (Way cheaper than a mini bus)
From Rivas To San Jorge
From Rivas, you'll need to get yourself to the ferry launch (at the San Jorge dock). There's a bus from Rivas to San Jorge, but it's tricky to know when to get off (but you may be able to ask the bus driver to help you out). Expect to pay $0.65. The bus can be a bit tricky because there aren't clear stops to get on and off. Honestly, it's best to ask locals where to catch the bus because can be really unclear if you're not familiar with the area. Once on the bus make sure you tell the driver where you are going (Port Of San Jorge) so they know to stop where you need to.

You can also take a taxi to San Jorge ferry launch. You'll need to negotiate, but if you bater well, you can pay around $1.
Then Take The Ferry Over
Once you get to San Jorge launch, you'll need to take a ferry over. You can check out the ferry schedule here.
Most ferries drop you off in Moyogalpa but you can also take a ferry that will drop you off in San Jose. Ferry rides are about 1 hour long, and cost $2. You can also take a Launcha boat for a bit less ($1.50); just know that they are a bumpier ride and don't operate on Sundays.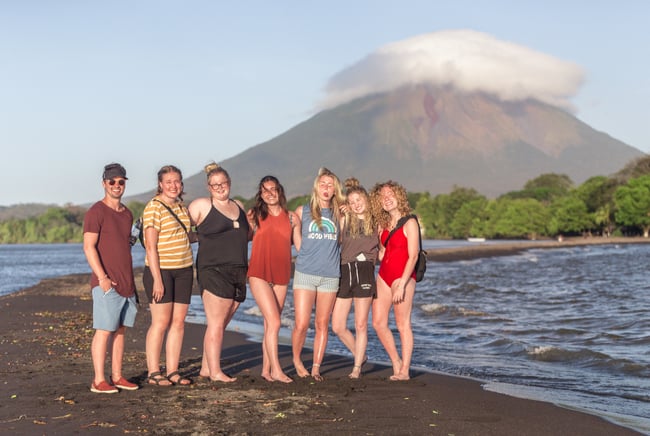 Ready for more Nicaragua?
Find out more about the ILP program in Central America here and see more pictures of what life is like in Nicaragua by clicking that green button: