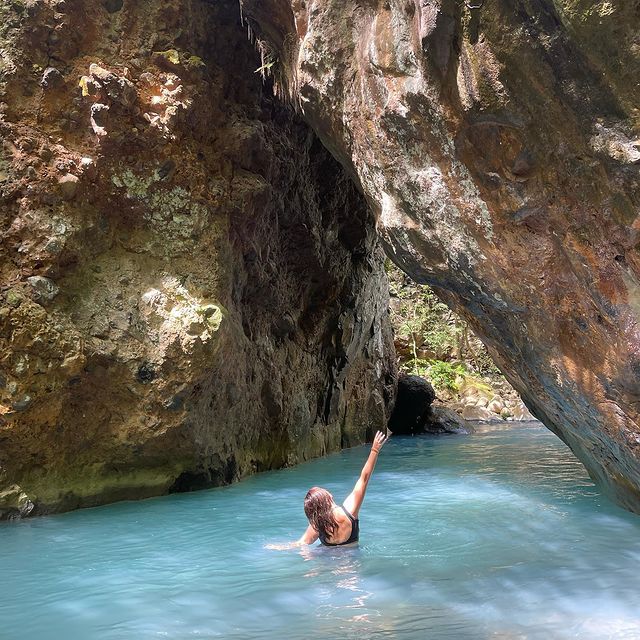 Nicaragua is our go-to spot for countries packed with adventures.
If you want a vacation where you can do everything from sliding down the side of a volcano to soaking in thermal pools hidden deep in an untouched rainforest, you have to visit Nicaragua. It's what Costa Rica used to be a few decades ago — a lush tropical jungle with miles of coastlines, seemingly untouched by mass tourism.
While we love, love, love, Costa Rica (don't get us wrong!) there is something about experiencing adventures that are hidden from the rest of the world ... and Nicaragua is full of these un-tapped gems. Nicaragua is now what Costa Rica used to be before the tourists discovered it.


---
Ready to really experience Nicaragua?
See what volunteering in Nicaragua is all about!
---

The ILP volunteers who get to call Nicaragua home for an entire semester get the chance to really experience what this country has to offer. One can't-miss experience is spending a weekend cliff jumping and swimming through the gorgeous Somoto Canyon.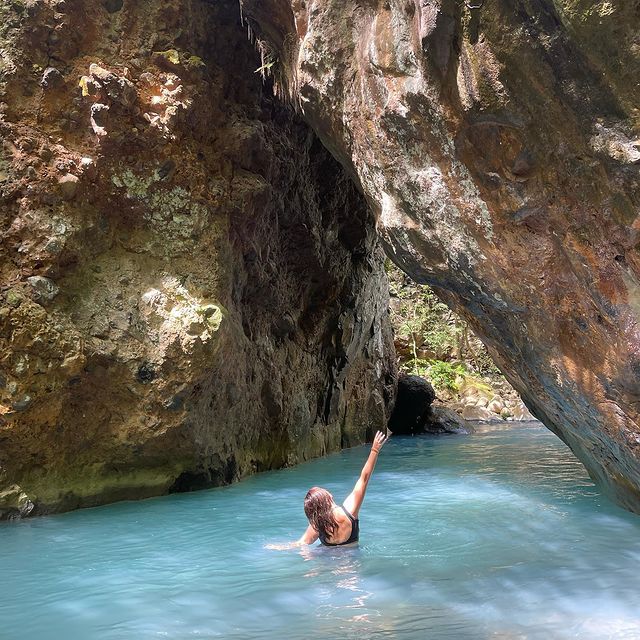 What To Do In The Canyon
As a head's up, this is an excursion that's best done with a guide to show you all the best spots and to help you navigate the canyon. Plus, when you go with an organization, you'll get the required gear (like lifejackets) and some other perks. We have tour recommendations below, but to give you an overview of what a half-day adventure looks like in the canyon, here's an outline:
Hiking
To get to the cool water, you'll need to trek less than a mile, following your guide through the green brush (peek the border of Honduras here!) before you trek into the canyon.

Swimming
You'll do most of the next bit in the water, diving into the impossibly blue-green river that snakes its way between the sheer cliffs. The dirt trail feeds into the river, so you'll need to swim to get to your next destination. It's hot and humid in Nica, so the water feels quite refreshing.
Depth wise, you can reach the bottom most of the time, but some points do get a bit deep (a life jacket is handy for this portion). At some points, you'll need to get out and hike through a couple of cliffs before getting back into the water.
You'll be swimming and hiking on the cliff face for about 2.5 miles until you reach the jumping cliffs.
Cliff Jumping
There's a section where the canyon opens up a bit and the water plunges deeper between the rocks, creating the perfect jumping off point. Cliffs of all different heights are suspended above the water, so you can choose the levels you feel the most comfortable with (there are 8, 16, and 21 meter jumping points). Best to leave the top jumping off points to the professional guides — it's quite the stunt!

The cliff jumping points do open up to create a rather wide pool where you can hang out and swim around while you leave jumping to others in your group, if you'd rather just watch.
+ Tour Extras
That's the highlight of the canyon, and what comes next might fluctuate according to your tour. Some may have you hike out and see you back on the bus, or you may have a lunch included. Make sure you check the details of your tour to know an exact itinerary.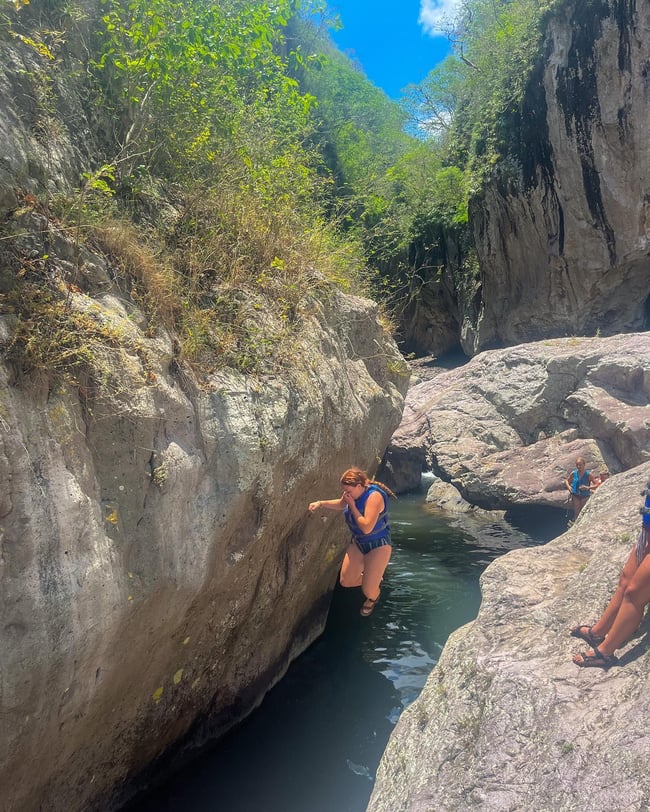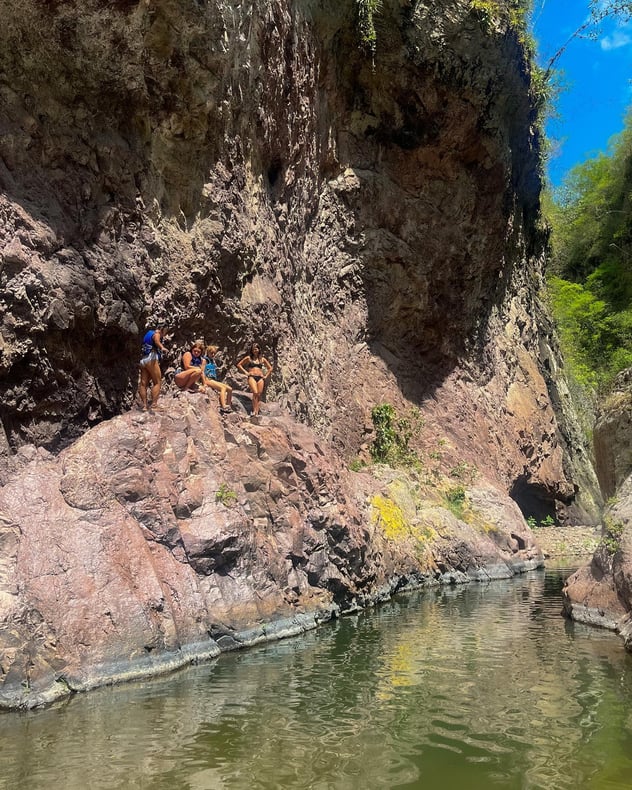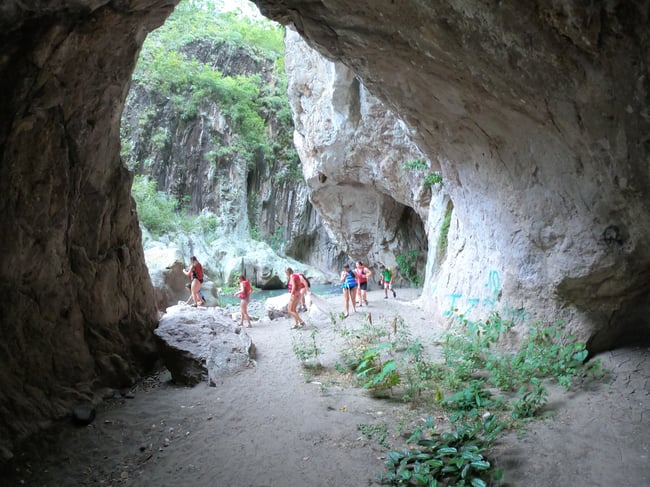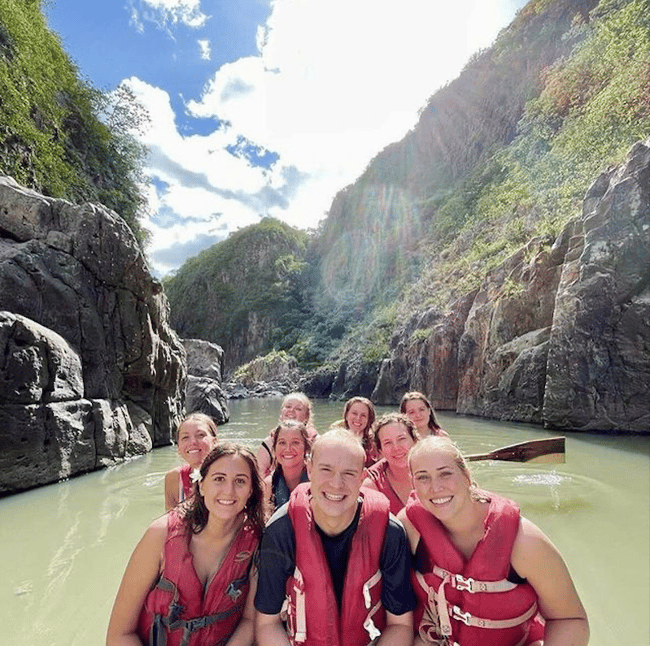 What Tours To Book With
It was mentioned before, but this is an excursion best done with a tour: they'll lead you through the canyon, point out the best way to swim/hike through safely, and the jumping off points, plus will give you the necessary gear (like a lifejacket).
Somoto Canyon Tours
Multiple ILP Nicaragua volunteers have trekked with Somoto Canyon Tours before, which comes highly recommended. They have a couple of package options that are very affordable. Their 4-hour $25 package takes you through the canyon with a tour (you'll do some hiding, swimming, boating, and jumping), plus you'll have lunch and proper equipment (life jacket, dry bag, and river shoes) provided.

They also have a $30 package for a 6-hour adventure, giving you everything in the first tour, plus a longer trek through the canyon up to some caves which are home to Nicaragua's fruit bats, plus a few other high points.
Get the details of both tours here.
What To Look For In Other Tours
You'll likely find other tour options through your hostel (our ILP Costa Rica volunteers love vacationing in Nicaragua!) or just by searching online — we suggest picking a tour that includes lunch (it's an 8 km minimum trek through the canyon and you'll come out hungry!) plus the recommended equipment: At the very least, a life jacket, though a dry bag is also a big plus.


Getting To Somoto
A few big tour options can take you from Managua (and Esteli and a few others) but it'll be more affordable if you take public transport to get to Somoto, and then go along with a guide once you arrive. It's a bit of trek to get to Somoto from Granada, but doable. This post about traveling by bus in Nicaragua may help you out, but we've broken it up in the a few more bite-sized steps to help you out even more:
From Granada To Managua
According to Centro Coastings, it'll take you just under 1.5 hours to get from Granada to Managua. You can take a chicken bus (they'll leave from all over Granada at all hours of the day — talk your hotel/hostel or, ILP volunteers can chat with their Local Coordinator) for cheap.
Chicken buses are about $1.50 to ride. You can also take a microbus. Microbuses to Managua leave when they are full and run from 5:00 AM to 9:00 PM weekdays, and from 5:30 AM - 8:00 PM Saturday, and 6:00 AM to 7:00 PM on Sunday.

Catch these buses at the small station on a street at the south west corner of the Parque Central called Calle Vega. The microbus will arrive at the Central American University in Managua (The UCA).
The Esteli bus leaves from Mercado Mayoria station, so you'll need a take a taxi there. Shouldn't be more than $4 USD if you haggle down the price.
From Managua To Esteli
Like mentioned before, you'll need to get yourself to the Mercado Mayoria station to catch your Esteli bus.

There are a couple of options: The Espresso bus leaves pretty much every hour from 4:30 AM to 6:30 PM — when it's busy, they will leave every 15 minutes, alternating between the express bus and the regular bus. It'll take you 2.5 hours to get to Esteli. The Regular bus takes 3.5 hours.

Plan on paying about $3 USD for your ticket to Esteli.

Most ILP Volunteers hang out in the city of Esteli for the night, then wake up early to catch a bus from Esteli to Somoto. We have info on a place to stay below.
From Esteli to Somoto
Esteli from Somoto has a chicken bus that leaves at 7:00 or 7:30 AM (We've heard both options — got to love the casual bus schedules in Nicaragua!). The buses run frequently, at no exact schedule. It's about a $2 USD ticket and should take around 1.5 hours. Pick up to Somoto is at the Contran Sur Bus Station on the Pan-American Highway in Esteli.

If you get the early bus, you'll get to Somoto before 10:00 AM, which is when most tours begin.

Check to see if your tour company will pick you up from the bus station, or you can take a taxi ride (play on haggling to get a $5 fare for the 15 minute ride to the Somoto Canyon Entrance if your tour does not arrange any sort of pick up).


+ A Few Tips
Packing
You'll want sunscreen and shoes you can walk/swim in. We love adventure sandals like Chacos and Tevas because they have good grip and do well in the water.
Your guide and tour group will help (or should!) provide life jackets. Most of the time, you can touch the bottom in the canyon, but it's a nice reassurance. You'll 100% want a dry bag to hike with (and keep your phone, wallet, other valuables) safe and dry, so bring that if that isn't already included in your tour.
Wear a swimming suit too. Best to wear this under clothes you are fine getting wet in. You may want to bring a change of clothes so you're not riding home in wet swimming suits or hiking shorts on your bus ride.
When Should I Visit?
It's rainy season in November - February, which means higher water levels (and not a good time to visit the canyon). Other than that, you're free to visit any other time of the year.
How Long Does This Take?
The tour time can vary, but most tend to be 4-6 hours, plus you'll need to factor in transportation time.

For our volunteers living in Granada, you'll want to split this up on a weekend. Our ILP volunteers tend to head to Esteli on a Friday (arriving in the evening), then make the 2.5 hour bus ride to Somoto Saturday morning to make it to their tour time slot.

Then, they head to Esteli again on Saturday night, and make the trek to Granada on Sunday. Easy!
Staying In Esteli
You have a few places to choose from, but the Los Altos Boutique Hotel is a favorite. They have a very helpful staff, hot showers (a rarity in some places in Nicaragua), a yummy breakfast, plus can help you with all the bus schedules if you have questions. Their double rooms can fit 4 people and range from $55 - $70 a night, which isn't bad split four ways.
Another pick is Cafe Lazy Luna, with free breakfast, and some connections to lots of things to do in the area.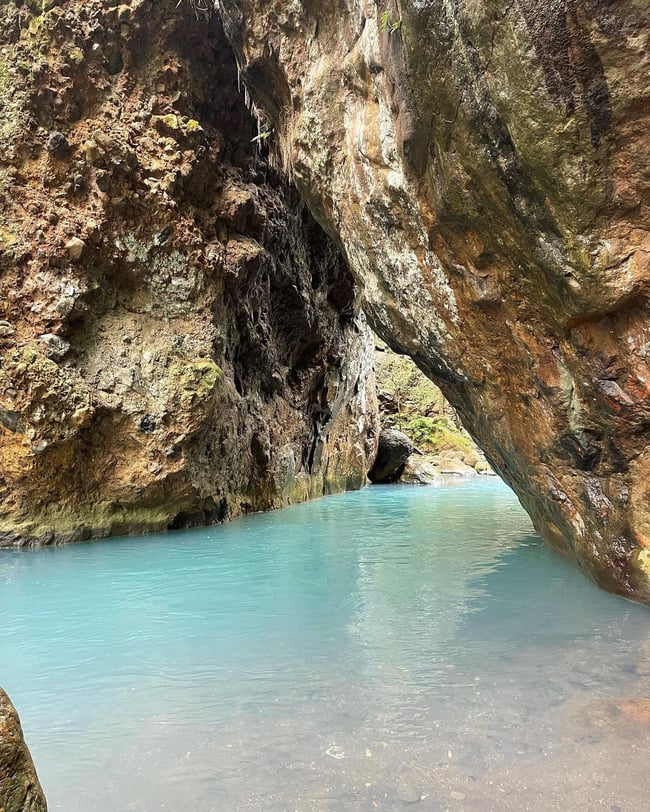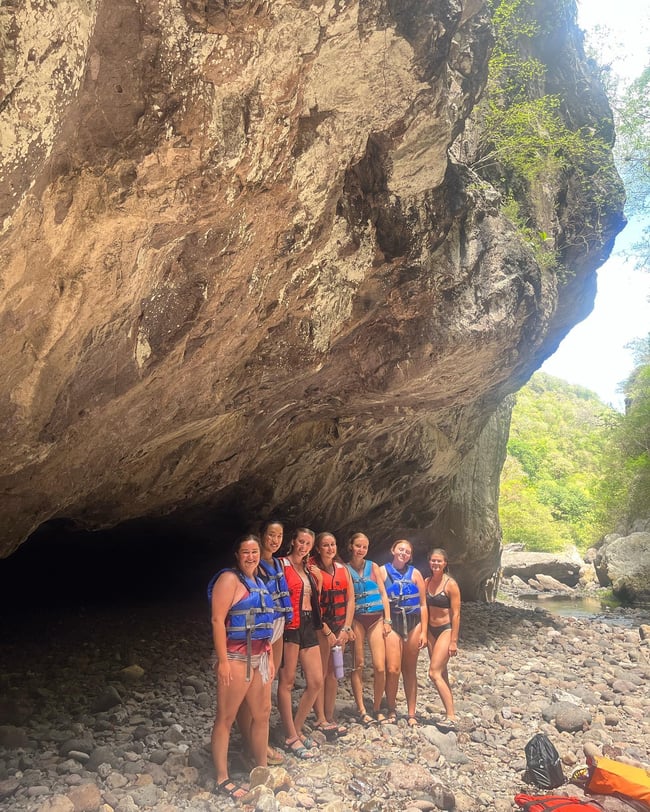 Ready to experience Nicaragua? (Of course you are)
ILP Volunteers have vacation days and weekends off to explore places like Somoto Canyon + about a dozen other places we love (like Nicaragua's Corn Islands or the glowing volcano in Masaya). See what an ILP semester in Nicaragua is all about!