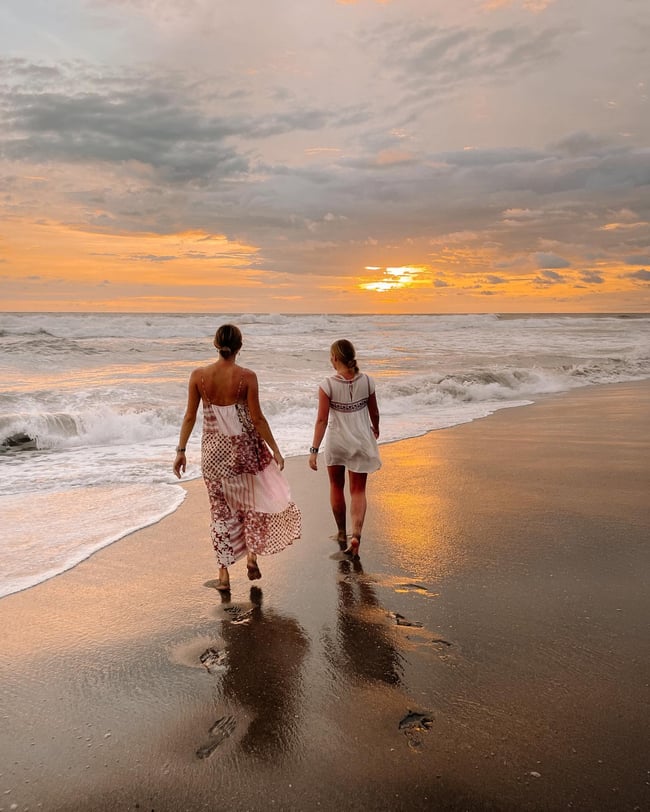 You'll want to vacation here just to stay in this hostel.
Most times you pick a place you want to vacation because of all the things to do in that city — maybe it's the beach, the yoga classes, or horseback riding treks, or maybe you've always wanted to save baby turtles so you plan a trip to do just that. But sometimes you find a hostel just outside of Leon, Nicaragua that is the coolest hostel and has all of that: beach, yoga, horseback riding, and turtles. Unofficially but officially, it's the coolest hostel ever.


---
You'll be quick to fall in love with this country, that's for sure
Come see what volunteering in Nicaragua is all about.
---
Not to pick favorites when it comes to countries, but Nicaragua has more than a lot going for them. It's a country tucked away in Central America that's under the radar (and we kinda want to keep it that way), but only because we want to keep the jungle hikes to ourselves, don't want to share the miles of beaches, and are fine keeping all the volcanoes under wraps. Oh, and we love love love the coolest places you can stay on vacation: we are here to highlight one location, but have a whole long list that you'll also want to check out.
But the newest reason we want to keep Nicaragua hush-hush is this unreal hostel. Read a bit about it and see why: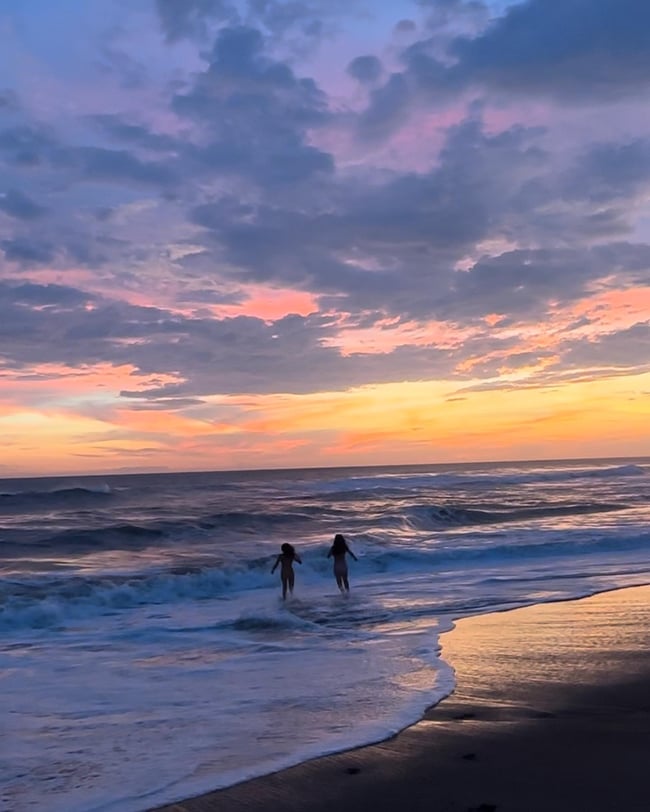 All About Surfing Turtle Lodge
Found just by Leon, Nicaragua (a place our volunteers already love vacationing to), this hostel is everything you're looking for on a beachy-getaway. The Surfing Turtle Lodge is found on a small island, situated on the empty beaches of Isla Los Brasilies, just off the coast of the Poneloya beach.
You'll be staying on a remote peninsula shared only by whoever is staying at the lodge with you. There is so much to do here (more on that later), but not only do you have beach, the Lodge sets you up for things like surfing lessons, beach volleyball, the chance to get up and close to turtles, and more.
Need some more convincing? The whole lodge has an "off the grid approach" so everything is powered by solar panels — we're talking lights, WiFi, fans, electrical outlets and more all powered by that bright Nicaraguan sunshine. It's remote, rustic, and exactly perfect for someone who is looking for a beyond-relaxing experience that's off the beaten path.
Come check up on their Instagram for a glimpse at how cool this place really is, and take a peek at their webpage for some details.
+ Hear From This Volunteer
We have a bunch of info that comes in handy to planning your own trip here, but sometimes a quote can just sum it up the best! Here's what one ILP volunteer said about her visit to the Surfing Turtle Lodge and Beach:
"I LOVED TURTLE BEACH!! Honestly probably one of my favorite places I've ever been! You are so secluded and have the whole beach to yourself! They have a restaurant there and the food was really good! Also the price is pretty comparable to normal hostels! Getting there is a bit of a process ... but all in all it's definitely worth it! Just plan some extra time for travel, because it will take probably at least an hour to get over there once you're at the port. We only spent one day there and I definitely think you need to stay at least 2 because they have a lot of activities to do there! It was amazing!! Loved every second of it!"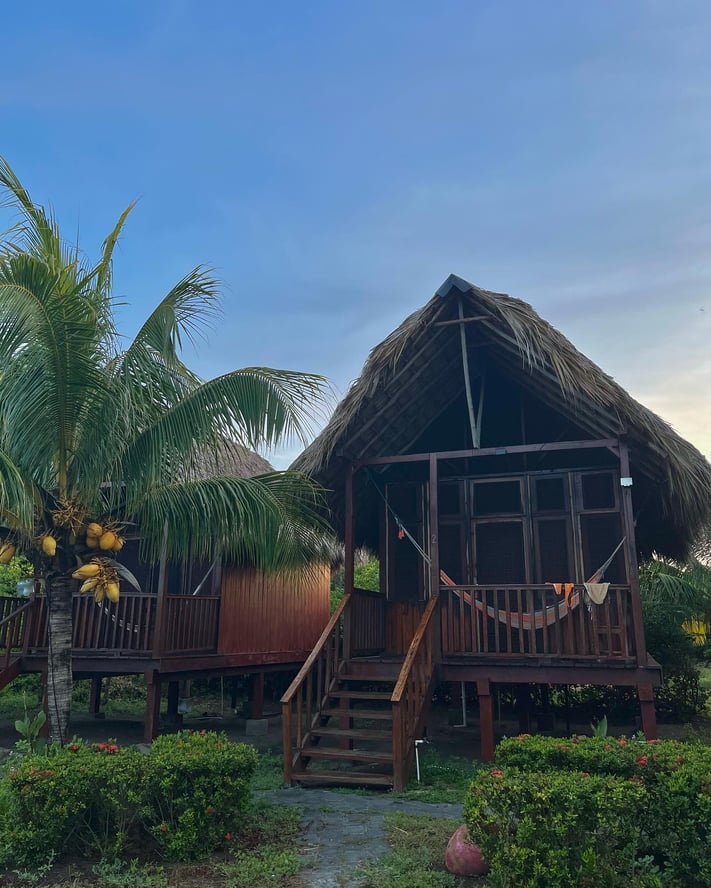 What Can You Do There?
The lodge has some of the go-to activities you're looking for in Nicaragua. The Lodge is right on the beach so hanging out on the sand is a given, but it's all set up with these things to keep you busy, busy:
Hang Out With Turtles
One of the reasons we love love love this place. The Lodge is focused on protecting endangered sea turtles on its own, with an on-site turtle hatchery. It's not sponsored or funded by any other organization, and is completely sustained by the Lodge and the guests … that's you!
There are three types of turtles who nest on the soft sands of the island: the Olive Ridley, the Leatherback (one of the most endangered) and the Green Turtle. The little baby turtles hatch year round, but peak season begins in September and goes through February. You'll get an up close and really intimate experience if you can time your visit right.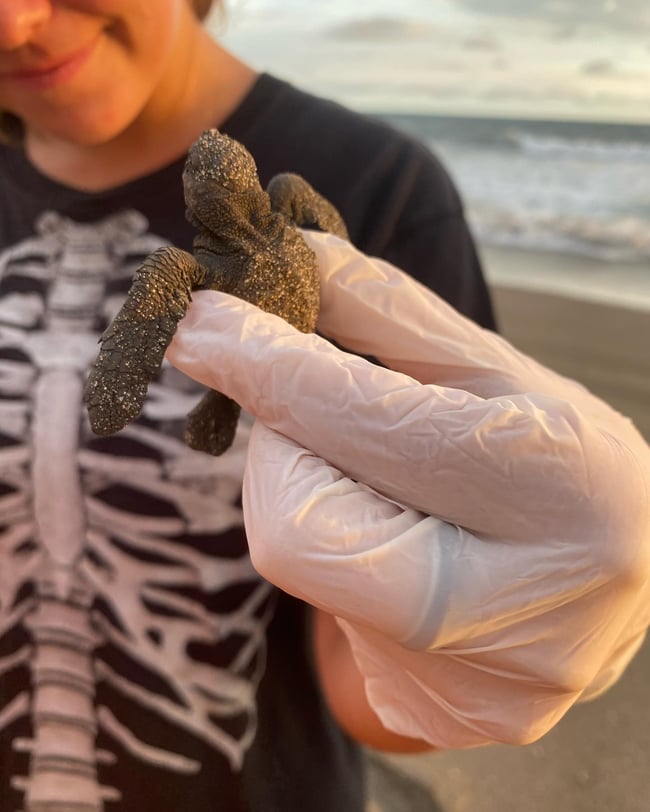 Go Horseback Riding
The lodge has a few horses on the property for you to hang out with: hop on for $12 per hour and go explore the sandy beaches yourself, or go with a guide who can show you the highlights. The island is small, remote, and somehow we think the idea of trotting along on the windswept seaside is exactly the way you want to spend an afternoon. Ride out at sunset or wake up early for a particularly picturesque ride.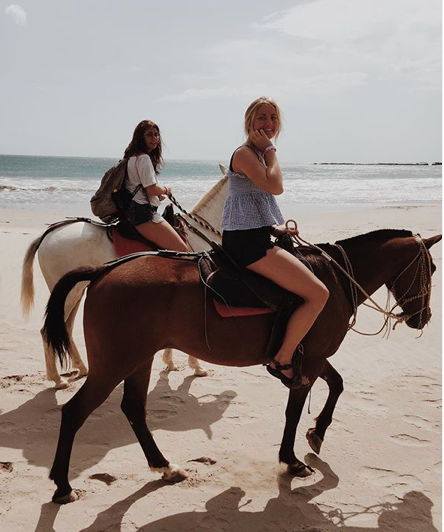 Yoga On The Deck
Yoga on the beachfront deck? Yes please! The lodge has a yoga instructor on staff who'll guide you through a sunrise practice on the wooden boardwalk, under a thatched roof in view of the gentle waves. It's $5 per class and mats are provided (so no need to bring your own). The classes are structured for beginners, but sometimes have other options like acroyoga.
Heads up: due to staffing, there may or may not be yoga offered. You can easily check on that here.
Sign Up For Surf School
One major perk of staying on an island for a night or two are all the beaches to explore. The surf is right outside of the lodge if you don't want to venture out and find your own beach, or you're welcome to trek around the island to find a more secluded spot. Boards are $10 for the day, or you can spend $30 for a board and a one-on-one lesson.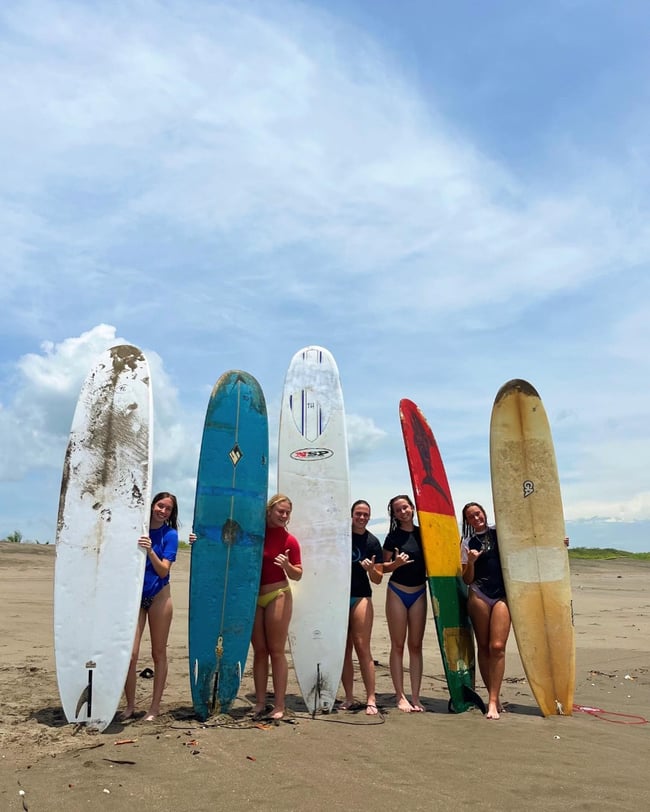 Play Beach Volleyball
The lodge is set up with a regulation-size court, complete with driftwood log benches on the sidelines if you just want to hang out and watch. You can borrow a volleyball at reception and the lodge even hosts a volleyball tournament if there are enough guests who want to play. Supposedly there are prizes and serious bragging rights for the winning team!
Want To Just Visit For The Day?
Come say hi! The Surfing Turtle Lodge loves having day trippers. You can pay for any of the activities at the lodge whether you're staying just for the day or want to stay longer. You'll just pay $5 to use the facilities and then whatever else you want to do that day (horseback riding, yoga classes, surfboard rental, etc).
What About Prices?
Depends what you are looking for. The Lodge offers private rooms which are more like stand-alone buildings right on the beach which sleeps two. These go for about $16 or $35 a night. You can also stay in one of the dorms, which have anywhere from 8 to 16 people per room (and are $10 a night). You'll want to bring your own lock for the lockers in the dorm if you're staying in a dorm. Or you can purchase a lock for $3 at reception.
No matter where you booked a room, check in is at 2:00 PM and check out is at 11:00 AM.
A Tip Or Two
Bring enough cash for your stay and what you'd like to do around the Lodge (including meals which we'll talk about below). You can pay by card, but you'll get a 15% surcharge when paying by card (which gets expensive) so cash is your best bet.
You're not allowed to bring your own food or drinks on the property (the fridge and kitchen is for staff-use only). The hostel does have a restaurant where you can order up breakfast, lunch, and dinner. To give you an idea on prices, breakfast goes from $3.00 to about $6.50. Lunches and dinners are more expensive (some backpackers who've stayed here mention that the food doesn't really fit a backpacker budget) but you'll find favorites like sandwiches, fried chicken, and lots of seafood options.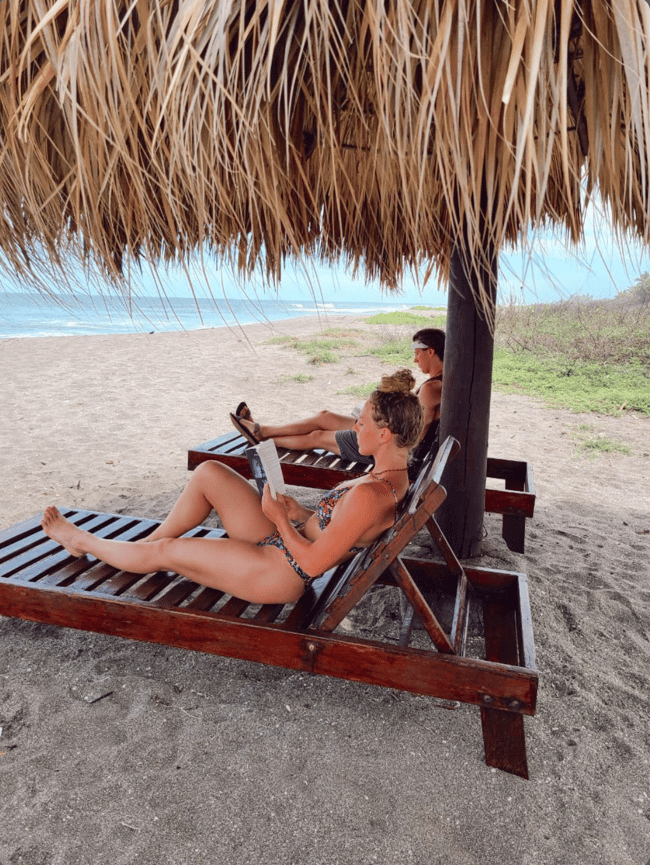 Getting To The Lodge
Do It Yourself
You'll want to get yourself to the city of Poneloya, but first, get yourself to Leon. There are multiple bus routes that head to this popular city — you can get a little info about buses in Nicaragua here. Once you arrive in Leon, there is a local chicken bus to Poneloya (which will cost about $20 cordobas which is under $1).

Catching the right bus: The Leon to Poneloya (sometimes called the Las Penitas route) starts at the Sutiaba Market. The market is about a 20 minute walk from downtown Leon, or you can have a cab take you (give your directions in Spanish, asking for the Soot-ee-ya-ba market, or something "Suitiaba: el autobús a la playa".
The ride is around 45 minutes, on those classic Nicaraguan chicken buses (which are actually decommissioned school buses — some are painted, some are that classic yellow you remember from elementary school!). This route takes you to two different beaches: Poneloya or Las Penitas. Las Penitas is the more popular beach, but you want Poneloya. The first beach stop (to the right) is Poneloya, then the bus will loop back east to Las Penitas. So make sure you get off when the bus makes a U-turn, before it heads to Las Penitas.
When you get off, head to Chepe's bar — if you have phone data when traveling, it pops up on Google, but doesn't have a set address. From there, you can let them know you're headed to the Surfing Turtle Lodge where you'll start part 2 of your journey to the lodge!
Use A Shuttle Service
The Surfing Turtle Lodge does offer a shuttle service if you want to split the cost of getting there with your ILP group (and don't want to figure it out yourself). This could be a good option if your whole ILP group is going to be traveling together and you can split the price, but you'll definitely save money if you DIY. They leave from several cities in Nicaragua:
From Granada
1-4 people: $105
5-12 people: $140
From Leon
1-4 people: $14
5-12 people: $28
From Managua
1-4 people: $85
5-12 people: $120
Get a couple more city options here, and info on how to arrange your shuttle.
+Getting To The Island
No matter what route you take, you'll need to take a boat ride then hop in a horse and buggy to reach the actual hostel. Remember, this place is not on the beaten path, so you'll get a taste at how remote everything is when you step off the boat and into that carriage. The horse buggy ride is only about a half a mile, so easily walkable but very convenient for you and your luggage.
You can get some more transportation info and any questions by contacting the Lodge: send an email to info@surfingturtlelodge.com or call (505) 2310-2748 or (505) 8640-0644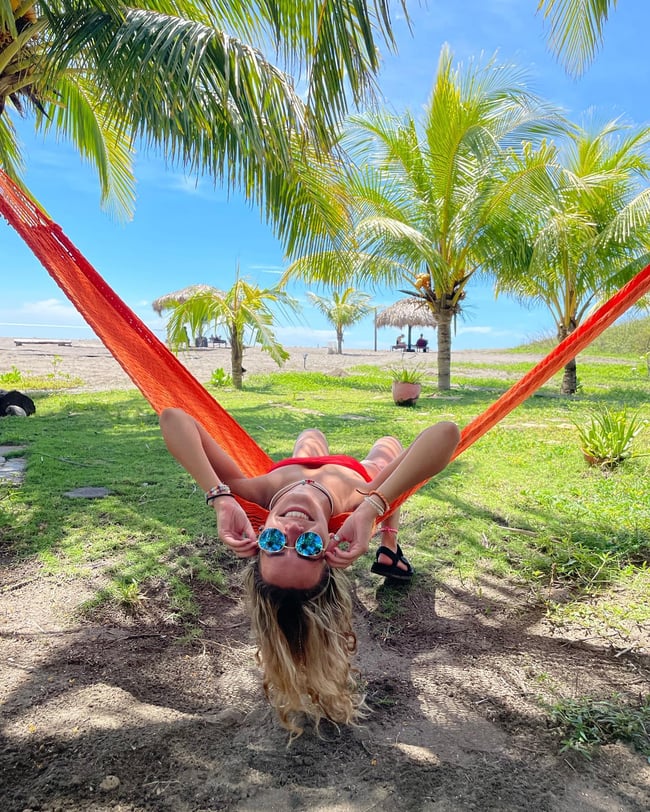 Nicaragua's the adventure you're waiting for
Come see a part of the world that'll really surprise you — full of stretches of beaches, adventures like volcano boarding, and colorful cathedrals, you'll love what's waiting for you here. We're now accepting applications for college-aged volunteers who want to volunteer here for a semester, come learn more!