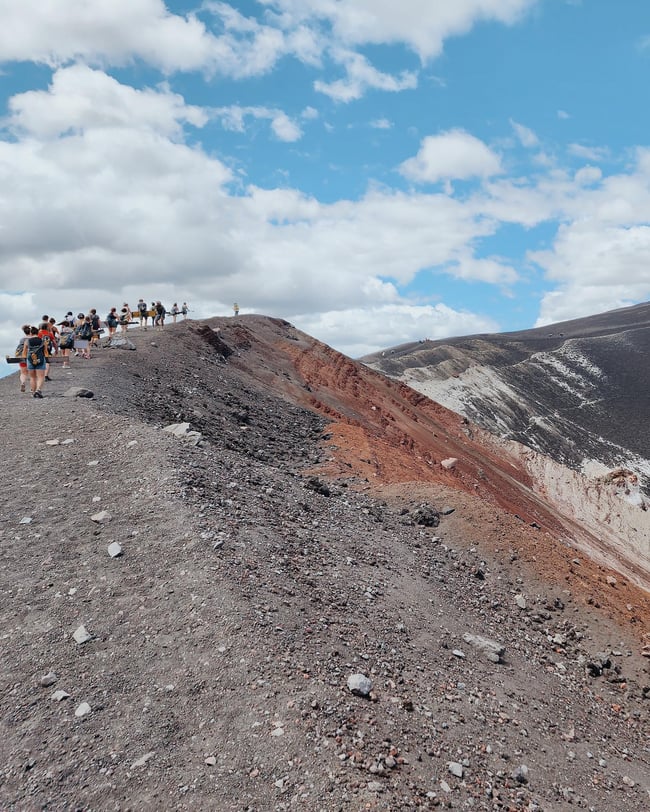 When you're living or volunteering in Nicaragua for an entire semester, you have to hike at least one of the 19 volcanoes that call this country home.
Volunteering in Central America means adventures; hiking, rafting, climbing, trekking, snorkeling, swimming — you name it. Oh, and volcanoes aplenty, especially in Nicaragua. You can swim in them, kayak around them, even hike to the very top of the active craters.


---
Love the idea of living abroad?
See what volunteering in Nicaragua is all about, right here.
---

We've highlighted some of the more popular and iconic volcano hikes in Nicaragua, but really, there are lots to choose from so feel free to do your own research, too. These hikes range from rather easy and moderate to be a bit difficult so keep that in mind when you're choosing what works best for you and your ILP group.
Cerro Negro Volcano
What To Do/See? Volcano boarding
How Long Does It Take? 1/2 day
Difficulty: Mild (Short, rocky and steep, but do-able).
We have a very detailed post about volcano boarding on Cerro Negro if you want the step-by-step guide… but in a nutshell, it's a rad (albeit very short) volcano hike where you speed down on a sled to get to the base. It's a Nica experience you can't miss.

In Leon, you will see several guides and companies who can handle all the details including transportation and entry tickets. Plan on paying $20-40 for the hike and the boarding trip (most companies include all the gear and provide lunch).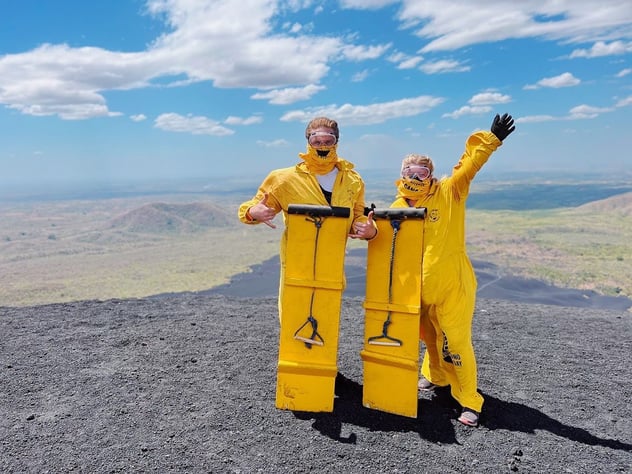 Mombacho Volcano
What To Do/See: Stunning views and thick jungles
How Long Does It Take? A few hours, depending on your route
Difficulty:
Very mild

if you drive up (harder if you hike)

Found just outside of Granada, this part of Nicaragua is blanketed in a thick jungle, rich with coffee plantations and stunning views. When you reach the summit, the forest clears and you're left with an unobscured view of this country — if you've been busy exploring the area already you'll recognize these top sights: the city of Granada spilling out below you, the glittering islets of Lake Nicaragua, Apoyo Lagoon, and the smoldering Masaya volcano (just a few of our favorite weekend trips for ILP Nicaragua volunteers).

There are three separate hikes you can take, though we recommend the Sendero El Crator Hike which takes about 1.5 hours. This guide to hiking Mombacho volcano details how to make it happen.

Masaya Volcano
What To Do/See: Bubbling lava
How Long Does It Take? A couple of hours
Difficulty: Rather Mild (It's a short, rocky climb to the summit)
If you're into seeing bubbling lava right before your eyes, head here. The hike itself isn't too strenuous and it's pretty cool to be able to peek over the rim to see (and hear) boiling lava. In Masaya, tours will take you to the crater during the day, at sunset and at night — it's really cool to do at night so you can see the lava glow.

The volcano is an hour outside of Managua or Granada in the city of Masaya. Get more info about visiting Masaya here (you'll get step-by-step details on how to do this hike).
You'll find companies who can arrange transportation and a guide to take you up this hike for around $30 (and up). It's a short hike and since you can't breathe in the fumes for very long (15 minutes usually), this hike is pretty quick.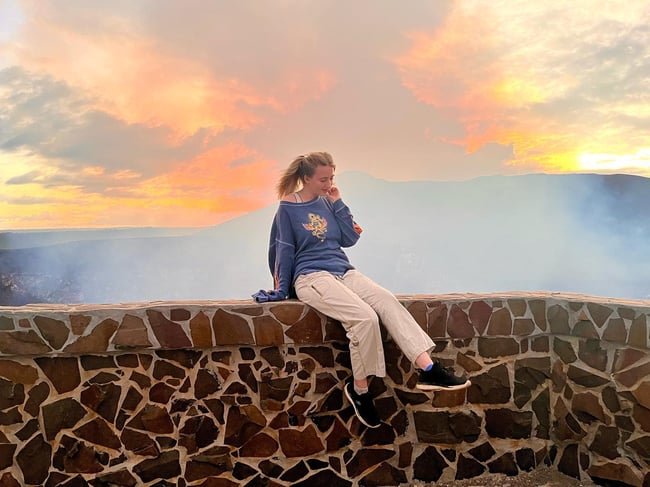 El Hoyo Volcano
What To Do/See: The sunset or sunrise + a view of the country's volcanoes
How Long Does It Take? A 5-6 hour hike but can be split it into 2 days
Difficulty: Moderate to hard, but more do-able when spread out into 2 days

This trek takes you around three volcanoes — the trailhead starts at the Cerro Negro, so some companies include volcano boarding before you walk around Las Pilas and climb up to the El Hoyo volcano, where you can check out this mysterious, circular sinkhole.
Some companies have you set up camp at the massive sinkhole, then you can take the short ascent at sunset and sunrise which are incredible — you can see the sun rising over another volcano (Motomboto) which is quite the experience. From the top you can see several more of Nica's volcanoes lined up in the valley. You can also spot Lake Managua from the top. The longer tours tend to also stop off at the local swimming hole on the way down!
If you are short on time, there are tour companies that can take you up to the summit and back down in a very intense 5-6 hours (but we love love love the overnight option to help spread out the milage and elevation gain, and give you a break before you hike down the elevation you just gained).
You'll start this hike in Leon, then it's an hour drive to the base. Most tours will be charging around $30-$75 for the hike (it's typically less for 1 day, typically more for the 2 day hikes), but there is usually a small discount if you'll be with a larger group.
+ Hear From This ILP Group
One ILP group did the overnight option with this company and absolutely loved their experience. Here's a little bit more: "We went with Volcano Day! It was a 2 day excursion that included volcano boarding at Cerro Negro with all the equipment and then backpacking El Hoyo. It included transportation, meals (lunch, dinner, breakfast, lunch again), swimming at a crater lake on the way back the second day, the guide, the sleeping bag, backpacking backpack, and tent!

"It was $75 a person but I talked them down to $65 a person because we had 10 people. ... we LOVED it!! It was a highlight of the semester for almost all of us!!"
As a caveat, there were a couple of people in this group that had a harder time with the hike. Even serious hikers mentioned that's it can be pretty grueling (especially if you're never backpacked before which means hiking with all of your overnight gear), so make sure you're prepared for this kind of hike before booking so you can enjoy the experience!
So you know, you'll need to bring a bandana (or purchase one for $2 at the office) and have 8L of water with you (which adds quite a bit of weight but you'll absolutely need to stay hydrated) Also, this is good to know "for the first portion of the hike it is the hardest and steepest and also has like no shade so I would bring lots of sunscreen or use a hat or bandana to protect yourself from the sun, I was getting super burnt"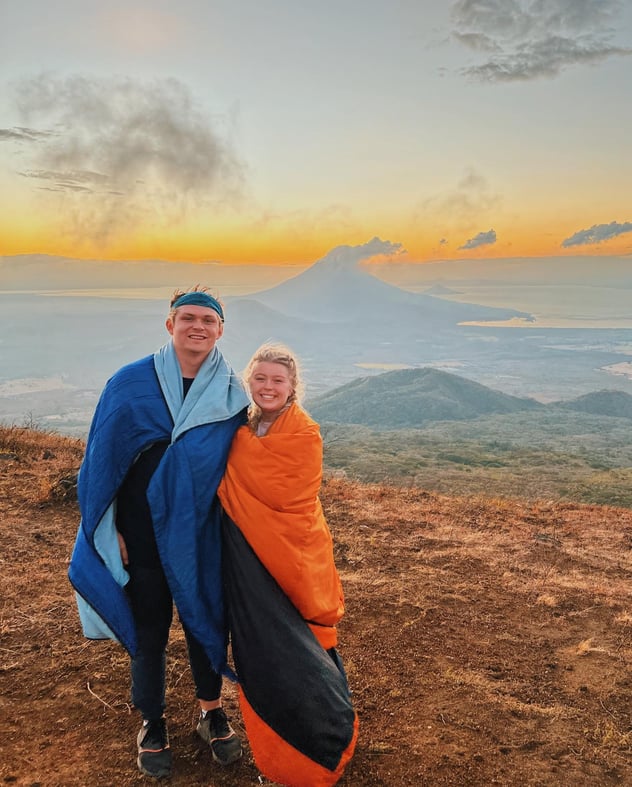 Ometepe's Volcanos
What To See: Trekking to the top to see the island/lake Nicaragua
How Long Does It Take? 6-11 hours, depending on the route and the volcano you hike.
Difficulty: Rather strenuous
Ometepe is a lush tropical island is formed completely by two massive volcanoes. Ometepe sits on an enormous lake, giving you the chance to soak up the scenery on your ferry ride over. Be sure to peek out the windows and see the looming twin silhouettes of Maderas and Concepcion — the two volcanoes that build this island. So. Cool.
If you climb Maderas, you'll spend a good chunk of time in the lush slopes, so keep an eye out for howler monkeys and parrots (it's a 6-8 hour hike). Concepcion is more intense and rocky at points but gets you higher up (it's an 8-11 hour hike). Both are pretty grueling hikes but the sights from the top are unreal.
Here's more on Ometepe and the volcanoes.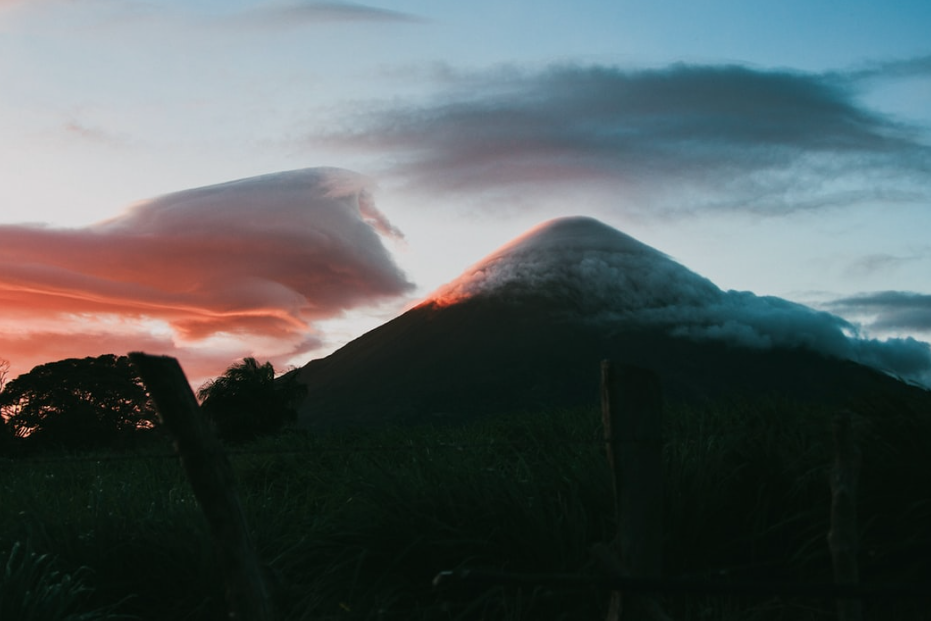 Volcano Telica
What To Do/See: An enormous crater and a spectacular view of Nica's volcanoes
How Long Does It Take? 2 days (or a long 1 day hike)
Difficulty: Mostly moderate, but is difficult at the end (it gets very steep)
From the top of Volcano Telica, you can see a row of other active volcanos, lined up in the valley below you. You can do the hike in an 8-10 hour day, but the view is really spectacular at sunrise or sunset, so it might be a better pick for the 2-day hike.
The hike is rocky and mostly flat, but the last hour is a steep climb up to the gaping crater, which spills out steam and sulfur - the crater's base is a river of lava, but it's 1,000 feet down. Be very careful when you peer over the edge!
You can start this hike in Leon, and after a bus ride to the base you'll begin your summit.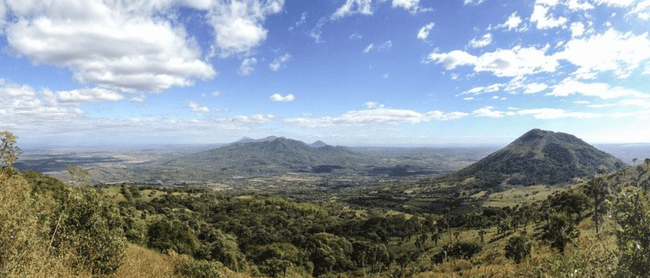 Want More Volcanoes To Hike?
Like we mentioned above, there are lots and lots of hikes to do, and even with the same volcano, you can choose to hike it in a day, or spread it out for two days. When you're living abroad here for an entire semester you might want to try out a few!
Below, we've provided a couple of links to helpful tour information and companies. These are not recommendations, they are just there to help you figure out what you'd like to do, what should be included in your hike and how much you could be spending.
Just so you know, we have had volunteers in the past go with Volcano Day which is a locally owned and operated company and had rave rave rave reviews if you'd like to check them out as well.
You can also get an idea of which hikes are available through other companies like QuetzalTrekkers or Tierra Tour or your local hostel. All are good starting points. Different companies advertise different treks, with different perks, for different prices. It's good to shop around to find the best fit.
One More Thing—
Nicaragua has a tropical climate, so plan on the heat to slow you down a bit during these hikes. You'll want to make sure your tour includes water (or pack plenty of your own) and wear proper hiking shoes.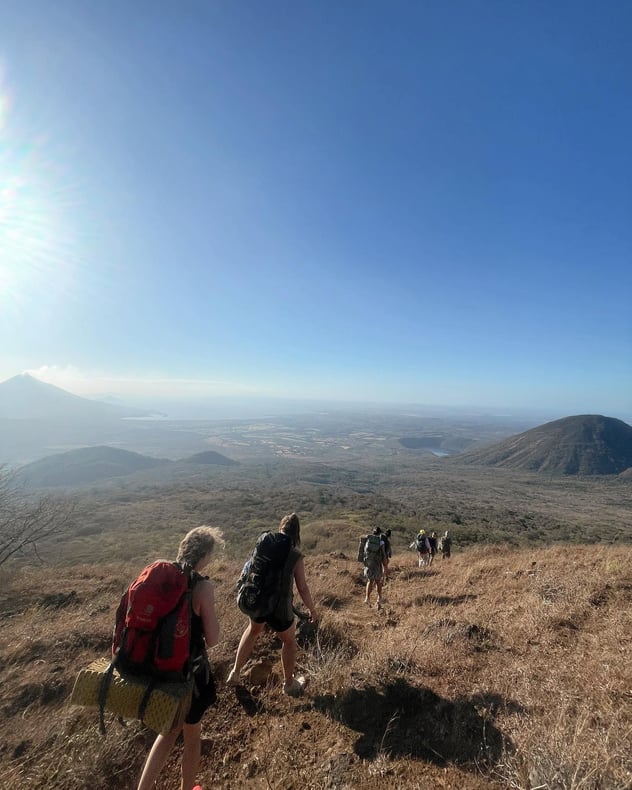 Ready for more Nicaragua?
International Language Programs is a non-profit organization who sends college-aged volunteers to places like Nicaragua to teach English ... and explore life in a foreign country. If that sounds like your kind of adventure, click the button below: