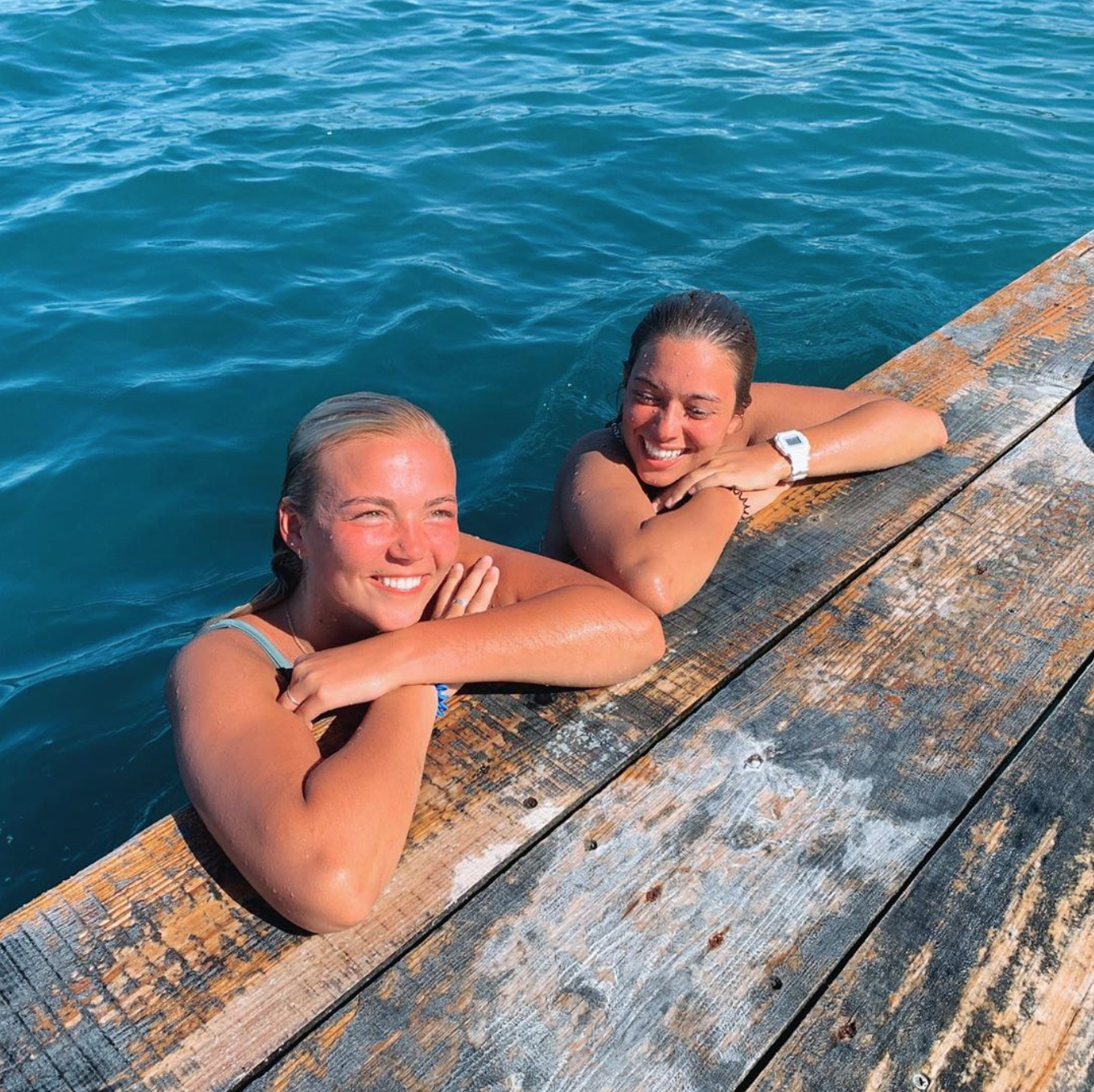 It's like living right next to the beach, but with some major (major) perks.
Apoyo Lagoon is your new little obsession. For those in the know, it's a perfect little swimming place, found in the crater of what once was a volcano. What does that mean for you? Bluer-than-blue water, hanging out in beach chairs on the beach, swimming over to the wooden platforms for extra sun, renting kayaks, jumping into the warm water, and soaking up that tropical weather. Oh and one more thing? This spot is found just outside of Granada, making it an ideal weekend getaway.
Especially since our favorite beaches in Nicaragua are found in the Caribbean side (hello, Corn Islands!), we love having somewhere close for a day of sun and swimming. If you talk to our volunteers who live in Granada for their semester abroad, they'll let you know it's just like living right next to a beach (which I think you'll be a huge fan of).


---
Want to learn more about volunteering in Nicaragua?
Check out our guide which will fill you in on all the details!
---

Since Apoyo Lagoon has got to be the first thing you experience when you get to Nicaragua, we have all of the details you need for a trip there (plus a few tantalizing pictures to really seal the deal).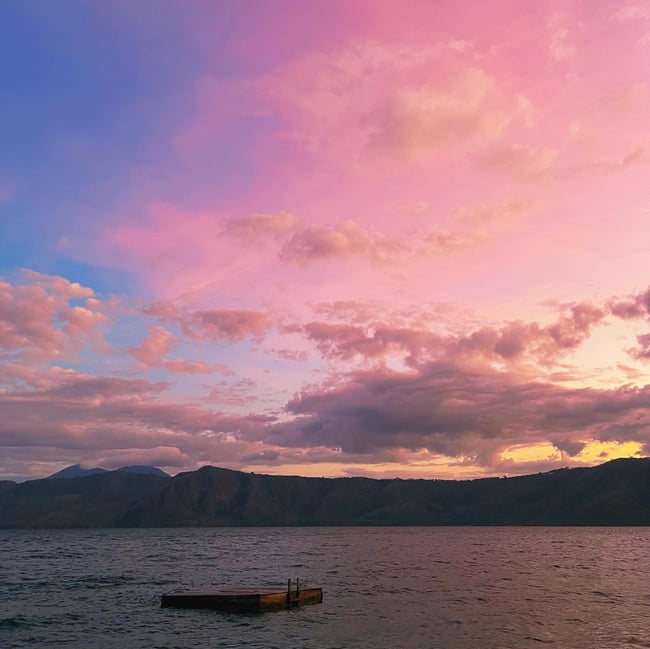 Our Fav Things To Do At The Lagoon
Splash Around In The Lake + Try Kayaking
You will want to jump right into the blue water the minute you see this place, especially with this little tidbit: the water is going to be warm, no matter when you visit. It's a geothermal lake, meaning the water is heated slightly which creates the best swimming spot in all of Nicaragua (plan on the water being about 80°). There are little wooden docks floating near the rim of the lake that are fun to swim out to and jump off of, or just use as another spot for sun-bathing.
You can also rent inner tubes and kayaks if you want to take a break from swimming. Or, test your balance by renting a paddle board. Most hostels around the lake will let you use their hammocks, beach chairs, kayaks, and inner tubes for a daily fee (typically around $6). We have a little more info about that below.
No motorized boats are allowed on the lake, meaning you will always have a quiet and pristine swim ahead of you!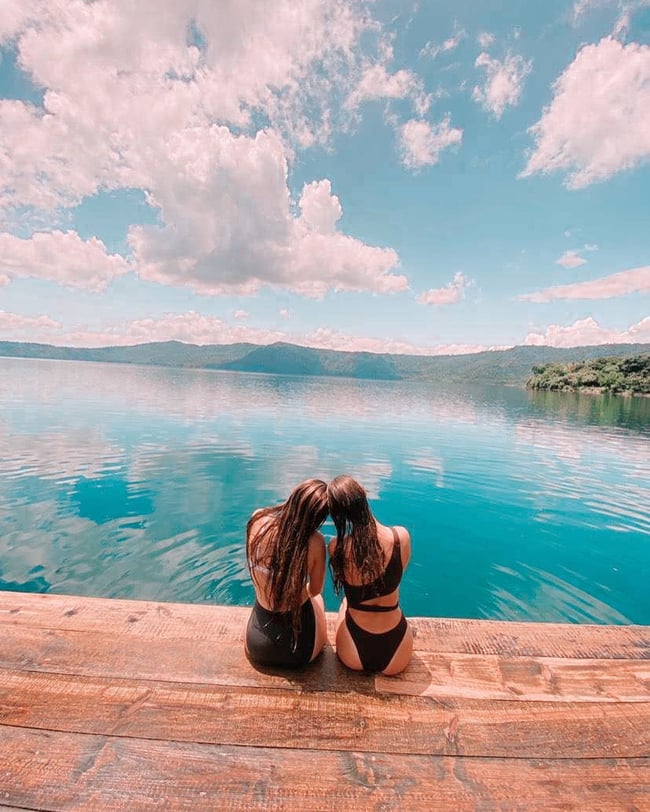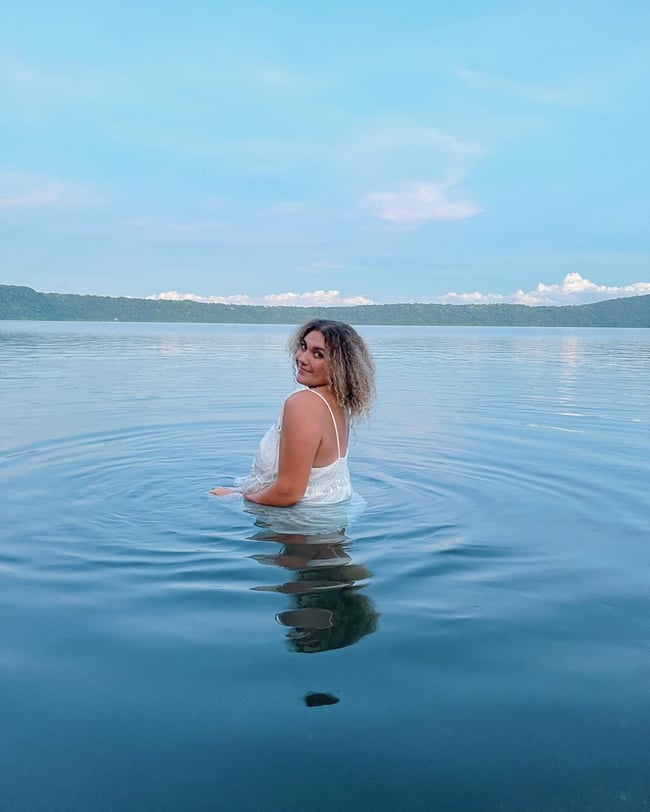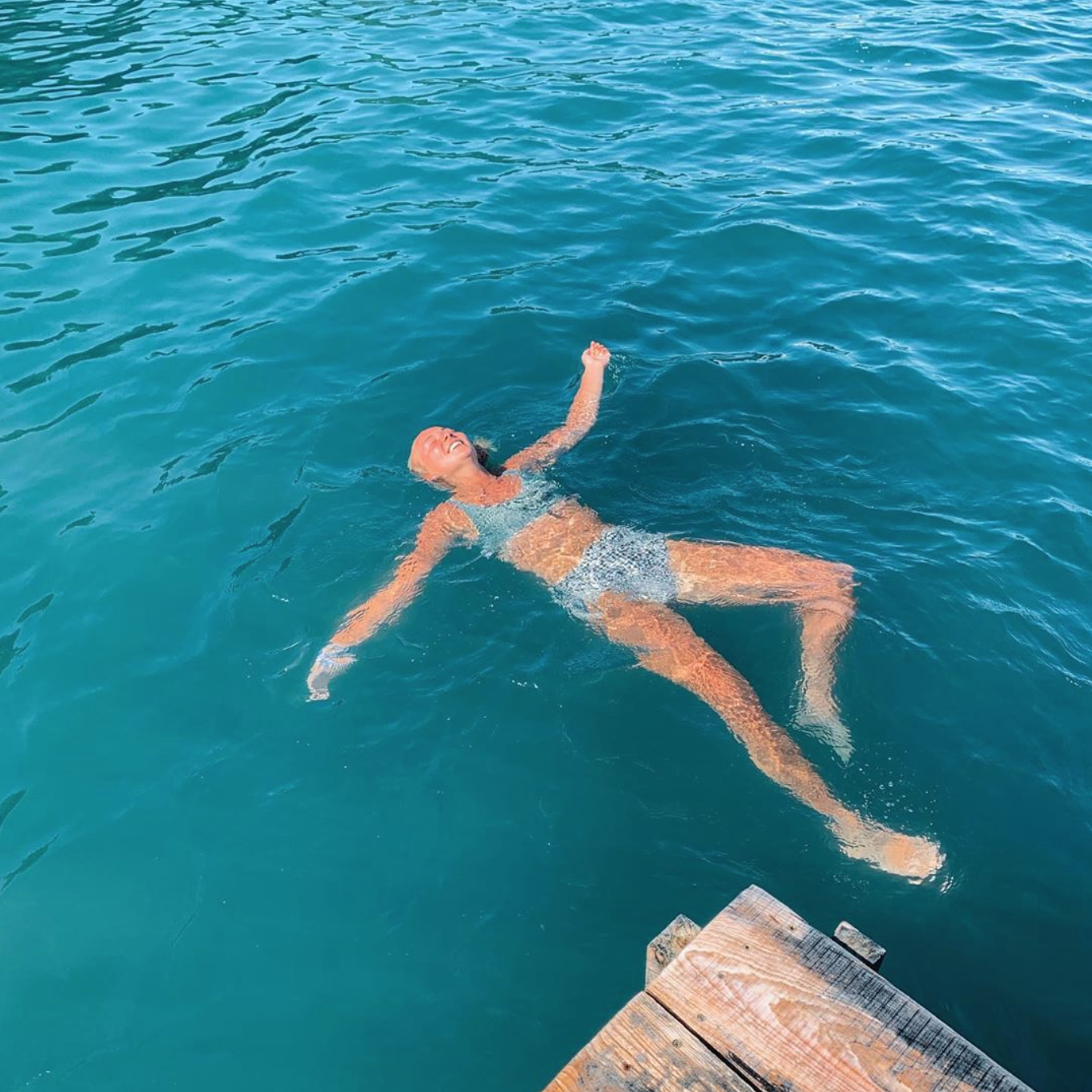 Have A Day At A Resort
Into a little more relaxation? Spend the day at a resort for just a few dollars. The Lagoon does have access points that are free (but they are tricky to find). Plus, when you access the lagoon via a resort, you can pay just small fee to get to the lake and use all of their amenities.
Check with which one you go with, but most places will let you rent paddle boards, kayaks, and inner tubes. Some have hammocks strung up in the shade and free WiFi. They'll also have restrooms and changing rooms for you to use, as well as a place to grab a smoothie or other snack.
There are a few that rim the shores of the lake, so feel free to do you own research, but ILP volunteers in the past have loved hanging out at the following places:
The Laguna Beach Club has a $6 entrance fee and offers a ton of amenities. You can rent paddle boards and kayaks, play ping pong and bocci ball, hangout on the floating dock, use the free WiFi, and relax in the hammocks. They also have a restaurant (not included in the entrance fee price) so you can grab food if you'd like.
The Paradiso Hotel is nestled in the dense forests right on the coast of this crater lake. Similar to the Laguna Beach Club, it's a similar priced entrance fee and you'll find hammocks slung up in the trees, kayaks and paddle boards to rent, plus it has awesome smoothies you can buy after a day of swimming and lounging.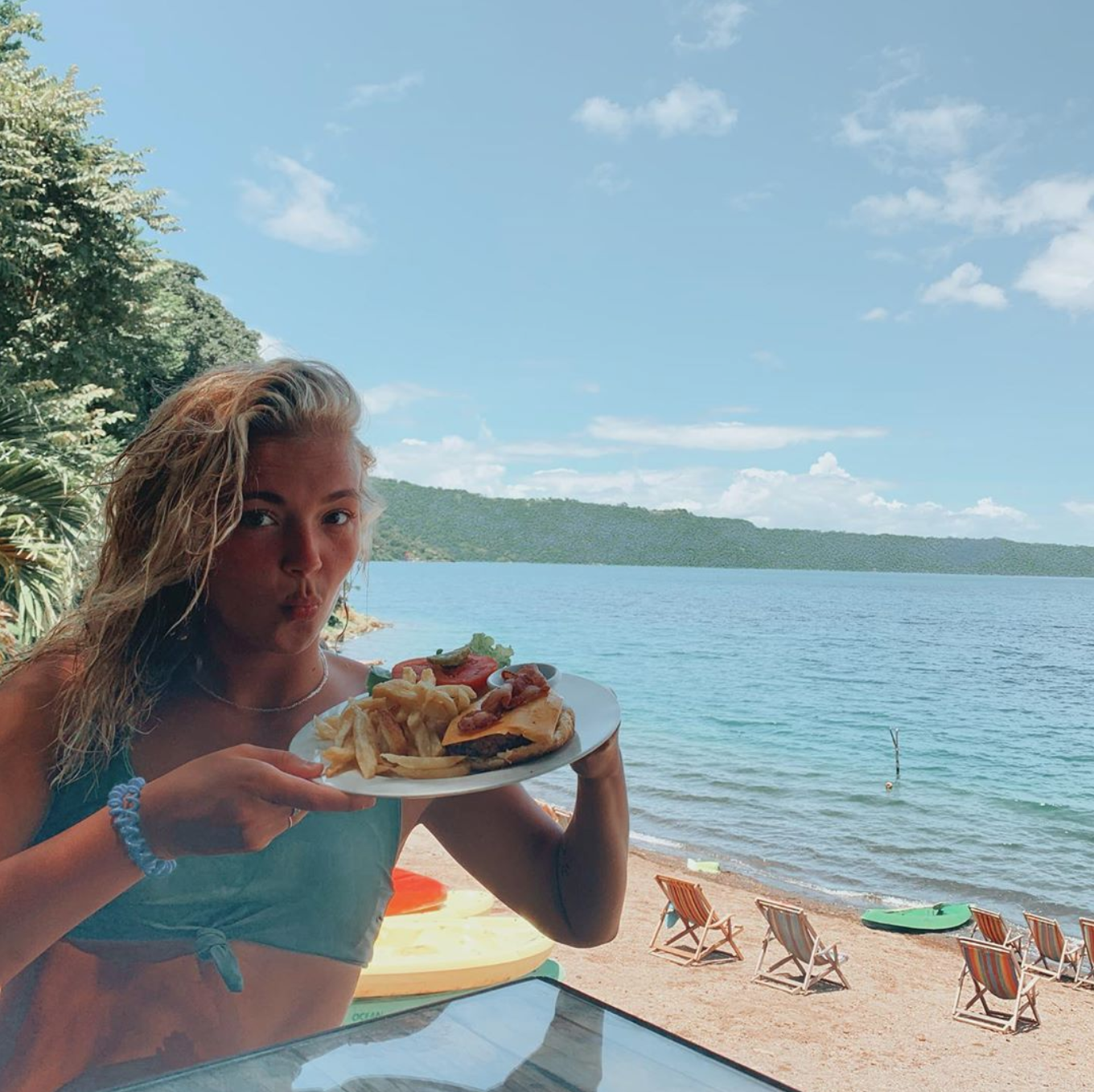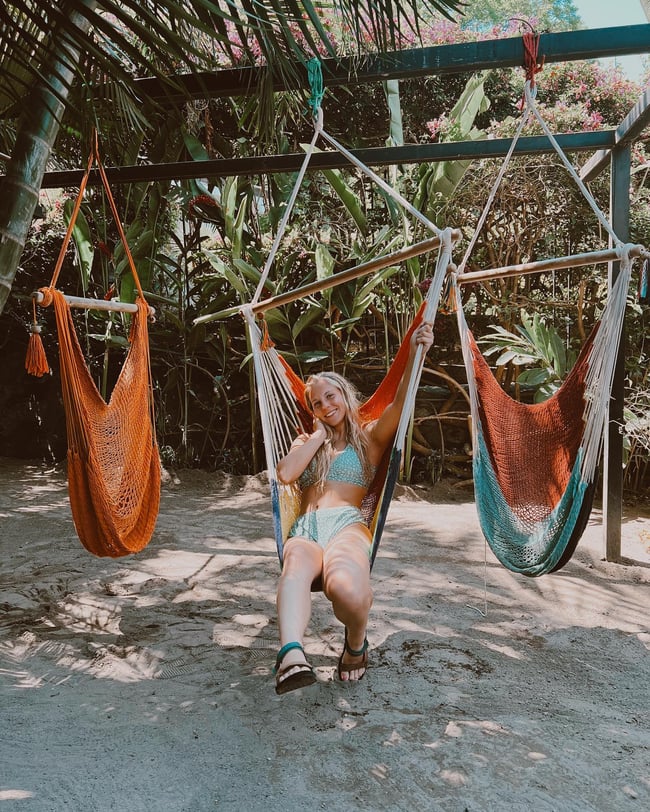 Do A Little Hiking
If you stand looking away from the beautiful blue water, you'll notice that the whole lake is rimmed with green, jungly mountains. And yep, there are some pretty rad hiking trails in those hills. From above, peek some of Nicaragua's volcanoes. On a clear day, you can spot the tip of Mombacho (it's typically topped with swirling clouds).
One pretty notable trail is to see the lake from above. Most start from Apoyo Lodge and plan on hiking around two hours up to the Mirador de la Laguna de Apoyo. The hike is along a dirt road that winds uphill until you reach a small little town (it's called Catarina). You can find some more directions on AllTrails.
Looking for something different? There are around five different trails for you to tackle (the Monkey Hut Hostel has maps available, or you can take a peek at this blog post which has the maps painted on this metal barrel).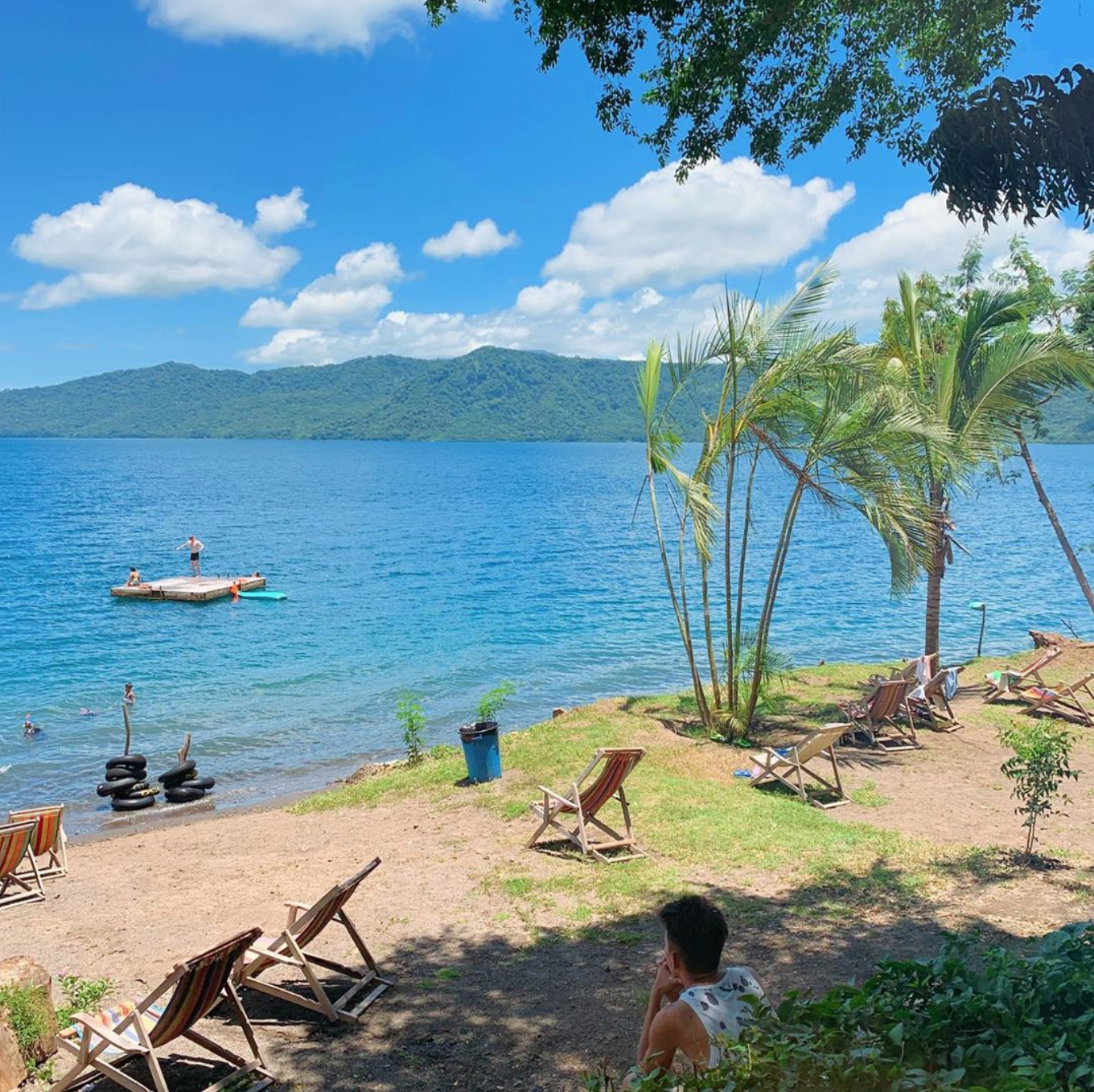 What To Pack
In A Little Backpack
Bring a swimsuit and beach shoes. Some have liked having waterproof sandals for the shore or walking in the shallow water. If you plan on doing some hiking, you'll want something sturdy (like Chacos or Tevas, or tennis shoes).
You'll also want lots of sunscreen and water to drink for the day out in the sun. If you access the lagoon through a resort or hostel, you can check with them to see if there are water jugs to refill your water or have something available to purchase.
Oh and snacks — there are restaurants right off the beach, but they are a little pricey (but yummy!). You can also get snacks from the walking vendors selling things like fried yucca and fried plantains, or you can just bring your own snacks.
Volunteers also liked packing a change of clothes so you're not riding home in a wet swimming suit. If you got a resort pass, you can use their restroom or changing rooms.

There Are Lockers To Use

There are lockers that you can lock stuff up in if you hang out at Hotel Paradiso, so you may want to bring your camera knowing you can lock it up there, instead of leaving it in your bag on shore while you swim.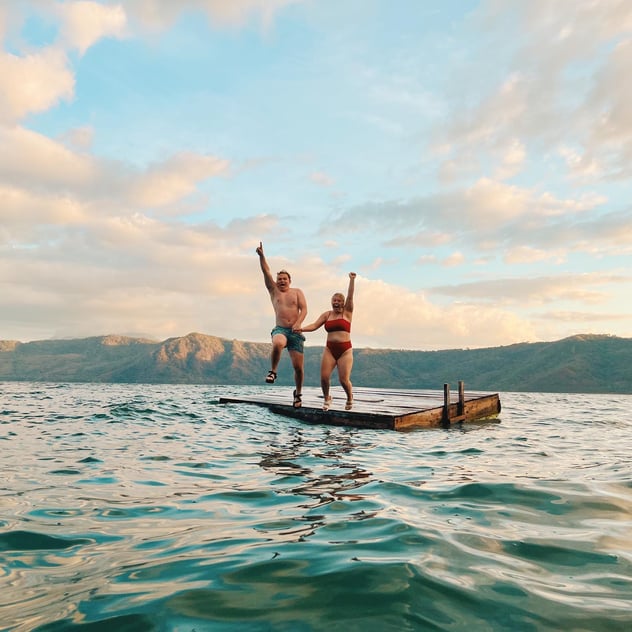 We have a little more info on location below, but this place is close to Granada. Granada is a very popular tourist location just outside of the country's capital, meaning a trip to Apoyo Lagoon is easily done on a weekend or even a day trip if you're around Granada.

Most ILP volunteers treat a day at Apoyo Lagoon as a day trip, heading up on a Saturday or Sunday morning for a day of swimming and sunshine. However, some have made a total weekend of it, typically staying at the places recommended above. The best part about living close by for the semester is that you can come back any weekend, so you might even make multiple trips out of it.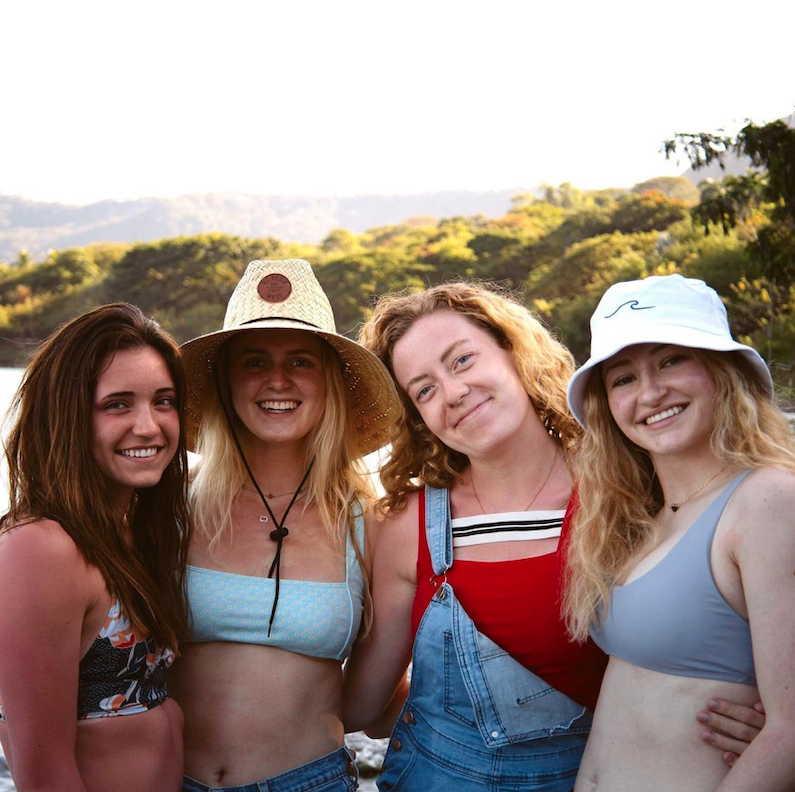 How To Get There
The best jumping off point is the colorful city of Granada, so if you're not already there, make sure to start there. Most people visit the western shore (there aren't any facilities on the eastern side). Luckily for you, there are a few different options to get there, and all are pretty affordable.
Use A Shuttle
You can actually ride a shuttle from several different hotels in Granada and they will take you right to the beach clubs. We had an ILP group use this option and they highly recommended it. Here are the details to catch a shuttle, but past groups paid $10-14 which included transportation there, plus your entrance fee into the Laguna Beach Club (which is a really sweet deal).

The bus picked you up at 10:00 AM, and took you back at 4:00 PM. You can pay with card, just know that there's a small fee tacked on if you do (or you can pay with cash).
Take A Bus
Or, you can DIY. In Granada, head to the market and find the bus that goes to Managua, let them know you want to be dropped off at la Entrada de la Laguna and you can hop off at the entrance to the lagoon. It should only take about 30 minutes and costs about 20-30C ($0.60- $1 USD). Buses leave about every 15-20 minutes.
Take A Taxi
A taxi is also affordable and a lot of them will do a flat rate of around 200C (about $6 USD). Just make sure you agree on an amount before you hop in an go. A taxi will take about 20 minutes to get to the lake. You'll want to contact one of the hotels or resorts about calling you a taxi to get back to Granada after a day at the lagoon.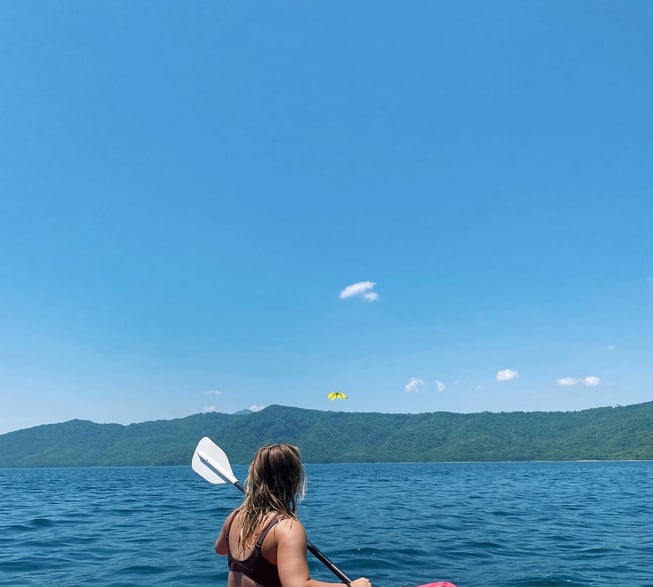 Ready for a semester abroad in Nicaragua?
You'll be teaching and changing the lives of the cutest kids around, traveling, and getting to know the culture of this beautiful country for a whole semester! Click the button below to apply now!