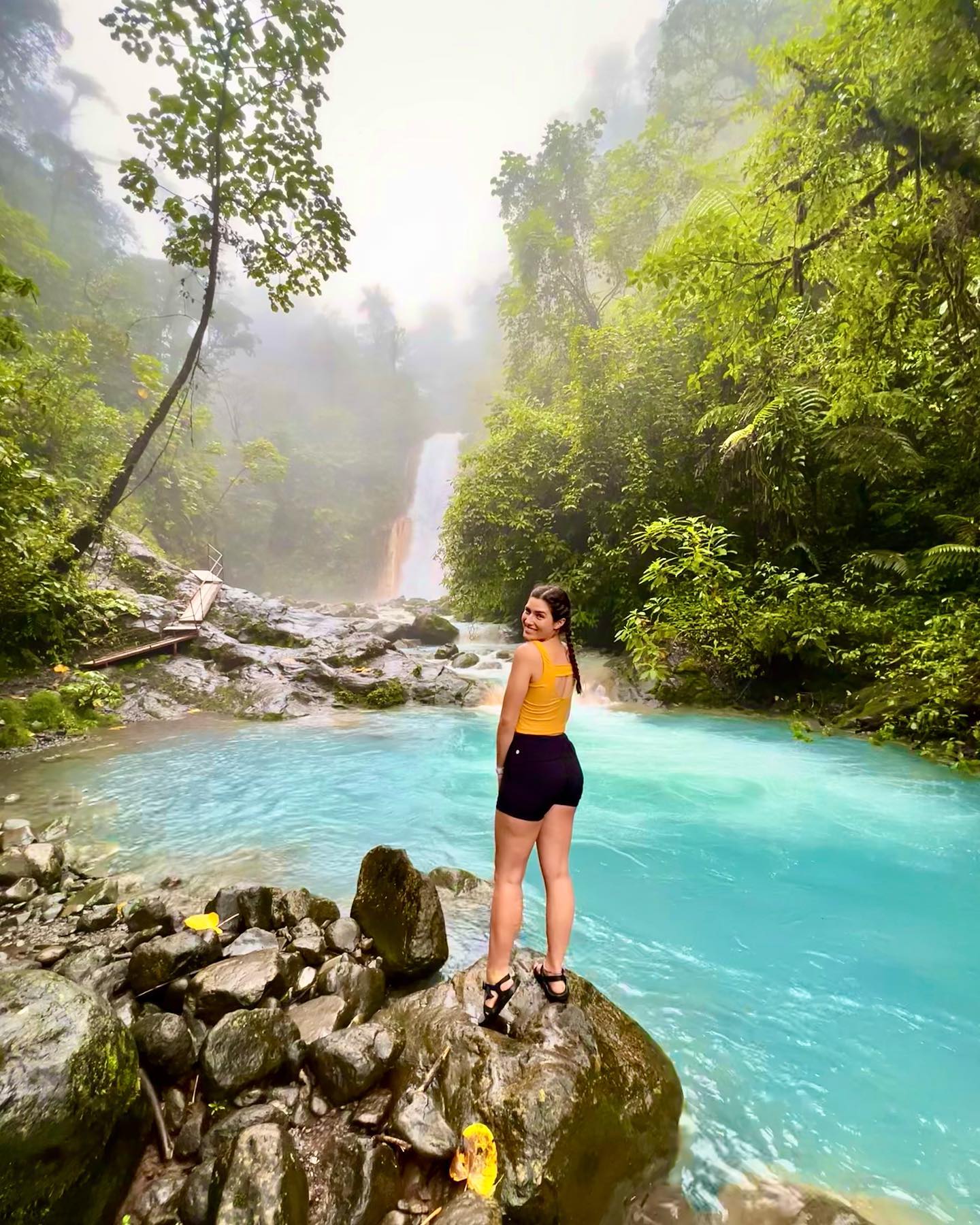 Know if the best beaches are really that close to the thundering waterfalls you want to hike to.
Costa Rica is absolutely bursting with things to do. From thick and lush jungles to white water rafting adventures, you can easily spend several months here and not see it all! But when you're planning out what adventures to have in Costa Rica, you're going to want to visit the things that are close together, instead of wasting days busing across the country.
It's one of the best pieces of vacation-planning advice I'm here to share after my time in Costa Rica — this country is small, packed full of lots to do, but travel can take a looooong time (which wastes valuable vacation time if you do a lot of criss-crossing).
You're going to find incredible vacations all over this country so ... my advice for planning a trip to this country? Plan your vacation based on location.
---
See what other adventures are waiting for your camera
Get our guide to the most photogenic spots in Costa Rica
---

Luckily for you, we've mapped out the absolute favorite things to do in Costa Rica and grouped them all together! Now, it's easy to tell which places are close to each other (easily done in a few days) or ones that you'll need a day or two of travel time to reach, since they're on opposites sides of the country (you're welcome).

Guanacaste Region
Come here for dense cloud forests and beaches. Here are some of the main highlights of the Guanacaste Region:
Monteverde's Cloud Forests
A thick, lush, and expansive rainforest full of treetop bridges, zip lining adventures, treks on the jungle floors is what's waiting for you in Monteverde, the northwestern most tip of the country. It's one of Costa Rica's most popular places for jungle experiences especially for those looking for an adrenaline rush (if that's you, you have to try out the Tarzan Swing).
This area in particular is home to three jungles, but we suggest spending your time in the Monteverde Cloud Forest. Get our go-to guide on all things Monteverde here.


Tamarindo's Beaches
Tucked away on the western coast is the beachy town of Tamarindo, boasting Caribbean blue waters and boardwalks lined with swaying palm trees. It's a popular beach, known for turtle watching, paddle board tours, and amazing surfing. Or, visit one of the beaches close by (close enough to walk to or take a short taxi to) for some of the most stunning sunsets I've ever seen.
It has a laid back vibe, exactly what you're looking for in a beach vacation. This Tamarindo post has more info for your trip.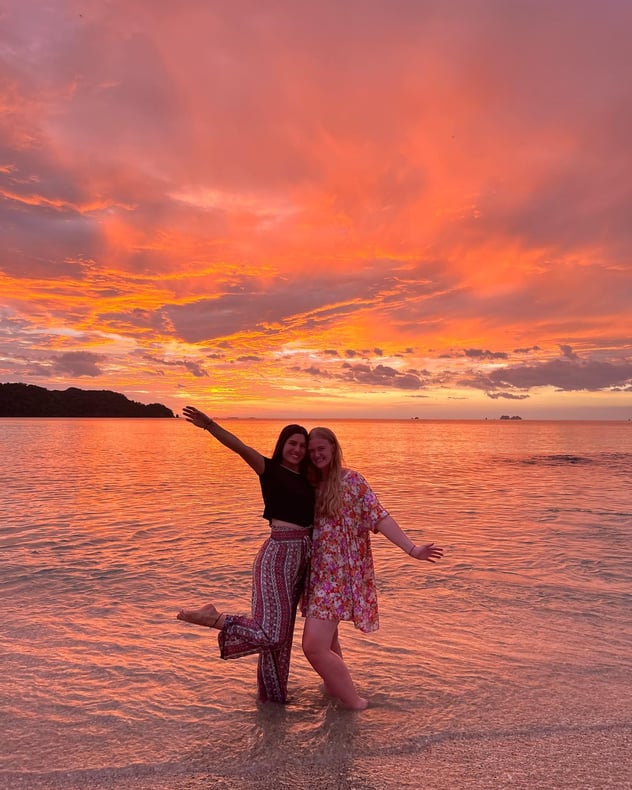 North Puntarenas
National parks and beaches galore! Come to this northern section which focuses on high adventures, thick jungles, and pretty beach days:
Manuel Antonio's High Adventures
Not to pick favorites but this might be the go-to spot for jungle adventures and national parks. The green jungle hugs the coastline, making it the ideal vacation for volunteers who want some jungle time but also want to hang out in the waves. In Manuel Antonio, you get both! The national park is a huge, sprawling pocket of tropical jungles filled with tour vendors offering zip lining and rafting tours to the tourists who visit here.
There's a lot to do and often is the most popular vacation our ILP volunteers take — we've pulled all the tips and tricks to visiting Manuel Antonio here.


Quepos' Beaches
You'll bus into the city of Quepos to get to Manuel Antonio, so it only makes sense to explore this part of Costa Rica while you're in town. The beaches are the main draw (apart from Manuel Antonio, of course), plus the famous Nayuca waterfall is also easily done while in Quepos (you can choose to hike in yourself or ride on horseback).
Planning a trip with a day or two in Manuel Antonio, then spending another two or three days in Quepos is what we'd recommend. See what there is to do in Quepos here.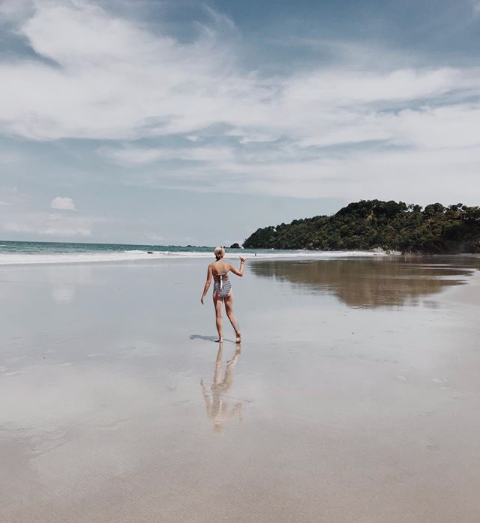 South Puntarenas
Beaches, jungly waterfalls, and the best whale watching around when you head south in this region:
Ballena Coast
Jaco
Paquera + Isla Tortuga
Ojochal's Waterfalls
Corcovado National Park
Drake Bay
Puerto Jimenez
The Ballena Coast
Hugging the western side of Costa Rica is a string of beaches and cool coastal towns that make up the Ballena Coast. You'll find protected national parks that sport some of the best whale watching in the world (hi, Uvita!), plus famous surf spots, and day trips to the nearby Cano Island (which has rad snorkeling).
Come here for beach hopping and grabbing lunch at the local soda joints before heading back to the beach. You'll want this Ballena Coast guide to help you plan your trip.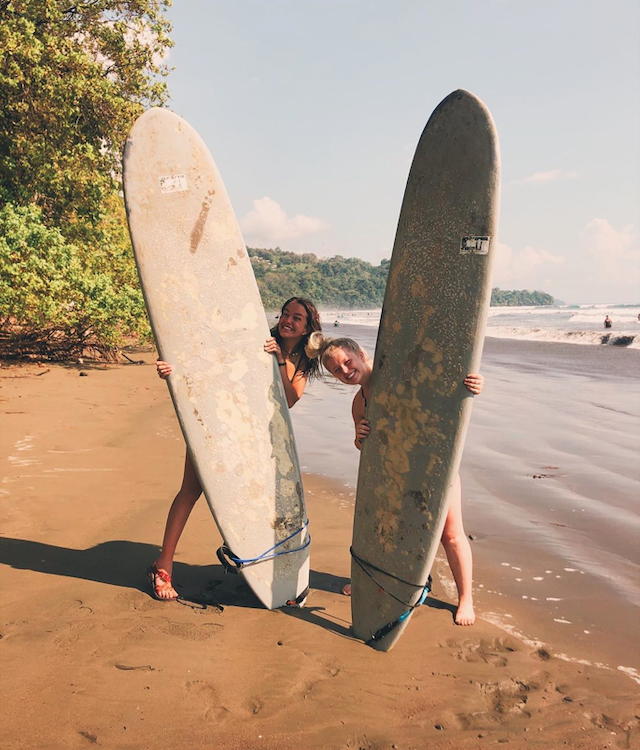 Jaco's Surfing
Known as one of the best surfing beaches around, Jaco is full of tour vendors waiting to set you up with a day trip to hidden waterfalls, nearby Tortuga island and other excursions. It's made for a casual weekend or a couple of days where you just want to hang out in the sun and the sand.
Our Jaco guide has all the tips for this spot in one place.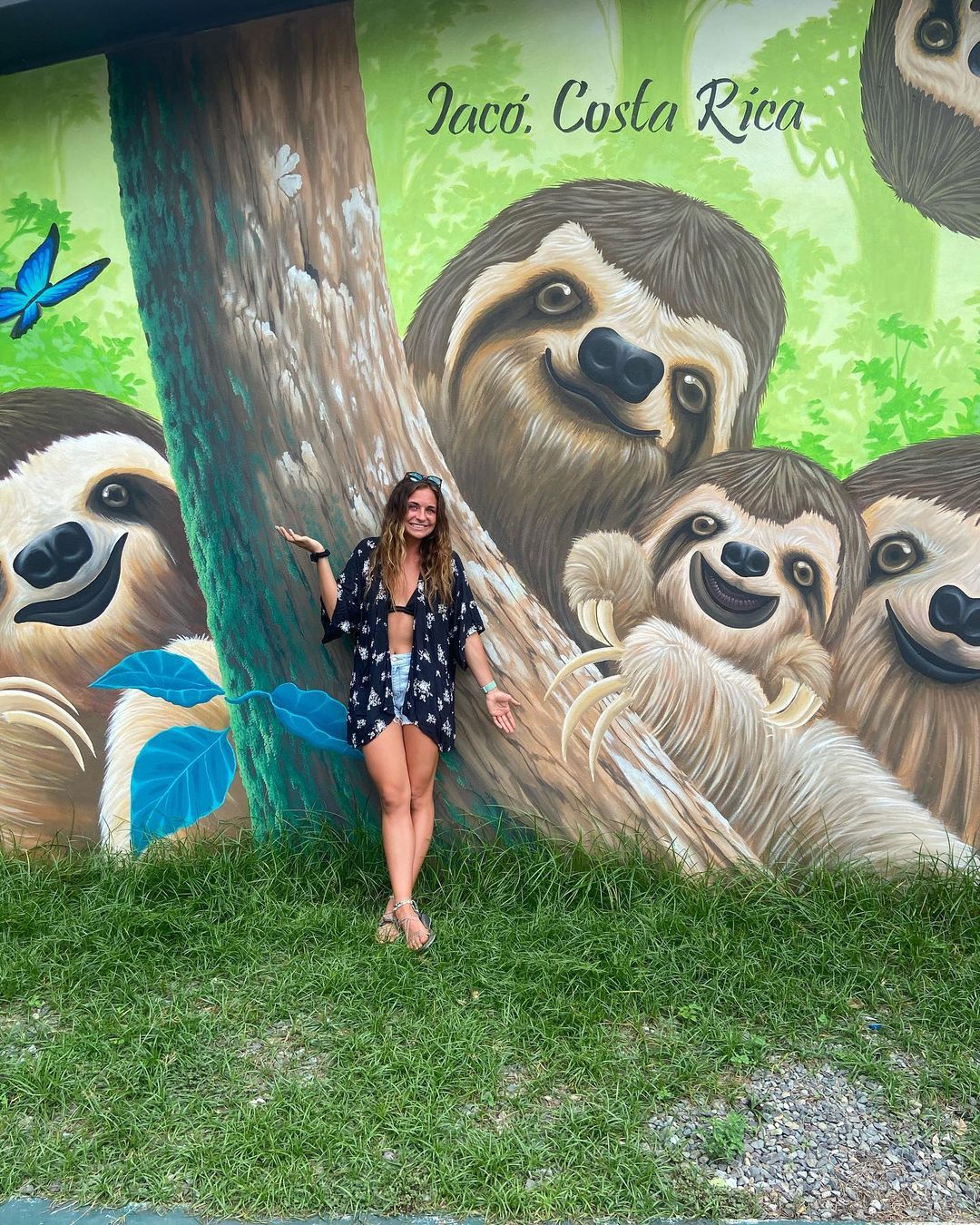 Paquera + Isla Tortuga
Paquera is a quiet town, known mostly for agriculture. The town itself is a slice of local life — this isn't an area of Costa Rica that receives many tourists, but all the basics are there: restaurants, places to stay, etc., along with some tour vendors who can help you see the best of the region.
In the past, groups have spent a weekend in and around Paquera crossing off major items from their Costa Rica bucket list, like taking a nighttime bioluminescence tour, spotting monkeys and macaws in the treetops, taking a beach day, and snorkeling around the famous Isla Tortuga.
Here's more on Paquera.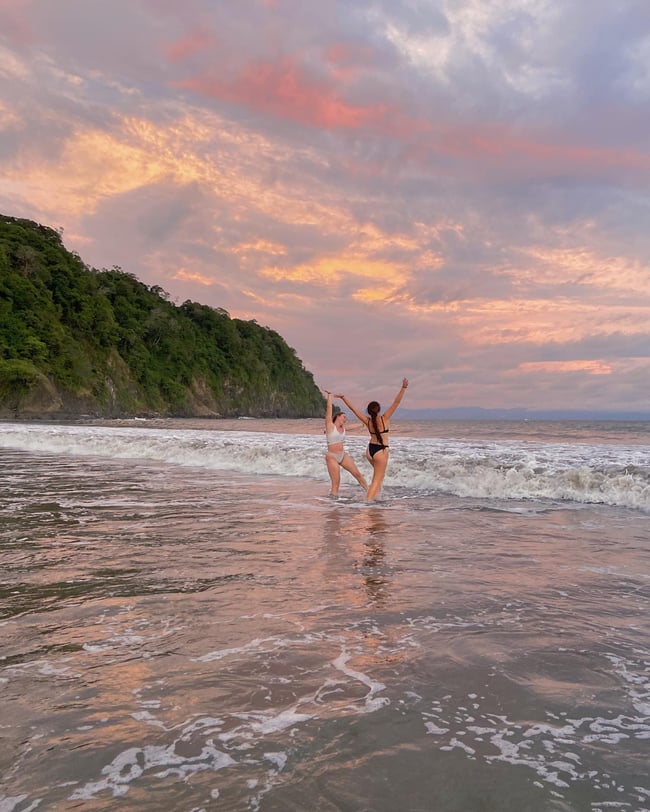 Ojochal's Waterfalls
Want a break from the beaches? The coastline here is backed with a thick jungle hiding some waterfalls only the locals know about, found just a few minutes away from Uvita, Costa Rica. There are a few to choose from: some are more established (with an entrance fee, and a local restaurant serving yummmmmy smoothies nearby) while others are definitely totally off the beaten path.
See everything about the Ojochal Waterfalls here, plus a standalone guide to one of the most famous, Nauyaca Falls.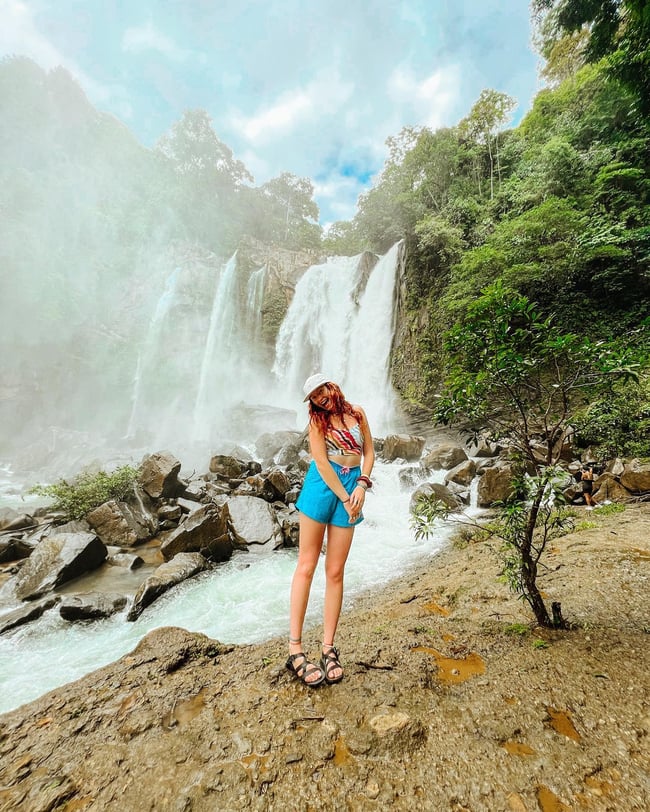 Corcovado National Park
This park is known as the crown jewel of Costa Rica — it protects the largest remaining stretch of rainforest on the Pacific coast of Central America, along with hundreds of thousands of animals (many endangered) that call it home. It's pretty stunning, to say the least!
If you're hoping to spot Costa Rica's most loved creatures, this is the spot! One group of ILP volunteers said, "We saw coatis, sloths, wild parrots, crocodiles, shark, turtle, white-spotted dolphins, a huge banana spider, and lots more". Because it sits along the coast, you're also in the prime spot for untouched coral reefs and sandy beaches. All of this and more make visiting Corcovado a must.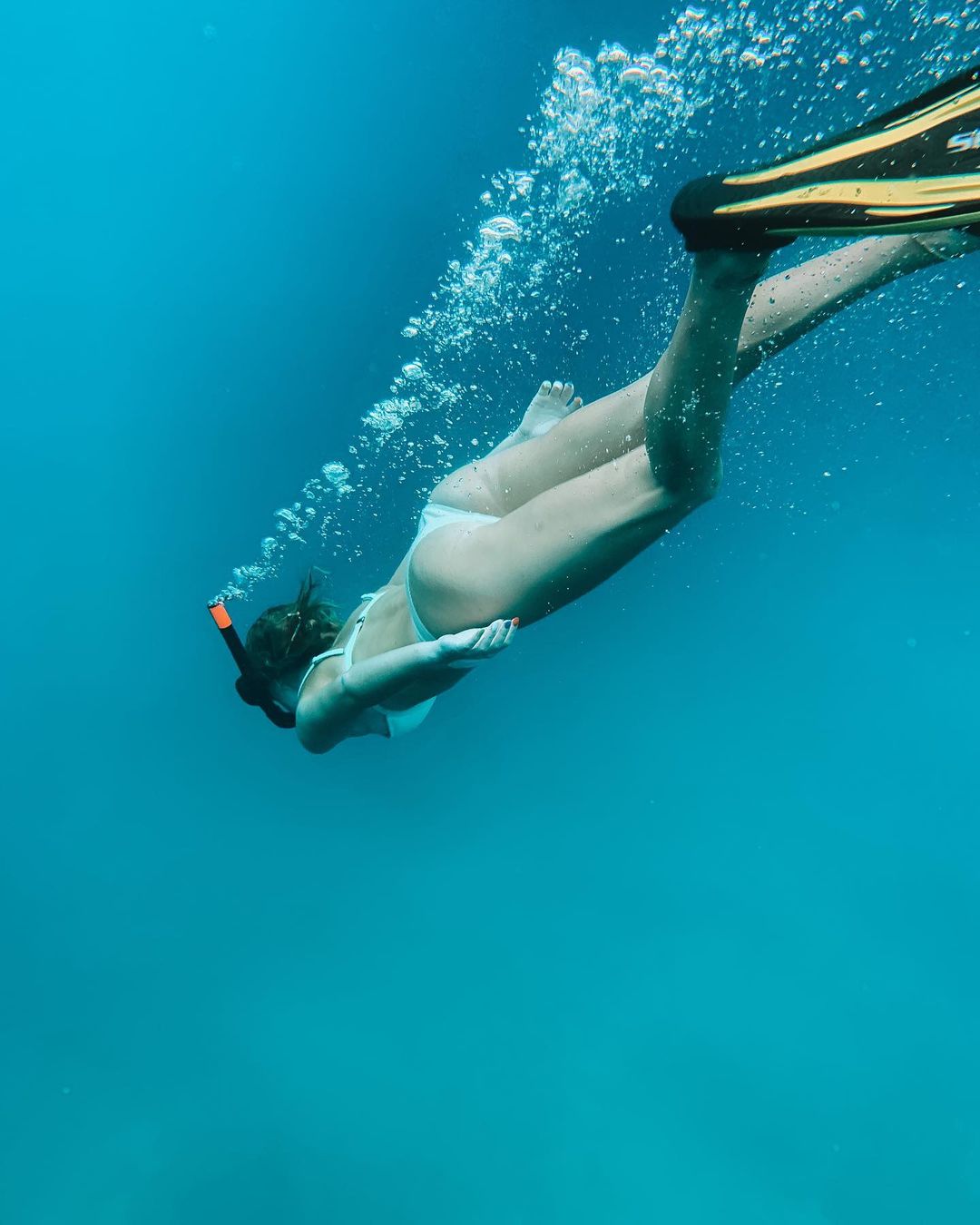 Drake Bay
If you're headed to Costa Rica and snorkeling is on your list, you'll want to take a swim near Cano Island. It's one of the best places to snorkel in the country, and just happens to be easily reached by Drake Bay — another place we absolutely love, thanks to all the things to do here!

You can visit here from the Ballena coast (detailed above) but we also love visiting Drake Bay. It's a great jumping-off point to Cano Island, plus has a coastline waterfall hike and a handful of beaches, jungle treks, and animal tours (we love the bioluminescence tours and night safari tours). Check out all of the Drake Bay adventures here.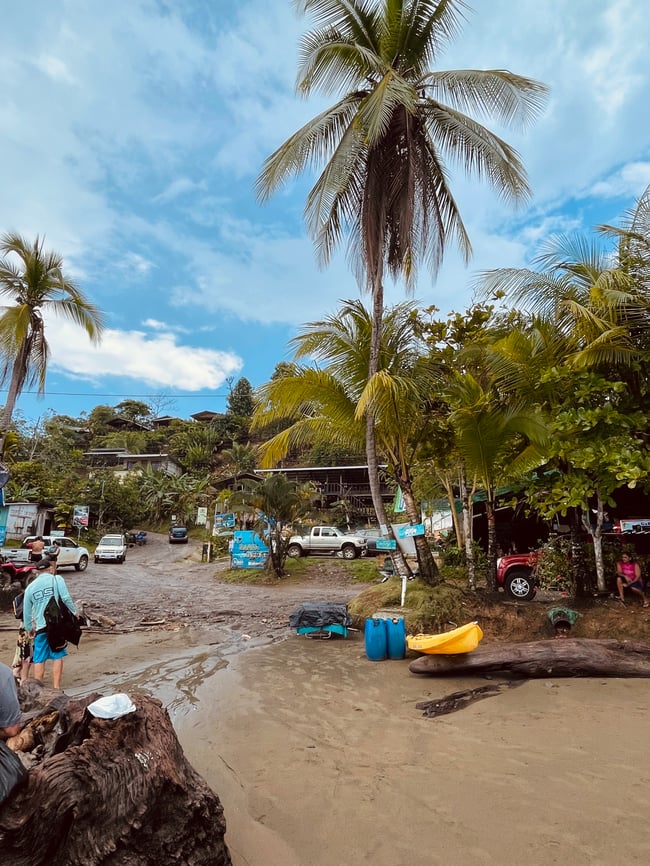 Puerto Jimenez
Puerto Jimenez is nestled right in front of "the sweet gulf" Golfo Dulce, sits across from Piedras Blancas National Park, is right in front of the sprawling Corcovado National Park, and more. If that wasn't enough, it's home to most of our absolute favorite things to do in Costa Rica.

In case you need to paint a picture, think lush green jungles (hiding a tangle of mangroves you can kayak through), miles of coastline, and blue water where you can snorkel, spot dolphins, take a swim, and more.
If you're on the eastern side of the country, absolutely make sure you come visit Puerto Jimenez!
Alajuela Region
Home to Costa Rica's most famous waterfall, tropical hikes + volcanoes (plus a few still-hidden-gems):
Blue Falls
Arenal Volcano
Rio Celeste + La Fortuna
Blue Falls
We'll move on to the most famous tourist attractions around in just a minute, but we wanted to slip in this more "hidden gem" before Rio Celeste and Arenal steals the spotlight. Blue Falls are a set of impossibly blue waterfalls you can hike to (and swim in, which is the real highlight).
There are seven total waterfalls in the area with that iconic blue tint, but two get all the attention, known as "Las Gemela". That stunning blue color is all thanks to a special mix of minerals found where the water originates, which is nearby a handful of volcanos. If you're familiar with the famous Rio Celeste waterfall in La Fortuna (more on that below), it's the same cause for a very similar coloration ... but here, you can dive right into these aquamarine waterfalls, pools, and rivers.
Get our Blue Falls guide here.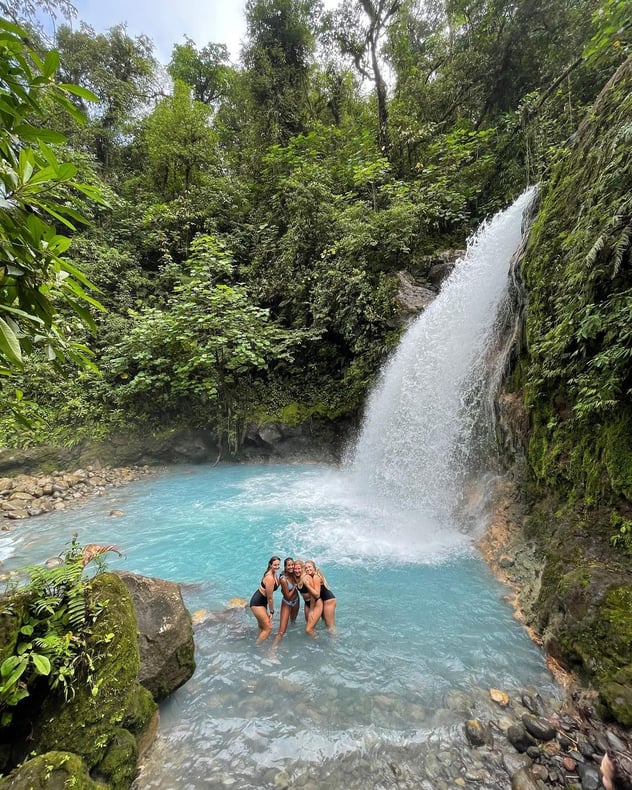 Arenal + La Fortuna
Arenal Volcano and the stunning light blue waters of Rio Celeste are probably Costa Rica's most famous things to see (and definitely make the list of the most Instagrammable spots in Costa Rica). The jungles here are not only the home to thundering waterfalls but also a hot spring resort that we can't get enough of.
There are also multiple hiking trails if you want to go check out the Arenal Volcano, often with tours adding extras like a trip to hot springs or other excursions. These two features of the Alajuela Region make it a can't miss spot in Costa Rica. Our La Fortuna guide has what you're looking for when planning your trip.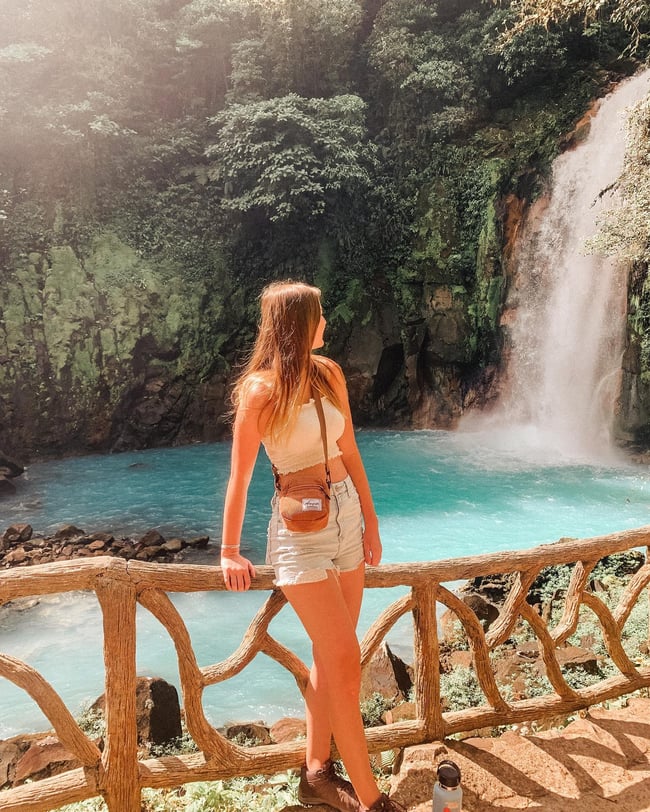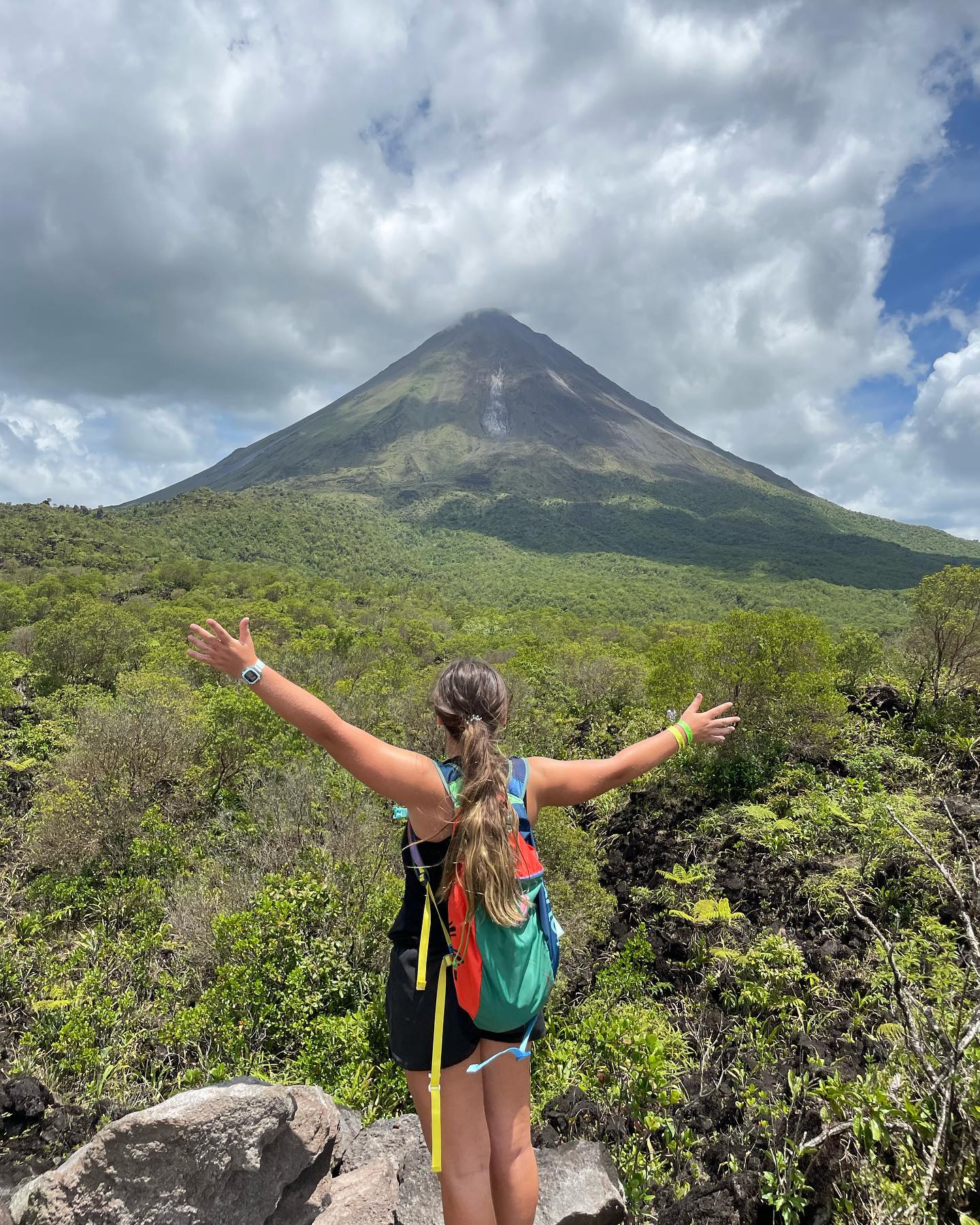 San Jose Province
Big city art scene + animal adventures! Here are just a few of the highlights:
La Paz
San Jose
Poas Volcano, Rafting, and More
Sloth Sitings
La Paz
La Paz is one of the best places to visit from San Jose if you want to hike around, see some waterfalls, and get close to some of your favorite jungle animals. La Paz is a nature reserve that boasts some of the best hiking, prettiest waterfalls, and all the animals you're looking for — we're talking huge, vibrantly blue butterflies, vividly green tree frogs, rainbow-painted toucans, hummingbird feedings, and more.
The park has five thundering waterfalls, a cloud forest, hiking trails, and separate sections focused on animal habitats. There's an aviary, insect gardens, a butterfly observatory, a hummingbird garden, and a few other exhibits all spread through the 70-acre park. Find a quick highlight of La Paz, here.
San Jose's City Sprawl
Filled with museums, artsy streets splattered with creative graffiti, San Jose is worth a weekend of your time, especially since it is a day-trip mecca (more on those activities, below). But in the city, we love hitting the city's central avenue. It's a huge pedestrian street that walks you past some of the city's major attractions (the historic National Theater). Block out time to walk down the main avenue and stop if something catches your eye: the street will walk you past outdoor plazas and fountains, shopping centers, parks, and restaurants.
Oh, and while you'll find parrots and monkeys in the lush jungles outside of the capital city, the concrete jungle of San Jose sports some of the most colorful and eye-catching street art you should take the time to find. Peek down the alleys to spot some colorful street art too: the city is famous for the bright colored murals. All things San Jose, Costa Rica are here.

Volcanoes, Rafting, Day Trips And More!
Alright, onto the day trips you can do when visiting San Jose ... they are so many! From world-class rafting on the Rio Pacuare, trekking to the top of Poas Volcano, the more secret Tesoro Waterfall, and chocolate tours, there are tons of things you keep you busy around San Jose.

This post has all the best day trips and weekend spots nearby (some also found in a couple of nearby regions as well).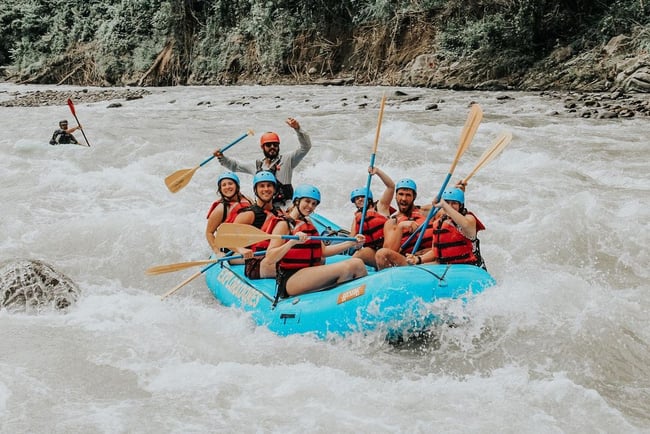 Sloth Sitings
You can head to the jungles of Costa Rica to see a few sloths (if you get lucky!) or you can come support a conservation center and get up, close, and personal with these cuties. The Tuscan Rescue Ranch focuses on housing displaced animals, everything from jungle cats, parrots, and of course, sloths. They have different visitor packages that let you learn lots about this famous animal, including a breakfast option where you can snack right next to a few of the resident sloths.
If you still need a little convincing, this package is called "slothies and coffees" which is more than adorable, plus the money goes towards conservation efforts. Learn more about seeing sloths in Costa Rica.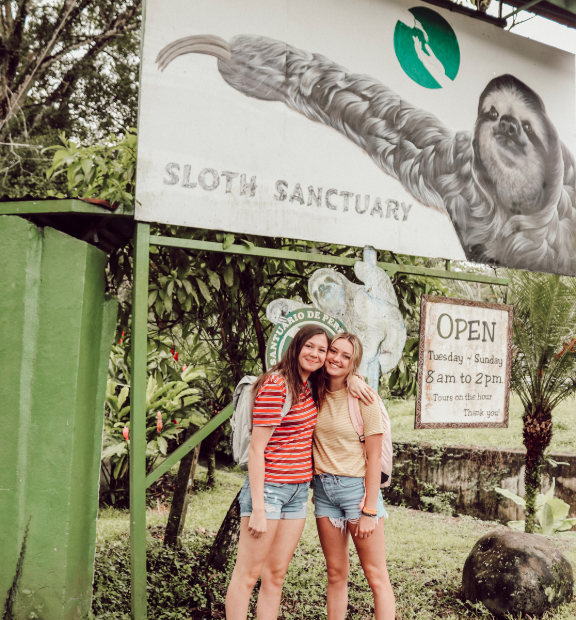 Limon
Come for the Caribbean coastlines + national parks — here's just a glimpse of some of the highlights here:
Punta Uva + Caribbean Beaches
Puerto Viejo
Cahuita National Park
Punta Uva + Caribbean Beaches
Punta Uva is known for having soft, tan sand and palm tree-speckled beaches. And it's one of the few places in Costa Rica where you can swim out to a coral reef, making the shallow reef an ideal place for snorkeling. There is also a lot of wildlife that roam freely through this area! We're talking sloths, monkeys, river turtles, and so many colorful birds. If you're headed to Costa Rican as a volunteer, or just on a vacation, this is a beachside location you'll just love!
But it's not the only beach in the area we love —the beaches in this part of Costa Rica are deemed the prettiest, with that gorgeous turquoise water you've come to expect from the Caribbean. There's a mix of white and darker golden sand beaches, as well as a black sand beach or two. We've outlined some of the best beaches in Costa Rica's Caribbean side right here (given you some travel time via taxi from Puerto Viejo to help you orient yourself).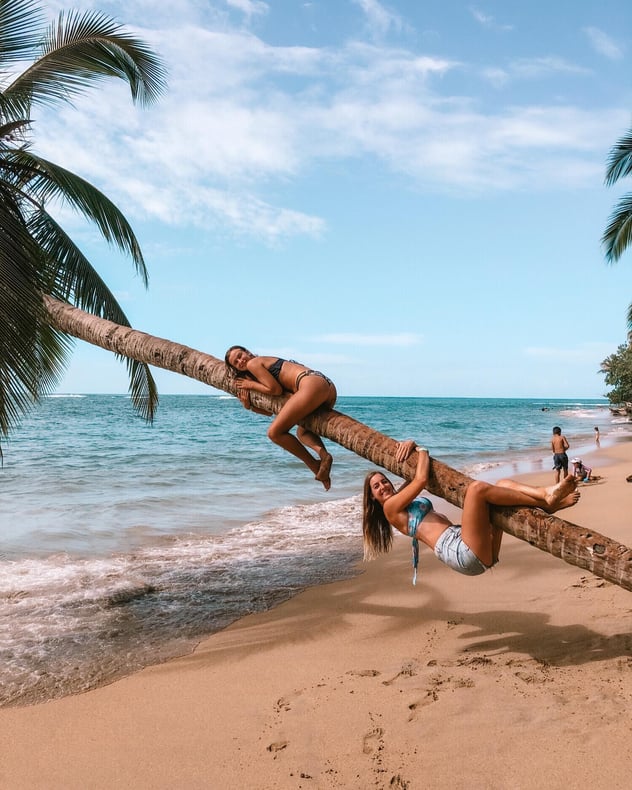 Puerto Viejo
Supposedly the prettiest beaches in Costa Rica are all along the Caribbean side of the country, aka all throughout the Limon region. Along the coastline you'll find a handful of stellar beaches, but we recommend concentrating your time in Puerto Viejo where you can easily trek out to the best of the best: the black sands of Playa Negra or relaxing on Playa Uva.
This mini guide to Puerto Viejo has information like nearby day trips, how to get here, and other things to do.

Hiking In Cahuita National Park
This gem of a park is one of the smallest in Costa Rica and was founded in 1970 to protect the coral reef, rainforest, and beach habitats. The park includes a thick section of the jungle in the interior and a large portion of the beaches, plus the coral reefs found underwater. To allow visitors to appreciate the park, there are a couple of hiking trails that wind through the jungle, plus beach access so you can get closer to the marine life that's so fervently protected.
It's rarely overcrowded now (since it's off the tourist radar), but it's full of so many things we love about Costa Rica! We have a guide to visiting Cahuita National Park here.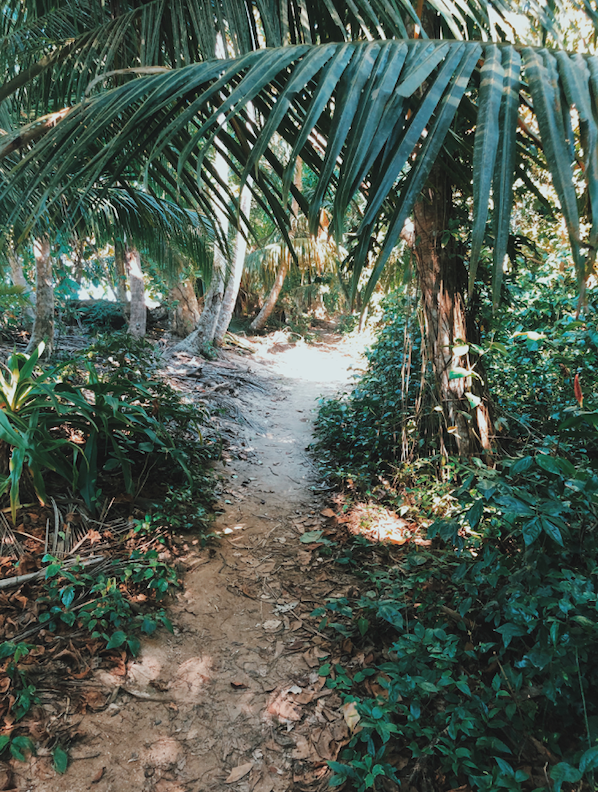 Need more time in Costa Rica?
Come volunteer here with ILP! Volunteers live in Costa Rica as a part of a humanitarian semester, giving underprivileged children an English education. You have weekends off, free time during the week, plus vacation days to explore all these spots (and more).