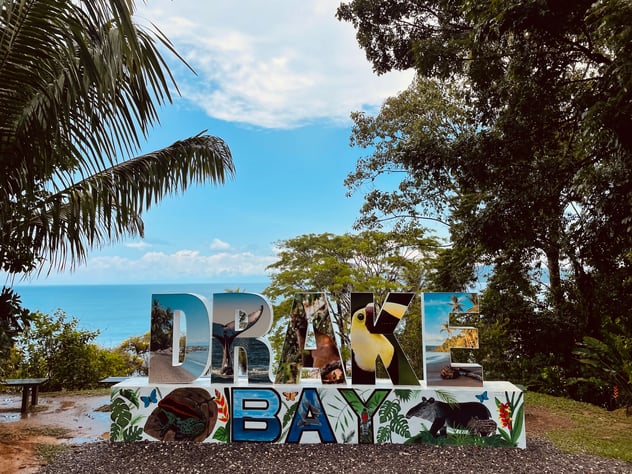 Take a swim to see sea turtles, schools of colorful fish, dolphins, and more, or keep busy with all the other adventures waiting for you around Drake Bay!
If you're headed to Costa Rica and snorkeling is on your list, you'll want to take a swim near Cano Island. It's one of the best places to snorkel in the country, and just happens to be easily reached by Drake Bay — another place we absolutely love, thanks to all the things to do here.
Drake Bay is crammed full of the Costa Rica adventures you're looking for, like spotting playful dolphins and majestic whales saying "hi" over the waves. It's also right in front of the sprawling Corvacado National Park, which is home to animals like monkeys, sloths, coatis, parrots, and more. Plus, miles and miles of beautiful beaches waiting for you to dive in (or catch a wave while surfing).
See why it's a can't miss spot?


---
Don't just visit for a week or two!
See way more of Costa Rica by volunteering here for a semester with ILP.
---

Because it's such a hot spot to visit for snorkeling, jungles, and beaches, we have a deep dive into all the things to do in and around Drake Bay — good luck choosing how much time you need here in order to get everything done!
First, A Little Intro
Just so you know where we are talking about: Drake Bay is found on a little peninsula that juts out from the western side of Costa Rica, near the south (by the border of Panama). We'll get to this in a minute, but this peninsula of absolutely exploding with a handful of other locations to add to your trip here — like an overnight trek through Corcovado National Park or a visit to Puerto Jimenez (and the Sweet Gulf). This whole area is the Osa Peninsula.
This post is your gateway to all of this, just keep on reading.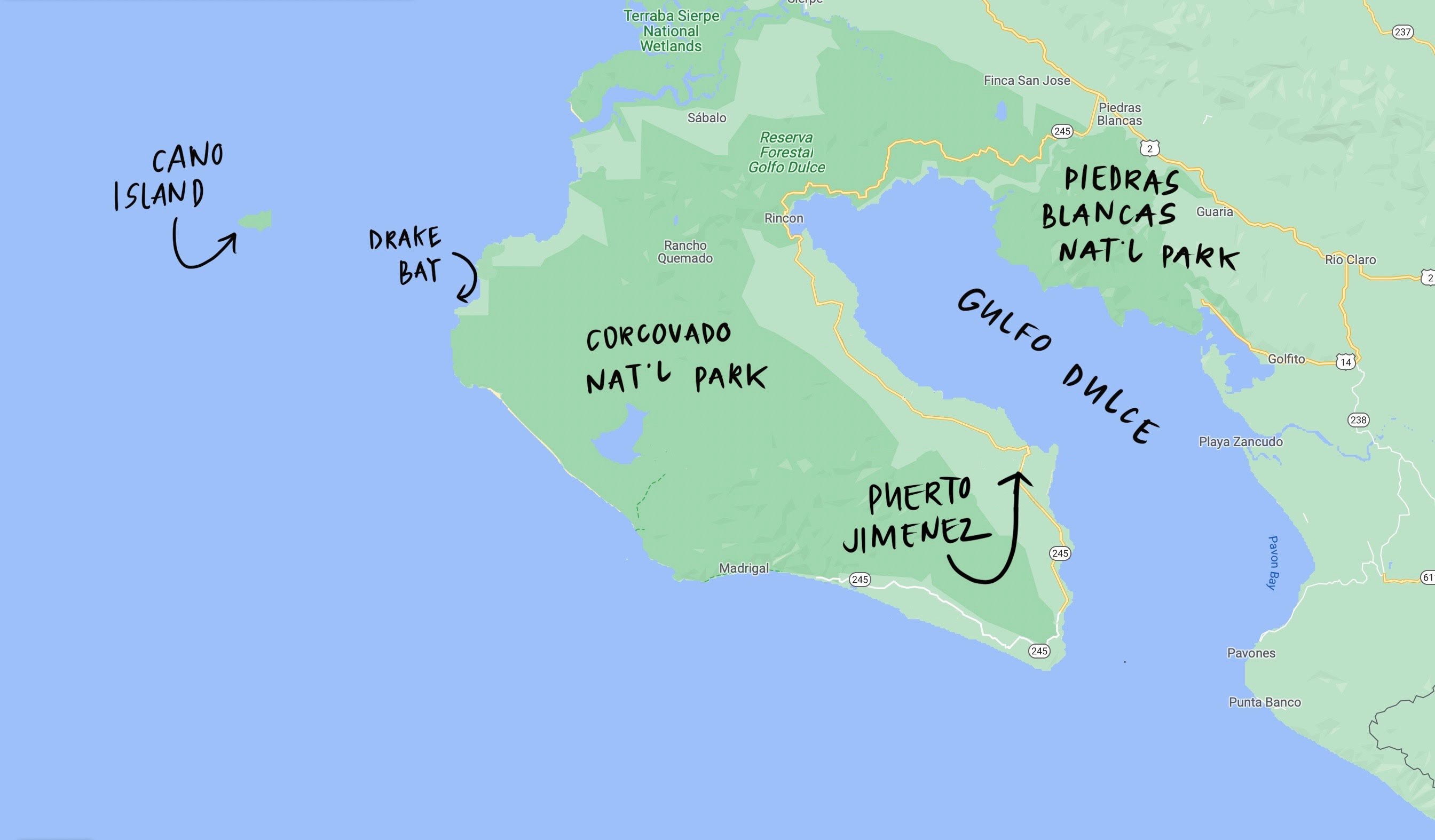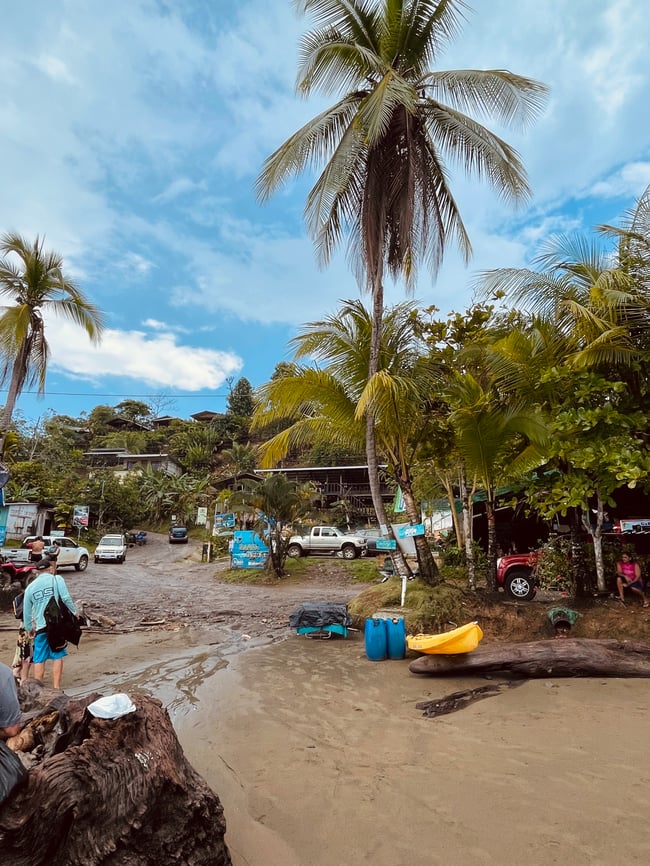 Things To Do Around Drake Bay
As a little disclaimer, this is a favorite part of Costa Rica for many people who know about it — we've heard time and time again that this area of Costa Rica is just the best, thanks to all the things to do, the beaches, the wildlife, and overall vibe of this place.
Another perk are the free activities to do in the area. You can find a handful of hikes and beaches to explore on your own that won't cost a thing, meaning you can save your colones for activities like snorkeling Cano Island. Here are just some of our favorite things to do around Drake Bay!
Snorkeling Cano Island
One of the biggest pulls to coming to Drake Bay is a day trip snorkeling near Cano Island. It's part of Corvcocado National Park (more about that below), and sits just 10 miles off the coastline. And like we teased, it's actually said to be one of the best spots for snorkeling in the entire country!
It's pretty popular for both divers and snorkelers alike — there are several species of untouched coral and you're bound to cross paths with all of the colorful fish that call this area home. One group of ILP volunteers got to swim with a sea turtle (so rad!) and if you're really lucky you might even spot manta rays, dolphins, and more. It's a biological reserve and home to so many different species. Some visitors say it's like swimming in an aquarium, with the chance to see big silvery schools of Bigeye Jacks, angelfish, parrotfish, and some rarer visitors like dolphins, turtles, whales, and manta rays. With all of this marine life, coral floors, and crystal clear water, you can see why it's a popular place to go snorkeling.
Some do recommend wearing a rash guard (or long sleeves) while snorkeling for sun and some jellyfish protection. There are some small jellyfish in the area that can create a little bit of sting, just so you know.
Getting Here:
As far as getting out there, you'll need to go on a tour. Some tours depart from Drake Bay (but you can also get tours that depart from the nearby Ballena Coast if you're in that part of Costa Rica). There are tons of tour operators available to book online (search "Cano Island Drake Bay Snorkeling Tour" or in-person once you're down there. Prices are in the $90-$140 range for the day — what's included depends on your tour, but most typically include the entrance price to the biological zone, snacks/lunch, equipment, etc.
You can also visit via the Ballena Coast, if you're up there. Past ILP groups have asked their ILP Coordinator about booking a tour. Some mentioned prices were about $80 to $125 each depending on what you did. Along with Cano Island snorkeling, some tours included time on a private beach, hiking in Corcovado National park, and then whale watching. It's an all-day activity that has quite the review: "We all 100% recommend doing it!"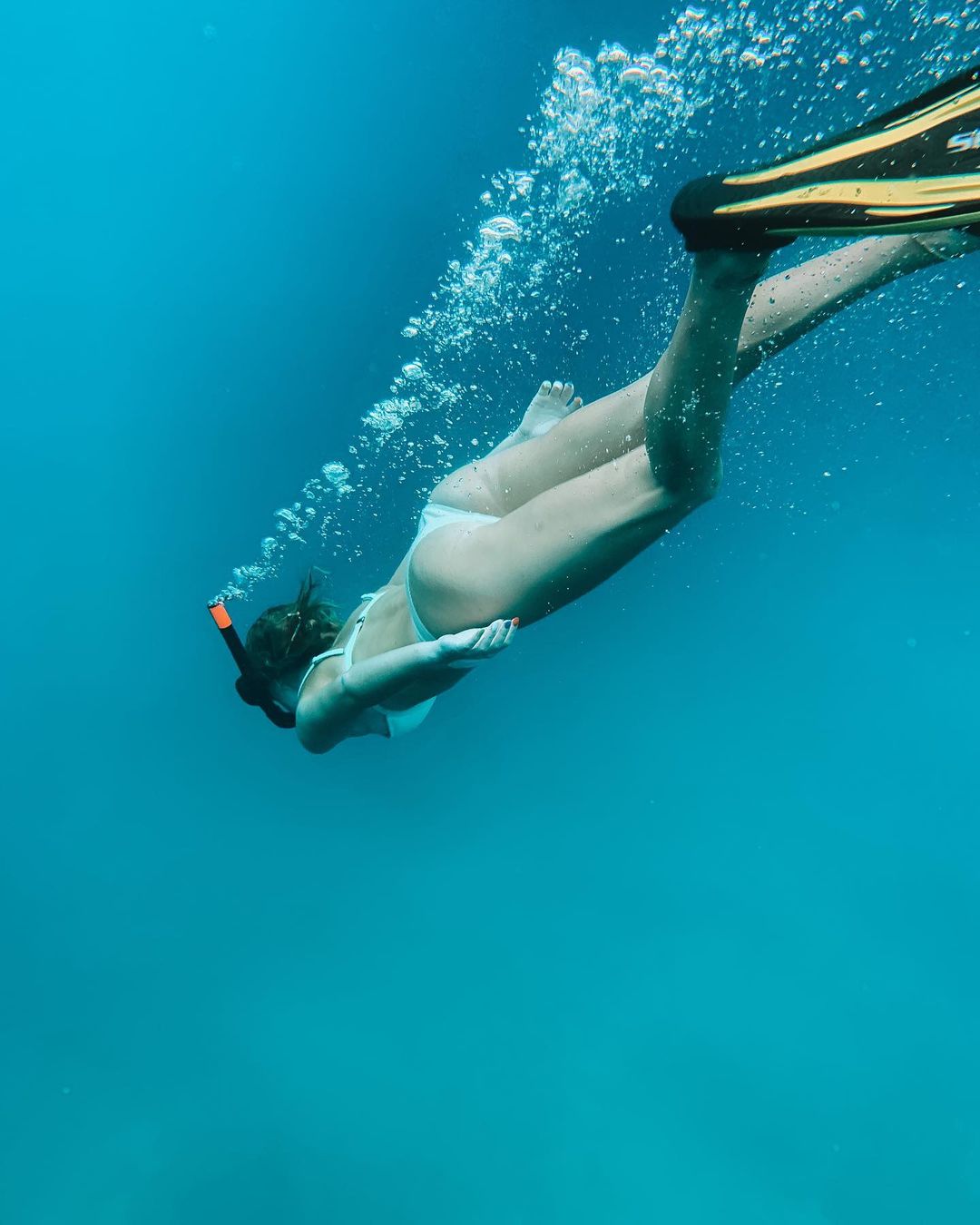 Whale + Dolphin Spotting
Drake Bay is a popular spot to go whale watching mainly because Humpback whales swim right past the bay to give birth in the warmer waters during August and September. Playful dolphins are also frequently spotted year-round, making it a prime destination to head on a boat and see what you can see jumping up from the water.
There are a handful of tour companies for you to research on your own: some to start with may include this option or this one, but know you'll find more online, or by speaking to the info booth in Drake Bay. Oh, and remember — some of the tour options for Cano Island also sometimes include some level of whale spotting if you're there in the right season.
Beaches Galore
Drake Bay is exactly what it sounds like, a curved bay that opens up to the ocean. ... and the surrounding area is full of some stunning beaches. We're outlining some of the most popular below, with details like what's available nearby, and how far it is away from the main "downtown" of Drake Bay to help you plan your trip here:
San Josecito — Playa San Josecito is easily one of the best beaches around, complete with soft tan sand that rims a "u-shaped" curve of the beach. It's a chill swimming beach, with calm waves that are good for snorkeling (thanks to the rocks found just offshore that break the waves, and strikingly clear, blue water). You can find some shade in the palm trees behind the beach, where you're likely to spot a few brightly colored Macaw parrots (they like to perch in the treetops).
Getting Here: You can take a taxi (from the "middle" of Drake Bay, it's about a 30-ish minute taxi ride) ... or you can hike. It's a popular all-day activity for those looking to hike through the jungle in the morning, spend time on the beach, and boat bake in the afternoon. Hikers report seeing the monkeys wake up first thing in the morning, parrots flying up from the treetops, and a perfect jungle/beach combination. This blogger, this one, and this one are just a few who have recommendations on timing, the route, and other info before you start your trek.
Playa Colorada — Looking for a beach day right in town? This beach boasts a rim of tan sand backed by palm trees and a dense jungle ... it's not uncommon to see Capuchin monkeys in the treetops! The waves here are rather calm (just watch out for some rocks on the edges of the bay if you're going for a swim). Sunsets here are also pretty spectacular, making it another good choice for a beach day.
Getting here: It's right in the hot spot of Drake Bay, making it an easy walk (or a 25-minute drive west from the airport if that helps orient you).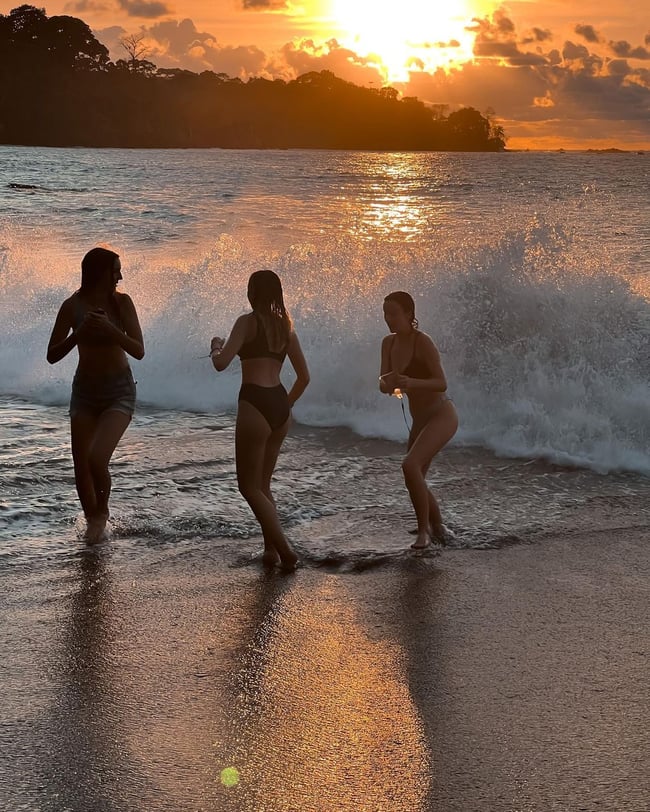 T
ry Canopy Ziplining
Costa Rica is a top-tier destination for zip lining, and Drake Bay is home to a few companies that will take you to the treetops so you can zoom above the branches, test out the Tarzan swing, and walk across a hanging bridge.
Here are a few tours (like this one, this other company, and this one) so you can see what's out there — but most are 2-3 hours, in the $65 - $75 range.
Find Some Waterfalls
There are few hiding in the jungles here, meaning you can ask around town to see if anyone is available to take you through to find out where they are (a handful of the falls here are more like local secrets, so it's fun to get a guide from the area who can tell you more about the area and show you to the falls). We've had ILP groups ask around and gotten a guided walk through the jungle for about $25 a person.

You, of course, can try to find these yourself, but either way, know that this area of the country has a higher concentration of snake species — a guide who knows the area can help you keep a look out for any slithery visitors you may encounter while hiking and around the water.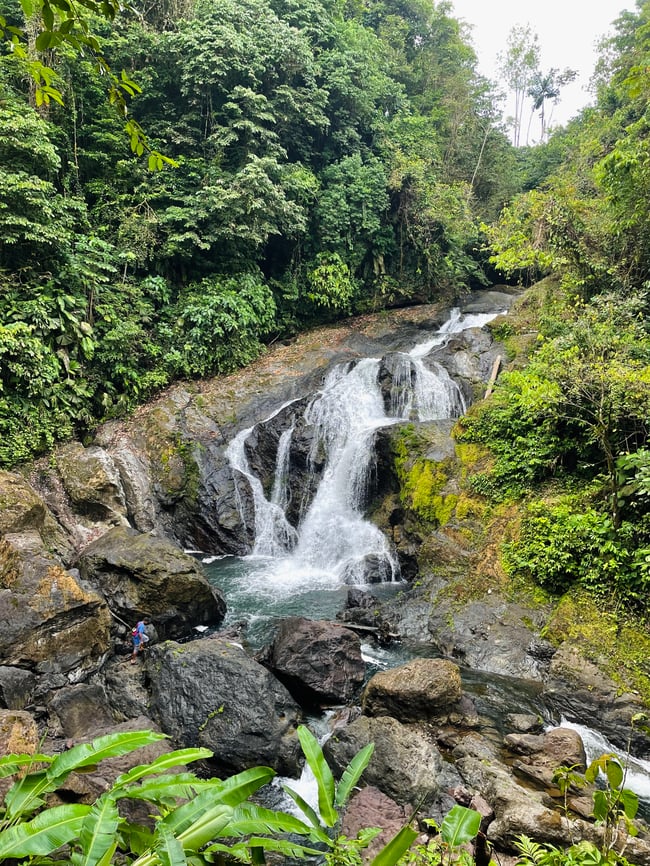 Hike To Rio Claro For Tubing, Kayaking, And More
In the mood for a hike and a swim? It's a popular thing to trek to Rio Claro, mostly because the 7-kilometer hike along the San Josecito beach trail is incredibly picturesque, the area is home to some of the same tropical animals you'll find in Corcovado National Park, and the river itself is a pristine spot for a swim. Plus, you'll pass a waterfall on the way. Sounds like the ideal way to spend a day!
It's also very popular to go with a tour to float the river on a tube or paddle down in a canoe (just know there are several tour options to choose from with prices ranging from $65 to $125).
Do A Little More Hiking
If you haven't gotten your fill of hiking yet, there are a network of trails that you can explore for free. Like we mentioned earlier, the beach trail to San Josecito beach is a popular place to start. The path is very well marked with sign posts that let you know which beaches are closer if you want to end your hike earlier, or make your way all the way until the end.

The hiking here is a favorite thing because of all the wildlife: imagine thick, lush, and dense forests where you can look up and spot a monkey snacking on a banana tree, and scarlet macaws squabbling in the treetops. But keep you eyes on the ground, too — if you look, you can find bright white mushrooms that fan out and and army of leaf cutting ants marching back and forth across the muddy trail.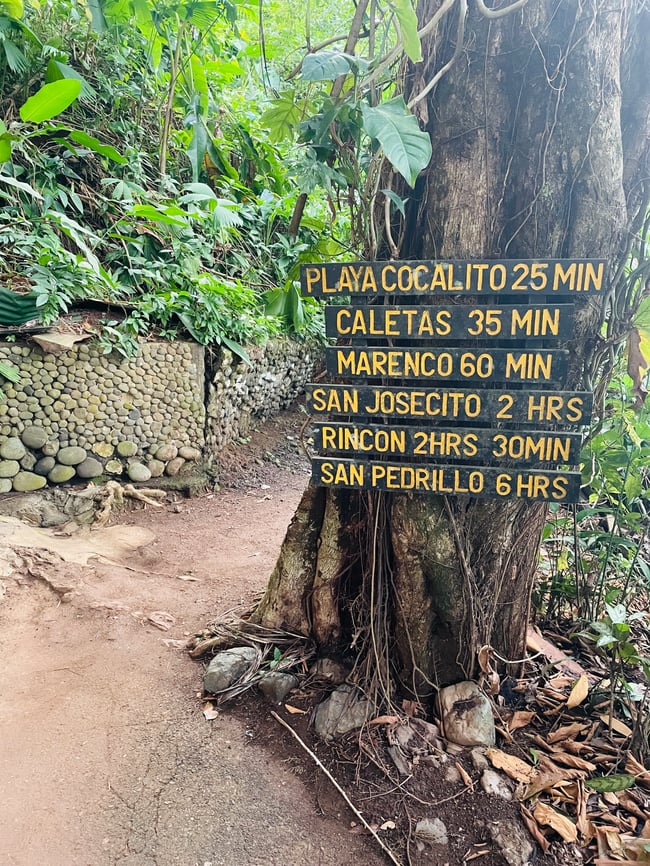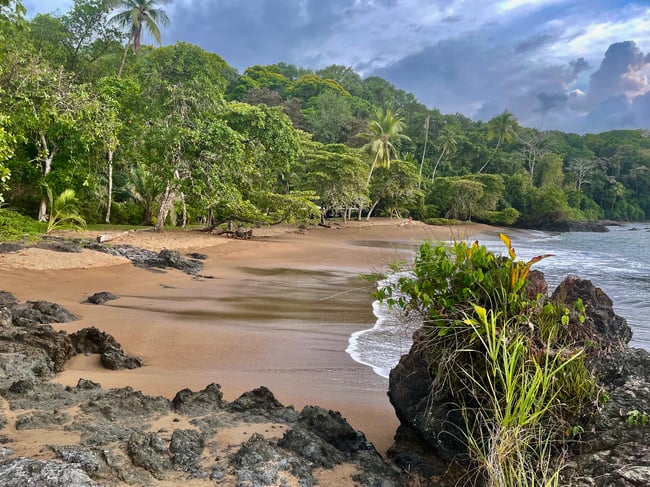 Activities To Do At Night
When the sunsets in Costa Rica, there are a whole list of activities that open up for you — some of them are seasonal, so you'll want to ask around to see if it's an option while you're in town, but if so, you should check out what's available.

Taking a night trek is one of the most popular things to do, especially over half of the animal in this part of Costa Rica are nocturnal, meaning you have a leg up on spotting them if you search at night! Going through trees with an experienced guide who can point out the frogs hunting bugs under the leaves, or the huge "eyes" found on the wings of owl butterflies is the way to go. You may also see slithering pit vine snakes, huge silk moths, raccoons, kinkajous, armadillos, and maybe even bats.

Taking a bioluminescent boat tour is another night time activity, where you'll go out on the boat around sunset (the views are spectacular) and then look to see where the motor churns up the water — when it gets dark enough, you'll see an eerie glow, almost like someone put a glowstick or spotlight in the water, but it's all created by the plankton in the water. This tour company also has kayaks to rent and snorkeling gear if you'd rather get closer (and can also recommend the best spots to go if you want to go on your own).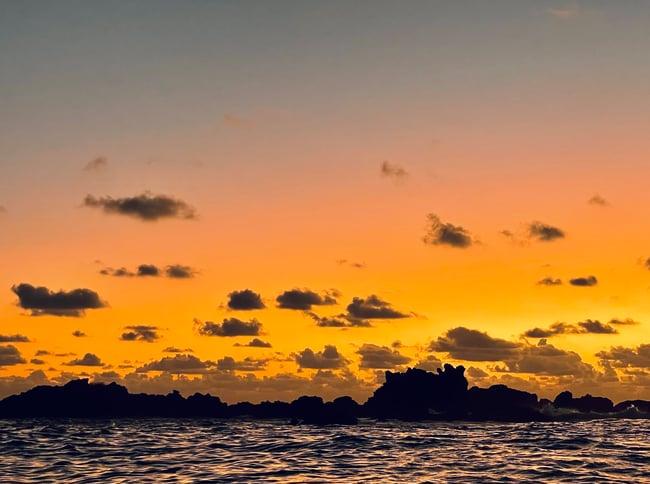 + Where To Find Tours
In the activities above, we've linked to some of the more popular vendors in the area, but know that things are pretty small and locally run here — you will see pretty much every hostel have a sign out that says "we arrange tours", so that's a good route to go. Oftentimes, they'll have a whiteboard inside with what tours they offer, and the prices ("Cano Island Snorkeling: $100, Night Hike: $45, etc).

We've also had reports of ILP volunteers letting us know they asked for recommendations at lunch, where their waiter had a brother who's friend knew the best waterfalls in the area, and took them for $25 each. Once you know what activities you want to do (whale watching, snorkeling, Corvocado National Park, Sierpe) you can find hostel who can arrange a tour there or ask around to see who can help you out.
Oh, and these places can also be a good place to stay the night, too. Groups have stayed at Martina's Place and gone on a few of their excursions. Book here.
Other groups stayed at the Cabinas Pura Vida B&B and said their host really helped arrange tours and excursions.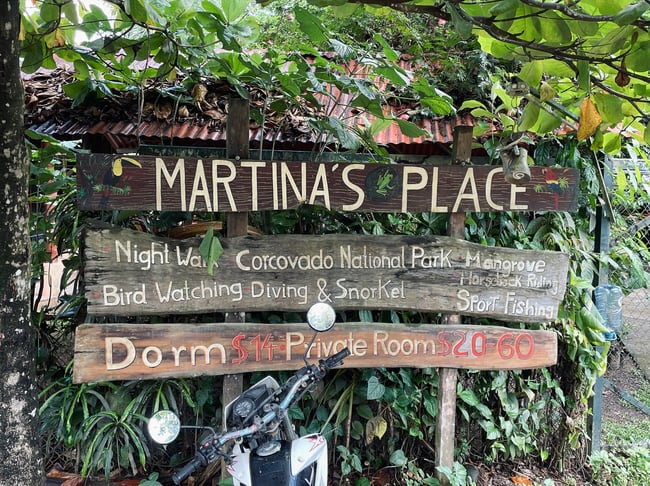 Nearby Things To Know About
This part of Costa Rica is bursting with so many adventures — To give you a visual, you'll find Drake Bay on the western coast of the peninsula, and Puerto Jimenez on the East coast, with Corcovado, sandwiched in the middle.
Here's a little bit more info about some of these top highlights!
Corcovado National Park
This park is known as the crown jewel of Costa Rica — Corcovado protects the largest remaining stretch of rainforest on the Pacific coast of Central America, along with hundreds of thousands of animals (many endangered) that call it home. Hiking around means seeing animals like colorful tree frogs, coatis, sloths, wild parrots, huge banana spiders, and lots more. It's right behind Drake Bay, making it a must-visit spot for anyone who wants a jungle experience with some of Costa Rica's beloved animals.
From Drake Bay, it would probably be best to hike to the Sirena Ranger Station — this post has all the info about visiting Corcovado National Park.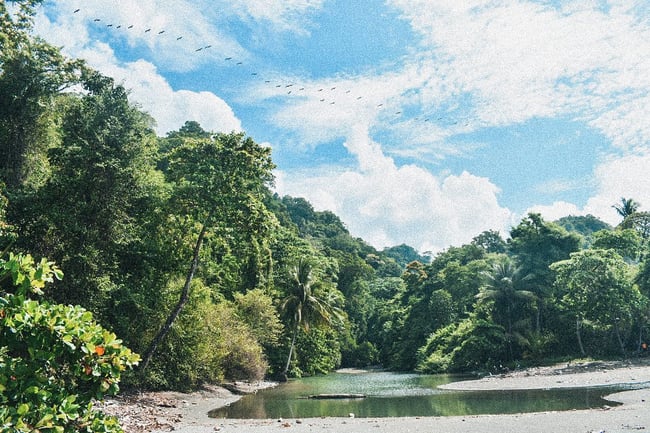 Puerto Jimenez (+ Other Adventures)
Puerto Jimenez is found in the middle of paradise. It's nestled right in front of "the sweet gulf" Golfo Dulce, sits across from Piedras Blancas National Park, is right in front of the sprawling Corcovado National Park, and is found across the peninsula from Drake Bay.
And when it comes to things to do, think lush green jungles (hiding a tangle of mangroves you can kayak through), miles of coastline, and blue water where you can snorkel, spot dolphins and whales, or take a swim in the warm waters. Stay at an eco-lodge across the bay, hold baby turtles after they hatch, and get your fill of fresh seafood on the coastal soda eateries. We love love love Puerto Jimenez.
Kayaking Through Mangroves
Kayaking through the Sierpe mangroves is also very popular, but if you're visiting during the New Moon, kayaking with bioluminescent plankton is a total highlight (literally)!
Yep, this area of the coastline is home to thousands of acres of twisting mangroves, which are home to not only treetop monkeys and birds, river otters, tree boas, but schools of protected fish and mollusks, and yep, glow-in-the-dark plankton. It's the largest spread of mangroves in all of Latin America and such a highlight to see for yourself. There are a variety of tours available depending on what you're looking for: half-day tours are available, but you can also snag full-day adventures .... we're also big fans of seeing this at sunset, where all the nocturnal animals come out to say hello, and seeing that plankton light up.
There are also boat or kayak options, just depending on if you're wanting to paddle around yourself, or want to site see from the boat with your guide. To get you started as far as tours available, we have this one, this one, and this one, (all float around the $65ish mark) just to give an idea of what options are available.
Find the Sierpe Mangroves north of Drake Bay — it's listed here in the "Extras" section because it's a bit of a journey to get there, but still doable in a day.
Getting To Drake Bay
In a nutshell, it's easiest to fly from pretty much all locations. Drake Bay is home to a small airport (code DRK) and domestic airlines like SANSA and Nature Air have daily flights here from larger cities, like San Jose.
However, if you're looking to skip the flight and go a different way, we have some options below. Just know that road travel can be a little dicey, especially in the rainy season, thanks to flooding (which is why taking a boat from Sierpe to Drake Bay, rather than driving, is how most people travel if they're not flying).
From Around San Jose
Want to skip the flight and take the bus instead? There are daily departures by bus that will either take you to Sierpe (and you'll take the water taxi, outlined below) or Palma Norte and taxi the rest of the way. Both itineraries are in the 6.5-9-hour range, which is about how long it'll take you by car, just FYI.
From Around The Western Coast (like Uvita) — Come Via Sierpe
If you're coming from the western side of Costa Rica and don't want to fly, it's an option to bus as far as you can (which is the town Sierpe), then take a water taxi to Drake Bay. This blogger has a detailed experience on how to make that happen.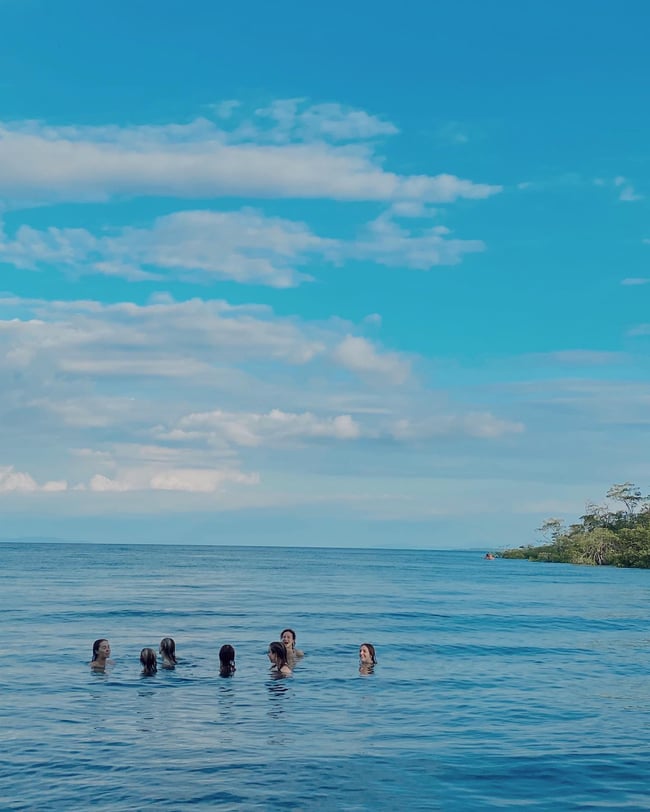 Ready to see this place for yourself?
Come spend a semester living in Central America as an ILP volunteer! You'll be teaching English (no experience necessary) or volunteering in an orphanage part-time — that means you get free time every day to explore your city, and always have weekends off to see even more. You'll also get vacation time to see places like this (plus the other cities on your bucket list).
If you're wanting the chance to make a difference, do a lot of traveling, all with a group of college-aged volunteers, this might be the program for you.