If you want to hit the best beaches in Costa Rica, you'll want to know all the insider tips about this part of the coastline.
There's a lot to the seemingly small country of Costa Rica. It may not be that big (roughly the size of West Virginia, which is the 41st smallest state out of the US 50), but this country packs a lot to see and do. And if you want to hit the best beaches in Costa Rica, you'll need to hang out at the Caribbean side. For anyone visiting this country, I'd recommend spending time in all of Costa Rica's regions (this helpful vacay planner is a lifesaver) so you can get a taste of everything.

---
Need more than a short trip to see it all?
Come volunteer in Costa Rica for a semester!
---

Because this post is a pretty intensive overview of a whole side of Costa Rica, we're going to tackle what you need to know in handy little sections: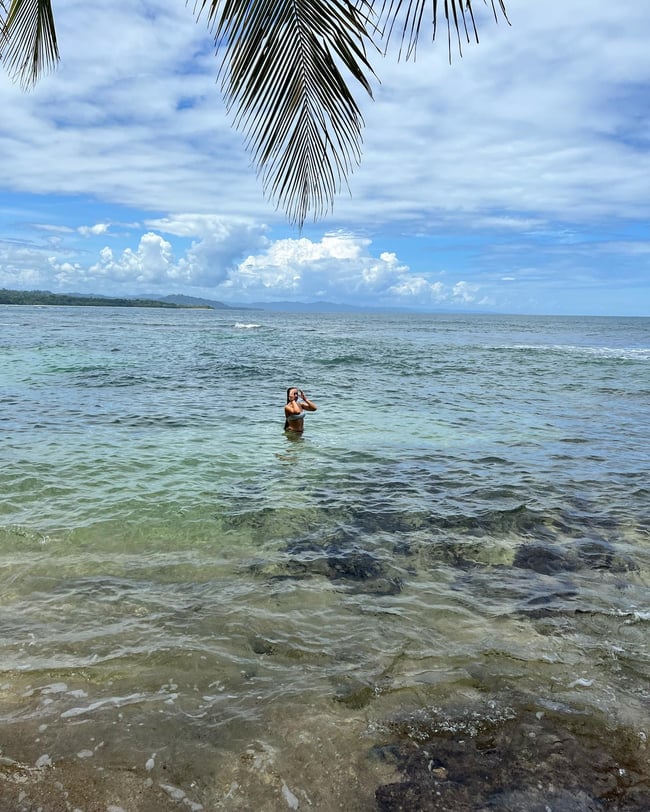 A Bit About The Area
Apart from a couple of larger cities we'll detail in just a minute, this portion of the country is a wide expanse of jungle that runs right up to the coastline, which is dotted with dozens and dozens and dozens of beaches. Sure, there are some pretty well-known spots but there are tons and tons of seemingly unnamed beaches you can access by cutting through the jungle and getting to the coastlines. Outside of the "cities", it's pretty rural, with little homes and a restaurant or two tucked deep into the thick forest sometimes connected with dirt roads.
There's a pretty strong Caribbean influence, too that you can see in the food and the music at the surf shops and foodie places by the beach. Plan on hearing some Afro-Caribbean music like reggae and calypso on this side of the country. You can taste the influence too, with classic dishes like rice and beans cooked with coconut milk, ginger, and turmeric.
Northern Side VS Southern Side
A Little Overview
Because we're covering the whole eastern coastline of Costa Rica, it's pretty helpful to split it up between the northern coast and the southern side. For our purposes, the north side is north of Limon and the south side is south of the city. Both have their benefits, it just depends on what you're looking for.
Some Highlights In The North
In general, the north is way more jungle, less tourist-oriented, and is mostly taken up by a couple of wildlife parks and nature reserves. One of the top highlights in the north is Tortuguero Park — a remote corner of Costa Rica covered in the things you love and untapped adventures, just for the locals and people in the know.
It's only accessed by boat or air, so you can count on a totally remote and isolated adventure. If you're the kind of traveler who wants to experience things off the beaten path, you'll love this place. Here's more about Tortuguero.
Some Highlights Of The South
The south, on the other hand, has more swimming/surfing beaches and the hubs we talked about above. If you're looking for a vacation where you can spend time on the beach (more remote or more popular ones) and want a little more tourist infrastructure, then you'll want to spend the bulk of your time in the south. Basically, the bulk of this post is centered around the highlights of the south.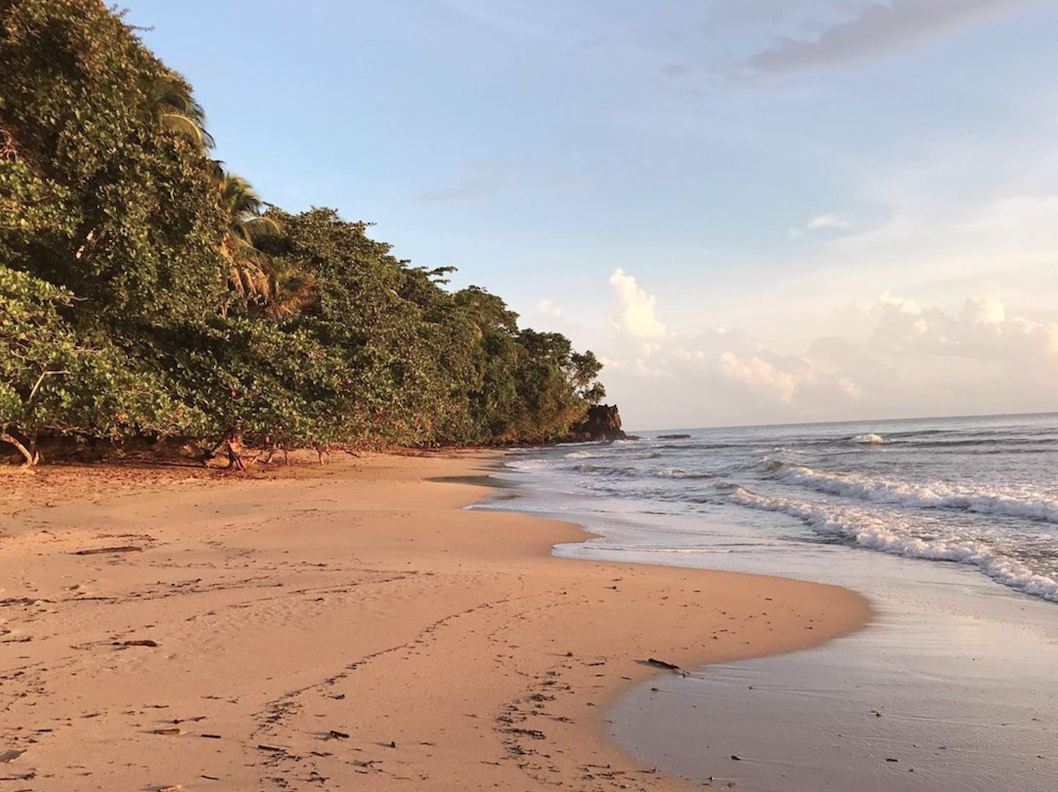 Info On Getting Around
Know The Hubs
Because we are tackling a huge space in this post, you'll want to know the big hubs in this area for a few reasons. One is for transportation (more on that below) and because you'll find the most infrastructure around these cities (hotels, restaurants, hotels, tour groups, etc). However, we don't recommend spending all of your time in these places — we're more fond of the smaller, but notable spots when it comes to staying overnight or where to spend the bulk of your time.
Limon
You may also hear this spot called Puerto Limon, but they both refer to the capital city (and biggest hub) of the Limon province of Costa Rica. It's not a terribly big city but is considered the 7th largest in the whole country. Limon is home to an international airport (airport code LIO) and a couple of main bus terminals — the Terminal de Autobuses and the Terminal MEPE (you'll use this one to head south to places like Puerto Viejo).
Limon is mostly a transportation hub with many bus routes from all over Costa Rica making connections in Limon — from there, you can branch out on smaller bus routes north and south for visiting other destinations on your itinerary. We don't recommend spending your time in Limon when there are so many other places to see. Most travelers use Limon as a port stop (for cruises heading down to Panama) or as a gateway to Tortuguero and Cahuita (more on those two later).
Puerto Viejo
Puerto Viejo is the next biggest "city" in the area, with more of a hangout vibe in Limon and more enticing day trips — you can get an idea of what there is to do in Puerto Viejo here, but it's kinda the same deal as Limon ... we definitely prefer to spend most of our time on the smaller beach towns further south.
The Autotransportes Mepe Bus Stop is where most buses arrive and depart from in Puerto Viejo.
The Main Highway
There is one main highway that cuts over from the interior of the country to hit Limon and travels along the coastline into Panama. Sometimes there's another road that parallels the main highway (like Calle Cahuita) but that's about it. There aren't many offshoot roads that lead to the beach, but you can walk through the jungle about 0.5 to 1.5 miles to get to dozens and dozens of beaches.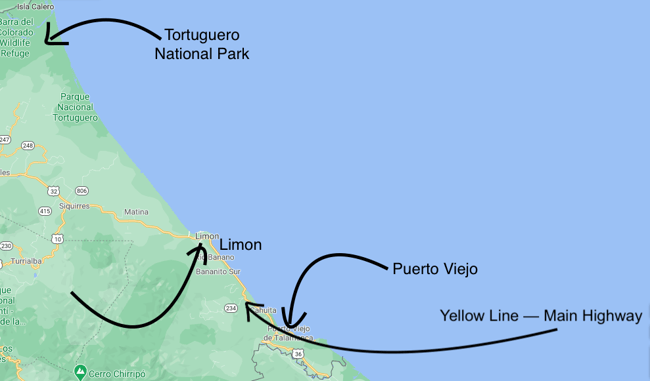 The Best Beaches
The beaches in this part of Costa Rica are deemed the prettiest, with that gorgeous turquoise water you've come to expect from the Caribbean. There's a mix of white and darker golden sand beaches, as well as a black sand beach or two. We've outlined some of the best beaches in Costa Rica's Caribbean side, below and given you some travel time via taxi from Puerto Viejo to help you orient yourself.
Here they are, from north to south, if that helps you find your favorites geographically, but know that the top rated beaches according to our volunteers are Playa Blanca, Punta Uva, and Playa Chiquita.
Playa Bonita — In Limon
The best beaches found on the Caribbean side of Costa Rica are not found in Limon ... but there are a handful of okay spots if those are your only options. Playa Bonita is one of the more popular choices, a spot where locals and those here for a day on their cruise hang out for an afternoon. Chair rentals are available for around $5 USD or more like $20 if you want an umbrella as well. The surf can be rather rough, so if you do swim, know that swimmers have been pulled away from shore by the very strong currents.
From Puerto Viejo, it's about an hour to get to Limon (and this beach).
Playa Blanca — In Cahuita National Park
We love this beach in Cahuita National Park — it's easily one of the prettiest, with soft white sand and bluer-than-blue water. After a day of hiking through the jungle here and spotting animals, take a visit to Playa Blanca (the most popular beach in the park, just south of Kelly Creek). Thanks to the turquoise water and protected reef, the swimming and snorkeling here is just fantastic, thanks to the shipwrecks just offshore. Get more on Cahuita National Park here.
From Puerto Viejo, you'll want to use the Kelly Creek Ranger Station entrance which is about a 22-minute taxi ride.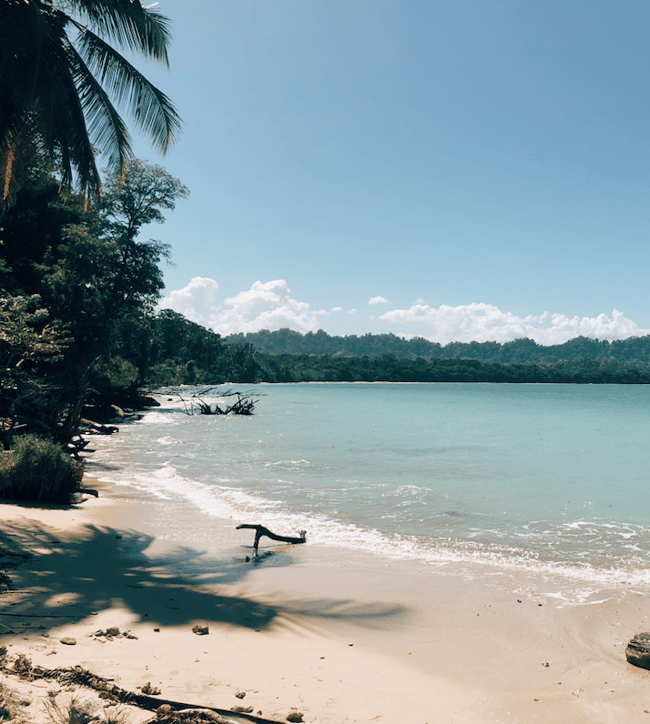 Puerto Vargas — In Cahuita National Park
Puerto Vargas is also found in Cahuita National Park, found on the opposite side of the peninsula. It still boasts those beautiful waters but is typically less crowded if that's your jam. Puerto Vargas has dark sand and is a place to keep an eye out for wildlife that lives in the thick rainforest behind the coastline (colorful macaws and playful white-faced monkeys are frequently heard and spotted). Get more on Cahuita National Park here.
From Puerto Viejo, you'll want to use the Puerto Vargas Station entrance which is about a 16-minute taxi ride.
Playa Negra — Near Puerto Viejo
Come for the black sand on this beach! It's a relaxed beach, with some milder waves for swimming and beginner surfers with a sandy soft ocean floor, with few rocks and coral. You can find a couple of small surf shops within walking distance, but the beach itself is calm, quiet, and unique thanks to the fine, powdery, black sand in sections.
From Puerto Viejo, it's a 3-5 minute taxi ride, depending on where you are in the town.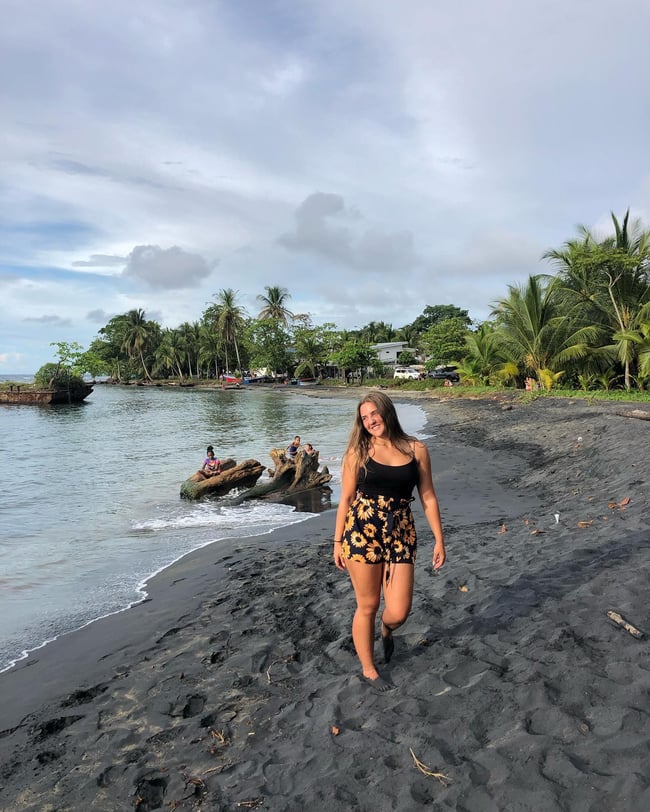 Playa Cocles — In Cocles
A popular beach for surfers, Playa Cocles has a laid-back Caribbean vibe. The waves here are rather strong and there can be a dangerous undertow, so it's not a swimming beach. You'll find surfboard rentals, boogie board rentals, and a lifeguard (one of the few beaches in the area that has one). We love bringing hammocks to hang up on the trees that are just behind the sand on this beach.
From Puerto Viejo, it's about a 10ish-minute taxi ride.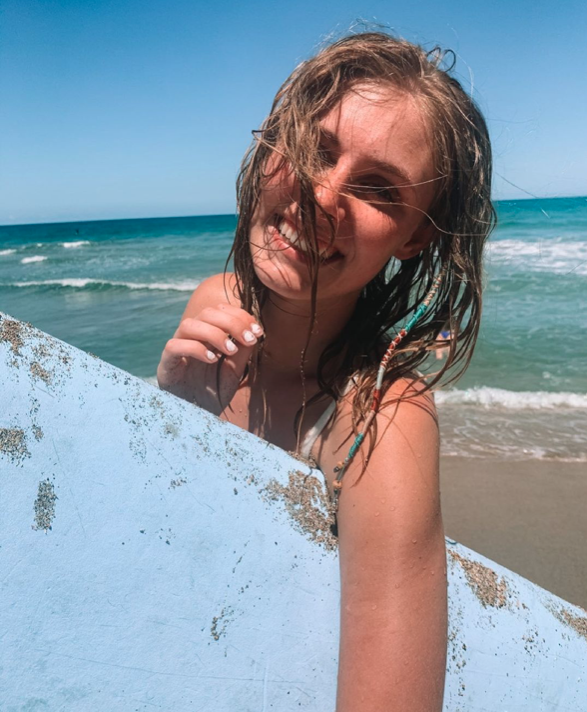 Playa Chiquita — Between Cocles + Punta Uva
Secluded and scenic are a couple of words that help describe Playa Chiquita. Some prefer this spot more than Punta Uva because it tends to be less crowded, meaning you can have a section of the beach all to yourself if you walk down the shore for 10-15 minutes.
There are sections of the beach that are more protected by the reef, which creates some shallower pools for swimming, but other sections can be a little rough (keep an eye out for surfers). Another good thing to know? You'll want to bring your own snacks and drinks and will be able to set up a spot in the shade, thanks to the thick trees rimming the coastline.
From Puerto Viejo, it's a 13ish-minute taxi ride here. A few people recommend entering through Gypsea Café for a stellar view of the waves.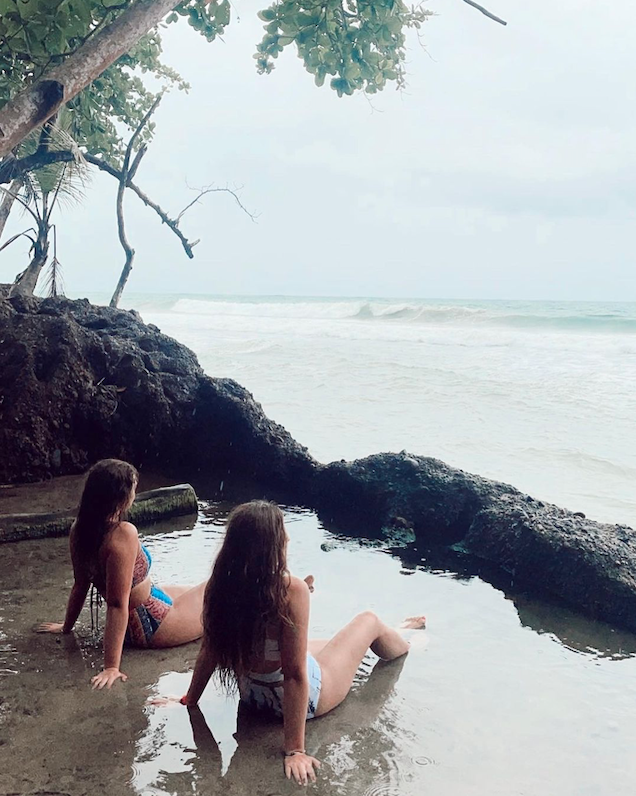 Playa Punta Uva — In Punta Uva
Playa Punta Uva is a quieter stretch of dark golden sand and a few other points of interest. Some volunteers say it's their favorite beach in the area, if that gives you an idea of what to expect!

Along with it being one of the prettiest beaches in the country, a few people mention renting kayaks for around $20 USD and paddling up the river for an hour or so, while others mention taking a 5-10 minute jungle walk between the peninsula that separates Playa Punta Uva and Playa Arrecife (another gorgeous beach). You can get more on Punta Uva here.
From Puerto Viejo, it's about a 15ish-minute taxi ride. Most enter Playa Punta Uva near Selvin's Restaurant — also called Sloth's Point, because of the many sloths that hang around the trees there.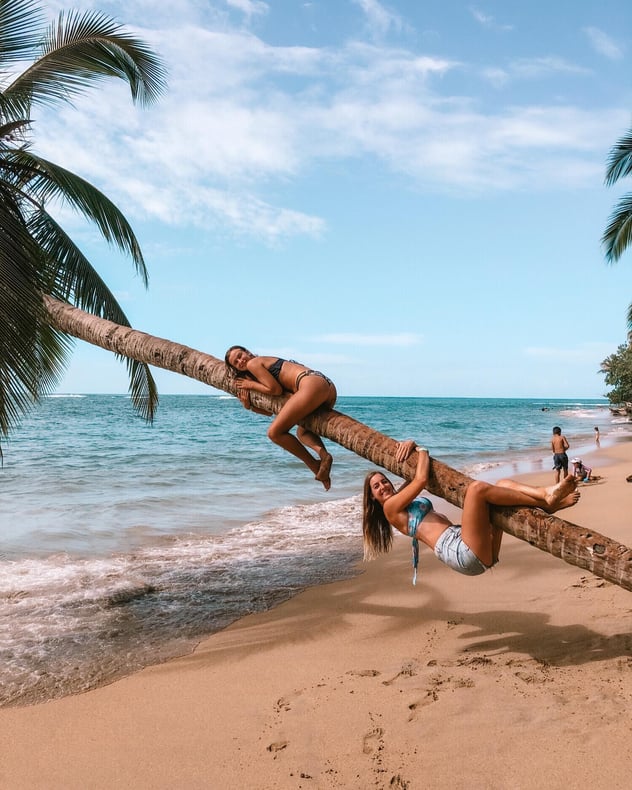 Playa Manzanillo — In Manzanillo
This beach is one of the most popular in the country for quite a few reasons. The whole beach is backed by thick jungles and swaying palm trees, and a reef separates a section of the surf for some pretty good snorkeling. If you plan on snorkeling, try to hit this place in the dry season (February and March, then again in September and October). There is also a shipwreck on the sandbar, visible on the shore which is a unique feature you can't really find anywhere else.
There's a voluntary entrance fee (depending on where you enter the beach). You can also walk north to sections of the beach like Playa Grande to see another section of this coastline. Though the tiny town of Manzanillo is very relaxed, it does get very busy on the weekends, as a heads up.
If you're looking for a highlight experience, some groups mention visiting the Ara Project, a conservation group focused on preserving and breeding endangered Green Macaws. Just send an email to admin@thearaproject.org to secure your reservation before visiting. It's about $20 to visit.
From Puerto Viejo, it's about a 20ish-minute taxi ride.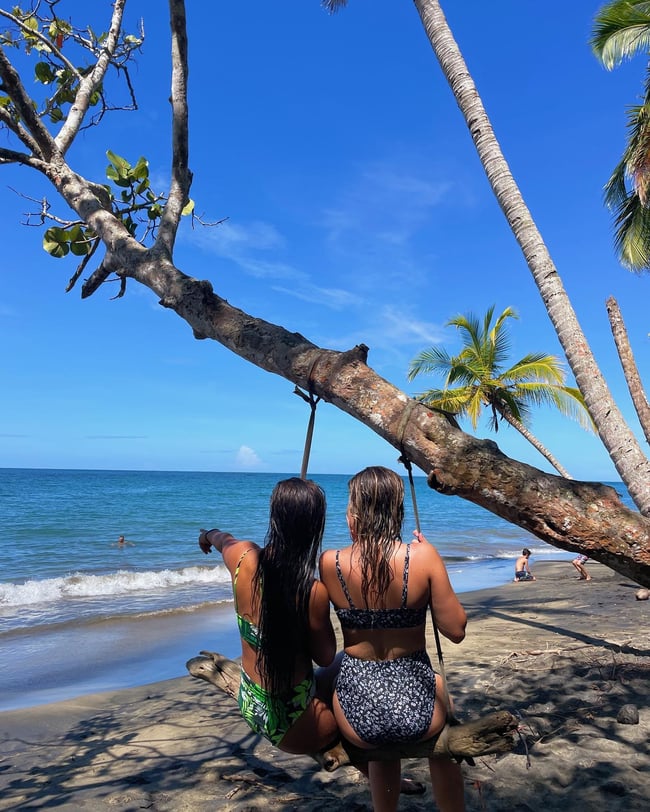 The Unnamed Beaches
While this list above is a pretty good spread of beaches to hit, know there are dozens and dozens of unnamed beaches (well, at least to us!) that dot the coastline. They're mostly found around Cocles, Punta Uva, and Manzanilla, where you can just cut through the jungle around 0.5 to 1.5 miles to arrive at the coastline ... which is the biggest perk of spending time in the smaller locals of Cocles and Punta Uva if you ask me. These beaches are almost always deserted, meaning you have the turquoise water all to yourself.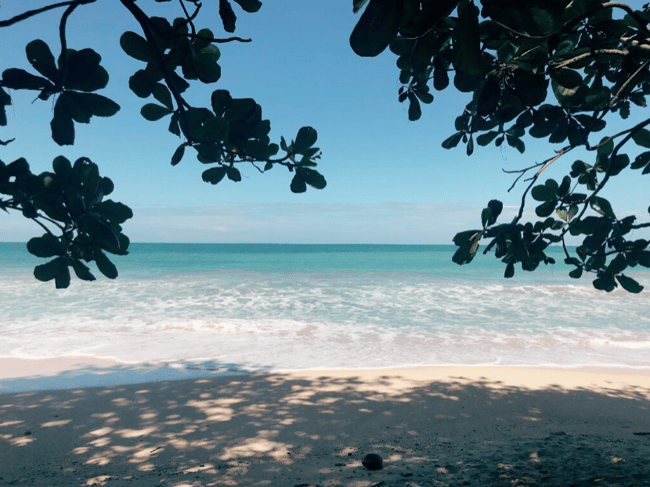 Things To Know
Unique Places Stay
If you'll be visiting places near Punta Uva, Punta Cocles, Puerto Viejo, or Manzanillo, take a peek at this blog post of unique places to stay on the Caribbean coastline. Come stay in a dreamy art house, a hammock-filled bungalow, a beachfront cottage, and others.
Watch For Rip Currents
The beaches on the southern side of things are known for rip tides — a powerful current that can pull in unsuspecting swimmers. The more main beaches do have signs with a warning, so keep an eye for that on the beach itself or the walkway on the beach. Watch for signs depicting a swimmer with a red circle and line through it and a warning "precaution corrientes" or "corrientes peligrosas". Or, you may just see a red flag posted on the shoreline.
Either way, if you see these warning signs, spend your day on the sand, not in the water.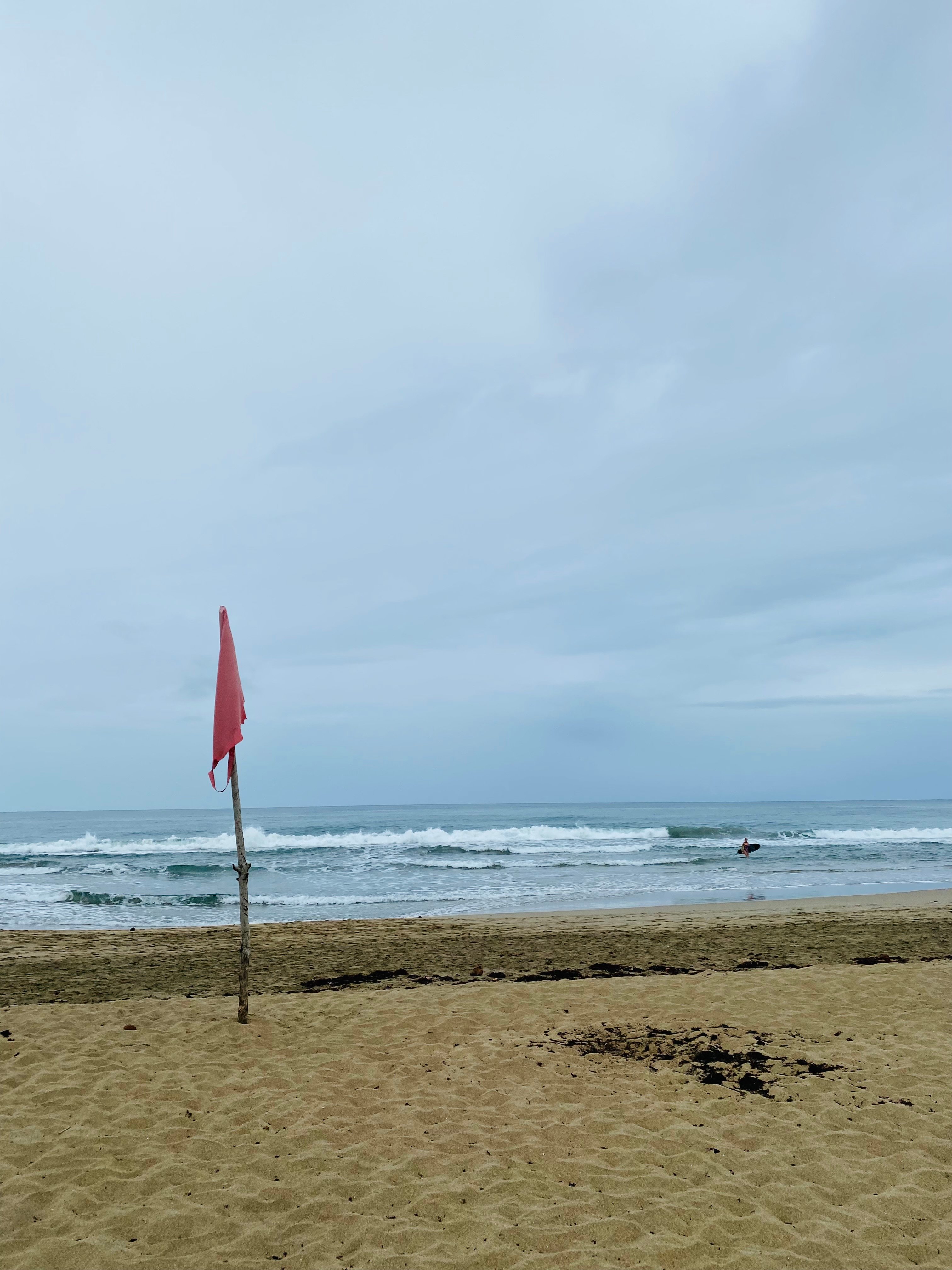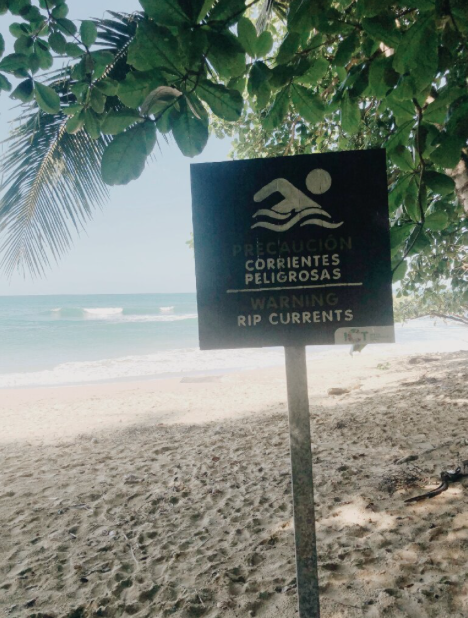 About The Weather Here
Overall, it's in the high 80°'s Fahrenheit year-round (with evenings dipping down to the 70°'s), plus some rain (August is the warmest month, with temps around 90° or so, plus humidity. It is very humid here! It's hot hot hot hot!

Though it rains year-round here, the official rainy season in Costa Rica is from June to December, but on the Caribbean side that's a bit different. Instead, the rainiest months are November to January, then again from April to August. You'll find quite a few vacationers who head to the Caribbean side during the rainy season for the rest of Costa Rica, because it's typically nice and sunny when it's raining everywhere else.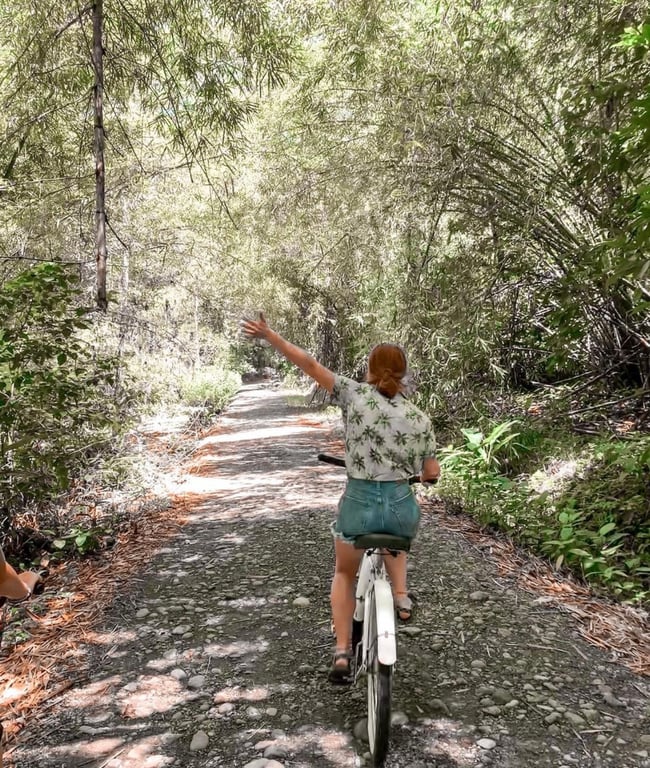 Wondering if semester abroad is right for you?
Come see if volunteering with ILP is a good fit! Our volunteers are teaching English or helping in an orphanage part-time, with weekends off and vacation days to explore. We're sending groups of college-aged volunteers to countries all over the world, including Costa Rica.