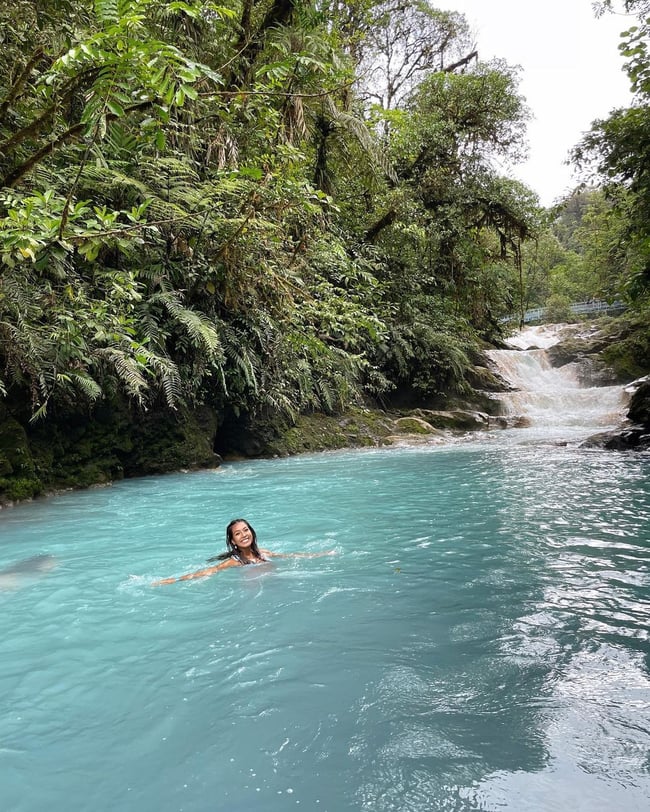 Can you really resist the chance to swim in waterfalls this blue? There are a lot of places in Costa Rica that get all the attention (and pull in tons of tourists) ... but there are still some unbelievable spots that are more off-the-beaten-path. One of those spots is the bluer-than-blue waterfalls known (fittingly) as Blue Falls — a series of waterfalls and calm pools that are colored the most stunning shade of blue.
You'll find these magically colored waterfalls deep in Bajo del Toro's cloud forest, only accessible by hiking through the dense rainforest .... but it's well worth it! Our ILP volunteers just discovered this spot and couldn't wait to share the details on how to plan your own visit here.


---
Our Costa Rica volunteers spend a whole semester here!
Learn more about teaching English and traveling in Costa Rica with ILP
---
To help out, we've put together a whole guide on how you can make a trip to Blue Falls happen, complete with info on how to get there, tips for your adventure, and more —
About The Falls
Blue Falls are a set of waterfalls around 2 hours outside of San Jose, Costa Rica (locally, you'll hear them referred to as "Cataratas Las Gemelas"). There are seven total waterfalls in the area with that iconic blue tint, but two get all the attention, known as "Las Gemela". Most people just hike to see these two, but there are many more waterfalls, rivers, and pools to see if you want to take a longer hike (more info on that below).
That stunning blue color is all thanks to a special mix of minerals found where the water originates, which is nearby a handful of volcanos. If you're familiar with the famous Rio Celeste waterfall in La Fortuna, it's the same cause for a very similar coloration.
Want to know one of the best parts about all of this? You can swim in the pools found at the base of these aquamarine waterfalls, pools, and rivers. It makes for some very magical photos! The info below gives you all the info you need to see this place in person.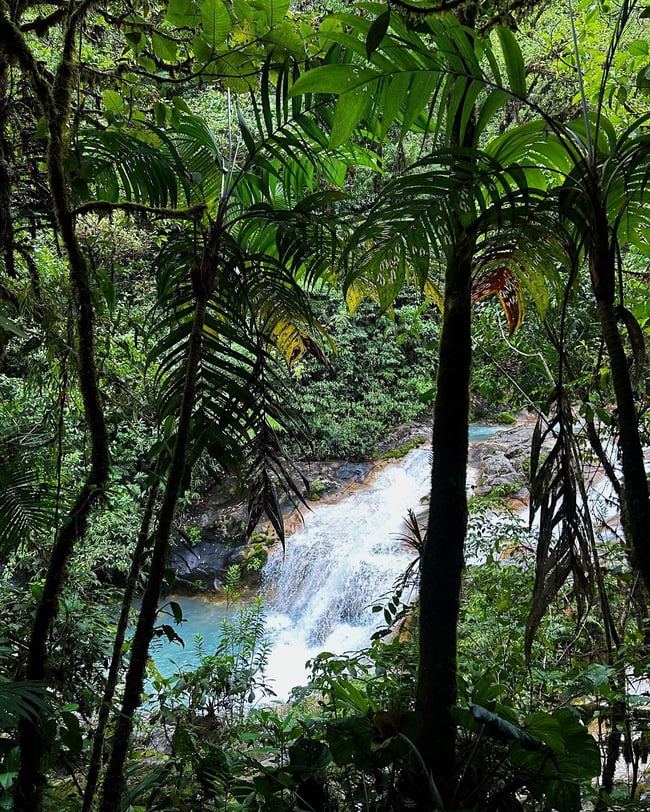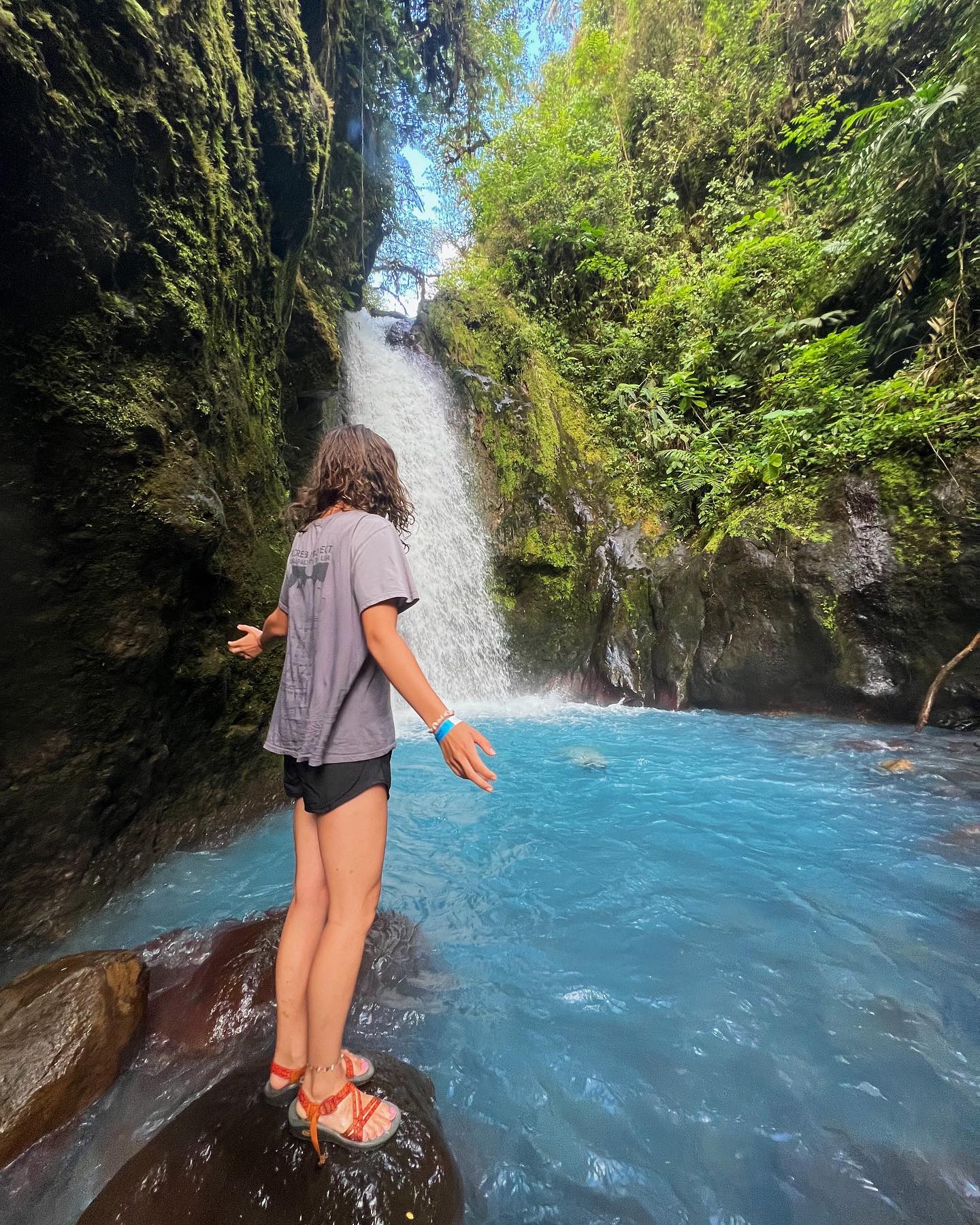 Planning Your Trip
Going With A Guide
You must visit the falls with a guide — you can get your guide at the entrance of the Catarata del Toro waterfall, and will be glad you have someone with you to help you find your way through the forest. Hours for hiking are 7:00 AM to 4:00/5:00 PM.

There are a few different tour options to choose from depending on what you want to see, how much time you have, and what your budget:
Option 1:
For $15, you can get the basic tour. It's about 2-hours and includes the two main waterfalls — Las Gemela — for a bit of swimming and around an hour of hiking (30-minutes to get there, and about the same to get back).
Option 2:
For $50, you can get the full-day tour which takes you to all seven of the falls, plus views of the rapids, lakes, and pools all colored that pretty shade of blue. Plan on around seven hours for this option, complete with lots of hiking and swimming.
Heads up — you'll want to make a reservation if you go with the long tour, via email: info@catarata-del-toro.com. It's a long day, with a more intense hike, so be prepared for that.
Option 3:
If you're interested in seeing the two blue waterfalls and also experiencing the Catarata del Toro, you can do that for $25. Plan on about four hours for this option.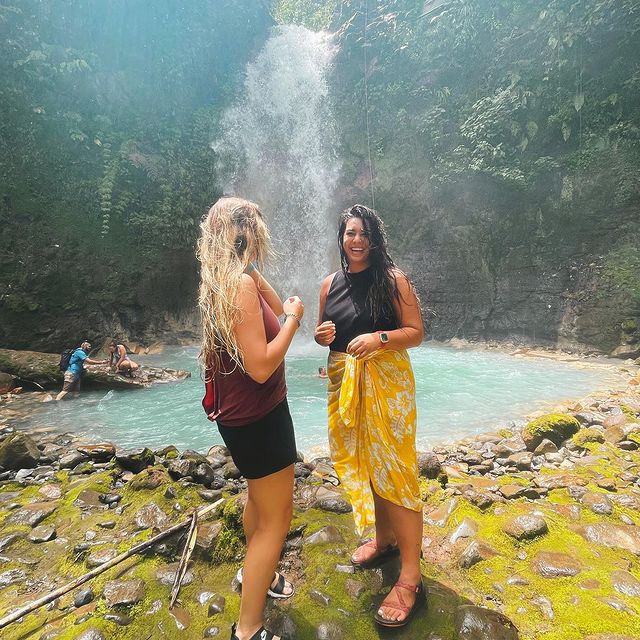 What To Expect
Once you meet your guide and pay for the tour option you'd like, you walk to the trailhead. Most volunteers go for the 2-hour hike, so we have the info for that. You'll soon reach a locked gate your guide will unlock, then will continue on the trail.
There may be points along the main hiking route where you'll need to cross the blue water, so wearing the right kind of shoes is going to be crucial (more info on that below). Your guide might also recommend you find a walking stick on your hike (and help you find one) to help you hike across the water.
There are a couple of trails to take, but most tours will take you through the jungle (all are full of beautiful views of the surrounding forest, but some tours include river crossings, plus a set of concrete stairs, while others are just through the forest). On this trail, the hike to the first two falls is around 30-45 minutes and yes, you can swim in the pools below the falls which is such a fun touch to this adventure.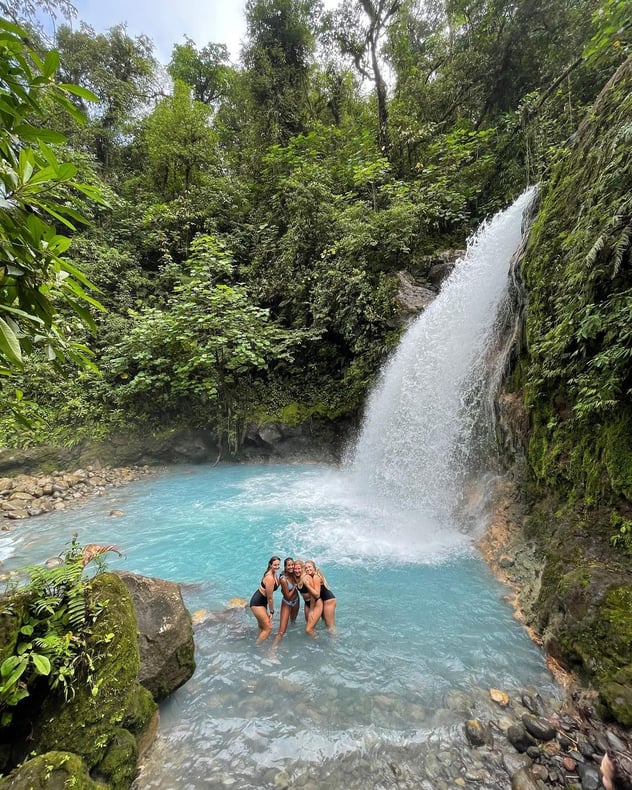 About Catarata Del Toro
Just in case you'd like a bit more info about this waterfall, here's an overview. Catarata Del Toro is one of the country's most popular waterfalls, tumbling into a volcanic crater and surrounded by tons of greenery (it's incredible scenic). It's the highest waterfall in Costa Rica, falling over 270 feet! The waterfall is found on a protected ecological park, complete with a visitor center, a series of nature trails, hummingbird gardens, etc.
You'll hike to a few viewpoints at the top, then have the chance to hike down to the base of the falls. It's something volunteers recommend seeing along with the Blue Falls.
A Few Things To Know
Wear (And Pack) The Right Things
Like we mentioned, portions of the hike may include river crossings, so wearing shoes that can get wet will be handy. Most volunteers love packing up adventure sandals (something like Tevas or Chacos) for their semester, which would be an awesome choice for this kind of experience.
Some volunteers mentioned bringing waterproof gear for your phone/Go-Pro for pictures, plus a dry bag to keep your clothes and snacks in so they don't get wet.
Wearing your swimming suit or something to swim in is handy since there isn't a place to change really at the waterfalls if you'd like to swim. A thin, microfiber towel also comes in handy.
As always, packing up plenty of sunscreen, water for the hot and humid weather, bug spray for the hike in the woods, and plenty of snacks is always a good idea. There is a place to refill water bottles before and after you hike if that's handy to know.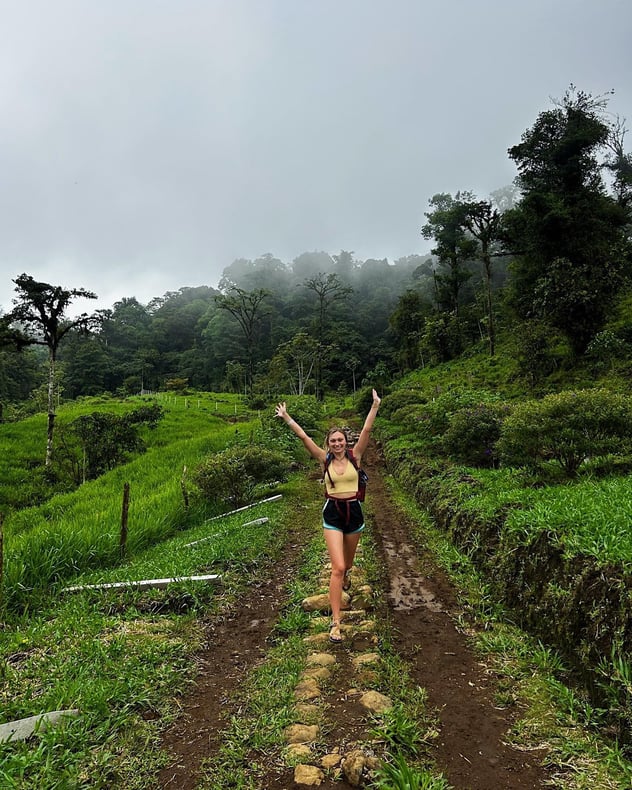 When To Visit
Most recommend visiting between December and April if you can swing it — that's the dry season of Costa Rica. However, it's not a no-go during in the rainy season. Just be aware that the rainy weather can make trails muddy and slippery, and sometimes increases the water level of the falls (which makes for a great photo, but isn't safe for swimming).
About The Rain
This country gets its fair share of rain, and it's not unusual for things to be wet and rainy while you hike, then sometimes clear up in time for you to take a little swim. Volunteers were glad they brought rain jackets to hike in (and a dry bag) for the rainy weather, just in case.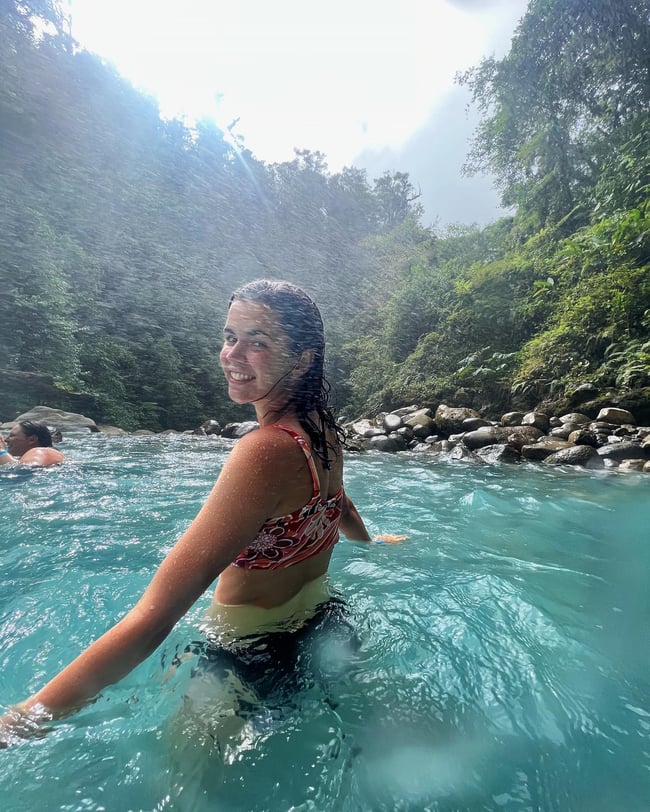 Another Nearby Waterfall
While you're in the area, you might want to visit Tesoro Waterfall, another swimmable waterfall + hike trip.
It's just about 15 minutes away from Bajos Del Toro, making it an easy addition to your trip to the Blue Falls.
Getting Here (From A Couple of Spots)
The waterfalls are found in the area of Bajos del Toro, a teeny-tiny farming town filled with forests, waterfalls, spread wide with dense foliage and farming fields. There are a few small markets, a smattering of houses, and just one proper hotel. Once you get to Bajos del Toro, plan on traveling by walking or by taxi (there isn't any public transportation here).
It's also very helpful to arrange a taxi to come pick you up and take you back to your bus stop, or originating city. Again, things in Bajos del Toro are pretty remote and tucked away, so it could be hard to call a cab to take you back home. Best to arrange a driver to come pick you up so you don't get stranded.
From San Jose
If you find yourself in San Jose, this is a fav weekend adventure. We've had groups take an Uber here, stay overnight nearby in the town of Bajos del Toro, and spend the Saturday or Sunday hiking before heading back to San Jose or go onto La Fortuna. If you do plan on staying overnight, you can find a couple on AirBnB, one very fancy Ecolodge, and a few rooms to rent in advance at the Catarata del Toro Adventures.
You can also ride a bus from San Jose to Grecia, then taxi or Uber to Catarata del Toro Adventures. (Remember, you'll need to pick your tour, grab your guide, and start from the Adventure Park, so don't go by your GPS if you type in "Blue Falls" or "Las Gemelas".)
From La Fortuna
When you are in La Fortuna (which is a must-see), you can also tack on a visit to the Blue Falls — they are rather close. From La Fortuna, you can taxi or Uber, or take a bus to Zarcero, then take a taxi to Catarata del Toro Adventures.
(Remember, you'll need to pick your tour, grab your guide, and start from the Adventure Park, so don't go by your GPS if you type in "Blue Falls" or "Las Gemelas". The taxi should be around 40 minutes, for 15,000 colones.
From Poas Volcano
This famous volcano is so close, just a few miles away! If you have time during your visit to the Blue Falls, be sure to tack on a trip to see this crater, complete with a blue lake in the center. Get more info on Poas (and other Costa Rican volcanos, here). It would be just a short taxi ride from Bajos del Toro to get there.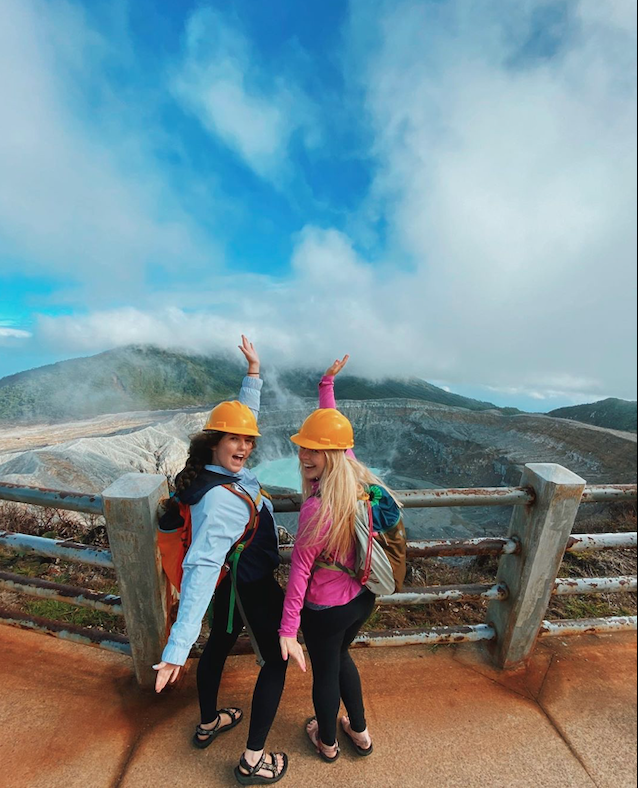 Did you get all of that?
Keep an eye out for any Costa Rica posts on our Instagram @ilpadventure (our volunteers love visiting places like Monteverde and Manuel Antonio, along with a few more favorite spots). Or, get info on what a semester is like here with International Language Programs.