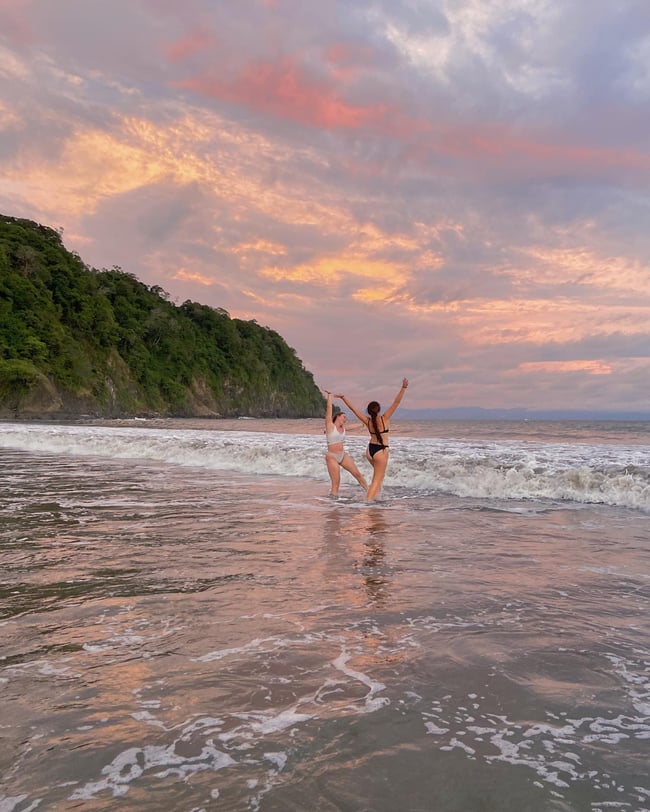 Imagine seeing thousands of bright blue fireflies underneath the waves — that's what is waiting for you on this bioluminescence tour.
There's no shortage of vacation destinations in Costa Rica. It may be a small country, but there's a new place to discover around every corner. We're here to find those vacation destinations, especially for our ILP volunteers who have plenty of free time to explore these getaways when they're not teaching English!


---
What's this about teaching English in Costa Rica?
Come see what an ILP semester is all about!
---

Our volunteers have a part-time teaching schedule, with every weekend off and scheduled vacation days so they can see it all. For some groups in Costa Rica, that meant heading to Paquera for a magical bioluminescence tour, a nature reserve full of monkeys, and a weekend at the beach. Here are the details about Paquera so you can make the same trip happen!
A Little About The Town
Paquera is a quiet town, known mostly for agriculture. This quiet peninsula is connected to the Puntarenas region of the mainland via a ferry. Most people get off the ferry and pass through to other destinations like nearby Montezuma, but if you know where to look, Paquera is full of reasons to stay. We love this destination that is off the beaten path.
The town itself is a slice of local life — this isn't an area of Costa Rica that receives many tourists, but all the basics are there: restaurants, places to stay, etc., along with some tour vendors who can help you see the best of the region. When it comes to the food, you'll find fresh fish and other local dishes at neighborhood sodas (places like Giana's, Seafood Macho, and the Las Vegas Restaurant).
In the past, groups have spent a weekend in and around Paquera crossing off major items from their Costa Rica bucket list, like taking a nighttime bioluminescence tour, spotting monkeys and macaws in the treetops, taking a beach day, and snorkeling.
Things To Do In Paquera
Take A Bioluminescence Tour
The bioluminescence tour is one of the most popular things to do in Paquera. Bioluminescence is the term for organisms producing light — it's found on land in fireflies and some fungi, but it appears much more commonly in the ocean. Jellyfish, some types of fish, and algae can all be bioluminescent. An algae body is what creates the magic you can see in Paquera!
Areas around Paquera are filled with bioluminescent algae. When you take a kayak out on the water at night, the water beneath you glows a stunning blue. The algae is most impressive when it's agitated, so every time you put a paddle (or your hand) in the water, the beautiful blue light ripples. It's an incredible experience!
The algae is best observed when it's a dark evening, so the few days before or after a new moon are ideal. I'd suggest planning your tour to be in that window if you can be flexible with your time, like if you're volunteering in Costa Rica with ILP.
There are a handful of tour operators in the area who will take you out for a luminescent paddle. Most tours are around $35-$45+ dollars and last for a couple of hours. Tours like this one or this one are common, but you can find several options in the area (making it easy to find a tour that fits your itinerary, your budget, and the experience you want). One ILP group went with this tour, which also included overnight lodging. Once you've settled on a plan, it's best to book in case the number of kayaks runs out. We highly recommend this wonderful experience.
Get Some Beach Time
The bioluminescence tour is perfect at night, but during the day you'll want a great beach to explore. Playa Organos has a calm beach, perfect for swimming, with dark sand and beyond-beautiful sunsets. It's a 15-minute taxi ride from Paquera, so plan a little extra travel time. The waves are gentle, the water stays relatively shallow through the tides, and the sunset is beautiful. The tides sometimes bring driftwood to shore which can be fun to investigate, as are the mangroves found on one side of the beach.
Pochote and Tambor are other beaches found further south that make for a fun beach day if you'd like to visit another in the area.
If you're looking for bluer water with white sand beaches, just head to the other side of the peninsula. Beaches like Playa Posa Colorado or Playa Quesera are also a short taxi ride away, or they're quite similar to the beach you'll visit if you go snorkeling around Isla Tortuga (more on that in a minute).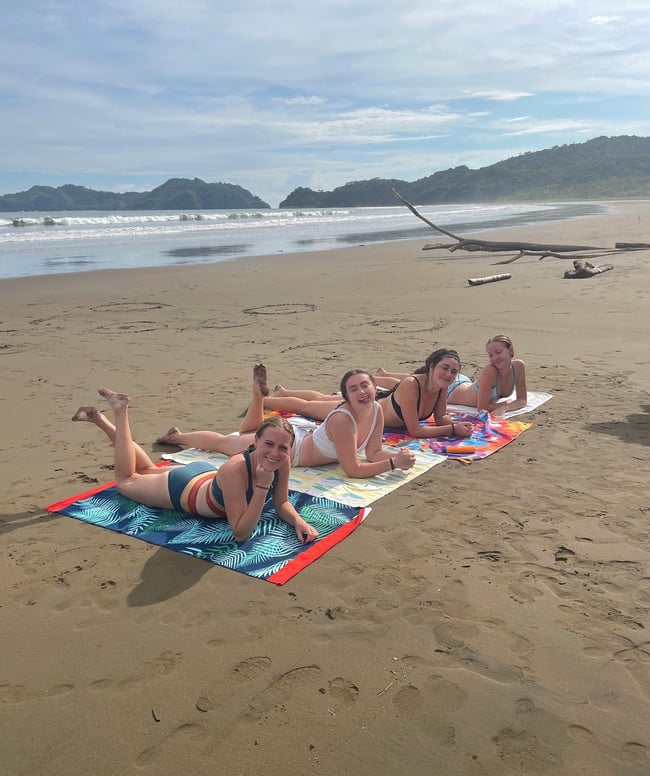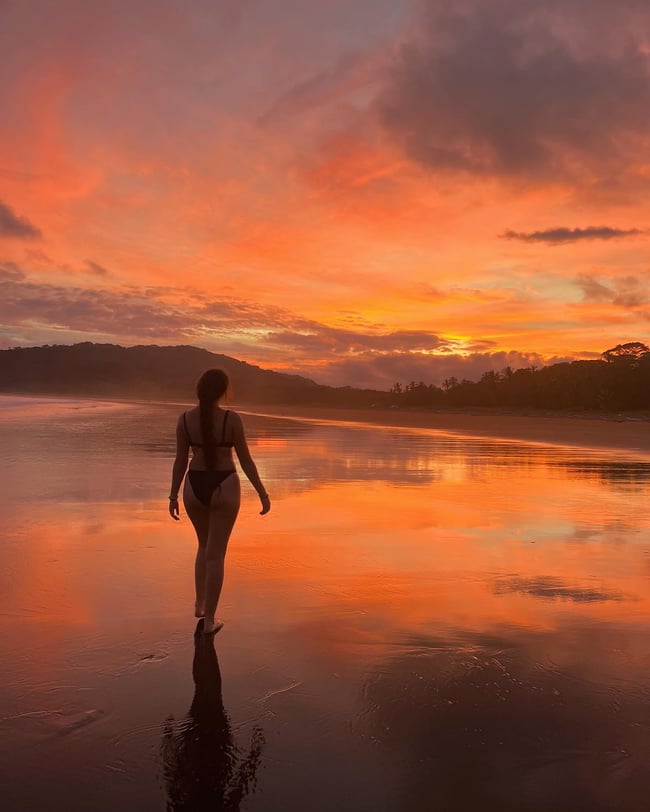 Spotting Wildlife
The privately owned Curú National Wildlife Refuge is a haven for some of your favorite tropical friends. The park supports five different ecosystems, ranging from thick forests to marine life, with a lot of wildlife to spot. Keep an ear out for howler and capuchin monkeys, and a sharp eye for spider monkeys (who have been re-introduced to the area). You can spot hundreds of species of birds as well as more elusive ocelots, anteaters, and margay cats, if you get lucky. There's also a beach perfect for swimming, and protected areas where different turtle species come to lay their eggs. There's also a coral restoration project going on underneath the waves.
Visitors can decide to spend a nice day in the reserve hanging out on the Curú beach. The beach has calm waves and monkeys who tend to hang out in the treetops until they're brave enough to go after some of your snacks. If you'd rather see more of the reserve, you'll want to take a hike or horseback ride.
The national wildlife refuge has many hiking trails with a spread of difficulty levels, from beginner to more demanding. If you're looking for something milder, try out the Laguna, Toledo, Finca Los Monos (the monkey farm trail), or Ceiba trails. Get a map when you get your tickets, and hear about which hikes might be closed due to muddy conditions when it's been raining. You can go with a guide for $20 or self-navigate.
You can book a horseback riding tour at the entrance desk. It's $15 for an hour. They also have kayak rentals and do a bioluminescence tour if you'd rather book all your adventures in one spot.
The reserve also has cabins available if you'd like to stay the night here! Best to make reservations in advance on the website link below.
Hours: 7:00 AM to 3:00 PM

Cost: 9,000 colones for foreigners.

Address:

Here's the official

website

if you're looking for a bit more info.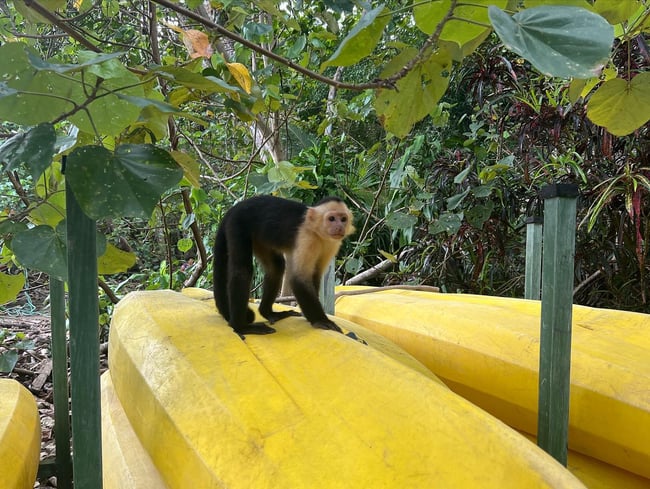 + Snorkeling Isla Tortuga
Just around the corner from Paquera is the beautiful Isla Taquera, making it an easy day trip option if you're looking for another activity to round out your trip here. We love taking a tour to see Isla Tortuga. Most tours take you snorkeling and include some time to hang out on the beautiful beach: an ideal schedule. The whole area is protected, and some ILP volunteers have been lucky enough to spot dolphins or even a whale on the boat ride out there, along with plenty of colorful fish and starfish while snorkeling.
We have more info about Isla Tortuga here. Just ask around or look online for tours departing from Paquera to take you to the island.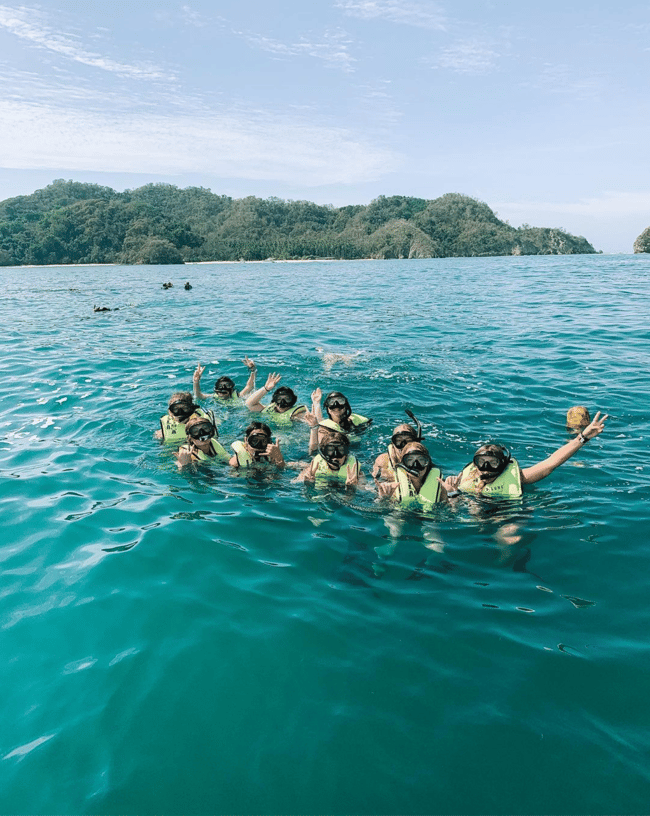 Getting To Paquera
From San Jose
San Jose is the best jumping-off point if you're not already in the Puntarenas region. From San Jose, it's a bus ride to Puntarenas point, a ferry ride across the bay, then another bus to get you to Paquera. The ferry crosses the bay between Puntarenas ports and Paquera and takes just over an hour. When you book a bus ticket for this route, the ferry ride will likely be included (but it doesn't hurt to double-check).
You'll catch your bus in San Jose, then make the drive to the port, board the ferry, and can hang out on the decks if you'd like (the view of the Nicoya Peninsula is quite nice). Then, you'll get on another bus and make the rest of the drive to Paquera. In total, plan on a 4.5-hour journey. You can look up tickets here.
From Puntarenas
If you're already nearby in places like Jaco, Monteverde, or even Quepos, catch a bus to the Puntarenas ferry, and take the ferry over. You can purchase tickets online (just make sure to select the correct number of passengers, and don't pay for car passage). A limited number of tickets are booked in advance with the other portion of the tickets available for purchase in-person at the ticket counter on either ferry dock. Look up ferry times and tickets here.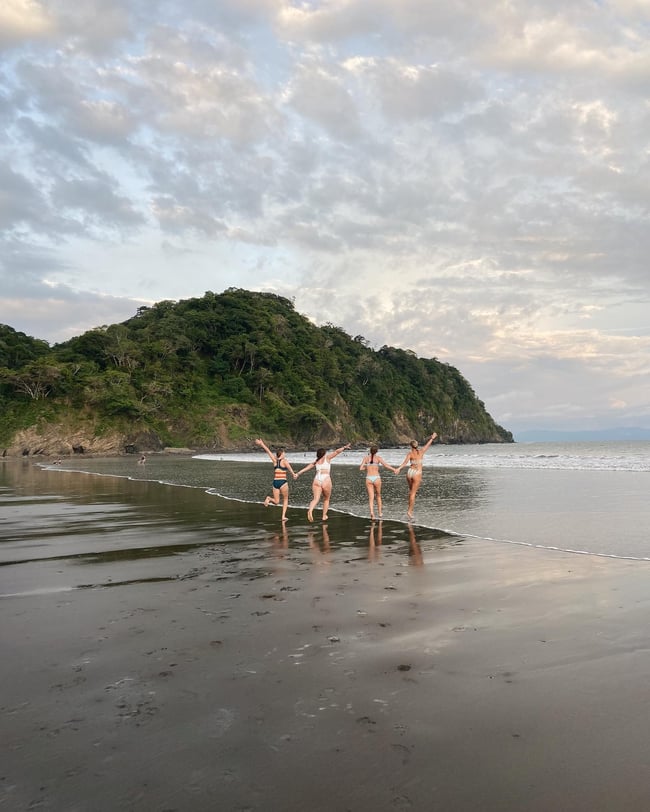 After all of this, are you dying to see more of Costa Rica?
Come live there for a whole semester! ILP sends groups of college-aged volunteers for a semester of teaching English and traveling. Costa Rica is one of our most popular locations — can't you see why? We're now accepting applications for a semester of making a difference in this friendly, adventure-packed, tropical country: