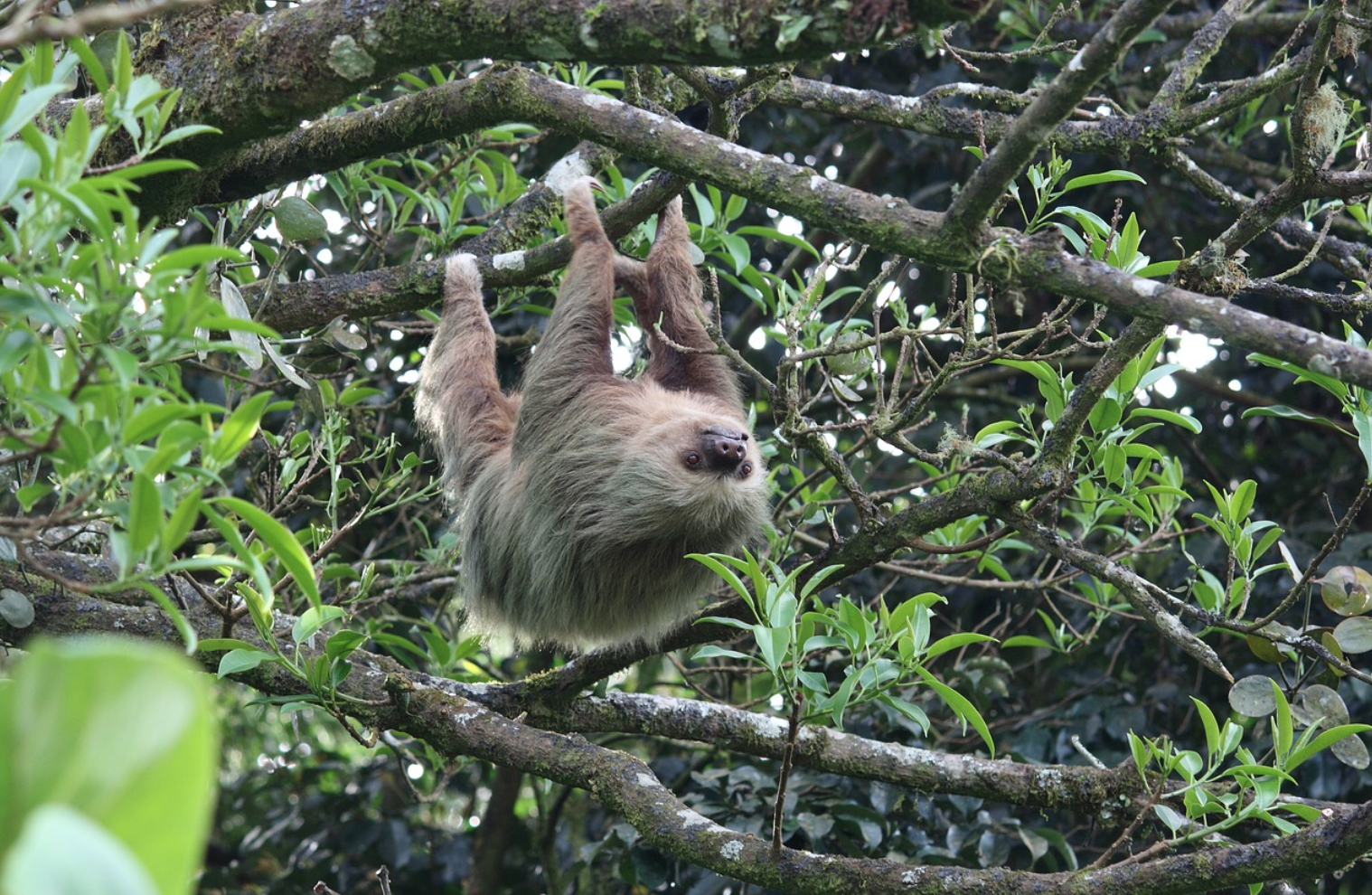 One of the biggest things on your bucket list for Costa Rica is seeing sloths of course!
You can probably guess what's waiting for you in Costa Rica. Thundering waterfalls, miles of coastlines, and dense rainforests filled with adventure plus your favorite jungle animals, like the sloth.


---
Interested in seeing all of this and more?
See what volunteering in Costa Rica is all about.
---

While seeing sloths on your semester abroad in Costa Rica is something we want to make sure happens for you, there are a few ways to make sure that you're supporting the right people and aren't disturbing these cuties as they live their lives out in the jungle.
Here are a couple of recommendations for seeing sloths in Costa Rica:
Something To Keep In Mind
Finding Sloths In The Wild

Visiting The Toucan Rescue Ranch
Something To Keep In Mind
Animal tourism is a big part of Costa Rica, which sometimes isn't the most ethical. Many companies and vendors (and even just regular people) know that tourists love to see sloths, so these animals are often pulled out of the rainforest and held on local street corners to earn a few dollars. As you might guess, sloths aren't meant to be passed around and to live like this.
We know you want to get up close to these animals, but it's important to be aware of how they are being treated. If you see someone holding a sloth or letting you do the same, it's not something to support.
These animals are incredibly laid back (must be that pura vida lifestyle) and being held or touched is incredibly stressful. Plus, humans can spread harmful bacteria and other infections to these guys, not to mention all the moss and algae that can grow on a sloth's fur probably isn't exactly healthy for humans. Not good.
It would be pretty unreal to hold or touch a sloth, but please understand that if you want to support these animals and treat them well, that's not an option.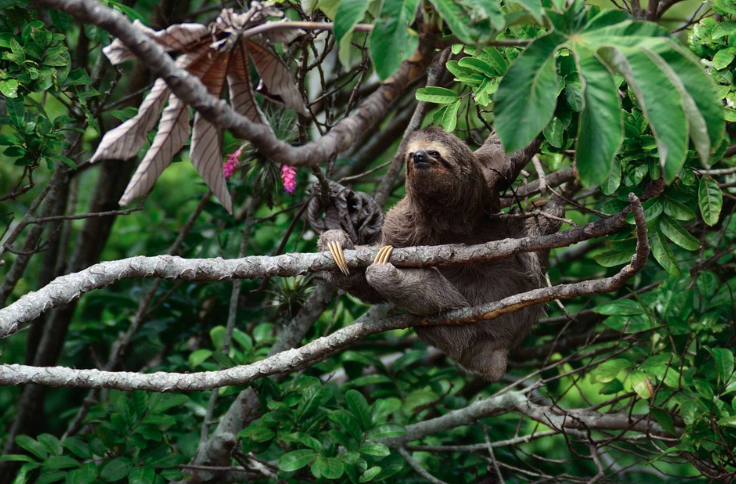 Finding Sloths In The Wild
You are in luck if you want to see sloths in the wild. There are two different species of sloths in Costa Rica and are found in several popular vacation spots in this country. If you spend time in the lush jungles (especially if you're hiking quietly) you really increase your changes of finding a sloth.
Top Tips For Seeing Sloths In The Wild
Know Where To Look
Check out places like Puerto Viejo, Tortuguero, Manuel Antonio, Uvita, Dominical and the Osa Peninsula. You won't find any sloths on beaches near the Pacific Coast (or Guanacaste). Best to head inland to the jungles for the best sloth-spotting. Or, maybe just stay close to home — It just so happens that a sloth mama and her baby live in the trees above the house where our volunteers are living out on the Ballena Coast!
Hire A Guide
Both the 3 and 2-toed sloths in Costa Rica are very good at hiding. Both species are very slow moving, and almost seamlessly blend into the foliage around them. At national parks like Manuel Antonio, there is an option to hire a naturalist guide to help you spot sloths and other animals like parrots and monkeys on your walk. You'd be surprised how you can walk under a canopy of trees and not see a sloth hanging out above your head as you're walking around.
Bring Binoculars
Or a telescope or a zoom lens on your camera. If you hike with a guide, they will likely have a telescope or binoculars you can look through to help you spot these guys snoozing in the treetops. You'll want to keep your eyes up in the tree's canopy to better your chances of spotting a sloth; they spend most of their time sleeping up there (up to 20 hours).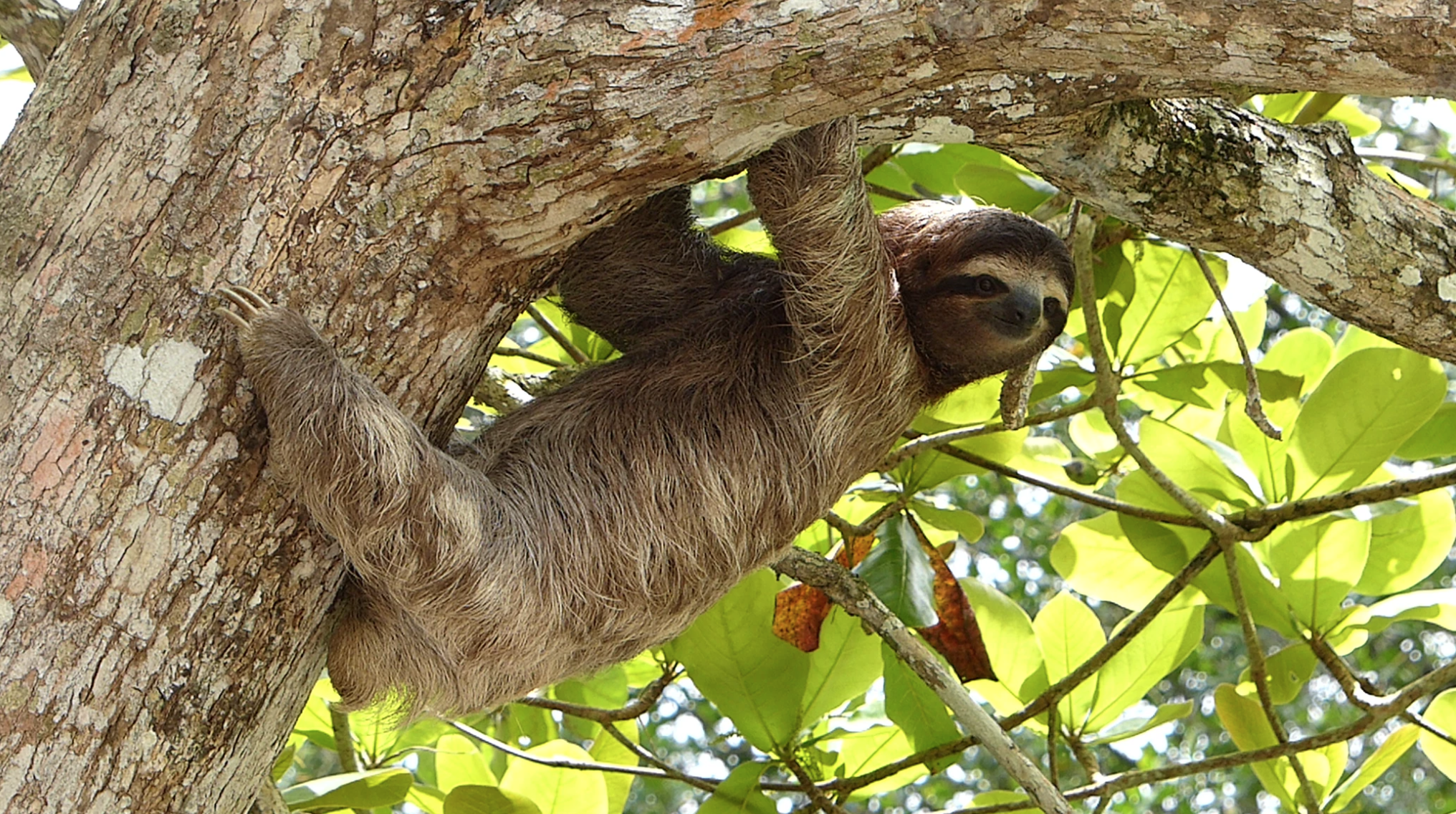 Visiting The Toucan Rescue Ranch
While you have pretty good chances of seeing a sloth if you hire a guide and are looking at the right places, you have a 100% guarantee of seeing sloths up close at a sloth reserve or rescue center. There are a handful around Costa Rica, with the intent on rehabilitating hurt animals back to the wild while others focus on getting animals a safe and healthy life if they are unable to return back to the wild.
Remember: no sanctuary or reserve will let you hold sloths because they have the animal's best interest in mind, but you can still get close and learn loads about them.
The Toucan Rescue Ranch
One of our very favorite centers for sloths is the Tuacan Rescue Ranch, found in Heredia (which is just right outside of San Jose). The Ranch focuses on caring for sick, injured, confiscated, and displaced wildlife, specializing in toucans, sloths, and owls, though if you visit you will also run into weasels, jungle cats, parrots, and others. You can read more about their mission and staff here, but it's a total must-do!
Booking A Tour + Prices
There is no public access without a reservation, so you will need to schedule a tour (easily done online) and select the package you want.
If you're a sloth fan, I'd suggest their "Slothies and Coffees" tour which means sipping on coffee and munching on snacks while you watch a few young sloths eat. It's 2.5 hours and $60 donation (but well worth it). Or, check out the Specialty Sloth Tour: it has limited dates (check the current dates here) but you get extra time with baby, young, and adult sloths plus a guided tour of the rescue center. This particular tour is 1.5 hours and costs $38.
There is also a general tour of the rescue center where you'll see toucans, parrots, sloths, owls, monkeys and more while you learn about the animals' stories and learn about animal and rainforest conservation. This option is about 2 hour long and has a donation of $35.
All proceeds go towards the upkeep of the animals and the facilities.
Getting Here
It's just 20 minutes outside of San Jose. Our volunteers are already living nearby and just need to call an Uber, so it's a good after-teaching activity or weekend adventure.
The center is located off of Route 112 near downtown San Josecito, Heredia, San Josecito, Costa Rica.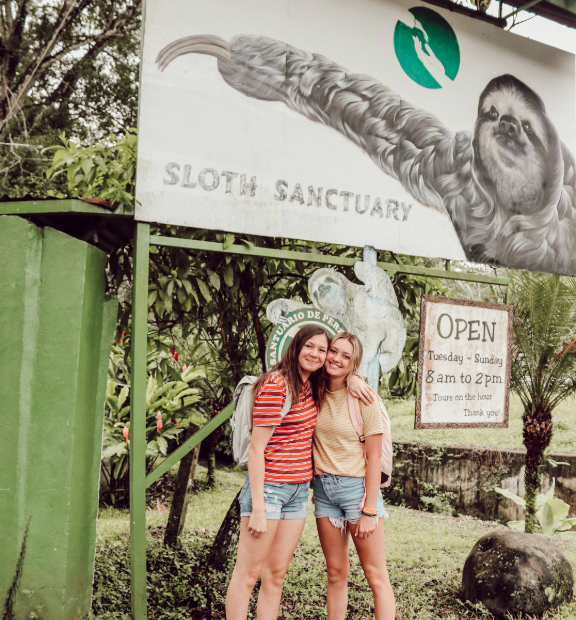 Excited to really experience Costa Rica?

Come call this country home for a few months as you live there as a volunteer. ILP (International Language Programs) works with a few schools in Costa Rica and sends volunteers to teach English part time. You'll live and teach with a group of college-aged volunteers and have the chance to travel on the weekends and on vacation days.