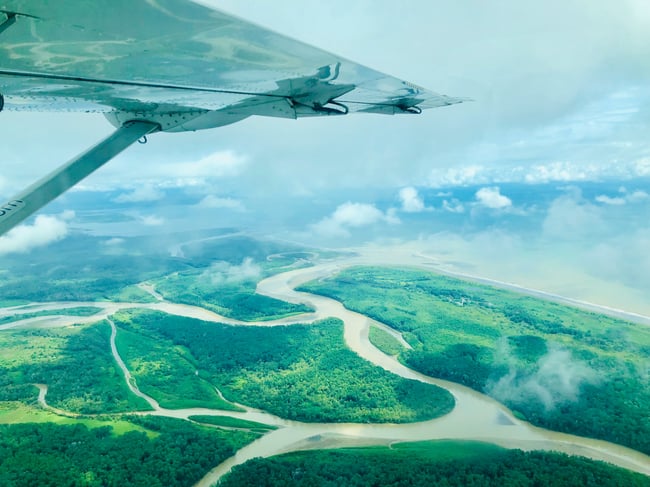 Visit this coastal spot in Costa Rica and you don't have to choose between jungles full of parrots and monkeys and beaches framing blue oceans full of dolphins.
Puerto Jimenez is found in the middle of paradise. It's nestled right in front of "the sweet gulf" Golfo Dulce, sits across from Piedras Blancas National Park, is right in front of the sprawling Corcovado National Park, and more. If that wasn't enough, it's home to most of our absolute favorite things to do in Costa Rica.

In case you need to paint a picture, think lush green jungles (hiding a tangle of mangroves you can kayak through), miles of coastline, and blue water where you can snorkel, spot dolphins, take a swim, and more.
Puerto Jimenez is the gateway to these expansive jungles and stretches of ocean that aren't nearly as flooded with tourists as other places in this country. If you're on the western side of the country, absolutely make sure you come visit this place — or make time to head here if you're elsewhere in Costa Rica.


---
Read Next: Don't miss the most photogenic spots in Costa Rica.
---

Because there are so many things to do here, we've mapped it out to help you orient the area .... you'd never think so many national parks, waterfalls, animal adventures, snorkeling spots, kayaking routes, and beaches were hiding in such a small part of Costa Rica, did you?
To start off, we have a map of the area, then a breakdown of the near "Puerto Jimenez" adventures, then detailed guides to the places on the opposite sides of the little gateway town. Make sense? Let's dive right in: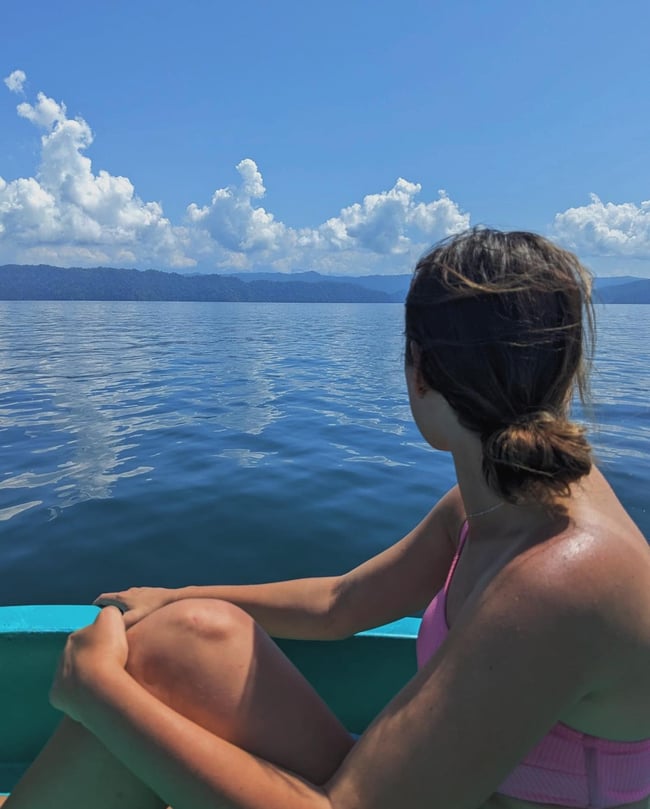 First, A Map To Help You Out
We're covering a lot of things in this post, and it's helpful to know where these highlights are before you start planning your adventures. We are talking about a little peninsula that juts out from the western coastline of Costa Rica. It's further south, closer to the border of Panama. If you're familiar, it's south of the coastal city of Uvita.
Because this peninsula is jam-packed with so many adventures, it may be helpful to plan on what you want to do based on where you're visiting on the peninsula. This map (and the breakdown below) may come in handy!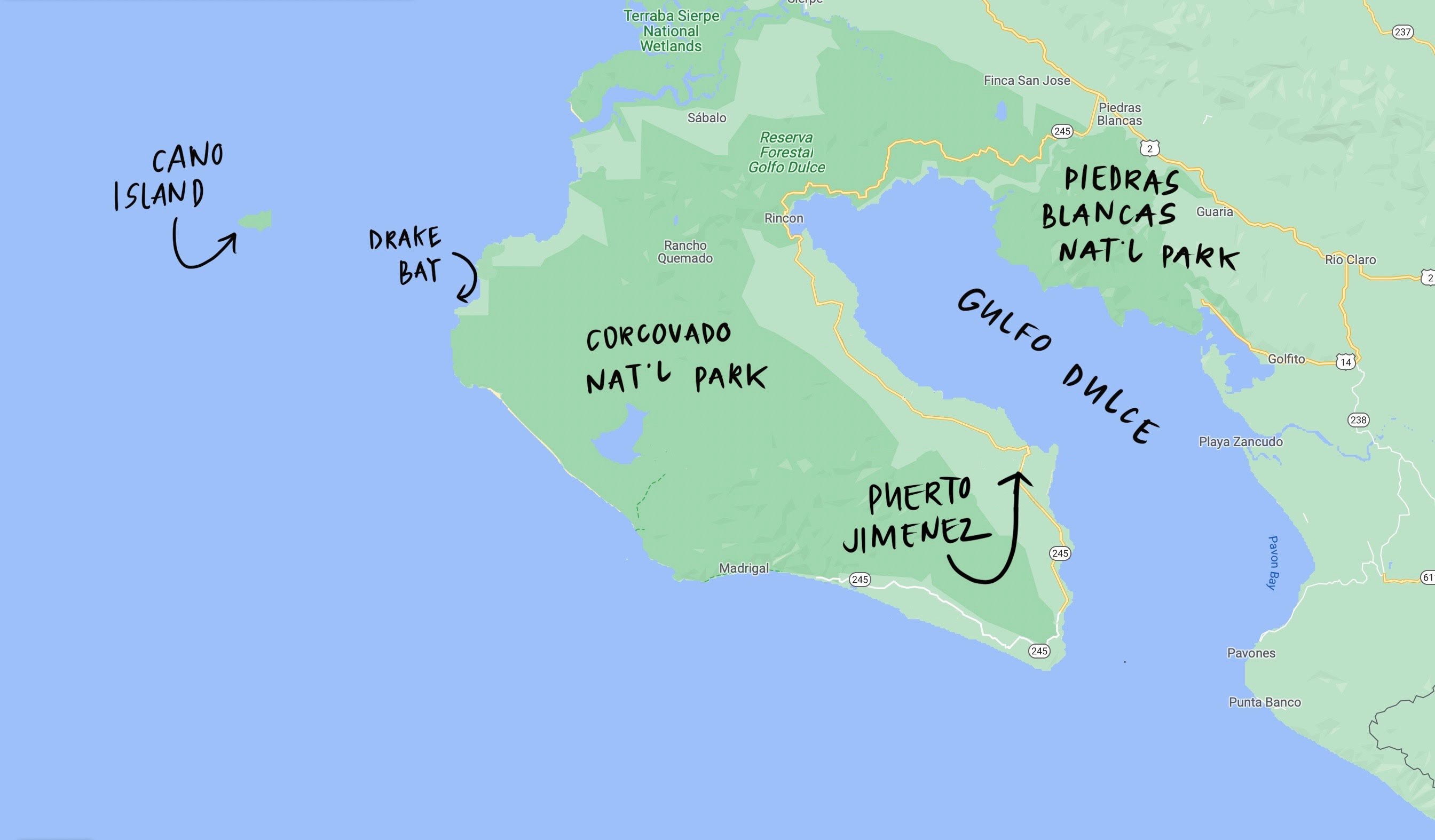 Puerto Jimenez (+Nearby)
Golfo Dulce activities

King Louis Waterfall

Turtle Conservation

Some swimming/surfing beaches
Western Side of the Peninsula
Drake Bay

Cano Island

Corcovado National Park

Some beaches for swimming
Eastern Side of the Peninsula
Golfito

Piedras Blancas National Park

Some swimming/surfing beaches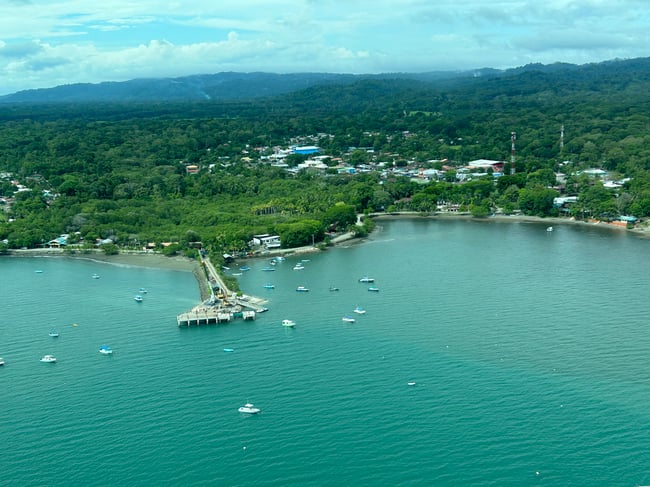 Highlights Of Puerto Jimenez
We have a whole other section highlighting Corcovado National Park, Drake Bay, and Cano Island below — these are more day-trip-or-longer adventures that are right in the backyard of Puerto Jimenez. But this section is all about the things that are just a little closer and really highlight all the things to do in this section of Costa Rica. We're talking beautiful beaches, kayaking, dolphin spotting, and more!
Golfo Dulce
There's a lot to talk about when it comes to the Sweet Gulf — to start, it's only one of four tropical fjords in the entire world (and is one of the 10 deepest gulfs in the world). To make this area even more unique, remember that it is sandwiched between two National Parks: Corcovado National Park behind the gulf and the Piedras Blancas National Park right in front. Lush rainforests in both of these locations are home to monkeys, brightly colored macaws, sloths, anteaters, ocelots, and other big cats, along with a huge array of sea life.
And as far as activities go, you have quite the selection. The waters are calm, warm, and ideal for swimming (and a few other activities like kayaking and paddle boarding) as well as surfing. The coastlines and ideals for exploring (there are miles of beautiful beaches and a network of nearby mangroves).
+ Some Activity Resources For The Sweet Gulf
You'll find several tour vendors in the area, but here are some resources for some of the more popular activities:
Rent Kayaks To See Whales, Paddle Through Mangroves, And More
It's very popular to rent kayaks for the day, with the chance to explore the network of mangroves. Some tours also advertise whale watching and dolphin spotting as you make your way around the bay, as well as bioluminescent packages for nighttime paddles. Options here, here, here, and here are a good start to see what's out here!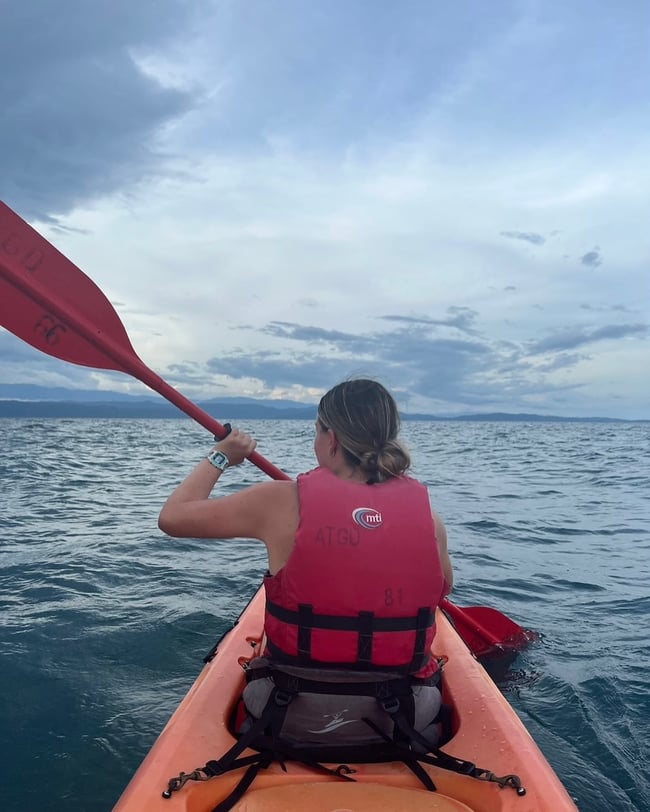 Hold Baby Turtles Before They're Released To The Ocean
The surrounding areas are protected for a number of reasons, including turtle conservation. One location is the research and conservation center located near Puerto Jimenez is Tortugas Preciosas. They're focused on conservation and giving you an experience with the turtles — then your tour can also include time at Playa Blanca for a Golfo Dulce tour (with dolphins, snorkeling, snacks, and a stop at a secluded beach). Best to visit during June to December for this opportunity (when the turtles are hatching).
We have more info about who to book with for this experience, below.
Snorkeling To See Sea Turtles, Manta Rays, And More
It's great year-round, but some say there is slightly better water quality if you're visiting in January to May. If you're here during whale migratory season, you may spot a mother and calf (so keep your eyes peeled!). Just keep in mind that Cano Island is one of the best snorkeling spots in the world, so maybe snorkeling in the Sweet Gulf if you have your own mask, but opt to go for a snorkeling tour off of Cano Island (we have info about this below).
Spot Dolphins, Whales, And Whale Sharks
In January and February, you may be lucky enough to see some of the Humpback whales that migrate here from the northern hemisphere ... or the southern hemisphere migration pods if you're visiting in August and September. The warm waters of the gulf provide a protected area for the newborn whale calves, making it a popular stop on the migration route for these beautiful animals.
Pods of dolphins also call these waters home (though more year-round than the whales). If you take a boat or kayaking tour in the gulf, you're likely to see them playing jump in and out of the water. Manta Rays are also a frequent site, seemingly flying under the water, or even jumping high above the calm waves.
Whale sharks are also sometimes seen here, typically in August to October, traveling between Puerto Jimenez and La Pala to feed on the plankton clouds found under the surface.
We found a few tour options for spotting whales, dolphins, and maybe even whale sharks — here, and here (though there are several others) — again, we have tour info below if you'd like the insider scoop for ILP volunteers.

Soak Up The Sun On These Beaches To Visit
As we mentioned, this area is home to quite a selection of beaches. Some of the best swimming beaches (with calm waves backed by the jungle) include Playa Platanares, Playa Tamales, Playa Puntarenitas, and Playa Blancas. Across the bay, popular options like Playa Cacao, Playa Zancudo, and Playa Pavones are ones to check out.
Matapalo is another beautiful beach that's known for surfing, but you can swim here too, just be more aware of the wave conditions. Matapalo is a favorite beach (the water here is gorgeous) and you have a pretty good chance at glimpsing some wildlife: Costa Rican raccoons, iguanas, monkeys, sloths, and parrots tend to hang around here, which is a protected area. There are some ecolodges around if you'd like to stay for the weekend (the King Louis Waterfall is close by, only about a 15-minute drive!).
For surfing, know that Pavones is a popular spot (home to the 2nd longest left break in the entire world) — find it on the opposite side of the Gulf. Pan Dulce is a good spot for beginners while the more experienced typically head to Matapalo or the Backwash Break.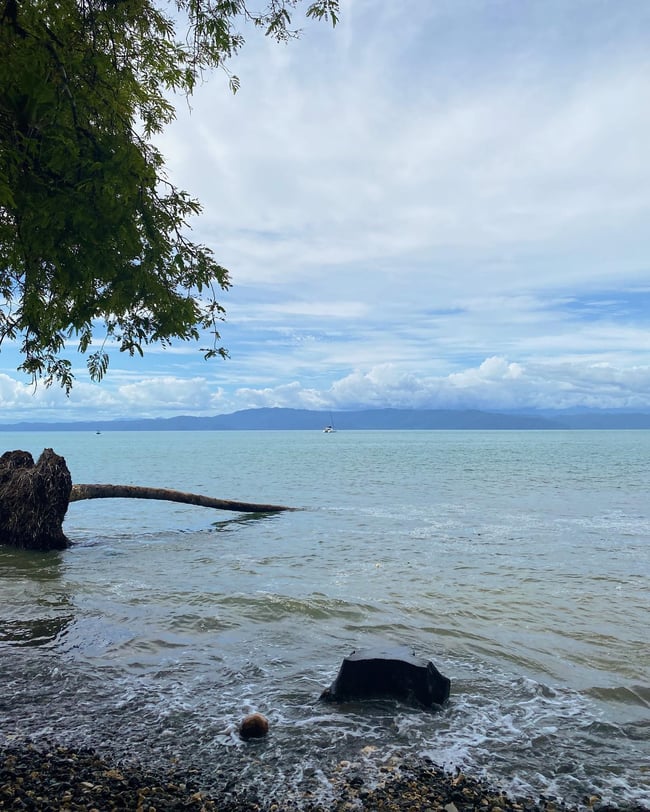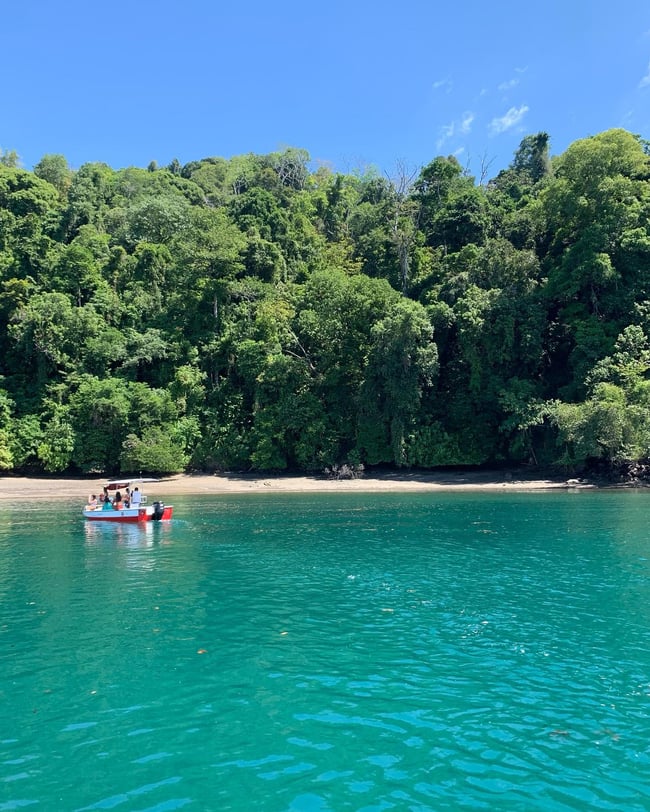 Trek Up To The King Louis Waterfall
After so much beach and jungle, are you in the mood for a waterfall? King Louis is what you're searching for. This is a location for high adventure, monkey spotting, and a bit of an adrenaline rush if you want to go rappelling down the falls (with a tour company, of course). The 15-30-minute hike includes a meandering "trail" over rocks and the stream of the waterfall above you, and a few ropes to get you to the waterfall, which falls about 100 feet and pools at the bottom if you want to take a cold swim after your hike. This blog post has some handy info for your trip.
The falls are found on the southern tip of the peninsula, making it a good day trip option to help break up the activities in and around Puerto Jimenez.
If you want to go with a tour, this company arranges all the details — same with this company.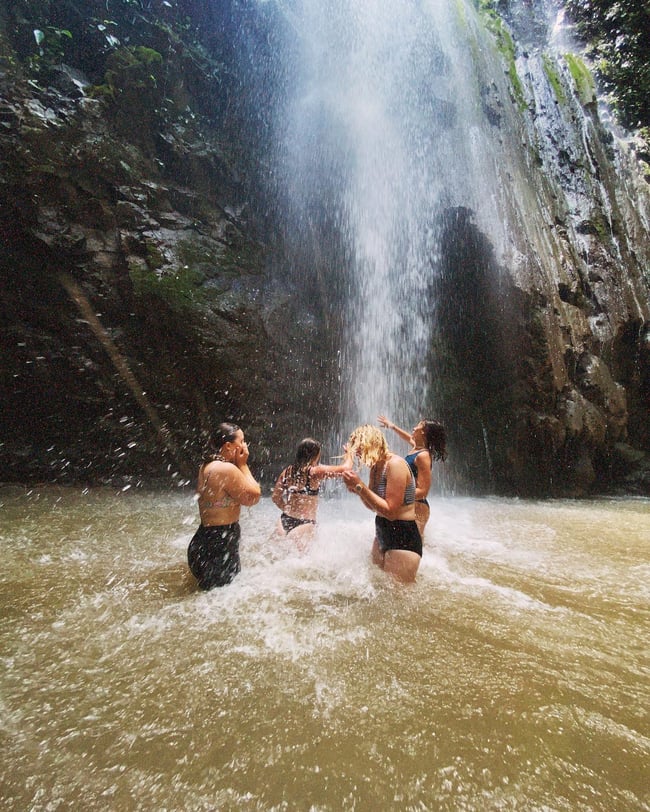 + Get Help Booking
Did you get all of that? There is SO much to see and do in this area and we hope you're able to see everything you want to! ILP is lucky enough to have a contact here who's very familiar with the area and has tons of tour operator connections. You can find Yassiny's agency here on Instagram. She focuses on really personal tour experiences with local contacts and companies to help find the experiences you're looking for that work with your budget. Many of the recommendations on this post are straight from her!
There are also a handful of lodges and hotels in the area that have some serious perks, like free paddleboard or kayak rental, snorkeling gear for the day, and tour options for the activities we listed above (and more). One that has tons and tons of options and keeps popping up in our research was this lodge. Just know it's only accessible via boat, and found on the opposite side of the gulf (the Golfito side, not the Puerto Jimenez side).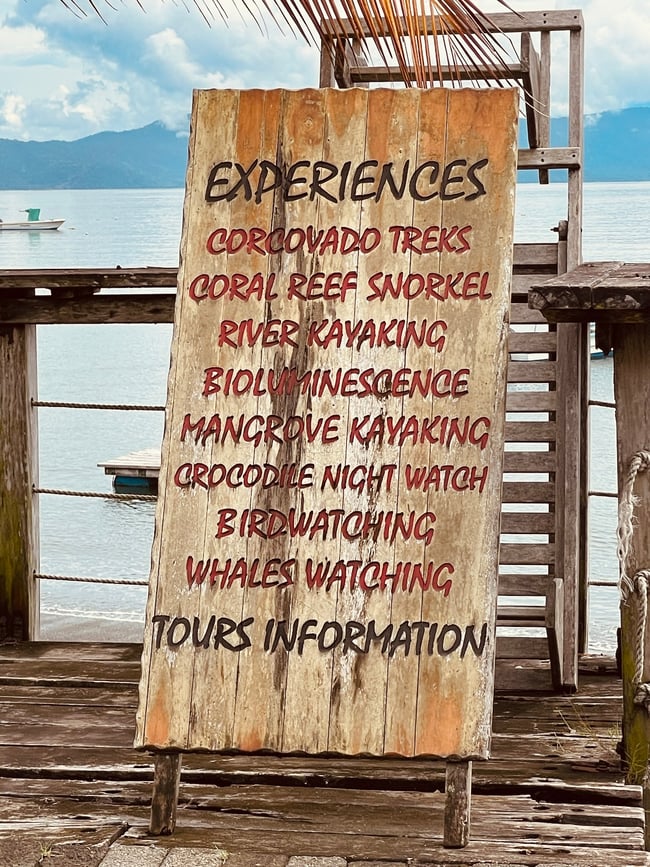 Corcovado National Park
This spread of protected jungle and ocean is not only a highlight of Puerto Jimenez, but a gem of the entire country. And what's waiting for you in this park? Corcovado protects the largest remaining stretch of rainforest on the Pacific coast of Central America, along with hundreds of thousands of animals (many endangered) that call it home.
It's more remote and home to so much wildlife — if you're hoping to spot Costa Rica's most loved creatures, this is the spot! One group of ILP volunteers said, "We saw coatis, sloths, wild parrots, crocodiles, shark, turtle, white-spotted dolphins, a huge banana spider, and lots more". Because it sits along the coast, you're also in the prime spot for sandy beaches and untouched coral reefs(which have some of the best snorkeling in the entire country).
We are going to be pulling out a little more detail about two spots very closely associated with Corcovado below in some more detail (Drake Bay and Cano Island), but know you can get all the info about hiking + snorkeling in Corcovado park (and more).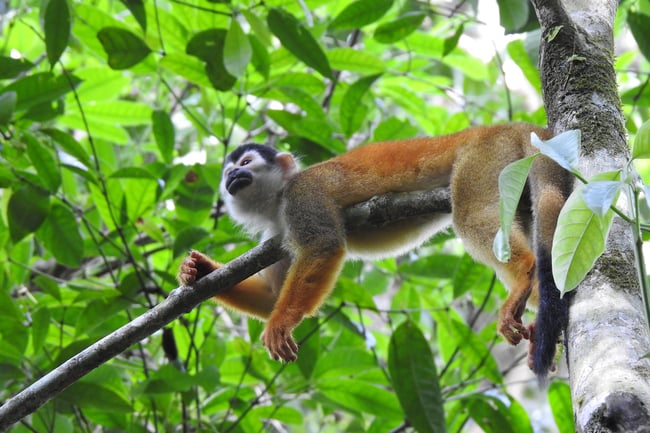 About Drake Bay
Drake Bay is another highlight of this part of Costa Rica, found on the opposite side of the peninsula than Puerto Jimenez (which is on the eastern side of Osa). Drake Bay is a happening spot for a few reasons:
It's the jumping-off point for Cano Island snorkel tours

It's a popular entrance to Corcovado National Park

Plus, there are tons of other adventures to keep you busy
Apart from Cano Island and the National Park, Drake Bay is a popular spot to go whale watching, see waterfalls, go trekking in the jungle to find remote beaches, spend time on those beaches, kayak up rivers, go on night hikes to see more wildlife, and a few other things. We have our guide to Drake Bay here — it's a favorite place to spend some time.

Getting here from Puerto Jimenez — There's a bus that goes from Puerto Jimenez to Puerto Escondido (a 35-minute, $2 ride with Autotransportes Osa Península OMB). From there, you can snag a taxi for the 1-hour drive to Drake Bay. Price may fluctuate based on availability and your negotiating skills but could be in the $30-$45 range.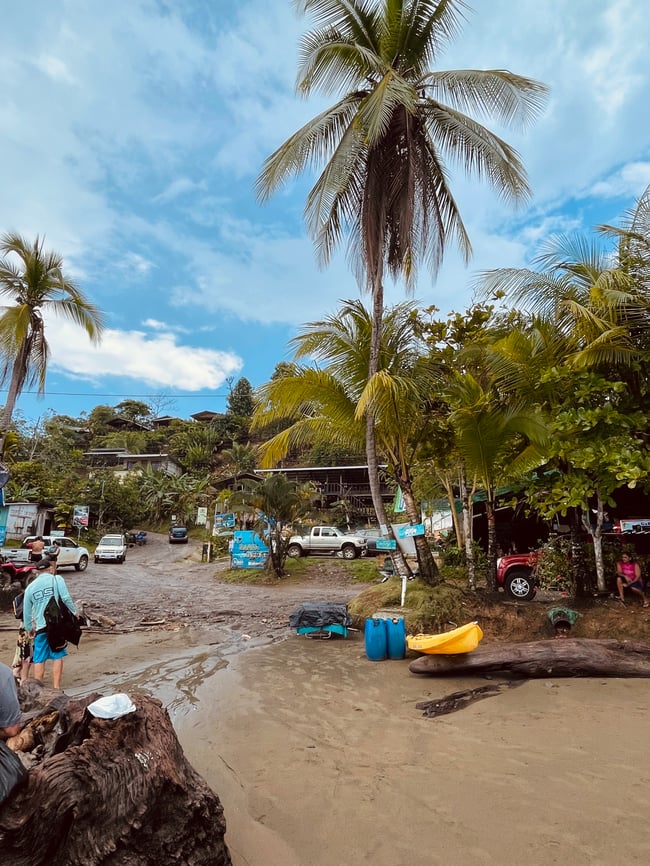 Cano Island
If you're looking for a good spot to snorkel, you'll definitely want to add this little island that sits about 10 miles off the western coastline to your itinerary. It's said to be one of the best spots for snorkeling in the entire country!
It's pretty popular for both divers and snorkelers alike — there are several species of untouched coral and you're bound to cross paths with all of the colorful fish that call this area home. One group of ILP volunteers got to swim with a sea turtle (so rad!) and if you're really lucky you might even spot manta rays, dolphins, and more.
We talk about it a bit more in this post about Drake Bay, but you can typically find tours that take you through the Corvocado National Park and include a snorkeling excursion to Cano Island.
You can also get standalone tours to Cano Island if it's just the snorkeling you are after, but know that those will leave from Drake Bay, rather than Puerto Jimenez (which is found on the eastern side of the peninsula).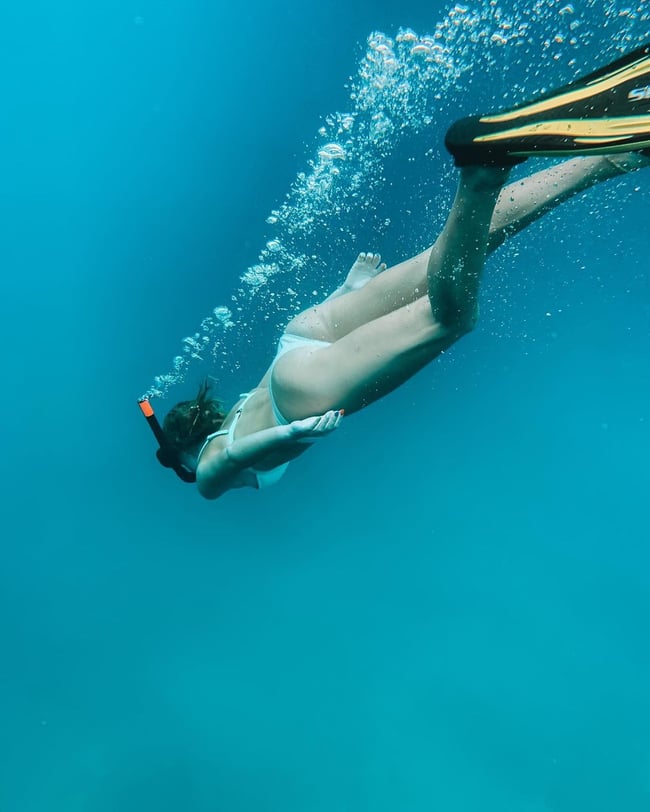 Piedras Blancas National Park
Hop to the other side of the gulf and spend time in this national park. Similar to Corcovado (it's actually like an extension of that park), you'll find tons of your favorite animals that call this jungle home: large cats, toucans, hummingbirds, macaws, hundreds of other bird species, coatis, capuchin and spider monkeys, bats, snakes, poison-arrow dart frogs, tree frogs, sloths, anteaters, and more. You'll also find towering trees, rare flora, bouquets of orchids, and an incredibly diverse plant backdrop. Oh, and don't forget about thundering waterfalls, winding rivers, beautiful beaches, and vibrant coral reefs just offshore. This is one of the lushest, eco-rich, and significant nature reserves in the world.
The park was established in 1993 and is still one of the premier locations to study new species — and is one of the best ways to experience and seemingly untouched jungle.
It's best hiked with a guide to help you spot the wildlife you want to see and avoid some that may be hiding on the trails (like poisonous snakes and frogs). Hiking guides are typically arranged by the ecolodges found within the park. This option or this option were popular ones that popped up in our research but feel free to ask around Puerto Jimenez if you're on that side of the gulf.
Oh, and to explore some of the waterfalls in the area, this tour company has several high-adventure waterfall packages to check out, departing from Golfito.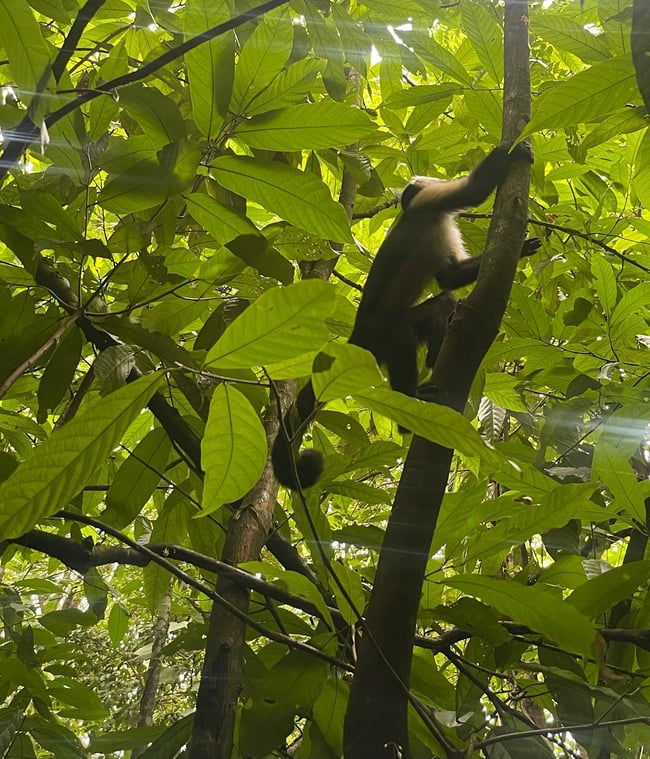 A Few Helpful Logistics + Tips
Puerto Jimenez is the biggest town along the Osa Peninsula, which means it has a few things you may be looking for you're tucked away in the smaller towns that dot this part of the country. So for the smaller towns like La Palma, Rincon, and other small settlements, Puerto Jimenez has a few things you may be looking for.
ATMs
You'll find an ATM to use at the Banco Nacional, found here: 245, Provincia de Puntarenas, Puerto Jiménez, Costa Rica.
You can also take out cash at the ATM at the Banco de Costa Rica Puerto Jiménez, found here: Costado Sur De La Iglesia Católica De Puerto Jiménez, Puntarenas Province, Golfito, Costa Rica
Make sure you do have cash — In this part of Costa Rica, you'll quickly see that cards aren't widely accepted, so make sure you have cash on hand. Even in Puerto Jimenez, there are a spread of restaurants, markets, stands, etc., that are cash-only.
Grocery Stores/Markets
While you'll find little markets and convenience-type stores around the peninsula, you'll need to head to Puerto Jimenez to find a larger supermarket. You'll see a few other markets in the town, BM Jimenez is one of the biggest, with some harder-to-find items in stock that you may miss from home like Eggo waffles, Ragu pasta sauce, Sriacha, etc. Some say if you can't find it here, then you can't find it in this part of Costa Rica. Another perk of this place? They sell hand-scooped ice cream, fresh coffee, and have free public WiFi.
Pali is another one to visit, with some cereal brands you may recognize, and other products. Some say you have lower prices at Pali than at BM, but you have more of a selection at BM.
The Post Office
Another handy thing to visit if you need to send a letter home, find the local post office (Correos de Costa Rica, Sucursal Puerto Jiménez) here: Frente a la plaza de deportes, Provincia de Puntarenas, Punto Jimenez, 60702, Costa Rica
A Couple Of Restaurants
You'll find local sodas serving up Costa Rican classics in the Osa Peninsula, but a few visitors mention some restaurants to try in Puerto Jimenez that give you change from local staples like fried plantains, beans and rice, etc.
Pizza Mail.it is one of the most popular eateries in town, with thin crust pizza, and quite the selection of fresh fruit smoothies to sip while you have a few slices (and ice cream for dessert). It's cash-only. Vera Pizza is another pizzeria in town to try if you want to compare the two.
For seafood, Marisquería Corcovado Seafood is a favorite, with high ratings that mention a whole range of seafood dishes, and a very lovely view of Golfo Dulce to admire during breakfast, lunch, or dinner. Soda Marbella is another favorite with that same view (and rave reviews about the ceviche).
With those options in mind, there are quite a list of local sodas and other eateries serving up the best of the best when it comes to Costa Rican classics (Los Delfines, Cafeteria Monka, Los Delfines, and Soda Valerie are just a few).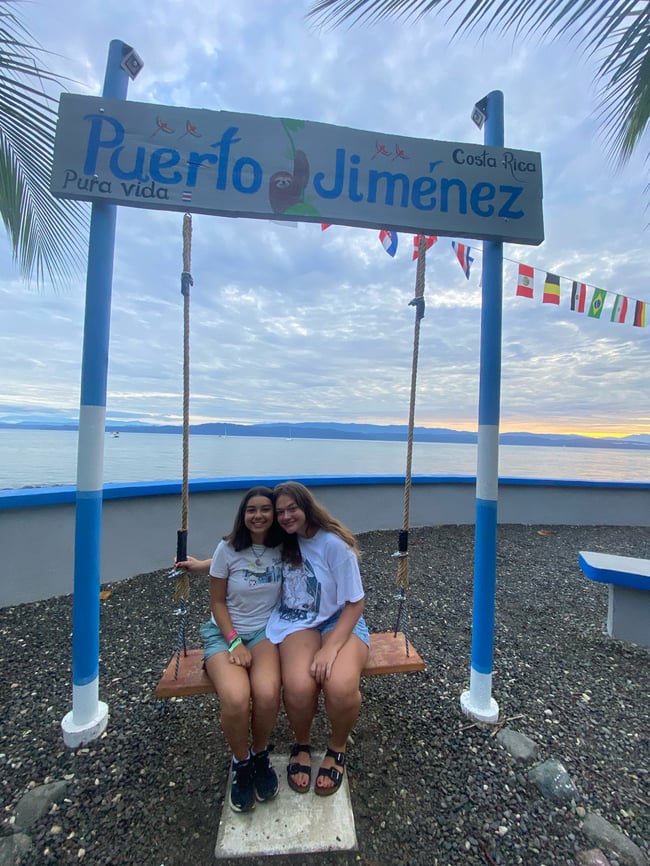 Easy Ways To Get Here
From Around The Area
If you're already near or on the Osa Peninsula, this is kind of like your backyard. There's a bus (Autotransportes Osa Península OMB) that starts in Puerto Escondido, and drives through La Palma, then drives south until it reaches Puerto Jimenez, about 40-minutes later.
From Uvita + Nearby
Puerto Jimenez is found on the same western coast of the country, just tucked up into that peninsula ... and such a fun adventure is waiting for you if you're wanting to visit from Uvita (and surrounding areas)! It's best to arrive via Drake Bay, then make your way to Puerto Jimenez if you like (but as we outlined, there are lots of things to see and do around Drake Bay).
The best way to get there is through Sierpe — plan on busing to Sierpe then riding the rest of the way by ferry boat. From Uvita, for example, there's a bus that first takes you to Palmar Norte (a 31-minute drive with Trocopa) then to Sierpe (a 20-minute drive also with Trocopa).
Once you arrive in Sierpe, you'll take a Don Jorge taxi boat. This post has more details, but there are a couple of daily departures (prices range from $15-$20) and the ride is amazing. First, you'll wind through the mangroves traveling on the river before hitting the ocean. Plan on a 60-90 minute boat ride to Drake Bay.
From Around San Jose
Coming from around the capital? It's a long bus ride, about 8.5 hours from San Jose to Puerto Jimenez (schedules here). It's slightly less time and slightly cheaper if you're in the suburbs of the city, near San Isidro for example if that's helpful to know.
Or, you can fly. SANSA has daily flights that'll get you there in less than a hour, flying you into the teeny airport. Flights are around $150 for a roundtrip.
From Puerto Viejo + Nearby
If you find yourself on the opposite coastline and want to come to explore this peninsula, maybe consider taking a break in San Jose. The bus itinerary takes you up to Limon, then over to San Jose, before making the drive explained above.
All in all, it's a 14-hour itinerary, unless you go by car through Panama (and handle two border crossings ... which may turn that 6-ish hour drive to be closer to 10-hours, or more, depending on how well the border crossings go.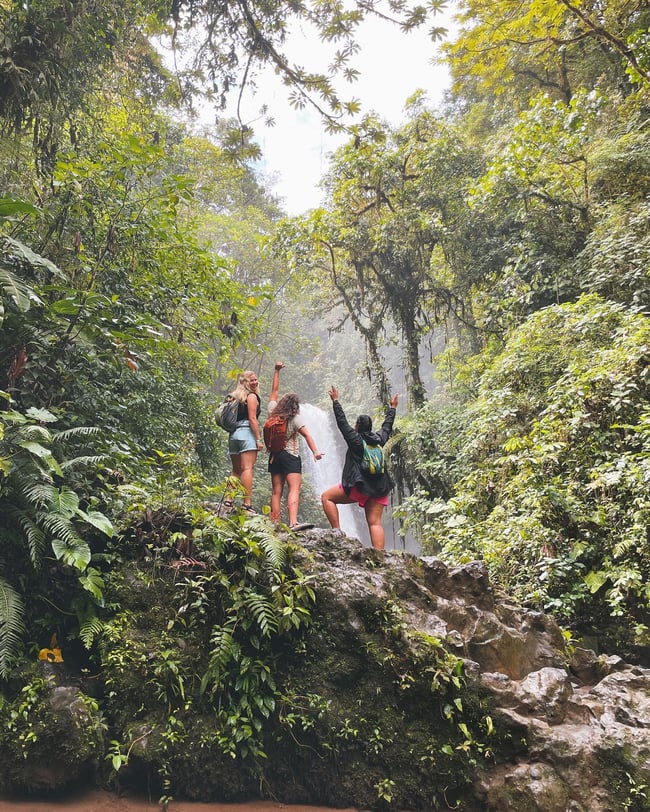 Explore Costa Rica with a group of new friends for a semester!
There's just too much to see in Costa Rica. You can't see Corcovado National Park, hike Arenal Volcano, go whale watching in Uvita, and lay on the beach in Punta Uva if you're only here for a week. Stay for 4 months and see all these spots and more with ILP!
We set up trips for college-age volunteers to live in Costa Rica for a semester, volunteer by helping local kids learn English, and still have plenty of time to travel around and get a taste of living like a local. Learn more by clicking the button below: