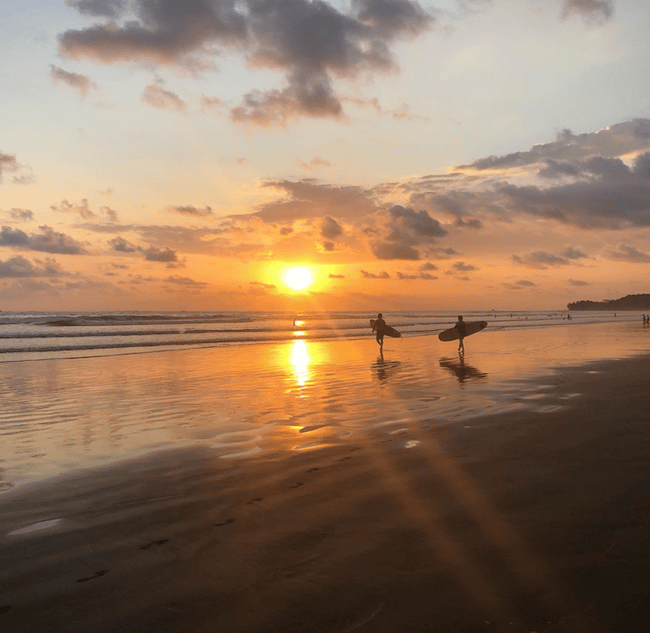 Beaches perfect for surfing and surrounded by lush jungles are only two things you'll find in Jaco ... can you see why this is one of the prettiest weekend getaways for our volunteers?
I'm not sure about you, but it's hard to say no to a weekend of hanging out on the beach and exploring the nearby jungle … which is probably why you're coming to Costa Rica in the first place. When it comes to the prettiest beaches in the country, Jaco's pretty famous. Not only is this the beach closest to the capital (around 2 hours away) this huge curving half-moon beach is filled with tons and tons to do. All of this is backed by the thick and lush jungle boasting even more activities to help you spend a weekend (or longer) here.


---
Think you need more time in this country?
You're absolutely right — come volunteer in Costa Rica for a semester
---

Because Jaco's a hot spot for tourists, you'll find loads of restaurants, cafes, tour operators, things to do, etc — this post is here to help you sort out what's worth doing and what you can skip out on. After all, with all the adventures packed into this little country you'll want to make sure you're making the most of your time here.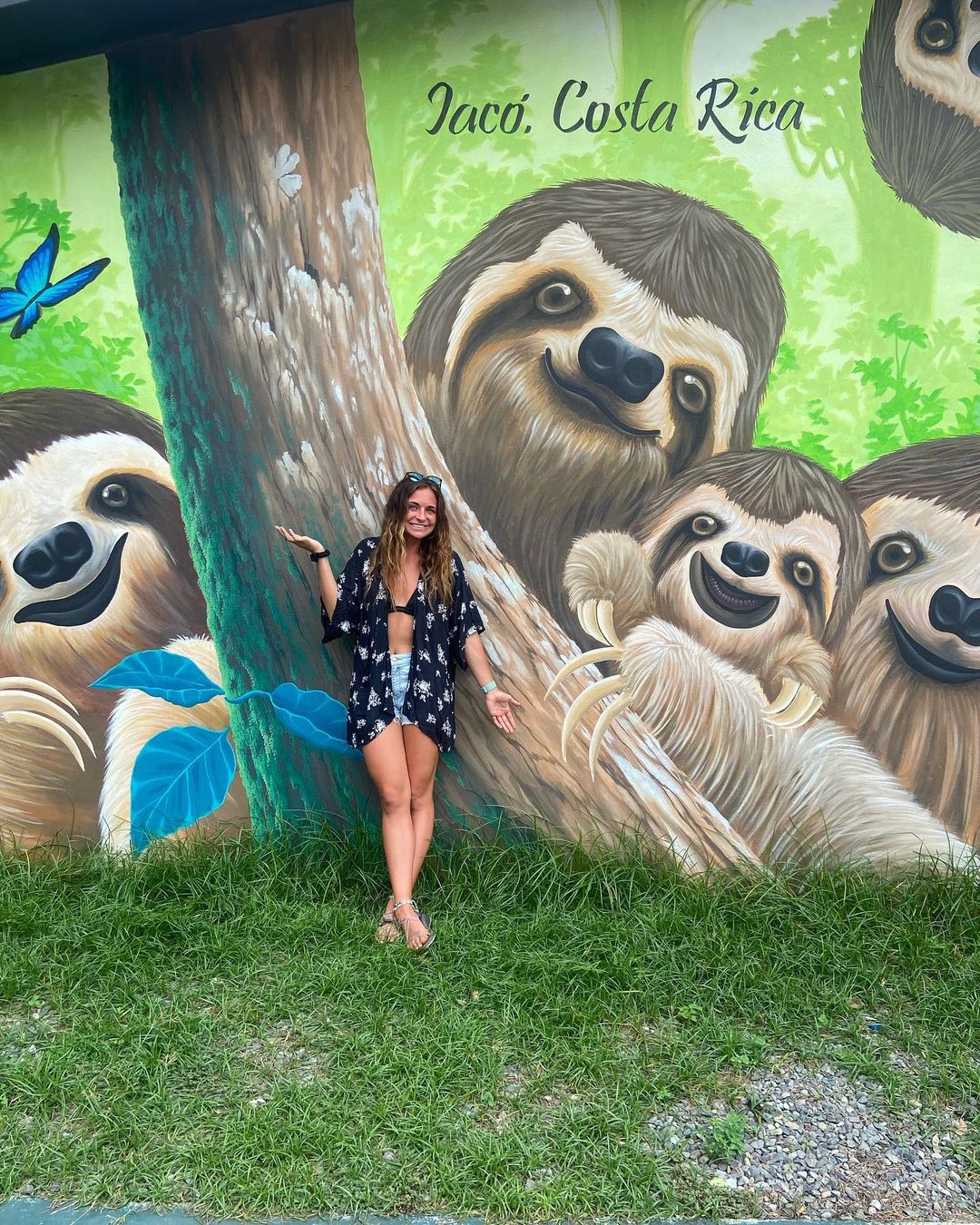 All About The Beaches
Okay, I'm guessing you'll want to spend some time at the beach in Jaco, which makes complete sense — this coastal city is known around the world as one of the best surfing spots around. However, there is a string of beaches around Jaco and some are better than others. My advice? Read up on a few below to help you decide which beach is best, whether you want to spend an afternoon surfing, hanging out on the sand, swimming, windsurfing, or joining a few other water adventures.
Jaco Beach
This is the most popular beach, boasting lots and lots to do. Jaco beach is one of the best for basic surfing spots if you're just learning or are a more advanced surfer. The 2.5 mile beach is dotted with surfing schools and board rentals. Rentals are around $10 for just the board but Vista Guapa has gotten rad reviews for its beginning surfing lessons ($75 for a 2-hour lesson and board rental). The waves can be a little high for swimming, so keep reading for a swimmer-friendly beach if you want to take a dip. The gray sand is also a hot spot to hang out on, complete with volleyball nets set up in some sections. You can rent an umbrella $10 for the day if you want a bit of shade.
Jaco beach is also the place to rent sea kayaks, with a few tour operators advertising snorkeling tours combined with kayaking or canoeing.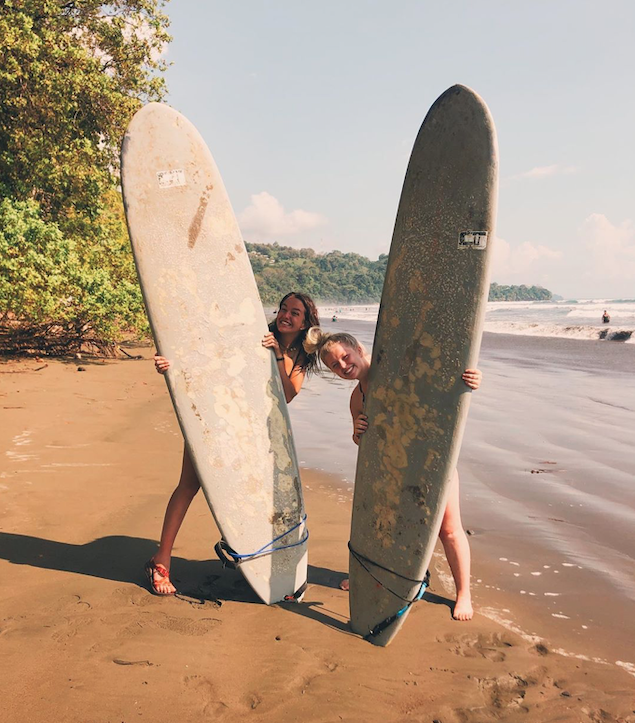 Playa Hermosa
Another really famous surfing beach, with more massive waves that are best left up to the pros. It's a good spot for kite-surfing too, so hanging out here on the sand means there will be lots to watch. The beach here is pretty empty of shops and restaurants, but sometimes is the spot for surfing tournaments or at least competition practice. It's found just five miles south of Jaco Beach.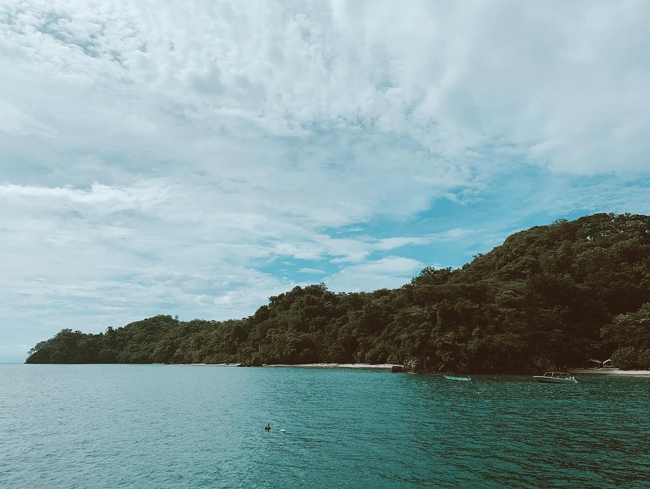 Playa Blanca
Find the prettiest swimming beach here! The other beaches around Jaco have dark sand and are better for water sports, but not Playa Blanca. You'll find softer sand and calm, blue water, and spindly palm trees — is a pretty perfect oasis. It tends to get busy but only with the locals, so head here early to get a spot in the shade. It can be a little tricky to get here, but this blogger walks you through the whole thing.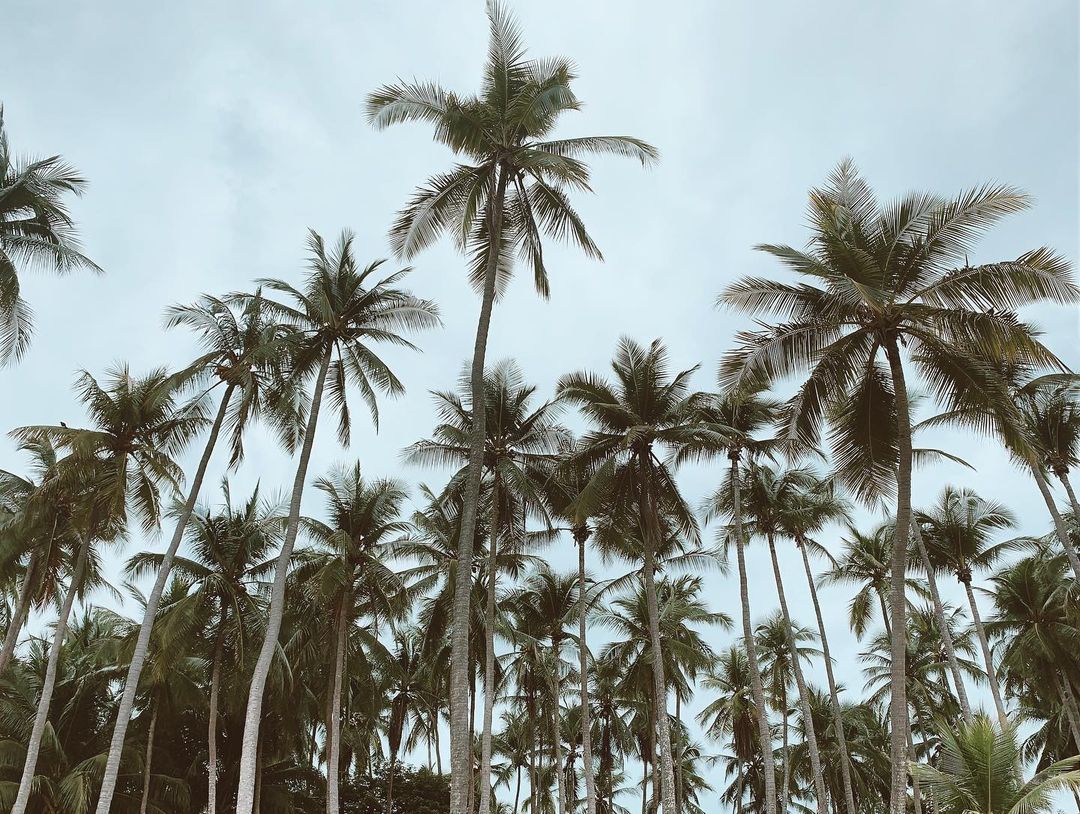 Other Things To Do
Spot Monkeys And Parrots In Carara National Park
One reason why Jaco tops the list of favorite vacay spots is the fact that you can get both the jungle and the beach. Jaco is backed by a thick and lush jungle, full of all the rainforest friends you can to Costa Rica to see. Spying colorful parrots shouldn't be hard — this National Park is home to one of the highest concentrations of Scarlet Macaws that spend their time flitting in the treetops.
The entrance of the park is only 14 miles away from Jaco, so it's an easy day trip. You'll find a handful of well-marked walking trails that wind in and out beneath the thick canopy. The park is really easy to navigate especially since the main trail, the Quebrada Bonita Trail makes a one-mile loop, with other trails branching off of this central loop.
If you want, you can hire a guide for $25 which may mean seeing more animals while you hike. That being said, you can almost always see some macaws, the white-faced capuchin monkeys, and crocodiles if you head to the bridge over the Tarcoles River. You can cross the bridge and peer over to see a whole mess of crocodiles that live in the muddy banks. You can get more crocodile action by taking a crocodile tour if you'd rather.
Getting Here: There isn't a direct bus, but you can hop on a bus that drives up and down the Costanera Sur. You're welcome to hop on, just let the driver know you want to get off at the Carara National Park. To get back to Jaco, stand on the street outside of the park and just wave the bus down. A taxi is also an option, but it's typically $30 to get you to the entrance from Jaco, and you'll want to coordinate a pickup time or let the park rangers call you a cab when you'd like to leave.
Cost: $10
Hours: 8:00 AM to 4:00 PM from May to November, and 7:00 AM to 4:00 PM from December to April. The park is closed during September and October for flooding.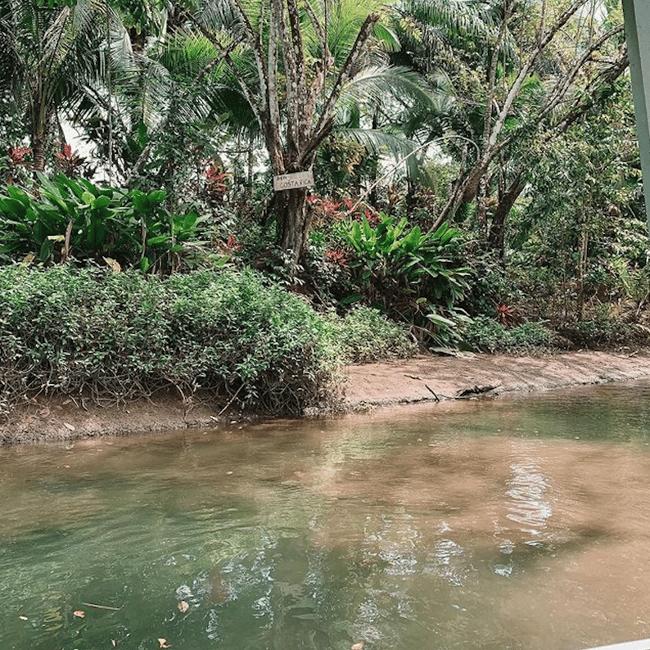 Swim In This Waterfall
The trek up the Bijagual waterfall is on the more intense side, but the tumbling cascade is worth the effort to hack through the jungle. It's a steep and mossy climb through a thick jungle where you can sometimes spot parrots and monkeys hiding out in the surrounding trees. The waterfall itself is more than impressive, a 400-food pounding mist of water powerfully pools down into a few ice-cold pools you're welcome to swim in … the force of the falls is so intense you're bound to get pretty wet just standing near the base of the falls, thanks to all the mist that swirls up with the water hits the rocky base of the falls.
Some details to know — The trailhead can be tricky to find, but it's just past the Carara National Forest. Talk to your taxi driver and look for the wood and hand-painted signs advertising Cataraca Bijagual. The Falls are found on private property, so there's a fee to pay. There's a man who manages the trails and chargers $20 for foreigners and $10 for residents and locals (ILP volunteers, let them know you're spending a semester living in Costa Rica!). You'll want to get there after 7:00 AM and leave before 3:30 PM. Some hikes mentioned planning on an hour to get to the falls and about the same going back if you're making good time.
You can also book a tour. If you go that route, I'd make sure to do something extra (instead of just being guided through the forest since you can do that yourself), like this horseback riding option.
Find Jaco's Secret Ruins
Perched in the hills above Jaco beach are the remains of a sprawling white palace that's been colorfully painted with tropical murals and creates quite the lookout point. The abandoned ruins of El Miro aren't the most popular thing to do in Jaco but they are my first pick of places to watch the sunset. Just look at that view of Jaco Beach! Plus, it's a can't miss for anyone who wants a photoshoot next to the Aztec animal designs and murals painted in a rainbow of colors.
You'll need to hike here, about 2 miles. The trail starts by a gas station, then makes its way on a steep trail through the jungle. This blogger has excellent instructions and pictures to help you find it.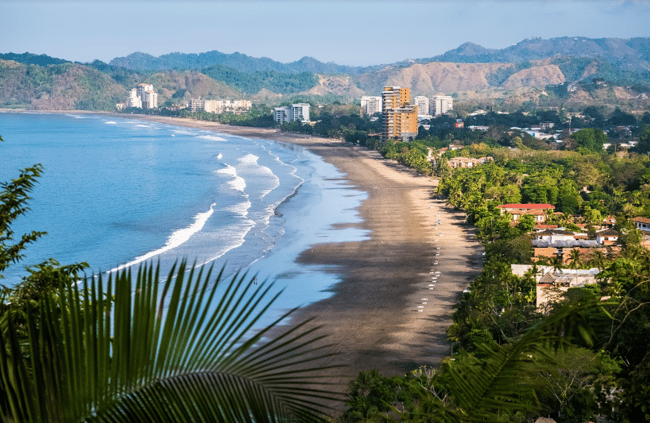 Snorkel Tortuga Island
Just across the bay is Isla Tortuga, only accessible by boat (so going with a tour is your best bet). It's a premier spot for snorkeling — keep an eye out for dolphins and sea turtles when you're under the waves. Snorkel, hike around the island, have lunch, and relax before heading back to Jaco!
Check out this post that dives a bit deeper into planning the trip, covering things like potential tours to pick from and what to bring.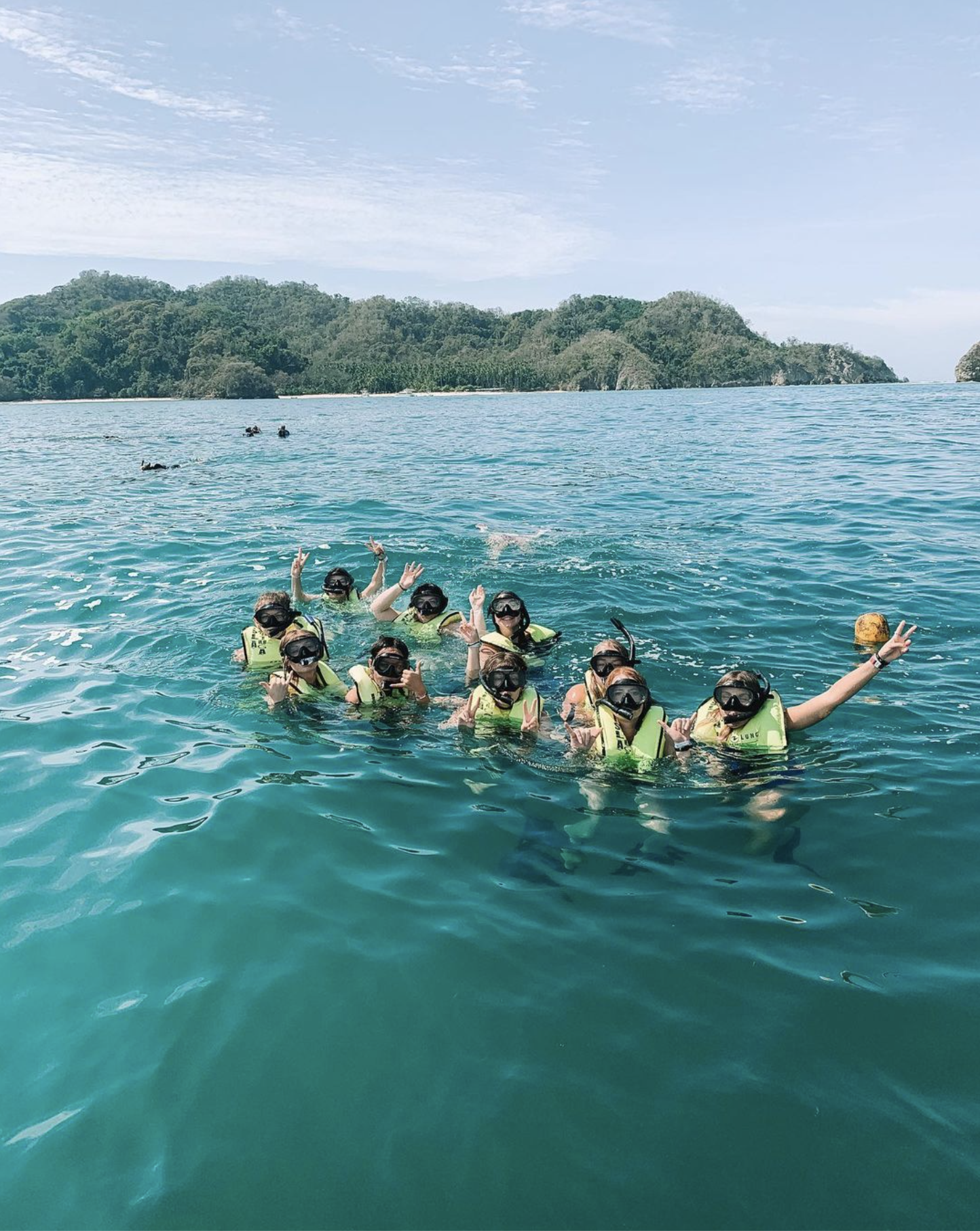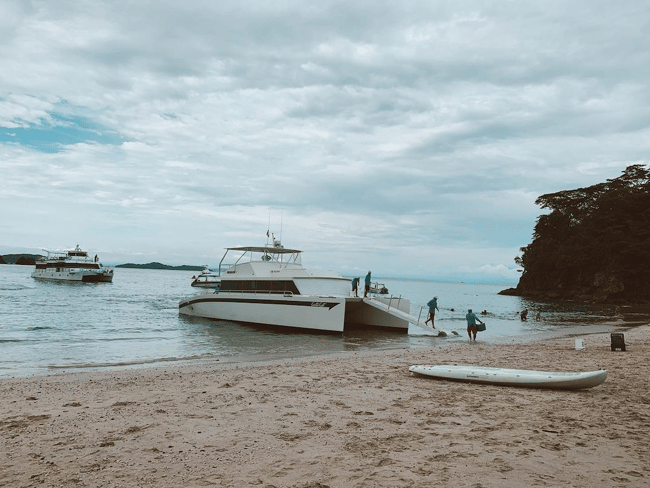 A Few Spots For Food
Like any huge spot for tourists, you'll find a string of restaurants around the beach with menus that have a huge range in price. We've pulled out some top picks our ILP volunteers love to give you a good taste of the local food in this country and a couple of spots that are good if you want a taste of home (but just know there are dozens of other eateries to choose from!).
Soda Jacó Rústica
Sodas are a big part of the culture here, serving up your Costa Rican classics like gallo pinto, fried plantains, local soups with corn, pork, and potatoes, all for just a couple of dollars. The yummy food with great prices makes this one of the most popular local spots to grab breakfast, lunch, or dinner.
Find it on Puntarenas Province

Hours: 7:00 AM to 7:30 PM
Green Room Cafe Bar
Serving up burgers, fresh watermelon juice, salads, tacos, chips and guacamole, and a few other things, this is a popular spot. There are some veggie and vegan options which is a nice change, along with some different dishes like hummus and falafel. Oh and as an added bonus, the Green Room often has live music in the evenings.
Find it on Puntarenas Province

Hours: 9:00 AM to 1:00 AM
Marea Alta
Another local restaurant, find chicken quesadillas, Gallo pinto, fried plantains, sopas, ceviche, and others made to order. Oo, and this spot also has juices, smoothies, and shakes along with some fruit juices served with shaved ice so it's more like a slushy. Yum. It's one of those spots that you hear about when you ask around about the best ceviche in Jaco.
Find it on

Puntarenas Province

Hours: Open 24/7
Jaco's Farmer's Market
My favorite part about vacationing in Central America has to be the fruit. You can find me with half a papaya for breakfast, with a whole bowl of pineapple on most mornings in this part of the world! If you'll be in Jaco on a Thursday afternoon or a Friday morning, shop for fresh veggies, piles of fruit, local cheese, and freshly baked bread.
Find the market on Avenue Pastor Diaz (on the southern end).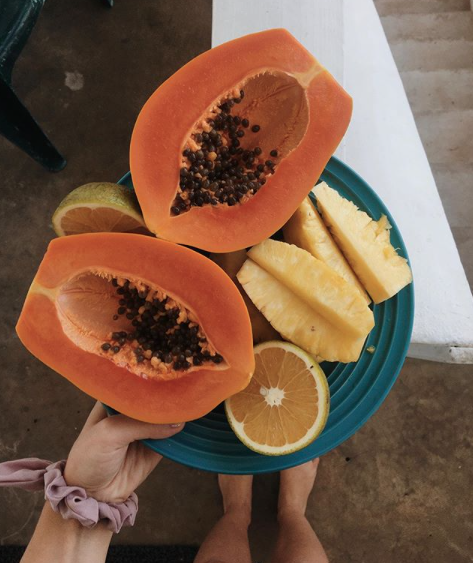 Getting To Jaco
This popular resort city lines the Pacific side of Costa Rica, rimmed with gorgeous coastlines, backed by green, lush jungles, and colorful city streets. If you take the public bus, it's just over a 2-hour ride from San Jose making it really accessible no matter where you are in the country. Like we've explained in our post about buses in Costa Rica, it's best to double-check times and prices before planning or booking your trip, but here's some info to help you out:
From San Jose
From the San Jose Terminal 7-10 (Av. 7, C.8), there are daily buses to Jaco. The drive is around 2 hours long and costs around 2,500 colones ($5). Just head upstairs to purchase your tickets.
Monday through Thursday, buses leave every two hours from 7:00 AM (so one at 7:00 AM, 9:00 AM, 11:00 AM, 1:00 PM, 3:00 PM, 5:00 PM, and 7:00 PM).
On Friday, there are additional times: 1:00 PM, 2:00 PM, 4:00 PM, and 6:00 PM.
On the weekends, buses leave every hour from 6:00 AM to 7:00 PM.
From Uvita
Uvita is another coastline we love, and it's easy to travel between the two. It's best to get a bus to Quepos, then get a bus to Jaco. You can find a covered bus station directly across the Tracopa Station in Uvita (we talk about the Tracopa bus later on) heading north, as well as another bus stop (next to the Hertz rental office) for buses headed south. Get on a bus headed north to Quepos. It's about a two-hour ride for 1700₡ ($3).
Once you arrive in Quepos, several buses head north to Jaco from 6:00 AM to 7:00 PM. Tickets are about 1265₡ ($2.20) for a two-hour ride. Get more info on that route here.
Heads up! There is a Tracapo bus that can pick you up in Uvita and sorta drops you off in Jaco (en route to San Jose). The bus charges you a full San Jose fare and drops you off on the outskirts of Jaco, meaning you have to walk or take a taxi (a 25-minute ride), but you will get there faster. If you're not short on time, you can go to Quepos first because it will save you money and a cab ride into town.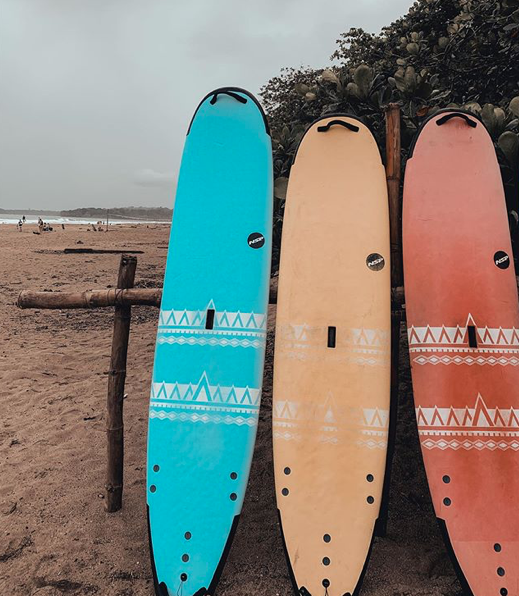 We know you're ready for more Costa Rica
Come spend a few months on quite the adventure as an ILP volunteer in Costa Rica! You'll be set up with a part-time teaching schedule to help local kids learn English then can take full advantage of all the adventures this country has to offer during your free time, on weekends, and vacation time.