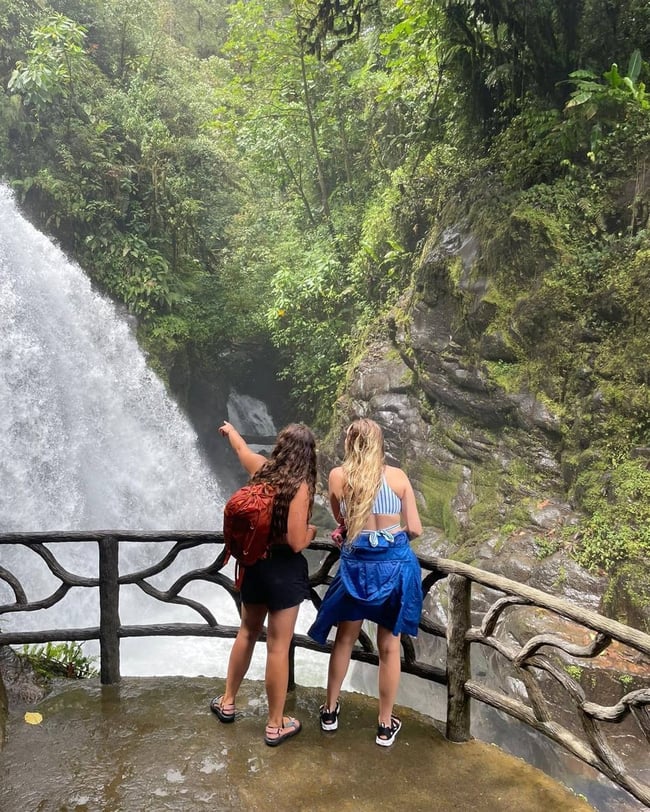 Costa Rica has these five pretty waterfalls to brag all about, plus the chance to say "hi" to all of your favorite jungle animals. Just come to La Paz — it's situated in the captivating emerald mountains just right outside of San Jose.
If you don't want thick jungles crammed full of waterfalls, Costa Rica is not the country for you. The wet and humid weather in this country leads to tumbling falls that cut through dense green jungles. I mean, our volunteers adore hopping all over this country just to take a swim or snap a picture of some of this country's most famous waterfalls.
Put that together with zipline adventures, your favorite jungle animals, a stretches of stunning beaches, and I think you'd be more than convinced to come and visit .. or maybe stay longer! I'm not sure about you, but some countries just seem like they need more of your attention, which is why I'm for spending a whole semester in Costa Rica.


---
Seriously, come live here for a whole semester
All about volunteering in Costa Rica
---

La Paz is one of the best places to visit from San Jose if you want to hike around, see some waterfalls, and get close to some of your favorite jungle animals. La Paz is a nature reserve that boasts some of the best hiking, prettiest waterfalls, and all the animals you're looking for — we're talking huge, vibrantly blue butterflies, vividly green tree frogs, rainbow-painted toucans, hummingbird feedings, and more.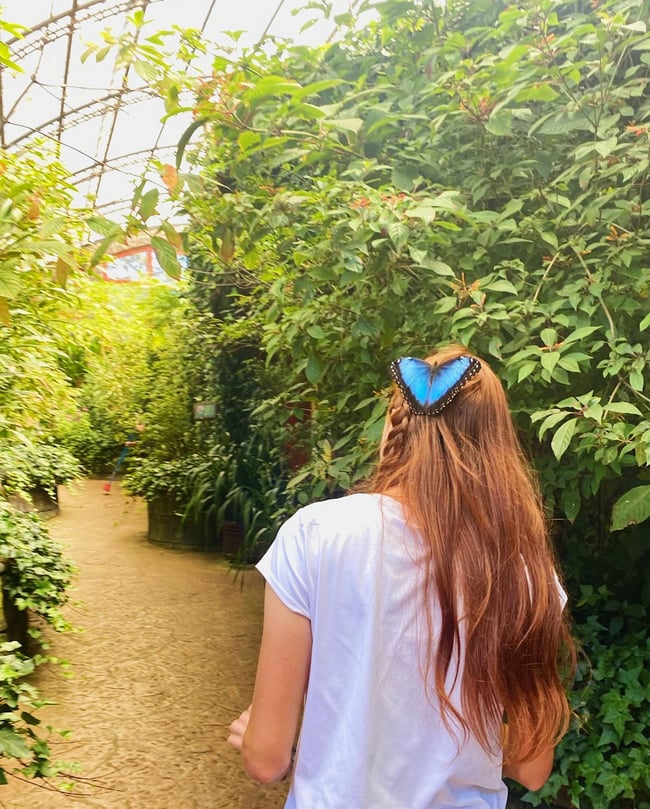 All About La Paz
The park has five thundering waterfalls, a cloud forest, hiking trails, and separate sections focused on animal habitats. There's an aviary, insect gardens, a butterfly observatory, a hummingbird garden, and a few other exhibits all spread through the 70-acre park. It sits on the slopes of the Poas Volcano (another favorite thing to check out) and is pretty high up there, elevation wise. The effect is a huge, lush garden where you can get close to lots of animals while you make your way through the park. Here's a more in-depth breakdown of the park.
The Animal Exhibits
Traditional zoos are outlawed in Costa Rica, so many of the animals you see at La Paz are there for rehabilitation, recovery from injury, or because they've been confiscated (sadly, many people try to keep these animals as pets). The exceptions are the frogs and butterflies which are bred on the grounds.
Around La Paz, you'll find several exhibits centered around some of our must-see animals in this part of the world. Think neon-colored frogs which are SO cool, slippery snakes, a collection of musical parrots in the bird exhibits, a huge butterfly enclosure, and a monkey exhibit full of four playfully different species. There's also a big cat exhibit which lets you see these beautiful cats up close (something that's pretty rare in the wild). Most of these cats were confiscated as illegal pets and have been given a more natural home in La Paz since they can't return to the wild.
There are some smaller exhibits housing sloths as well as one for insects. Around La Paz, you'll also find orchids, hummingbirds, and more. There's a lot to see.
Personally, our volunteers tend to like the bird exhibit, the exotic frogs, the butterfly garden, and the hummingbirds the very best. So you know, the best place to see hummingbirds are right off to the left when you just leave the main building and head out for your adventure. There was a tree with feeders on it right there and you get up really close!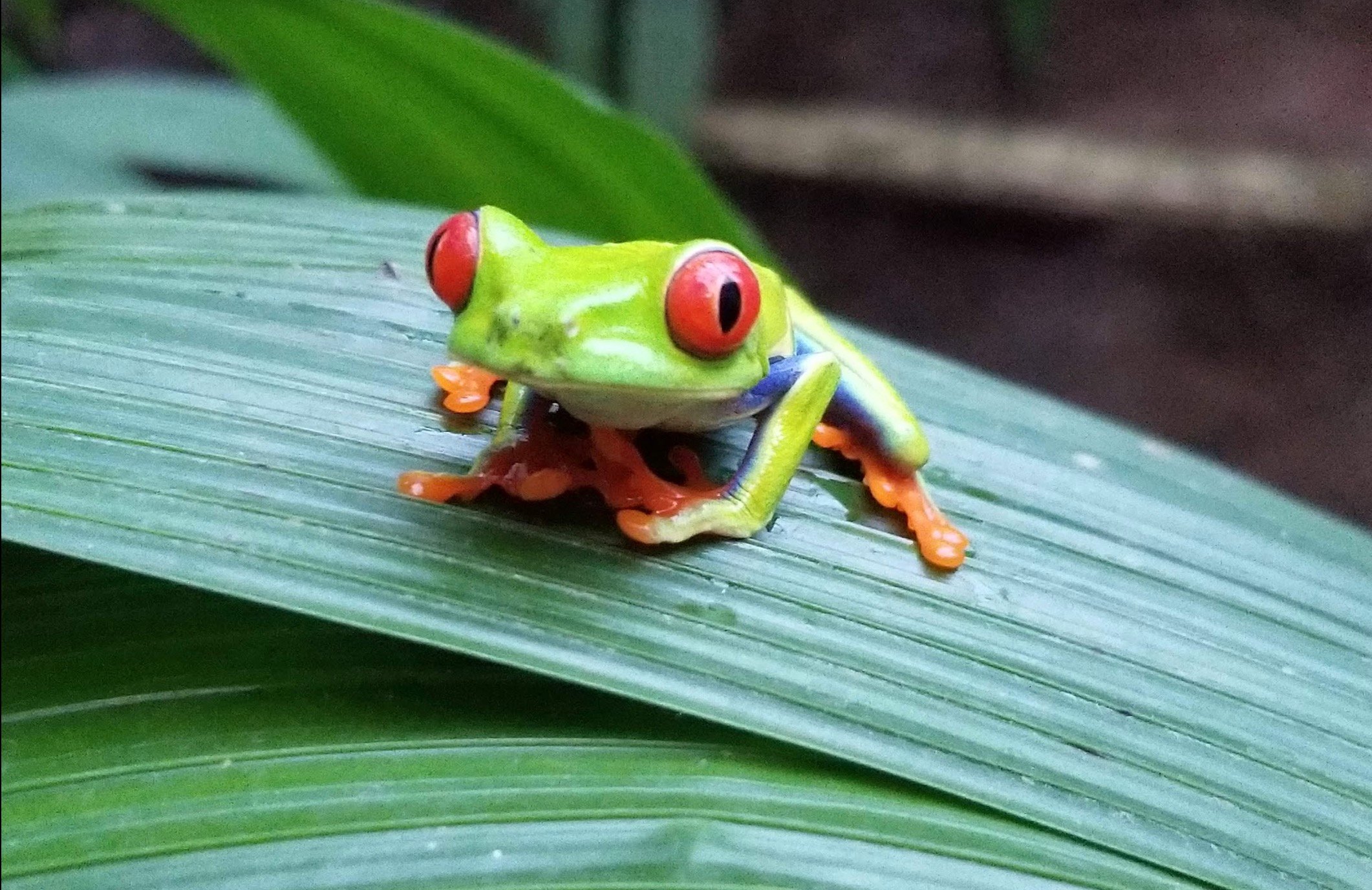 The Waterfalls
There's a 2.2 mile loop that takes you to the five waterfalls at La Paz. The last one you hike to is La Paz waterfall. Plan on this trail taking around 1-2 hours, though that time is pretty variable depending on how long you stay at each waterfall and how fast you hike.
The trail leads you to a building at the end of the park area where you can catch a shuttle bus that takes you back up the hill to the main entrance building. We suggest seeing waterfalls first, then exploring animals if you're looking to see both.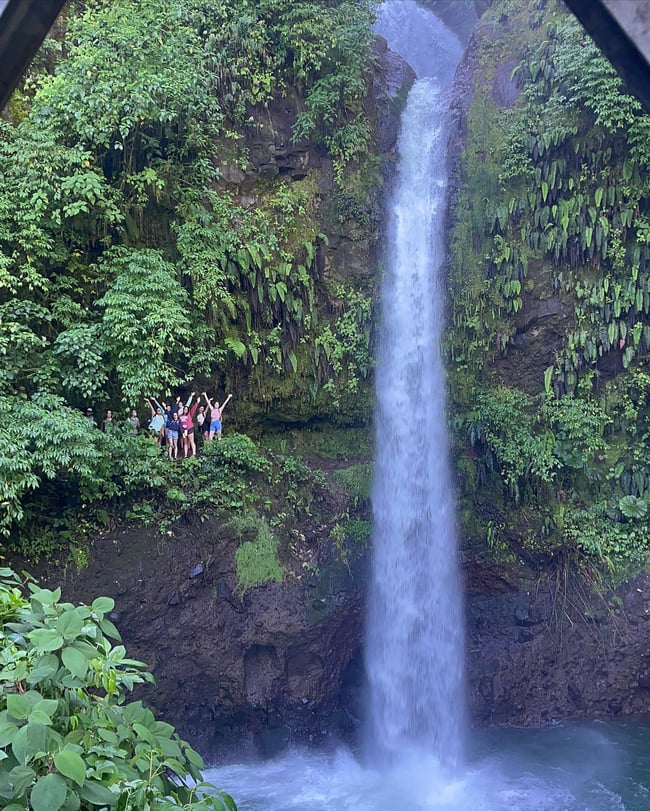 Fees + Hours
The park has a $48 entrance fee and is open from 8:00 AM to 5:00 PM. There are add ons to your ticket if you're interested, like a buffet lunch (it's around $14) or a guided tour through the park. Book your tickets here.
About the price ... those who have visited have said it seems very expensive but once you enter the park, it's beyond worth it. The park is very well maintained and is totally focused on conservation, so you know your ticket cost is going to a good cause. We've even been told that if the waterfalls were the only attraction here, it would have been worth the price — but you get the waterfalls and so many animals!
A Helpful Tip
Plan on getting wet while you do a lot of walking! It tends to rain a lot in Costa Rica, plus some of the hiking trails lead you right up to the waterfall (AKA the splash zone). Some people were glad they packed a poncho or a rain jacket to help them stay dry during their visit. It can weirdly get cooler than you think, too. Since it's so high up, the elevation can cause cooler temps and you may want a sweatshirt.
How Long Should I Stay?
Our volunteers say you need at least 2-3 hours, and some may even want more like 4-5 hours. It all depends on how much you'd like to see. If you're into seeing all the waterfalls and a few of the animal exhibits, you'll probably want to stay in the 4-5 hour range.

Our advice? Look into what you're interested in seeing and start there (waterfalls first, then the frog exhibit, and the hummingbirds) and then see what else you have time for if you're on a time crunch.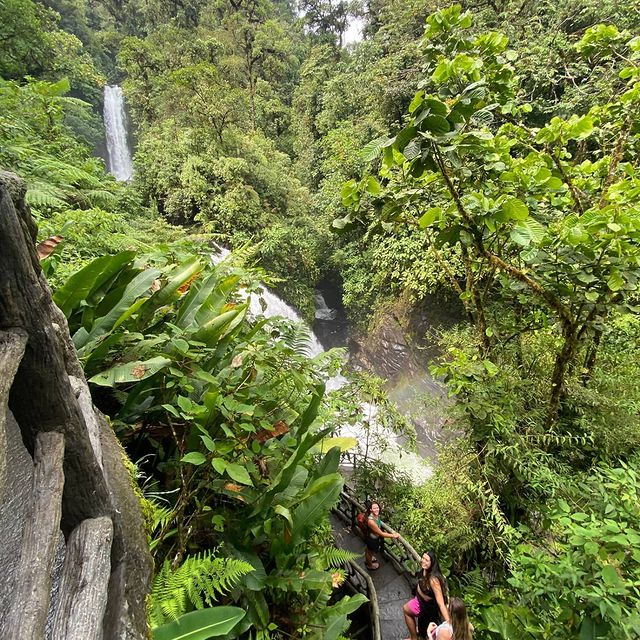 Getting Here
This is such an awesome weekend trip if you find yourself in or near San Jose. San Jose has so many weekend trips so you're really in a good spot for seeing so much of this country when you're not teaching English on the weekends ... that means just more time on your scheduled vacation time to see other parts of Costa Rica or hop down and visit another country. Score.
And getting to Laz Paz from that city is a cinch. Head to the Gran Terminal del Caribe in San Jose (Calle Central and Av 13). We suggest getting on the earliest bus, so aim for the 6:30 AM bus set for the Puerto Viejo (Sarapiqui) route that goes through Vara Blanca. Other buses go through Puerto Viejo, but you want the Vara Bianca bus. Just let your driver know you're heading to La Paz! It's a famous tourist spot, so they should know it. There are other departure times (around 1:00 PM and 5:00 PM but the later in the day gives you less time at the park, and more time in traffic).
After you pass Vara Blanca, there will be signs for the La Paz park and you'll get off there. The route is about 2 hours and costs about $3 USD per person, each way. As always, doublecheck routes, times, and prices before your departure (these details tend to shift frequently). Oh and don't plan on sleeping the whole way there ... the drive is gorgeous!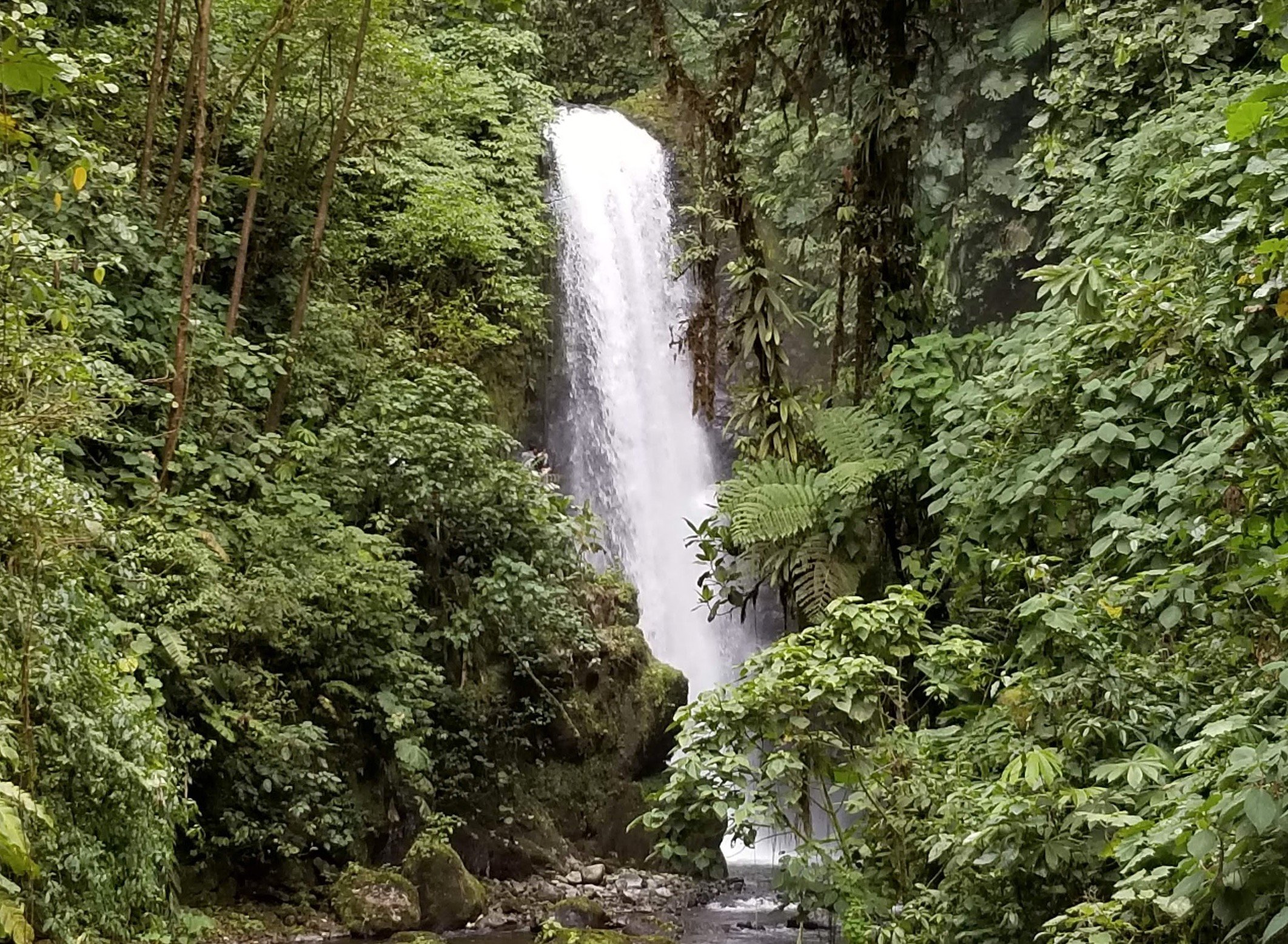 Costa Rica's calling you
Sounds like you need to come to Costa Rica with us! ILP's a non-profit organization based in the US that sends college-aged volunteers for a semester abroad. Plan on every weekend off, vacation time, spending part of your day teaching English (no experience necessary), and the rest of your time adventuring around Central America.