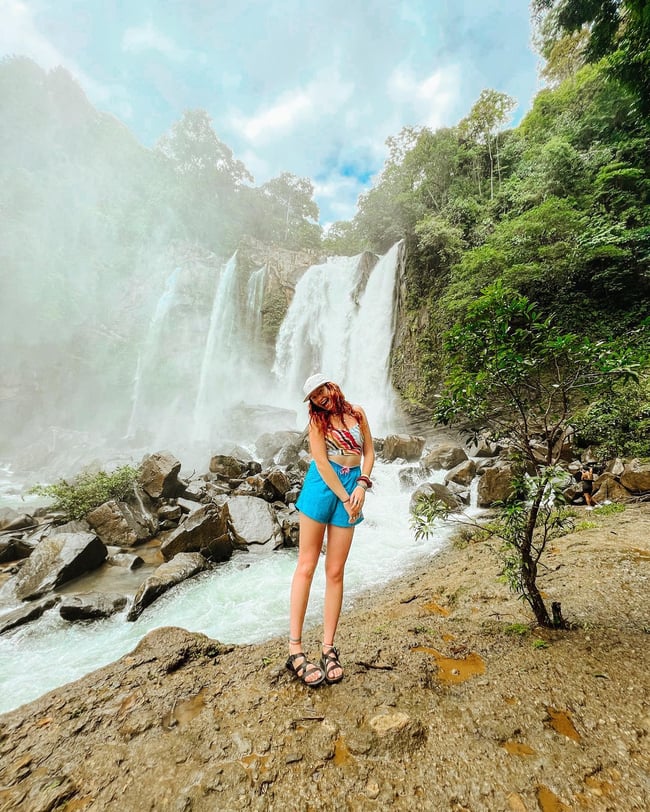 It is kind of like Costa Rica has a monopoly on the world's prettiest waterfalls … but out of them all, Nauyaca is one of our favorite spots for a hike and a swim.
You probably know the drill when it comes to Costa Rica. This place is crammed full of the tropical adventures you're dying to have, including so many waterfalls. And one in particular is absolutely a can't miss experience — you trek through the thick jungle only to find a foamy, multi-tiered cascade that pools in the most delightfully blue swimming hole.
And to make this spot even better, it's found in one of our favorite spots in the country, along the western coastline. It's an area of Costa Rica known for pristine jungles that are filled with some of our favorite waterfalls around. Plus, if you're calling Costa Rica home for a semester (hi, ILP volunteers!) you can easily explore this waterfall on a day trip or a part of a weekend visit. What more could you want?


---
Yep, ILP volunteers get to call Costa Rica home for a whole semester
Learn more about that here
---

Since this is quickly becoming a must-visit spot for our ILP volunteers, we have all the details you need to know about visiting (and a whole lot of pretty pictures because you're going to want to get to Costa Rica as fast as possible the minute you see this place).
All About This Dreamy Spot
The falls are exactly the stuff you think about when you think about a lush, jungle paradise. Nauyaca sits in a wide canyon, thickly covered in greenery just off the Dominical coast in Western Costa Rica.
There are two sets of falls, one perched up on the rim of the rocky canyon (the upper falls) and the lower falls, which pool into a delightful spot to take a swim. The water in this pool can be as deep as 20 feet, so it's a pretty good place to splash around.
You can hike up to the upper falls and snag a picture, but most people tend to do their swimming at the base of the falls (plus, from there you can get a view of both of the cascades, which makes for quite the picture). From the upper falls, you can peer over the edge and see the lower falls tumbling below you and people swimming around, which is rather picturesque, too.
See why Nauyaca is just one of those spots you have to see?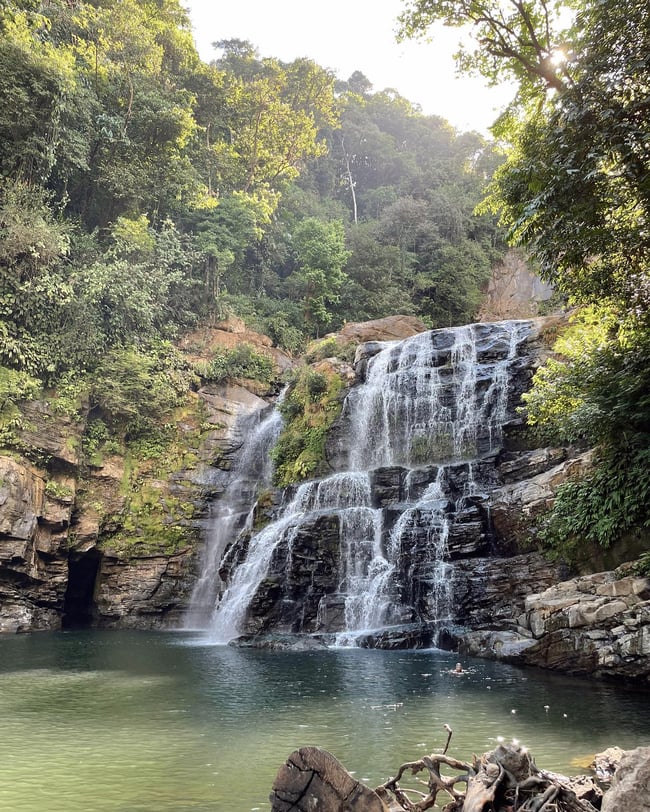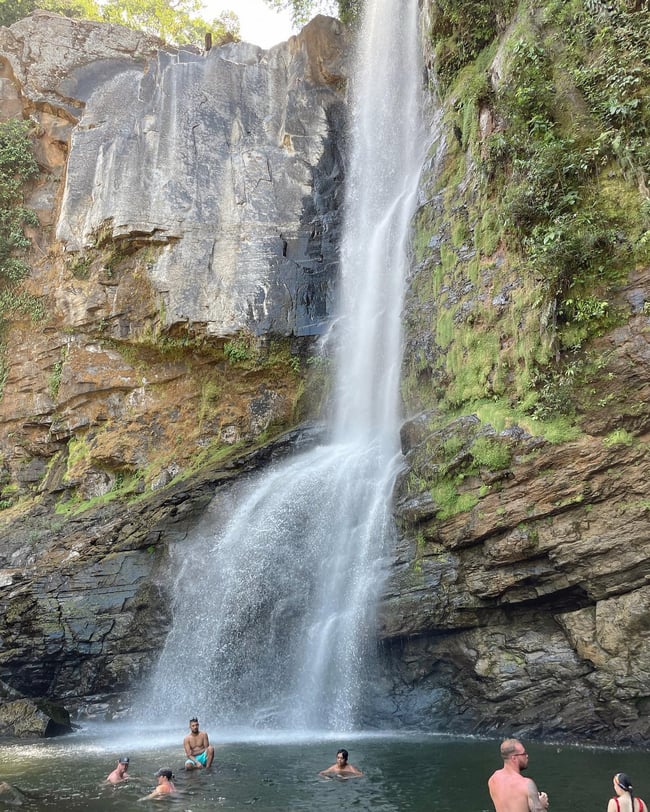 Hiking Or Horseback?
We have more info about this below, but the waterfalls are about 2.5 miles into the jungle from the trailhead … and you'll either need to take a hike or hop on horseback to make the trek! Both options follow the same trail, but there are pros and cons to either option. Or you can go with the 4x4 truck if neither of those sound appealing. We have info about all three below:
If You Hike
It's a hot and humid hike, but at the end, you can cool off in the pools (which makes it so worth it). Plan on spotting colorful birds while you hike through the trees, and avoiding some muddy puddles on the trail. Remember, it's the same trail the horses use so you'll also need to avoid anything left behind by them.
Plan on the hike taking around 1.5 hours (depending on how fast you're trekking along for the 2.5 mile hike). You'll encounter some bugs but it's an area that's home to a handful of sloths, macaws, and toucans, too.
The entrance fee for the waterfalls is $9 USD or 5300 colones per person. No need to make a reservation, just head to the office of Don Lula, who owns the property.
This option is best for those wanting to spend more time in the jungle and at the falls. Because you're not going via horseback or by 4x4 truck, you can decide how long you want to hang out at the waterfall (which is a pretty big pro). You'll want to stagger your hiking time with the horseback riding schedule because the trail can get crowded. We have details on the horseback riding below so you know when to leave for your hike.
Pro tip? Past ILP groups recommend that you get a taxi or pay for the shuttle to take you from the parking lot to the building. It's a 1-mile paved road that is downhill and very steep which makes the way back exhausting. We've heard this is the most challenging part of the hike and can easily be avoided if you go by taxi or shuttle!
Going By Horseback
This is the most popular option, and tends to sell out quickly in the high season … some tours have as many as 50 people! If you'd like to go via horseback, you will want to make reservations to be sure you have enough horses for the people in your group. Best to do this at least four days before you want to visit. The horseride route comes with a little tutorial in case this is your first horseback ride, as well as a helmet.
This option includes a light breakfast at a little cottage, then you get to ride to the waterfalls to soak in the sights and go for a swim. On the way back, you'll stop at the same cottage for lunch. The horseback tour runs Monday through Saturday, at 8:00 AM to 1:30 PM, and is $85 per person.
Riding The 4x4
Because the horseback rides are so popular, they've recently added this option for tourists: riding in the back of a truck. It's the fastest option to the falls (it takes around 30 minutes) and has departures at 7:00 AM, 9:00 AM, 10:00 AM, 11:00 AM, and 12:00 PM. You'll get two hours at the falls, then ride back to the trailhead.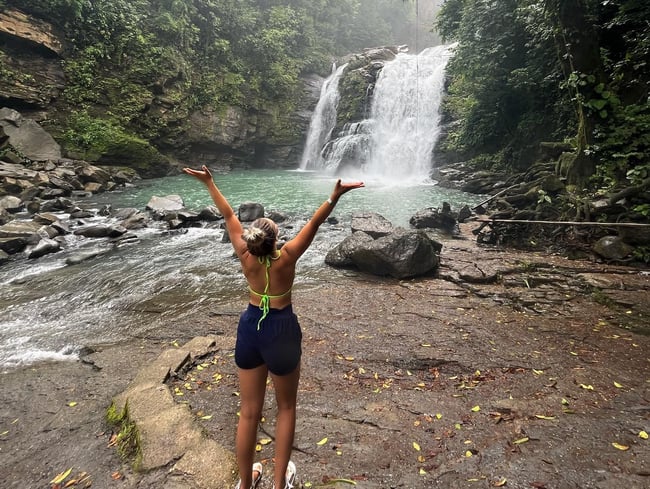 Things To Bring
Plenty of water — it's very hot and humid in Costa Rica, and you'll need to stay hydrated. Snacks with a bit of salt is also a good idea since you'll be sweating quite a lot.
Especially if you'll be hiking or riding on horseback to get to the cascades, you'll want bug spray, sunscreen, and maybe a hat to help protect you from the sun.
The rocks around the falls are very slippery, so wear water shoes with a good grip.
Don't forget your swimming suit and a towel, either!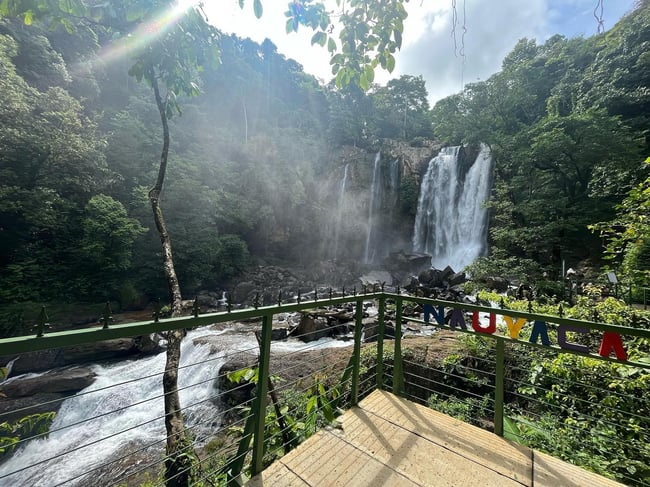 + A Few Other Details
There are facilities found at the lower falls where you can change in and out of swimming suits, plus you'll find a few picnic tables, too (and a bathroom). There isn't anywhere to buy snacks or drinks so you will want to bring your own. Just know things get very slippery on the rocks, so watch your footing.
This place gets busy, so visiting earlier in the day is better. It tends to get the most crowded in the afternoon, especially between December and April … which is the best time to visit, thanks to the water levels.
Costa Rica has some pretty distinctive rainy seasons, so coming here in August means you'll see so much water pouring down the rocks and flooding that swimming spot. The waterfalls are gorgeous to look at, but swimming isn't going to be an option at that point. If you plan on swimming here, avoid August, September, October, and maybe a bit of November, too.
Getting Here
20 Minutes From Dominical
You can find this towering waterfall deep in the thick rainforest of the western coast of Costa Rica. If you know all about this part of the country, it's around the Dominical Coast (a favorite hangout spot for our ILP volunteers and a prime place to go waterfall hunting). You can easily do this waterfall adventure on a day trip if you're already spending time in Uvita or around the Ballena Coast, just snag a taxi to take you there from Uvita, or any of the other coastal towns on the Dominical Coast.
Whether you decide to hike or horseback, the trailhead starts at the same place: Don Lulo's office. It's found on Route 243, off the Costarena highway. This place is pretty popular, so there's a good chance your taxi driver will know where to drop you off.
Here are the GPS coordinates if that's helpful: 9.280789, -83.822594. We just want to make it as easy as possible for you to come and see this spot for yourself!
From Quepos
If you won't be near the Dominical Coast but find yourself in Quepos instead, some take a day trip from Quepos to the Nauyaca Waterfall. From Quepos, it's a 45-60 minute taxi ride.
If not, you can rock the bus which is much cheaper. There's a bus that goes from Quepos to San Isidro Del General a few times a day (departing at 5:00 AM, 11:30 AM, and 3:30 AM). The bus ride takes you right past the Dominical Coast as a stop. From there, you can call an Uber or taxi to take you to the falls. Check prices and schedules here.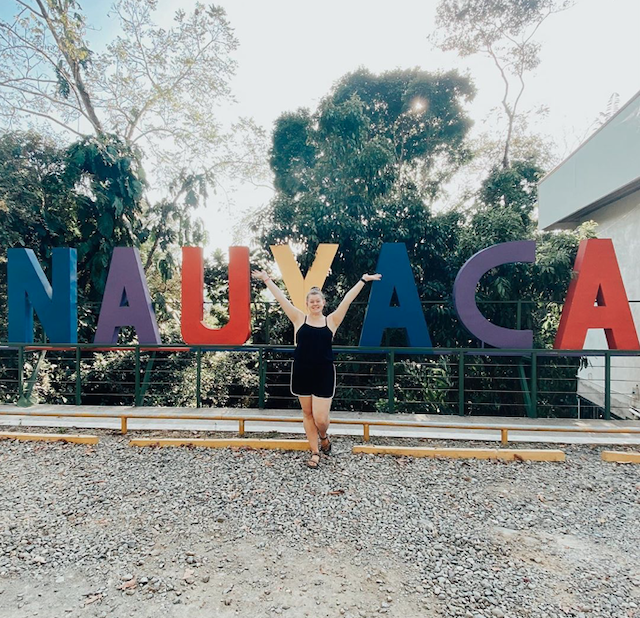 Tropical weather, lush jungles, and high adventure are waiting for you
Come spend a semester volunteering in Costa Rica! If you come to this country with ILP, you'll be set up with a group of fellow volunteers to teach, live, and travel with as you explore everything this tropical paradise has to offer. Get a peek at what a semester looks like here (with plenty of pictures too).