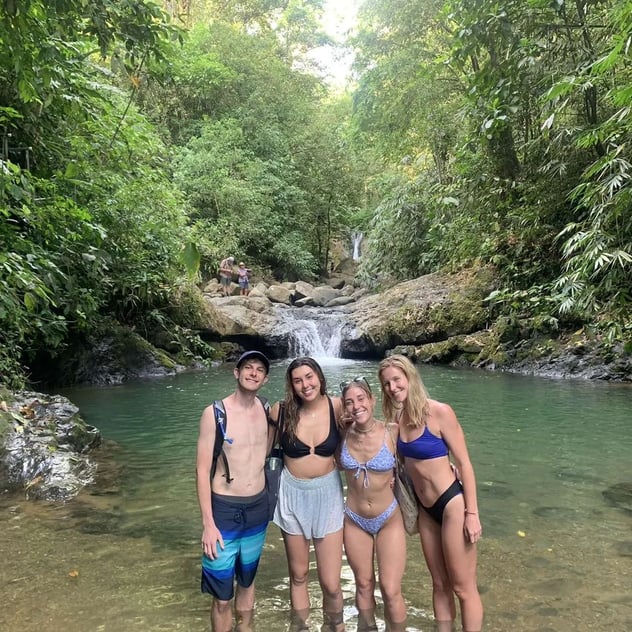 If you need a break from the dreamiest beaches around, head into the thick jungles for some swimming in these waterfalls.
Hiding in the thick jungles of Costa Rica, you'll find more than a few waterfalls, but the ones around Ojochal are our newest obsession. Found just around the corner from where a few of our volunteers in Uvita are living, swimming in these waterfalls is easily done in a weekend and aren't full of the crowds, unlike other spots in Costa Rica. Talk about the best way to spend a Saturday, right?


---
Experience the parts of Central America you don't know about yet
Central America Destination Guide
---

The areas of Uvita and Ojochal (just a bit south of Uvita) are home to a couple of waterfalls that make the perfect place to hang out and swim for a weekend if you'd rather have a break from the beach. Here's a breakdown of the best falls in your neighborhood:
Uvita Waterfall
Another favorite spot for ILP volunteers living in Uvita! The big pull for this waterfall is the swimming spot under the falls, the platform downstream that gives a you a good jumping off point, and a bit of a natural waterslide hiding in the rocks right under the falls. In total, you'll find two swimming pools near the falls, one that's deep (around 8 feet or so) and another that's shallower and perfect for just hanging out.
There's a well marked trail that will get you to the falls (there's a handrail to help you out, but having waterproof shoes with decent grip comes in handy). There are also a couple of places nearby where you can get snacks or smoothies, but like most places in Costa Rica, service is slower so plan on lounging around after you order while you wait, but it's worth it — the smoothies are absolutely delicious.
Up by the smoothie place there are bathrooms for you to use and change in if you don't want to wear a wet swimming suit home.
Tip: Locally, this place is known as Catarata Uvita (it pops up on Google when you search that term).
Cost: About $2.50 USD and is cash only: part of your entrance fee goes towards maintaining the pools and the pathway, so think of it as helping to keep that a well maintained pathway. Since it's a paid waterfall, you'll need to visit when it's open: typically around 8:00 AM.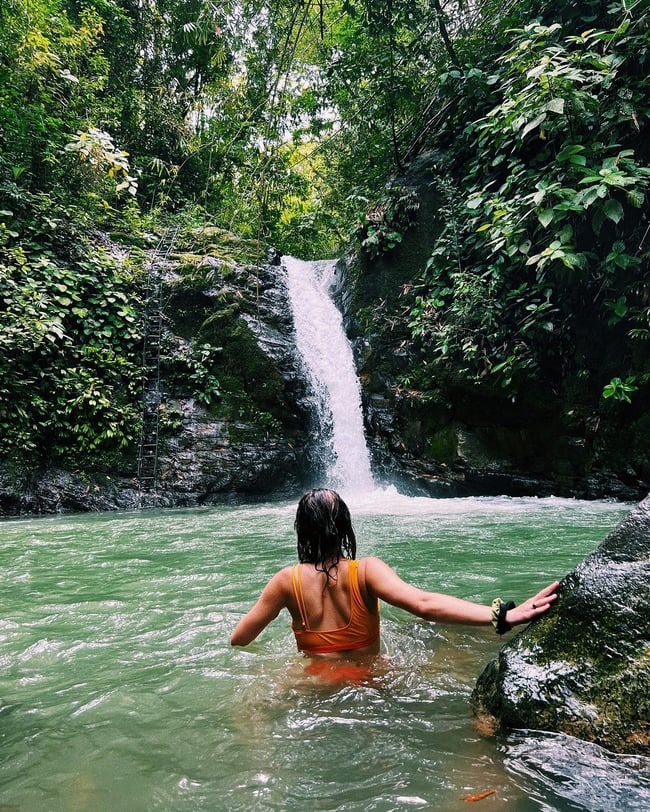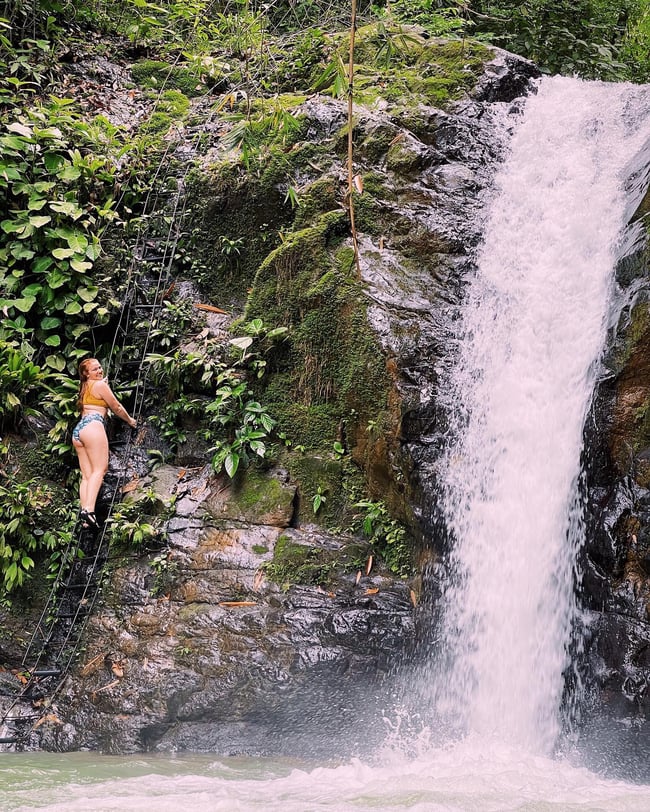 Hidden Waterfalls
Don't worry, we know exactly where to find these supposedly hidden waterfall (find them here!). There's a pool you can swim in, along with a some shorter falls around the pools, and a thundering horsetail falls that crashes down a flat rock face.
There's no fee to enter, but you will need to hike to get there (you'll do a river crossing at one point so make sure you have shoes for that).
Ojochal Waterfall
Another great spot with a view and for a Saturday or Sunday of swimming, this waterfall isn't as popular as some of the others which means you may get the whole thing to yourself on your visit. We're big fans of lounging on the mossy rocks and wading into the shallow pools (and leaving the rope climb to the professionals – can you peek the rope to the right of the waterfall? It's beyond slippery and risky to climb).
The water does get deeper the closer you get to the falls, plus it spills into a smaller swimming hole that can be a nice place to soak when the water levels are higher (thanks to all the rain in Costa Rica). We're big fans of bringing an inflatable tub where you can just float in the cool water and soak in the green jungles.
Cost: The waterfalls are free to visit, but sometimes there is a person there who is looking to charge people who visit (around $5 USD). Feel free to make a smaller donation if you can't talk your way out of the charge.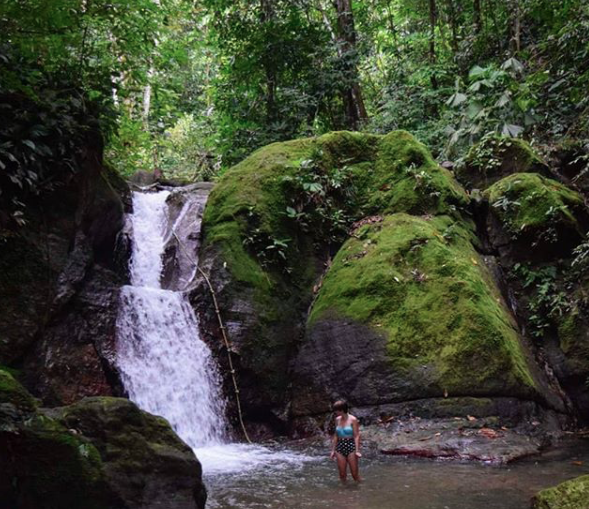 El Pavon
Found in Ojochal, this waterfall is small, but it's quick to recognize (and love) thanks to the huge bolder that sits right above where the cascade falls to create a perfect swimming hole. This spot is perfect for a quick swim: the waterfall pools into a series of spots that are deep enough to wade into and clear enough that if you have a snorkel mask on, you can see some of the fish swimming around. Just a couple of tips for your visit: There's no where to change, so best to wear your swimming suit and pack a towel. It's also nice to have watershoes with a good grip because the pathway and rocks down to the swimming pools are slippery.
Above the pools and the waterfall, there is a part that's rocky but flat, so you can pack up a picnic and have lunch after you swim. There really aren't many spots for lunch, unless you want to visit the Tilapia restaurant just down the road, so most people pack their lunches for the day. The spot is a total hit with the locals and can get a bit crowded on weekends or holidays, but if you get there early, you can sometimes get the place to yourself.
Cost:
No entry fee for these falls.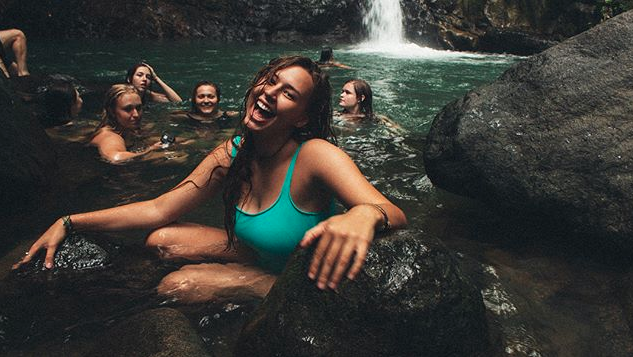 Nauyaca
You'll hit these falls if you travel just outside of Dominical, off the coastline. They're a favorite, so you may find the trail to be a bit more trafficked, but there's a reason it's so popular! A favorite way of getting to the falls is via horseback or 4x4, but it's also hike-able if that's more your speed.
Check out all the details here.
A Few Tips For These Falls
Watch Your Stuff
There aren't really lockers at any of these waterfalls, so make sure you have someone with your things while you are all swimming. You shouldn't need much when visiting: a swimming suit, towel, and some cash for the entrance fee if there is on. Just like any other public beach or pool, you'll want to make sure you don't leave your valuables unattended.
Getting Around
There are a few waterfall tours you can take to get to all of these falls, or you can visit them separately. ILP volunteers will be set up with a Local Coordinator who can help you call a taxi or driver to these spots, since they are off the track of the public buses that run around Uvita. These all pop up on Google Maps to help you navigate your way there or let a driver know where you are headed.
There are also tours you can take that may take you to a few of these waterfalls (and maybe some new ones in the area!) You can check them out and contact them about tour options via their Instagram account: brokenwaterfalls_cr
A Map To Help You Out
To help you orient yourself, here's a screenshot of where these waterfalls are all at. It would take about an hour to drive from Catarata Uvita to the Waterfall of Ojochal then up to El Pavon, just to give you can idea of how close they all are to each other. Nauyaca is a bit further north, but we think it's definitely worth the trip.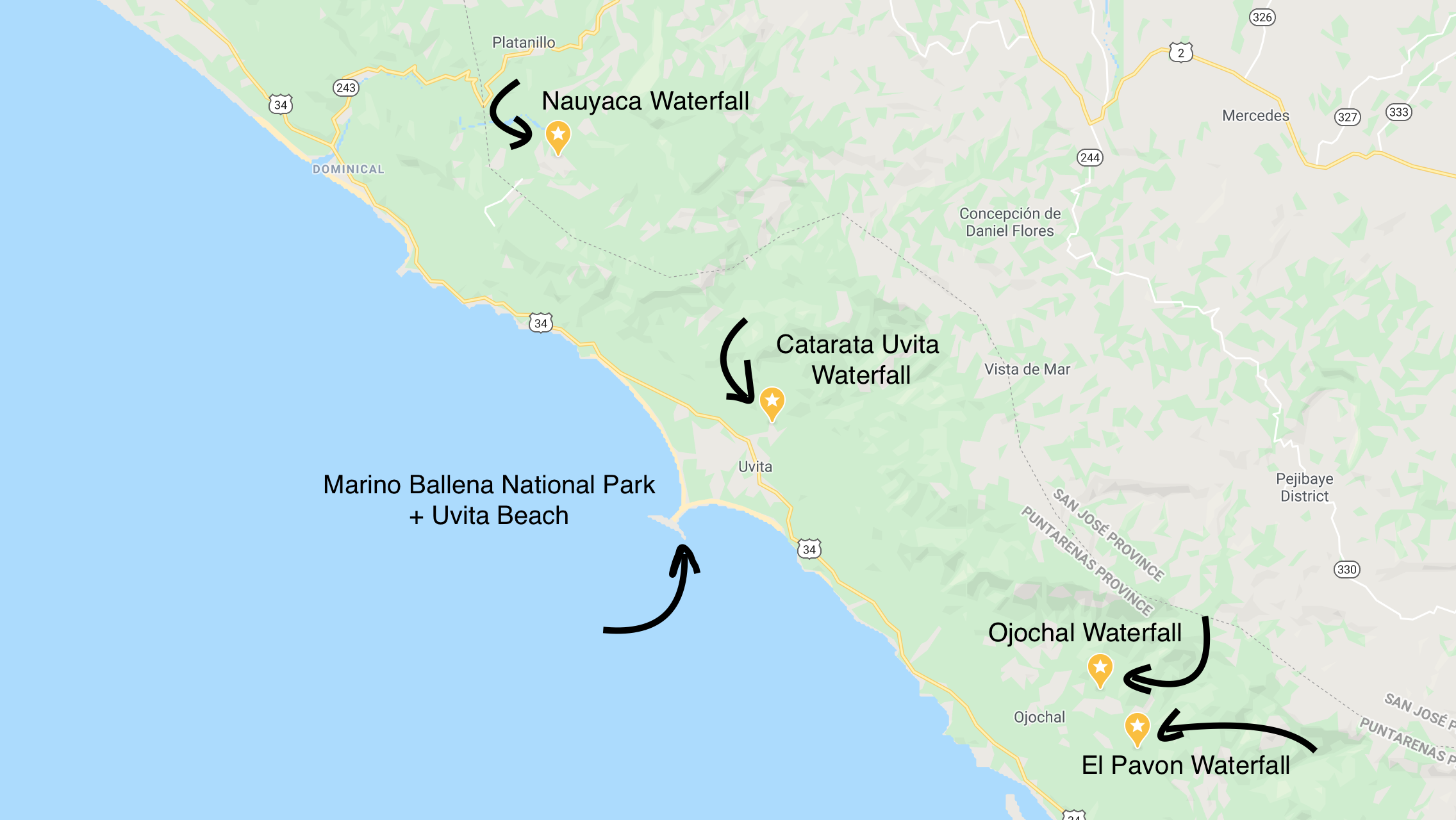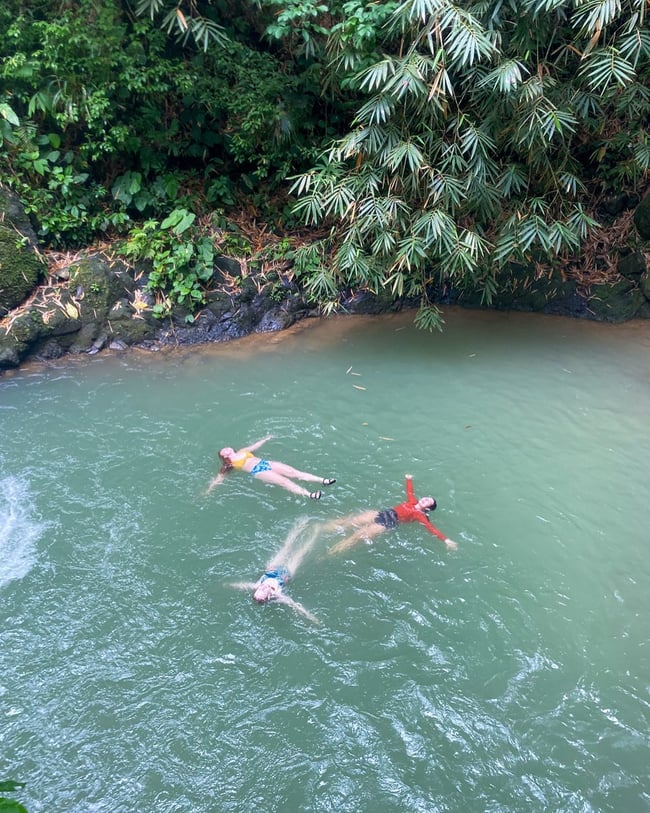 Ready for a semester living in Costa Rica?
Come hang out in Costa Rica and you could spend your weekends splashing around waterfalls after hiking through the thick green jungle. ILP is a service-based travel organization where volunteers live in Costa Rica for a semester as volunteer English teachers, with free time, weekends off, and vacation days to really explore Central America.