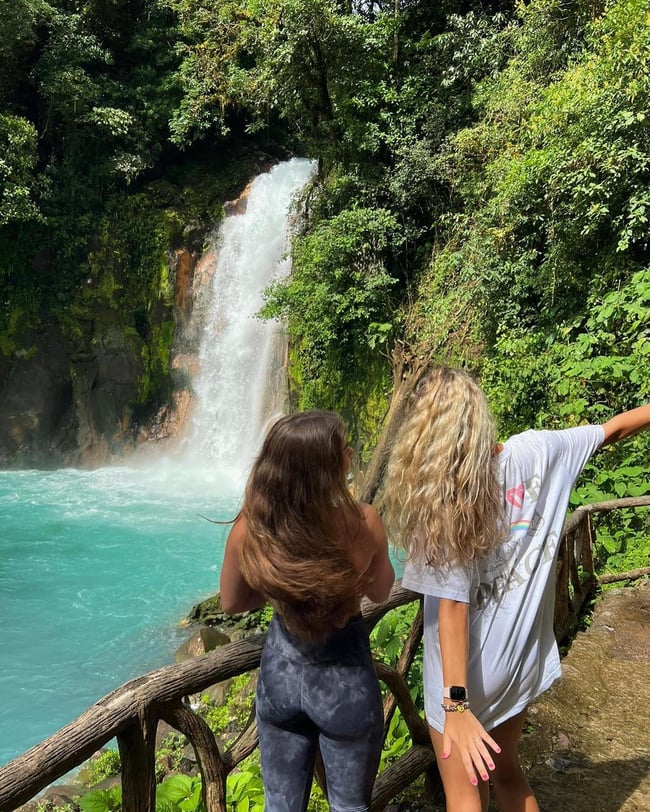 Costa Rica's prettiest waterfall, volcanoes, and hot springs, all in the same spot.
Anyone going to Costa Rica needs to visit La Fortuna: it's where you go for all the Costa Rican adventures you are looking for, like hiking through dense jungles to find waterfalls, trekking above those thick tree tops, plus hikes to volcanoes. Yep, it's a favorite spot for everyone, including our ILP volunteers.


---
See our other favorite spots in this country + others
Volunteer in Central America with ILP
---

Here's the scope on all the best things to do, plus details like how to get there and tips on spending your time.
First, A Little Heads Up
It's important to know that La Fortuna is a little suburb that's the access point to the adventures you are looking for.
It's 11 miles away from Arenal volcano, and about 40 away from Rio Celeste, so people tend to head into La Fortuna and stay there overnight, and take little "day trips" outside of the small city to do things like hike volcanoes, explore rainforests, trek to waterfalls, and soak in hot springs. It's just good to know the layout of things so you know where to spend your time. We'll have more on that later.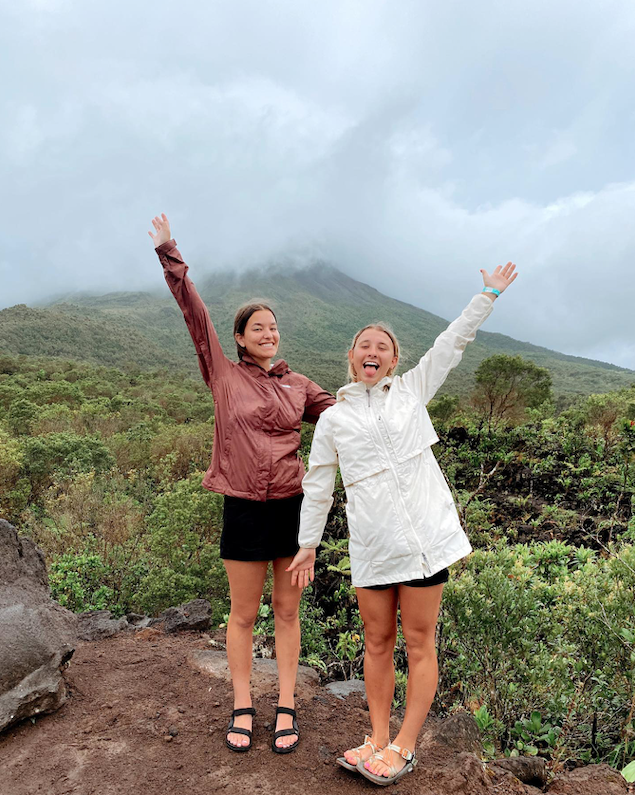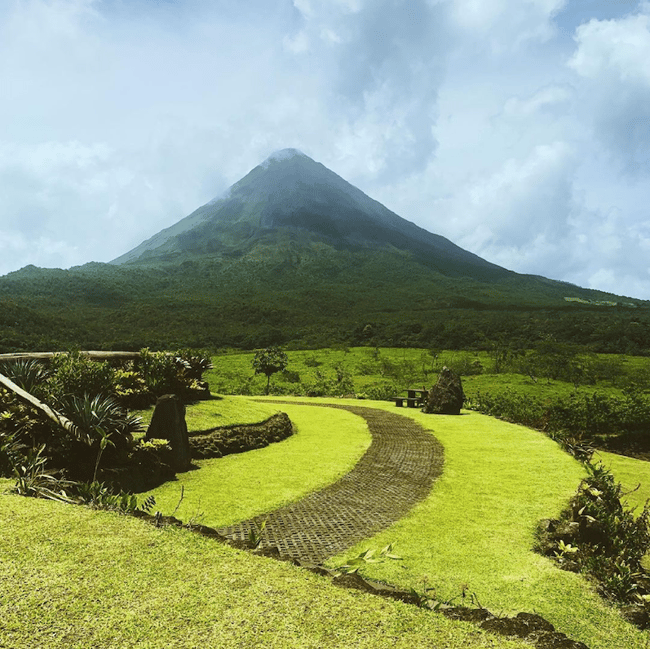 Your "Must See" List For La Fortuna
Hiking To La Fortuna Waterfall
+ Turquoise Pools

Possibly the area's biggest attraction and for good reason. It's a very popular hike down to the base of the waterfall and something not to miss while you are here — it's seriously picture perfect: a tumbling waterfall that pours into a turquoise pool deep in the emerald jungle is hard not to be obsessed with. Plus we love that you can actually swim at the base of this waterfall, unlike Rio Celeste.
The Hike
There are guided tours if you'd like to pay for a guide, but we think you should save your money and just do it yourself. Once you get dropped off at the park entrance and pay, you'll walk up to a viewing platform where you can see the waterfall tumble through the trees (don't miss this!). After you have all the pictures you want, you'll hike down the 400+ steps to the base of the falls. The hike isn't that difficult on the way down, but it's all stairs on the way up, so be sure to pace yourself.
Once you reach the bottom you're ready to soak in the sites and swim — the turquoise pool right below the waterfall has a strong current, but off to the left there is a calmer pool area that's better for swimming. After you're done cooling off in the water, get ready to hike all those stairs all the way to the top.
Cost + Hours: There is a $15 entrance fee. The park is open from 7:30 AM to 4:00 PM.
Get Here: Taxi is probably the easiest. It's about $15 from La Fortuna city to get to the entrance of the park, and about $20 to get back to town.

It's just 11 miles away, so the ride isn't terribly long.

Good To Know: The park entrance has bathrooms, a souvenir shop, and a place or two where you can buy snacks and water along with a small cafe.

There are also rooms where you can change in and out of your swimming suit before your taxi ride home. You'll want to pack plenty of water for the day, and wear waterproof sandals (we love Tevas or Chacos) to hike in and swim in.

This hike gets crowded in the mid-morning and afternoon, so we suggest getting there early so you can at least avoid the crowds on the way down.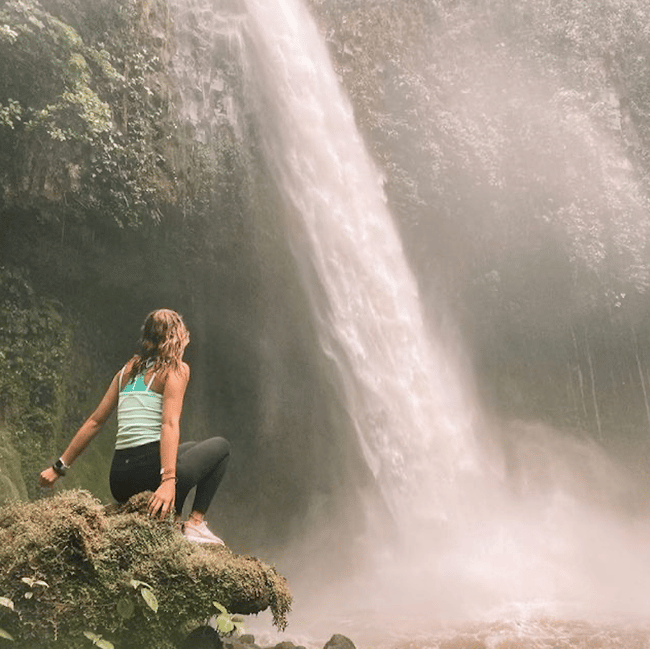 Swim In Arenal Lake
Want a way to cool off with a little swim that has the coolest view in Costa Rica? At the base of this towering volcano is a deep emerald lake where you can dive right into the refreshing water. The whole lake is rimmed with the thick jungle, so keep an ear out for rainforest sounds like cawing parrots or chattering monkeys. It's a man-made lake where visitors enjoy windsurfing, paddle boarding, and kayaking and the chance to hop in for a swim.
The lake is pretty huge so deciding where to take a dip can be quite the decision. We're big fans of swimming where you can see the soaring tip of the volcano Arenal which is on the eastern side of the lake. You can also find a boat and kayak rental service near this spot (Arenal Boat Rental Association) or hop to the other side of the lake on that side for CR Paddle Board.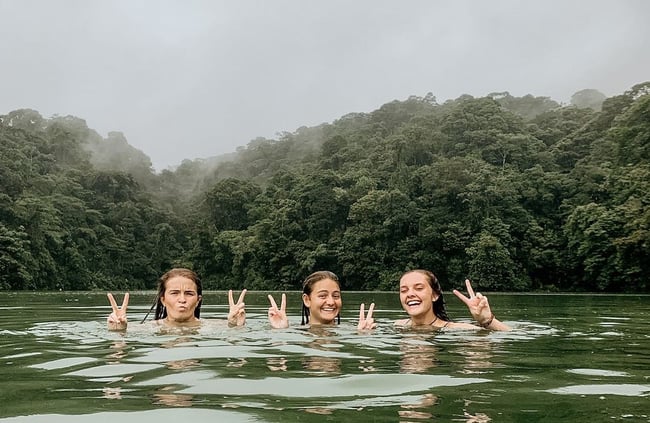 Soak In Hot Springs Hiding In The Jungle
Thanks to the volcano in the area, there are naturally heated hot springs that are found in the lush rainforests around La Fortuna, so if the idea of soaking in warm pools while you have colorful parrots flying above you sounds like a dream, you can make it happen here. You'll find loads of resorts and hotels that let you get a day pass to access the hot springs and it comes highly recommended by ILP volunteers! One said "it was the highlight of our trip!"
We've had volunteers visit the Baldi Hot Springs and Resort — It's one of the most affordable hotels to experience the hot springs at (you'll find waterfalls, 25 different pools in the palm fronds … it's so dreamy). Some alumni recommend getting the dinner pass when you're hanging out at Baldi all day (it's an all-you-can-eat buffet with "amazing food").

Hours, Price and Info:
The springs are open from 9:00 AM to 10:00 PM
Price depends on your package. Ranges from $36 to $80 depending on if you want meals added or not. Book passes online here (and get some more info).
Address: 142, Provincia de Alajuela, San Carlos, Costa Rica (best reached by taxi: it's about a 15 minute drive from La Fortuna).
Or Go For Free
If you don't want all the luxuries of a hotel's hot spring and want to save some money, you can see if you can find the free hot springs in the area. It's actually the Tabacon River that's naturally heated and a total favorite for the locals (it gets crowded on the weekends). If you get a taxi to the Tabacon Resort, you can walk 5-6 minutes in the jungle to find a few pools you can swim in, totally free of charge.
If you type in "Free Natural Hot Springs River" into your GPS (the one by the Tabacon Resort) that can help you find it. There's an entrance on either side of the bridge, just walk alongside the road (going along with traffic), you'll find the dirt road you walk down to the springs. The springs vary in depth, and cross under a bridge (it's really shallow there). There is quite a pull from the river, so hang on while you're walking to a new spot: the water can be pretty powerful and the rocks are slippery. I was glad I had my water shoes on and a dry bag so I could keep my belongings with me the whole time.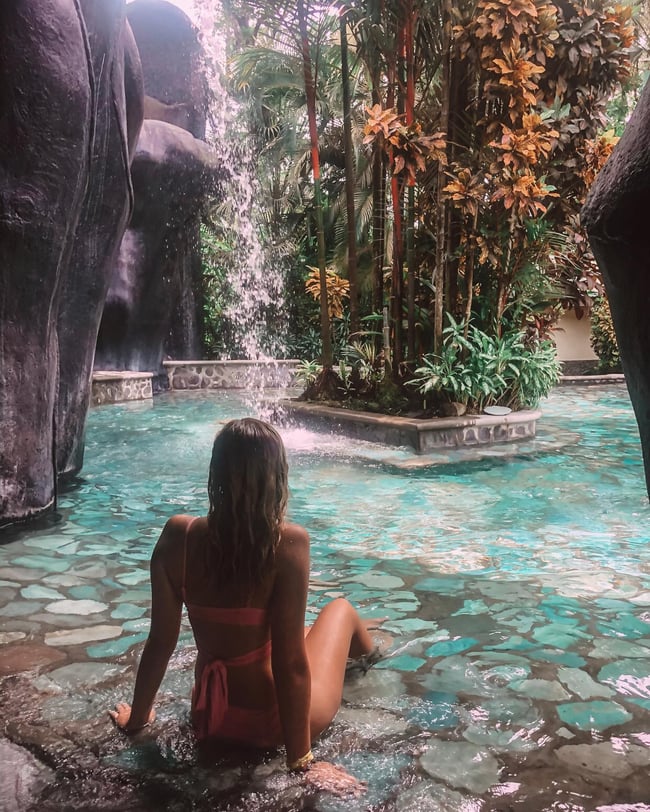 All About Rio Celeste
Thanks to the magically blue water of these falls, we can see why people flock to La Fortuna just to hike into the forest and glimpse something so pretty. Legend has it that God himself washed out his paintbrushes in this waterfall after painting the sky which creates stunning color. You'll just need to visit the Tenorio Volcano National Park to see it.
You can totally do this yourself, but there are guided tours if you'd like to pay for a guide. We are fans of the DIY version for this hike, but most tours include transportation which is nice, since the Tenorio Volcano National Park entrance is kind of far from La Fortuna.
The hike itself isn't too bad, just over 3.7 miles and should take about 3 hours if it's not too muddy. There are sections that have concrete stairs with railings, but some sections are uneven tree roots that can get very muddy if it's been raining. Oh, if it has been raining, it can somehow lesson the "blue" of the water. For that reason, you may not want to visit in October and November (some of the rainiest months).
Getting Here: The Rio Celeste waterfall is about a 1.5 hour drive from La Fortuna, and you'll need to hire a car to take you up to the base of the hike. It's about a $35-$40 ride to the park entrance.
Cost + Hours: Entrance fee is $12 for adults, and the park is open from 8:00 AM to 4:00 PM, but you can't enter after 2:00 PM. It's best to get there as early as possible to avoid the crowds.
Some Things To Know: The number of visitors are limited each day (1200 per day, only 400 at a time) so once you reach the base, you may have to wait. Bring snacks and water to help pass the time.
You can't swim in the pools, but if you go about half a mile past the park entrance (by the bridge) you can swim in the blue river for free. Or you can swim in the blue water at the Piruri Cabinas for $6.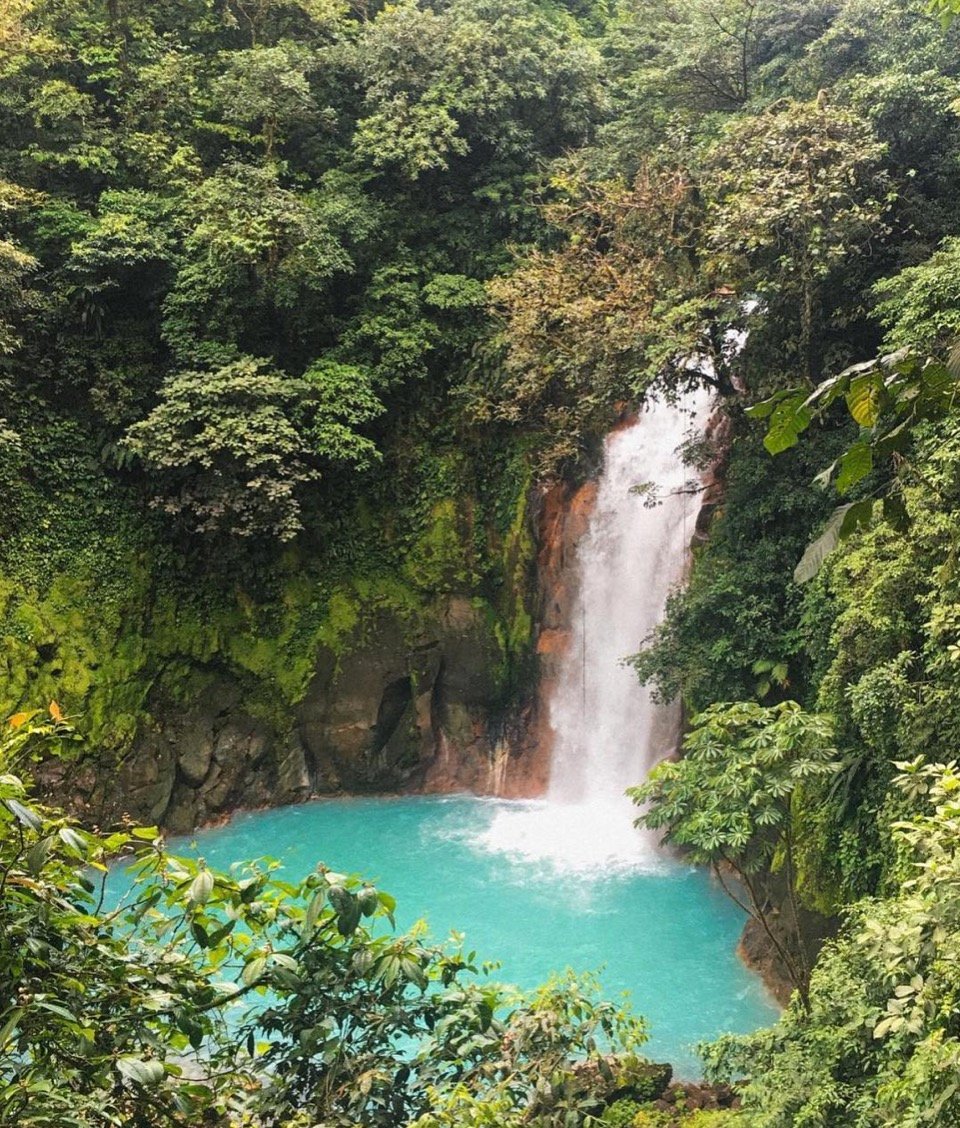 See The Local Celebrity, Arenal Volcano
One of the biggest (and prettiest) reasons people come to La Fortuna is to hike around what may be Costa Rica's most famous volcano. Still active, Arenal is in a "resting phase" but used to have some 40+ eruptions a day. From the Arenal 1968 park, there are a couple of trails you can take that wind through black lava fields and lush greenery.
Here's everything you need to know about hiking around Arenal Volcano.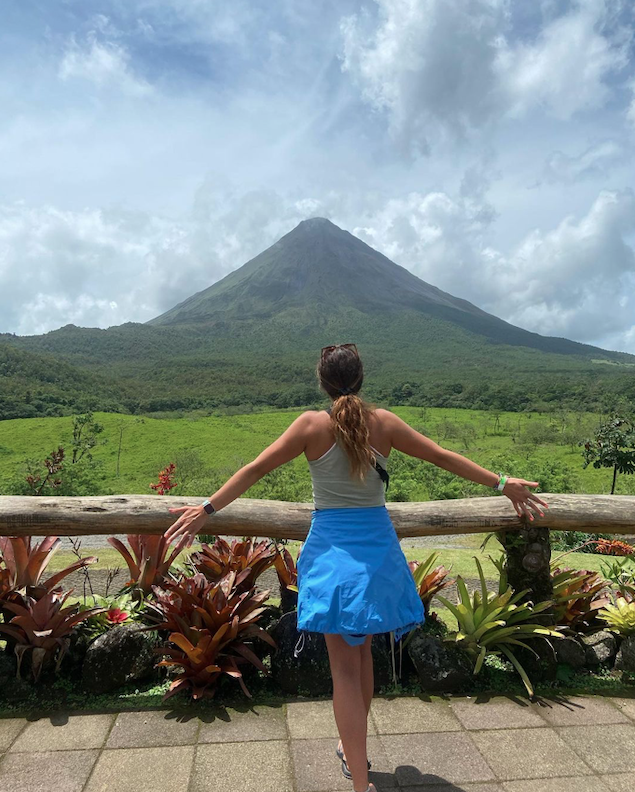 Spend Some Time Swimming At El Salto
Looking for a free rope swing and swimming spot, complete with waterfalls? Paradise found! El Salto is tucked away off the side of the road and is quite the swimming spot for the locals. You can find a Tarzan-style rope swing as well as a series of waterfalls that pool into a pretty perfect spot to take a swim.

You'll find the Tarzan-rope swing at the main swimming hole, but a bit downstream is a less crowded spot if you're interested. Just follow the main trail (east of the rope swing), and in about five minutes hiking downhill, you'll notice that the trail connects with a second, lower section of the river (it's the Rio Fortuna if you're keeping up with the details). The current here is pretty strong, but it's a nice spot to soak in the views and have a picnic.
Note that there are no lifeguards on duty and the river current can be strong, so be mindful of your swimming ability. The rocks around the pools can also be slippery. There aren't any areas to keep valuables in lockers, so best to leave items at home or in a dry bag that you can have with you at all times (I love these items for swimming days while traveling) I'd also recommend you already have your swimming suit on since there aren't areas for changing.

Find it: El Salto is found about a mile south of the downtown area of La Fortuna (it's right under a bridge, along Road 702). Here's the link on Google if that's helpful.
Cost: Free!
Hours: Open 24/7 but avoid being here after dark
Take A Chocolate Tour
This got some rave reviews from volunteers who said it was one of the best things they did in La Fortuna. You will find chocolate tours all over, but this place was very cute, with very fun guides that show you all about the process of making chocolate and share the history behind this famous snack. You also get to try the cacao beans and try you hand at making your own chocolate. Check out the Eden Chocolate Tour here.
Explore La Fortuna Itself
The entire city here is rather walkable, a popular place with tourists but still you can get a glimpse of local life between all the tour vendors asking you to book a day trip with them. Just be sure to admire the views in this city: no matter where you are, you can see the towering backdrop of the Arenal volcano.
Be sure to block out some time to explore the city and get some views of Arenal volcano before you hike around the base of the volcano.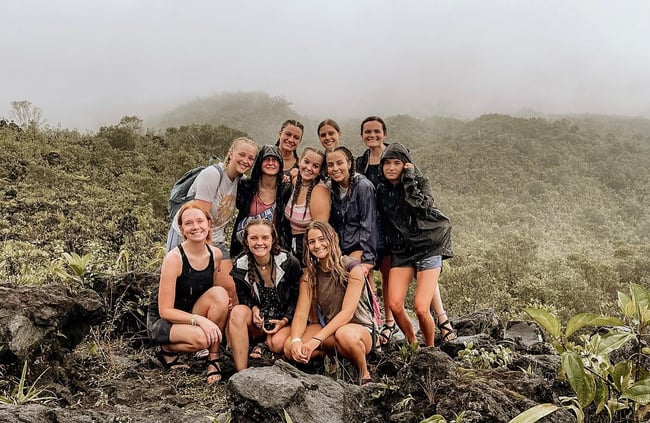 Somewhere To Stay
You'll have your pick with a smattering of hostels, hotels, and AirBnBs but past ILP volunteers have said great things about the Cabinas del Nube: it has air conditioning and is about 30 miles away from Rio Celeste. Book your stay here.
Here's what one ILP group said — "We stayed in the cutest hostel in La Fortuna (Alpha Arenal). The host was awesome and he helped us set up so many tours. We went white water rafting. I'd recommend not booking it ahead of time since the hostel could have set us up with a much better price if we had waited. We could have spent so many more days there (we stayed 3). The hiking is amazing, we saw some incredible waterfalls for free and hot springs (again the hostel set it up)."
Arenal Backpacker's Resort is another favorite place to stay for our ILP volunteers, with a great view of the volcano and just a few minutes away from the city center. There's also a swimming pool which is fun. Book your stay here.
La Choza Inn Hostel has been recommended by an ILP group or two. Find this spot just 15 minutes away from the volcano, with attractions like the La Fortuna waterfall within walking distance. This place also has a free shuttle service to a set of hot springs if you're needing to relax. Book here.
Santafe Hostel is another one where ILP volunteers have stayed. Like the others, it has a great location, helpful staff, and is a good price for your overnight stayes. Book here.
Looking for an AirBnB option? Past groups have stayed here, with quite the recommendation (probably due to the outdoor pool and other perks). Book here.
+ Eat
Organico Fortuna
Past volunteers vote to snag breakfast at Organico Fortuna - it's a really yummy vegan/vegetarian cafe where you can grab smoothie bowls, smoothies, juices, avocado toast, and more. Here for lunch or dinner? Grab rice and beans, fresh and vibrant salads, tacos, pasta dishes and more.
Open 10:00 AM to 9:00 PM
Spectacolar Cantina
Spectacolar Cantina is another recommended spot for dinner. According to one volunteer, "they had the best tacos in Costa Rica" where you can find other dishes like nachos, fried plantains, ceviche and dessert options complete with churros served with chocolate sauce and ice cream.
Open 11:00 AM to 10:00 PM
Chocolate Fusion
Supposedly called a "must-try" by more than one volunteer, Chocolate Fusion kind of makes all kind of sweet treats, like piles of pastries, chocolate dipped cookies and Oreos, slices of cheesecake, yummy drinks, and more. Good luck choosing just one thing!
Open 8:00 AM to 7:00 PM (8:00 PM on Mondays/Tuesdays)
Nearby Adventures
Horseback Riding to Monteverde
La Fortuna is on the Northwest side of Costa Rica and rather close to some of our favorite spots, including the famous hanging bridges of Monteverde's rainforest. It's our pick for zip lining, hiking through the jungles, and of course, those picture-perfect hanging bridges you see whenever someone goes to Costa Rica.
The two are about 4 hours away by car (but things in Costa Rica tend to take longer, especially if there is traffic or road closures). Some tour companies even have packages where you can ride horses from La Fortuna to Monteverde (like this one) if you'd rather do that instead of hiring a shuttle. Other groups recommend starting your trip in La Fortuna and ending in Monteverde. It's an ideal 4-day trip itinerary!

Here's all about vacationing in Monteverde.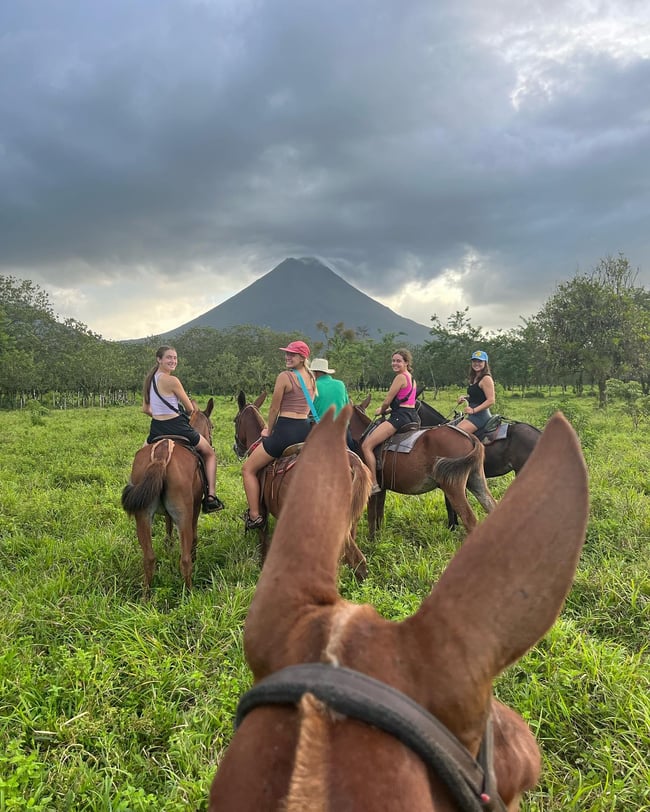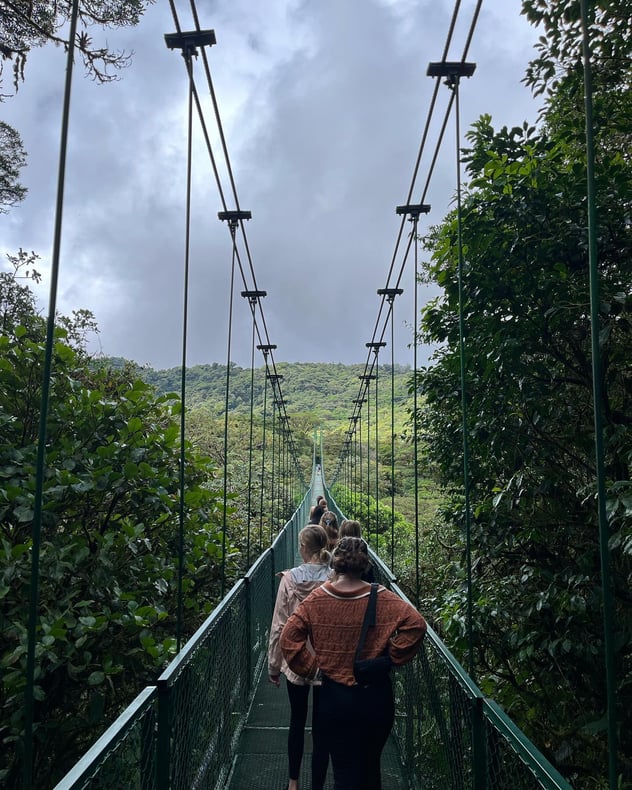 Tamarindo's Golden Beaches
The closest beach are the coastlines on Tamarindo, and it's a favorite spot. Again, it's about a 4 hour drive, but that doesn't include traffic or any sort of road closures thanks to the weather, so plan on it taking longer. If you didn't know already, things take longer when it comes to transportation in Costa Rica! Anyways, you'll find golden sand beaches, paddle boarding, surfing and beachy vibes in Tamarindo.
Get more info on Tamarindo here.
Even More Blue Waterfalls
We know you've been dying to swim in the Rio Celeste, which is why you should take a trip to some waterfalls you can actually swim in. One of those spots is the bluer-than-blue waterfalls known (fittingly) as Blue Falls — a series of waterfalls and calm pools that are colored the most stunning shade of blue.
You'll find these magically colored waterfalls deep in Bajo del Toro's cloud forest, only accessible by hiking through the dense rainforest .... but it's well worth it! Our ILP volunteers just discovered this spot and couldn't wait to share the details on how to plan your own visit here. From La Fortuna, it's an easy 40 minute taxi ride away.

Get more info on Blue Falls, here.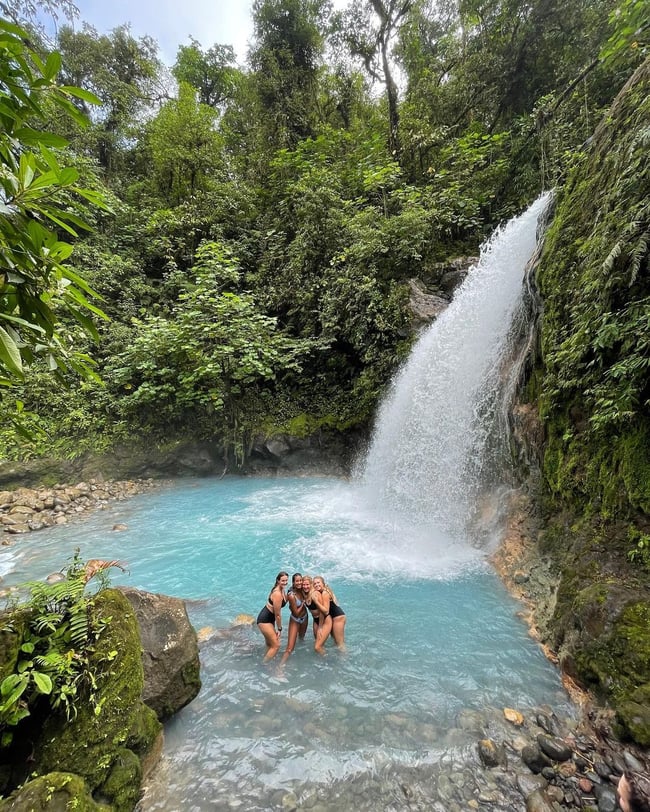 Getting Here
From San Jose
The best jumping off point is from San Jose. From there, you can hop on a bus that will get you to La Fortuna in about 4 hours. Buses leave the Terminal 7-10 Bus Station (Ave 7-9, calle 12) at 6:15 AM, 8:40 AM, and 11:30 AM (but as always, best to double check the actual station and times to make sure).
Tickets are around $5, and it's best to be prepared with your own snacks and drinks and to be ready for the bus to get crowded: the bus makes some stops and sometimes you'll have quite a few people get on board.
Coming From Nicaragua?
Come have a vacation in Costa Rica! You can take a trip to La Fortuna pretty easily from San Jose, or once you get to Peñas Blancas and cross the border. From the Costa Rican side, you'll see buses heading towards San Jose, but are stopping in Liberia and Cuidad Quesada first: buses leave at 10:00 AM, 11:30 AM, and 1:30 PM. You'll get off at Cuidad Quesada, and take the next bus to La Fortuna (buses leave hourly, from 5:00 AM to 10:00 PM).
The whole ride should take about five hours, but here's some more info on getting from Nicaragua to Costa Rica (and vice-versa).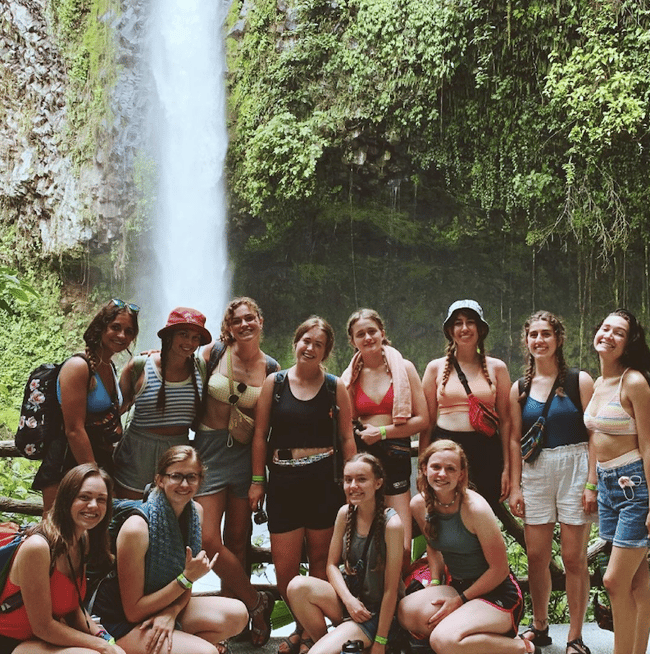 Have to see this place for yourself?
Come volunteer with ILP! We have volunteers in Costa Rica and Nicaragua who love vacationing in La Fortuna and other places in these countries (plus dreamy spots in Panama!). Come see what it's like!