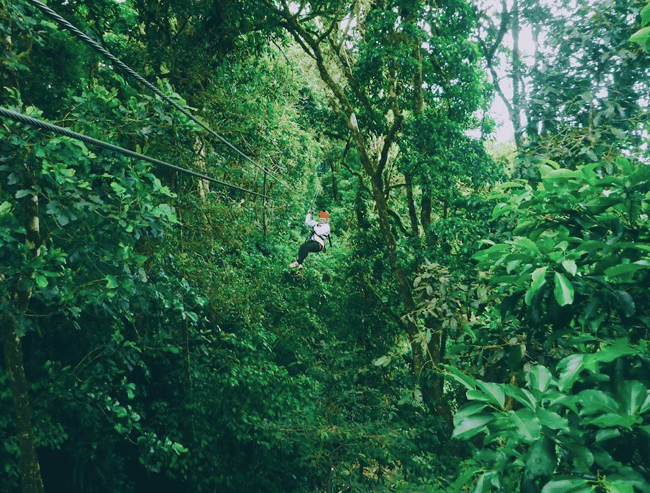 If you're going to Costa Rica, you should end up with at least half of these pictures in your feed.
---
If you're into getting more followers while you travel the world,
here's how to grow your travel Instagram
---

Tropical jungles, swaying palm trees, thundering waterfalls, and adventures in the rain forest? Costa Rica couldn't be a more Instagram-worthy destination if it tried. To really round out your feed, it's best to spend time in all corners of Costa Rica, so you get a good variety of black stand beaches, lush rainforests, turquoise waterfalls, and everything else there is to see in this country. Head to each of these spots to do just that.
We've got a whole country vacation planner to help you get your bearings in Costa Rica, but don't miss these top spots that our volunteers love going to semester after semester.
The Most Photogenic Spots In Costa Rica
Monteverde Cloud Forest
Bridges suspended high atop the green jungle below you is just one adventure found in this well-known park. On the ground, you'll find muddy hiking trails where you can spot jungle cats, monkeys, and colorful parrots between ferns and orchids but the real views are high above the tree tops. Metal bridges are suspended high atop the green jungle below, or if you'd rather, you can strap in and zoom across the dense foliage via zip line. Either option makes for quite the picture.
Monteverde is tucked away in the deep jungles of Costa Rica and we've planning out how to spend your time here (and pointed out tips like how to book a trip horseback riding through those green jungles). Get the Monteverde guide here.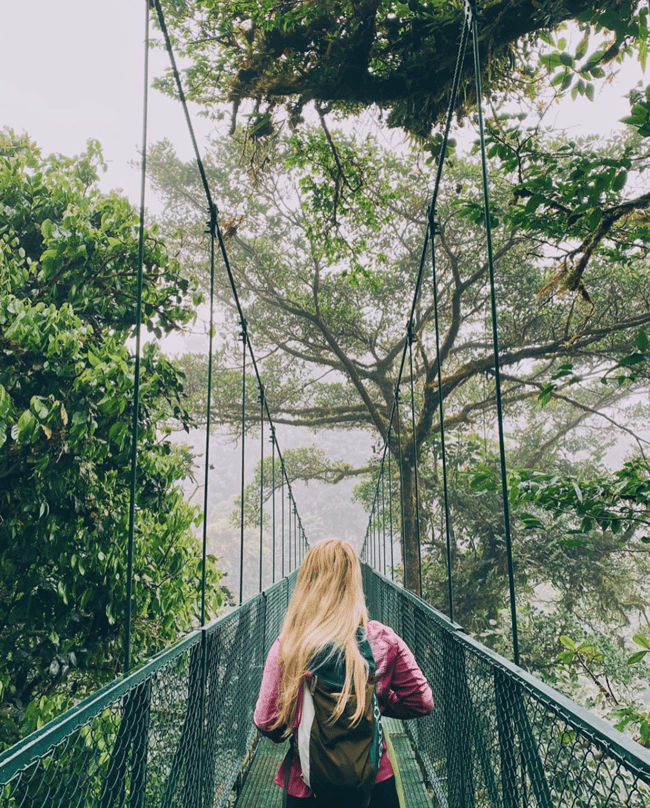 San Jose's Butterfly Garden
Hang out with dozens of colorful flying friends at this butterfly farm and garden. It's a lovely green oasis found right in the bustle of this urban city, allowing visitors to take a brief escape to spend a morning with butterflies, beautiful flowers, and hummingbirds. If you have time, explore the nearby forest via a small hike called the "Contemplation Path" that takes you by the river. Some have spotted monkeys and sloths on their walk, so keep your eyes peeled.
Get more info on the Spirogyra Butterfly Garden + our other favorite things to do in San Jose.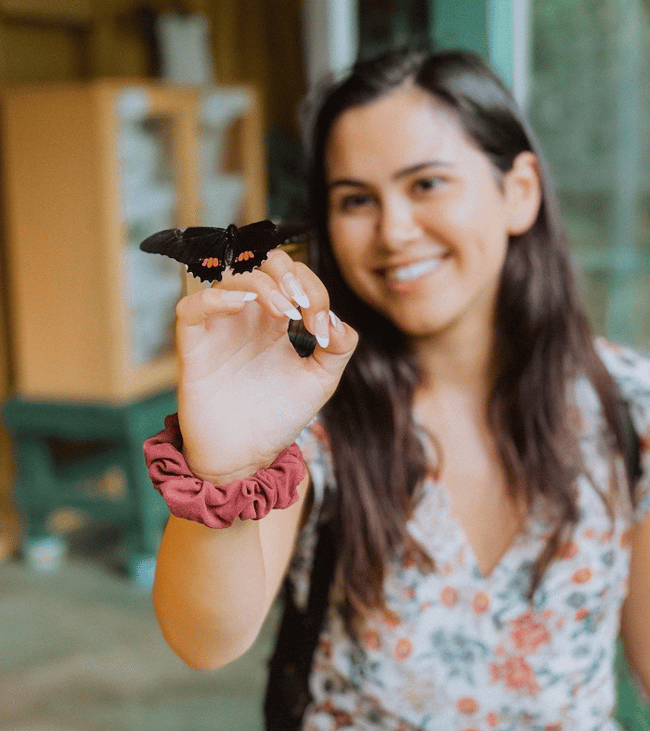 La Fortuna + Rio Celeste + Arenal Volcano
The thick, lush jungles of Costa Rica are hiding a few gems (like hot springs and adorable animals like sloths) but you absolutely can't miss some time at the waterfalls. And if we had to pick just one to fill up your Instagram feed, we would choose these ones — the brightest turquoise blue falls that sit deep in the lush green jungle. The colors are so vivid you seriously don't need filters + there's natural hot springs in the area you can swim in and we love that for you. Here's a guide to help you come see it all.
The other claim to fame for this area is that it sits just outside of the Arenal Volcano. Again, there's several volcanoes in Costa Rica, but this is one of the most popular! Here's a guide to help you come see the volcano.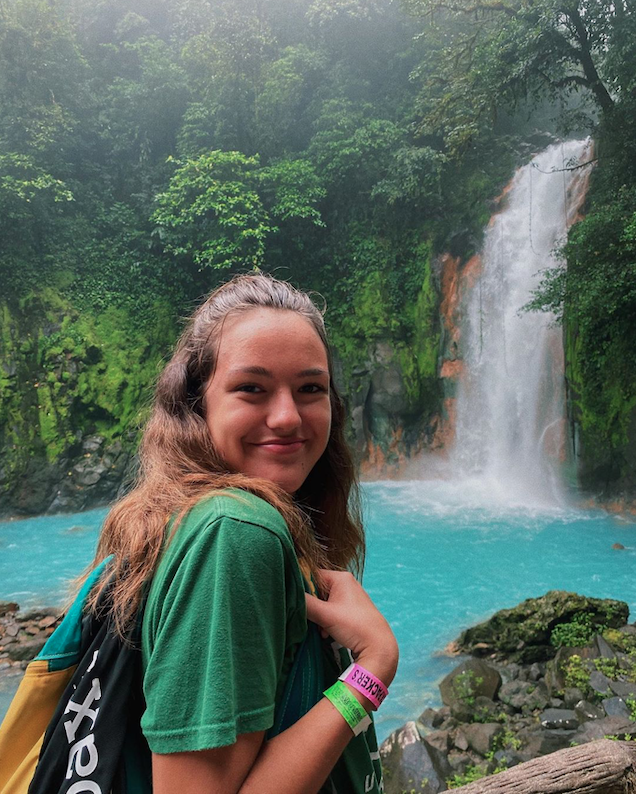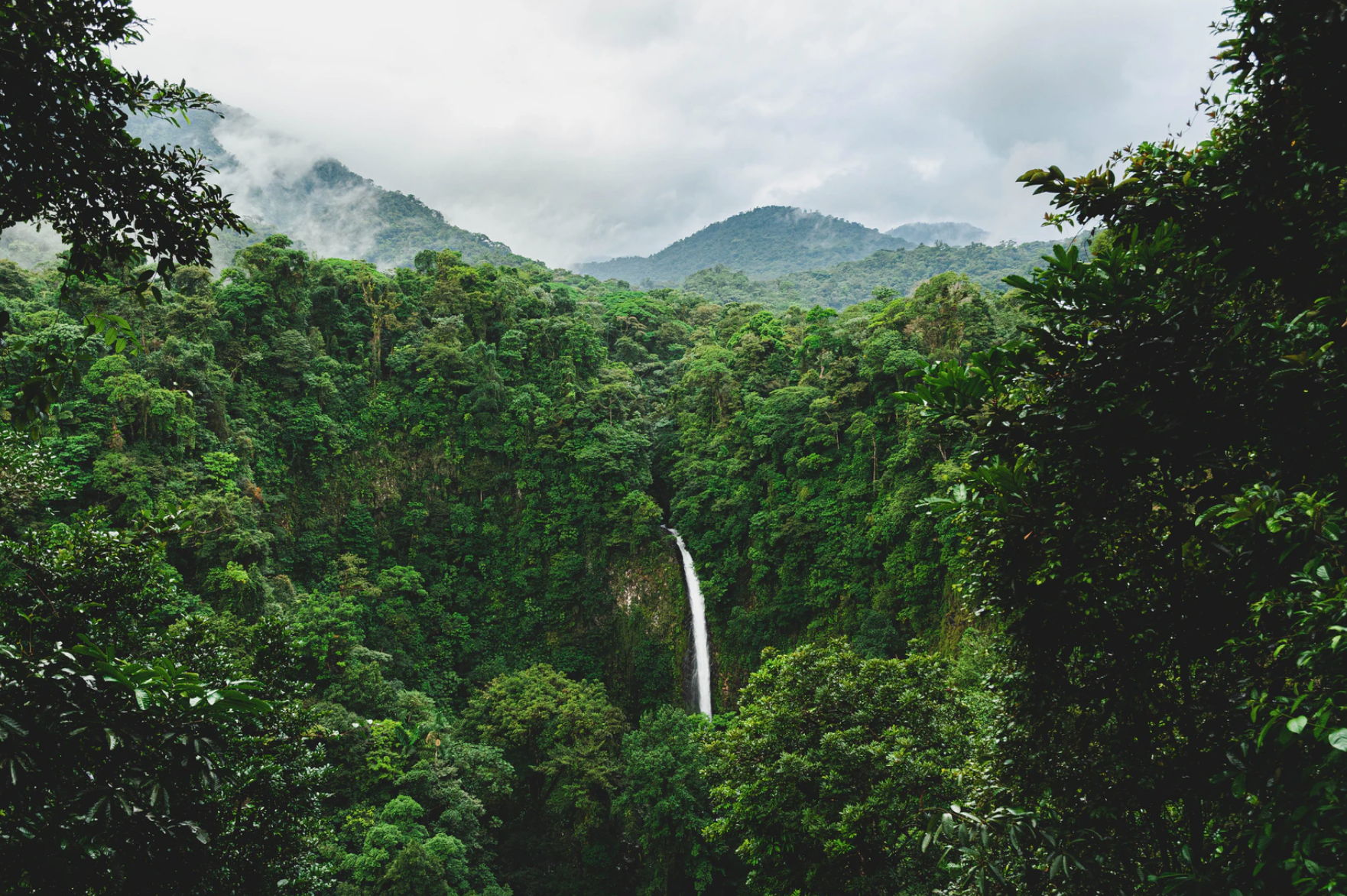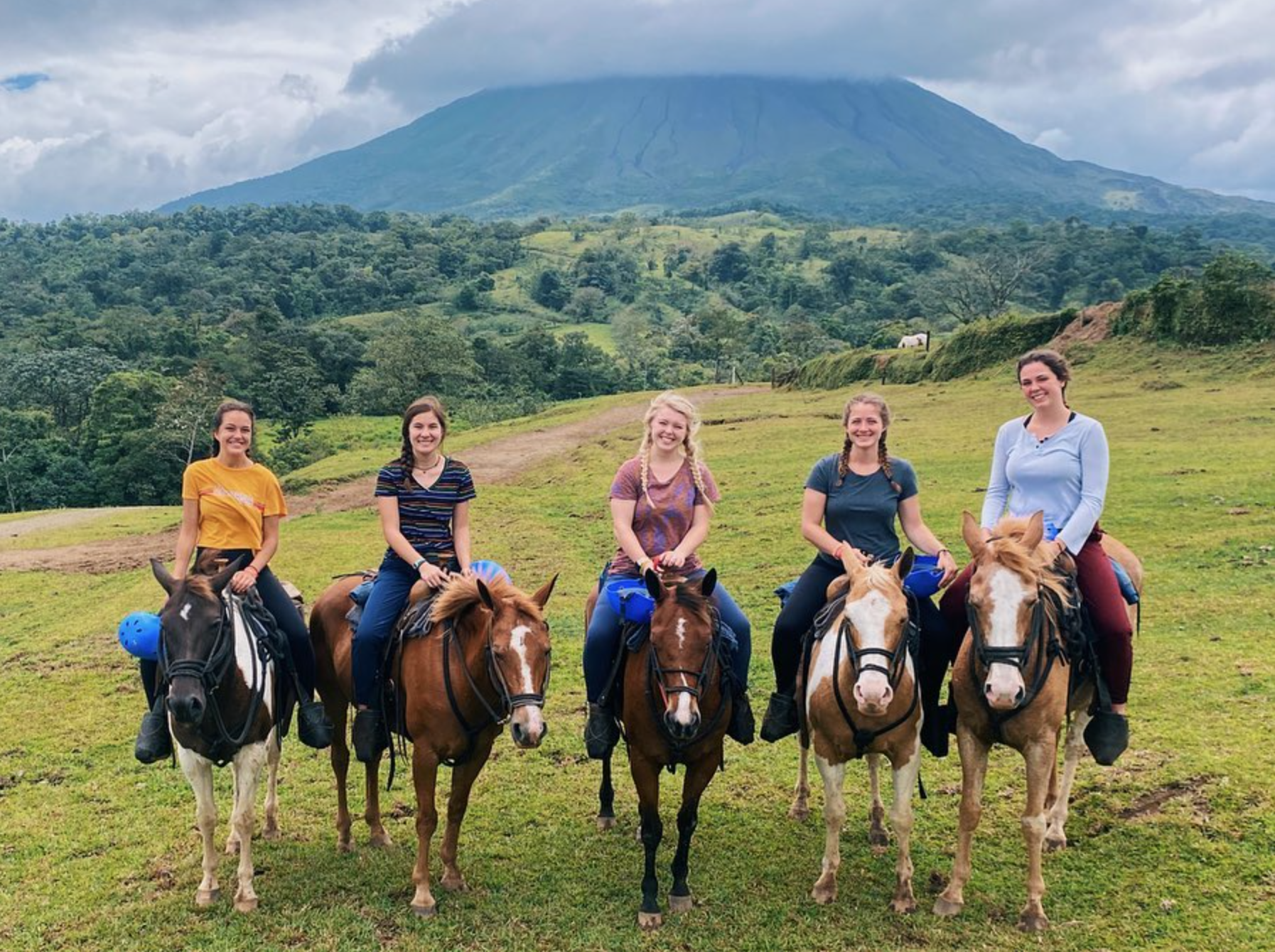 The Ballena Coast

+ Uvita
Hop on a bus and ride along the Ballena Coast for the chance to stumble upon little coastal towns, with washed-out beach houses, colorful surfboards, and beaches aplenty. The Pacific side of Costa Rica gives you a darker, moodier feel than the brighter and clearer water of the Caribbean side, but don't miss the chance to stop off in favorite places like Jaco, Uvita, or Ojochal on your drive along the Ballena Coast.
Also, just off the Ballena Coast is Cano Island which boasts some of the best snorkeling around if you want some fishy friends in your Instagram pictures. See more of the Ballena Coast here.
One of our top picks is the tiny but popular beach town of Uvita because it boasts the best place for whale watching. The Marino Ballena National Park hugs the coastline just outside the town ... plus you'll find lots of beautiful, sandy beaches backed by palm trees — it's the perfect spot for getting those bright pink sunsets.
But the real star is the emerald green pools and waterfalls hiding in the thick jungle behind the coastline. Grab your friends and hike through or arrive on horseback, but plan on taking a dip before, after, and during your photoshoot.
Get more info about our favorite waterfalls around Ojochal here.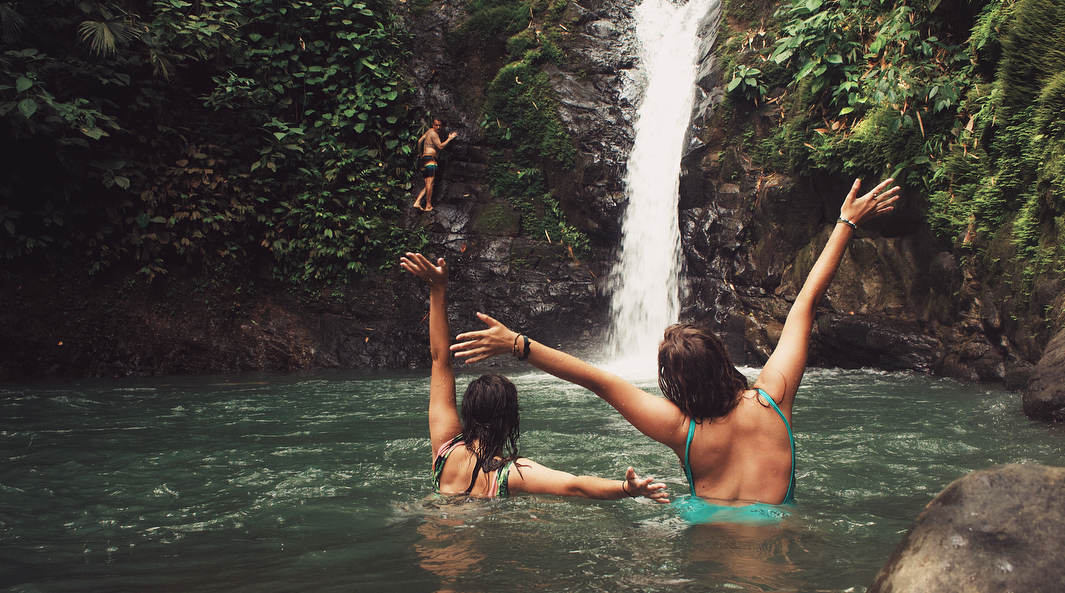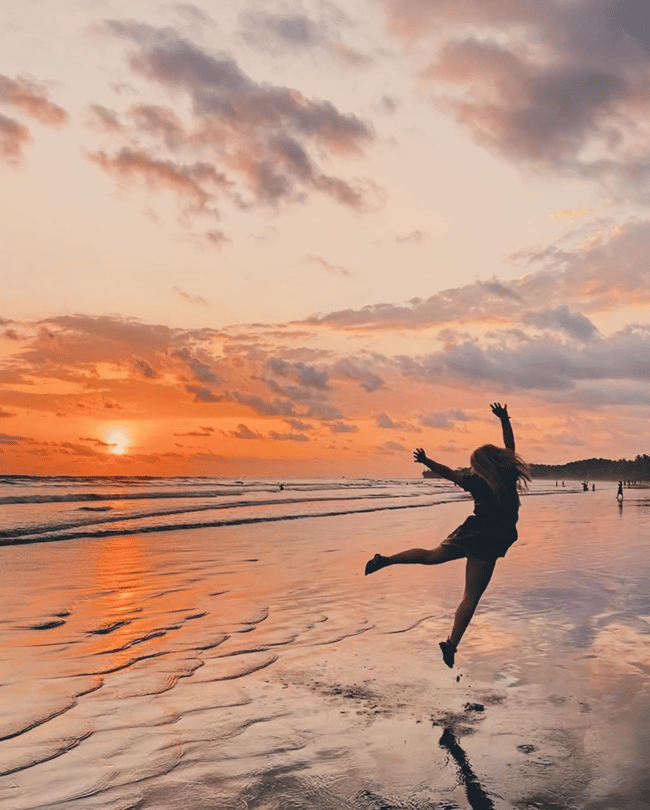 Puerto Viejo
Speaking of the Caribbean side, these are the post-card worthy beaches you have in mind when you think of Cost Rica's beaches. Playa Cocles or the beaches near Manzanillo certainly has gorgeous beach fronts with tall palm trees and pristine sand, or you could add a dash of dark onto your feed with the black sand beaches of Playa Negro. Don't forget to ride there via bicycle for a bit of fun before a day at the beach.
This Puerto Viejo post has all of our favorite beaches (and other tips) in one spot.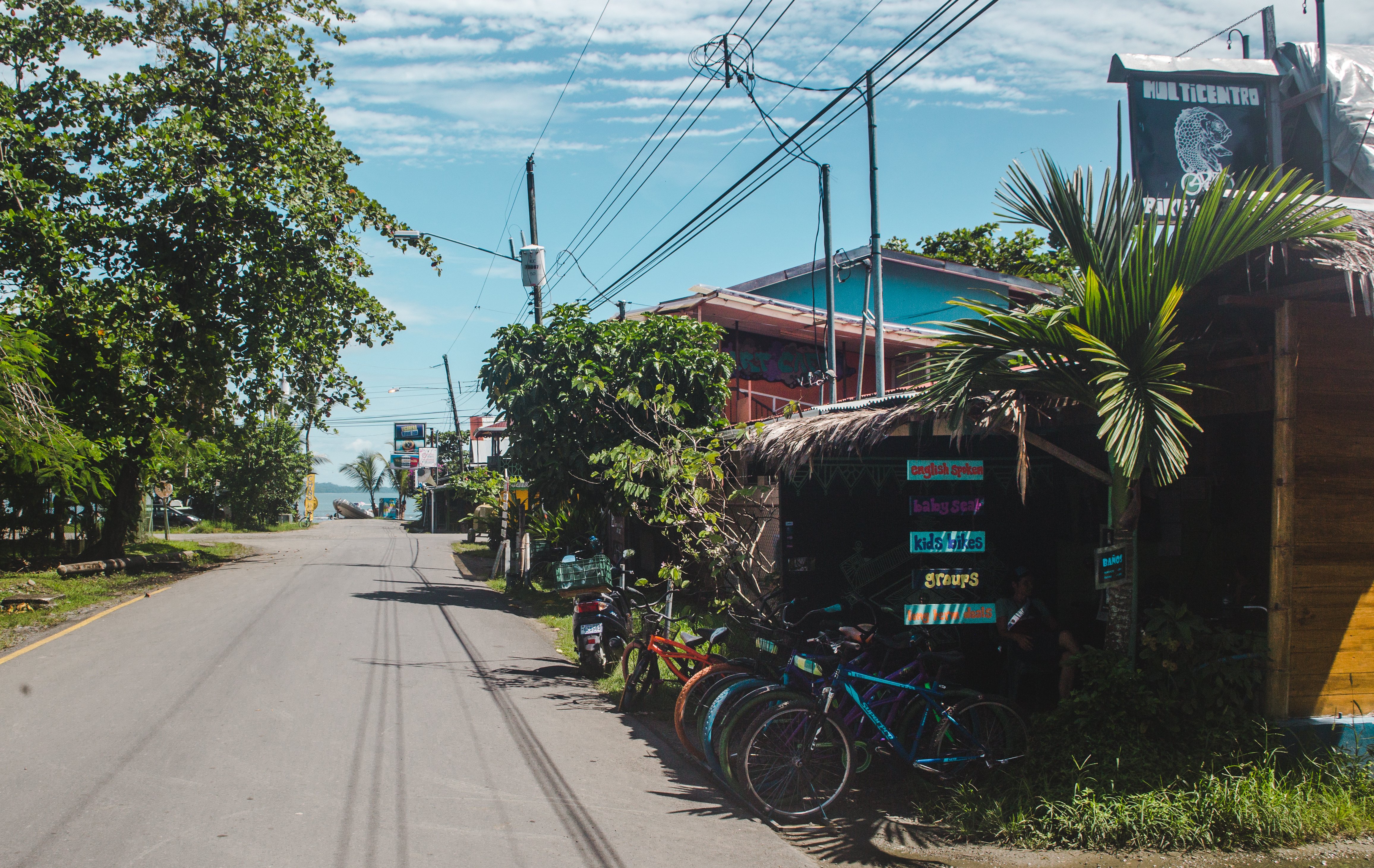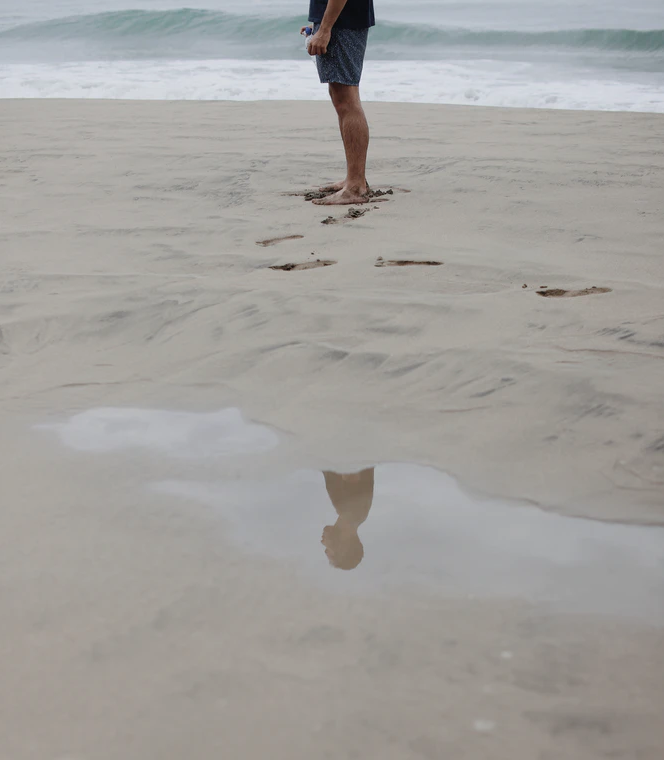 Quepos
This is a photographer's dream; nearby you have the picturesque jungles of Manuel Antonio, but this area also hugs the coast, so you'll find pretty beaches, too … but there's even more to experience in this part of Costa Rica. Our current favorite experience? Soaking in the hot springs that are naturally heated from nearby volcanoes. Yes, please.
Our Quepos guide outlines all the best (and prettiest spots) you'll want to visit.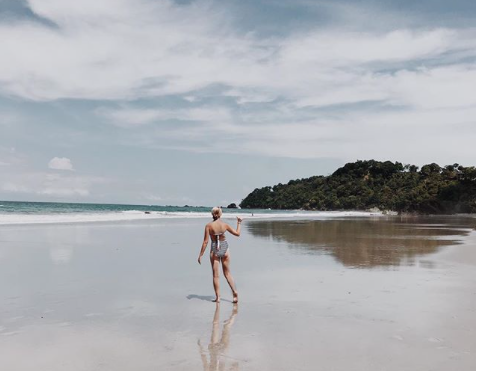 Need more info on Costa Rica?
Sounds like you need a semester of volunteering there to really get your fill. Come see what it's like to volunteer as a part-time English teacher here, and have time to explore all that Costa Rica has to offer.