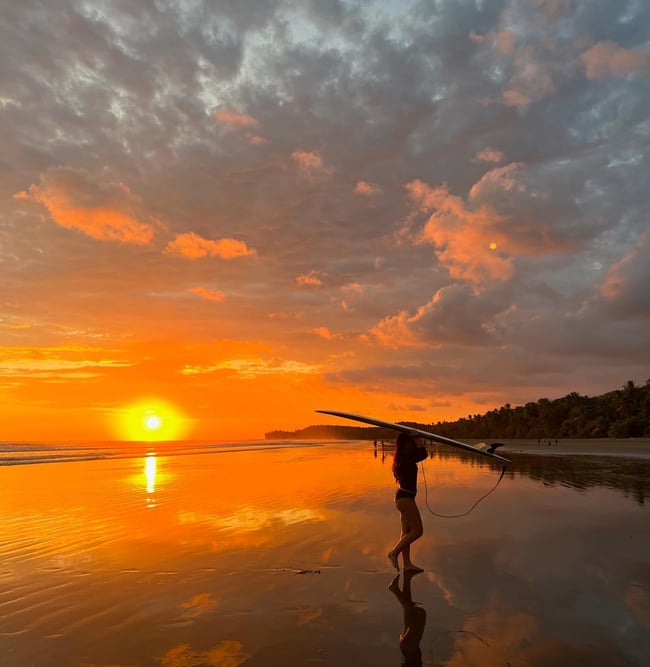 If you're going to Costa Rica, you should end up with at least half of these pictures in your feed.
Tropical jungles, swaying palm trees, thundering waterfalls, and adventures in the rain forest? Costa Rica couldn't be a more Instagram-worthy destination if it tried. To really round out your feed, it's best to spend time in all corners of Costa Rica, so you get a good variety of black sand beaches, lush rainforests, turquoise waterfalls, and everything else there is to see in this country.
---
See way more of Costa Rica by living there
All about volunteering in Costa Rica
---
We have a whole country vacation planner to help you get your bearings in Costa Rica but do not miss these top spots that our volunteers love going to semester after semester.
The Most Photogenic Spots In Costa Rica
Pictures On The Coastline
With so many jungle adventures and waterfalls here in the national parks, sometimes the beaches don't get as much attention. While you'll find the most popular beaches hanging out on the Caribbean coastline, we're smitten with the sunsets you can find over on the Pacific coast.
The Ballena Coast + Uvita
Hop on a bus and ride along the Ballena Coast for the chance to stumble upon little coastal towns, with washed-out beach houses, colorful surfboards, and beaches aplenty.
The Pacific side of Costa Rica gives you a darker, moodier feel than the brighter and clearer water of the Caribbean side, but don't miss the chance to stop off in favorite places like Jaco, Uvita, or Ojochal on your ride along the Ballena Coast — the famous "whale beach" here has the most fantastic sunsets.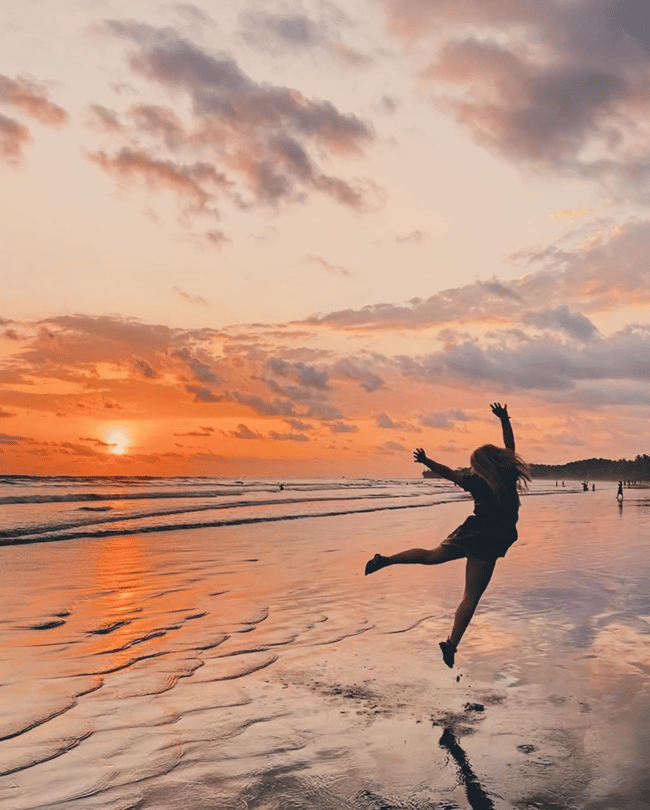 Caribbean-Side Beaches
If you want to hit the best beaches in Costa Rica, you'll need to hang out on the Caribbean side. This portion of the country is a wide expanse of jungle that runs right up to the coastline, which is dotted with dozens and dozens and dozens of beaches. Sure, there are some pretty well-known spots but there are tons and tons of seemingly unnamed beaches you can access by cutting through the jungle and getting to the coastlines.
So if the idea of spending time on a beach you have all to yourself, you can find that here (along with a black sand beach or two, great surfing beaches, etc).
Here's a total guide to the beaches on the Caribbean side including a list of our favs.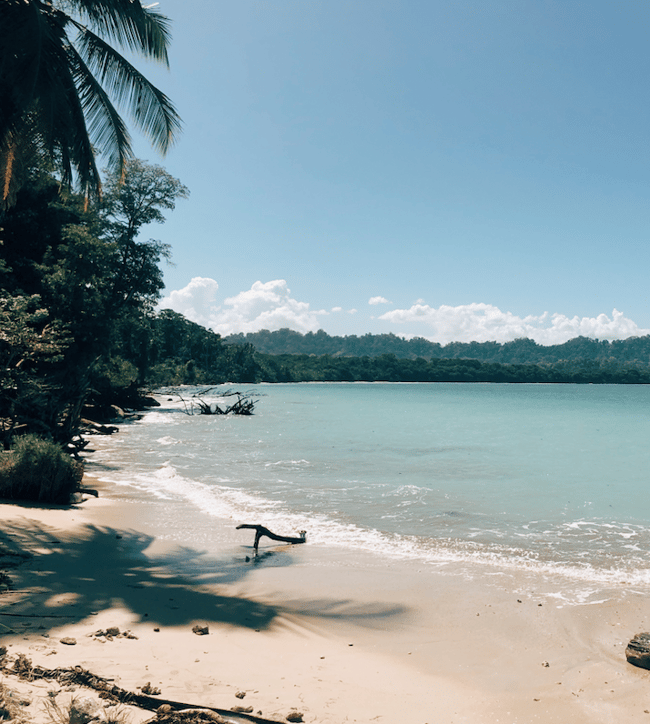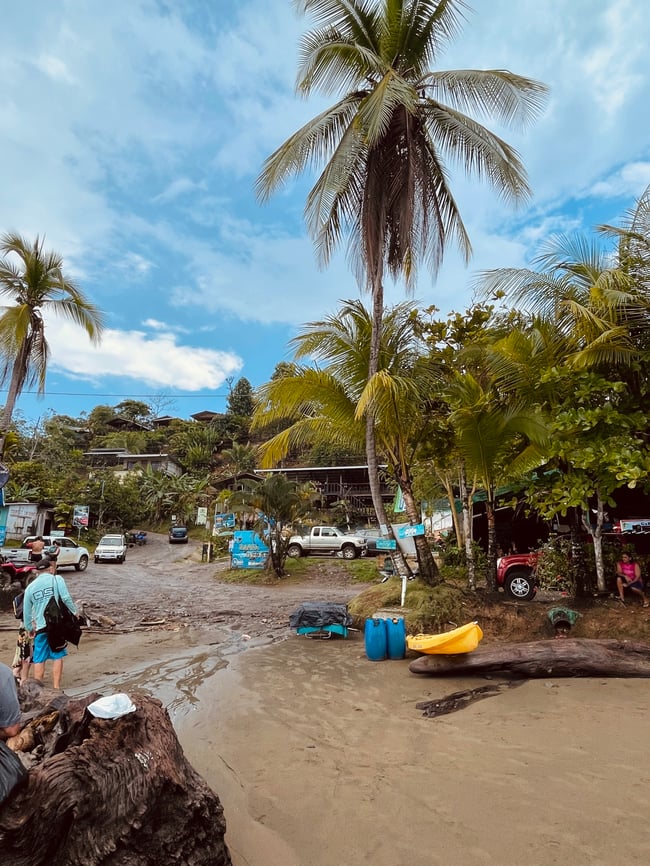 For The Prettiest Waterfalls
Don't plan on getting out of Costa Rica with a picture or two of the thundering waterfalls — especially when you have waterfalls that are the most amazing turquoise color. While you'll find a few waterfalls and hot springs dotted around the country, some waterfalls have reached pretty much celebrity status —
Rio Celeste
If we had to pick just one waterfall to fill up your Instagram feed, we would choose this one: Rio Celeste. The brightest turquoise blue with the backdrop of such a lush green jungle is a pretty hard picture to beat. At Rio Celeste, the colors are so vivid you seriously don't need filters + there are natural hot springs in the area you can swim in. Pretty unbeatable, right?
Here's a guide about the area to help you come see it all.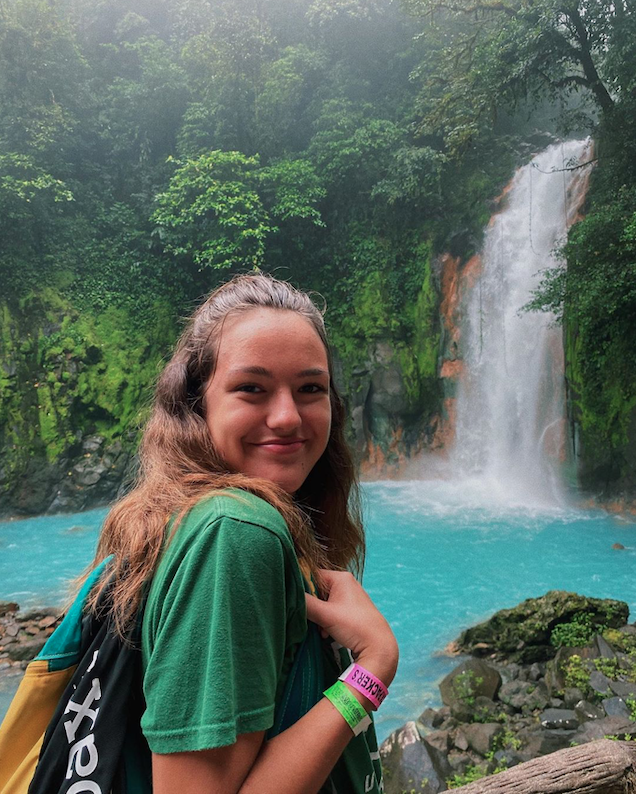 Blue Falls
If you find yourself wanting to dive into the blue waters of Rio Celeste for a quick swim, you need to visit Blue Falls. Unlike Rio Celeste, you can swim in these magically blue waters and yep, it's about as amazing as it sounds.
There are a set of seven waterfalls in this area, along with pools to swim in, streams to cross, and rivers to admire. The whole area is extremely picturesque, especially when you can snap a shot of you in your swimming suit, floating around in the blue blue blue water.
See more shots and all the details about visiting Blue Falls, here.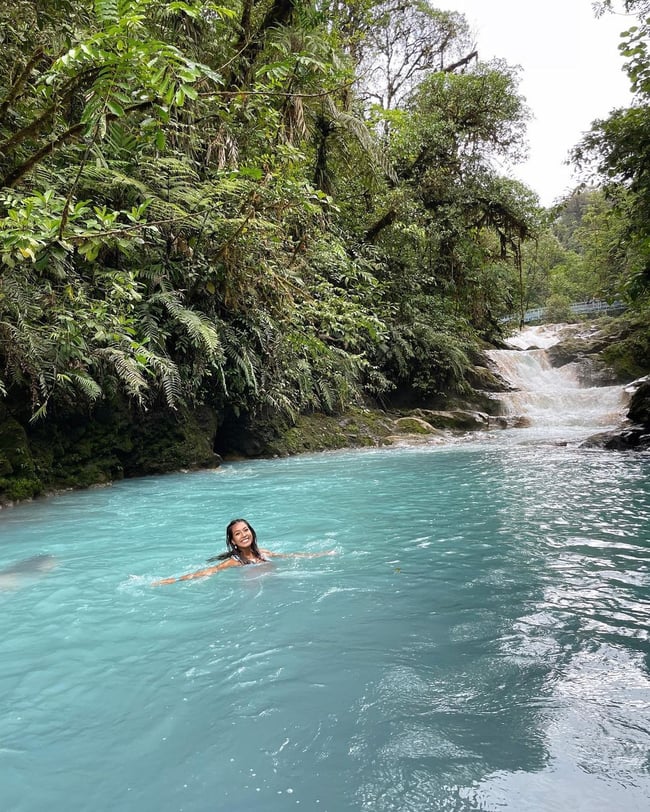 Nauyuca
Hiking (or horseback riding) to the Nauyuca Falls is a can't miss experience — you trek through the thick jungle only to find a foamy, multi-tiered cascade that pools in the most delightfully blue swimming hole.
And to make this spot even better, it's found in one of our favorite spots in the country, along the western coastline. It's an area of Costa Rica known for pristine jungles that are filled with some of our favorite waterfalls around.
Get more pictures and the details you need about Nauyaca Falls here.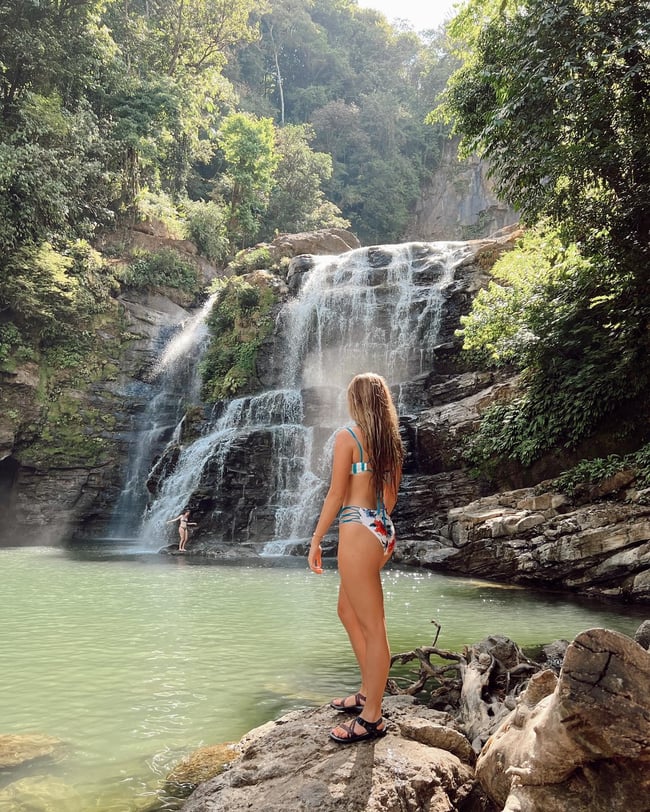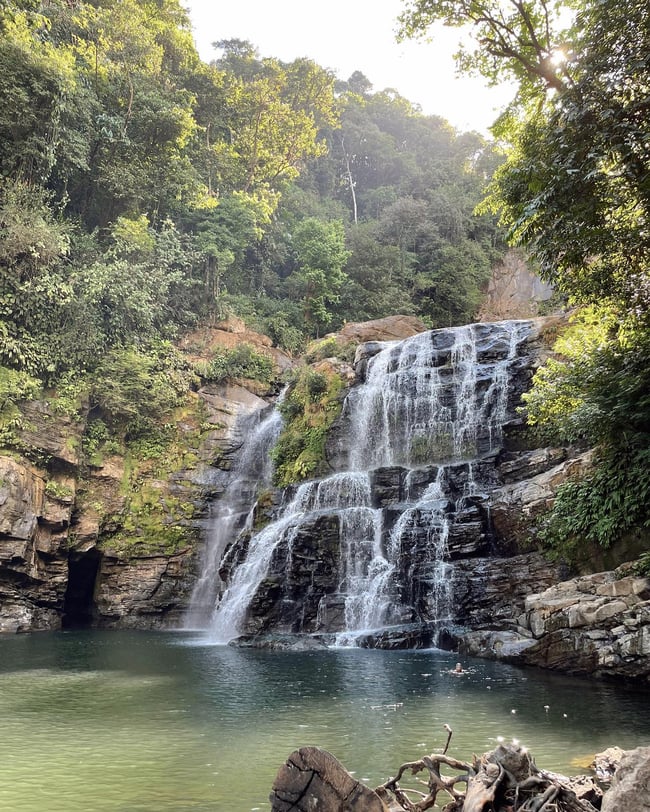 Oh, and if you're wanting to do some more waterfall hunting, here are our favorite waterfalls around Ojochal here — There are pretty countless photo opportunities at a handful of nearby falls.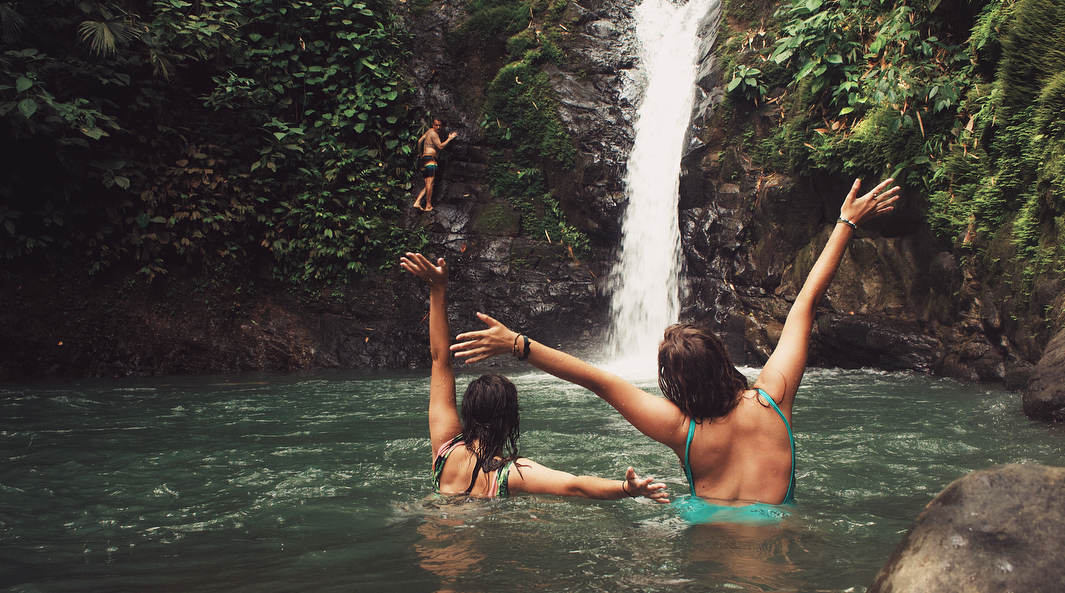 In The Jungle
With over half of the country classified as forest, spending time in the thick lush rainforests is a must. Our volunteers love taking a zip line adventure over the treetops, or hiking on the forest floor below — here are a few favorite places to soak up all the sights, sounds, and adventures of Costa Rica's jungles.
Monteverde's Cloud Forest
If you've ever wanted to zip line over the treetops, take a zillion photos on hanging bridges, tour the jungle with a nighttime guide, or be like Tarzan with the famed Tarzan swing, you've got to head to Monteverde. It's a massive spread of several cloud forests that are all crammed full of all sorts of photogenic adventures.
Get the info you need about Monteverde here (including places to stay, places to eat, a few pictures for inspiration, and more).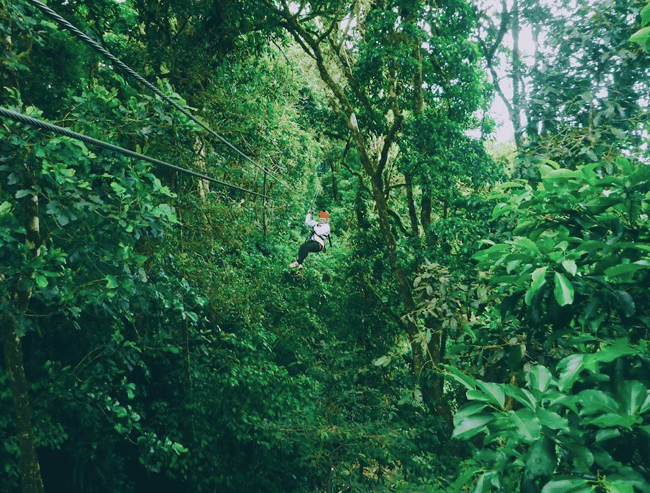 La Fortuna + Arenal Volcano
We've already mentioned La Fortuna for the famed Rio Celeste, but the mountain adventures here are worth mentioning on their own. There are tons of hikes you can do to waterfalls, swimmable pools, and hot springs in this thick jungle. Plus, there's the chance to hike around the famous Arenal Volcano, which is pretty unbeatable.
Plan on snapping some pretty unbelievable photos at your time around La Fortuna.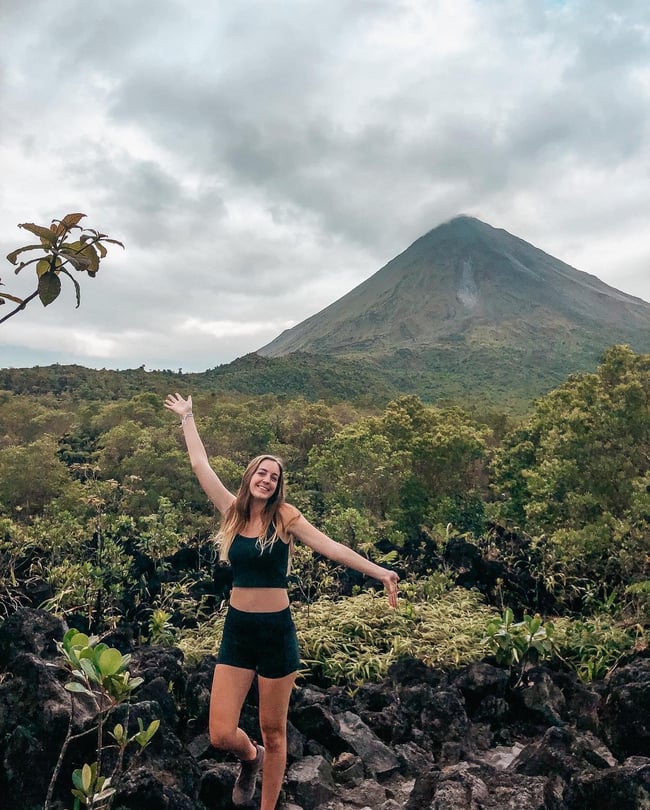 With Animals Galore
One of the nation's highlights is all of the animals here — Costa Rica is focused on conservation and protecting the animals and the jungles, shorelines, and oceans they call home. A big part of a Costa Rican experience is seeing these colorful creatures up close, whether that's on a hike in the jungle, or at one of these protected sanctuaries.
La Paz
La Paz may be a famous waterfall, but we have it here in this section because it's also an incredible nature reserve where you can find all the animal adventures you're looking for — we're talking huge, vibrantly blue butterflies, vividly green tree frogs, rainbow-painted toucans, hummingbird feedings, and more.
Around La Paz, you'll find several exhibits centered around some of our must-see animals in this part of the world. Think neon-colored frogs which are SO cool, slippery snakes, a collection of musical parrots in the bird exhibits, a huge butterfly enclosure, and a monkey exhibit full of four playfully different species. There's also a big cat exhibit that lets you see these beautiful cats up close (something that's pretty rare in the wild). Most of these cats were confiscated as illegal pets and have been given a more natural home in La Paz since they can't return to the wild.
Find more pictures of these animals, plus details about visiting La Paz here.

San Jose's Butterfly Garden
Hang out with dozens of colorful flying friends at this butterfly farm and garden. It's a lovely green oasis found right in the bustle of San Jose, the country's capital. When you visit, plan on spending some up-close time with butterflies, beautiful flowers, and hummingbirds. The space includes a gorgeous garden, home to more than 30 butterfly species and a few types of moths. If you're paying attention, you can find caterpillars too, quietly munch on the leaves.
You can find a little more info about the Butterfly Garden here on our post about San Jose, Costa Rica.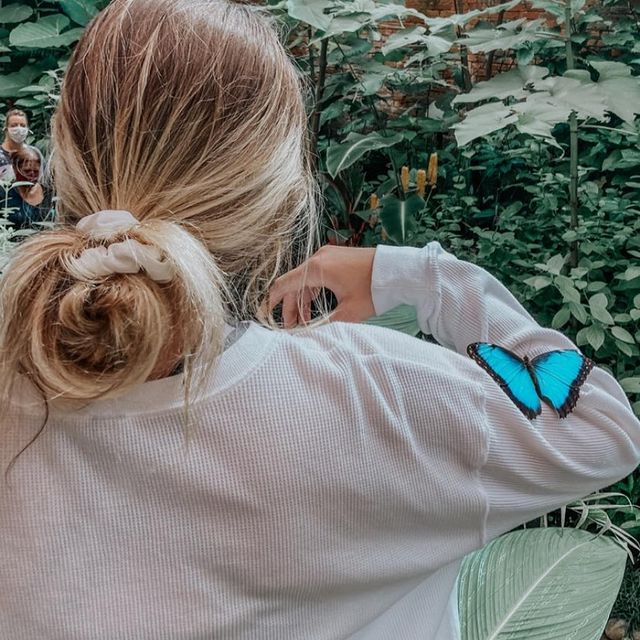 Need more info on Costa Rica?
Sounds like you need a semester of volunteering there to really get your fill. Come see what it's like to volunteer as a part-time English teacher here, and have time to explore all that Costa Rica has to offer.