It turns out that the best part of Puerto Viejo are these amazing day trip adventures.
Costa Rica has a lot to offer, especially if you're planning a trip to the Caribbean side of things. This portion of Costa Rica is known for miles and miles of beautiful beaches (some with warm, dark sand), thick rainforests teeming with jungle friends, and so many little day trips to nearby beach towns. Sounds like you need to square away a trip to this part of Costa Rica, stat.

---
Interested in spending time in Central America?
Come volunteer with ILP for a semester!
---
Especially since this section of the country has a different rainy season, it's a very popular place for tourists. That being said, we're here to help you plan a trip to Puerto Viejo (and the surrounding little beach towns) to help you avoid the crowds, save your money, and have the best kind of experiences. Here's what you can't miss:
First, Some Things To Know About Puerto Viejo
Just so you know, Puerto Viejo is a pretty small town, set right on the Puerto Viejo Beach (right by the black sands of the Playa Negra Beach). The town is a few crossroads that connect to smaller little towns tucked away in the jungle, like Hone Creek, BriBri, and Cocles. It's made up of a couple of large grocery stores, a string of restaurants, a collection of storefronts, along with fruit vendors and some businesses, a clinic, and a school or two. All of this is crammed into a couple of streets, making it a pretty busy hub compared to the quieter sections of this more remote area of the country.

Puerto Viejo also a magnet for tourists and expats, so visiting isn't a quiet, relaxing experience. You'll see lots and lots of tourists riding to and fro on bikes in the same lane as the cars, making it feel pretty crowded and chaotic. If you stay overnight, you'll want to avoid walking around at night (and will hear the noise of cars and motorcycles passing by your window if you're staying in Puerto Viejo.
Considering all the other smaller, more authentic (and beautiful) places to stay, I'd much (much) rather make my base somewhere like BriBri, Cocles, or in nearby Cahuita and stay in a bungalow by the beach, tucked away in the jungle ... then make my way to Puerto Viejo to try out some restaurants or catch a bus or tour to one of the many attractions nearby!

The Best Beaches
One the biggest draws to Puerto Viejo (and nearby) are the beaches. We're thinking you could spend a whole week here on the sand which is why we wanted to pull out the best beaches for your visit, going from north to south:
Cahuita National Park Beaches
Just south of Playa Negra is this incredible national park (we have more info on that place below). You'll definitely want to take a day trip to explore the jungle and block out some time to hang out on Playa Blanca or Puerto Vargas.
These beaches can boast some of the best snorkeling around if you'd like to spot some marine wildlife floating by some shipwrecks, just off shore. Picture incredibly soft cream-colored sand and some of the bluest water that seems to center around the national park.
You can access some of the beaches nearby Cahuita, but you'll need to gain entry to the national park to spend time on Playa Blanca or Puerto Vargas. If you want to visit the other beaches around Cahuita, you can taxi to the area, then walk the road that cuts through the jungle and parallel the beaches for beach access. These beaches are pretty tucked away and remote, so plan on bringing water, snacks, and other supplies for the whole day. You may run into a few homestays doing breakfast, lunch, or dinner, but they're sporadically scattered in this area.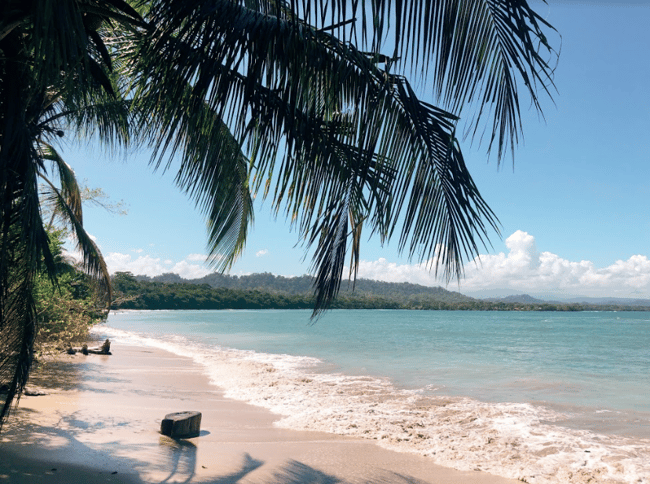 Playa Negra
Playa Negra is really close to the town of Puerto Viejo and has warm, black sand. The water can get a little choppy so unless you are surfing or boogie boarding it's not the best swimming beach, but we still think it's a place to visit. The rice dark color of the sand makes for some stunning pictures against the green curve of the trees along the shore, and the blue water.
There isn't much to do or see on this beach, so don't come here for lunch or surfboard rentals. We'd opt to just grab some snacks, a good book, and spend time laying out in the sun here! Just know that the dark color of the water means the sun feels even more intense. Avoid some faster-then-you-think-it-would-happen sunburns by covering up and wearing plenty of sunscreen.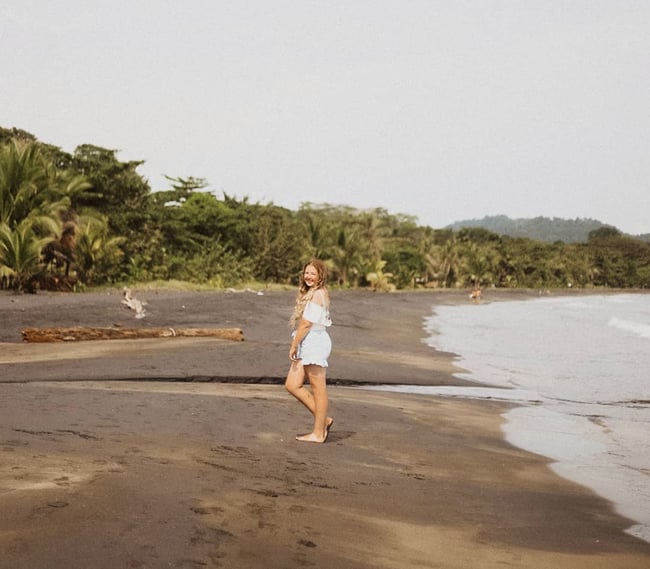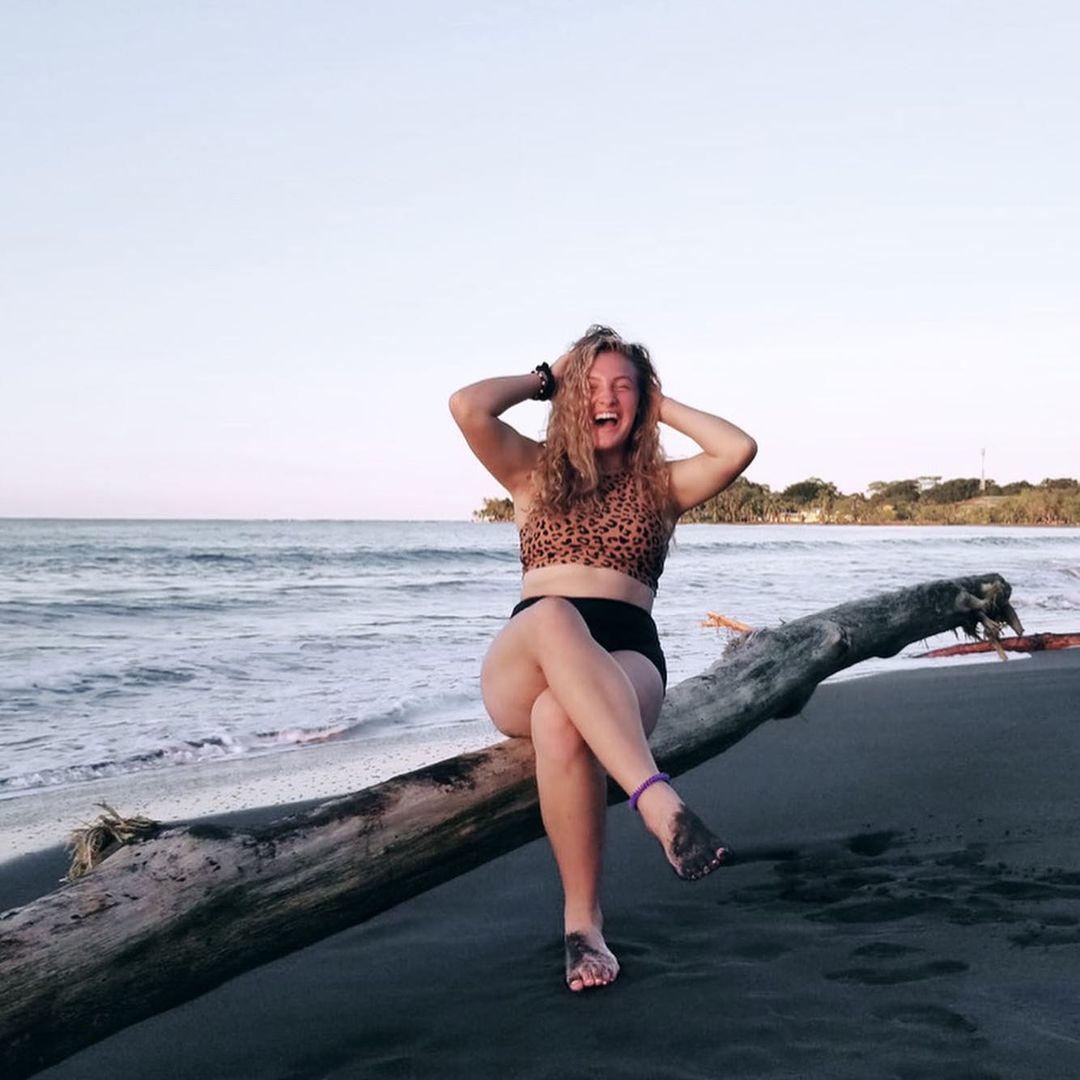 Playa Puerto Viejo
It's not our 100% favorite beach, but you'll probably run into it whether you plan to or not, just because it's right next to Playa Negra, and it's kinda of hard to avoid if you do any walking around in the little town of Puerto Viejo. The main attraction here are the rusted remains of a ship on the shore, which makes for some very pretty photos.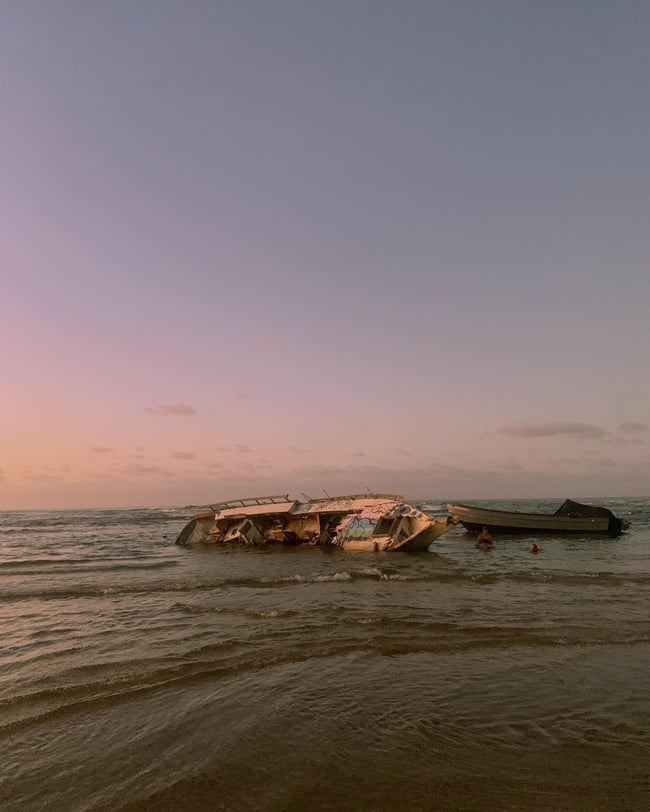 Playa Cocles
A quieter beach with stunning water, Playa Cocles sits just outside of the tiny little town of Cocles that hides in the jungle behind the coastline. It's the next little town over from Puerto Viejo, but is much smaller and is just starting to develop. You'll find a few surfers testing out the waters, along with some volleyball nets set up on the shoreline.
In the past, it's been a favorite surfing beach for ILP volunteers in the area. You can both rent boards and take surfing lessons on this beach if you're interested. You can find a string of surf schools all along the beach to check out if that sounds like something you'd like to try!
Supposedly, there are a few sloths and parrots who like to hang out in the trees that line Cocles beach, so keep an eye out for some rainforest friends while visiting.
Playa Chiquita
Another calmer beach found on the eastern coast is Playa Chiquita. You're right on the fringe of the jungle here, with beautiful waters that can get a little rough, so keep an eye out for weather warnings or riptides (that's the case with all of these beaches).
Similar to Playa Cocles, you may see a few surfers in the waves, but it's definitely somewhere you can find a spot all to yourself. The water here is pretty clear, making for some good visibility snorkeling if you can find some rockier outcrops that will attract the fish. On one end of the beach is a couple of restaurants where you can grab a juice or something to eat, but we're big fans of taking a walk down the stretch of sand to find your own secluded section to hang out in for the day.
Punta Uva
This is an absolute favorite of ILP volunteers who have gone in the past. It's gorgeous and the perfect place to spend time relaxing and swimming. This beach is a couple miles from town and you can either rent bikes and ride right to it, or jump in a taxi to get there real quick — totally depends on how much time you have and what your group wants to do!
Once you get to Punta Uva you will find little shacks where you can rent kayaks and paddle boards for only a few bucks per hour. Grab a kayak, paddle around, and pray for some luck that you might see sloths, monkeys, and turtles — you can sometimes see a whole list of animals up in the treetops and the waves with a sharp eye. Get more on Punta Uva, here.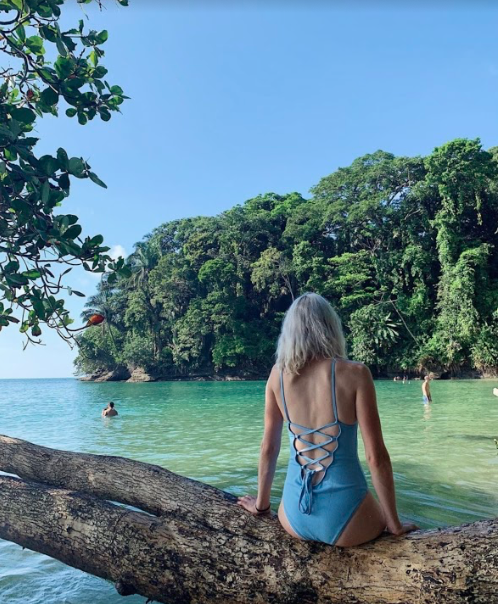 Playa Manzanillo
Easily the most popular beach in the area, but for good reason. The sand is soft, the beach is beautiful, and the shoreline is set up with lots of things to, plus places to eat. It can get extremely crowded, just as a fair warning, but it does feel a bit more rustic and not as commercialized as other beaches on this list. You'll find a few sodas and restaurants around which some say have a more authentic menus (with a Caribbean influence, unlike the more westernized restaurants near Puerto Viejo that cater to visitors).
There is a wrecked ship right on the shore, snorkeling tours, plus monkeys who like to hide in the treetops. When the waves get higher, it's a good spot to do some surfing as well.

We have more info on Manzanillo here.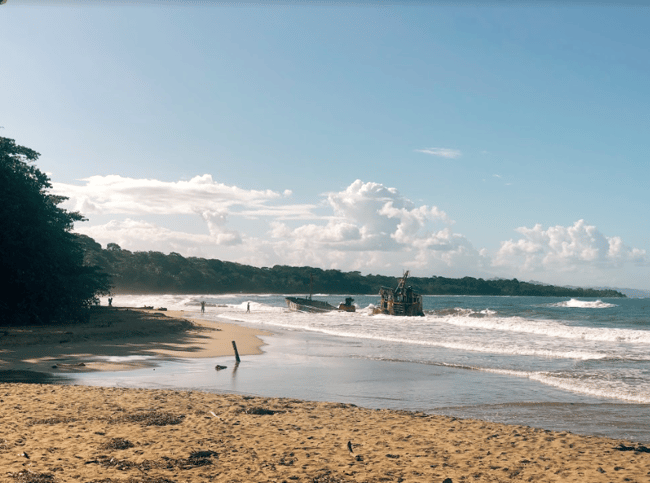 For ALL Beaches: Watch For Rip Currents
The beaches on the southern side of things are known for rip tides — a powerful current that can pull in unsuspecting swimmers. The more main beaches do have signs with a warning, so keep an eye for that on the beach itself or the walkway on the beach. Watch for signs depicting a swimmer with a red circle and line through it and a warning "precaution corrientes" or "corrientes peligrosas". Or, you may just see a red flag posted on the shoreline.
Either way, if you see these warning signs, spend your day on the sand, not in the water.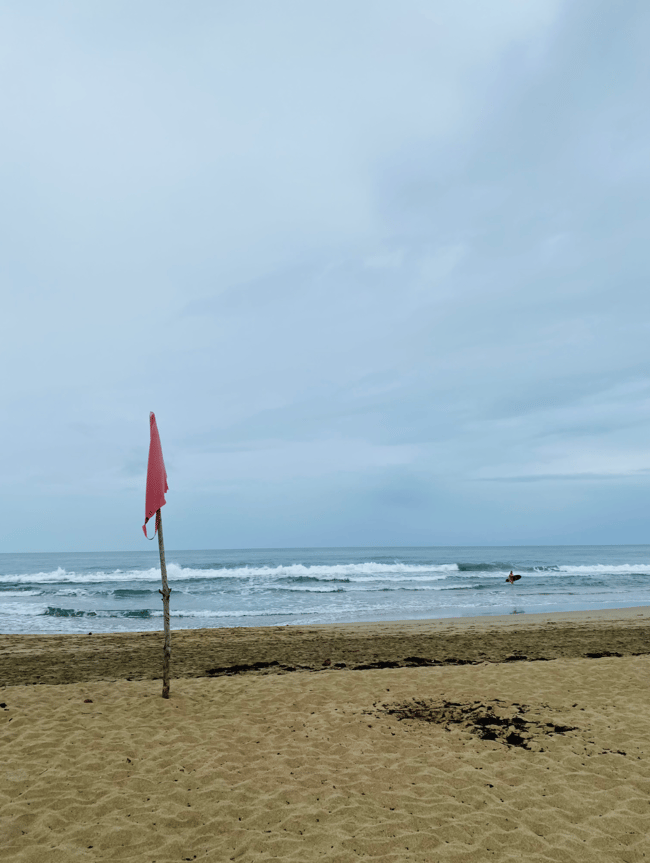 Day Trips + Tours
If you ask me, the best things to see are outside of Puerto Viejo ... I really wouldn't plan on spending much time there in the actual town, considering the best beaches are north and south of the city ... and these day trips are also so close!
Here are the top things to do around Puerto Viejo for when you need a break from the beach.
Jaguar Rescue Center
The Jaguar Rescue Center is said to be the best rehabilitation center in Costa Rica and a good place to visit if you love animals! Don't be fooled by their name though, the center rehabilitates a lot of different animals and actually doesn't have any jaguars. You'll be able to see sloths, anteaters, toucan, monkeys, owls, and more.
During your tour you will be shown the different animals, learn about the work the center is doing, and learn more about what you can do to help these animals. And, your entrance fee is used to help the animals with their needs like food and medicine.
Tours are Monday- Saturday at 9:30 AM and 11:30 AM, for $20 a person.
Chocolate Tours
Walk through cocao farms, learn how it is processed, see the chocolate being made, and of course, you need to eat it! Cocao is a big deal in this part of Costa Rica and these tours aren't only delicious, but a great way to learn more about the area and culture.
We are huge fans of taking the bus or taxi up to BriBri, a little town up the hill through the jungle just down from Puerto Viejo. It's a very small town with a few restaurants, houses, etc, but the real appeal are the waterfalls (more on that below). While you're taxi'ing up, you can see a few colorfully painted signs advertising chocolate tours in this part of the country. We'd rather support locals of this indigenous community than go with larger tour groups based out of Puerto Viejo.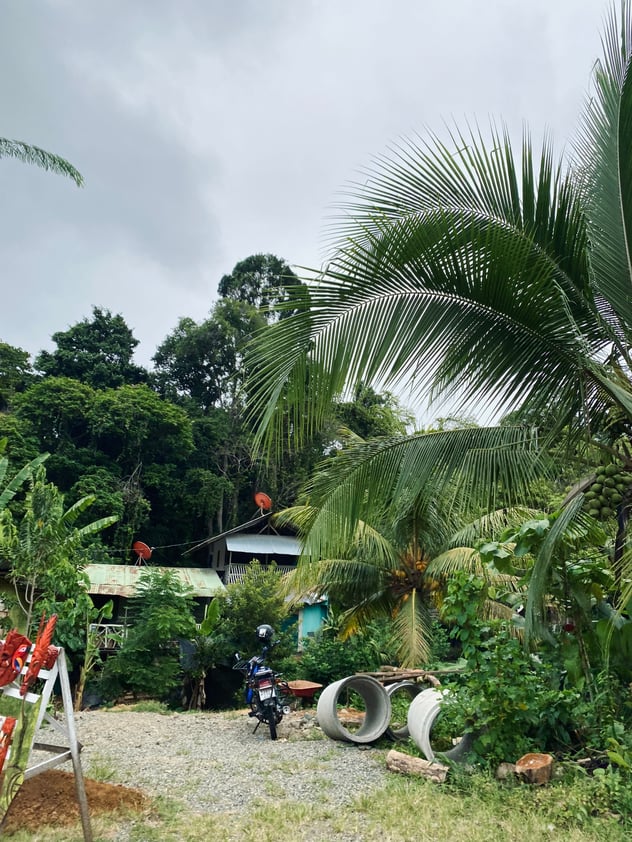 Don't Miss The BriBri Waterfalls!
Take a peek at the above section to get a recap on BriBri but we looooove the vibe here. It's just a few minutes away by taxi but feels completely different than what you'll find in Puerto Viejo (in a good way). One of the main reasons to visit this area are the waterfalls here.
There are three to choose from — BriBri Hidden, BriBri Sparkling, and Volio. BriBri Sparkling is the easiest to get to, just a pretty basic walk, but BriBri Hidden (also known as BriBri Two Waterfalls) has a pretty steep incline that you'll want to be prepared for. Volio is one you'll want to take a taxi to (it's a long trek out there).
Each is around 1,000 colónes to visit and something you absolutely have to do.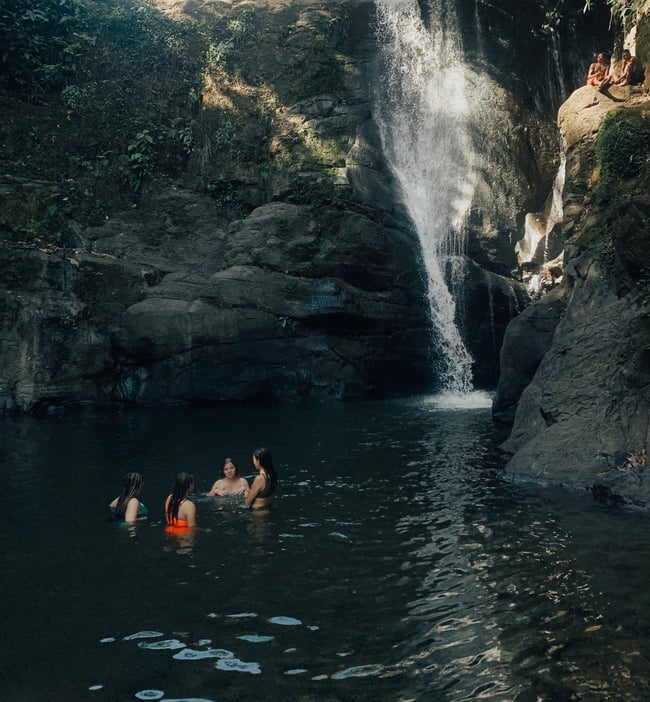 Whitewater Rafting
If you're looking for a little more high adventure in the area, whitewater rafting is going to be it. The river stretches 18 miles and you'll hit over 50 rapids. There's different tour options out there, and we've heard good things about Caribe Tours — they offer a full day trip that costs about $99 USD a person to give you a reference of what you're looking at.
If interested, book through Caribe Tours here.
Cahuita National Park
Just about 30 minutes away is what we think is the most underrated National Park in the country, Cahuita NP. This section of Costa Rica is full of the kinds of things you want from a day in this tropical country — picture beaches with amazing snorkeling, hiking trails that wind between huge trees in the lush rainforest, and spotting so many of your favorite animals all along the trail. See why we're such a fan of visiting here?
We have this full guide on visiting Cahuita National Park to make your visit a cinch.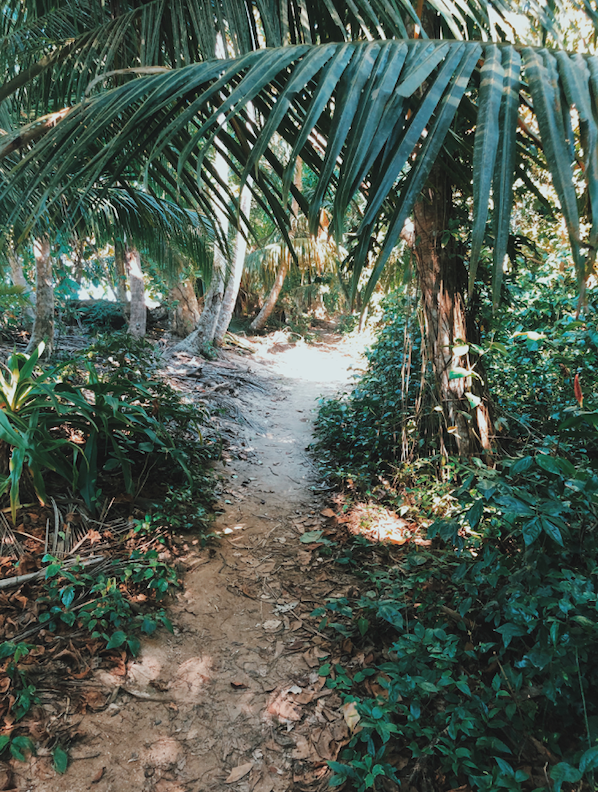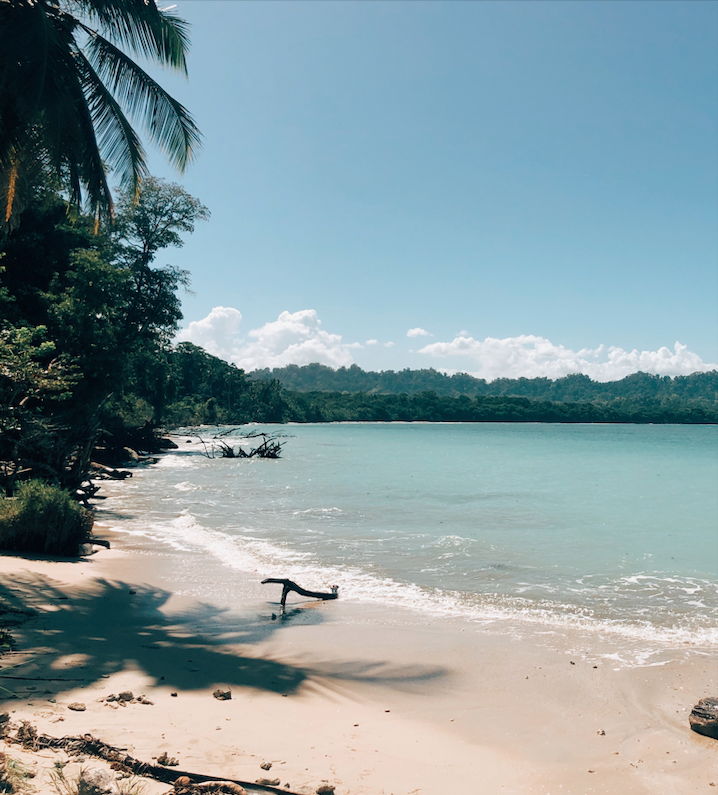 Getting To Puerto Viejo
Coming Fr
om San Jose (central Costa Rica)
From San Jose, hop on a bus, take a nap, and end up in Puerto Viejo in about 4.5 hours. You can book tickets at the San Jose Atlantico bus terminal. Here's more info (bus schedule and terminal specifics) about that bus. (Plan on paying about $10 USD to get here).
Coming From Uvita (southwest Costa Rica)
Uvita is technically closer to Puerto Viejo than San Jose is, but because of bus routes and forests you can't do it it in a straight shot. You'll need to take a bus from Uvita to San Jose and then follow the instructions above to get to Puerto Viejo. Grab tickets at your local bus station and check there for an updated bus schedule. The bus ride should take 4-4.5 hours. Plan on spending about $25 USD
Getting Around The Area
Biking is a super easy and fun way to get around town and get out to different beaches. Most hotels and hostels will provide bike rentals, so you don't have to search too hard. Plan on about $6-$8 USD for a 24 hour rental.
To get to some of the beaches along the coast, plan on taking a taxi from where you are staying, or take a bus. There is a bus that runs from nearby Puerto Viejo to nearby places like Limon or Manzanillo, and some local buses to take you to nearby spots like Cahuita, Manzanillo, Punta Uva (a favorite beach), and the Bri Bri waterfalls.
It's good to know that buses have a pretty inconsistent schedule, so it's not atypical for your 9:00 AM bus to arrive 30 minutes late. They are, however, very affordable: anywhere from $1-3 to get you to the most popular places. Buses don't run at night (after 6:00 PM or sometimes earlier), so plan on walking or taking a taxi.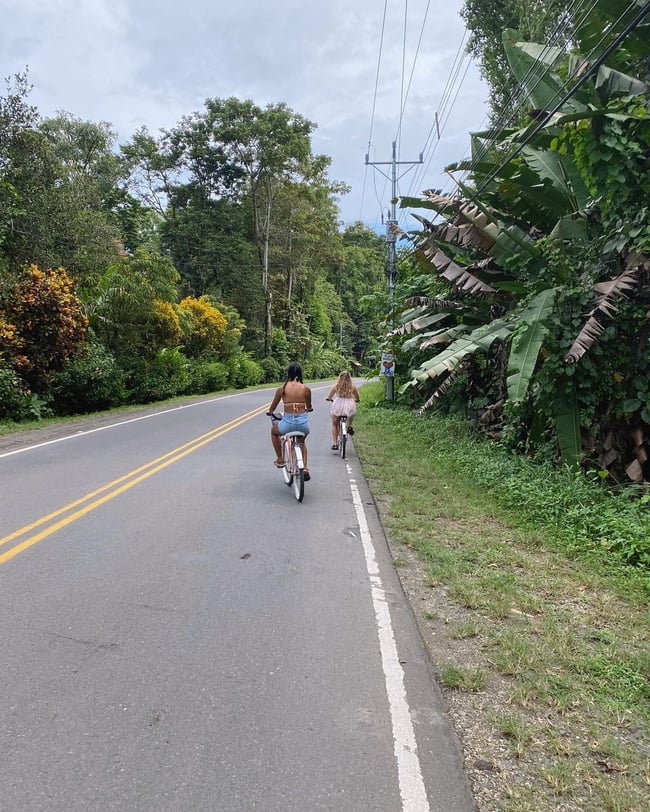 Where To Eat
Flip Flop
Flip Flop has a lot of different international foods, which means you'll find something for everyone! Thai and Indian curries, sushi, burgers, steak, and more are waiting for you. Oh, and the prices are great too.
Address: Calle 215, Limón, Puerto Viejo de Talamanca, Costa Rica
Joe's Caribbean Food
This menu is full of favorites like fresh fish, rice and beans, burgers, plantain nachos, and more ... but our volunteers mention that Joe's has the best juice around.

Address: Puerto viejo centro, Limón, Puerto Viejo de Talamanca, Costa Rica
Hours: 11:00 AM to 9:00 PM
Port Vell
A great brunch restaurant, according to some ILP volunteers. We like the fresh fruit smoothies, granola bowls, Gallo pinto, and the pancakes, which aren't like American-style, but still very yummy.
Address: C. 213, Limón, Puerto Viejo de Talamanca, Costa Rica
Hours: 8:00 AM to 1:00 PM, closed Tuesday and Wednesdays
Soda Lidia
Soda Lidia is a local's hangout and makes traditional, yummy Costa Rican food. Make sure and grab rice and beans while eating there, and their key lime dessert is very delicious!
Address: There isn't a set address, but ask locals where to find it. It's behind the main road in the city.
Bread and Chocolate
Nothing gets better than homemade bread and chocolate! This is a great little cafe that serves soups, sandwiches, salads, and of course lots of chocolate desserts! Try the PB&J where the bread, peanut butter, and jelly are all made from scratch — YUM!
Website: Here's the website for up to date hours and address.
Soda Beraca
Another local Soca with unique Caribbean flavors that this city is so well known for. It's found right by Bread and Chocolate, meaning you basically have your whole dinner and dessert for that night planned out for you. You're welcome!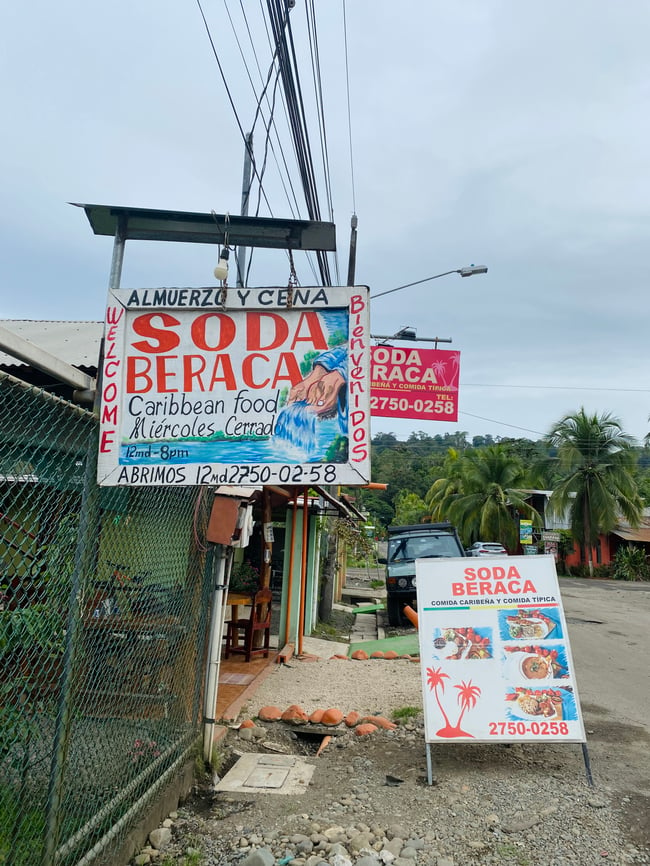 Ready for a new adventure?
Costa Rica might be just what you're looking for! Spend a semester volunteering, exploring, and vacationing with ILP.