It turns out that the best part of Puerto Viejo are these amazing day trip adventures.
Costa Rica has a lot to offer, especially if you're planning a trip to the Caribbean side of things. This portion of Costa Rica is known for miles and miles of beautiful beaches (some with warm, dark sand), thick rainforests teeming with jungle friends, and so many little day trips to nearby beach towns. Sounds like you need to square away a trip to this part of Costa Rica, stat.

---
Interested in spending time in Central America?
Come volunteer with ILP for a semester!
---
Especially since this section of the country has a different rainy season, it's a very popular place for tourists. That being said, we're here to help you plan a trip to Puerto Viejo (and the surrounding little beach towns) to help you avoid the crowds, save your money, and have the best kind of experiences. Here's what you can't miss: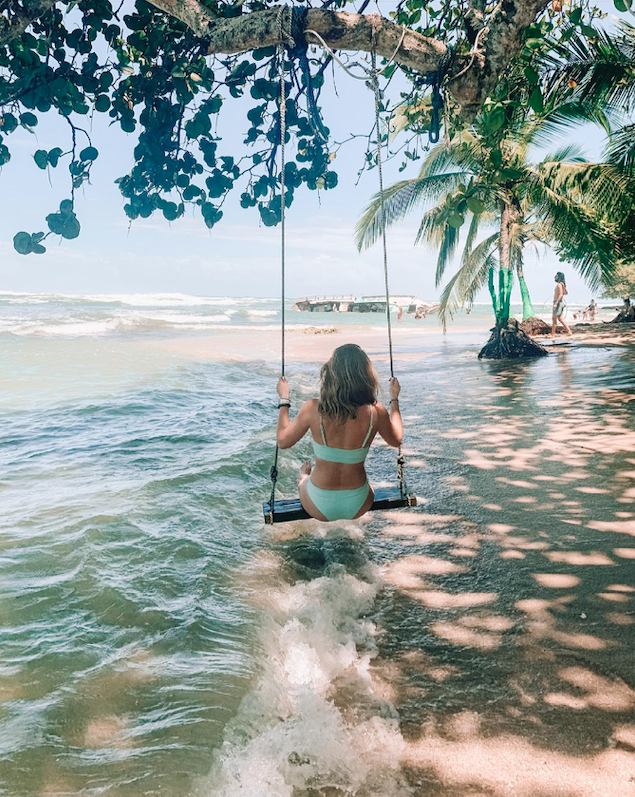 The Best Beaches
One the biggest draws to Puerto Viejo (and nearby) are the beaches. We're thinking you could spend a whole week here on the sand which is why we wanted to pull out the best beaches for your visit, going from north to south:
Playa Negra
Playa Negra is really close to the city and has warm, black sand. The water is pretty choppy so unless you are surfing or boogie boarding it's not the best swimming beach. We'd grab some snacks, a good book, and spend time laying out in the sun.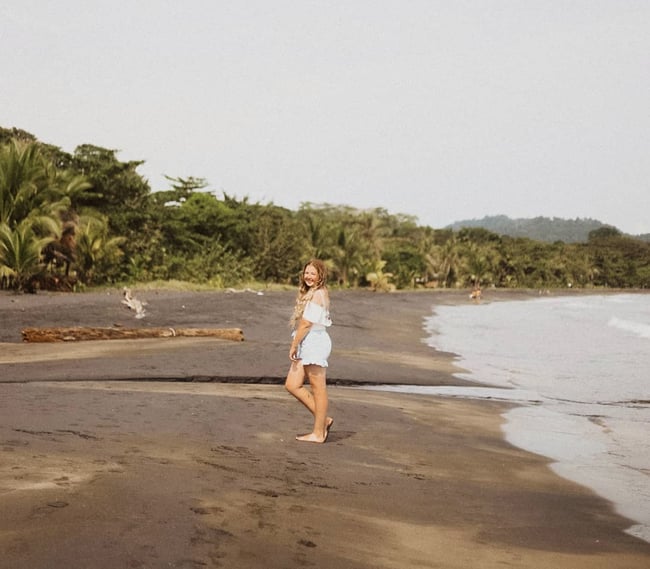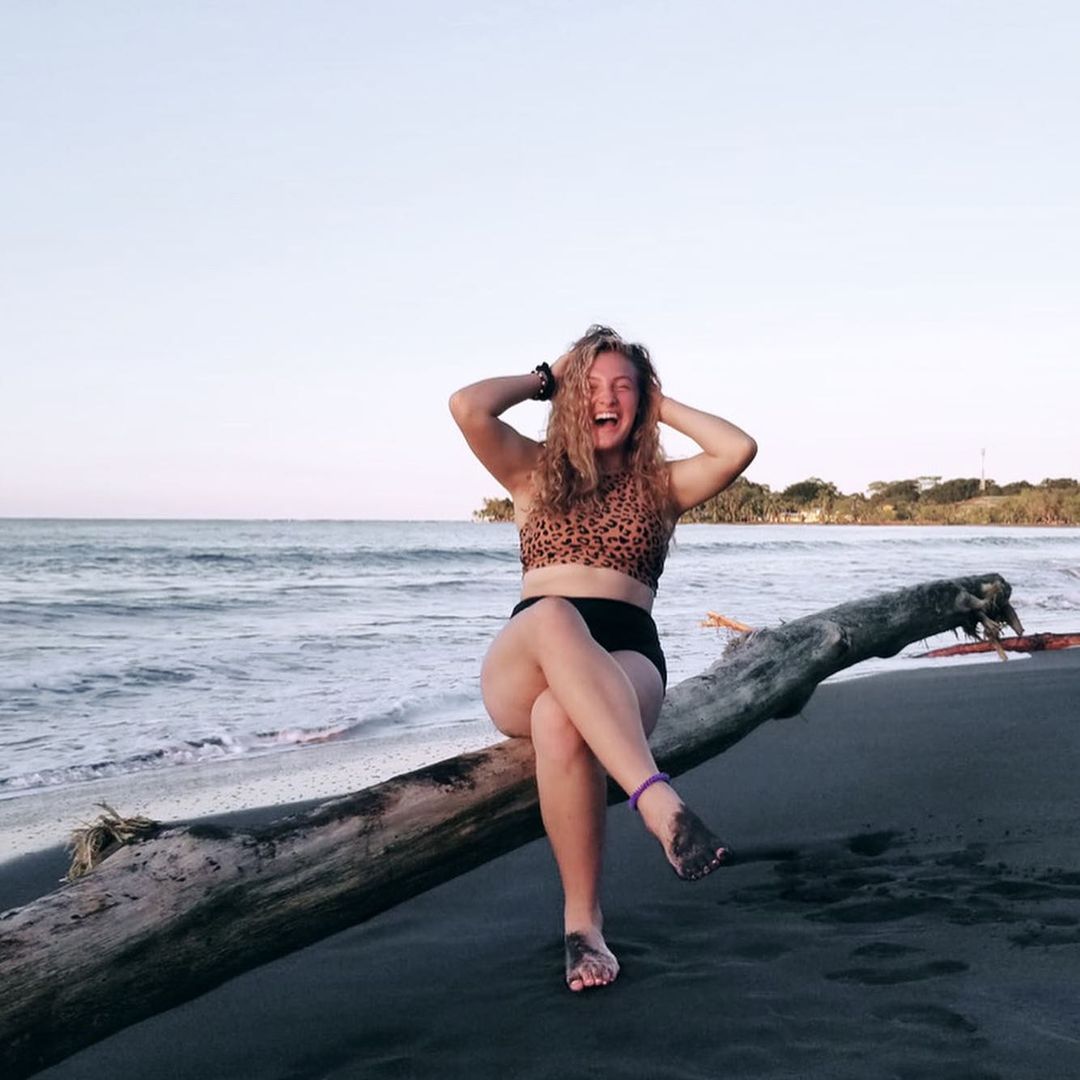 Cahuita National Park Beaches
Just south of Playa Negra is this incredible national park (we have more info on that place below). You'll definitely want to take a day trip to explore the jungle and block out some time to hang out on Playa Blanca or Puerto Vargas. These beaches can boast some of the best snorkeling around if you'd like to spot some marine wildlife floating by some shipwrecks, just off shore.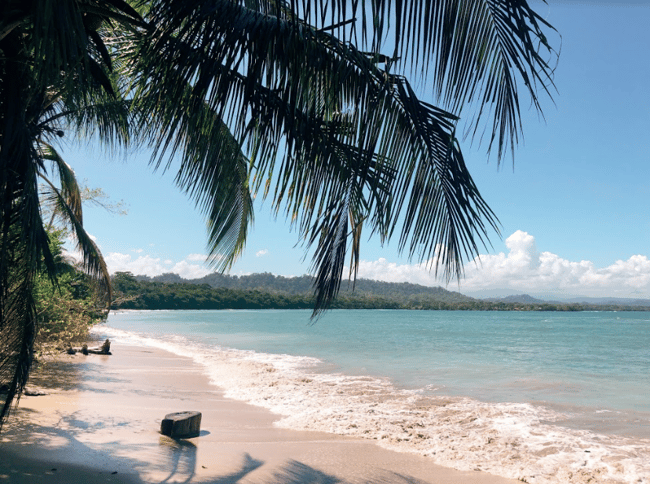 Playa Cocles
A quieter beach with stunning water, Playa Cocles sits just outside of the tiny little town of Cocles that hides in the jungle behind the coastline. You'll find a few surfers testing out the waters' long with some volleyball nets set up on the shoreline.
Playa Chiquita
Another calmer beach found on the eastern coast is Playa Chiquita. You're right on the fringe of the jungle here, with beautiful waters that can get a little rough, so keep an eye out for weather warnings or riptides. Similar to Playa Cocles, you may see a few surfers in the waves, but it's definitely somewhere you can find a spot all to yourself.
Punta Uva
This is a favorite of ILP volunteers who have gone in the past. It's gorgeous and the perfect place to spend time relaxing and swimming. This beach is a couple miles from town and you can either rent bikes and ride right to it, or jump in a taxi to get there real quick — totally depends on how much time you have and what your group wants to do!
Once you get to Punta Uva you will find little shacks where you can rent kayaks and paddle boards for only a few bucks per hour. Grab a kayak, paddle around, and pray for some luck that you might see sloths, monkeys, and turtles. Get more on Punta Uva, here.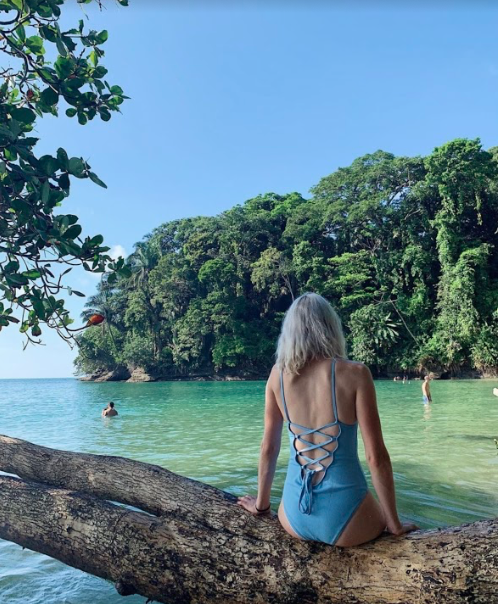 Playa Manzanillo
Easily the most popular beach in the area, but for good reason. The sand is soft, the beach is beautiful, and the shoreline is set up with lots of things to, plus places to eat. It can get extremely crowded, just as a fair warning. There is a wrecked ship right on the shore, snorkeling tours, plus monkeys who like to hid in the treetops.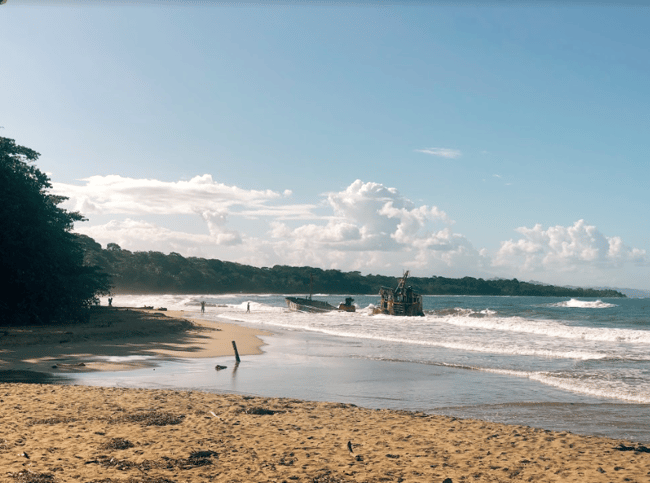 Day Trips + Tours
If you ask me, the best things to see are outside of Puerto Viejo ... I really wouldn't plan on spending much time there, considering the best beaches are north and south of the city ... and these day trips are also so close! Here are the top things to do around Puerto Viejo for when you need a break from the beach.
Jaguar Rescue Center
The Jaguar Rescue Center is said to be the best rehabilitation center in Costa Rica and a good place to visit if you love animals! Don't be fooled by their name though, the center rehabilitates a lot of different animals and actually doesn't have any jaguars. You'll be able to see sloths, anteaters, toucan, monkeys, owls, and more.
During your tour you will be shown the different animals, learn about the work the center is doing, and learn more about what you can do to help these animals. And, your entrance fee is used to help the animals with their needs like food and medicine.
Tours are Monday- Saturday at 9:30 AM and 11:30 AM, for $20 a person.
Chocolate Tours
Walk through cocao farms, learn how it is processed, see the chocolate being made, and of course, you need to eat it! Cocao is a big deal in this part of Costa Rica and these tours aren't only delicious, but a great way to learn more about the area and culture.
Caribeans is a popular tour company in Puerto Viejo. There aren't tour times, so just show up whenever and be ready to pay the entrance fee of $28 USD.
Whitewater Rafting
If you're looking for a little more high adventure in the area, whitewater rafting is going to be it. The river stretches 18 miles and you'll hit over 50 rapids. There's different tour options out there, and we've heard good things about Caribe Tours — they offer a full day trip that costs about $99 USD a person to give you a reference of what you're looking at.
If interested, book through Caribe Tours here.
Cahuita National Park
Just about 30 minutes away is what we think is the most underrated National Park in the country, Cahuita NP. This section of Costa Rica is full of the kinds of things you want from a day in this tropical country — picture beaches with amazing snorkeling, hiking trails that wind between huge trees in the lush rainforest, and spotting so many of your favorite animals all along the trail. See why we're such a fan of visiting here?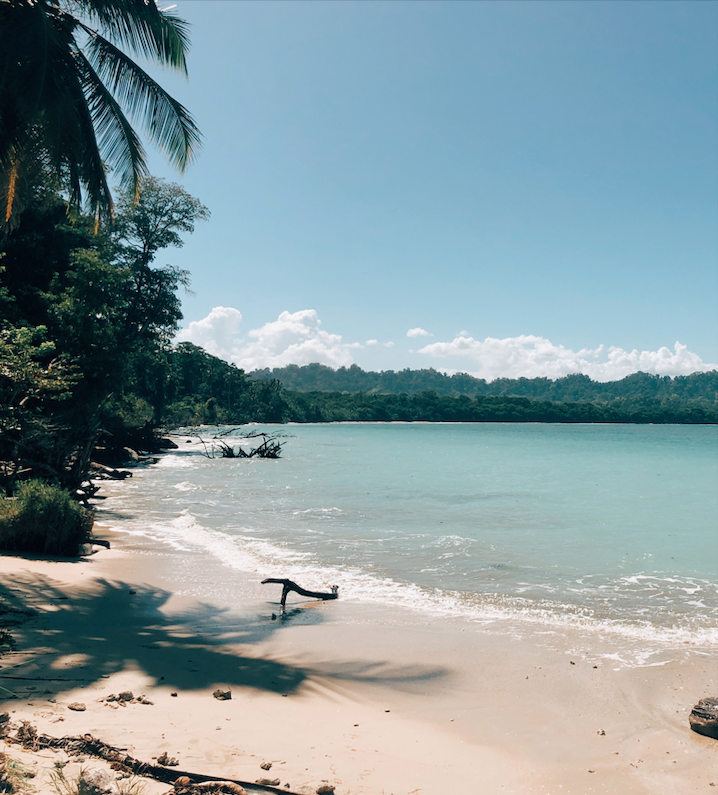 Getting To Puerto Viejo
Coming Fr
om San Jose (central Costa Rica)
From San Jose, hop on a bus, take a nap, and end up in Puerto Viejo in about 4.5 hours. You can book tickets at the San Jose Atlantico bus terminal. Here's more info (bus schedule and terminal specifics) about that bus. (Plan on paying about $10 USD to get here).
Coming From Uvita (southwest Costa Rica)
Uvita is technically closer to Puerto Viejo than San Jose is, but because of bus routes and forests you can't do it it in a straight shot. You'll need to take a bus from Uvita to San Jose and then follow the instructions above to get to Puerto Viejo. Grab tickets at your local bus station and check there for an updated bus schedule. The bus ride should take 4-4.5 hours. Plan on spending about $25 USD
Getting Around The Area
Biking is a super easy and fun way to get around town and get out to different beaches. Most hotels and hostels will provide bike rentals, so you don't have to search too hard. Plan on about $6-$8 USD for a 24 hour rental.
To get to some of the beaches along the coast, plan on taking a taxi from where you are staying.
There are also some buses that run from Limon to Puerto Viejo and stop in places like Cahuita. Or buses that run from Puerto Viejo down to Manzanillo.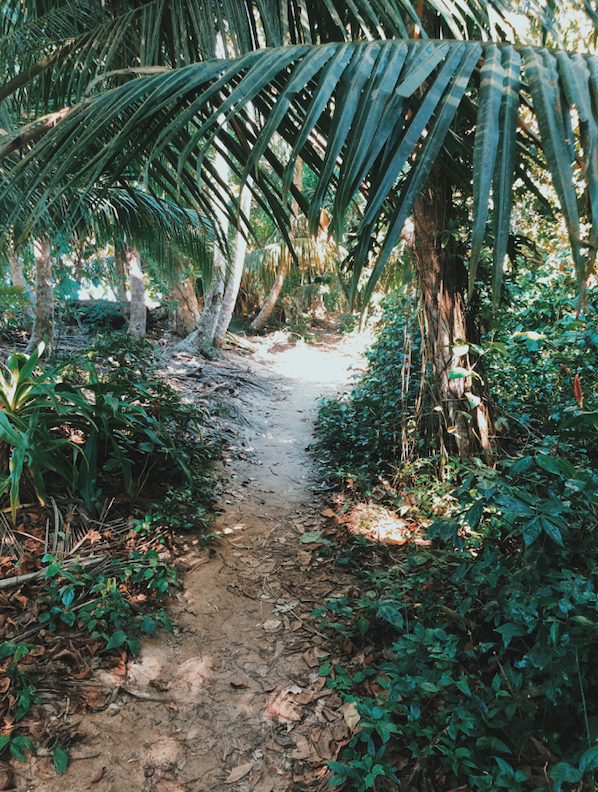 Where To Eat
Flip Flop
Flip Flop has a lot of different international foods, which means you'll find something for everyone! Thai and Indian curries, sushi, burgers, steak, and more are waiting for you. Oh, and the prices are great too.
Address: Calle 215, Limón, Puerto Viejo de Talamanca, Costa Rica
Soda Lidia
Soda Lidia is a local's hangout and makes traditional, yummy Costa Rican food. Make sure and grab rice and beans while eating there, and their key lime dessert is very delicious!
Address: There isn't a set address, but ask locals where to find it. It's behind the main road in the city.
Bread and Chocolate
Nothing gets better than homemade bread and chocolate! This is a great little cafe that serves soups, sandwiches, salads, and of course lots of chocolate desserts! Try the PB&J where the bread, peanut butter, and jelly are all made from scratch — YUM!
Website: Here's the website for up to date hours and address.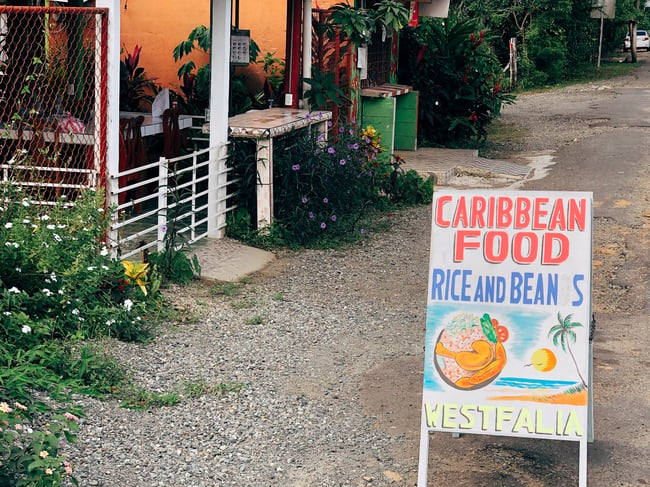 Ready for a new adventure?
Costa Rica might be just what you're looking for! Spend a semester volunteering, exploring, and vacationing with ILP.