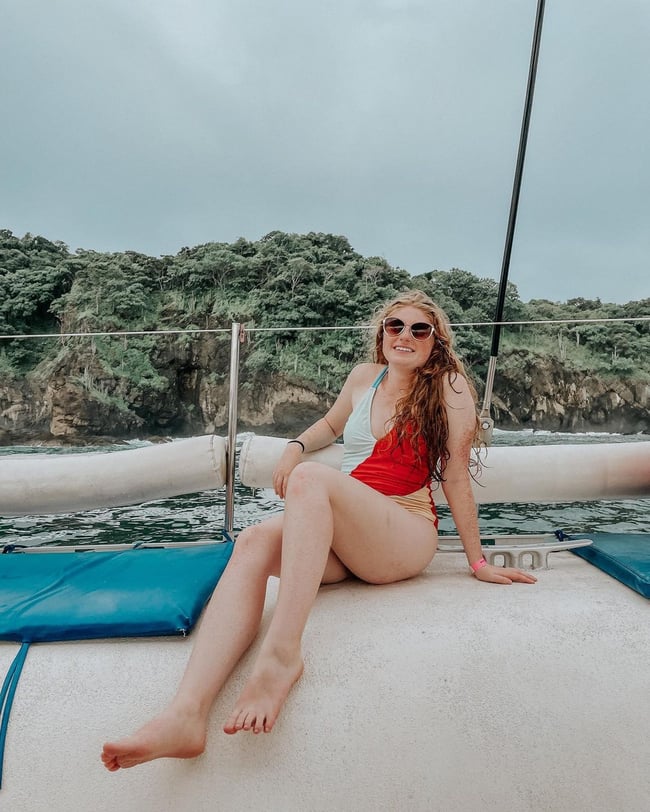 With a golden beach and warm water, we don't blame you if you never want to leave! Some of our volunteers say this is their favorite beachy vacation in all of Costa Rica.
Costa Rica has no shortage of sandy coastlines. We know there are a lot of places you'll want to visit, but we definitely recommend you add the dreamy town of Tamarindo to your list. That is, add it to your list only if you're into the prettiest sunsets, plenty of beach time, the chance to rent surfboards and take surf lessons, and hang out on a catamaran. Oh, and it's also a winner when it comes to yummy restaurants. Can you see why it's a must-see vacation spot?


---
Wondering what else you can't miss? We have all the best vacation spots in Costa Rica all mapped out for you.
---

If you volunteer in Cost Rica with us (International Language Programs), Tamarindo is a perfect vacation spot during your semester abroad. It's a place most volunteers fit into their itinerary, with good reason! To help you plan the best trip here, we've talked to a few volunteers about their recommendations, tips, advice, and more. Here's what you need to know about this gorgeous place!
A Bit About Tamarindo
You'll find this beachy town in the Guanacaste Province, nestled on the country's Pacific coast. Tamarindo is a hot spot for surfers who love to tackle the strong surf on beaches like Playa Tamarindo and Playa Langosta. It's also a favorite retreat for vacationers looking to soak up the sun and beach time while here. However, you'll need to share space with the animals who also call this area home! Further to the north of Tamarindo is a nesting ground for turtles, as well as a protected wildlife refuge where you can spot crocodiles and howler monkeys (though you'll probably hear the monkeys before you see them!).

This place gets a little crowded in the high season, and you'll find a string of shops and places to eat, so come here expecting some bustling crowds. But there is good reason! We talked to one volunteer who said this was her favorite vacation spot, and even after 4–5 days here, she wasn't ready to leave!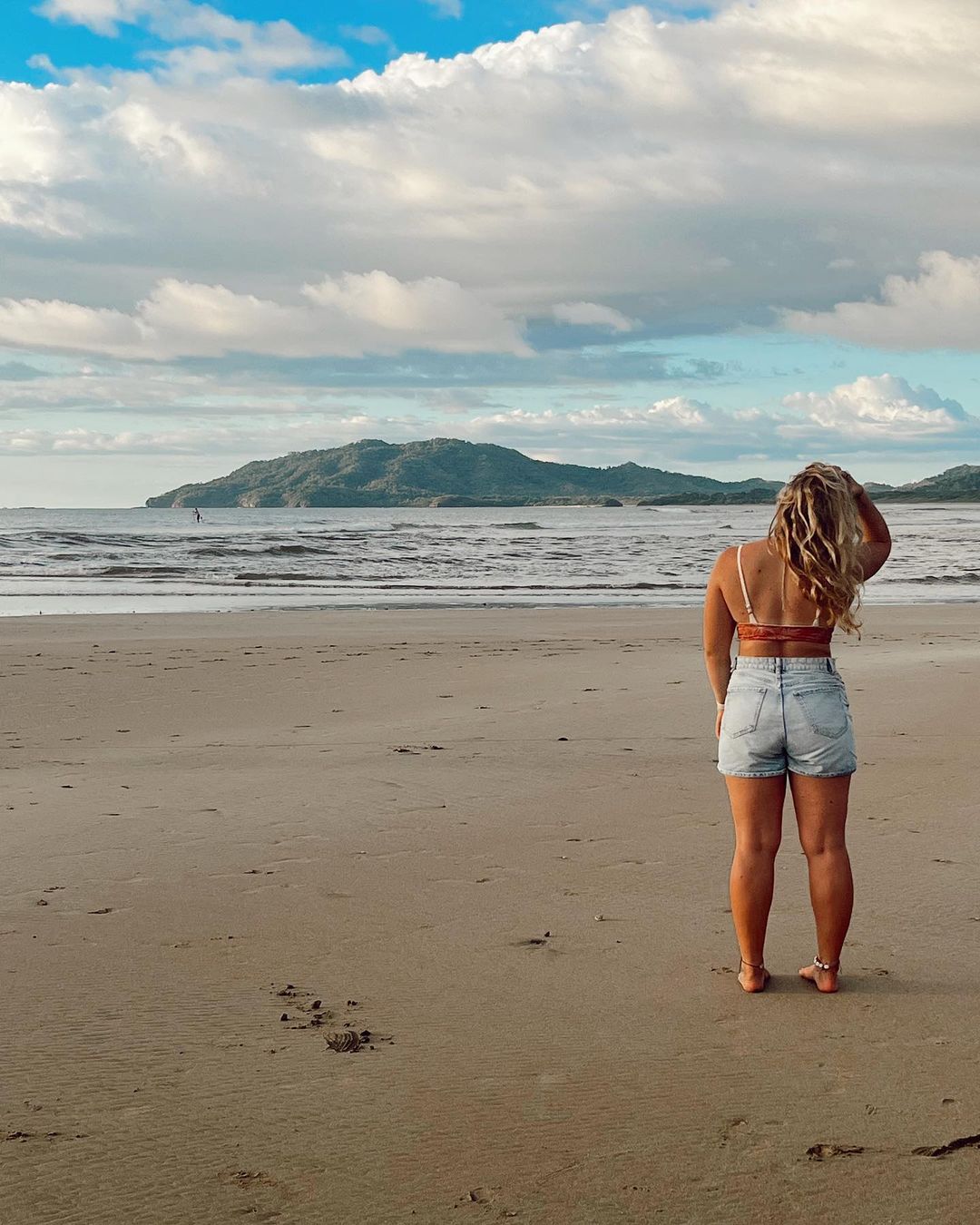 What Are The Highlights?
Choosing The Best Beaches Here
Obviously you're going to need some relaxation time. Really, is there anything better than laying out on the beach? Maybe only if it ends in the most spectacular sunset. Luckily, Tamarindo has the most stunning, colorful, and captivating sunsets I've ever seen.
As far as beaches to explore, make sure you're here for the city's namesake beach, Tamarindo. Here, you can swim, rent surfboards, take surf lessons, and rent boogie boards, etc. It's the most popular option but know there are a couple of others if you're wanting another option.
Playa Conchal is another favorite picture-perfect beach. Instead of sand, you'll be walking on millions of crushed shells. The effect is gorgeous — an array of tiny bits of cream, pink, orange, and speckled little shells. No sand means crystal clear waters, so it's ideal for snorkeling. This beach is about a 35-minute taxi ride away from Tamarindo and has some killer sunsets.

Playa Flamingo is another destination if you have your camera with you. It's one of the only pink sand beaches in Costa Rica. It's a faint, light light light pink, but in the right lighting, you can see how this beach got its name. It's a 30-minute drive from Tamarindo.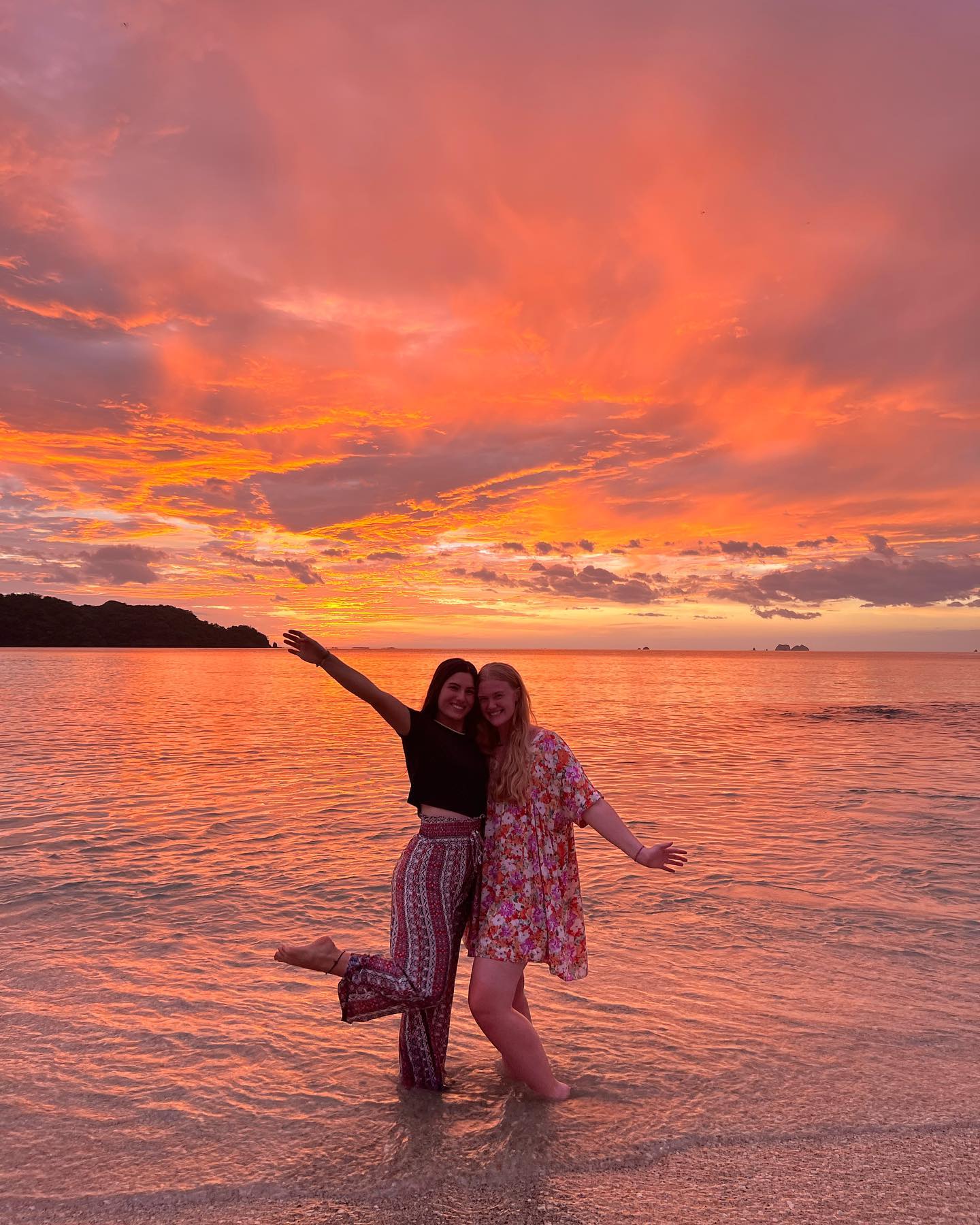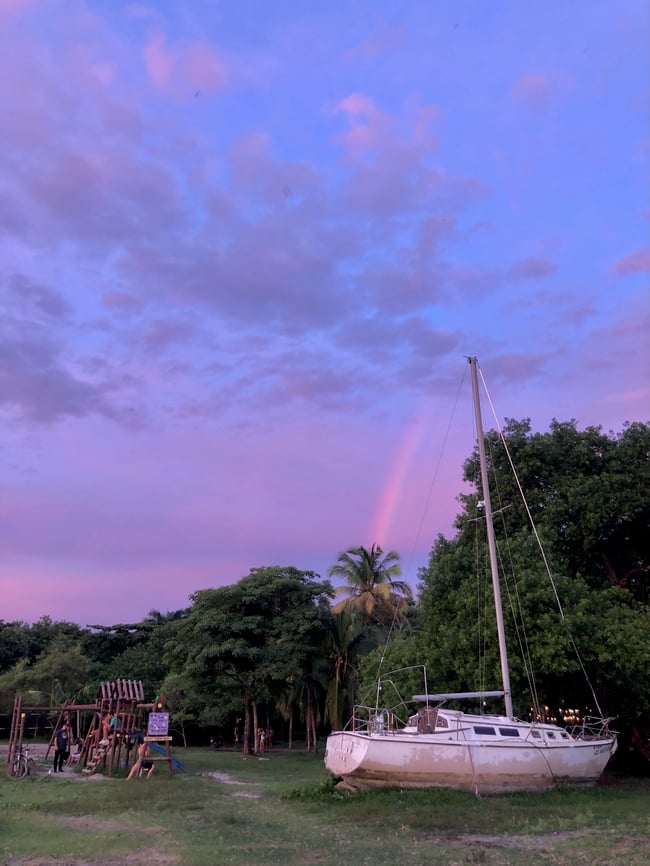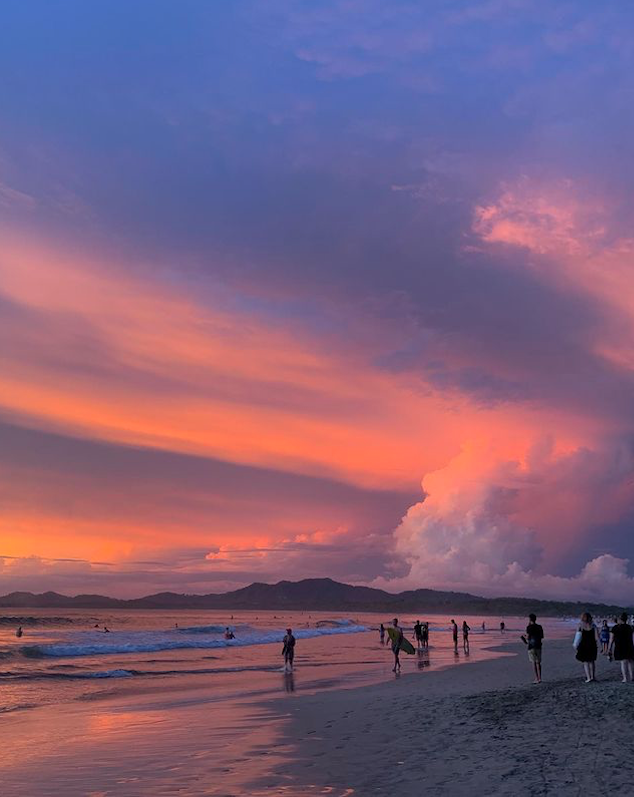 Surfing + Paddle Boarding
If you've ever wanted to try surfing, this is a great spot to do it. The coastline here is known for surfing. It's a big pull for both professionals and beginners because you can find the beaches and the waves that suit your level. The whole town has a big "surfer vibe" that's fun to lean into if you rent boards and take surfing lessons one day!

Lots of surf shops along the coast rent boards (usually around $20 USD), or you can pay extra (about double) for a lesson. Other groups got connected with boards and lessons at the Salty Sols Surf School if you want to look into that.
If paddle boarding is more your scene, you will be able to find multiple places that rent paddle boards in the town so you don't have to arrange it before you get there. Some will offer lessons and teach you how to paddle board (which comes with a higher price of course), or you can rent and go on your own for about a quarter of the price. You should be able to find boards for about $10. Grab your board and go!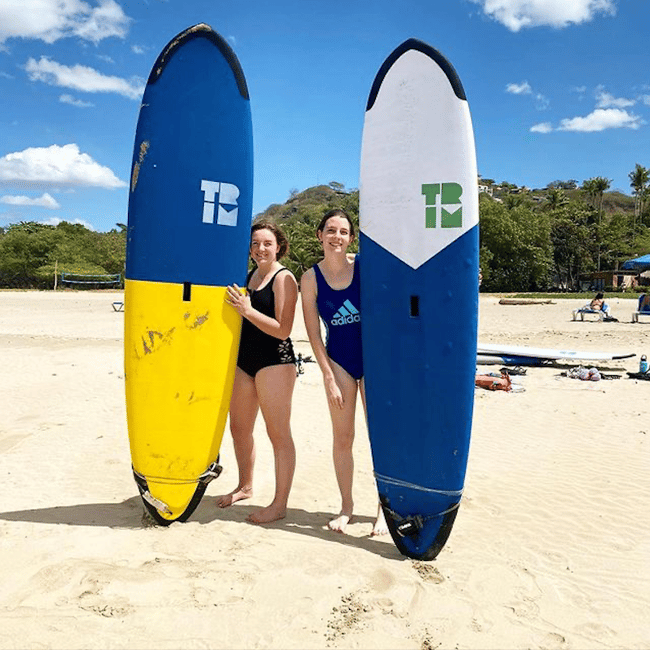 Go On A Turtle Expedition
If you are in Tamarindo between November and April you're there at the perfect time for turtle nesting. You can take a night tour to Las Baulas National Marine Park and watch the turtles lay their eggs
Spot Howler Monkeys
Really common in this area, you're bound to run into a monkey or two if you keep your eyes (and ears) peeled for them. As their names suggest, you're most likely to find them by hearing their howls, which often happen just before sunrise. They're most active at sunrise and sunset, but during the day look up into the treetops just in case . . . you may get lucky!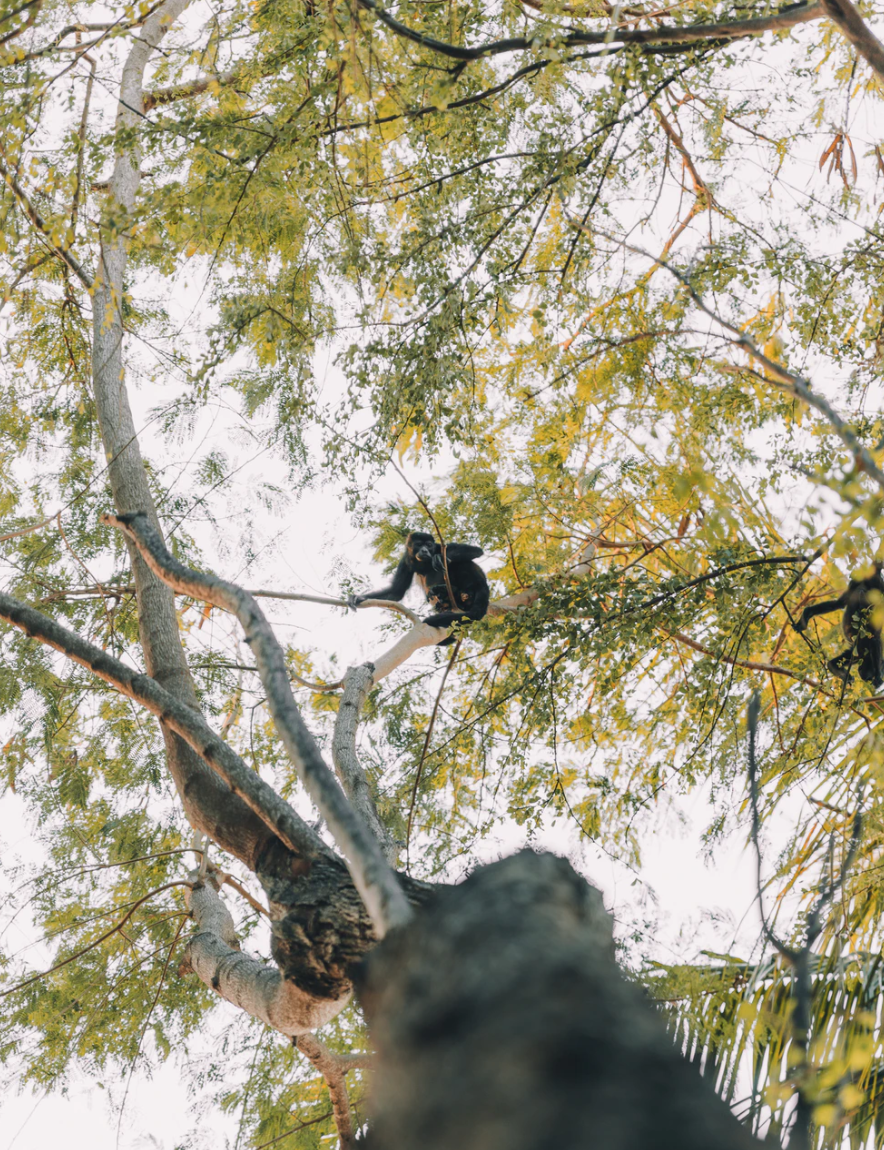 Zip Line Through The Trees
We love zip lining everywhere, but especially in Costa Rica. If you're looking for a little excitement to break up your time at the beach or pool, you've got to try zipping through the jungles just outside of the beach town. You can find several vendors advertising tours around town, but here are two suggestions to give you an idea of what's out there.
This zip line will give you views of the trees, mountains, and even the beautiful ocean. Contact them here to reserve your spots and arrange a pickup location.
Diamante Adventure Park has one of the longest zip lines in the country, with lots of other activities you can do like visiting their animal sanctuary and going horseback riding. We love the views of the ocean you can see on your zip line tour with this company.
Sunset Sailing + Snorkeling Boat Tours
We love catamaran tours! There are several to choose from, depending on what you are looking for. Some are just boat cruises to catch the sunset, while others are half-day adventures that take you out to a snorkel spot and provide lunch before coming back to the mainland.

Groups in the past have booked with Marlin Del Rey and really liked their experience. They have a morning or afternoon option, where you'll join about 30 other people on the boat for an hour of snorkeling, lunch, and some swimming time before coming back to Tamarindo. Get more details here.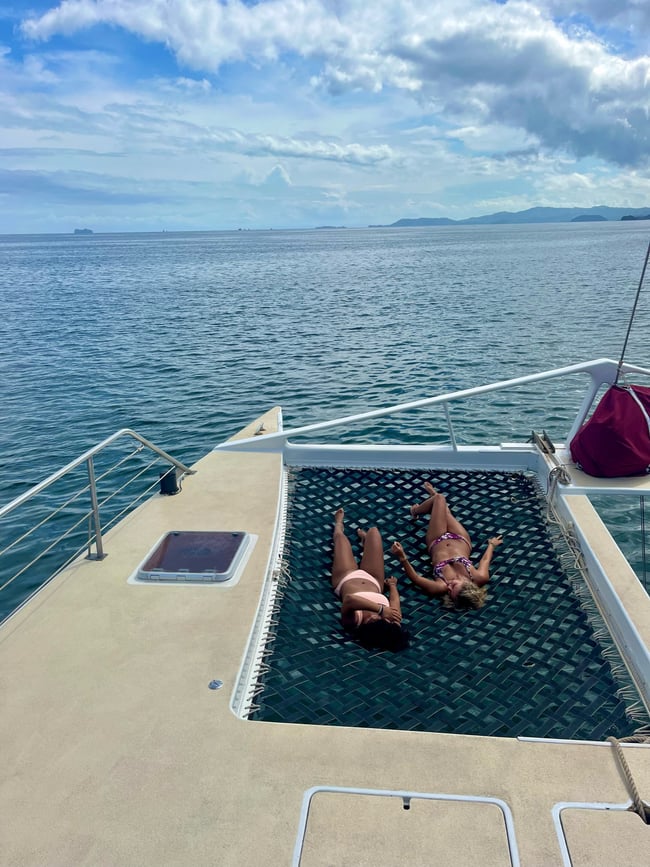 Places To Eat
Tamarindo has all the good food, so get prepared for a delicious adventure! Some groups wished they would have stayed an extra day, if only to tackle the foodie spots found here. We've put together a few recommendations from ILP volunteers below (but many suggested using Yelp to find new favorites).
Santa Rita Coffee Shop: "Such yummy food and a great cafe to relax in" is what one ILP volunteer had to say about this place.


Pico Bistro: Serves up breakfast, lunch, and dinner with a perfect view of the beach.

The Joint: According to one volunteer, The Joint has "the most amazing burgers I have had in my entire life!! Seriously such good food here." Sounds like a winner!
Venezia Gelati and Cafe: Come for dinner or dessert . . . or both! This place serves savory Italian dishes like pasta, as well as a range of Italian desserts and gelato in several flavors.


Nougies: This is a local favorite. Try their fresh Tuna Poke or one of the delicious desserts.


Green Papaya Taco Bar: If you're looking for something healthy and fresh, grab some tacos or a salad from here.


Waffle Monkey: Yummy waffles topped with yummy sweets like bananas and honey. Or, go for something savory with eggs and bacon. It's also a great spot to grab a coffee.

Food Truck Park. Sometimes there is a food truck round up at Jardin Tamarindo. The trucks change, but some have found burgers, ceviche, Caribbean food, and other selections.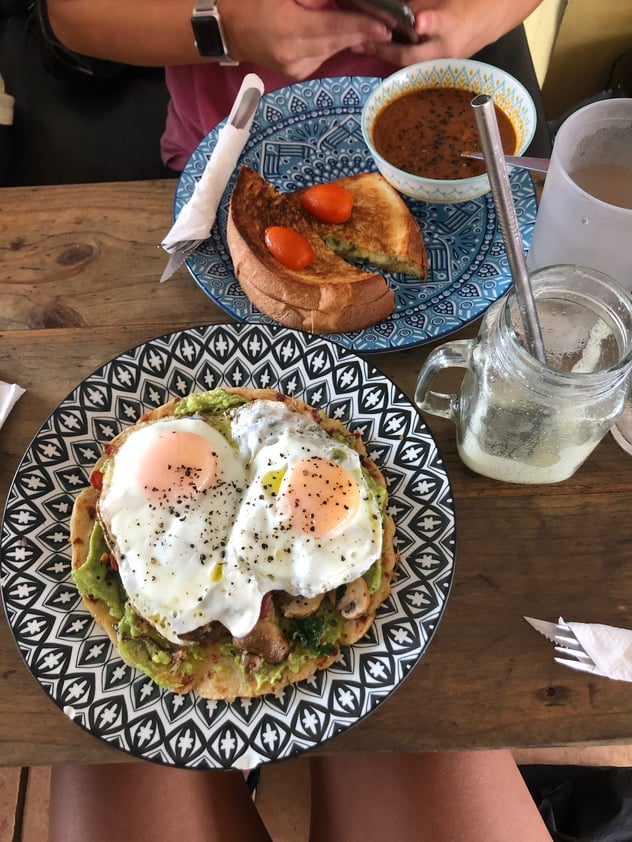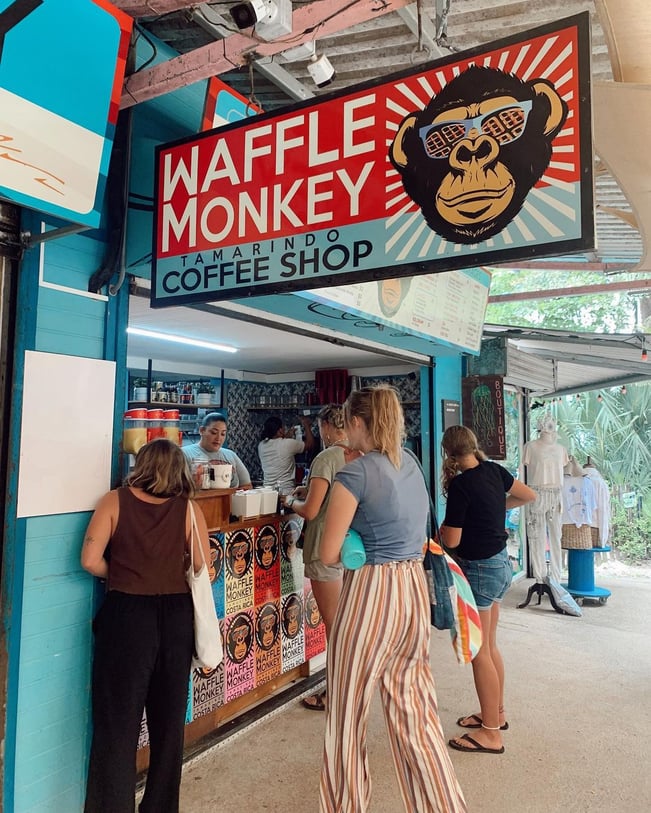 Where To Stay
You'll find a selection of hostels, Airbnbs, and hotels scattered around, which makes it easy to find something in your budget. Some ILP groups have gone more splurgy here, staying at nicer resorts, but you should be able to find something that works for your trip!
Before booking, you'll want to consider the location. Some groups stayed nearby and were able to walk to all of their daily activities and favorite restaurants, but others were 20-30 minutes outside of the area and needed a budget time and money to take a taxi. Just something to keep in mind! We have a couple of recommendations here from past groups.

Resorts + Hotels
One group had this to say about their stay: "We stayed at the Best Western in Tamarindo and it was perfect! They had a great pool and it was within walking distance from the beach and nearby town!" Book here.
This one is a great option if you are wanting to splurge a little! You can split the room price between a couple of you. It is beautiful with a nice pool, and right in the center of town. Cost typically includes breakfast.
Other ILP groups have stayed at this hotel, which isn't a resort but does have a restaurant on site if you don't want to worry about finding food at the end of the day.
Airbnbs
We love the Airbnbs here, which are typically tucked away in the more residential part of the town. Several of the suggestions below have hosts that have been quite helpful in the past helping guests with any questions they may have during their time in Tamarindo (a good resource if you're looking for restaurant recommendations, places to go surfing, etc.).
This cozy surf house has a pool and is within walking distance of the beach.
This beautiful place sleeps up to five people (we love the kitchen space here).
This simple house has all the basics you'll need, plus a pool.
This bright condo has AC, a pool, and pretty much everything else you're looking for.
Hostels

ILP groups in the past have loved Pura Vida Hostel (it has a good location, AC, the chance to book tours through the hostel, and other perks like hammocks where you can relax after a day of vacation. Book here.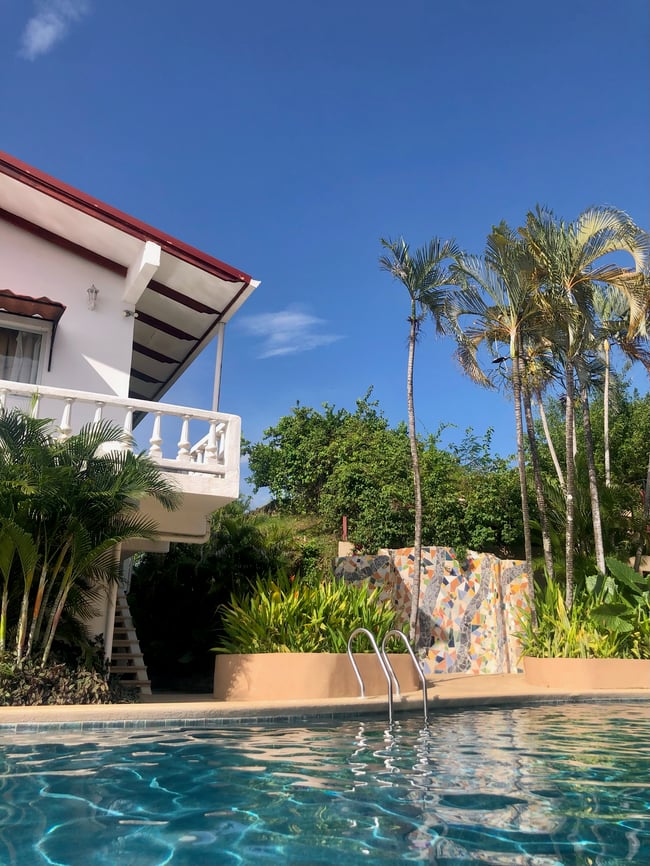 A Little Advice For Your Trip
How Long Should I Stay?
ILP groups are kind of split on the issue. Some come for a weekend and love it for a short trip, while others stayed for 3 to 4+ days and wish they had more time! In any case, Tamarindo is definitely a 2-day minimum kind of vacation spot, and plan for more time if you want to juggle beach days with lots of excursions.
If you want some advice on how to guide your trip length, maybe this will help: "This is a good vacation to relax and enjoy your surroundings. We did a lot of tanning, reading, and relaxing which was perfect! We spent 5-6 days here and it was amazing. Tamarindo is really good for a 4 day weekend, or a little less than a one week trip if you ask me. Nothing you absolutely have to do, but definitely enjoy the sunsets and beaches!"
Want to spend more time in this part of the country? There's plenty to do nearby. Check out our Costa Rica vacation planner for more ideas of nearby adventures.
Getting Around Tamarindo
Again, this kind of goes back to where you are staying. Some groups were close enough to walk to their favorite beach, the main part of town, and most of the restaurants, which meant they really didn't have to travel by taxi.

Other groups have wanted to see more of Tamarindo and rented bikes for the day. It's a great way to see much more than you could by walking (and is way easier to pull off to the side of the road to scout out a cute shop than if you were in a taxi). You can find rentals for about $15-$20 for the full day around town.
Explore The Local Shops
You'll find the normal touristy shops in Tamarindo, but it is also full of little local boutiques and shops we highly recommend checking out. Spend some time wandering to see what you and your group can find. One group loved the shopping at the Azul Profundo Boutique for things like beaded bags, colorful scarves, dresses, etc. Another group was a big fan of the clothing you could buy at GirlFish.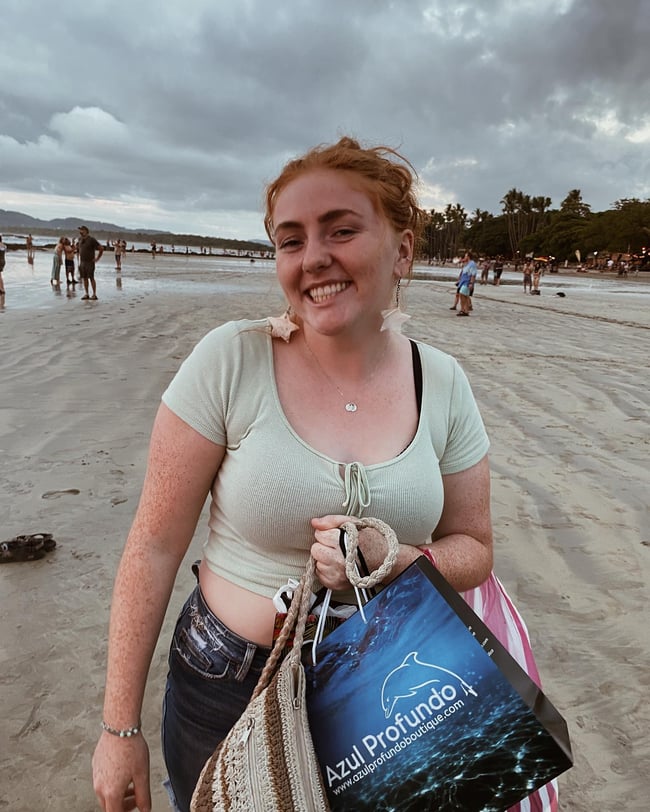 Getting To Tamarindo
From San Jose By Bus
If you find yourself in the busy Costa Rican capital of San Jose and want to take a trip to the beach, here's how to make it happen. From San Jose, it's about a five hour bus ride to Tamarindo. You can catch the bus at San José: Av.7 C.8.Terminal 7-10 or at the San Jose Ave.5 terminal.

If San Jose isn't your departure city, you can get more specific bus information for Costa Rica here.
The Airport
If you'd rather fly, the closest airport is the Daniel Oduber Airport in Liberia (LIR). From the airport, it's about a 2-hour taxi (or bus) route to get yourself to Tamarindo. Look at airlines like SANSA or Nature Air. A flight from San Jose is just 45 minutes, but this will be your most expensive option (the flight + the bus/taxi fare will up the total cost for this route).

What if you never want to leave?
Call this country home when you volunteer here for a semester. You'll spend some of your time teaching English and exploring your city, with weekends free and vacation days to travel around. We set you up with a group, so you have friends to vacation with, teach with, and enjoy Costa Rica with. Come see what a semester here is like with ILP!