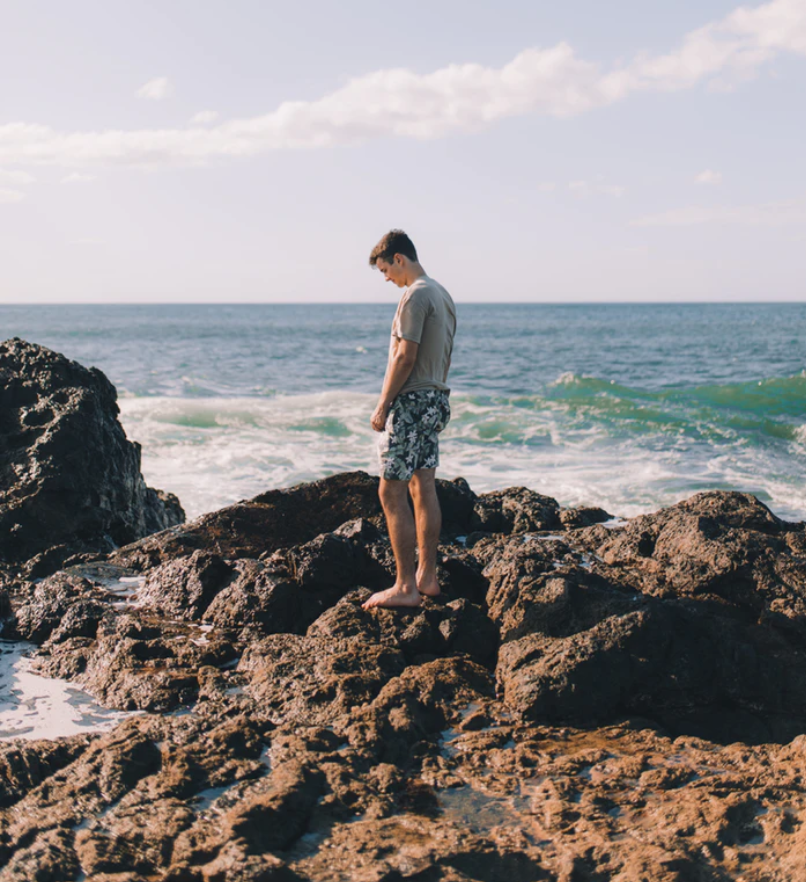 With a golden beach and warm water we don't blame you if you never want to leave!
Costa Rica has no shortage stunning coastlines. We know there's a lot of places you're going to want to visit, but we definitely recommend you add the dreamy town of Tamarindo to your list.


---
Get more out of your vacation!
Our Central America Destination Guide is crammed full of our favorite spots, recommendations, and vacation guides to help your trip go smoothly
---

If you volunteer in Cost Rica with us (International Language Programs), Tamarindo is a perfect vacation spot during your semester abroad. Here's what you need to know about this gorgeous place!
What Can't I Miss While Visiting?
You'll find plenty to do in Tamarindo. The city itself is pretty great and has a lot of things to see and places to eat. Here are a few.
Paddle Board + Surfing
The coastline here is known for being a great spot for beginners because of the consistently gentle waves that come through. You'll likely run into a huge surfer's vibe here. Lots of surf shops along the coast can rent you a board (usually around $20 USD), or you can pay extra (about double) for a lesson. If you've ever wanted to try surfing, this is a great spot to do it.
Likewise, you will be able to find multiple places that rent paddle boards in the city so you don't have to arrange it before you get there. Some will offer lessons and teach you how to paddle board (which come with a higher price of course), or you can rent and just go on your own for about a quarter of the price. You should be able to find boards for about $10. Grab your board and go!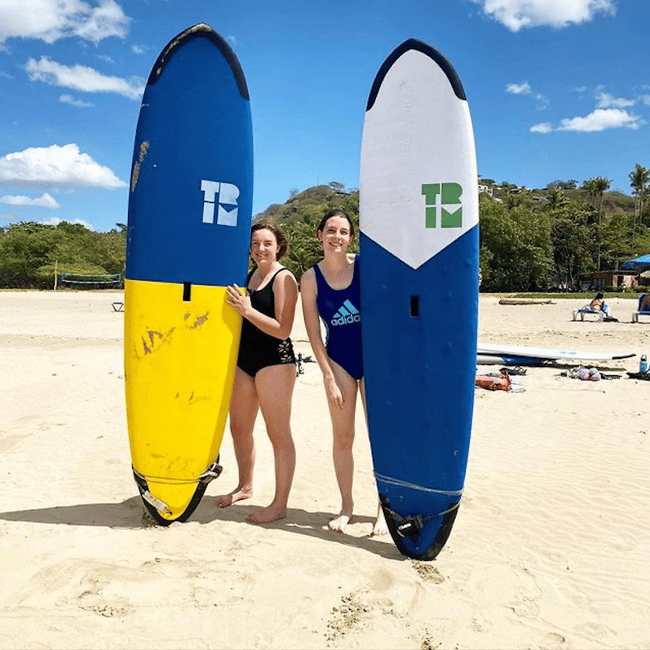 Rent Bikes
Bike rentals are a great way to get around the city and see what cool hidden gems you can find. You can find rentals for about $15-$20 for the full day! This is also a quick way to bike into restaurants when you need a good snack!
Explore The Local Shops
You'll find the normal touristy shops in Tamarindo, but it is also full of little local boutiques and shops we love checking out. Spend some time wandering to see what you and your group can find. One group has loved the shopping at the Azul Produndo Boutique for things like beaded bags, colorful scarves, dresses, etc.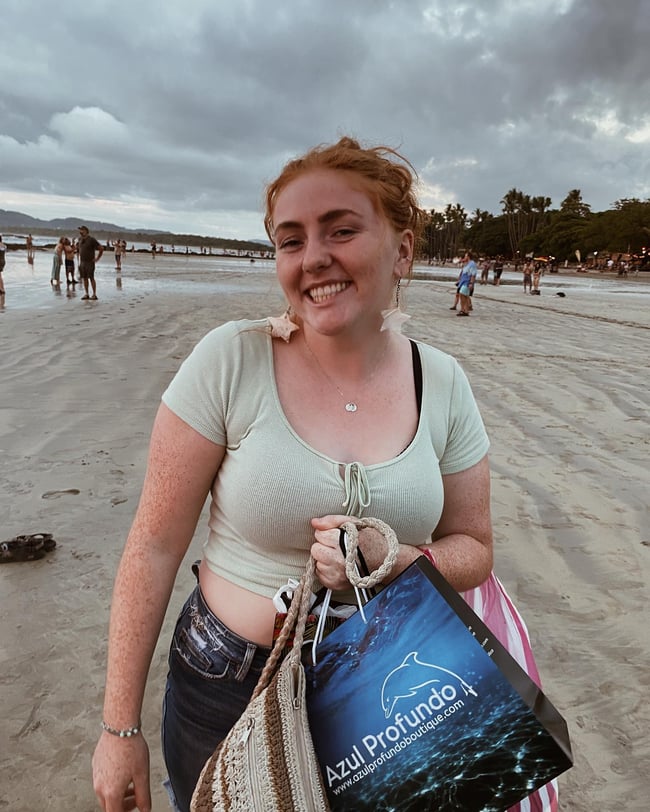 Eat Yummy Food
Tamarindo has good food you don't want to miss on. Stop by these places:
Nougies: this is a local favorite. Try their fresh Tuna Poke or one of the delicious desserts.
Green Papaya Taco Bar: If you're looking for something health and fresh grab some tacos or a salad from here.
Bamboo Sushi Club: it doesn't get better or more fresh than this sushi place! Grab some rolls and get ready to be craving them when you leave.
Turtle Expedition
If you are in Tamarindo between November and April you're there at the perfect time for turtle nesting. You can take a night tour to Las Baulas National Marine Park and watch the turtles lay their eggs. ILP volunteers did that during their semester in Mexico and have amazing things to say about it.
Spot Howler Monkeys
Really common in this area, you're bound to run into a monkey or two if you keep your eyes (and ears) peeled for them. Just like their name might suggest, you're most likely to find them by hearing their calls, which often happen just before sunrise. They're most active at sunrise and sunset, but during the day just look up. They might be hanging in the trees right above you and you don't even know it!
If you're having a hard time finding them, try going for a hike or even just ask the locals if they know a spot where you're likely to spot them. But just remember, they're completely wild so there's no guarantee!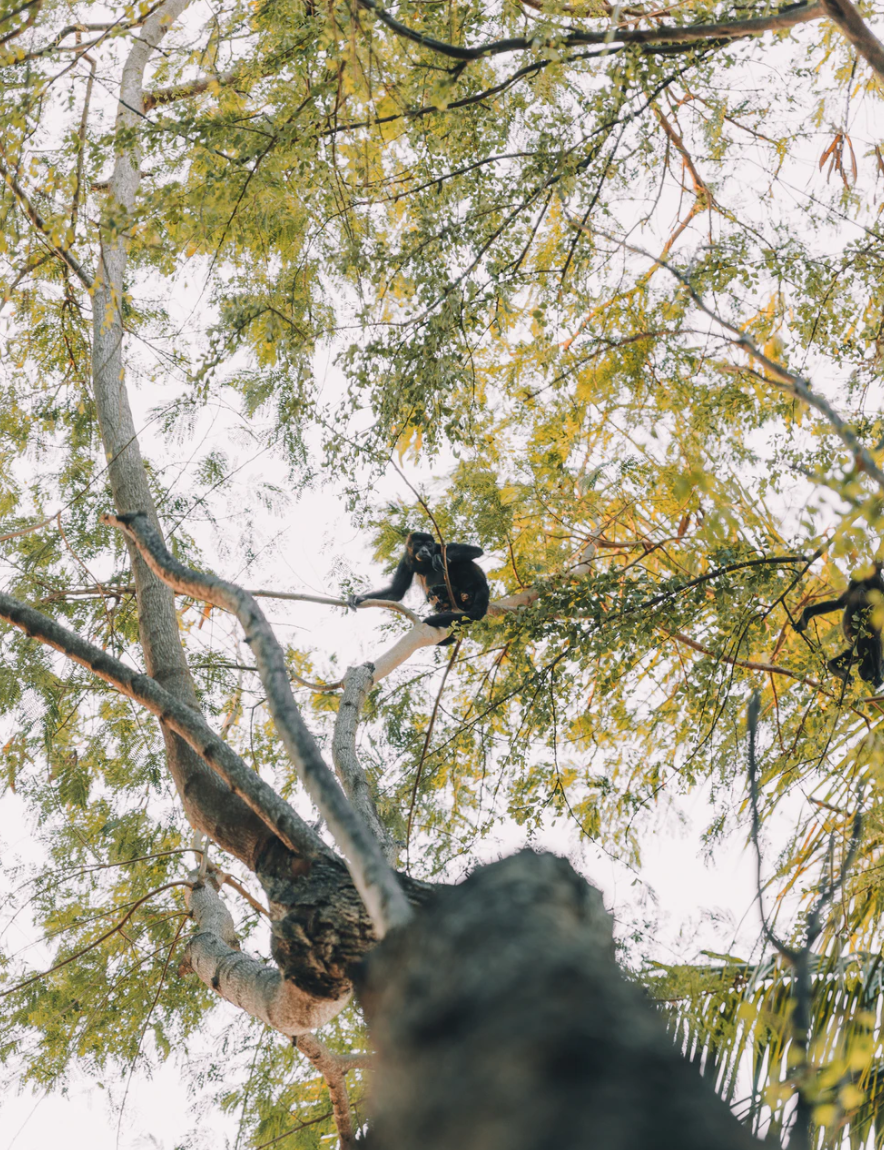 Sunset Sailing + Snorkeling Boat Tours
We love a boat trip for added adventures that you wouldn't have been able to get to on your own.
There are a lot of tours you can take in Tamarindo, we like this one because it is almost 5 hours long and include all the gear for snorkeling as well as snacks.
Price: $95 USD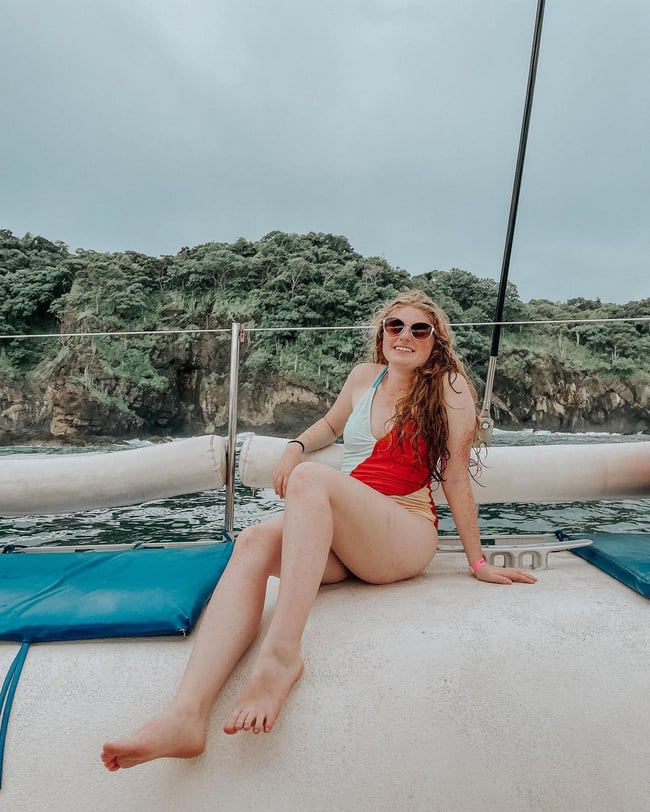 Zip Line Through The Trees
Zip lining is always a fun way to see a new side of the country!
This zip line will give you views of lush jungle trees, mountains, and even the beautiful ocean. Tours are about $35 USD a person and includes a few zip lines during your tour. Contact them here to reserve your spots and arrange a pick up location.
We also love that the Diamante Adventure Park has one of the best (and longest) zip lines in the country, with lots of other activities you can do like visiting their animal sanctuary and going horseback riding.
Relax On The Beach
Obviously you're going to need some relaxation time. Lay out with that book you've been wanting to read and soak up the warm sun. Really, is there anything better than laying out on the beach ... especially if it's a beach like this one!? Make sure you catch the sunset!
As far as beaches to explore, making sure you're here for the city's name sake beach, Tamarindo. Here, you can swim, learn to surf (there are board rentals and lessons available) rent boogie boards, etc. It's the most popular option but know there are a couple of others if you're wanting another option.
Playa Conchal is another favorite picture-perfect beach, where instead of sand, you'll be walking on millions of crushed shells. The effect is gorgeous — an array of tiny bits of cream, pink, orange, and speckled little shells. Oh, and no sand means very very clear waters, so it's ideal for snorkeling. This beach is about a 35-minute taxi ride away from Tamarindo and has some killer sunsets.

Playa Flamingo is another destination if you have your camera with you. It's one of the only pink sand beaches in Costa Rica. It's a faint, light light light pink, but in the right lighting, you can see how this beach got its name. It's a 30-minute drive from Tamarindo.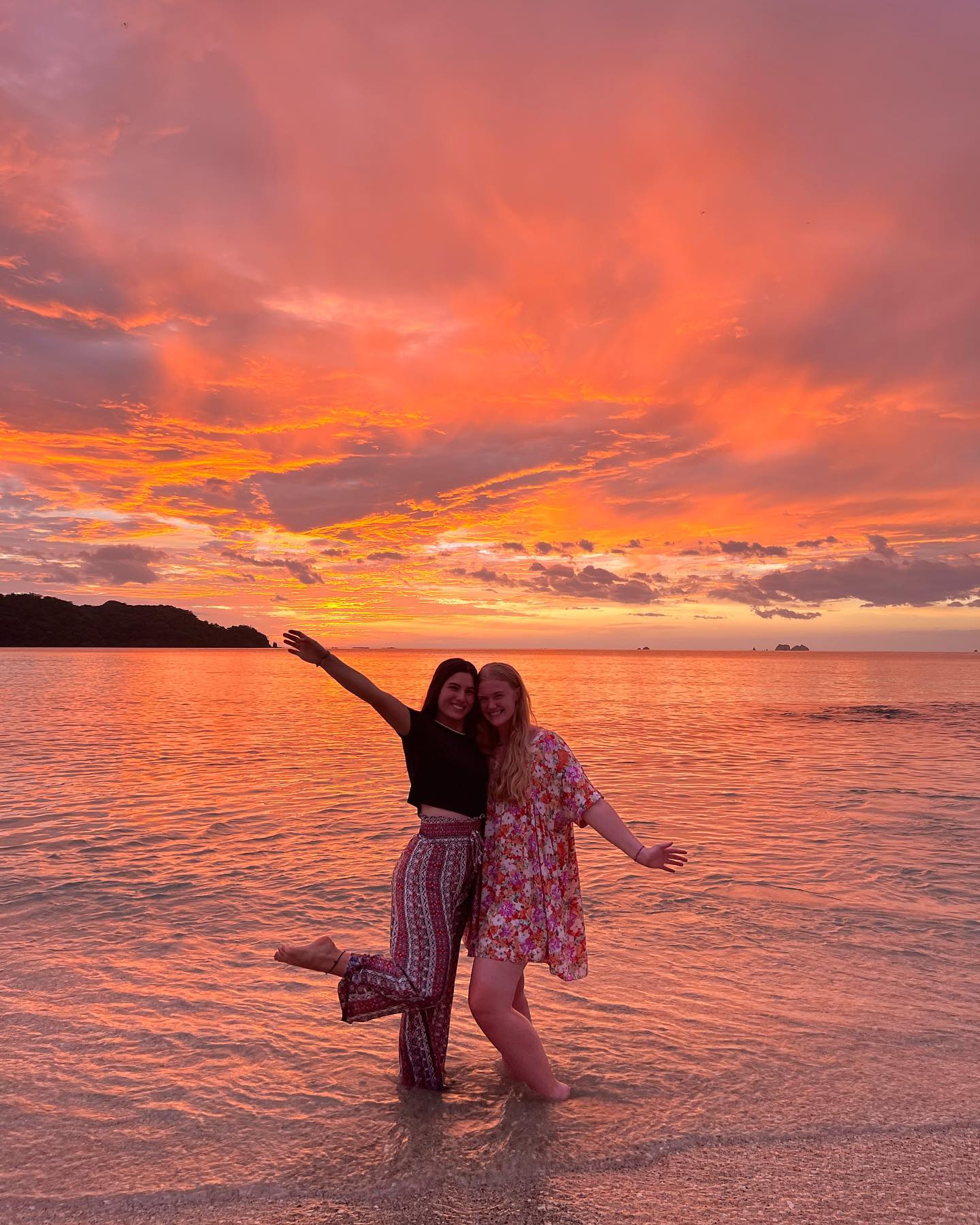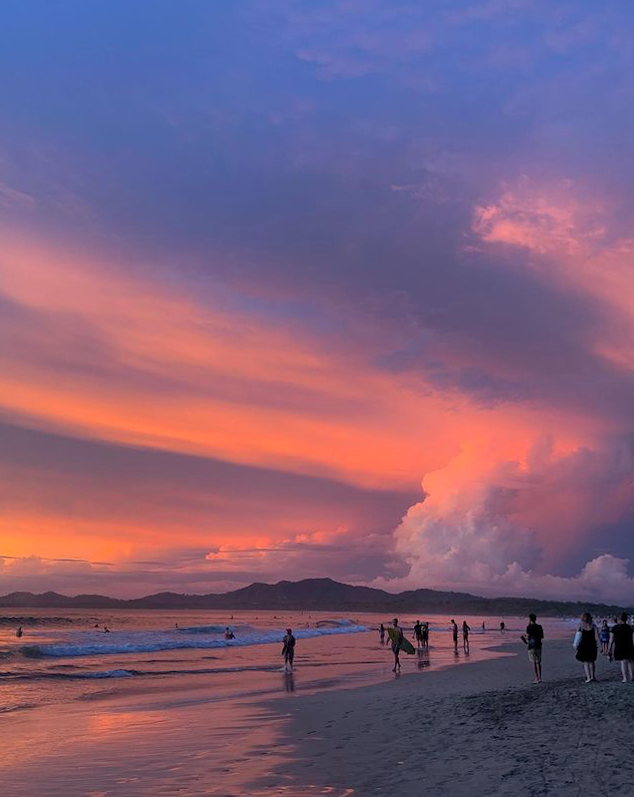 Where To Stay
Tamarindo is home to a lot of nice resorts so things can get a little pricey if you go that route. There are a lot of other options as well though, depending on your budget.
Resorts
Like we said, it can get pricey and the resorts are often 20-30 minutes from the heart of the city. This one is a great option if you are wanting to splurge a little though! You can split the room price between a couple of you, it is beautiful with a nice pool, and right in the center of town.
For two nights (and four people) it costs about $315 ($40 per person a night) That includes breakfast too which means you don't need to buy food!
Other ILP groups have stayed at this hotel, which isn't a resort, but does have a restaurant on site if you don't want to worry about finding food at the end of the day.
AirBnbs
AirBnbs are a great option, especially if you have a group of a few people. You can rent an entire apartment and split the price between all of you.
This beautiful place sleeps up to five people, includes a kitchen and everything you need to cook with, and is only $64 a night!
This simple house has all the basics you'l need as well as a pool, which we'll never complain about! It starts at $99 a night and you get the entire house.
This bright condo has AC, a pool, and is very nice and clean. It is about $113 a night and can sleep up to six people.
Hostels
Hostels can be a super cheap option and if you have a big enough group you can fill up all the beds in a room so it's just you and your group!
ILP groups in the past have loved Pura Vida Hostel (it has a good location, AC, the chance to book tours through the hostel, and other perks like hammocks where you can relax after a day of vacation. Book here.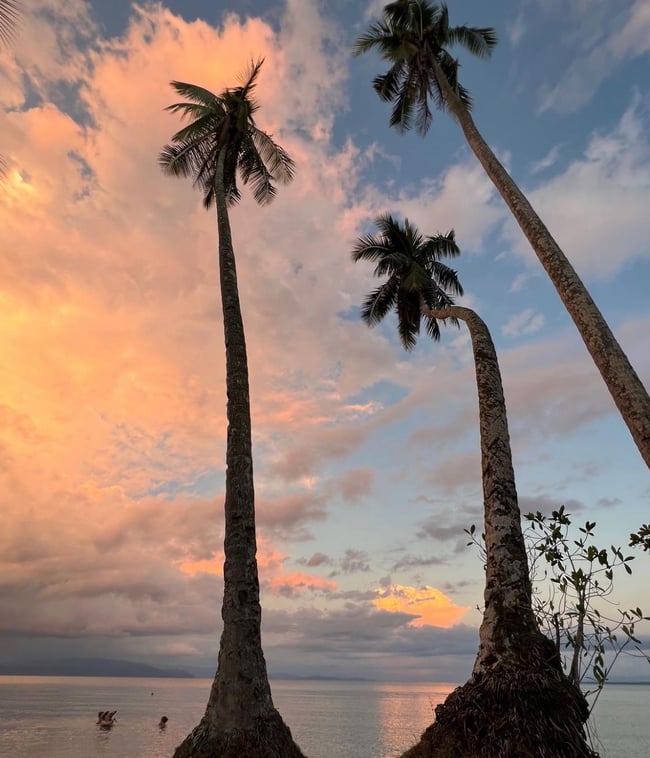 Where Is Tamarindo?
Tamarindo is on the western coast of Costa Rica, making it an easy vacation for volunteers in both Nicaragua and Costa Rica. It's found in the popular Guanacaste province, which you'll want to visit at least once. The city itself is pretty small and there isn't much there but the beach, but don't let that stop you - that's why people love Tamarindo.
Getting to Tamarindo
For the cheapest option (by far) you can arrive via bus. From San Jose, it's about a five hour bus ride. You can catch a bus San José: Av.7 C.8.Terminal 7-10 or at the San Jose Ave.5 terminal. You can get more specific bus information for Costa Rica here. That link includes sites where you can look up bus schedules and fares.
The closest airport is the Daniel Oduber Airport in Liberia (LIR). From the airport, it's about 2 hour taxi (or bus) route to get yourself to Tamarindo. Look at airlines like SANSA or Nature Air. A flight from San Jose is just 45 minutes.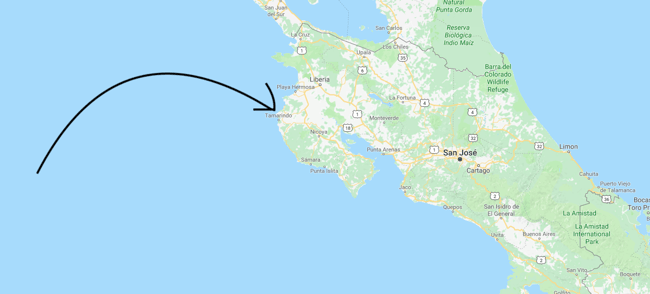 How Long Should I Spend In Tamarindo?
I would give yourself a solid two days (possibly three if you want to see it all!) in Tamarindo. You'll want plenty of time to relax on the beach and also time where you can schedule excursions. You could do this on a weekend easily if you fly there or even take a late bus that drives through the night, giving you the day to explore.
But hey, if you've got more time there's plenty to do in this part of the country. Check out our Costa Rica vacation planner for more ideas of nearby adventures.
What If I Never Want To Leave?
We feel ya! You're going to take some pretty sweet vacations and do amazing things during your semester. Like this Zip Line in Costa Rica, or Volcano Boarding in Nicaragua. Even though the vacations are beautiful your heart will be in the city you volunteer in because the cute kids you teach are there! Enjoy those vacations and love your students because your semester will fly by wayyy too quickly.
Costa Rica will quickly become home during your semester volunteering abroad ... that's one of the perks to volunteering for a semester rather than a quick trip. The people will become some of your dearest friends, the beaches will blow your mind, and the memories you make will be with you forever.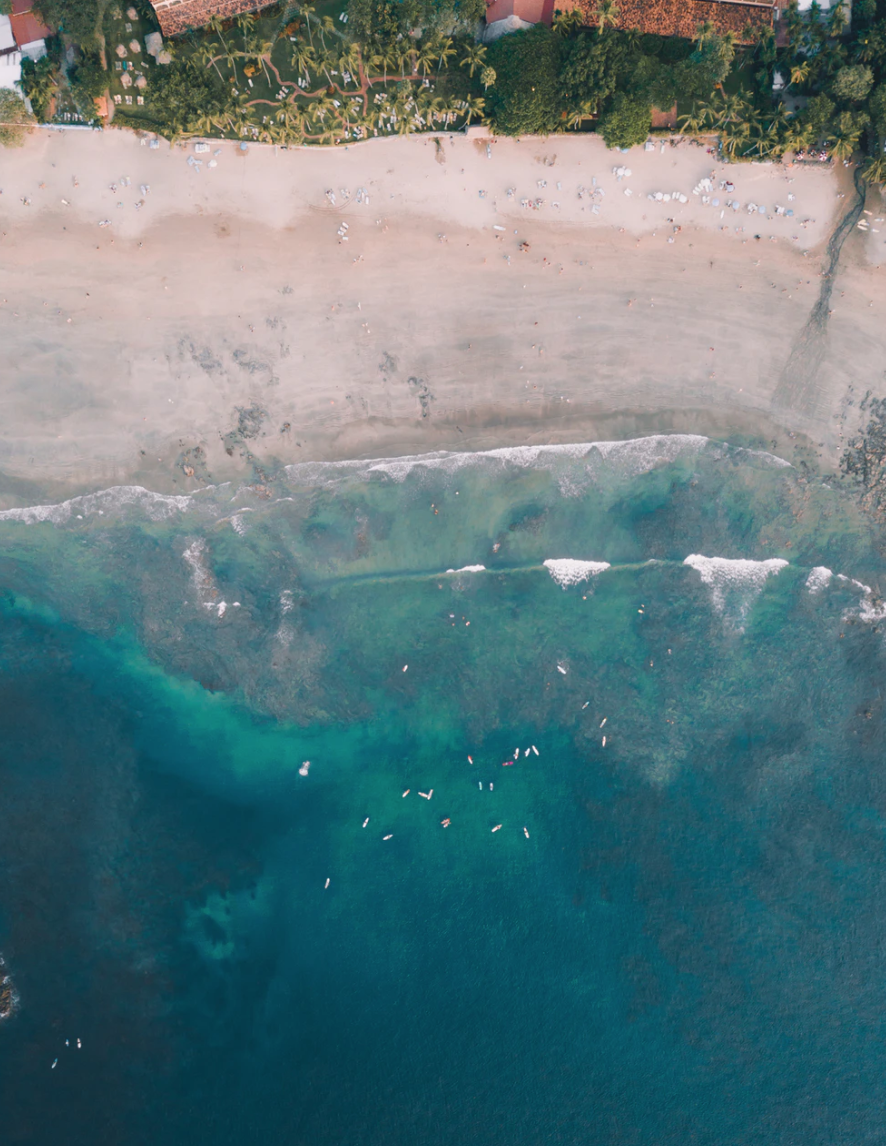 Ready for more Costa Rica?
Call this country home when you volunteer here for a semester. You'll spend some of your time teaching English, exploring your city, with weekends free and vacation days to travel around.